About Speed Post
Speed Post is an Electronic Mail Service (EMS) offered by India Post that conducts the shipment of letters, documents, and packages all over India and around the globe. The service is ideal for individuals and eCommerce businesses that require urgent and on-time delivery at a reasonable price.
It is regarded as India Post's premium tracking shipping service, competing head to head with other renowned postal and express services in UPU, such as USPS, China Post, UPS, DHL, FedEx, and others. Speed Post provides domestic shipping within 1 to 5 days and international shipping within 2 to 9 days to around 100 countries.
Speed Post Tracking
Speed Post offers real-time package tracking along with all its domestic and international shipping services. Speed Post tracking is in fact India Post EMS tracking. The packages are given an individual consignment or reference number that serves as a tracking number. The tracking number serves as the unique identifier that allows shipment updates. Moreover, both the sender and the receiver use it to keep track of the package.
Let's learn about Speed Post tracking by shipping service in detail.
Indian Speed Post Tracking
Indian Speed Post domestic service delivers packages across India. The service boasts the vastest network in India and guarantees on-time delivery of letters and parcels up to 35 kg at an affordable cost. The cost is determined by the weight of the Speed Post shipment and the distance between the origin and the destination.
Features of this service include:
24-hour booking facility

Online tracking system

SMS delivery notification

Free pickup

Book without advance payment

Volume-based discounts

Cash on Delivery option

Compensation for delays, package loss, theft, or damage
The estimated delivery time of parcels from order to final delivery varies:
| Distance | Delivery Time |
| --- | --- |
| Local | 3 business days |
| Metro-Metro | 4-5 business days |
| State Capital to State Capital | 4-6 business days |
| Same State | 3-6 business days |
| Rest of the Country | 6-7 business days |
Note: Delivery of mail to branch offices requires one additional day.
Speed Post International Tracking
Speed Post International service is India Post's time-definite global shipping service for documents and merchandise. The service is available in nearly any Indian post office nationwide, and it delivers to 100 countries. Depending on the destination country, delivery takes between 2 and 9 days.
Here is the list of estimated shipping times for International Speed Post.
| Countries | Service Standard |
| --- | --- |
| Georgia, United Kingdom (UK) | 2 to 6 business days |
| Cambodia, Hong kong, Japan, Singapore, Taiwan, Thailand, Turkey | 3 to 6 business days |
| Afghanistan, Bangladesh, Bhutan, Brunei Darussalam, Hungary, Indonesia, Malaysia, Maldives, Nepal, Pakistan, Philippines, South Korea, Sri Lanka, Vietnam | 3 to 7 business days |
| United States of America (USA) | 4 to 7 business days |
| Australia​, Austria, Bahrain, Belgium, Denmark, Finland, France, Germany, Iceland, Ireland, Italy, Kuwait, Luxemburg, Netherland, New Zealand, Norway, Oman, Portugal, Qatar, Romania, Saudi Arabia, Spain, Sweden, Switzerland, UAE, Yemen | 4 to 8 business days |
| China, Fiji, Iran, Iraq, Israel, Jordan, Macao, Mongolia, Nauru, Papua New Guinea | 4 to 9 business days |
| Argentina, Barbados, Belarus, Bermuda, Bulgaria, Canada, Cuba, Cyprus, El Salvador, Estonia, Greece, Guyana, Latvia, Mexico, Panama, Poland, Russia, Ukraine | 5 to 9 business days |
| Botswana, Cape Verde, Cayman Islands, Democratic Republic of Congo, Egypt, Eritrea, Ethiopia, Ghana, Kenya, Malawi, Mauritius, Morocco, Namibia, Niger, Nigeria, Rwanda, Senegal, South Africa, Sudan, Tanzania, Tunisia, Uganda | 6 to 9 business days |
Note: The delivery standard is an estimate, excluding the time required for customs clearance. Moreover, it is calculated based on end-to-end delivery of outbound Speed Post shipments from Delhi, Mumbai, Kolkata, Chennai and Kochi.
In the case of shipping from other cities, the packages will first be delivered to the nearest allocated cities and then proceed for international shipping. Hence, the domestic Speed Post shipping time will be added to the international delivery standards.
Speed Post Complaint Tracking
India Post offers online complaint registration in case a Speed Post package is lost, stolen or damaged. India Post takes customer complaints seriously and resolves them transparently. As India Post strives to provide excellent customer service, it provides a complaint tracking option.
The complaint registration form can be found inside the Tools & Help section in the Menu of the official website homepage. Follow the sequence provided below to access the complaint registration form:
Tools & Help>Help & Support > Customer Complaints > Register Complaint
Fill out the form with the required information, such as service category, specific service, article number, issue type, description, booking details (sender & recipient information), supporting documents, and so on, and then click the 'Submit' button.
The complaint will be recorded, and the customer will be assigned a complaint number. This number can be entered into the India Post tracking tool to check the real-time processing status of the complaint.
How to Track Speed Post?
India Post official website has integrated a tracking tool into their website that allows for EMS Speed Post tracking using the tracking number. You can also track your Speed Post packages using third-party tracking services, such as ParcelPanel.
Wondering how to track Speed Post with tracking number?
Here's a detailed instruction on tracking Speed Post using the India Post website and ParcelPanel.
By using Speed Post Tracking
Here's how to track Speed Post by using the India Post website.
Step 1: Go to the homepage of the India Post official website, where you will find a tracking tool named "Track N Trace." The tool offers 3 different tracking options, namely, Consignment, Ref No, and Complaint.

If you want to track your package using your consignment number, choose consignment; if you want to track it using a reference number, choose Ref No. Normally, the Speed Post tracking number is a consignment number, so just go ahead by selecting "Consignment."
Step 2: Enter the Speed Post tracking number in the tracking field. Answer the verification question and click the 'Track Now' button.
Step 3: The Speed Post tracking information will now appear on the screen, which includes the current status, transit locations, along with events, date, time, and more.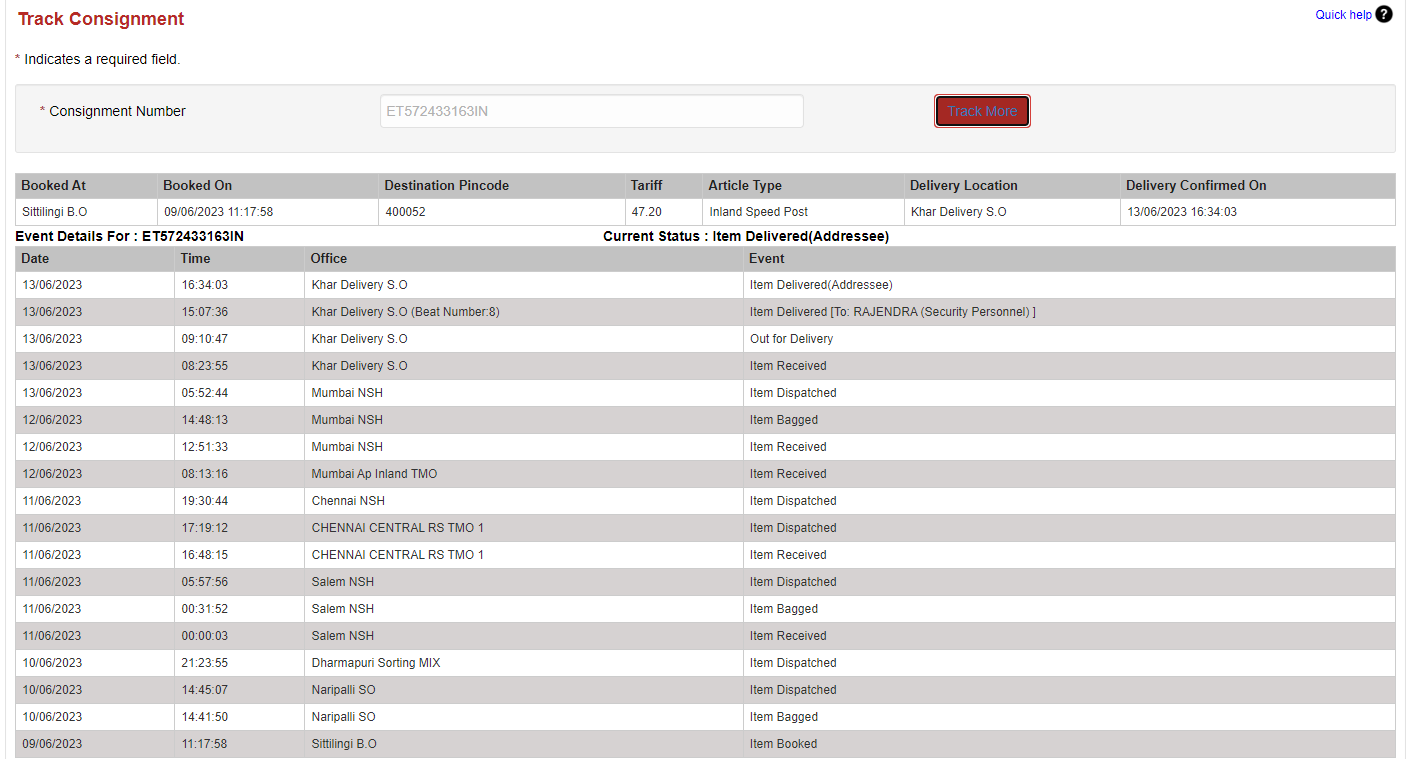 By using ParcelPanel
ParcelPanel is a leading tracking solution for eCommerce. It has a wide network of over 1,100 carriers worldwide, and Speed Post is one of them. The integration of ParcelPanel with the India Post tracking API allows for seamless tracking of the packages along with detailed shipment journeys, receiving automated shipping notifications, accessing a branded tracking page, and more. Brands can use the ParcelPanel app to avoid being inundated with WISMO inquiries and boost sales with AI-powered personalized product recommendations.
ParcelPanel provides two ways to track Speed Post shipments: the website and the app. The instructions for using ParcelPanel to track your Speed Post package are provided below.
Step 1: Go to the ParcelPanel website. Click on "Carriers" in the menu bar.
Step 2: On the "Carriers" page, you will see a list of carriers with a search bar. Type "Speed Post" in the search bar, and it will appear below. To proceed, select the Speed Post carrier.
Step 3: After being redirected to the Speed Post tracking page, enter your tracking number in the box and click the "Track" button.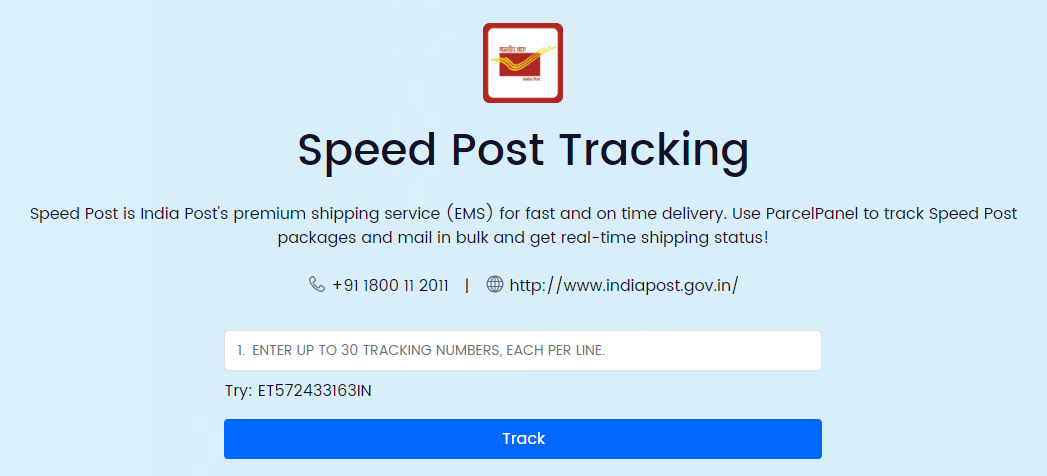 Step 4: A new page with a detailed shipment journey, including the current status and transits the package passed through, as well as the timestamps will now appear on the screen.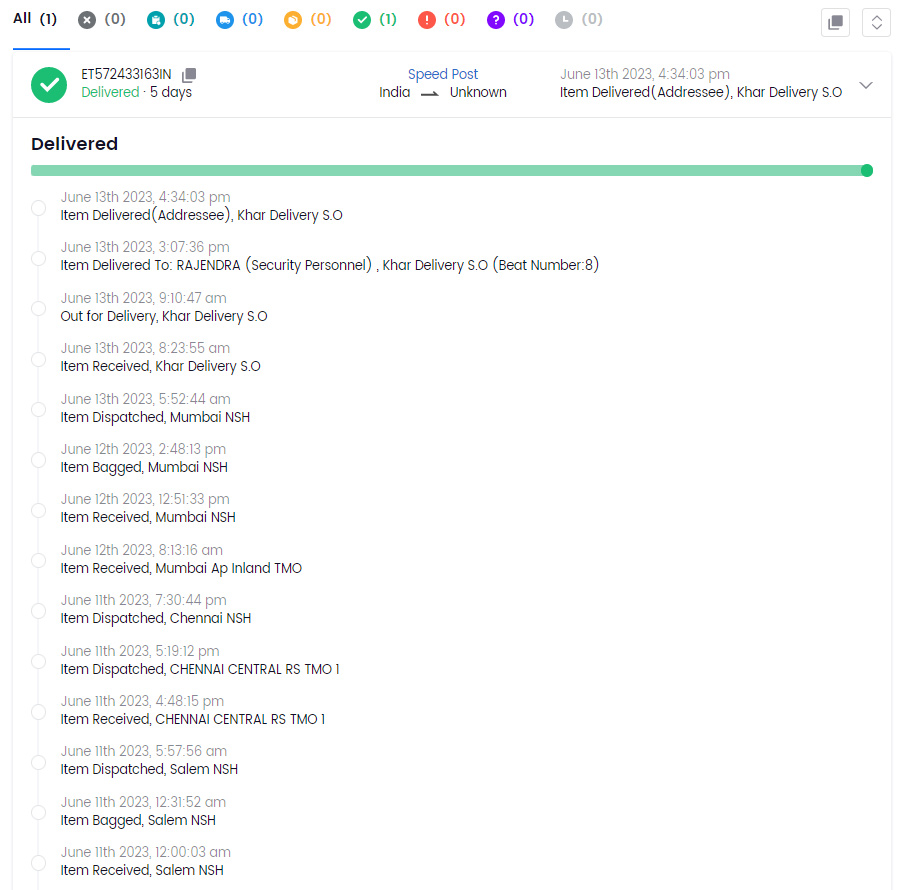 Compared with the official EMS Speed Post tracking tool, ParcelPanel allows you to export, translate and share the tracking information as you need. What's more, you can improve your order tracking efficiency and avoid going through the verification process.
ParcelPanel order tracking app is a tool specially made for Shopify and WooCommerce merchants. The integration of this app with the stores can centralize tracking packages from various carriers and keep customers informed of the delivery progress via automated email.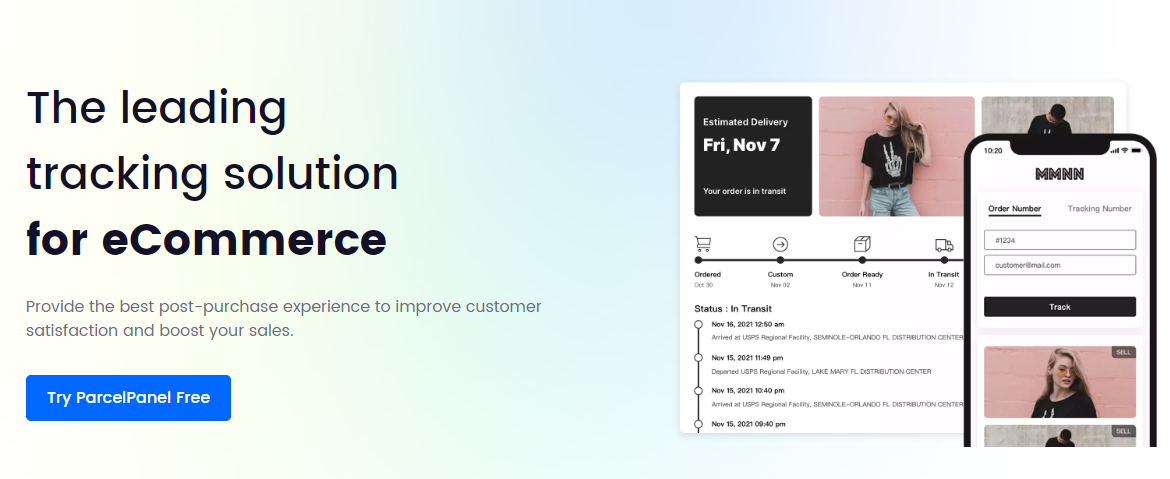 When the app is installed, it automatically generates a branded tracking page. It pulls out information from the store order details and displays a list of information that includes the packages that are pending, in transit, out for delivery, delivered, failed attempt, expired, and so on. Moreover, each of the categories in the list includes detailed information such as order numbers, tracking numbers, courier names, last checkpoints, transit times, order dates, and current statuses.
Merchants can access the detailed tracking dashboard from the backend, making it easier to respond to post-sales questions, cope with delivery exceptions in time and improve the post-purchase experience. This can contribute to increased customer loyalty and more sales.
Speed Post Tracking Number
Packages registered for Speed Post service are assigned a unique combination of numbers referred to as the Speed Post consignment number or Speed Post tracking No. These numbers allow the sender and receiver to track the shipment's progress. The Speed Post tracking number can be found on the receipt, package, confirmation email, or text message sent by the sender.
Bear in mind that it's nearly impossible to track Speed Post without a consignment number unless you keep visiting the local post office and asking for items to be delivered.
Speed Post Tracking Number Format
Like other EMS services, the Speed Post tracking number generally consists of 13 alphanumeric characters. The tracking number starts with a pair of letters (the first is 'E'), followed by 9 digits, and ends with a pair of letters referring to the destination country. If you're tracking Speed Post (International EMS) from India, the last two letters must be "IN."
Speed Post Tracking Number Example
Here are some of the Speed Post tracking number examples:
ET572433163IN
ER158246861IN
Speed Post Tracking Status
The following is a list of Speed Post tracking statuses, along with their meanings.
| Tracking Status | Meaning |
| --- | --- |
| Item Booked | The pickup of the Speed Post package is booked on the India Post website. |
| Item Bagged | The Speed Post package is packed in a bag for shipment. |
| Item Dispatched | Depending on the logistics and routing process, the Speed Post Package is sent out from the India Post facility to the next sorting facility or distribution center. |
| Item Received | India Post has physically received the Speed Post package at one of its facilities or distribution centers. |
| Out for Delivery | The Speed Post package is on its way for delivery to the recipient. |
| Item Delivered (To Security Personnel) | The Speed Post package is received by the security personnel at the recipient's address. |
| Item Delivered (Addressee) | The recipient has received the Speed Post package. |
Speed Post Tracking FAQ
Here are some of the most frequently asked questions about Speed Post.
What is the consignment number in Speed Post?
The consignment number in Speed Post is the tracking number assigned to the packages that travel through the India Post network. The consignment number allows the sender, receiver, and postal service to track the real-time Speed Post status.
How many days does Speed Post take to deliver?
How much time Speed Post takes to deliver depends on the location and distance between the origin and destination.
The days required for domestic Speed Post deliveries are as follows:
Local: 1-2 days
Metro-Metro: 1-3 days
State Capital to State Capital & Same State: 1-4 days
Rest of the Country: 4-5 days
International shipping from cities such as Delhi, Mumbai, Kolkata, Chennai, and Kochi takes around 2 to 9 days from booking to final delivery. In the case of shipping from other cities, the domestic delivery time will be added because the shipment will be transported to the above-mentioned cities first and then dispatched to the destination countries.
What is inland Speed Post?
Inland Speed Post is a secured domestic shipping service that delivers packages within a specific time frame throughout India. In addition to fast delivery, the service offers some incredible features, such as guaranteed on-time delivery, tracking, proof of delivery, and insurance coverage for lost or damaged packages.
What is IVR in Speed Post receipt?
Interactive Voice Response (IVR) refers to the automated calling system that is used as a part of customer care service. In the Speed Post receipt, the IVR number is provided so that customers can call the number and get their queries answered at any time of the day.
The IVR system has several menu options and pre-recorded messages. Customers can select their preferred option using the keypad, and the voice response system will respond to their questions, whether it is to help customers track their package or to provide other information.
Why does Speed Post show no tracking status?
Speed Post may not show tracking status for the following reasons:
You may have entered the wrong Speed Post tracking number. There should be no spaces within the tracking number, and only commas should separate the two tracking numbers if multiple numbers are entered simultaneously.

Your package has not been scanned at the facilities or distribution centers.

Your shipment could be held up in customs or have not yet arrived at the next facility.

Your package may have been misplaced, lost, or damaged during transit.

Unexpected events such as bad weather, accidents, or technical glitches can all be the reasons.
Does Speed Post work on Saturday?
Yes, Speed Post works from 8 am to 4 pm on Saturdays (excluding Gazetted holidays).
How much does Speed Post cost?
The cost of Speed Post is determined based on several factors, including the weight of the package, the distance it will travel, the type of service, and so on. The India Post official website has a Speed Post Postage Calculator with which customers can enter information about their package and get an estimated cost at their fingertips.
How to complain about "Speed Post not delivered"?
To file a complaint about Speed Post not being delivered, follow the steps outlined below.
You can file a complaint online. For that, go to Tools & Help, then click on Help & Support. Here you will find the customer complaint option. Fill out the complaint register form with your shipment details, and India Post will review your application.

You can also contact customer service to file a complaint. Please provide them with your shipment information, explain your situation, and file a complaint through the customer service representative.

If the first two methods do not work for you, you can go to your local post office in person, speak with the relevant authority, and file a complaint.
What is tariff in Speed Post?
Tariff in Speed Post refers to the shipping fee. The shipping fee is determined based on the weight and distance of the package that will be shipped. Usually, the shipping cost starts at INR 15 and can go up to INR 90 and above.
The tariff is exclusive of taxes. The Central Government of India notifies the cost from time to time. Also, if customers need Proof of Delivery for their Speed Post, they must pay an additional 10 INR for each article.
Speed Post Customer Care
For any query related to Speed Post tracking, missing packages, or registering a complaint, you are advised to contact India Post customer care service at your earliest convenience.
You can send mail to the India Post mailing address:
Postal Services Board
Dak Bhavan
New Delhi- 110001
India
To speak with an India Post customer service representative, dial 1800 266 6868 (toll-free) from 9:00 am to 6:00 pm GMT+5:30 (excluding Sundays and holidays).
You can also use the automated telephone system to get information and services. The IVR (Interactive Voice Response) facility is available 24 hours a day, seven days a week.
You can also email your queries to the local branch office. Visit the India Post website to find out about the specific branch email address and other contact information.