About AAA Cooper Transportation
AAA Cooper Transportation (SCAC "AACT") is an asset-based transportation solutions provider headquartered in Dothan, Alabama. AAA COOPER began modestly in the 1950s when John H. "Red" Dove bought out P.C. White Track Lines and grew through the subsequent decades through further acquisitions and the astute management of Red's sons. In 2021, it became an independent subsidiary of Knight-Swift Transportation Holdings.
The carrier can serve a substantial portion of the US with an asset base of 3,000 transportation tractors, 7,500 trailers, and 113 strategic AAA Cooper locations in 27 states. AAA COOPER uses the carrier assets of the other Knight Swift subsidiaries, like Midwest Motor Express as well as its affiliate carrier program, to extend its reach to the rest of the US, Canada, Mexico, and even globally.
AAA Cooper provides transportation for most commodities except those it has excluded on its website, including dangerous chemicals, live animals, corpses, etc. One can also use AAA Cooper pickup services to pick up the shipment from the point of dispatch.
Other services include LTL and FTL shipping, dedicated contract carriage, fleet maintenance, brokerage, and international services. AAA COOPER also offers web services that help track and trace shipments.
Where AAA Cooper cannot effectively provide a service, it partners with or recommends other providers to complement its services. For instance, it recommends the Canadian customs broker BILSI for customs clearance at the border. It also collaborates with Odyssey, a global logistics company, to help it ship to and from Puerto Rico.
AAA COOPER's main competitors include Old Dominion Freight Line, Kansas City Southern, SEACOR Holdings, and Hub Group.
AAA Cooper Tracking
AAA Cooper LTL tracking
LTL shipping is AAA Cooper's specialty, and the company was indeed acquired by Knight Swift to extend Knight Swift's national LTL reach.
Under LTL shipping, AAA Cooper transports freight that cannot make up a truckload, typically of weights between 50 and 10,000 lbs. The freight can be moved by package or by pallet and is mingled so that shipments share the shipping cost, making it cost-effective.
AAA Cooper offers LTL shipping through its 113 locations covering 27 states. However, it partners with fellow subsidiary Midwest Motor Express and other affiliate carrier services to extend its reach nationwide and the rest of the continent. You can find out if AAA Cooper serves your area and transit times by filling in the query box on the company's LTL service page. You can also toggle on the map below the query box.
AAA Cooper offers freight tracking services to help your customers keep up to date with the status of their shipment and anticipated delivery. The AAA Cooper has a dedicated Pro Tracking tool, and the tracking services are also accessible through its Web Services. In addition, on the homepage of AAA Cooper, you can access "Action Trac" for shipment tracking by AAA Cooper Pro number or pickup number.
Here below are more details about AAA Cooper's services and related information on shipment tracking.
AAA Cooper Dedicated Services
AAA Cooper offers dedicated services to shippers whose logistics needs cannot be effectively met using a common carrier. Circumstances that may call for dedicated carriage include special timing and handling in delivery or uncommon volume.
Dedicated contract carriages offer flexibility in terms of contractual terms, improved reliability, and reduced risk during transportation.
Shippers can maintain the visibility of their shipments with GPS tracking through the onboard computers mounted on every trailer. Additionally, you can use GPS to track dropped trailers.
AAA Cooper International Services
AAA Cooper's international services include streamlined cross-border transportation services to and from Canada and Mexico, as well as transatlantic shipping to and from Puerto Rico. These transatlantic shipping services are available at all the major ports in the Southeast.
To and from Canada, AAA Cooper operates a streamlined customs-bonded freight service using its state-of-the-art equipment and facilities. It would be best to have a bill of lading, a Canadian commercial invoice, and a broker for customs clearance.
AAA Cooper partners with Mexican carriers to offer transportation to and from Mexico through its Texas service centers at El Paso, Laredo, and McAllen. The service includes pickup from either side of the border and requires a commercial invoice.
AAA Cooper Fleet Maintenance Services
AAA Cooper also offers professional fleet management services through 40 maintenance facilities in the US. The company services all types of diesel engines and trailing equipment. To find an AAA Cooper maintenance facility near you and their services, visit the website's fleet maintenance services page and toggle on the map there.
AAA Cooper Managed Services
For established customers, AAA Cooper provides additional services to enhance their shipping experience. These services include truckload brokerage, port services, intermodal shipping, and warehousing.
These services are only accessible through your sales representative and are relatively easy to set up. In particular, the concierge-level Truckload Brokerage service comes with tracking from pickup to delivery, and designated load coordinators will take care of every load.
How to Track AAA Cooper Shipments?
The ability to track a shipment is a crucial part of the customer experience you give your customers and one that can bring them back or send them away. AAA Cooper Transport tracking helps you keep your customer in the loop about when their shipments will likely arrive.
Here is how you track AAA Cooper shipments:
By Using AAA Cooper Transportation Tracking
You can track LTL shipments using the AAA Cooper's Pro number you receive when you place a shipment order.
On the company's homepage or Pro Tracking page, there is a dialog box in which you enter the Pro number. If you choose the second option, click "Track" to continue.


A Pro Tracking Results page will come up containing the package's AAA Cooper tracking info, as shown in the image below.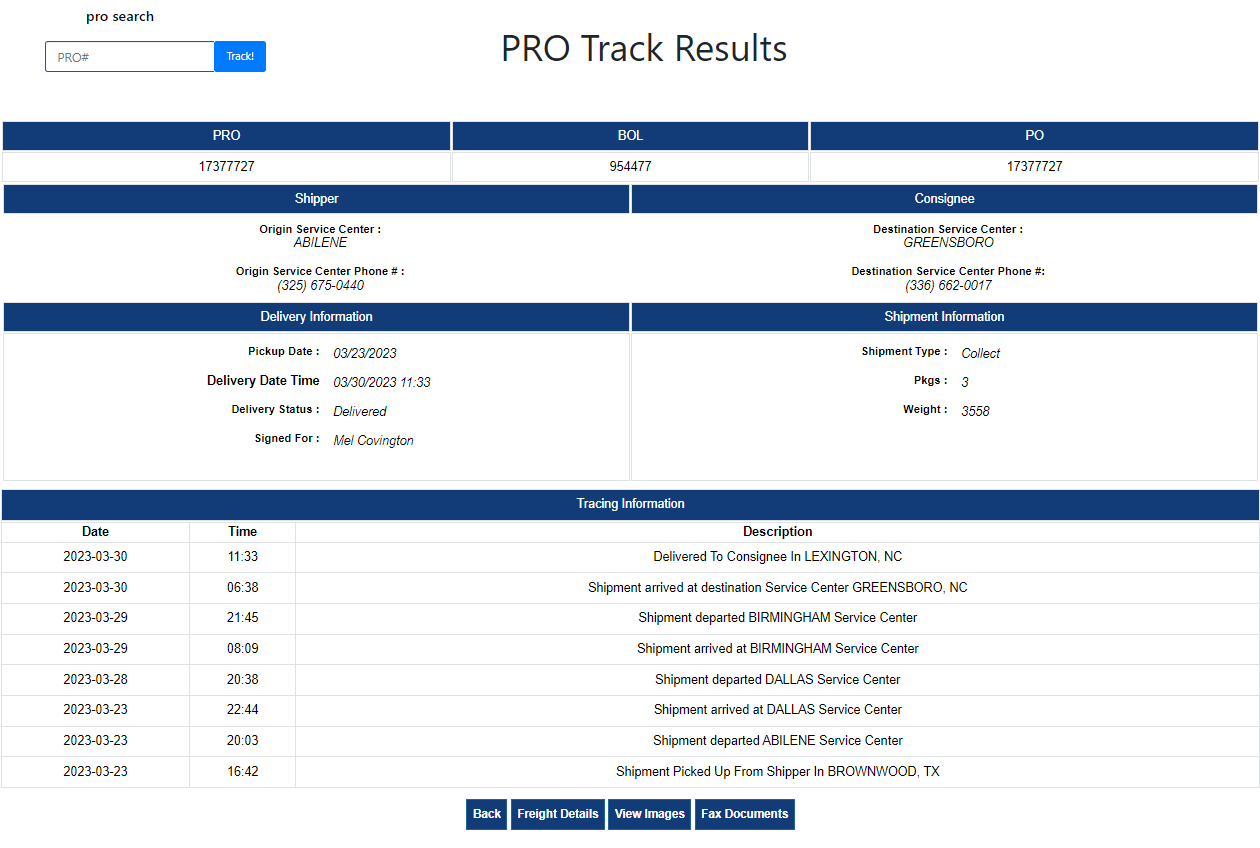 The AAA Cooper tracking info includes the shipment's transit events, BOL number, PO number, shipper and consignee, and delivery information. In addition, you can log in to find more details on the freight by clicking on the "Freight Details" button at the bottom of the page.
You can also track the package using the AAA Cooper BOL number or PO number if you choose AAA Cooper Web Services.
By Using ParcelPanel
Waiting for a package is a nerve-wracking experience for many customers. You may have to take time off your business to ease their anxiety during that time.
ParcelPanel is a third-party tracking solutions provider that you can use to extend package tracking functionality to your online store. In this way, your customers will actively come back to your store to keep track of their packages, and you can focus on other areas of your business. Its range of features helps provide a superb post-purchase experience that satisfies customers' needs for shipment visibility and encourages repeat business.
These features include:
All-in-one tracking

Timely shipping notifications

Self-service branded tracking page

Integration with 42+ leading e-commerce platforms

Customer-friendly, with 24/7 world-class support

Smart analytics
ParcelPanel website
This is how to track an AAA Cooper's package using ParcelPanel's website:
Search for AAA Cooper Transportation on the page, and click the search result.

A carrier-dedicated page will open. Enter the AAA Cooper's tracking number (Pro number) you've received. You can enter up to 30 AAA Cooper tracking numbers.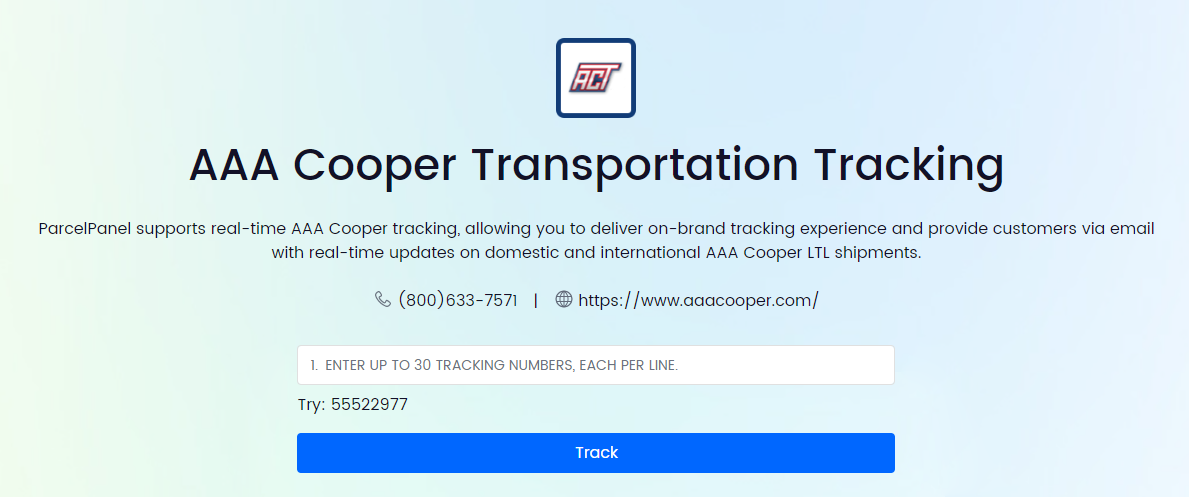 A page will come up that contains the status of your shipment, where it has been, where it is, and the possible delivery time.
As a Shopify merchant, one can use the ParcelPanel Order Tracking app for Shopify to keep track of their package because it offers a ton of benefits:
A branded tracking page with upsell features is automatically created for your store when you finish the installation. Since the average customer will return to the page about 3 times before they receive their package, this is free advertising with huge potential.

View our Demo Store

to learn more.

Your customer receives timely auto-send email notifications on the shipment's status.

Intelligent analytics helps you optimize shipping solutions.
To track AAA Cooper shipments through the Shopify App, your customers are required to enter an order/tracking number.
AAA Cooper Tracking Number
The AAA Cooper tracking number is the unique identifying number attached to your shipment when you place a shipping order, which you use to track your shipment. AAA Cooper allows you to use three types of numbers to track your shipment, including Pro Number, BOL Number (Bill of Lading Number), and Purchase Order Number. Among them, the AAA Cooper Pro number is the most widely used.
Typically, AAA Cooper's Pro tracking number is in the format of a series of 8-12 digits.
AAA Cooper Pro tracking number example
41980510
498415934
59657057
How to find the AAA Cooper tracking number?
You receive the tracking number when you place your shipping order, usually on the receipt or bill of lading. Send your customer this number so they can use it to track the package.
AAA Cooper Tracking FAQ
How to submit an AAA Cooper pickup request?
AAA Cooper pickup is available within the US and Canada.
Request pickup online by following these steps:
Enter the Pickup Request page from the Workspace on the site. You can do so by accessing the Workspace dashboard from the top navigation menu and selecting "Pickup Request" from the dashboard.

Fill in the details on the Pickup Request page as prompted. Do not omit the boxes marked with an asterisk. Be particularly keen on the pickup date and times you fill in.

Under "Shipment Details," you can fill in multiple destinations by clicking "Add Destination."

Include any extra instructions or comments in the box provided at the bottom while trying to keep it below 90 characters.

Click on the blue "Request Pickup" at the bottom of the page to complete the process.
What about AAA Cooper transit time?
AAA Cooper transit times range from as little as a business day to 4+ business days, depending on how far the destination is from the nearest facility and whether AAA Cooper assets or affiliate assets carry the freight.
You can find out the precise transit time by visiting the "AAA Cooper Transit Times" page and filling in the shipment date, as well as the origin and destination of the shipment. You can get the transit time (referred to as service days here) and the delivery date.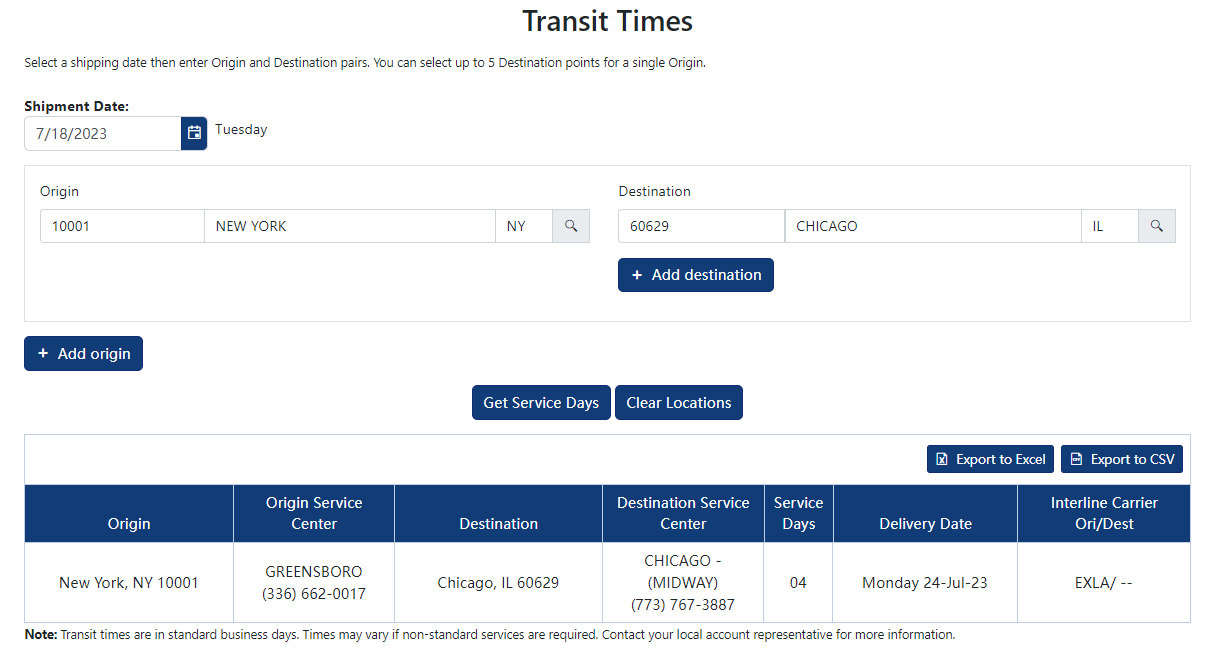 The AAA Cooper service map can also help you estimate transit times for your shipment using the color codes indicated.
What is AAA Cooper's service area?
Directly and indirectly, AAA Cooper's service area covers the entire North American continent. AAA Cooper Transport maintains some 113 locations in 27 US states but partners with other transport providers to extend its coverage map over the rest of the US and Canada.
AAA Cooper has a carrier affiliate program in Mexico through which it ships freight to, from, and throughout the country. AAA Cooper also ships to and from Puerto Rico through its partnership with the transport company Odyssey.
How can I get an AAA Cooper BOL pdf file?
You can get a pdf copy of the bill of lading by downloading and filling out a pdf template from the AAA Cooper document downloads page.
Alternatively, you can create a new bill of lading or copy from an existing one online which you can then save as a pdf file and print if you wish to.
AAA Cooper Customer Service
Here is how to reach AAA Cooper's customer service for help with shipment or tracking:
Address – 1751 Kinsey Road, Dothan AL, 36303
AAA Cooper phone number – (334) 793-2284
AAA Cooper Customer Care phone number (toll-free) – (800)633-7571
AAA Cooper LTL service phone number: (888) 715-7690
Call between 7.00 AM-5.30 PM CT for human assistance.
Email: [email protected]
You may also use Live Chat for help in real time.