About Old Dominion
Old Dominion Freight Line is a privately owned leading shipping company providing premium LTL (Less-Than-Truckload) shipping services domestically and internationally. Headquartered in Thomasville, North Carolina, USA, Old Dominion Freight has helped countless businesses keep their promises to customers for over 85 years. Old Dominion Trucking started in 1934 in Richmond, Virginia, with one truck and grew into a world-leading freight company.
The Freight line company has 256 service centers nationwide, ensuring effective and streamlined service delivery. Old Dominion offers domestic and expedited LTL and global freight, truckload, container drayage, and specialized services. Old Dominion Freight also boasts a 99.1% on-time delivery rate and a 13-year winning streak of the prestigious Mastio & Company award.
Additionally, on April 5th, 2023, the American Trucking Association (ATA) awarded the carrier company two awards: the President's Trophy and the Excellence in Security award.
Old Dominion Freight Line has over 11,000 trucks and employs more than 23,000 in their 250+ locations nationwide. The large workforce and innovative technology integration allow Old Dominion Trucking to provide excellent service to its customers.
Despite the intense competition, Old Dominion Freight Line ranked second to FedEx Freight in the top 10 US less-than-truckload carriers (TT News) in terms of revenue in 2022. Other strong competitors include Yellow Corp., XPO, Estes, TFI International, ABF Freight, R+L Carriers, Southeastern Freight Lines, Averitt Express, etc.
Old Dominion Tracking
Old Dominion Freight Line Tracking allows customers to know each shipping stage's "what, where, and when" during the entire process. Customers can track and trace their shipment en route from domestic and expedited LTL to Global freight and container drayage services. Each service and shipment have a unique Old Dominion Freight tracking number issued to the customers.
Old Dominion Freight Tracking
Old Dominion LTL offers several tracking methods that customers can utilize to follow every step of the shipping journey. You can use the PRO, BOL, PO, LOAD, or pickup number to trace and track the shipment from the loading zone to the consignee.
Old Dominion Freight Line Tracking tools and transit time tools can help you estimate the time the shipping process will take. Old Dominion Freight offers many tools that you can leverage for a more convenient tracking experience.
Old Dominion Freight tracking offers customers real-time tracking, automatic updates, a tracking URL, and shipping API integration. However, using an Old Dominion freight tracking number like PRO or BOL number is the most common and effective tracking method.
Old Dominion LTL Tracking
You can track your LTL shipment using a PRO number. Old Dominion Pro Tracking uses a customer's PRO number to relay information about the shipping process. A PRO (progressive) number is a vital order identifier for identifying and tracking your shipment.
Using your PRO number to track your shipment also shows you all the tracking details, including the point of origin to the consignee's destination. The Old Dominion LTL tracking tool supports up to 25 PRO numbers to track and monitor bulk shipments.
Old Dominion BOL Tracking
If you don't have your PRO number, use the Old Dominion BOL Tracking number to track your shipment's progress en route. A BOL (Bill of Landing) is a receipt that details all the items being shipped and other necessary information like delivery specification, value, and receiver.
To use your BOL number or other tracking numbers as your Old Dominion freight tracking number, you must sign in to your account. You can create a free account on the Old Dominion website, then use the sign-in details and your BOL number to leverage the advanced tracking features.
If you can't find your BOL number, Old Dominion offers several tools and guides on how to retrieve, create, modify, or print a Bill of Landing numbers. Simply go to the search icon (not the track search) and search "BOL." You can also contact Old Dominion support for more information.
How to Track Old Dominion?
By using Old Dominion
Old Dominion LTL provides various ways to track your shipment during the entire shipping process. You can use the company's official website to find the right Old Dominion LTL tracking tool to track your shipment by going to the Old Dominion Track & Trace page.

Once on the page, you can quickly track your Old Dominion shipment by inserting your PRO number into the field. This Old Dominion LTL tracking tool allows you to enter up to 25 Old Dominion PRO numbers and track all your shipments in transit simultaneously.
After entering your Old Dominion PRO number and hitting "Track," you will be able to see the detailed Old Dominion tracking information.

Alternatively, the advanced Old Dominion LTL tracking tool lets you use your BOL, LOAD, PO, and pickup number to track your shipment and view more tracking details. However, you must log into your Old Dominion account to view your shipment's detailed tracking information.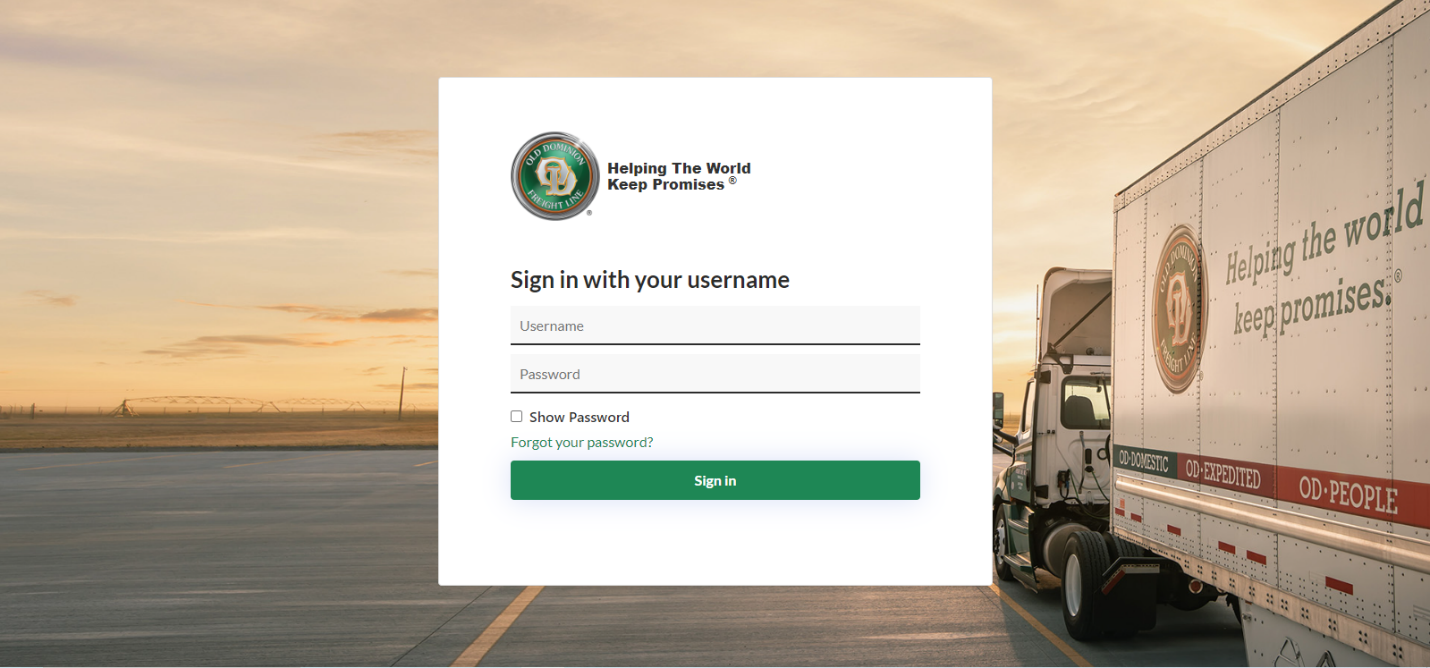 The third way is to use the Old Dominion Shipping API Integrations, which allow you to integrate their advanced track and trace system with your business's system. With it, you can give customers transparent shipping details in real time. Old Dominion API integrations include rate estimates, expedited transit time, electronic BOL, and tracking. Don't worry; the Old Dominion technical team will help you with API integrations.
The last way to track Old Dominion is by using the Old Dominion tracking URL, which lets you easily track and share your shipment's progress with your team members and customers. Copy the tracking URL, input your PRO number after the equal sign, and email it to others.
In case of any delays on your shipment, you can check the weather alert map for any reports of harsh weather.
By Using ParcelPanel
In addition to the Old Dominion LTL tracking tool and tracking URL, you may use third-party tracking platforms that provide more tracing and tracking features. One such platform is ParcelPanel, a leading tracking solution service provider for e-commerce that is trusted by over 40,000 Shopify merchants.
ParcelPanel is an excellent tool that seamlessly integrates with over 1,100 carriers worldwide. Our solution allows you to track Old Dominion freight shipments from anywhere at any time. We offer users real-time Old Dominion tracking, automatic shipping notifications, seamless integrations, and branded tracking pages. With ParcelPanel, Old Dominion LTL tracking is hassle-free for you and your customers.
ParcelPanel offers two different ways to track Old Dominion shipments.
To use ParcelPanel's Old Dominion shipping tracking features on the official website, go to the "Carriers" page.
Enter "Old Dominion" into the search bar and select it to access the "Old Dominion Freight Line Tracking" page.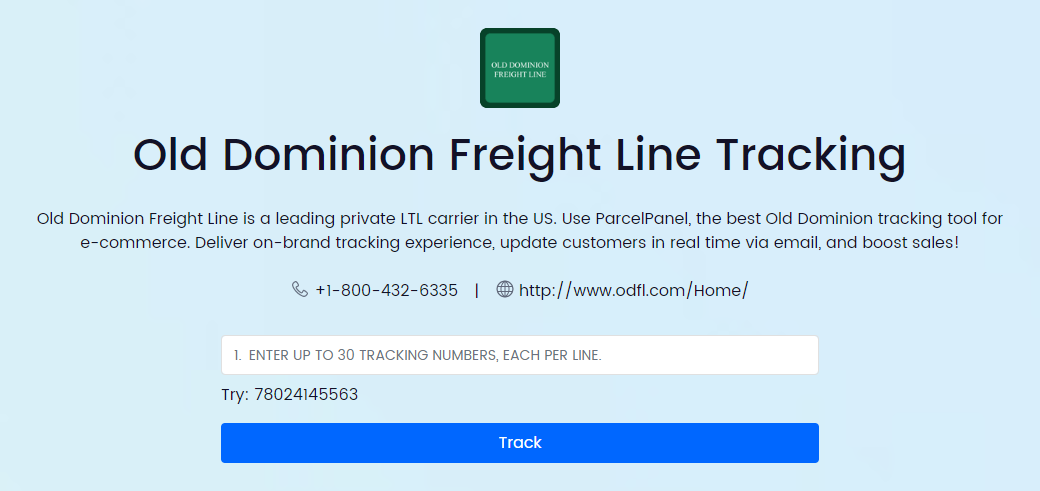 You can enter up to 30 Old Dominion tracking numbers to track your Old Dominion Freight shipments worldwide.
After entering your Old Dominion tracking number and hitting the "Track" button, a new page containing the tracking information will appear immediately.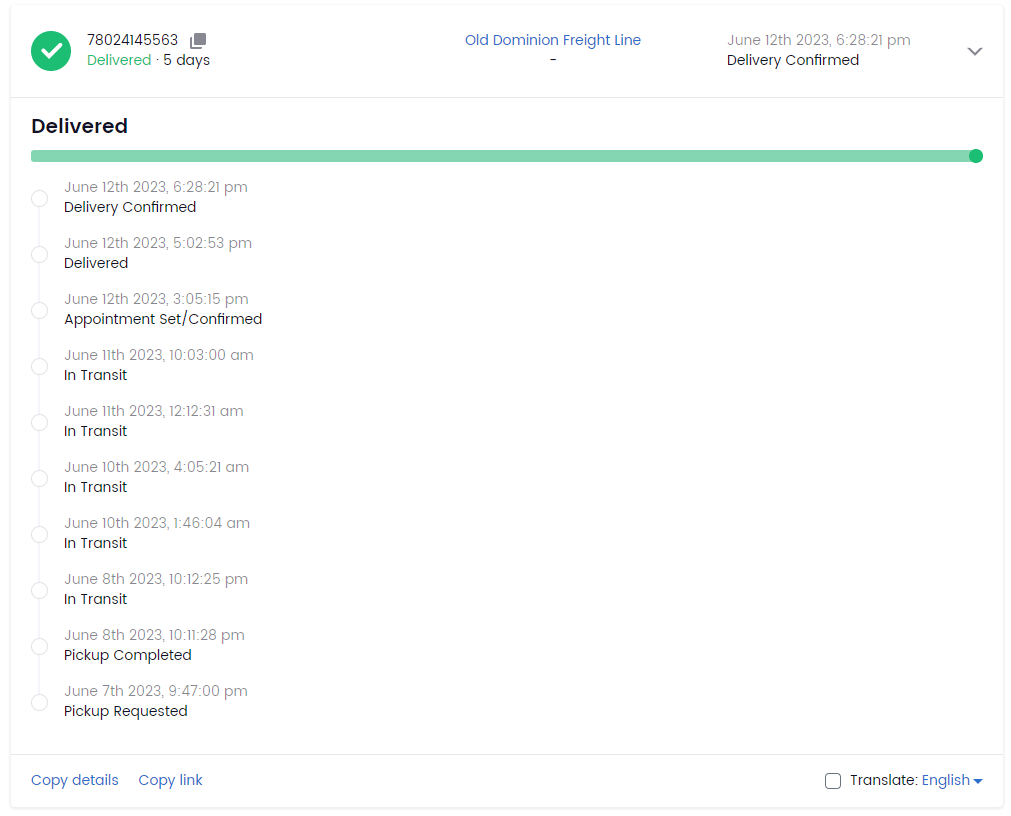 You can follow the shipping journey from the pickup request stage to the delivery confirmation stage. ParcelPanel supports up to 10 languages, so customers from different countries can easily understand their Old Dominion tracking information.
In comparison with the ParcelPanel official website, the ParcelPanel app offers even more tracking features for merchants and customers for a more pleasant post-purchase experience and increased loyalty and sales. The app features over 1,100 carrier integrations via API, including Old Dominion, for seamless tracking.

After the installation, the ParcelPanel Order Tracking app automatically creates a branded tracking page, providing easy access for your customers to track Old Dominion Freight shipments using an order number or a tracking number.
ParcelPanel also makes Old Dominion shipping tracking convenient for businesses and customers with automatic email notifications, which complement Old Dominion's tracking system. This helps you bring back customers to your store for the latest tracking updates and repeat business with AI-powered product recommendations.
The ParcelPanel app also allows merchants to display a map showing the shipment's precise location in real time. What's more, the app also enables you to show the estimated delivery date along with other useful information.
The ParcelPanel Order Tracking app automates shipment tracking across 1,100 carriers worldwide and centralizes order tracking in one dashboard for great convenience.
Old Dominion Tracking Number
You will need a tracking number to check your Old Dominion shipment progress. Old Dominion tracking number is a unique identifying number bound to your shipment. You will receive a tracking number once you place a shipping order, after which you'll need to track your shipment.
The tracking number Old Dominion provides can be any of the following types:
PRO (Progressive) number – most commonly used

BOL (Bill of Landing) number

PO number (Purchase Order number)

LOAD number

Pickup number
You can find your Old Dominion tracking number in the confirmation email, sales receipt, mailing receipt, shipment tracking notification, etc.
Old Dominion Tracking Number Format
Old Dominion tracking numbers are usually a sequence of 11 digits.
Old Dominion Tracking Number Example
Old Dominion Customer Service
In case of any tracking problems or delays during shipping, you can reach Old Dominion customer service for assistance in several ways. With over 250 service centers nationwide, Old Dominion is always somewhere close to providing trusted aid. Each shipping service Old Dominion offers has its dedicated customer service team to ensure issues are addressed as soon as possible.
Here's the contact information of different Old Dominion Freight customer service teams:
Domestic LTL service
Nationwide coverage across all 48 contiguous US states

Available from 7:00 AM – 8:00 PM ET (Monday to Friday)

Email:

[email protected]

Telephone:

1-800-235-5569
Expedited LTL Services
Global Services
Truckload Services
Old Dominion Freight Customer Service
Internet Customer Service