About Averitt
Averitt Express is a privately owned North American transportation and supply chain management company. Thurman Averitt established the company in 1958 as a small trucking firm. Later, in 1971, Gary Sasser purchased the company and transformed it into one of the nation's leading freight transportation and logistics companies.
Averitt is headquartered in Cookeville, Tennessee, offering reliable domestic, cross-border, and international delivery services to individuals and businesses. The company primarily operates in 17 states in the Southeast United States. In 2022, Averitt Express opened a new 260,000-square-foot distribution and fulfillment facility in the Memphis area. The new center added to their existing 2.4 million square feet of space across their 40+ locations. In 2023, another facility covering more than 340,00 square feet in Louisville, KY, was put into use.
Services offered by Averitt Express include:
Less than truckload shipping (LTL) Services (regional, continental, final mile delivery, etc.)

Truckload Service (dry van, flatbed, intermodal, and brokerage)

Dedicated services

International (ocean/air forwarding, customs brokerage, North America cross-border, etc.)

Distribution & fulfillment (Warehousing)
The awards and achievements Averitt has received for their service demonstrate the quality of their service and how well they are competing with other leading companies, such as UPS, YRC Freight, FedEx, Saia LTL Freight, ABF Freight, R+L Carriers, etc.
The list of their achievements includes industry organization awards like #1 LTL Carrier in Overall Quality, environmental responsibility awards, publication service awards, culture-related awards (Top Company for Women to Work for in Transportation), safety-related awards, and customer awards from renowned companies such as Coca-Cola, Jack Daniels, Dollar General, Walmart, Manitowoc, etc.
Averitt Tracking
Averitt Express provides various services, including domestic shipping, end-to-end cross-border shipping to Mexico and Canada, and International shipping through its Asia Express import service. The shipping services include real-time tracking of the shipment status, which guarantees the reliability of the service.
The following are the popular Averitt Express services that include a tracking feature.
Averitt Freight Tracking
The Averitt less-than-truckload (LTL) service is a cost-effective, reliable, and flexible service provided by Averitt Express. The service offers standard, next-day, temperature-controlled shipping, and so on. For LTL service, customers can also request a pickup schedule online or by calling customer service.
The Averitt LTL services feature:
✔Regional LTL Coverage (Day definite & time-definite service; next day and two-day delivery to most points from 600 miles to 1500 miles)
✔Full North America Coverage (Shipping to all over USA, Mexico, and Canada)
✔Expedited LTL (Guaranteed on-time shipment anywhere in the continental U.S., Puerto Rico, and beyond)
Averitt Truckload Tracking
The Averitt Truckload service is ideal for any type of shipping, be it cross-town, cross-state, cross-border, or cross-country. The Truckload services offered include
✔Dry Van Truckload (Standard, Customized, time-critical, Dedicated, and North America Truckload Brokerage)
✔Flatbed (Secure fright with GPS tracking and constant monitoring)
✔Intermodal service (For shipping volume freight efficiently)
-Trailer on Flatcar
-Container on Flatcar
Averitt Pro Tracking
Averitt Pro Tracking is a service offered by Averitt Express that allows customers to track their packages using the pro number assigned to them. These Pro numbers are unique identifiers that serve as shipment tracking IDs. Customers can use the Pro number to track their LTL service, Integrated service, and specialized services.
An Averitt Pro number consists of 10 numerical digits. The Averitt Express official website has a long list of tracking tools.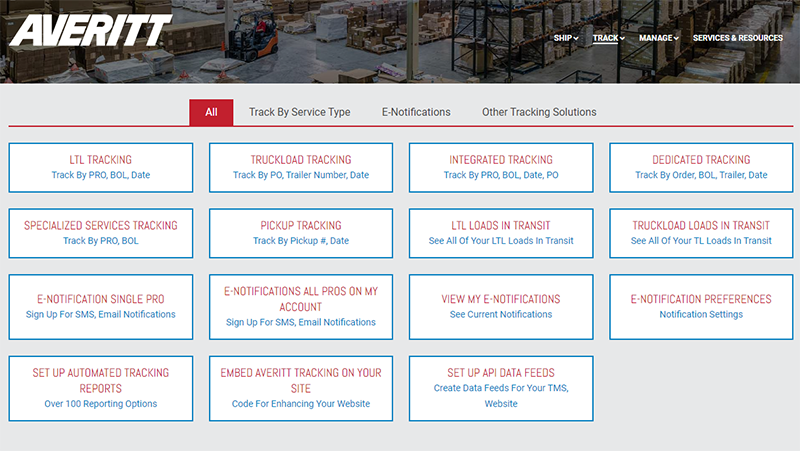 You can select the tool according to your required service and enter your Pro number in the tracking field (if the tool supports it) to access your shipment's current status.
Averitt Tracking with BOL
Averitt Express provides a Bill of Lading (BOL) with every package registered and shipped via the Averitt network. The BOL serves as both a legal contract between Averitt and the customer and a tracking document for the shipment. At every transit, the BOL is also used to update the shipping status. Therefore, the Averitt tracking tool provides the feature of tracking packages using the BOL number.
The tracking tools available on the Averitt Express official website are organized by service. Almost all of them support BOL tracking. However, Averitt prioritizes the protection of its customers' sensitive information. As a result, in order to track your package using your BOL number, you must log in to your registered Averitt account.
Averitt Pickup Tracking
The Averitt pickup service allows customers to ship packages from their home or desired location. Customers can request the pickup schedule through the website or customer service. Averitt approves the request and sends an Averitt delivery personnel to the requested location at the scheduled time.
The Averitt pickup service has a tracking facility. Customers can monitor their request status if the delivery man is on his way to pick up the delivery or, due to specific reasons, the pickup schedule is changed. Everything will be stated in the tracking dashboard.
The pickup tracking tool has been integrated into the Averitt system, and you can find it in their official website's tracking tool list. However, because this is an advanced tracking service, accessing the tool requires logging in to the registered Averitt account.
How to Track Averitt Shipments?
Averitt's official website includes an individual tracking tool for each of its services. Whether you want to track your LTL shipping status, specialized service, or pickup schedule, you will get separate tools.
Some tools allow tracking of packages via Pro or order number, while other tools allow tracking through the registered account to maintain the confidentiality of the customer's sensitive information. It includes tracking via BOL number or other shipment identifying information. Moreover, you can track your shipment via third-party shipment tracking tool sites like ParcelPanel.
Here is a detailed step-by-step guide explaining the Averitt shipment tracking process.
By using Averitt Tracking
Here are steps that you need to follow to track your Averitt shipment using the Averitt tracking tool on their official website.
Step 1: Go to the Averitt official website and select "Track" from the top navigation menu.
Step 2: Choose the tracking tool that best suits your needs.
Step 3: Log in to your registered account (if required) and enter your tracking number and click the "Track" button.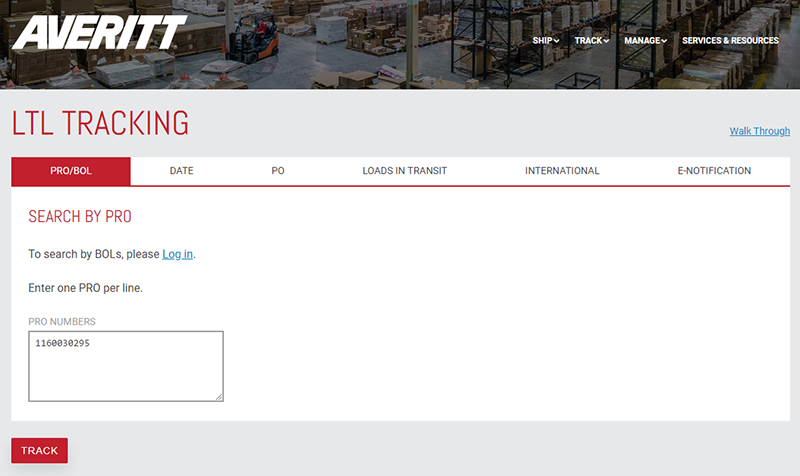 Step 4: A page with detailed information about your shipment will then appear on your screen. However, to see the documents, invoice, and other confidential information, you must log in to your registered Averitt account.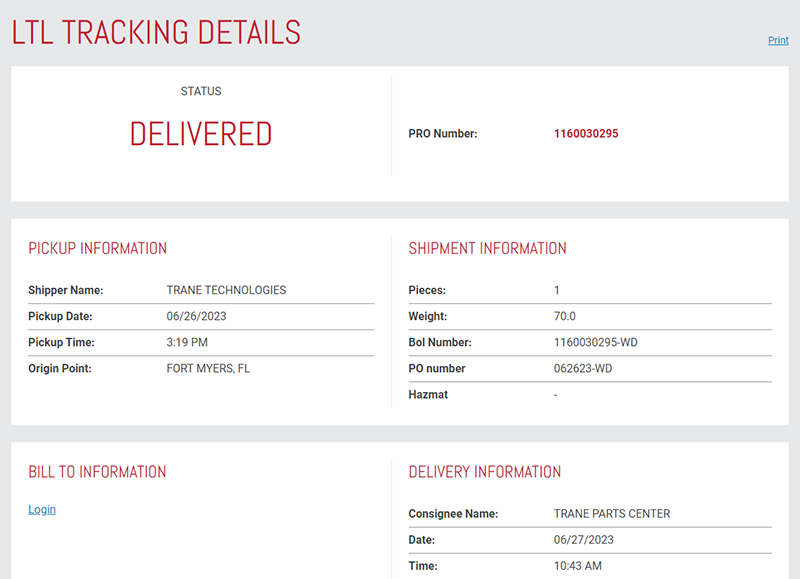 What's more, you can find the entire shipment transit history by going to the "Shipment Progression" section, which is at the bottom of this page.

ParcelPanel is one of the leading and most reliable shipment tracking sites. The seamless integration of ParcelPanel with over 1,100 carriers worldwide, including Averitt Express, makes the site an all-in-one tracking solution for eCommerce.
You can track your package using both the official ParcelPanel website and the ParcelPanel Order Tracking app. It's worth mentioning that you can search for up to 30 tracking numbers per search. Thus, ParcelPanel streamlines bulk tracking.
Here is a detailed guide on how to use ParcelPanel to track your Averitt package.
Step 1: Go to the ParcelPanel 'Carriers' page
On the homepage of ParcelPanel's official website, click "Carriers" in the top menu bar.
Step 2: Select 'Averitt'
On the carriers page, search for Averitt in the search bar and click on 'AVERITT Express.'
Step 3: Enter the Averitt tracking number
On the Averitt tracking page, there is a tracking box in the middle of the screen. It can accommodate up to 30 Averitt tracking numbers, with one per line. Enter your tracking number in the box and click on the 'Track' button.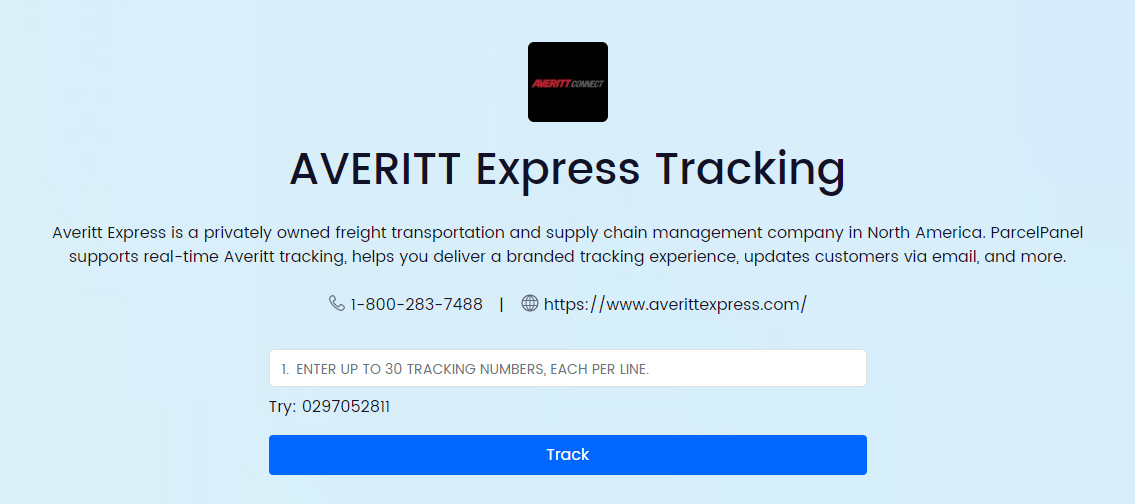 Step 4: Get Averitt tracking details
Then, a dashboard with detailed shipment tracking information will show up on your screen. You can find the latest shipment status and transit time here.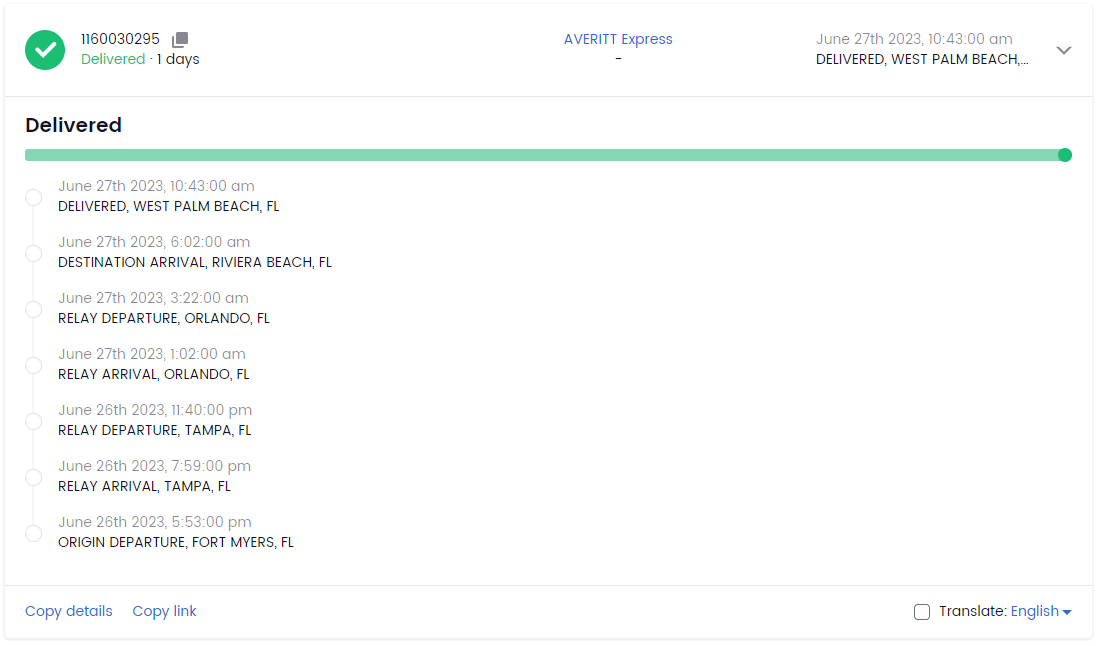 The ParcelPanel Order Tracking app is specially designed for Shopify and Woocommerce merchants. They can integrate the app into their store to create a uniform order-tracking experience.

After installation, the app automatically generates a branded tracking page to provide self-service order tracking for customers' post-purchase queries regarding their order status, delivery progress, etc. The app pulls the order number, tracking number, order date, order status, and other tracking information from the store order details and organizes them in a single dashboard.
Merchants can access that dashboard from the backend and keep track of all their orders, regardless of how many carriers they use. This allows merchants to track Averitt Express shipments more efficiently and provide better customer service.
Averitt Tracking Number
The Averitt tracking number is a unique identifier assigned to every shipment handled by Averitt. This number is provided as a text message or through a confirmation email. You can also get the tracking number from the seller's website.
Averitt tracking number format
The standard Averitt tracking number format consists of 7-10 numerical digits.
The Special Cargo Service tracking numbers are 7 digits long.

Averitt Less-than-truckload (LTL) tracking numbers are 10 digits long.
Averitt tracking number example
For your convenience, we have provided a few examples of Averitt tracking numbers so that you can find yours easily.
1160030295
0297052811
Averitt Tracking FAQ
The following are answers to some of the most frequently asked Averitt tracking questions.
What about Averitt transit times?
The Averitt transit times depend on multiple factors, including mode of transportation, the distance between the origin and destination, freight volume, customs clearance, weather, time of the year, unforeseen circumstances, and so on.
Averitt offers next-day to 2 ~ 5+ days transit time for North America LTL services, while shipping from Asia may take around 20-26 days. You can learn about the transit times for Asia from Averitt's Asia-Express service transit times chart. Moreover, Averitt has a transit time calculator on their website to help customers estimate the transit time for their LTL shipment.
How to submit an Averitt Express pickup request?
You can submit an Averitt Express pickup request in the following ways.
The First Way: Online
To submit a pickup request online through the Averitt Express website, you need to follow the steps below:
Step 1: Go to the official website
Step 2: Click on "Ship" from the drop-down menu.
Step 3: Select "LTL Pickup Request"
Step 4: Create an Averitt account or log in to your existing account
Step 5: Fill out the Pickup Request Form with your shipment details and submit the form.
The Second Way: By Phone
You can also schedule your pickup request through customer service. Dial the Averitt customer service number at 1-800-AVERITT (283-7488) and press 1. Provide your shipping details and pickup date and time. An Averitt driver will be sent to your location at your scheduled time to pick up your package.
What is Averitt BOL?
The term BOL stands for 'Bill of Lading.' The Averitt BOL is a legal document provided with the shipment to track the movement of the freight. The document contains the following information:
Shipper information:

Name, address, city, state, ZIP, and phone number of the sender.

Consignee information:

Name, address, city, state, ZIP, and phone number of the recipient.

Freight Information:

Package type, weight, number of pieces, etc.

Tracking information:

Origin, destination, date, pickup time, etc.

Terms and conditions of the shipment:

Freight charges, company liabilities, rights of the shipper and the company, etc.
Note: In case you need to file a claim, the Averitt Bill of Lading (BOL) is an essential document that you need.
What is Averitt service coverage?
Averitt, as one of the leading freight transportation and supply chain management companies, boasts a wide service coverage. It primarily runs in the 17 states of the Southeast United States, including North Carolina, South Carolina, Georgia, Florida, Mississippi, Texas, Louisiana, and so on.
Averitt also serves as an international logistics solution for over 100 countries worldwide. Its Asia Express import service allows air and ocean freight from anywhere in Asia to anywhere in the United States. You can check out Averitt service map to explore their distribution & fulfillment network and warehouse locations in the US.
Averitt Customer Service
Contact Averitt Express customer service at your earliest convenience for any query, such as a delayed shipment, tracking issue, missing package, or general information.
The following is Averitt Express customer service contact information:
Mailing address: You can mail your queries to their corporate office at
Averitt Express, Inc.
1415 Neal St
P.O. Box 3166
Cookeville, TN 38502-3166
Averitt customer service number:
The Averitt Express customer service team, consisting of trained professionals, is available 24/7. You can dial 1-800-AVERITT (283-7488) and press "3" to speak with an Averitt customer care representative and get all of your questions answered.
Email: Send an email to Averitt Express customer support at [email protected].