About Saia
Saia, Inc. is a publicly traded US-based company (NASDAQ: SAIA) that provides transportation, logistics, cargo, and freight services in the US, as well as to Hawaii, Alaska, Puerto Rico, Mexico, and Canada through a network of partners.
Saia's business journey began in 1924 in Houma of Los Angeles at the hands of Louis Saia Sr. Although the company was founded as a one-man operation with a family truck, today, it is one of the leading supply chain and logistics solutions providers in the US, headquartered in Johns Creek, Georgia.
Currently, more than 12,000 people work for Saia to support its nationwide and international services. The company provides various freight and third-party logistics services. On average, Saia handles more than 30,000 shipments daily.
To expand its services, Saia has entered into partnerships with various companies. For example
● FreightCenter Carrier Network: to provide FTL, LTL, and cross-border services in the US, Canada, and Mexico.
● Daimler Trucks North America LLC (DTNA): to test electric box trucks.
● US Environmental Protection Agency SmartWay Program: to assist businesses in improving supply chain sustainability.
Over the years, the company has received recognition, awards, and accolades for its performance, ethical and corporate responsibility, and ensuring promising services to its customers.
Some of the competitors of Saia include XPO Logistics, Estes, Old Dominion, TForce Freight, etc.
Saia Tracking
The service scope of Saia is comprehensive, as it includes logistics solutions in addition to shipping services. The primary LTL freight service boasts 191 terminals and coverage of 60,000 zip codes across the US. The logistics services include custom solutions, warehousing, inventory storage, consolidation, and ground/air transportation.
Saia delivers directly to 48 lower US states and through a network of partners to deliver to Alaska, Hawaii, Puerto Rico, Canada, and Mexico. 85% of the Saia LTL freight domestic delivery is made within 1 ~ 3 business days. However, transit times vary by location. You can check the estimated transit time from the Saia website.
With Saia Tracking Service, you can effortlessly track the status of your shipment within a few seconds. All you need is a Saia Pro number, which is a unique 11-digit string without a hyphen. You can also use other tracking options, such as:
Partner Pro numbers:

An 11-digit unique string.

Pickup number:

When submitting a pickup request to Saia, you will receive a unique pickup number.

Shipper number:

You can find the shipper number on your Saia invoice or bill of lading.

Customer BOL number:

Bill Of Lading or BOL is the official document that the carrier issues to describe the shipment.

Order number:

The PO is issued by the seller and usually contains the details of the order, such as quantity, description, price, delivery date, etc.
We'll look at Saia tracking by service right away.
Saia Freight Tracking
Saia Freight involves the transportation of a large amount of cargo using large vehicles. Saia offers LTL Freight, multi-regional, and truckload services for businesses. Saia Guaranteed delivery service (by 12 PM or 5 PM) is optional. More importantly, by choosing Saia Guaranteed, Saia logistics experts have up-to-the-minute shipment visibility and prioritize the handling of your Saia freight shipment from start to finish.
To track your Saia freight shipment, you will need the Pro number that you receive in the shipping confirmation email. If you have entered additional information when creating the bill of lading, for example, the purchase order number, you may also use the number for tracking Saia LTL freight.
Saia Motor Freight Tracking
According to Bloomberg, Saia Motor Freight Line, LLC operates as Saia LTL Freight. This means that if you are looking for Saia Motor Freight Tracking services, you can use Saia Track or a third-party package tracking website like ParcelPanel to monitor your LTL shipment from origin to destination in real time with a Saia tracking number.
Additionally, Saia LTL Freight is also referred to as Saia Trucking. Saia Trucking tracking is essential for businesses using Saia shipping services.
As mentioned earlier, Saia offers freight, consolidating, and logistics services. Its business solutions include the following:
To ensure the full protection of your carrier, you can purchase additional freight insurance from Saia.
Expedited or Customized Solutions
Saia offers requirement-specific solutions, also known as customized solutions. In this category, you can choose one of the following three categories to meet your needs.
a. Urgent delivery: If you need an early delivery, Saia will help you get it within your time frame. This service covers an area of 48 states.
b. Out-of-business hours: Receive your shipment at any time, even if it is not during Saia's regular business hours.
c. Select delivery: This is entirely up to you. You can create a unique plan that is flexible, customizable, and reliable.
To fulfill one of your custom solutions, you will need to fill out a custom solution quote request form with Saia.
Third-Party Logistics Service
You can take advantage of Saia's logistics services. Saia offers a wide range of smart solutions, such as project management, operations optimization, supply chain improvement, and data analytics.
Distribution & Consolidation
Saia's distribution and consolidation service is a lifesaver for anyone looking to minimize inventory and warehousing while reducing transit times and transportation costs. Saia gets the job done by offering LinkEx truckload and warehousing options.
Saia's trade show services provide event organizers and exhibitors with worry-free shipping, delivery, and set-up services to get their goods to their desired locations.
How can I track Saia packages?
Tracking Saia packages is not that difficult, as the platform has its own website for this purpose. However, you can also use other third-party platforms.
We will explain how to track Saia packages step by step.
By using Saia Track
Saia's tracking website is the most direct and convenient way for anyone to track the status and updates of their carriers. The interesting thing about Saia shipment tracking is that it offers a variety of options, as mentioned earlier. However, we are going to work with the Saia Pro number. This is an 11-digit unique number string. By simply entering this number, you can check the latest status of your shipment. You can enter as many as 30 Pro numbers at a single time.
Take Pro number 10184703510, for example. We've opened the Saia tracking page and entered the Pro number.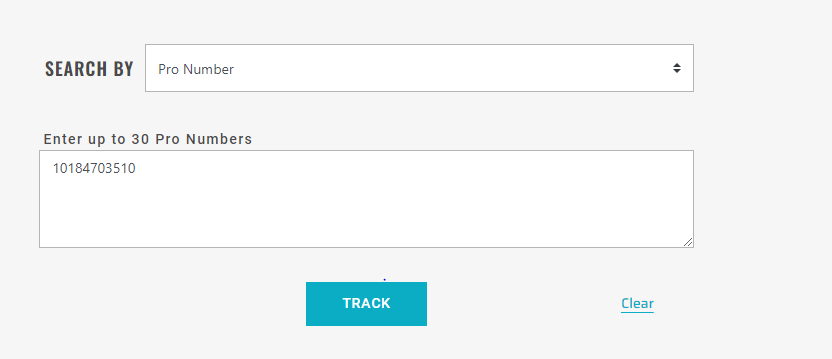 Once we've clicked 'Track,' the shipment details show up.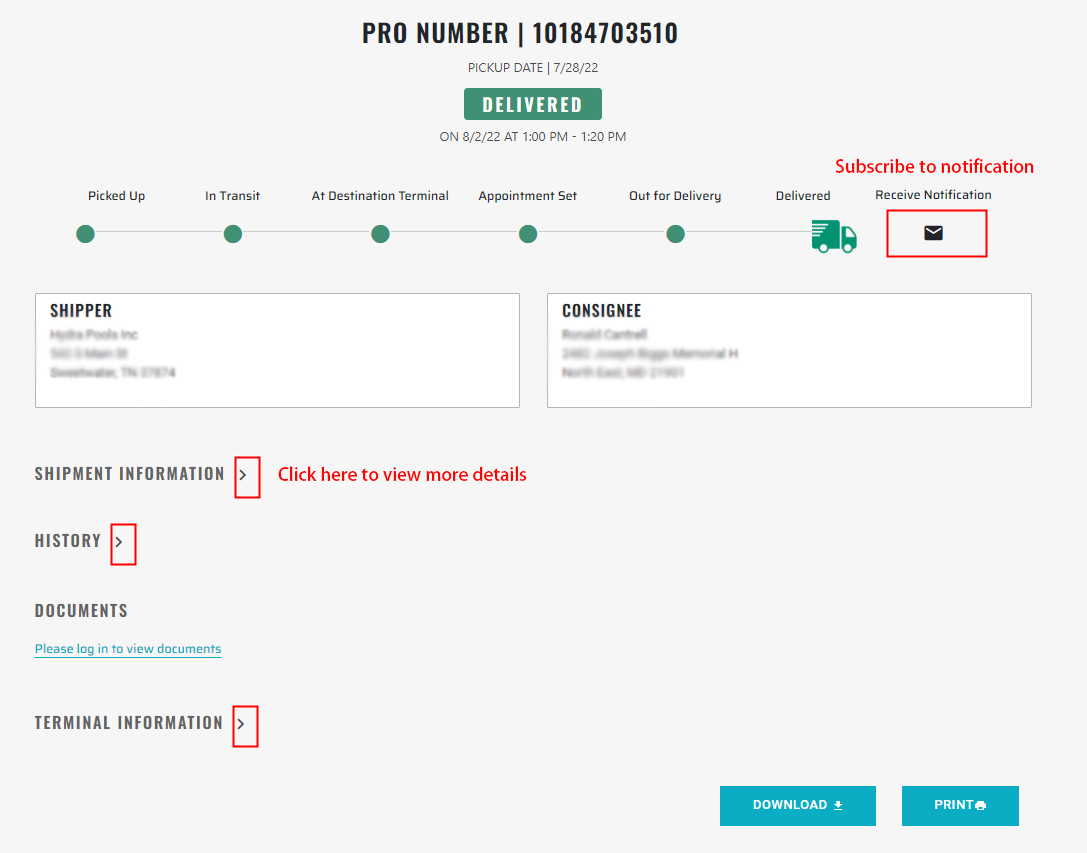 Let's first check the shipment information. After clicking the arrow, the detailed shipment information came into view. At the end of this section, you can find other types of Saia tracking numbers, such as the purchase order number, shipper number, pickup number, etc.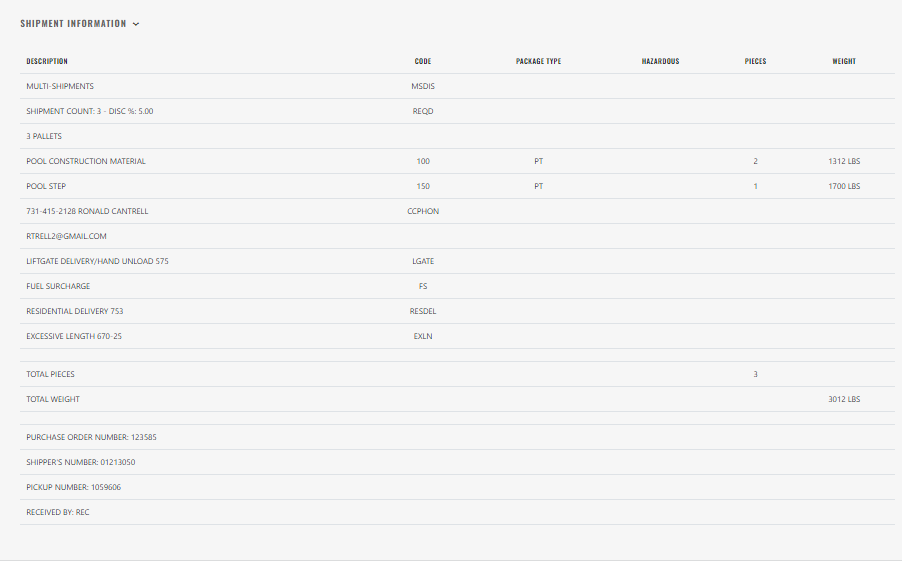 We needed to check when and where our carrier was. For that, we can check the "History" section. The second line is the last scan, which indicates the latest shipment progress.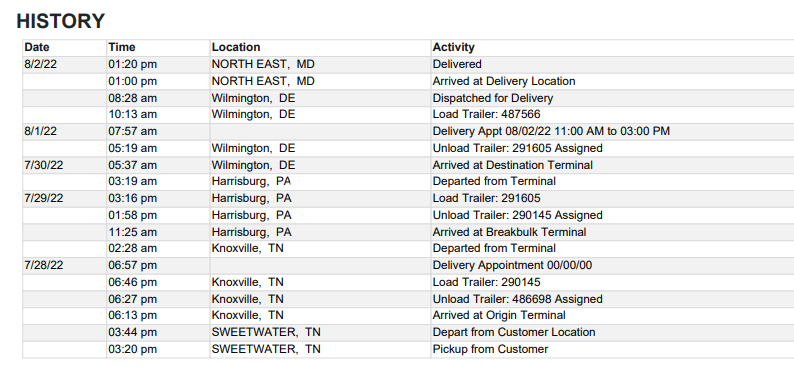 Also, we've got to see the destination terminal information to schedule a pickup.

You can use ParcelPanel to track your Saia LTL freight. It is an all-in-one order tracking solution with over 1,100 carrier integrations. It provides real-time tracking information and shipment notifications via email for merchants and end customers.
With ParcelPanel, merchants can create a custom tracking page, draw insights from in-depth analytics, analyze customer behavior, and much more, while end customers can easily track their orders, find out the current status by using the Saia tracking number, and receive real-time shipment notifications.
There are two ways to use the ParcelPanel platform.
Use the ParcelPanel website
Step 1: Go to the ParcelPanel Website.
When you click on the link above, you will land on the Saia LTL Freight Tracking page, which looks like this.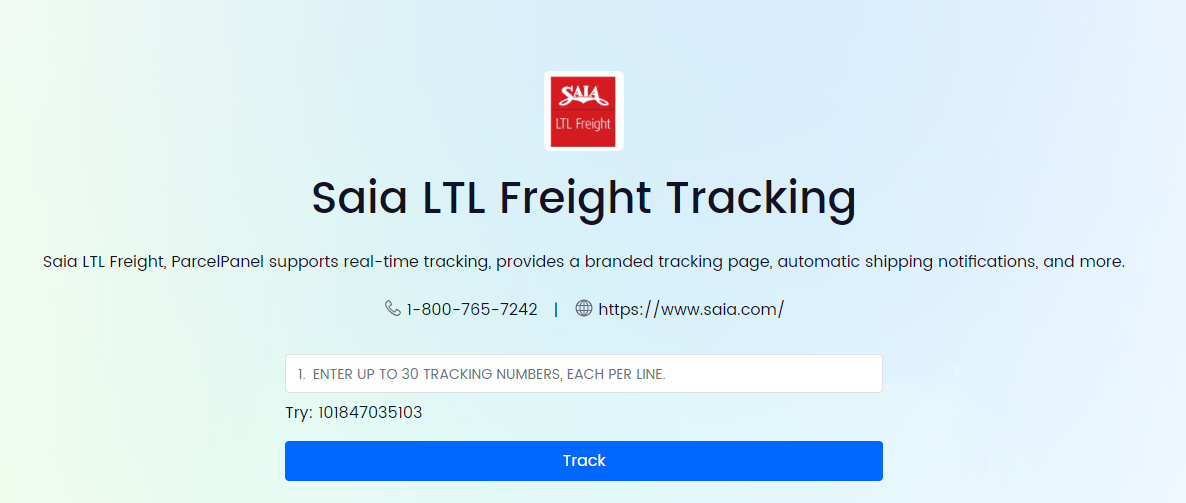 Step 2: Enter your Saia tracking number.
Now, enter your Saia tracking number in the shipping confirmation email that you received. You can enter up to 30 Saia tracking numbers, with one per line. Then, click on 'Track.'
Step 3: Check the status of your shipment.
You will then see the latest status of your Saia LTL freight shipment.
For example, our Saia tracking number is 101847035103.
Notably, Saia supports 11-digit tracking numbers. Here the last digit is the pallet number. By entering 101847035103, 101847035101, 101847035102, and 10184703510 into the Saia package tracker on the ParcelPanel website, we get the same tracking information.

The Saia LTL Freight Tracking page on ParcelPanel is ideal for the shipper because the person doesn't need to find the contact information of the destination terminal and because all tracking information can be translated and exported easily.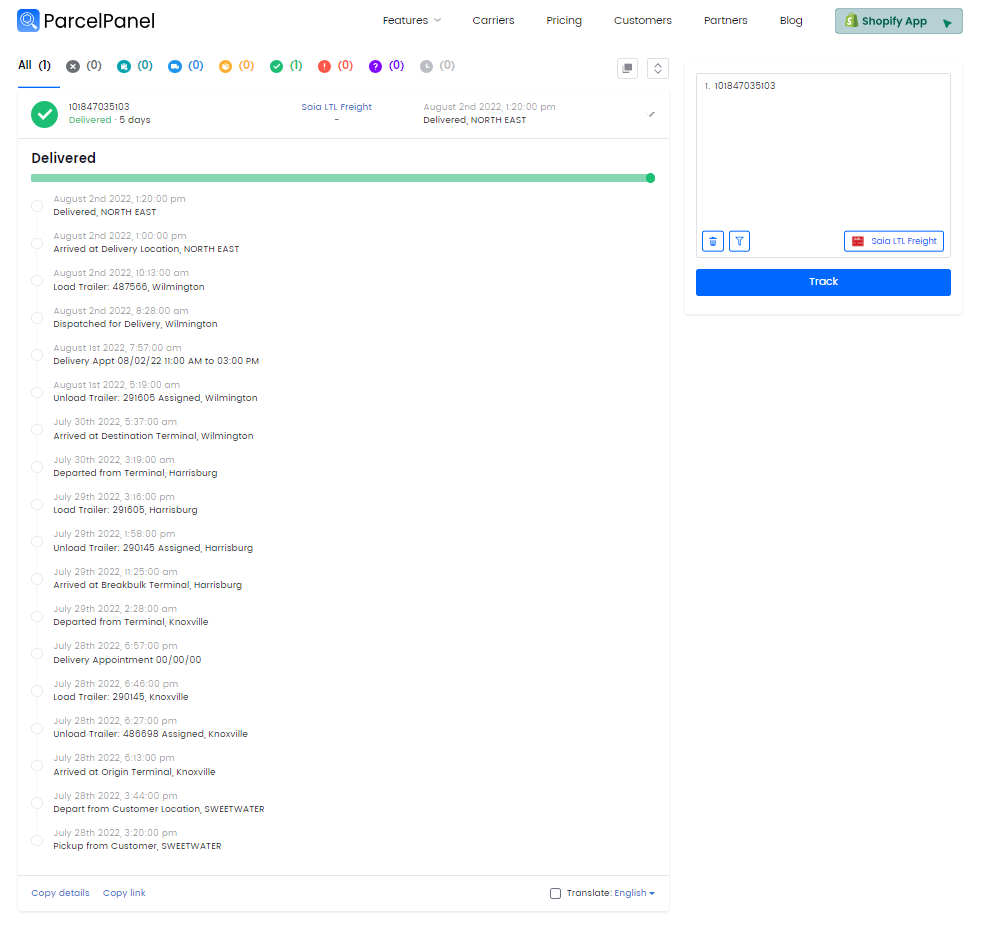 If you run a Shopify store, you can use the ParcelPanel app to automate package tracking. To track Saia LTL freight shipment with this app, your customers are required to enter the Shopify store order number or the Saia tracking number on the order tracking page automatically created by ParcelPanel. What's more, they will return to your store to get the latest tracking updates.
You can track all your orders by going to "Orders" and enable notifications to keep your customers updated throughout the entire shipment journey and get in-depth analytics by using the Dashboard.
This is an example of the order tracking page created by ParcelPanel: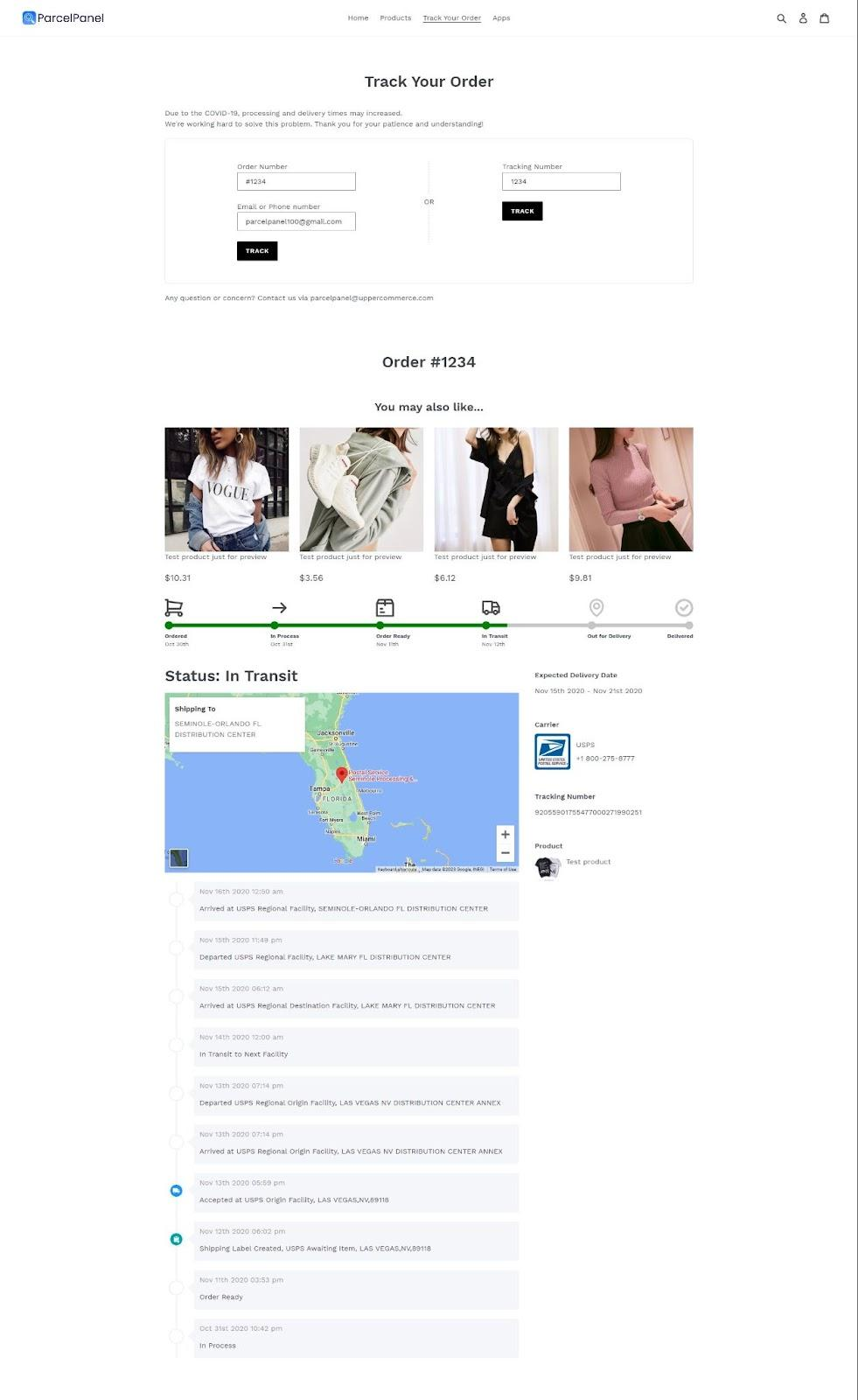 You can further customize the look and feel by going to the "Tracking Page" settings.
ParcelPanel can help businesses centralize Saia LTL Freight tracking, improve customer satisfaction and reduce WISMO-related support calls. This is because it seamlessly integrates with over 1,100 carriers via API, including Saia.
Saia Tracking Number
Saia assigns a unique identifier to each shipment for tracking purposes. The Saia tracking number can be a freight bill/Pro number, a pickup number, a BOL number, or else. Once you confirm your order with Saia, you will receive a tracking number via email. You can check the delivery schedule or estimated time of arrival of your freight shipment.
Saia Tracking Number Format
Generally, a Saia Pro number consists of 11 digits with no dashes in between. In particular, the Saia tracking number is composed of numbers only, with no letters and no hyphens. There is a check digit at the end which is not needed for tracking purposes.
If, by chance, you find a 12-digit Saia tracking number, the last digit can be the pallet number. This is because an LTL freight shipment might be transported using several pallets. If you enter a 12-digit tracking number on the Saia Track page, the last digit will be automatically omitted, as shown in the image below.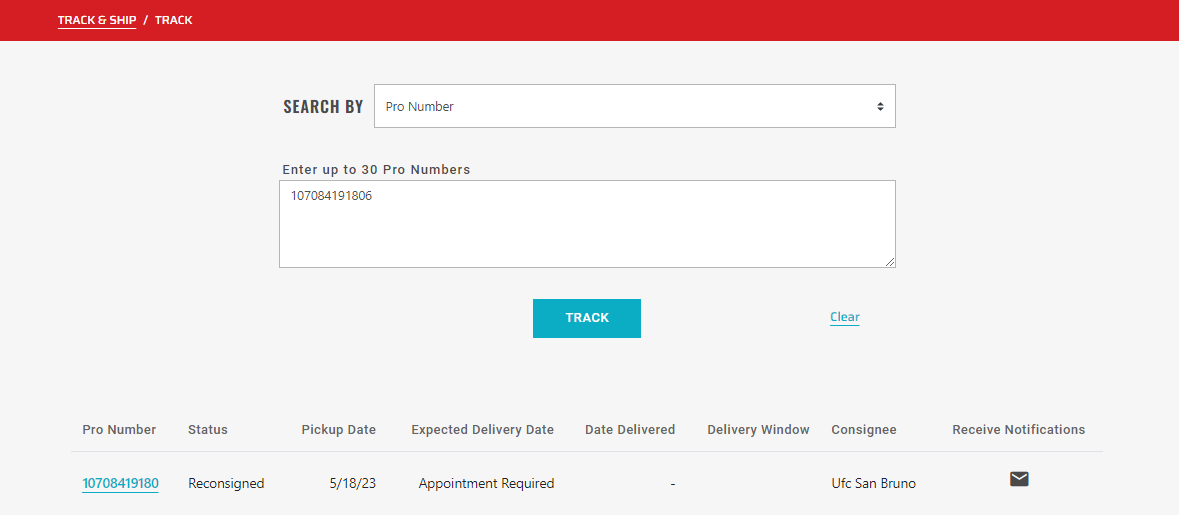 Saia Tracking Number Example
10184703510
10708419180
Saia shipment tracking FAQ
How long does Saia shipping take?
Saia strives to provide a fast delivery service. On the official website, Saia states that 85% of orders are delivered within two business days or 48 hours. However, the timing may vary depending on your location. You can use the Saia transit time calculator to find out. If you need expedited service, you can also choose Saia Custom Service.
How do I change the delivery address for Saia freight during transit?
If you would like to change your Saia freight delivery address before delivery, you must first request redirection or reroute through your account. If Saia approves your request, you can have your delivery location or address changed for $29.30 (fees may vary).
Why is my Saia Pro number not working?
The Saia Pro number is a unique series of numbers that allows you to track updates on your Saia shipments. You can see the current Saia shipment status by entering this number on the Saia tracking page or a third-party shipment tracking website like ParcelPanel.
But sometimes, the Saia Pro number does not work. This is because the Saia Pro number may be incorrect, you entered the Saia Pro number incorrectly, Saia may not have scanned your shipment, or your shipment may have been canceled. If you have problems with your Saia Pro tracking number, please contact Saia ASAP.
Saia Tracking Customer Service
If you would like to contact Saia Tracking, here are some ways in which you can reach Saia Support for package tracking.
Saia Headquarters Address
11465 Johns Creek Parkway, Suite 400, Johns Creek, GA 30097
Saia General Office Addresses
104 Woodlawn Ranch Road, Houma, LA 70363
2264 S Bonito Way, Suite 100, Meridian, ID 83642
Saia Customer Service Phone Number
1-800-765-7242
Saia Customer Service Email Address
Facebook, Instagram, LinkedIn, Twitter, and YouTube.
Work hours vary from 4:30 AM to 8 PM. For example:
Montgomery, AL terminal: Mon-Fri 6:30 AM- 7 PM
San Jose, CA terminals: Mon-Fri 4:30 AM- 5 PM
Binghamton, NY Terminals: Mon-Fri 7:30 AM- 8 PM
To learn more, visit Saia's Terminals webpage.
Monday to Friday
Closed:
Saturday and Sunday.
Here is a list of holidays when Saia is closed. Limited operation days below are not counted as service days. Here is a list of holidays when Saia is closed.
> New Year's Day
> Good Friday - Limited Operation Day**
> Memorial Day
> Independence Day
> Labor Day
> Thanksgiving Day
> Black Friday
> Christmas Eve (observed)
> Christmas Day (observed)
> New Year's Day (observed)
Saia offers customized solutions at an additional cost. If you need urgent services on any of these holidays, you can contact Saia directly. Here is Saia's contact information for customized solutions.
888-999-7242
You can proceed by filling up an online form for a custom solution, and you will be receiving a quote.