About XPO
XPO is among the leading LTL carriers in North America, with track records of excellence over the years in operation. The company continuously expands its delivery networks, capacities and technology. With this, they serve every customer with excellence by delivering efficiency.
XPO was formerly known as XPO Logistics, Inc., and used this name from 2011 until 2022. As a publicly traded firm, it was listed on the New York Stock Exchange and represented by the ticker symbol "XPO" - NYSE: XPO.
The company's founder, Brad Jacobs, established the company's American headquarters in Greenwich, Connecticut, and its European headquarters is in Lyon, France. XPO Logistics had 564 locations and 38,000 employees in total in 2022.
The services of XPO US cover the US, Canada, Mexico, and the Caribbean. LTL (less-than-truckload) freight transportation has been the exclusive focus of the company's North American activities since November 2022. However, in Europe, XPO provides managed transportation, last mile, dedicated truckload, LTL, truck brokerage, and freight forwarding services. The organization also oversees multimodal solutions, such as combinations of road and rail and road and short sea.
GATX, Ryder System, DHL, UPS, and International Distributions Services are XPO Logistics' competitors.
XPO Tracking
XPO US mainly focuses on less-than-truckload transportation, while XPO Europe offers various shipping and tracking services. The two entities operate separately. On the whole, XPO provides comprehensive coverage across the U.S. (nearly 99% of all U.S. postal codes) and in European countries, including France, the UK, Ireland, Spain, Italy, Portugal, Morocco, etc. All XPO services are digitally managed, which offers enhanced visibility and agility.
We'll look at XPO tracking by freight service or transport solution in detail:
XPO LTL Tracking
XPO has earned a reputation for being a very dependable supplier of LTL transportation services to shippers. Irrespective of the type of freight, XPO's capabilities are made to handle a variety of shipments, including solutions for managing suppliers and handling returned items.
Customers can simply track the progress of their shipments with XPO LTL Tracking and get updates on their deliveries. This promotes openness and authenticity during the shipping process.
On the XPO Inc (U.S.) official website, you can find the simple LTL freight tracking tool. If you're a registered user, then, log in to LTL.xpo.com, and you can access the advanced tracking tool and get detailed tracking information. Up to 35 PRO numbers can be entered, one per line or separated by commas. XPO PRO tracking makes managing your expectations and keeping tabs on your shipment easy.
The XPO less-than-truckload service has a broad delivery area that includes several countries in Europe and beyond. XPO's service areas and the shipping needs of the customer may determine the precise delivery area.
Those who choose the XPO LTL service can keep track of their palletized XPO shipments in real-time by using the dedicated Webtracking portal. You need to log in to monitor shipments as they travel from the packing dock to the destination.
XPO BOL Tracking
A bill of lading (BOL) is a document issued by a transportation company that records the details of a shipment, including what is shipped, the destination, the recipient's name, and all the relevant information. Considering there are many different types of bills of lading, XPO Logistics offers registered users online BOL capabilities. You can easily create a bill of lading template and fill in a Bill of Lading. An accurate bill of lading is indispensable to invoice accuracy.
When creating an XPO BOL, you'll need to have a PRO number applied to it. The PRO number is used for XPO BOL tracking. Moreover, you can set up custom reference numbers to enable XPO shipping tracking.
After the BOL is submitted, you can sign up for email notifications that update you on the latest shipment progress.
XPO Last Mile Tracking
XPO's industry-leading last-mile capabilities in North America have been brought to European countries, including France, the UK, Ireland, Portugal, and Spain. Tailored programs are available for omnichannel retailers and e-commerce businesses.
XPO specializes in coordinating the delivery and installation of large, heavy items like appliances, furniture, and electronics. Their last-mile services include white glove delivery, ensuring the utmost care and attention to detail.
XPO widely applied technology to the operations, and shipment visibility is one of the key areas that they think highly of. Similarly, XPO's European customers can access XPO Last Mile tracking information via Webtracking.
How to Track An XPO Shipment?
There are different ways to track your XPO shipment, which will give you confidence in the security and status of your shipment.
XPO offers different tracking options to customer needs. You can even streamline the process by automating XPO tracking with ParcelPanel.
Check the detailed explanation of how to track an XPO parcel below:
Using XPO Tracking Page
XPO also allows you to track your shipment with the XPO tracking page. Just enter the PRO number of your XPO shipment.

Then, tap the red box with a forward arrow, and all the necessary and real-time updates of your shipment will show up. With this, you can check the real-time location of your shipment.
Using LTL.XPO.com Account
The use of an LTL.XPO.com account appears as an appealing selection for customers looking for a good tracking experience. You are allowed smooth access to a variety of additional tracking capabilities and functionalities by virtue of having an account.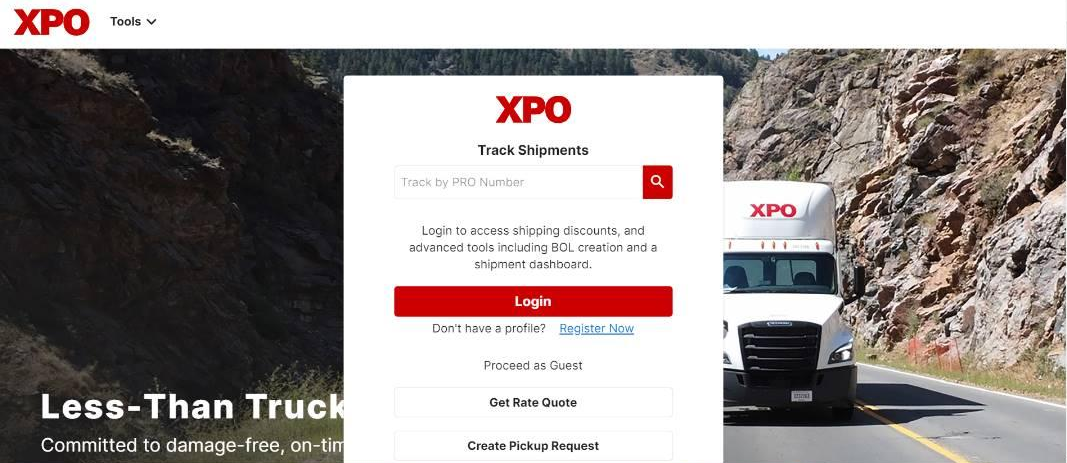 The steps are quite straightforward. Register an account and log in. You can visit the site with a computer, laptop or smartphone. Click "Track Shipment," and a variety of XPO tracking numbers can be used to track your shipments, including the PRO number, pickup request confirmation number, reference number, purchase order number, etc. With the tool, you will be informed of all important milestones. What's more, you can access the list of recently tracked shipments.
ParcelPanel has built seamless integrations with over 1,090 carriers, including XPO, thus providing a seamless and user-friendly XPO tracking experience through our website and the ParcelPanel Shopify App.
ParcelPanel Website
By inputting the necessary tracking numbers linked with your XPO shipments on the ParcelPanel website, you may start the tracking procedure.
Our website allows you access the XPO Tracking tool to track up to 30 XPO shipments each time. You can learn the whereabouts of your XPO shipments with just a few clicks and export all the information to an Excel file.

ParcelPanel Shopify App
The ParcelPanel Shopify App provides an intuitive interface that improves the consumer experience for companies utilizing the power of Shopify.

With the ParcelPanel app, a customized order tracking page that reflects your brand identity is created immediately. By entering their order number or tracking number, customers may easily track their XPO shipments. This simplified method not only improves client satisfaction but also helps you bring customers back for more. Additionally, you have the option of keeping customers updated via email notifications. The ParcelPanel Shopify App improves the post-purchase experience and fosters customer loyalty.
XPO Tracking Number
An XPO tracking number is typically between 8 and 16 characters, which may contain letters. An example of an XPO tracking number is 370165714.
Entering the tracking number on the XPO official website or ParcelPanel.com (website or Shopify app) will help to track your package.
What is the XPO PRO number? XPO LTL tracking requires a 9-digit XPO PRO number to identify a freight bill. In particular, the ninth or the last number of the PRO number is the MOD 7 Check Digit.
For instance, consider the PRO number 294-32049C, where C stands for the check digit. The ninth number, known as the check digit, is always between 0 and 6, never going over 6.
XPO Tracking Status Definitions
Whether you use XPO LTL services or transport solutions, it's important to familiarize yourself with the XPO tracking status and definitions listed in this table.
| XPO Tracking Status | Definition | Code |
| --- | --- | --- |
| All short | The shipment didn't arrive as expected. | 15 |
| Appointment required at destination | The shipment is held at the destination service location until a delivery request is submitted by the recipient. | 13 |
| Arrived at destination | The shipment has reached the destination facility. | 6 |
| Attempted Delivery | The shipment was attempted to be delivered by the destination service center, but the recipient was not there. Until the shipper or consignee contacts XPO Logistics with further instructions, another delivery attempt won't be made. | 19 |
| Consolidating shipments per consignee | The shipments are being consolidated and put onto a trailer at the destination service center in order to meet the recipient's request for future delivery. | 10 |
| Delayed en route to destination | On the way to the destination service center, there was a delay. | 7 |
| Delayed en route to interim | On the way to a temporary service center, the shipment has been delayed. | 4 |
| Delivered by | The shipment has been successfully delivered to the recipient. | 23 |
| Delivered part short | The shipment was actually partially delivered to the recipient by the destination service center. Pieces short are marked "Exceptions". | 20 |
| Delivery Receipt Image available | The shipment's delivery receipt image is now available. | 30 |
| En route to destination | The XPO shipment is on its way to the destination service center. | 5 |
| Final delivery pending review | Deliveries have been made for the children shipments of this parent shipment. Still, there may be an error in the total weight, which requires a careful review of all shipping documentation. The shipment status will be changed to "Final Delivered" once this review has been completed. | 28 |
| Follow-up on time | Although the shipment arrived on time, a notification about a potential delay was sent. | 34 |
| Late | The delivery of your shipment will not take place today. | 37 |
| Out for delivery | The shipment is being delivered to the intended recipient. | 8 |
| Overage | The freight quantity is excess. | 27 |
| Picked up | The shipment has been collected and registered in the system by the origin service center. | 1 |
| Possible Delay Notification | There might be a delay in the XPO shipment delivery | 33 |
| Refused Delivery | The shipment has been held at the destination service center because the recipient refused to accept the delivery. XPO is awaiting further instructions from the sender. | 21 |
| Refused for damage | The package was refused by the recipient because it was damaged, so it will be kept at the destination service center. XPO is waiting for the sender's further instructions. | 22 |
| Transfer | The shipment is being transferred. | 29 |
| Undeliverable | An attempted delivery failed. Until the sender gives XPO Logistics further instructions, the shipment will be kept at the destination service center. | 12 |
XPO Tracking Customer Service
If you require assistance with tracking a package or want to inquire about XPO Logistics' delivery days, there are various channels through which you can seek support:
XPO Customer Service: XPO Logistics offers exceptional customer service that operates round the clock, ensuring prompt assistance. Contact XPO at (800) 755-2728 for general inquiries.
Less-Than-Truckload (LTL) Services: The address for XPO's LTL division is located at 2211 Old Earhart Road, Ann Arbor, MI 48105-2751. To reach out to XPO's helpful support team, you have a couple of convenient options. You can drop them an email at [email protected], where they'll be ready to assist you promptly. XPO customer service team is dedicated to providing effective transportation solutions to fulfill your less-than-truckload freight transportation needs.
Corporate Inquiries: For corporate-related inquiries, please direct your correspondence to XPO, Inc. at Five American Lane, Greenwich, CT 06831.
Delivery Times: XPO Logistics deliveries usually take place between 8 a.m. to 5 p.m. from Monday to Friday. Note that Time-Date Critical LTL shipments will arrive within the chosen time frame or date range. With the XPO last-mile service, you can expect weekend deliveries.