About Royal Mail
Royal Mail is a UK-based logistics and transportation service that supports businesses across the country. Headquartered in London, it operates through three different segments: General Logistics Systems (GLS), UK Parcels, International, and Letters (UKPIL) and Group.
The UKPIL segment oversees Royal Mail's core international and UK letters and parcels delivery business. The GLS segment comprises a ground-based parcel delivery network covering Canada, Europe, and Western US. Royal Mail has been operating across Britain for over 500 years and has the resources to deliver mail six days a week to over 30 million addresses in the region.
Royal Mail's employees are at the heart of its business and essential to helping it digitize, automate, and optimize its operations. According to the company, it takes the dedication and effort of over 150,000 employees to keep things running smoothly.
Royal Mail Tracking
Royal Mail offers a range of tracking services to help businesses keep tabs on their parcels. The main services are:
Royal Mail 24 Tracking
Royal Mail Tracked 24 is a fast and efficient service that offers real-time parcel tracking. Once you book a Royal Mail Tracked 24 delivery, Royal Mail will send you a tracking number for your parcel. Enter this tracking number on Royal Mail's website (open the site and choose the "Track Your Item" option) or the ParcelPanel website to see your parcel's delivery status and location. Note that Royal Mail Tracked 24 is not available for international deliveries.
| Service | Royal Mail Tracked 24 |
| --- | --- |
| Transit Time | Next-day delivery |
| Delivery Days | Monday to Saturday (excluding Sundays and holidays) |
| Cut-off Time | Usually around 6 pm (varies by location) |
| Late Parcel Delivery | Parcels sent on Friday after the cut-off time or on Saturday will be delivered on Monday |
Royal Mail 48 Tracking
Royal Mail Tracked 48 allows you to send parcels within the United Kingdom as well as internationally. The key features of this service include efficient tracking, fast delivery time, and insurance options.
Tracking a Tracked 48 parcel is easy—take the tracking number provided on your shipping label and enter it on Royal Mail's or ParcelPanel's website. You can see your parcel's progress at every stage of the shipment journey, as well as get alerts about any updates on the shipment's delivery status.
| Service | Royal Mail Tracked 48 |
| --- | --- |
| Delivery Time | Within two working days (not guaranteed) |
| Delivery Variability | Depends on the time of year, destination and unforeseen circumstances |
Royal Mail Tracked 24 and 48 (already discussed above) has no separate service that combines the two. They are different services. Royal Mail's website mentions them together here:

Royal Mail Special Delivery Tracking
Royal Mail Special Delivery is a service for valuable and time-sensitive packages within and out of the UK. You can track Special Delivery parcels in the same way as other Royal Mail service parcels. Tracking information shows the exact location of your package as well as any changes in its status.
Royal Mail Special Delivery tracking gives you the option to receive text and email notifications about your package's status. Moreover, signature tracking is optional for extra security of your parcel.
| Service | Royal Mail Special Delivery Tracking |
| --- | --- |
| Delivery | Guaranteed delivery by 9 am or 1 pm on the next business day |
| Enhanced Tracking | Yes (includes delivery notifications) |
Royal Mail Redelivery Tracking
Sometimes, Royal Mail can't deliver the shipment to your customers because it was too big for their letterbox, or nobody was there to sign for it. And they know the customers can't always go to their local delivery office to collect it. In this case, you can tell customers to request a Redelivery free of charge.
Note that Royal Mail requires two working days to arrange a redelivery. And they only redeliver on business days. You can track redeliveries using the tracking number linked with the original shipment.
| Redelivery Information | Royal Mail Redelivery Times |
| --- | --- |
| Delivery Times | Varies around the country |
| Time Range | Early morning until late in the evening |
| Ideal Time to Contact Royal Mail for Redelivery if Delayed | The next business day |
Royal Mail International Tracking
Royal Mail International Tracked is a service with dedicated tracking and delivery confirmation for international parcels. To track packages sent via International Tracked, use the tracking number or reference number you obtained during the booking of your shipment. You can find this Royal Mail tracking number in the email or the receipt received upon order placement.
Enter the tracking number on Royal Mail's website or ParcelPanel site. You'll then be able to see the current location of the package, including estimated delivery time and other important details.
| Destination | Europe | Worldwide |
| --- | --- | --- |
| Delivery Aim | 3-5 working days | 5-7 working days |
| Additional Options | - | Additional compensation - up to £250 |
| Delivery Details | Fully tracked to delivery point | Fully tracked to delivery point |
Note that for certain European countries, Royal Mail International Tracked's delivery is slightly faster in urban areas. For packages sent to France, Spain, Netherlands, Germany, Ireland, Belgium, Sweden, Austria, Luxembourg, and Switzerland, the service timeframe is 3-4 working days.
Royal Mail 1st Class Tracking
Royal Mail 1st Class is a priority service that offers quicker and more efficient mail delivery than regular postal services. However, it doesn't include tracking, meaning you'll need to purchase services like Royal Mail Tracked 24 or Royal Mail Tracked 48 to see the status of your package.
| Service | Royal Mail 1st Class |
| --- | --- |
| Delivery Time | Next working day (including Saturdays) |
| Delivery Time Variability | Varies depending on destination and other factors |
Royal Mail 2nd Class Tracking
Royal Mail 2nd Class is a cost-effective service for non-time-sensitive and non-urgent items like small parcels and letters. Like Royal Mail 1st Class, it doesn't include any tracking option, but you can opt for a service like Royal Mail Tracked 24 or Tracked 48 to get all shipping updates.
| Service | Royal Mail 2nd Class |
| --- | --- |
| Delivery Time | 2-3 working days (including Saturdays) |
| Guaranteed Next-Day Delivery | No |
| Delivery Time Variability | Varies depending on destination and other factors |
Royal Mail Returns Tracking
Royal Mail doesn't just deliver—the company also collects your parcels and generates a returns label. This label includes a unique barcode that the Post Office scans—customers don't need to apply anything on the packaging. Products can be returned via Royal Mail's 24 or 48 hours return service.
In terms of tracking, after a customer drops off a Royal Mail Tracked Returns parcel, it is weighed at the post office, the postcode is noted, and the customer is issued a receipt with a tracking code. Then they just need to enter this code on Royal Mail's website to track the returned shipment.
Royal Mail Tracking Services for Businesses
Royal Mail offers a Business Parcels account that companies can subscribe to to get benefits, including free labels, convenient business collections, and a dedicated account manager. Whatever your business size, you just need to send 20 or more packages per week on average to be qualified for the business service.
You are entitled to extra benefits if you use Tracked services, such as management reporting and Local Collect or Safeplace delivery. Plus, you can use Royal Mail tracked returns to see the status of any returned shipments at any time.
Royal Mail Parcel Services for Everyone
Anyone can use parcel services for everyone to save time and money. Small businesses can use this service to access Royal Mail's full range of delivery options and print their own shipping labels.
Tracked 24 and 48 services with full online tracking are also available.
How to Track a Royal Mail Package?
There are different ways to track a Royal Mail package:
Tracking with a Royal Mail tracking number
The easiest way to locate your tracking number is to check the Royal Mail receipt. This is issued by the Royal Mail office or is present in the mailing service you used for placing the shipment order. You can easily find the tracking number on the receipt right below the barcode.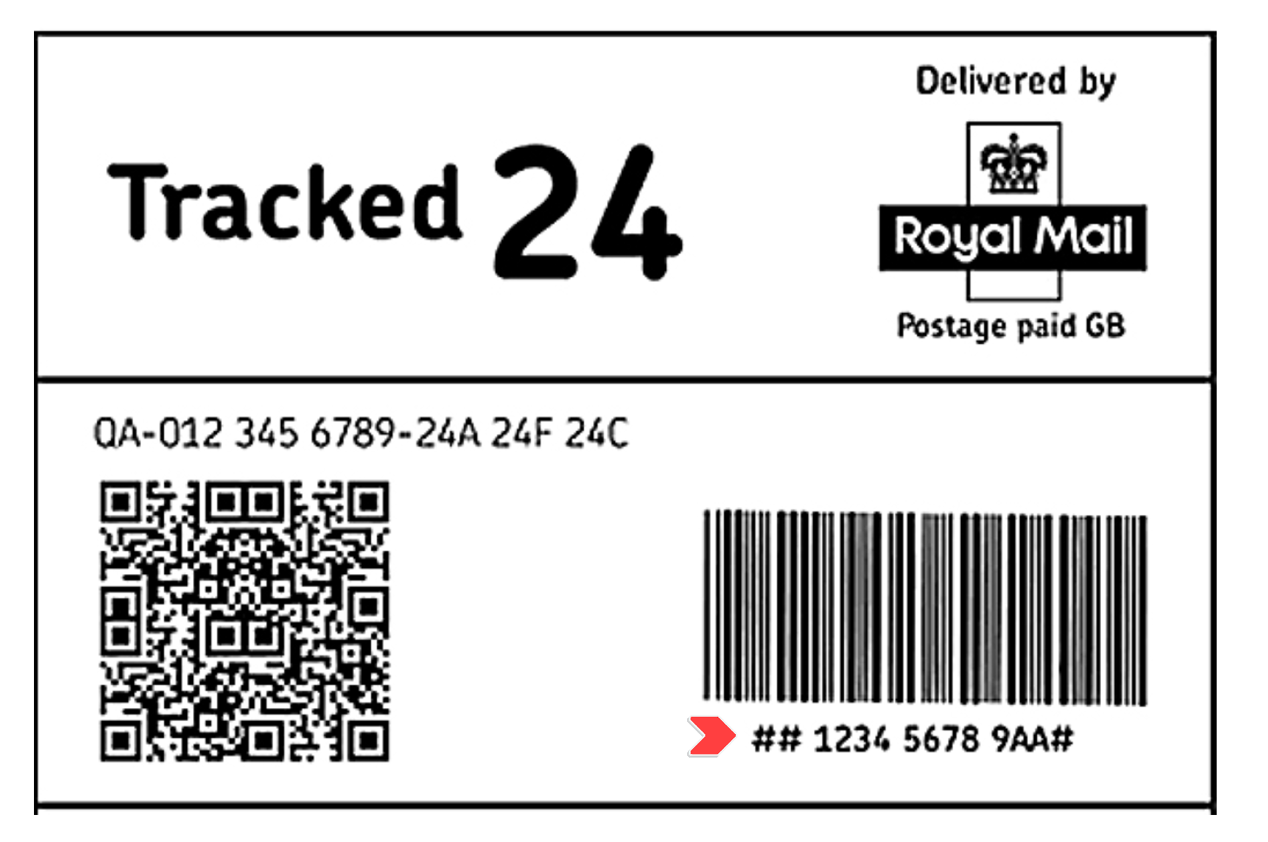 Another way to get a tracking number from Royal Mail is to buy shipping labels and arrange parcel pickup from your location. With this approach, you will receive a tracking number via email.
Royal Mail Tracking with ParcelPanel
ParcelPanel is a shipment tracking service that allows merchants to track packages from over 1,000 couriers, including Royal Mail. You can track up to 30 Royal Mail UK shipments at a time by putting in their tracking numbers.

Plus, ParcelPanel has a Shopify order tracking app you can use to add a branded tracking page to your store's website. This page eliminates the need to direct customers to Royal Mail's website, enhancing their post-purchase experience. Just tell them to enter the tracking number on this page to learn about the status of their package. This way, you can automate Royal Mail package tracking.
Additionally, ParcelPanel lets you generate repeat purchases via product recommendations. You can definitely upsell and cross-sell products to customers who come to your branded tracking page to see the status of their shipment.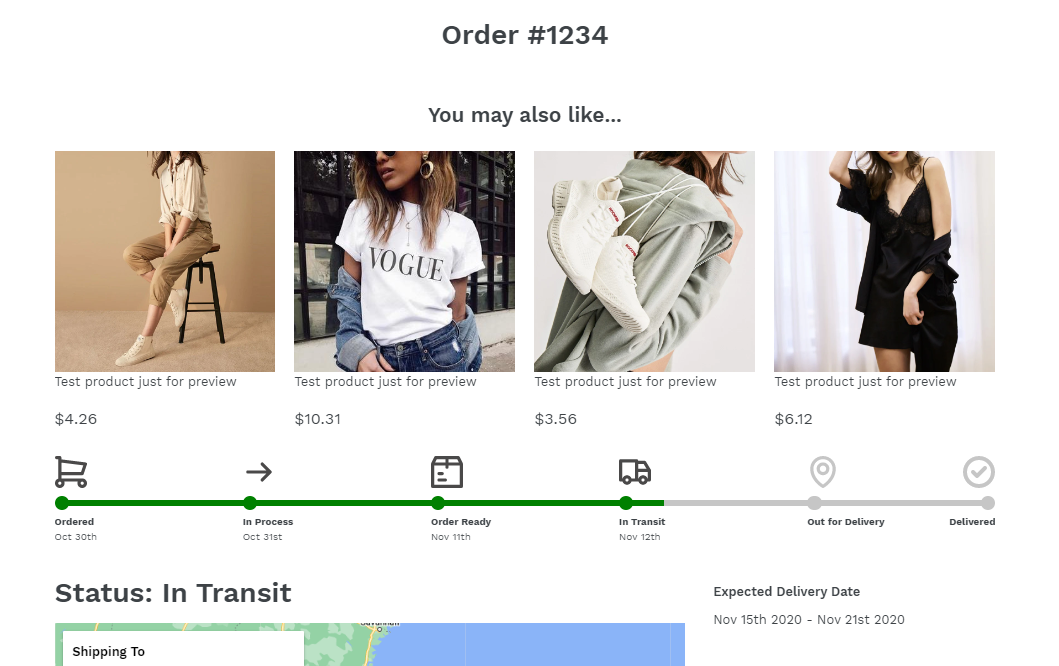 Tracking by Royal Mail reference number
Royal Mail also lets you track parcels by reference number. The length of the number is typically between 9 and 24 characters, and it is present on the Post Office receipt or the item's label. For those using Customer Collection, the reference numbers of the collected items will be listed in the manifest.
By using Royal Mail app
Royal Mail has dedicated apps for Android and iOS devices. You can use the Royal Mail app on your phone to track the status of your delivery—simply scan the barcode or enter your tracking ID, and Royal Mail will notify you of the progress of your shipment.
Royal Mail Tracking Number
A Royal Mail tracking number is also referred to as a Royal Mail reference number or barcode number. It's typically 9 to 27 characters long and consists of letters, numbers, or both. You can get this number by registering an account with Royal Mail and accessing the parcel tracking service or by creating a shipping label with a tracking number via the Royal Mail app.
The most used Royal Mail tracking number format usually contains 13 characters, where there are 2 alphabets at the start, followed by 9 numeric digits and GB at the end.
Some Royal Mail tracking number examples are:
FY 2078 1794 2 GB
HZ 0844 0421 1 GB
Royal Mail Tracking Status Meanings
| Royal Mail Tracking Status | Meaning |
| --- | --- |
| Item dispatched to Royal Mail | The sender has informed Royal Mail that they have dispatched their item to their office. The company will update the tracking information once it has processed the item. |
| Item received in our network | Your item has entered Royal Mail's network. They will update the information as it progresses through the logistics chain. If the service only provides delivery confirmation, Royal Mail will update the status upon successful delivery. |
| Item posted at Royal Mail Customer Service Point | You have dropped off your item at one of Royal Mail's Customer Service Points. The message will include the location, date, and time of the drop-off. Royal Mail will update the tracking information as the item moves through its network. If the service only offers delivery confirmation, the status will be updated upon delivery. |
| Internal system error occurred | Royal Mail is currently experiencing system issues. Try again later. |
| Item in transit | Your item is currently in transit through Royal Mail's network. More detailed information regarding its location and status will be available when you enter your reference number. |
| Pending | This status may indicate various situations in your item's journey, including Royal Mail has not yet received the item. You will see more details when you enter your reference number. |
| Item held with fee to pay | There are two reasons why you have received a Fee to Pay card: either the sender did not pay the full postage or a customs charge has been applied to the package. |
| Item redirection in place | The recipient has requested a Redirection service to forward their mail to a different address. As a result, your item may take slightly longer to arrive. |
| Keepsafe item | The recipient has paid for a Keepsafe service where mail is held at the delivery office for a specified period before being delivered. |
| Available for Collection or Redelivery | Royal Mail attempted to deliver your item but failed. They have left a 'Something for you' card with instructions on how to collect or arrange Redelivery. |
| Item prepared for Redelivery to Post Office | The recipient has received a 'Something for you' card and has requested Redelivery to a Post Office for collection. |
| Delivery Attempted (Address Inaccessible) | Royal Mail failed to access the recipient's address or left a 'Something for you' card. They will make another delivery attempt if possible. |
| Item ready for delivery | Your item has reached the local delivery office and the parcel will be delivered as soon as possible unless additional services like Keepsafe or Redirection are in effect. Royal Mail will update the status upon successful delivery or delivery attempt. |
| Item delivered | Royal Mail has successfully delivered your item to the designated address provided by you or left it with a neighbor. If left with a neighbor, the message will indicate the neighbor's details, and Royal Mail will leave a card confirming the arrangement. |
| Item delivered to requested Safeplace | Royal Mail has left your item in the designated Safeplace that you requested. A card confirming the details will also be left for your reference. |
| Proof of delivery is not available | This may indicate that the item was sent using a service that does not provide a copy of the signature, or the signature may have been taken on a confirmation of delivery card. Signatures are usually available online within 72 hours of delivery. |
| Retention Item | Some business addresses have a Retention Service in place, which means we hold the item on days when the business is closed. Royal Mail will deliver it on the next working day or as per the business' instructions. |
Royal Mail Tracking FAQ
I lost my Royal Mail tracking number. How can I find it?
The best way is to contact the recipient. They'll be able to give you the tracking number if they've received the item.
Another way is to visit the post office and ask them whether they still have a record. But with this approach, the chances of obtaining your tracking number are slim and depend on how cooperative the person at the counter is.
You could also make another attempt at finding your receipt. Check the bins and other places where you throw paper—you might get lucky.
How to book a Royal Mail Redelivery?
To book a Royal Mail Delivery, enter the reference number and answer the question on this booking form.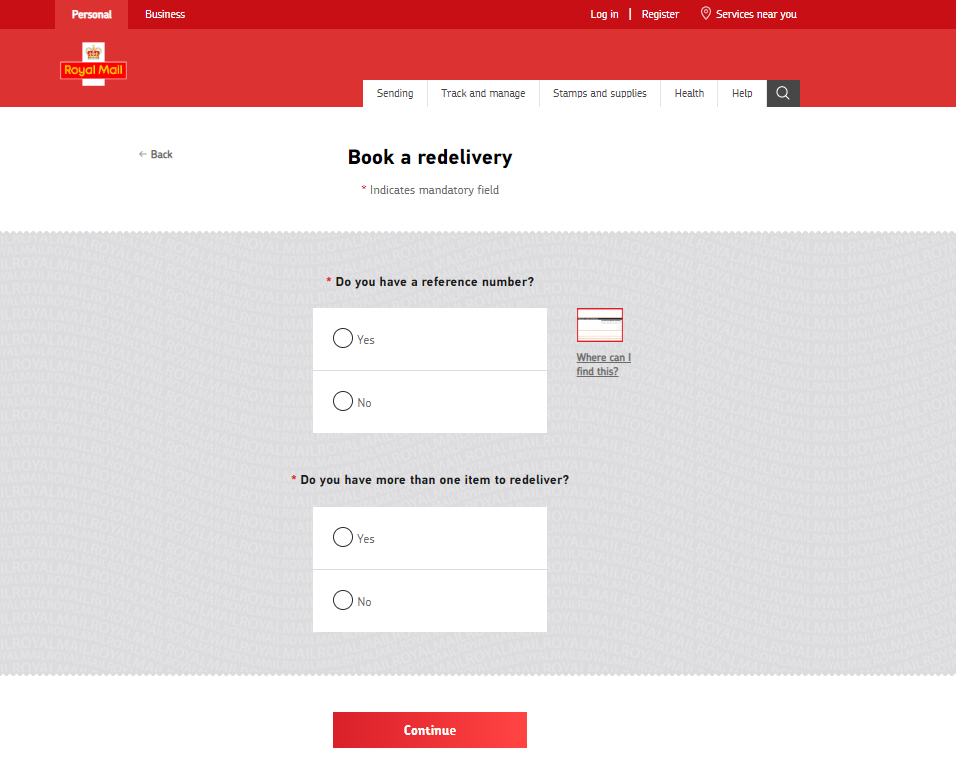 Then, enter the other details of your shipment, including the item's name, number, the date the card was left, and the customer's address. Note that those who received a yellow card don't need to book the Redelivery Service—Royal Mail will automatically try and deliver their package again the next working day.
Why is Royal Mail tracking not working?
Here are some possible reasons why the Royal Mail tracking may not be working for you:
Incorrect Reference Number
Oops! It's possible that you entered the reference number incorrectly. Double-check those digits and make sure you haven't accidentally conjured up a tracking number from a parallel universe.
Believe it or not, not all packages and services can be tracked. While you can keep tabs on some parcels and couriers, there are a few elusive ones that prefer to remain incognito until they reach their destination.
Technical Troubles with the Royal Mail Website
It's conceivable that the Royal Mail website is experiencing some hiccups or maintenance work. If the website is down, unfortunately, tracking your courier becomes impossible. Keep calm and try again later.
Why is my Royal Mail parcel not delivered?
If you're wondering why your Royal Mail parcel hasn't shown up at your doorstep, it's probably because of the following:
First off, the most common reason why your mail hasn't reached its intended destination is because it's been delayed. Numerous factors can contribute to this setback. It's possible that Royal Mail mistakenly sent it to the wrong place, or maybe the address you provided wasn't entirely accurate.
The second reason why your Royal Mail parcel is nowhere to be found is because it's been lost in transit. Now, Royal Mail considers a mailpiece lost if it hasn't made it to its destination within ten working days. However, if you're dealing with Royal Mail Special Delivery Guaranteed by 1 pm, the time frame shrinks to just five working days.
If Royal Mail claims your mail is delivered, but you haven't received it, chances are someone else at the same address signed for it. Check with family or other residents first. If no one else signed for it, contact Royal Mail. They may provide electronic Proof of Delivery (ePOD) for certain services like Special Delivery Guaranteed and Royal Mail Signed For. ePOD confirms the delivery, displaying an electronic image of the recipient's signed card.
Note that ePOD availability varies for different Royal Mail services.
Royal Mail Tracking Customer Service
What if you want to inquire about Royal Mail delivery times or need help with tracking a package? Good news: Royal Mail offers support via multiple channels, including:
Royal Mail Customer Service Number
Phone (for business customers):+44 3457 950 950
Phone (for personal customers): +44 3457 740 740
Note: Royal Mail Customer Service is available from 8 am to 6 pm (GMT+1) on Mondays to Fridays, from 8 am to 1 pm (GMT+1) on Saturdays.
Personal customers can also reach out to Royal Mail's support via the online contact form. Filling in this form sends an email to the support staff. Make sure to enter the tracking number and parcel details correctly to avoid delays for your query.
You can also write to Royal Mail at Freepost ROYAL MAIL CUSTOMER SERVICES.