About DHL
Founded in the United States in 1969, DHL has become a leading shipping and logistics services provider for individuals and businesses worldwide. Currently, DHL is part of Deutsche Post and it is headquartered in Bonn, Germany. Deutsche Post DHL Group achieved 94.4 billion euros in revenue in 2022, which was an astounding 15.5% YoY growth.
According to Statista, DHL has dominated nearly 38% of the consolidated global market share.
It currently employs over 395, 000 workers who support a variety of its businesses in over 220 countries and territories around the world. Today, DHL lives up to its commitment of delivering packages, prosperity, happiness, helping businesses expand to new markets and cross borders.
DHL's top competitors include FedEx Logistics, UPS Supply Chain, Flexport, and DB Schenker, among others.
DHL Tracking
As part of its endeavor to keep its customers updated on the progress of their shipments, DHL offers online shipment tracking services. You can access these tracking services in multiple ways, directly on DHL systems or on systems like parcelpanel.com.
DHL offers you at least three ways to track and manage your parcel or shipment. You can track your parcel on DHL official website, use the DHL Express App, or use the MyDHL+ app if you have a DHL account. All three options require a shipment tracking number or reference number.
With these three DHL shipping tracking services, you can receive regular and real-time updates and on your shipment's status and location, redirect the shipment destination, and change delivery days. You can also use ParcelPanel to track your DHL shipments online.
DHL Express Tracking
DHL Express Shipping allows you to import, export, and track goods using DHL's expansive shipping network. Choose DHL Express, you'll be supported by over 100,000 certified international specialists. Moreover, the service allows you to choose the time and delivery options. You can also choose to get your DHL Express shipment picked up at the local DHL service centers.
DHL Express shipping service is backed up by the DHL Express tracking service.

It provides end-to-end tracking visibility, proactive delivery notifications, and delivery management. In other words, DHL Express Tracking allows you to keep track of the package status and location. You need a DHL Express tracking number which is made of up to 10 digits only or starts with 000, JJD01, JJD00, JVGL, or similar variations to track your shipments, such as 1234567890 or JJD0088888888.
To get started with DHL Express tracking, you go to the DHL Express tracking service page, and enter up to 10 tracking numbers. Then, you click on the "Track" button, and that will initiate the tracking process immediately. You can obtain proof of delivery as long as the package is delivered.
If you want to track over 10 DHL Express packages in one go, use ParcelPanel's DHL Express tracking service, as it supports up to 30 tracking numbers and allows you to instantly export all tracking information.

DHL Global Mail Tracking / DHL Ecommerce Tracking
DHL Global Mail has been rebranded as DHL Ecommerce. It serves DHL's business customers that need high-volume shipment services. DHL Ecommerce offers superior transit times, high efficiency and accuracy, as well as end-to-end tracking visibility.
You can access the DHL Ecommerce tracking service typically within 24 ~ 48 hours after receiving an order confirmation.

All you have to do is enter the tracking number you receive. Once you are done, you can click the "Track" button to initiate the DHL Ecommerce tracking process.
However, if you need to track more shipments, then consider using a service like ParcelPanel. Its DHL Ecommerce tracking service allows you to enter up to 30 tracking numbers each time, by entering one tracking number per line. The service uses the DHL Ecommerce tracking API, which supports shipment batch tracking.

The DHL Ecommerce package tracking events take between 24 hours and 48 hours to appear. With that in mind, you can contact the retailer if you have not received any tracking updates after 48 hours.
As for an international package sent via the DHL Global Mail, the package is delivered by the local delivery service provider. For instance, as a U.S. resident, you can expect the United Postal Service (USPS) to deliver your DHL Express international package.
DHL Global Forwarding Tracking
DHL Global Forwarding helps you ship goods quickly with air freight or cost-effectively with ocean freight. You can also balance cost and speed of shipping by combining DHL's air, ocean, road, and rail shipping options. Moreover, you also get help when dealing with customs complexities and reducing your carbon footprint.
When you ship your goods with DHL Global Forwarding, myDHLi portal covers all your shipping, logistics, and tracking needs. It gives you 360 visibility and full control over your shipments. With myDHLi you make quotes and book shipments, track your shipments, manage your shipping documents, and perform shipping analytics.
Unlike other legacy DHL tracking solutions, myDHLi is accessible on all devices, offer full transparency, and make it easy to share information with customers, colleagues, and suppliers. With myDHLi, you get live tracking of shipments that are in transit or planned.
To use myDHLi to track and manage your shipments for your business, you need to contact your local DHL Global Forwarding Sales Representative. To track and trace your shipments you will need to know a shipping reference, a housebill number, a masterbill number, or a container number.

In comparison, with ParcelPanel, you can effortlessly track your DHL global forwarding packages.

DHL International Tracking
You and your customers can track any of the three DHL International Shipping solutions. These include DHL Parcel International Direct, DHL Parcel International Standard, and DHL Packet International.
DHL Parcel International Direct is the flagship product with transit times of 3-10 business days and access to 37 key ecommerce markets.
DHL Parcel International Standard offers delivery to 220+ countries and territories, with full tracking visibility covering 55+ countries. Shipments to Europe and Canada take 4-8 business days, and other countries take 8-14 business days.
DHL Packet International ships packages of up to 4.4 lbs. within 4-8 business days, to over 220+ countries and territories cost-effectively. Moreover, on arrival, the packages get an "Arrival in Destination Country" scan.
You can track these packages from the DHL Customer Web Portal, while your customers can do it from the DHL eCommerce Solutions Web Track.
DHL Parcel Tracking
DHL Parcel is a division of DHL Global. DHL Parcel ships domestic and international parcels for business customers and consumers to supported countries. The tracking options available for DHL Parcels depend on where the shipment originated, your location, or whether the sender chose to ship with DHL Express.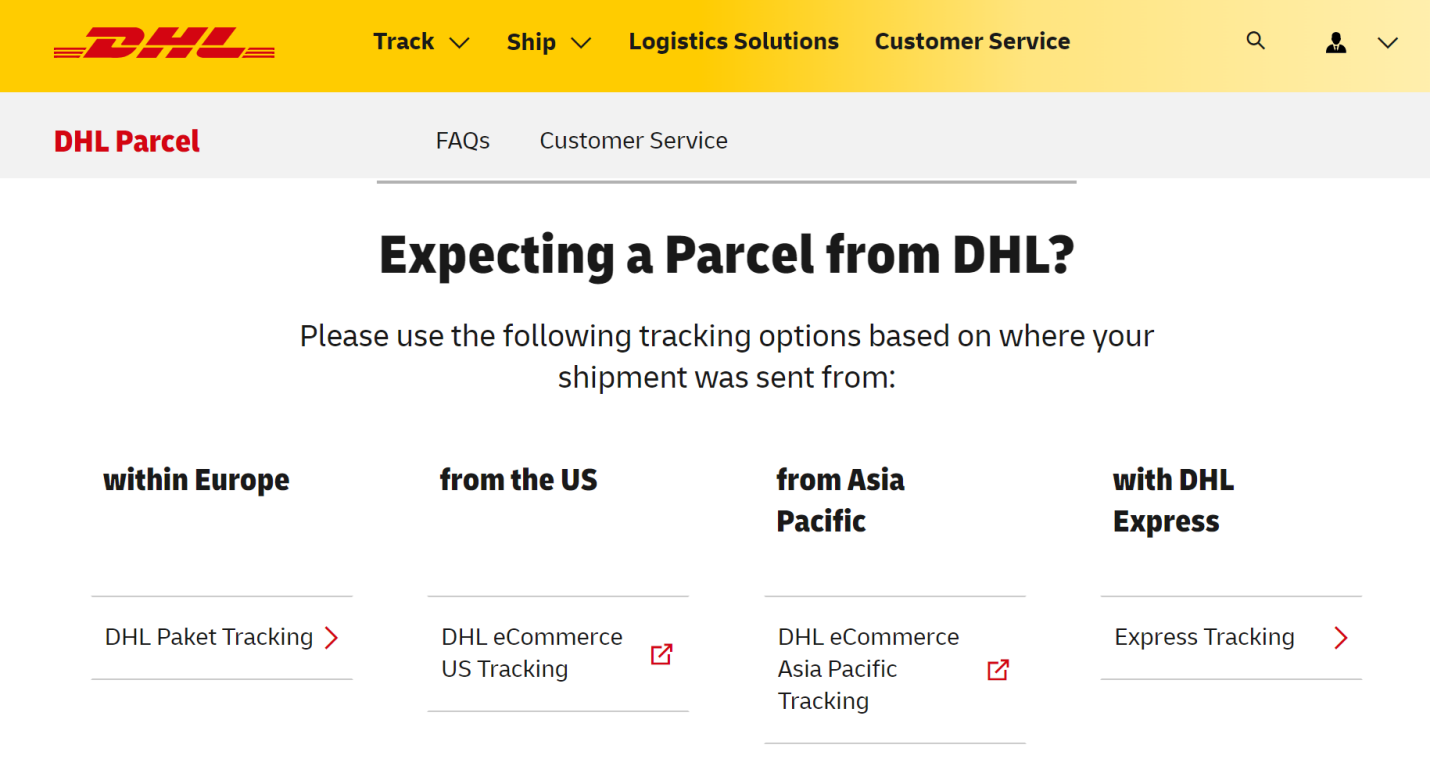 If the shipment originated within Europe, then you have to choose DHL's tracking portal for your country, while for packages from the US, then you have to use DHL's Web Track portal. For DHL parcel shipments from Asia Pacific, you can track them from DHL's eCommerce portal. For DHL parcels sent using DHL Express, you can track them using DHL Express Tracking portal.
Moreover, if the sender sent you a dedicated tracking link for your DHL parcel, then you must use that link. Moreover, if you do not have a parcel ID, then you have to contact your sender to request the status of your shipment.
DHL Parcel NL Tracking
With DHL Parcel NL, you can ship within Netherlands from as little as €2.95. Moreover, if you want to ship packages internationally, DHL can deliver your shipment to 220 supported countries and territories.
Tracking your parcels is easy through the DHL online Track and Trace tool. Simply enter your shipment number or not-at-home code along with the recipient's zip code. You may also take advantage of the My DHL app. With it, you can receive notifications, monitor your DHL shipments in real time and make changes to deliveries.
You can also use ParcelPanel to track your DHL Parcels from NL. ParcelPanel's DHL NL Tracking allows you to track up to 30 DHL shipments, by entering one complete shipment tracking number per line. This tracking service can be useful for businesses that need to improve efficiency of tracking multiple DHL parcels online.

DHL Parcel UK Tracking
DHL Parcel UK can help you deliver parcels door-to-door within the UK and to over 160 countries globally. In addition, it can integrate with platforms such as eBay, Amazon, Etsy among others, to help you seamlessly ship parcels weighing up to 25 kg and maximum dimensions of 70cm.
And you can track shipments within DHL Parcel UK network using your shipment number, receipt ID, card number or reference number. Simply enter the number in the DHL Parcel UK tracking tool and click on "Find your parcel." If you do not have the shipment number, you can contact your sender. You may also use the DHL Parcel UK mobile app (iOS or Android) to manage the deliveries.
If you want to quickly track a great number of DHL Parcel UK shipments, take advantage of ParcelPanel's DHL Parcel UK Tracking service. The shipping information of up to 30 tracking numbers can be pulled each time.

DHL Waybill Tracking
Your air waybill (AWB) adequately describes your shipment and its contents, and most importantly, it identifies you as the owner of the shipment, and the recipient of the shipment. A unique 10-digit code known as the AWB number identifies your waybill, and you need to have it when contacting DHL about your package.
To use a waybill tracking number, visit the My DHL Express tracking page, find the green "Track" button and enter your waybill number. Up to 10 waybill numbers are supported per time.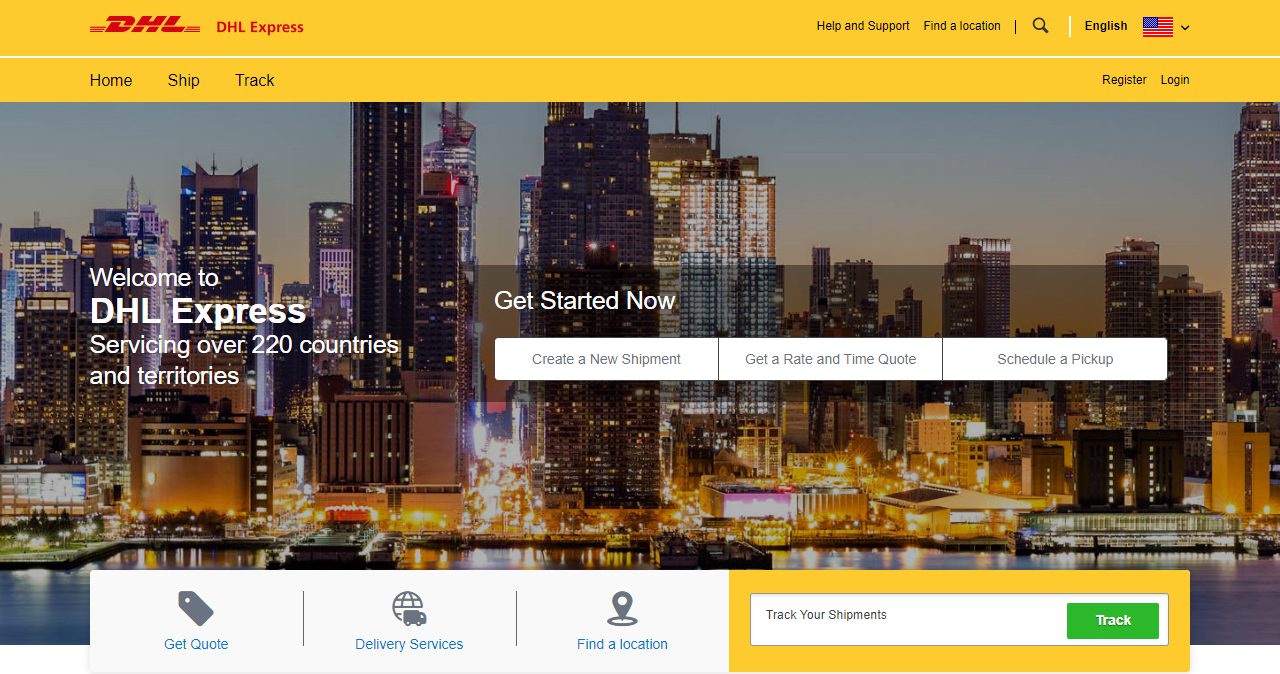 DHL Waybill tracking gives real-time shipment progress that includes the current location of the shipment, the reason for its processing, and corresponding time stamps. The tracking result will also include any important information related to the shipment on the waybill, such as weight, quantity, and the DHL Express shipping service you selected.
Upon delivery, the waybill tracking update will include information such as delivery date and time, as well as the name of the person who received and signed the delivery note.
How to Track a DHL Package Online?
You can track your DHL packages using a tracking number, a shipment reference number, or a waybill number directly on the DHL shipment track and trace pages, on the MyDHL+ app, or you can use them on a third-party website such as ParcelPanel, as we have outlined below.
By Using DHL Tracking Number
DHL tracking service is an easy process if you have the shipment's tracking number. Up of up to 10 codes are supported each time. After entering the code, click on the "Track" button, and you will get the shipping details of your package.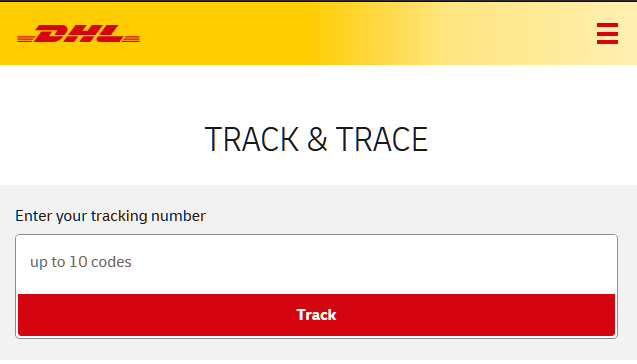 You can also use the tracking number to track your shipment from the ParcelPanel website. To do that, go to the "Carriers" page, and search DHL. As ParcelPanel supports a wide range of DHL shipping services, just choose one service to proceed.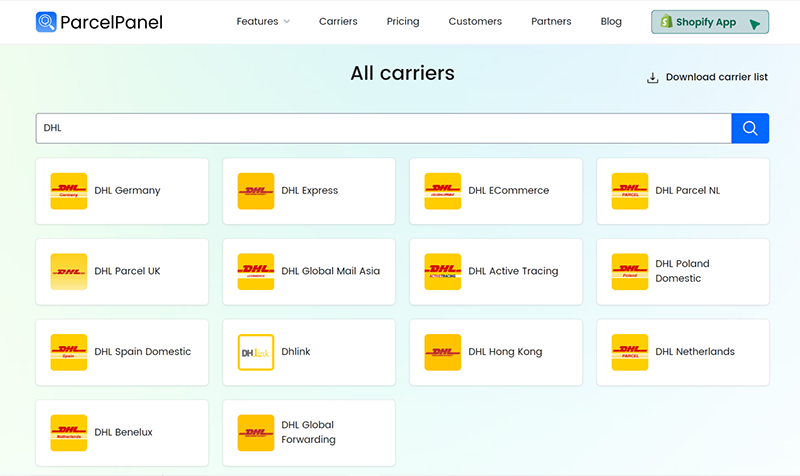 Enter one or more tracking numbers on their tracking page, one per line. Finally, click on "Track" to start the tracking process.

Please note that you should start tracking DHL packages within 24 ~ 48 hours after receiving a DHL tracking number.
If you're a Shopify merchant, you can also use ParcelPanel Shopify app to automate DHL tracking for your Shopify orders and proactively update your customers about the shipment status. Start by clicking on the Shopify icon at the top right corner of the page to install ParcelPanel app.

As soon as a DHL tracking number is available in your Shopify store, ParcelPanel will use it to pull tracking information for you from DHL, mark orders with different shipment statuses, saving you valuable time.
Customers can use their order number and email or just the tracking number to get tracking updates and get informed of the estimated delivery date. ParcelPanel app will display your store colors and branding, to give customers a seamless shopping experience.
Overall, ParcelPanel Shopify app makes it easy for you to automate shipment tracking for both your business and customers.
By Using DHL Reference Number
You can use a reference number to track a DHL Express or DHL Freight shipment on the DHL website. To do that, you also need to have the date range of the period when the sender made the shipment. You can get both the DHL reference number and the shipping date on the waybill.
To track by reference number, on the DHL international tracking page, click on "Track", and then click on the "Reference" link. That will load a page where you can provide details such as Shipment reference, account number, destination, and date range of the DHL shipment.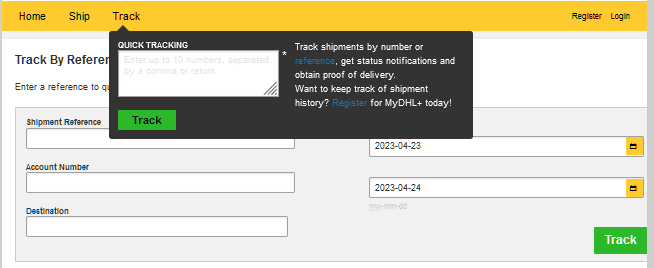 By Using MyDHL+ App
Another app that can help you track shipments through the DHL network and receive 24/7 updates is the MyDHL+ app. However, this option requires you to create an account with DHL first. After this, you can use the MyDHL+ app to track your shipments. You can also use it to meet a wide range of shipping needs.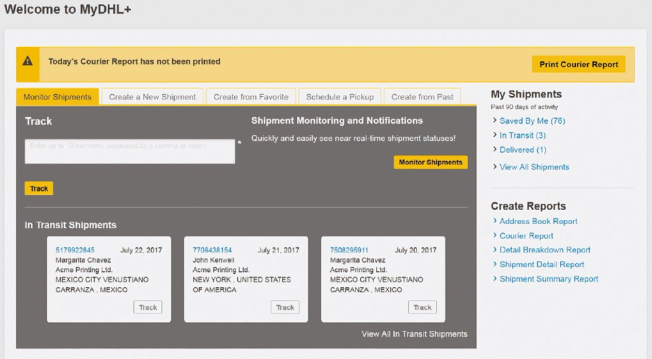 You can track your shipments in two ways using MyDHL+, and both give a simple, transparent and flexible tracking experience.
The first option is by using the waybill number to get a breakdown of every checkpoint of your shipment. With a waybill, you are able to track up to 10 shipments simultaneously.
The second option is by using the reference number and shipment date range.
Both options give you the real-time location, the latest status, and the destination of the shipment.
DHL Tracking Number
DHL tracking number lookup
You can find your DHL tracking number by looking at your shipment confirmation email or shipment notification. You can also contact your shipment sender or the online shop where you ordered. Ask them for a DHL tracking number or reference number.
If you are the sender, then you can find the details in the invoice you received after you paid for the DHL shipment. The DHL tracking number format depends on the shipment service you used, the country of origin, and the destination of the shipment.
DHL tracking number example
DHL Parcel tracking number
Starting with 3S, JJD, or JVGL: 3SBCC000654321, JVGL8888899999, or JJD00007654321
DHL Express tracking number:
10 numbers only, or starting with 000, JJD01, JJD00, JVGL or similar variations: 9876543210 or JJD0033333322
DHL eCommerce tracking number:
The DHL eCommerce tracking numbers often start with two letters, such as GM, LX, or RX. However, they might begin with up to five letters. A DHL Ecommerce tracking number has 10 to 39 characters. Here are two examples: GM9876543210 and 987654321987654321.
DHL global forwarding tracking number:
There are 4 different formats of DHL global forwarding tracking numbers:
7-digit numerical number - 7654321
1 digit, followed by 2 letters, and between 4 to 6 numbers - 1AB54321.
Starting with 3 to 4 letters - USA654321
Starting with a 3-digit carrier code and a hyphen, and ending with an 8-digit masterbill number - 123-12387654
DHL Tracking Status Meanings
| DHL Tracking Status | Meaning |
| --- | --- |
| Shipment information received | The package is ready for pickup. |
| Shipment picked up | DHL Courier picked up the package. |
| Into customs | The package is at customs. |
| Customs status updated | Customs is processing the package. |
| Cleared customs | Customs has cleared the package. |
| DHL requires further information from the importer | DHL is processing the package for shipping. |
| The shipment has received a release from customs | Your package has gone through the customs inspection and clearance. |
| Shipment on hold | DHL is preparing to ship the package. |
| Unless there is an Adhoc exam or a stop by another regulatory authority, the shipment will proceed to delivery | Your DHL package is waiting in queue for further inspection to leave customs. |
| Clearance processing complete | Your package successfully went through the customs clearance process. |
| Insert item into bag (Otb) | The package was shipped abroad. |
| Departure to a country of destination | DHL is shipping your package to the destination country. |
| With delivery courier / In transit / In progress | DHL or its delivery partner is transporting the package to your address. |
| Out for delivery / Arrived at a delivery facility | The package is at the destination facility. |
| Arrived at overseas | The package reached the destination country. |
| Arrived at sort facility | The package is at the first gate of the destination country, to be checked and routed to your city. |
| Arrival Scan | A UPS facility has scanned the package. |
| Poste Restante | The package is waiting at the final post office for the addressee to collect it. |
| Exported to opened | The package was returned to the country of departure. |
| Redirected | Incorrect address (The package should be rerouted). |
| Unsuccessful delivery attempt | Package delivery failed (You'll need to check and learn more about the issue). |
| Returned back to the sender | The package was returned to the sender for various reasons. |
DHL Tracking FAQ
Why is DHL tracking not updating?
There are several reasons for DHL tracking not updating. For instance, you could have entered the wrong tracking number. It is also possible the package is awaiting DHL eCommerce to pick up and scan it. It's also likely that the package is waiting for a 3PL to create a manifest. It could also be a weekend or holiday in the origin country.
Incorrect Tracking Number
Check to make sure that the tracking number you entered is the correct one, and that you chose the right tracking service. More specifically, you should use a correct DHL Express tracking number on the DHL Express tracking page.
Tracking will not work if you use a DHL eCommerce tracking code to track a DHL Express shipment.
Weekends, Holidays, or Natural Calamities
In case the shipment is sent from a country where people are having a weekend or a holiday, DHL will wait until the next business day to continue updating the tracking details. Apart from the above, package tracking can also be delayed because of natural calamities.
In such cases, you can contact the online shop, sender or DHL to get a solution.
Package Scanning or 3PL Manifest
These are common shipment processing delays, which may happen within the first 24 to 48 hours. Wait for at least 48 hours to receive your shipment updates before you contact the sender or DHL customer support.
Why is my DHL shipment on hold?
Your shipment can be on hold for several reasons including incomplete documentation, unpaid taxes, closed borders, holidays, route changes, natural disasters, social unrests, etc. It can also be on hold for simple reasons like a delivery failure.
Before you panic, you can contact DHL customer service, or start by checking the delivery route to figure out where the DHL transit hubs are and find out the cause of the delay For instance, if the border is crossed, it is possible that road construction in your area cause the problem.
Port congestion is another common cause for DHL shipment on-hold updates. This happens when we approach peak shopping seasons. It takes a bit longer for the seasonal surge in shipments to be processed and be cleared by the customs departments, and delivered to customers.
In such cases, you can just wait it out, which should take a few days for the shipment to be cleared.
I found "DHL delivery attempt could not be completed" status. What should I do?
DHL was unable to deliver the package to the address you provided because the recipient or consignee was not there to receive the package. The best solution is to contact the local DHL office and request them to deliver to an alternative address or person.
This update can also mean that the driver encountered delivery issues such as traffic, bad weather, vehicle break, or even sickness. And that stopped them from completing the delivery, even though you provided the right information.
In such cases, your best option is to wait for DHL to make another delivery attempt. That is possible in some circumstances, where the shipment is still intact. If the failure is permanent, you can request a refund for the service failure. In fact, you can get a refund for the late delivery if the package is shipped via DHL Express and a money-back guarantee is included.
DHL Tracking Customer Service
As for U.S. residents, DHL tracking customer support is available on working days only - from 6:00 AM – 7:00 PM AZ Time (Monday to Friday). At other time of the day, you can only use the DHL tracking service for shipment tracking updates.
DHL Tracking Customer Service Number:+1-800-225-5345 (United States)
DHL Tracking Customer Service Email: Complete a form
WhatsApp Message: Add +1-480-418-5011 to your WhatsApp contacts, and send "Track my package" or "Get a rate quote" to track your DHL shipments or get a quote.
The DHL delivery hours are also restricted to the same period, even though tracking is available 24/7. The delivery times may be affected by the size of your parcel or the delivery address.
DHL on-demand delivery can provide more flexible alternatives. With that service, you can benefit from same-day, time-sensitive and day-sensitive options to increase customer satisfaction and loyalty as they can decide when and where to receive their products.
DHL Saturday delivery and pickup services are available in certain countries like UAE. If you live in the European countries, DHL Saturday delivery only takes place in the morning, and it may cost you an extra 20 to 40 euros. DHL doesn't offer weekend deliveries in the United States, except some rare circumstances.