Searching for the best Shopify order tracking app for your business? You've clicked the right link. This article tells you what a Shopify order tracking app is and how to choose the best one. We also include a list of some of the best apps available. Come with us for this and more.
1. What Is the Shopify Order Tracking App? 
These are software or tools that e-commerce Shopify stores use to process, track, and monitor all orders placed online and deliver status updates to customers in real time. These apps help you keep track of customer purchases and provide status updates, keeping your customers content and devoted to your brand.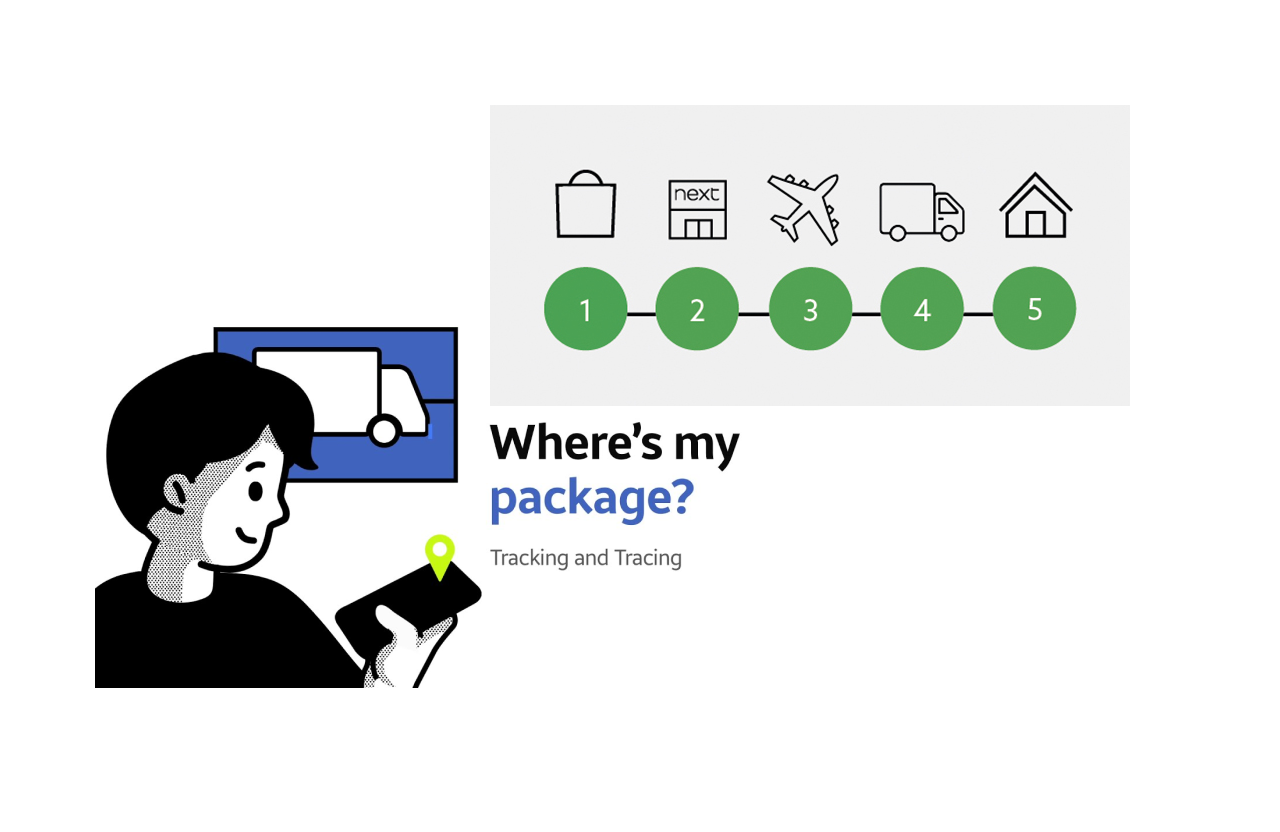 2. Why Are People Recommending The Order Tracking App?
Order-tracking apps are necessary for every e-commerce business. They can help build trust and boost customer retention. You'll reap the following benefits of having a Shopify order-tracking app:
Better customer experience:

Order-tracking apps provide real-time order status updates, which help minimize complaints over their orders' location. This will keep them happy and devoted to your brand. This boosts your customer experience.

Increased customer retention:

An order tracking tool helps you keep your customers happy and content and deliver good customer experiences. A comfortable and satisfied customer will likely stick to your business for repeat purchases. This leads to higher retention rates which are crucial for the growth of your business.

Enhanced communication:

Order tracking makes it easier to communicate with your customers personally. In addition to having access to information about the exact location of their order at all times, customers have a direct line that they can use to contact you in case of any questions. Good communication is essential in building strong customer relationships.

Drive to remain efficient:

Order tracking apps enable you to provide good customer experiences, which you'll strive to maintain to retain your customer base and grow your business.

3. Signs Your Shipping & Receiving Process Needs Work 
Customers always want to know about their order status at all times. Failure to provide this information will result in them making endless calls inquiring about the location of their orders. This can be overwhelming to the support team. You should review your shipping and receiving processes if you are getting too many order-related calls.
If your customers want to be involved in every step and have no patience to wait for the process to flow naturally, it could indicate that something is a miss in your shipping and receiving processes. It shows that they may have doubts about your ability to deliver. If this is the case, you'll need to come up with strategies that are aimed at improving this process.  
Your brand should be reflected in every stage, from when you receive a customer's order to when it's delivered. The kind of customer service that you offer should always promote your brand's values. If you are struggling with this, you should recheck your shipping and receiving process.
4. Why Is Online Order Tracking So Important for an E-commerce Business? 
Helps promote customer satisfaction
Great customer service is crucial for the growth of any e-commerce business. Online order tracking enables businesses to provide real-time order status updates to their customers. Timely order fulfillment can boost customer satisfaction.
Helps prevent unnecessary delivery delays
 Real-time order tracking enables businesses to spot probable problems that may arise during fulfillment and shipment and take appropriate actions to fix them before they happen. This ensures that customers get their shipments on time and without delays.
Improves operational efficiency
When done properly, tracking gives businesses complete visibility into every step of the fulfillment process. This enables them to spot any challenges or inefficiencies in the process and take corrective action to improve.
Clearly indicates the business performance
Since order tracking gives a clear view of the fulfillment process, businesses can identify areas of weakness and where they do best. With this information, they can take the necessary steps to improve efficiency.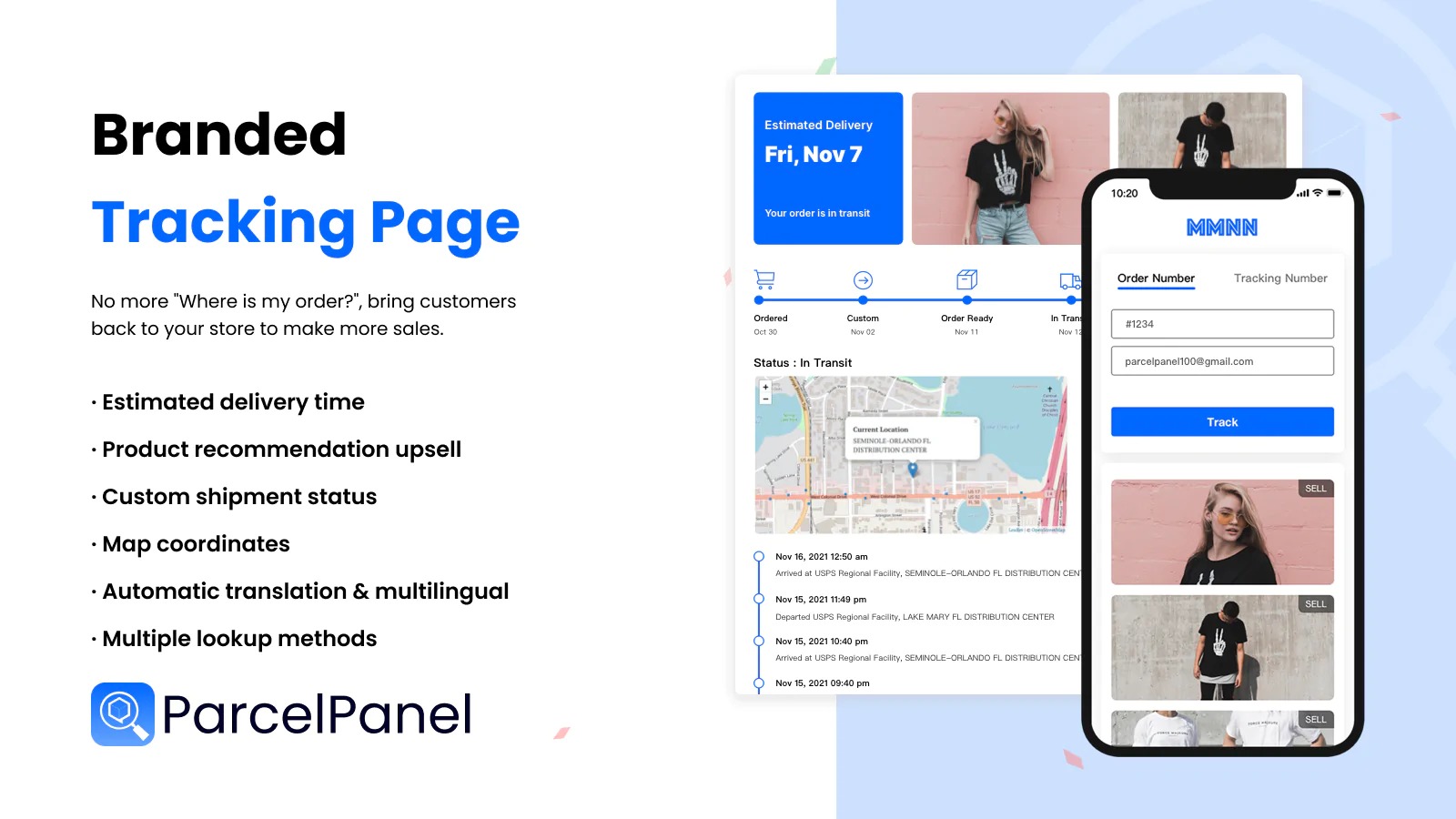 5. Must-Have Features of Order Tracking Software 
These are some of the key features that an order tracking software must have:
A good order tracking software must be capable of providing order status updates or notifications in real time. This will enable you to always know the exact location of the shipment. It also helps you to spot potential issues before they happen and take appropriate action to avoid delivery delays or failure.
An effective tracking tool should provide helpful insights and data which will enable you to make smart business decisions. It should be able to analyze data and generate relevant reports. This will help you identify what's working and what's not and develop effective strategies.  
The primary goal of having any app is to help you improve your processes for optimal productivity and growth. As such, a good tracking app should help you minimize costs and boost your revenues. It should offer solutions that will boost sales, improve customer satisfaction and retention, and increase your profits.
A good tracking tool must result in measurable cost savings. It should help streamline your processes and minimize shipping and other order-related costs. If a tool is not giving you significant cost savings, it's not worth having.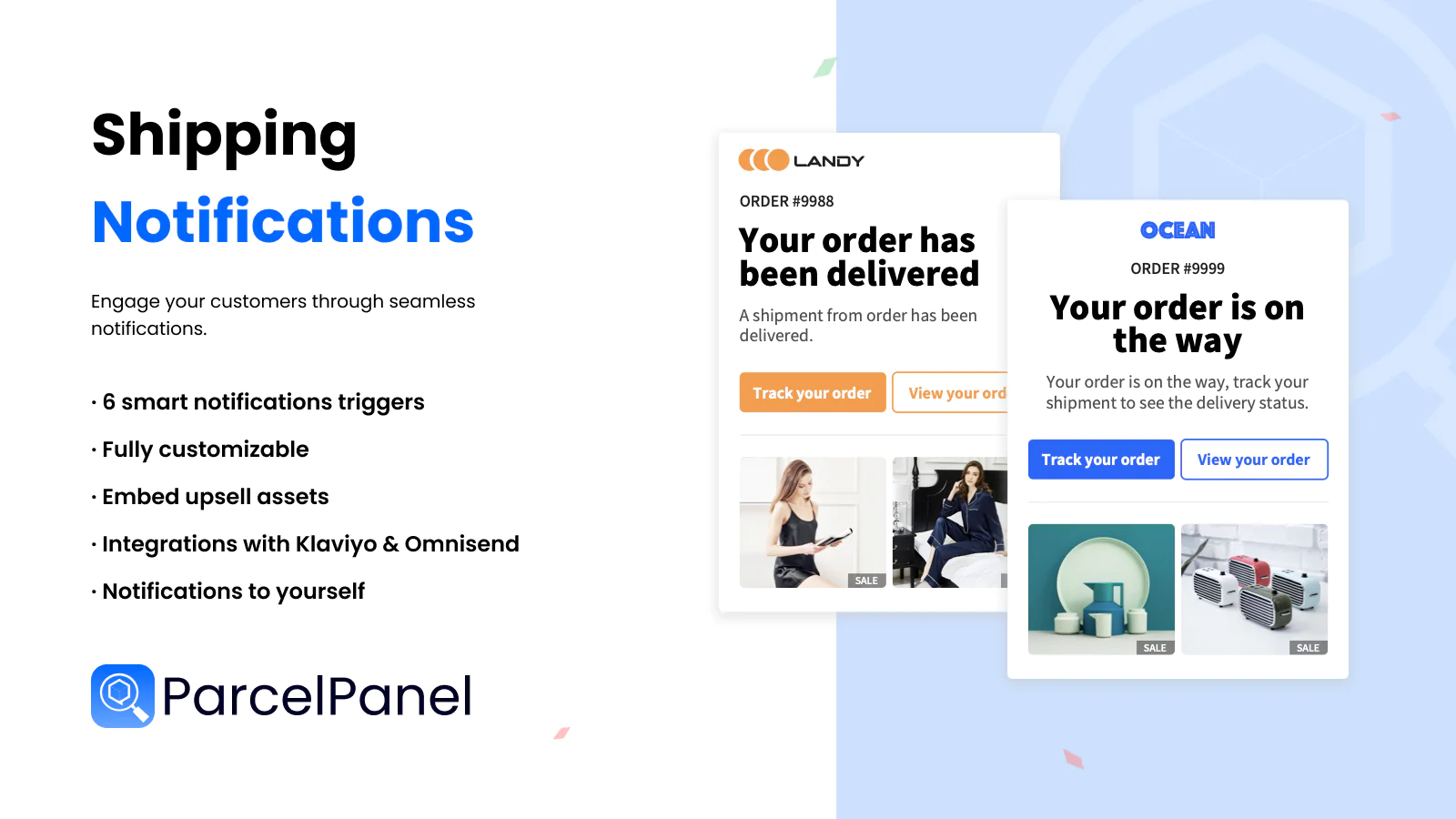 6. Choosing an Order Tracking Checklist 
You should consider the following key factors when choosing an order-tracking app for your business.
This is an important consideration, as you don't want to get stuck trying to figure out how the tool works. A good tool should thus come with a user-friendly interface that's easy to navigate and use even for first-time users.
Integration with other existing tools
You'll need an app that can integrate with other e-commerce apps used for your store. This will avoid data duplication and ensure data accuracy.
Consider an app with all the essential features to ensure a smooth shipping and fulfillment process. It should offer all the functionalities, such as real-time order tracking, integration, and other features that ensure effective shipping.
It's important to consider a tool that fits your budget. Opt for a tool that's affordable for your business but with all the relevant features that suit the needs of your business.
7. Best Shopify Order Tracking App: ParcelPanel
This is the best Shopify order-tracking app: ParcelPanel Order Tracking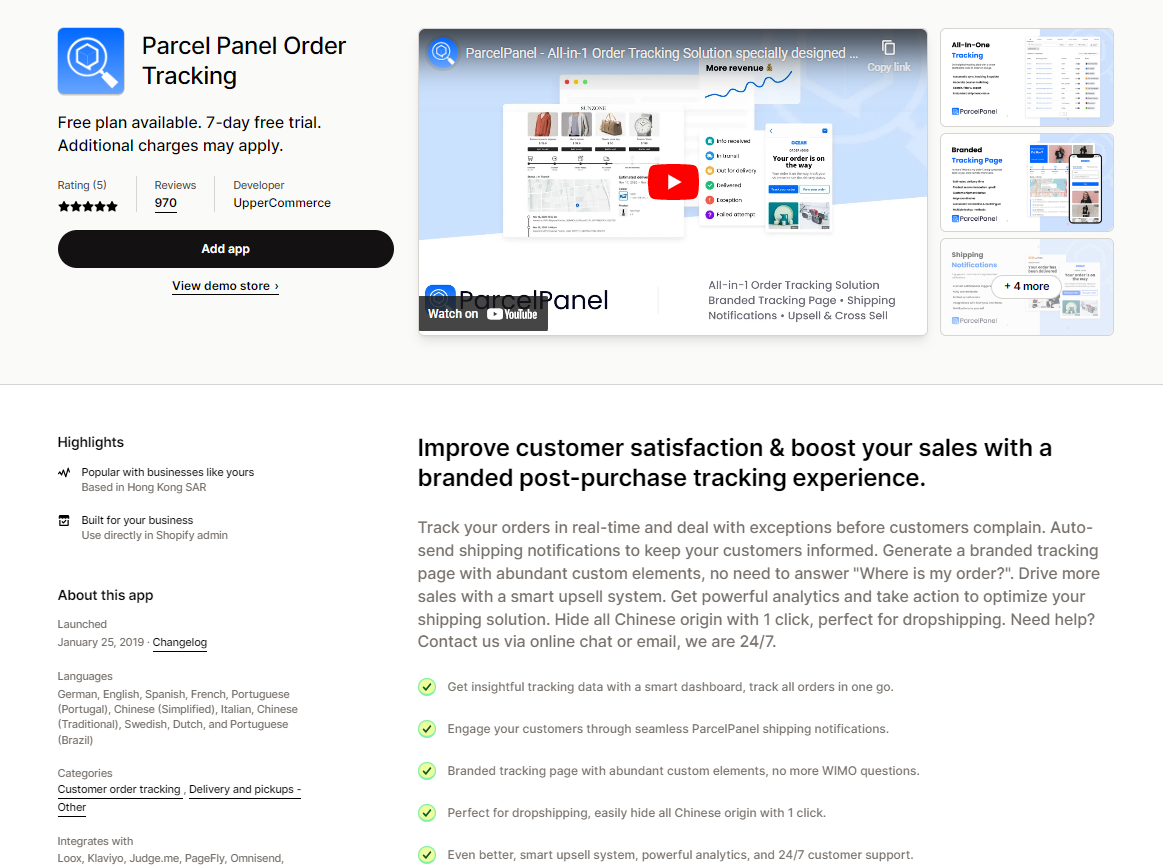 Shopify Rating: 5
Number of reviews: 970
ParcelPanel is designed to capture your customers' attention and minimize customer queries by displaying their products after purchase in an aesthetically appealing manner, allowing them to track their orders themselves.
ParcelPanel gives you a detailed overview of shipment status, allowing you to identify any unusual deliveries. This will enable you to take steps to sort the issues out before customers. What's more, this app integrates with up to 1000 couriers across the globe to help you reach a wider customer base.
Due to its flawless integration with ePacket and AliExpress, this app is excellent for many business types but especially helpful for dropshippers. Additionally, the app comes with localization strings that allow text to be viewed in the user's native language.
Key features
Real-time multifunctional monitoring
This tracks your orders in one go and keeps you and your customers informed with smart shipping notifications.
Branded tracking page
This directs customers back to your shop and enables them to track their orders by themselves; hence you won't have to answer "where is my order" queries.
Perfect for dropshipping
The app integrates well with AliExpress standard tracking and ePacket tracking making it ideal for dropshipping.
Easy-to-navigate dashboard
This lets you search, filter, and export orders with a single click.
Pricing
ParcelPanel offers a 7-day free trial and paid plans starting from $9/month under the Essential plan, $49/month for the Professional plan, and $399 for the Enterprise plan.
Best for 
Real-time tracking

Dropshipping 
8. Why Choose the ParcelPanel Order Tracking App? 
ParcelPanel is among the best available tracking tools for e-commerce businesses. This app is designed to provide a superior branded post-purchase experience that will drive customer loyalty and boost sales and propel your business to grow.
With its many features, ParcelPanel will give you everything you need to manage your shipments easily. The app eases your customer support team's burden by reducing order-related questions by keeping them informed on the status of their shipments via built-in shipping notifications, Shopify native emails, and SMS. What's better, the app automatically generates a branded tracking page that leads customers back to your store for more sales.
ParcelPanel integrates with other e-commerce apps, including Loox, Omnisend, Klaviyo, PageFly, and Judge.Me. You don't have to switch between apps for other information and tasks.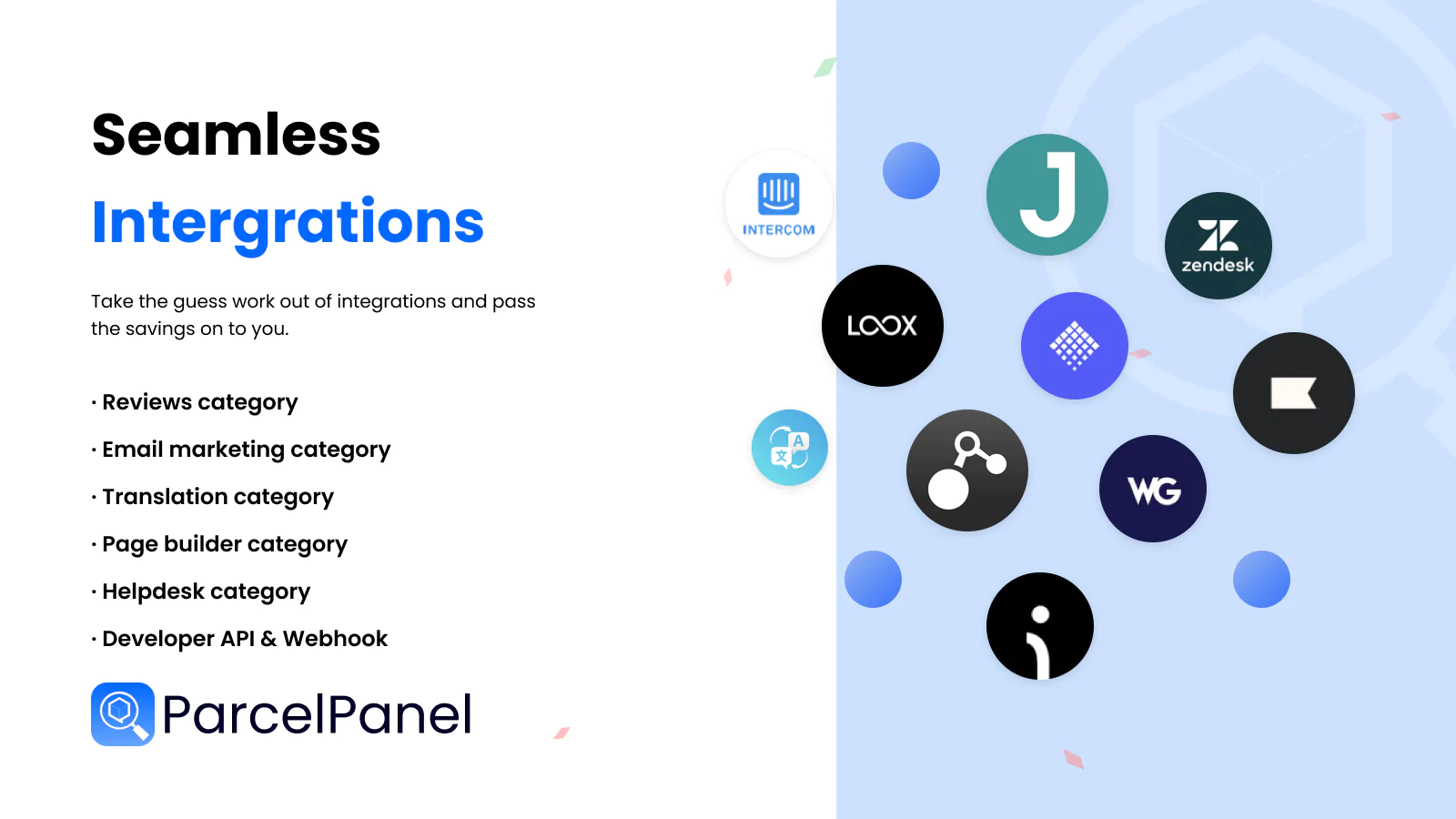 If you are into the dropshipping business, ParcelPanel comes in handy. It flawlessly supports AliExpress, 4PX, ePacket, and YunExpress tracking, plus all the most common couriers that dropshippers use.
With this tracking tool, you will enjoy exceptional 24/7 customer support via live chat or email. So just in case you have any issues, you will get sorted right away. Another plus, the tool comes with a user-friendly interface making it extremely easy to set up and use.
9. How does ParcelPanel work? 
To start using this app, you'll need to install it and register an account. You can start with the free trial before moving to the paid plans.
Once installed, this tool syncs your data from the orders section of your Shopify admin via Shopify API. This lasts 30 days by default, but you can change the sync time in ParcelPanel admin.
After an order is made, it is synced automatically to the ParcelPanel order panel without the tracking number. You can then add the tracking number after fulfilling the order, after which the tracking number will be synced to ParcelPanel accordingly. ParcelPanel can fetch the tracking information from the over 1000 couriers it supports.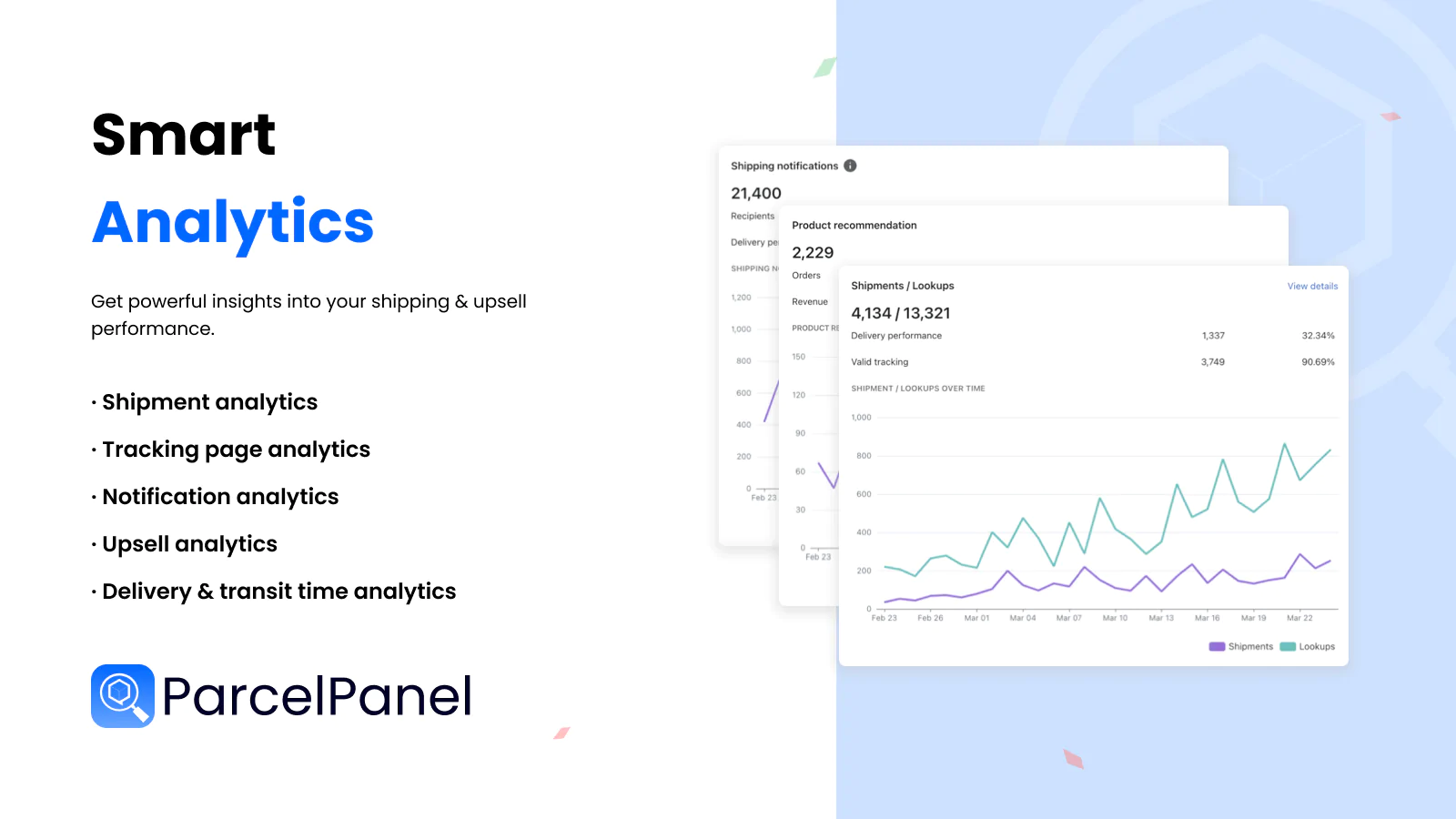 10. How do I use an order-tracking app to track my package globally? 
Shopify is more than a domestic e-commerce app. With a good order-tracking tool, you can easily track packages ordered globally. This tracking app will provide you with all the necessary shipping information by looking up the order tracking number from any international courier, such as FedEx, China Post, 4PX Express, Yunexpress, and DHL-Global Mail.
You can input your order tracking number in this order tracking tool to get real-time notifications on the location of your package that you are shipping internationally. You receive an email with your order number when you place an order. This is what you use to track the status of your package at any time.
Final Thoughts 
A good shipping tool is necessary for every Shopify seller. Besides keeping you updated on your order status, it will also help you offer an excellent post-purchase experience to your customers, boosting their satisfaction and sales.