Shipping SHEIN clothing is now the order of the day, and the reason isn't far-fetched. SHEIN provides affordable and high-quality clothes to keep you current with the latest trends. SHEIN order tracking is readily accessible.
If you're wondering how you can track your SHEIN order, this article is for you.
Let's dive into everything you need to know about SHEIN first, and then SHEIN tracking, shipping services, and finally, SHEIN customer service.
What Is SHEIN?
SHEIN is a popular eCommerce store founded by Chris Xu in 2008 and based in China.
The company deals with providing affordable clothes, including lingerie, bathing suits, sports supplies, and so on.
SHEIN began offering its products to other countries like Spain, Germany, Italy, Russia, and France in 2010. Now, SHEIN offers its products in over 220 places globally.
SHEIN targets more of the younger generation who want to keep in tune with the hottest and latest fashion without breaking the bank to do so.
A core value they hold dear is that everybody should be able to enjoy fashion and appreciate its beauty.
In 2021, the company's app was the most downloaded application in the United States.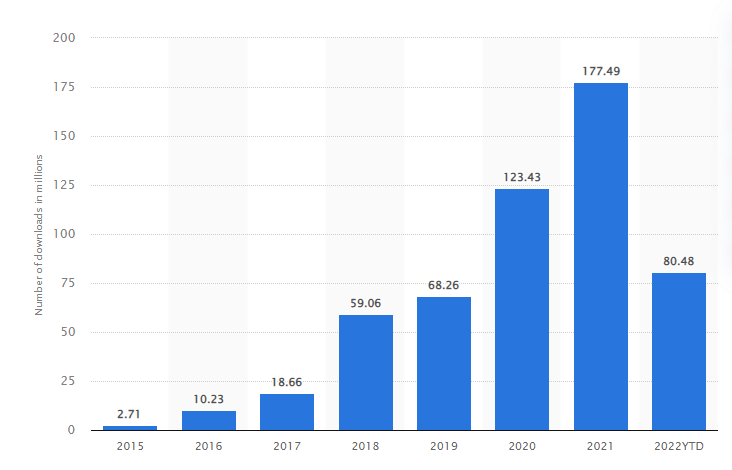 source:statistics
How to Track Your SHEIN Order?
When you make an order, the merchants or sellers transfer your orders through SHEIN'S shipping courier. They can also use a third-party courier like FedEx, USPS, DHL, UPS, and so on.
After they send the order out, they'll provide you with a tracking number. You can track your SHEIN package with a shein tracking number in three ways:
SHEIN app,
SHEIN website,
Third-party tracking platform.
Track SHEIN Package with Mobile App & SHEIN Website
If you have a mobile application, you can track SHEIN orders using the application. 
If you don't have it installed on your phone, then download it from your Google Play Store for Android Devices or Apple Store for iPhones. You can also use the website.
Then, follow the steps below to take advantage of SHEIN tracking:
1. Launch the mobile app or visit the website,
2. Enter the "My Account" section and log in to your account. This account should be the same one you used to order the parcel,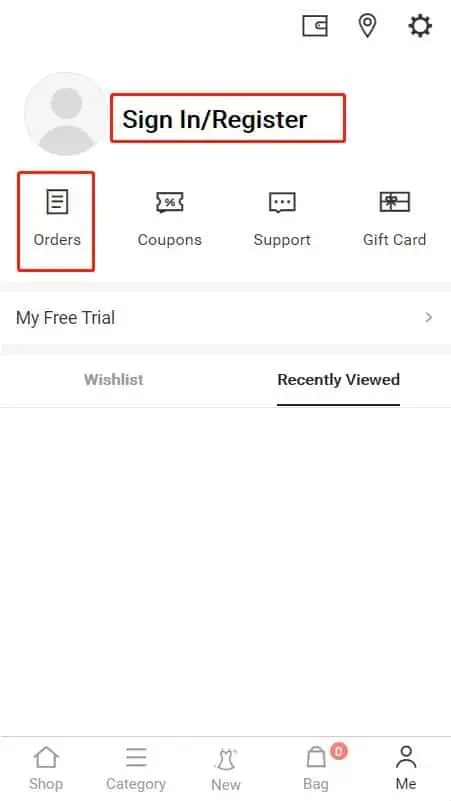 3. Once logged in, head over to the "My Orders" section and click on it. The platform will send you to the "Track My Order - Shein" page where you can check the details and history of your Shein orders. This is the place where you can track shein order with order number.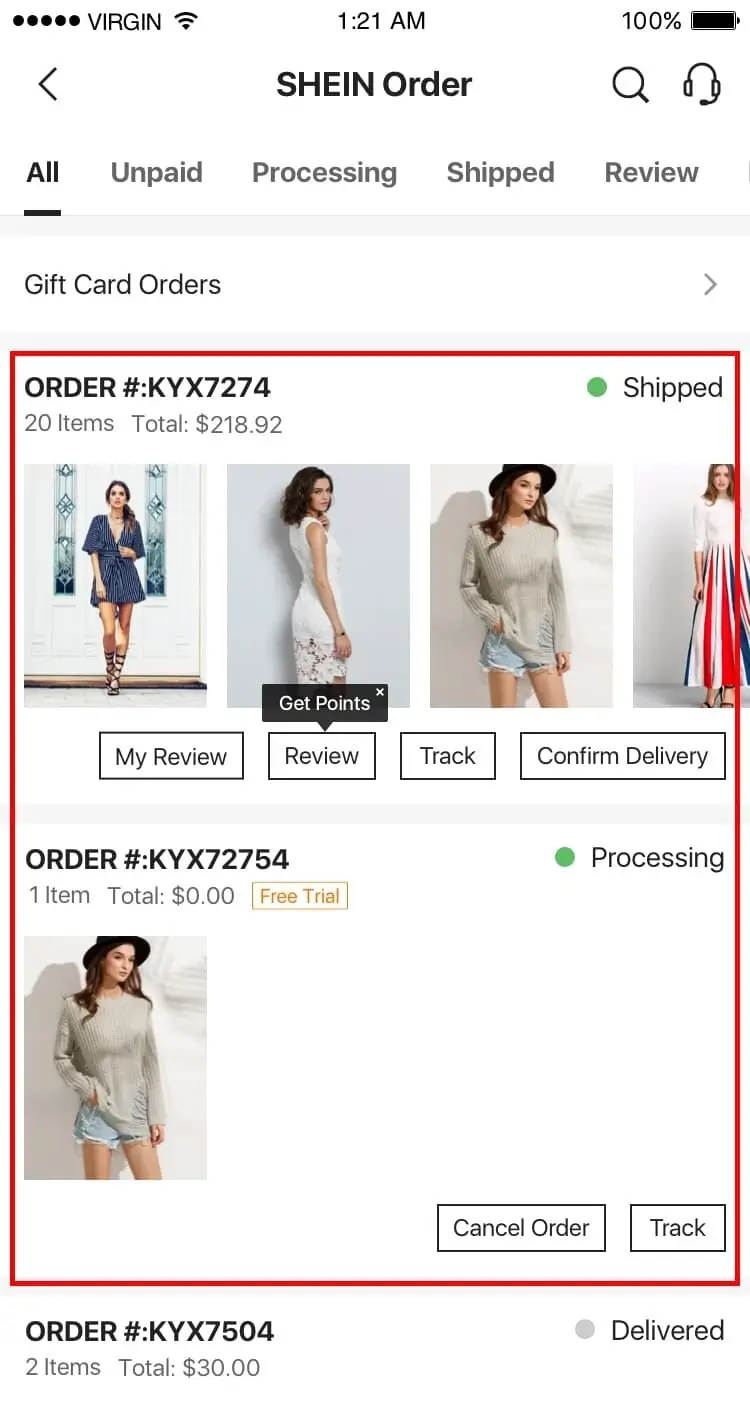 4. You can click on "Select Details" for more information about your order.
5. If the order status says "Shipped", proceed and select "Track" so that you can view the current location and status of your order.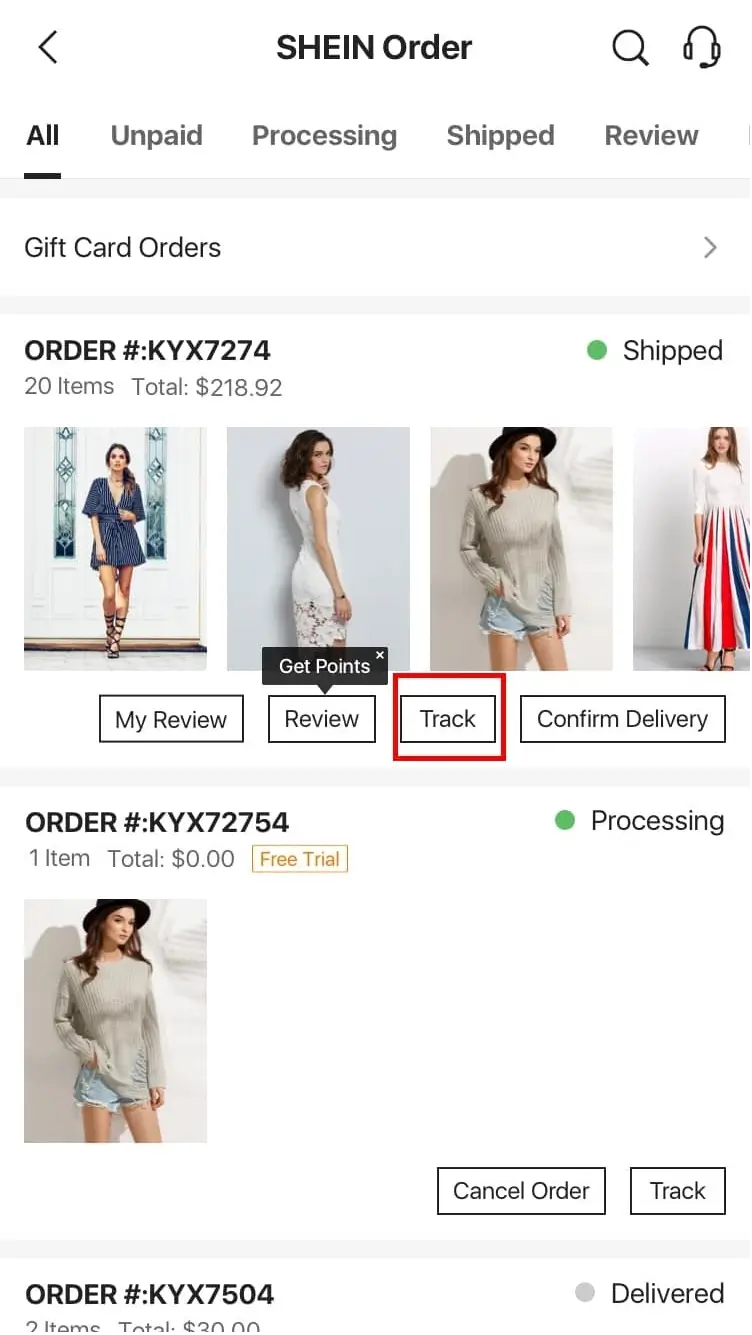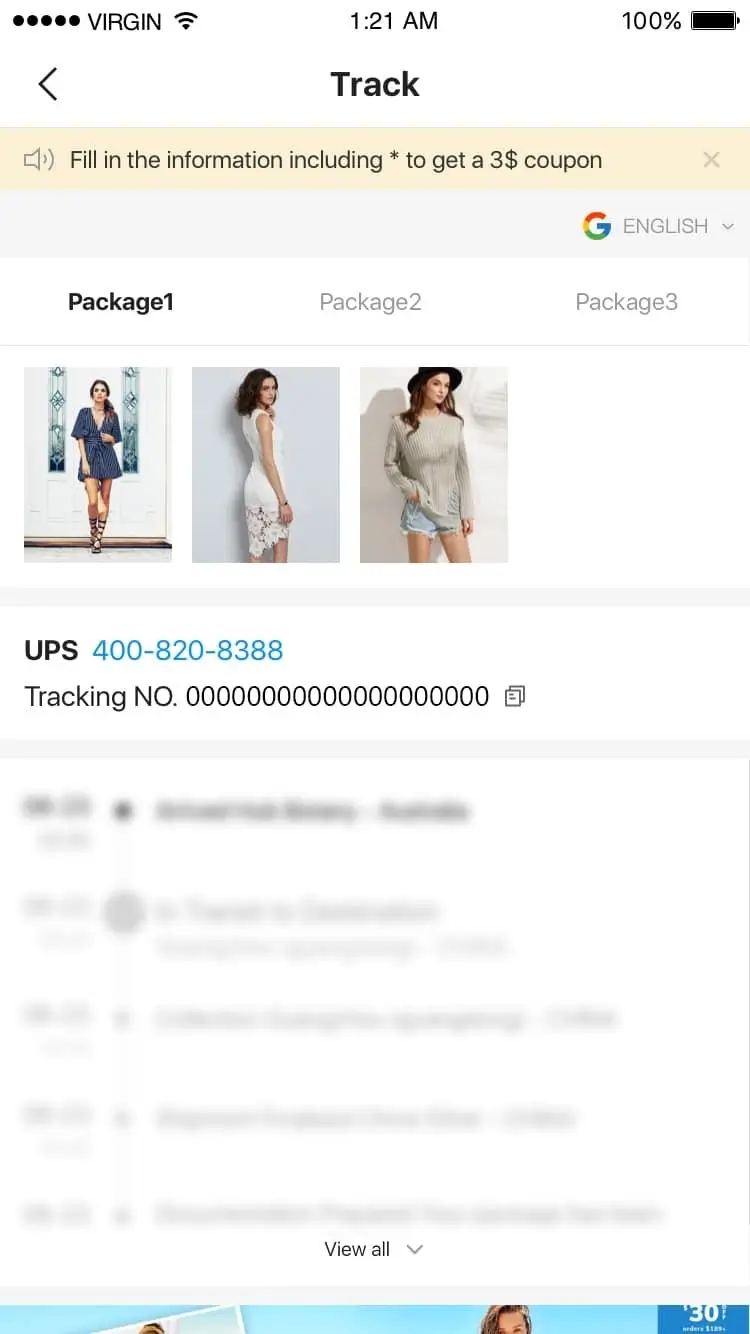 6. When your order arrives, confirm the order's delivery. That will earn you bonus points.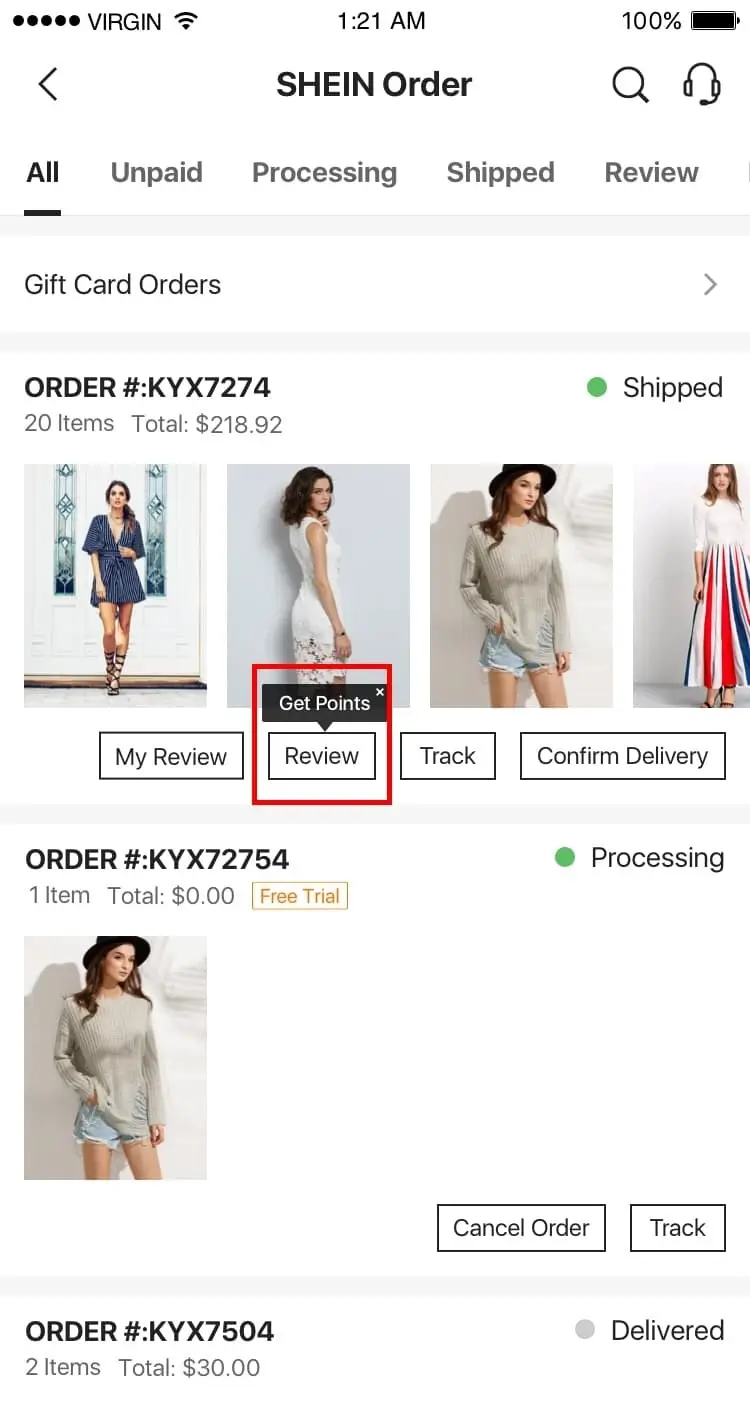 You can also track your SHEIN package using third-party websites like ParcelPanel. It also supports the WooCommerce platform.
For tracking SHEIN packages with Parcel Panel, you can use your order number or tracking number.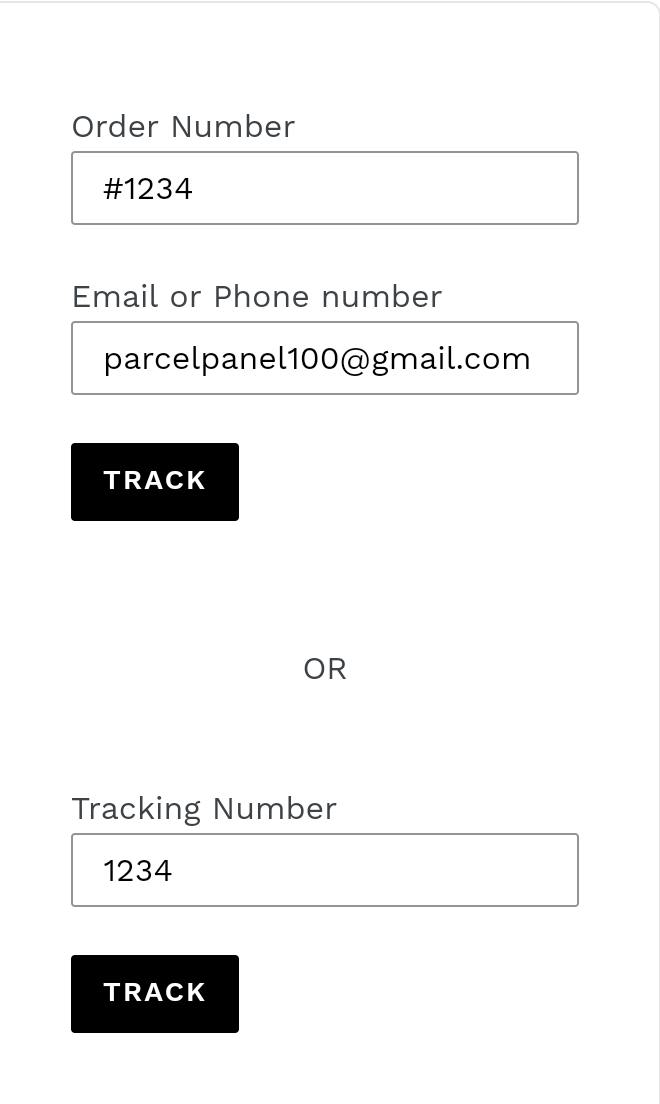 To use the order number option, enter your order number and your email or phone number, and then tap the "TRACK" option.
To use the tracking number option, input your tracking number into the tracking number slot and click on "TRACK". Then wait for it to load.
I must point out that your tracking number is not your order number and you should not confuse them.
A tracking number is a number that you use to track your orders and is provided to you by the merchant or seller. It should be tagged as "Tracking Number".
The order number is the number indicated on your ordered product and should be tagged this way.
The tracking number of a SHEIN product depends on the carrier. If the package is delivered by China Post, the tracking number will start with two capital letters, which are followed by numbers, and then end with two capital letters.
The format of the tracking number and the number itself may change in the course of delivery, and also when the package has left China and is received in the recipient country.
To illustrate, if a parcel is headed for France, the initial tracking number will be formatted this way:
When it becomes supported by Colissimo, the format will change to:
SHEIN Orders - How Long Does It Take?
So far, you've gone through the steps of SHEIN order tracking. After all, we need to know that, the time it takes for your SHEIN order to arrive largely depends on your address and the shipping method that you choose. 
For SHEIN products, the shipping options available that you can select from include:
SHEIN Economy,
Standard Shipping Method,
Express Shipping Method.
SHEIN Economy Shipping 
If you want to ship SHEIN clothing with economy shipping, orders take up to one month to arrive.
This shipping method allows you to save some cash as a customer. This method uses China Post.
The economy shipping method is the best method to use when you want to order clothes a month before you need them.
The time for shipping will depend on your location. It is, therefore, the most affordable shipping method that you can use if you don't need your item urgently.
SHEIN Standard Shipping
The standard shipping method is faster than the economy shipping method.
This method delivers your items within two to three weeks.
It is the best method of shipping your items for you to get value for your money.
The standard shipping method is available in most countries.
You should use it when you want to get your order in two to three weeks.
It is the best method if you want value for your money, such as if you want your goods to arrive on time.
Therefore, this shipping method gives you a balance on both delivery time and pricing and is the most preferred by users.
SHEIN Express Shipping
This shipping method is the fastest method available as it takes between one to two weeks for your orders to arrive, which is faster than standard and economy shipping.
How long does Shein express shipping take? On special occasions, it is even faster and takes fewer days. Because it is premium, it is also the most costly alternative. However, you get real value in time for the money you pay.
Therefore, use the Express Shipping Method if you want the items as soon as possible.
In certain situations, such as unforeseen circumstances, the orders will take more days than they'll normally require.
Those situations include flight rearrangements, adverse weather conditions, and other external factors.
Remember, you can always check the status of your delivery whenever there is a delay.
Remember to click "Confirm Delivery" when you get your delivery.
You have a 6-month window period to receive the bonus points. If you don't click it within this period, you'll lose the additional points.
How to Return Your SHEIN Order?
If you don't like what you ordered, you can return it. However, you have just 45 days to do so. That is 45 days from when you made the purchase.
Due to the situation with COVID, the return period was extended to 60 days.
Additionally, you can select any shipping method you want, but you'll have to pay the shipping cost for it.
To return the SHEIN Order, you'll need to:
Log in to your SHEIN account,
Go to the "My Orders" section,
Select "Return and Refund Record".
Then select "View" to download the return label and print it.
Thereafter, paste the return label on the parcel box
Take the item to your local post office and drop it there
Ensure the item is returnable. Items that cannot be returned include:
Lingerie
Beauty items
Bodysuits
Party Supplies
Cosmetics
Pet Supplies
Jewel
How Do I Contact SHEIN?
You can reach SHEIN through customer service. The SHEIN customer service provides assistance with SHEIN tracking, accepts your feedback, notes your concerns, and handles any problems regarding any SHEIN product.
You can go to the website where you'll find an agent that will resolve the problems you have.
You can also reach them on their social media channels like Twitter(@SHEIN_official) and Instagram(@sheinofficial).
Conclusion
SHEIN is known worldwide for its quality and affordable fashion wear.
They keep you up to date with the latest fashion, and they do so without having you break the bank first.
If you don't live in China, no worries—their expertly arranged shipping options will deliver your ordered SHEIN packages wherever you are.
You can track your SHEIN packages with the mobile app, website, or other third-party applications like Parcel Panel.