It is interesting to note that Shopify is not only an e-commerce forum that puts together simple management of real-world and online trades, but it also facilitates vendors to trade instantly. It regulates stock management and payments.
However, it is solely your responsibility to develop a distinct website. The ideal Shopify theme should leave a long-lasting impression on your visitors.
Websites that are simple to navigate, correspondingly with high picture quality, certainly enhance conversion rates.
If you are wondering what the best free Shopify themes are, I have undertaken the task of putting together some of the best free Shopify themes for your reading pleasure. Read on for more.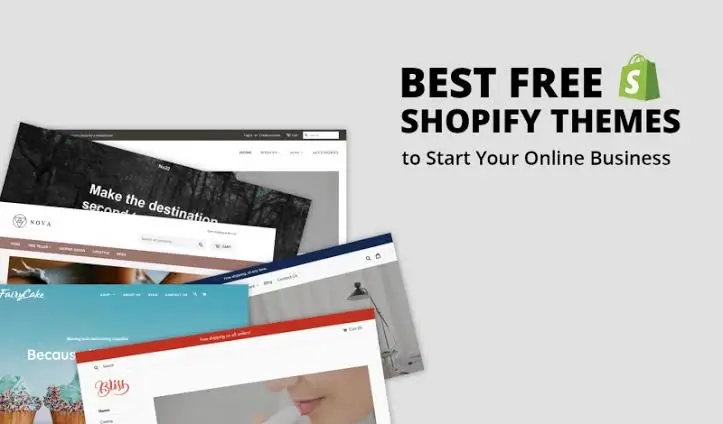 What Is a Shopify Theme?
A Shopify theme is a comprehensive guide employed to give an online shop a distinctive aura.
Each theme has its representation and setup, and it can be customized through the altering of fonts or colors to suit your brand.
Themes go an incredible way towards fine-tuning your site because they allow you to modify it without comprehending how to code.
The Importance of Having the Right Theme
Design is still the most important marketing technique for increasing your Shopify site's exchange.
It is tragic for a brand if its online shop is poorly developed because it can be easily detected by clients.
Thus, to attract and retain more buyers, make your website simple and instinctive to access.
Free Shopify themes have an attractive layout and an instinctive objective. They also meet the standards of their premium equivalents, thereby providing users with a better alternative.
How to Select the Right Shopify Theme
Not all the free design templates are up to date. Some have adequate assistance selections that are far more promising than others.
Hence, it is hard to select the best free Shopify theme.
Selecting the best free Shopify theme is key to building a profitable website.
You can also take a look at other Shopify stores and choose a suitable theme for yourself. With the Shopify theme detector, you can easily find out which theme your store is using through the URL of that website.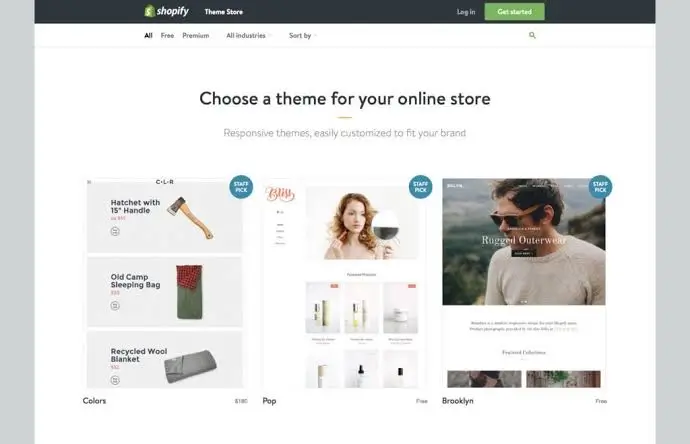 An ideal theme provides a definitive picture that is straightforward for buyers to buy, thereby expanding clients' overall feeling.
Shoppers' general experience must be the main consideration before selecting a theme for your site.
The following are valuable things to assess when scouring for your free Shopify themes for an online store, and they include:
1. Mobile Responsiveness and Instant Page Loading even on Desktops
According to Google Think, about 53% of mobile visits stand a huge chance of being neglected if it takes more than three seconds to load. When selecting a theme, analyze the quickness of your website. If this is considered, it can drastically decrease the number of shopping carts that customers abandon.
2. A Competent Design, with Vast Customization Choices and a User-friendly Interface
Don't settle for an ordinary or conventional design simply because it's a free Shopify theme.
Customizing suitable themes will organize the layout of your online store in line with your company's expectations, in turn improving earnings.
3. It Matches Your Company's Brand
Customization is vital to creating impressive themes that stand out to customers. A useful theme reveals your brand to your customers.
Select themes that have the right feel, interest, and outlook to complement the form of your brand. Select from labels, fonts, and color schemes, the best free Shopify themes that suit the specifications of your trademark.
Consequently, maintaining sameness across the online store furnishes brand-owned customers with an ordeal.
4. Good Customer Support and Automatic Software Updates
When choosing a free Shopify theme, consider the capability of contacting the originator for assistance.
A good tip is to contact Shopify customer service to get more insight into the free themes. That way, you can make better-informed decisions.
Some other useful things to consider before picking a suitable free Shopify theme include:
Compatibility with most Shopify apps.
Selections for SEO optimization.
Learn more: How to customize your Shopify theme in 4 easy steps
What Should Small Industries Look for?
Unlike in other major industries, some intricate details affect small businesses.
For instance, over a third of purchased online products are returned, making such websites suffer from high return rates.
This can be curtailed by using a free Shopify theme, helping buyers find products that easily suit their needs.
Some of the key components are:
Conceptualize the sort of experience you want to offer.
Work out the kind of feeling you want people to get when they explore your online store. It should be based on your particular industry.
Create a soothing layout. Only then can customers' concentration be captured and products be more conveniently purchased.
Know Your Expected Audience
Before selecting the best free Shopify theme, it is pertinent to think of your customers. You can ask technical questions like their age, the level of their web perceptivity, the devices they'll use, and their interests.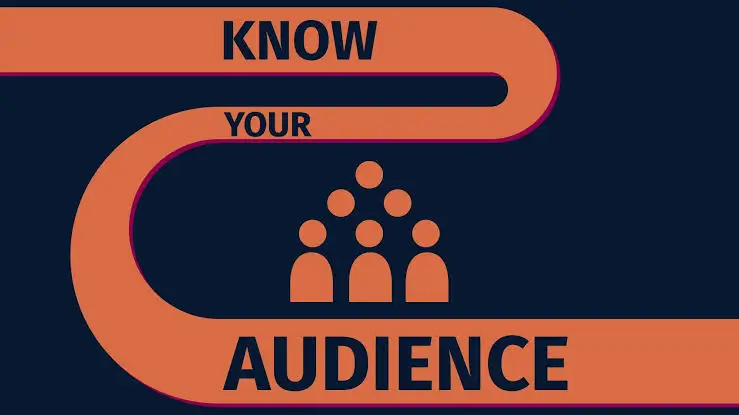 Identify the Website Features You'll Need to Use. 
Create a website that is orderly and instinctively modeled for customers to successfully finalize a purchase.
There should be a high degree of HD pictures conveyed by product pages. Removing and adding products to your site should not be complicated.
The Best Free Shopify Themes for 2022.
At present, Shopify has eight free eCommerce themes, which are found on their theme site.
Some of the best free Shopify themes for 2022 to help boost the website include the following:
Debut
It is circulated and endorsed by Shopify, so the free Shopify theme is customizable, productive, timely, and with understandable navigation.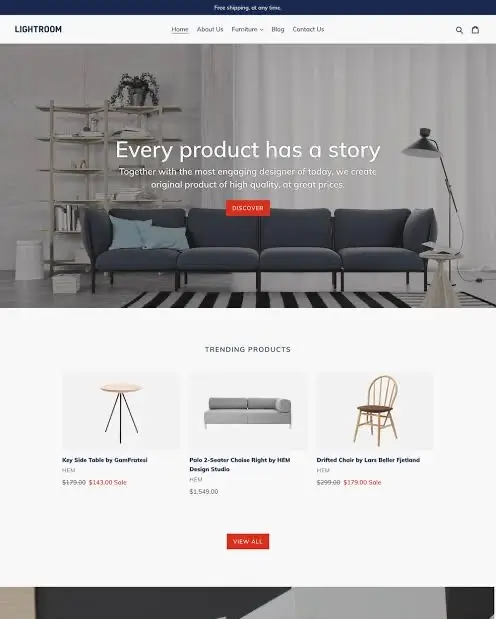 The debut Shopify theme is first on the chart due to its flexibility in fitting an enormous spectrum of stores, irrespective of the size of your stock.
Simple
This free Shopify theme has an understandable structure and delivers the primary purpose required to run any online store.
It retains a "Shop" page on your website that empowers customers with a substantial portion of the product's pictures.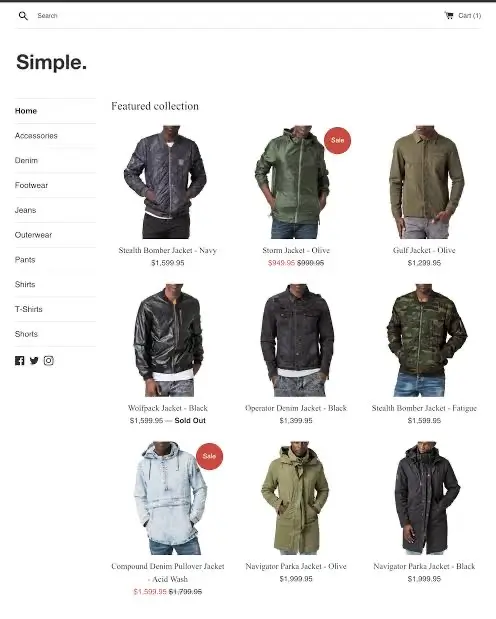 There is a sidebar menu for better navigation, and it gives a close and well-illustrated product image to customers.
Suggested products can be displayed using this theme, so various products can be discovered from your catalog.
Debutify
Debutify offers characteristics such as a currency converter, suitable for brands with an international clientele.
Debutify does not need coding because of its immediate page loading speed.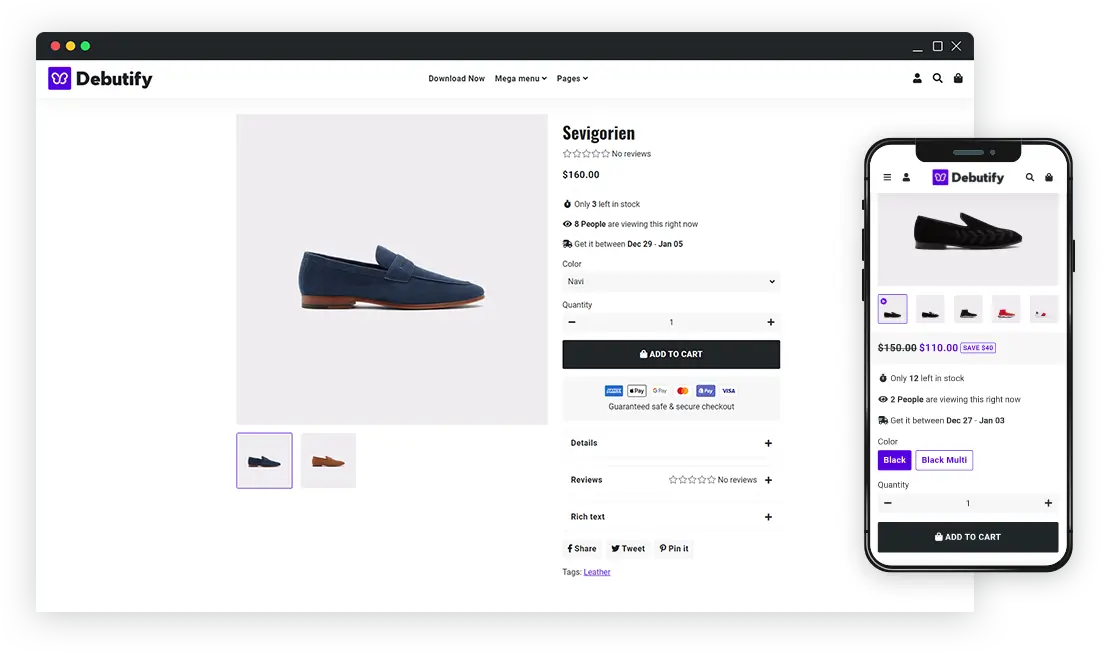 It has a well-developed design that can add a product testimonial or customized footer, incorporating a featured image slider and product filters.
Brooklyn
Made by Shopify, this free Shopify theme accommodates incredible navigation convenience for mobile devices and a setup that is mobile responsive.
It has a captivating full-screen slideshow for the exhibition of product images. Brooklyn is better for limited products than bigger inventory.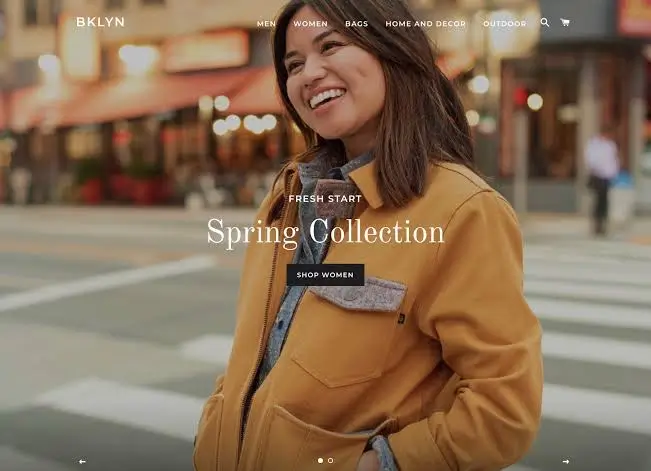 Due to its engaged product grid and slide-out cart, buyers can add products to the cart while on the courage page.
Its home page video selections grip customers with fascinating video content front and center on their websites.
It functions mostly on mobile gadgets due to its "mobile first" ideology.
Narrative
As the word suggests, it is straightforward, focused, and elegant, exhibiting products through storytelling.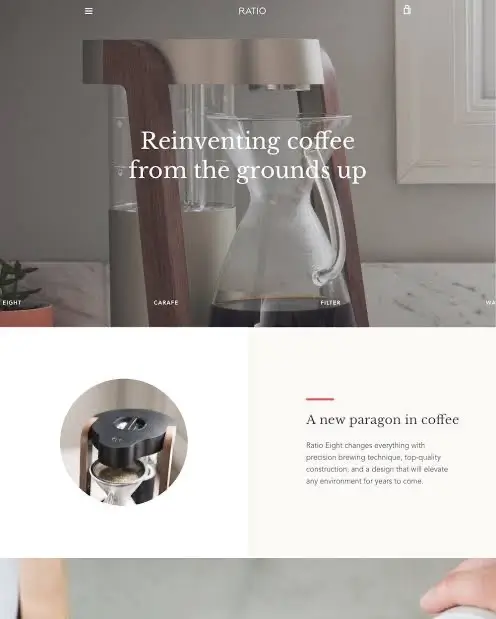 It was built to promote and bring out all its functions on a solo page, but it is most suitable for single products.
Boundless
I'll propose Shopify's Boundless if your website is geared towards high-quality pictures.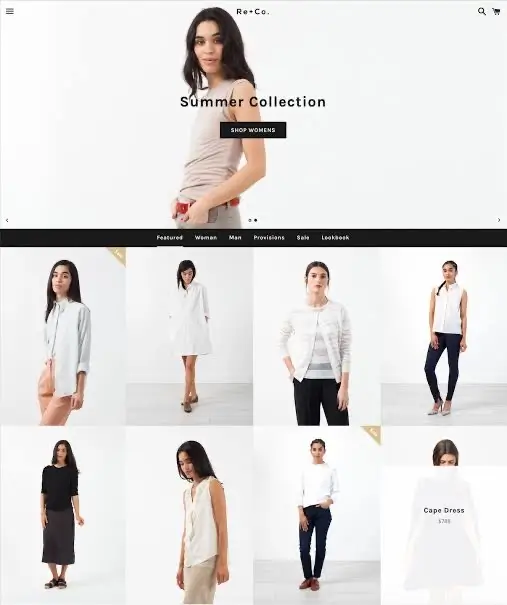 It is a pictorial-directed theme and is perfect for large pictures, facilitating the display of products with higher resolution imagery.
Slightly beneficial for vending candy or bikes.
Venture
It was made with a big product catalog in mind, constituting significant aspects like product filtering and a multi-column drop-down menu.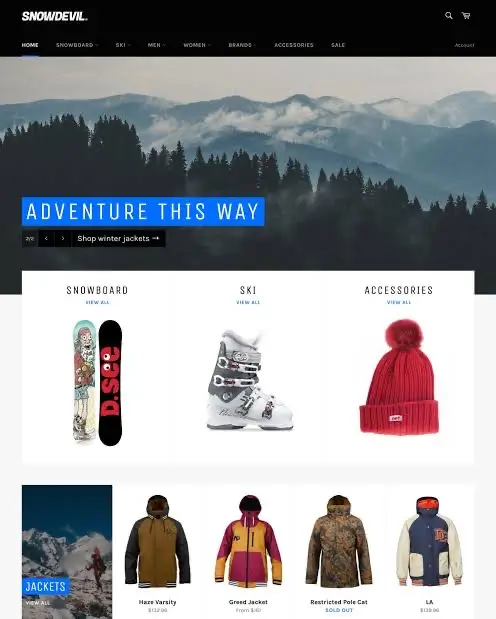 That aids customers in precisely locating what they need.
It's created for Shopify dropshipping stores with many products, but it's not suitable for smaller products.
A free Shopify theme-like venture is evidently for outside events and products such as athletics and expeditious activities.
Fashe
It was originally made as a premium template until it was given away for free by the designers.
Attributes seen in premium themes are also included, except that they are without cost.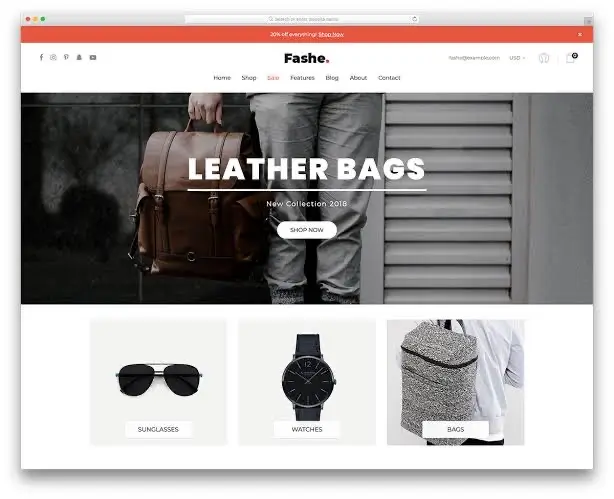 Its smallest setup makes it beneficial for different types of shopping niches, ranging from fashion, baking, and so on. It can also compete with some premium themes.
Voonex
From Apollo themes, it was made precisely to suit online stores trading in conventions and events.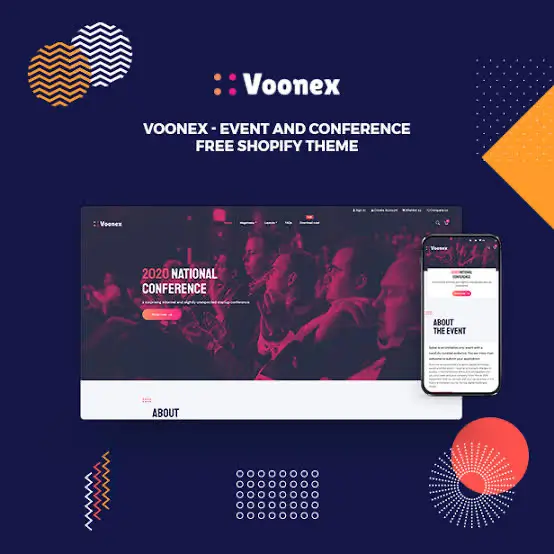 Its outstanding characteristics constitute pages like speaker profiles, schedules, sponsors, event information, and a blog.
Additionally, it has a customized structure prepared for attendees to easily access event data. It makes site navigation more precise.
Supply
For businesses with multiple collections and larger inventory, this free Shopify theme is for you, because of its ability to accommodate more than 50 products and five collections.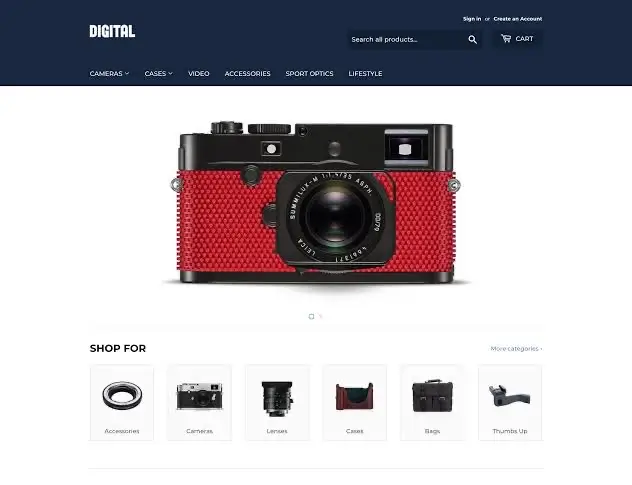 Featured collections are effortlessly displayed on the home page due to its customizable sidebar and slideshow.
Conclusion
Having a superb theme design is a critical factor in developing and maintaining a successful eCommerce business store.
Thanks to a collection of free Shopify themes and premium ones, you can develop an attractive Shopify platform.
Even though the free themes are a bit limited when you consider functionality and design, most of those I have listed above provide reasonable customizable features. That will give your online store the look and feel that will attract and retain shoppers as they are great at showcasing your products.
Therefore, get your store up there where it belongs by jumping in on these amazing free Shopify themes, as they are quick and easy to use and will provide great optimization for a better customer experience.