About Estes
Estes Express Lines, commonly known as Estes, is a renowned privately-owned transportation and logistics company in the United States. With a strong presence in the industry for over 90 years, Estes has established itself as a trusted provider of reliable and efficient freight services.
Estes operates an extensive network of terminals strategically located nationwide, although the headquarters is in Richmond, Virginia. The vast network ensures Estes can offer its customers comprehensive coverage and timely deliveries. Estes can handle a wide range of freight requirements, including next-day LTL shipping, cost-effective solutions, and final-mile deliveries.
Estes, as one of the leading carriers in North America, offers diverse services to meet the needs of businesses across various industries. Their services include less-than-truckload (LTL) transportation, truckload (TL) shipping, time-critical freight, volume and partial truckload, and international solutions. This comprehensive service portfolio enables Estes to cater to each customer's unique requirements, ensuring their freight reaches its destination securely and on time.
Estes has a workforce of over 22,100 employees, and it maintains high operational excellence thanks to its fleet of linehaul drivers. Their skilled and experienced drivers handle the shipment with utmost care throughout transportation. Committed to simplifying freight shipping, Estes is a preferred choice for businesses seeking reliable and efficient freight services.
Estes Express Lines locations are positioned across the United States. It provides convenient access to customers in various regions. These terminals are important hubs for efficient cargo handling, consolidation, and distribution. Customers can rely on Estes' extensive network to streamline their supply chains and optimize their logistical operations.
Estes's competitors include XPO Logistics, Saia, Old Dominion Freight Line, AAA Cooper Transportation, ABF Freight, Averitt Express, etc.
Estes Tracking
Estes Express Lines provides comprehensive shipping and tracking services to ensure efficient and transparent freight movement. Whether it's Less-than-Truckload (LTL) shipments, global forwarding, or final mile deliveries, Estes offers tracking solutions that give customers real-time visibility and control over their shipments.
Estes LTL Tracking
The company offers an easy-to-use tracking system accessible through its website. The feature is for customers using Estes' LTL services. You can enter Estes pro tracking number on the Estes Shipment Tracking page.

Here are common reference numbers that you can use to track Estes LTL shipments:
PRO Number

Bill of Lading Number

Pickup Request Number

Interline PRO Number

Load Order Number

Purchase Order Number
The tracking system lets customers access their LTL shipments' status, location, important shipment milestones, and estimated delivery date. The Estes LTL Tracking will give you peace of mind because it will give you the precise whereabouts of your freight.
Estes Global Forwarding Tracking
Estes Express Lines also offers tracking services for international shipments through their Global Forwarding division, Estes Forwarding Worldwide (EFW). You can access the Estes Global Forwarding Tracking system to monitor the progress of your shipments from end to end.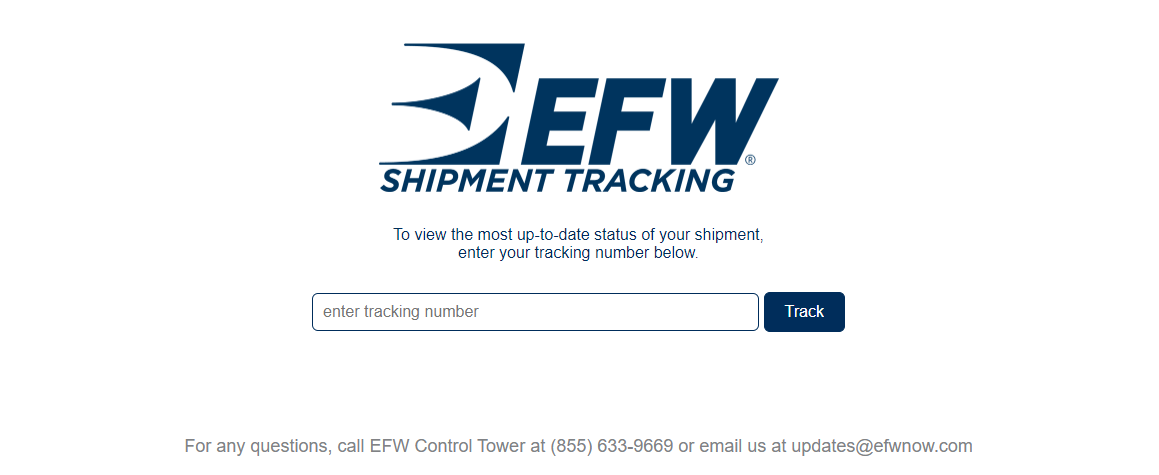 EFW tracking allows you to get real-time insights into your international freight movements by entering the Estes shipping tracking number provided. Estes Global Forwarding Tracking will help you make informed decisions and plan accordingly as they traverse across borders and go through customs.
If you have any questions, contact EFW Control Tower by calling (855) 633-9669 or sending an email to [email protected].
Estes Delivery Tracking
Final mile delivery is a crucial aspect of the supply chain, and Estes recognizes the importance of providing visibility into this stage. Estes Delivery Tracking allows you to track deliveries from the Estes distribution center to the final destination.
This service is especially valuable for businesses and individuals who rely on timely and efficient last-mile deliveries. You can always be updated on the status of your packages by text messages. You may also enter the necessary tracking number and delivery zip code on the Estes delivery tracking page to monitor the shipment progress. These services help businesses enhance overall customer satisfaction.
Estes Standard Freight Tracking
Estes Final Mile freight delivery solutions include Standard freight (front door delivery) and Premium freight services (entryway delivery, white glove delivery, and white glove with assembly). By choosing Estes Standard freight delivery, your shipment can be carried from the truck to the driveway, garage, porch, and a similar area. Standard freight delivery tracking encompasses online shipment tracking, email notifications, and text notifications.
It ensures customers have complete visibility into their shipments, enabling effective planning and coordination.
Estes Express Lines recognizes that tracking services are vital in meeting customer expectations and ensuring a seamless transportation experience. By leveraging advanced tracking technologies and providing user-friendly interfaces, Estes empowers customers with the information they need to make informed decisions and mitigate potential disruptions.
Whether it's monitoring LTL shipments, overseeing global forwarding, tracking final mile deliveries, or managing standard freight services, Estes' tracking solutions enhance transparency, efficiency, and customer satisfaction.
How to Track an Estes Package?
Estes tracking is a simple and efficient process that provides customers with real-time updates on the status and location of their shipments. Estes offers various tracking methods, including the Estes Shipment Tracking Page, the Pickup Visibility Tool, and My Estes account. You may also track Estes shipments with ParcelPanel.
Use Estes Shipment Tracking Page
The Estes Shipment Tracking Page is a user-friendly tool that allows customers to track their packages by entering the Estes tracking number. To track an Estes package using this method, follow these steps:

Step 2:

Enter the Estes tracking number you've received from the sender.

Step 3:

Click on the "Search" button.
The tracking page will display detailed information about the package's status, location, transit history, estimated delivery date, and any additional updates or exceptions.
Use Estes's Pickup Visibility Tool
The Estes Pickup Visibility Tool allows customers to track the progress of their pickups by entering the pickup request number (up to 100 each time). To track an Estes package pickup using this tool, follow these steps:

Step 2:

Enter the pickup request number (10 digits long, starting with "00") provided by Estes

Step 3:

Click on the "Search" button

Step 4:

The tool will display the pickup details, including the estimated time of pickup, important pickup milestones, and any updates or exceptions related to the pickup.
Use My Estes account
A My Estes account provides more detailed shipment tracking information, online shipment histories and online pickup requests. Using My Estes account is an easy way to track all your recent Estes shipments. My Estes is built to increase efficiency and reduce costs for users.
To open a My Estes account, you need to contact Estes via phone at 804-353-1900, Ext. 2110 or via email at [email protected].
Use ParcelPanel
ParcelPanel, a leading order tracking service, integrates with Estes API to provide seamless tracking capabilities for businesses. Through ParcelPanel, businesses can centralize Estes parcel tracking and set up branded tracking pages for their customers. The tracking process with ParcelPanel can be done in two ways:
Businesses and consumers can visit ParcelPanel's official website to track Estes shipments by entering the tracking numbers.

Businesses using the Shopify platform can leverage the ParcelPanel Shopify app.

This app automatically creates a branded tracking page for customers to track their packages using the order number or the tracking number. Customers can also receive shipping notifications via email and return to the store to access the latest tracking updates.
By utilizing these tracking methods, whether through the Estes website, My Estes account, or ParcelPanel tracking services, customers can easily track their Estes packages and stay informed about their shipments' progress and expected delivery dates.
Estes Tracking Number
An Estes tracking number is a unique identifier assigned to each package or shipment that Estes Express Lines handles. Estes has various types of tracking numbers, including:
PRO Number

Bill of Lading Number

Pickup Request Number

Interline PRO Number

Load Order Number

Purchase Order Number
This tracking number enables customers to track and monitor the progress of their packages throughout the transportation process. Estes mainly utilizes the Pro Number as the shipment identifier. The Estes tracking number follows a specific format and pattern, ensuring accuracy and consistency in tracking.
Estes Tracking Number Format
The Estes tracking number consists of ten digits. The pickup request number also has 10 digits, whereas it begins with "00".
Estes Tracking Number Example / Estes Pro Number Example
Here are examples of Estes tracking numbers:
0178190213

2220410713

0949119984

0630503941
Customers can easily track their packages using the Estes tracking system by providing the Estes tracking number or Pro Number. The tracking number is a key element in ensuring accurate and reliable tracking of shipments throughout the entire delivery process.
Estes Tracking FAQ
Why is my Estes tracking number not working?
If your Estes tracking number is not working or showing any information, there could be several reasons for this:
Recent Pickup: It may take some time for tracking information to be updated after a pickup request is made. Allow time for the system to reflect the latest status of your shipment.
Invalid Tracking Number: Ensure you correctly entered the tracking number without any spaces or additional characters. Double-check the number provided by the shipper to ensure accuracy.
Delayed Update: In some cases, there may be delays in updating tracking information due to various factors, such as network issues or system updates. It is recommended to check tracking updates later.
If the tracking number shows no information after a reasonable time, it is advised to contact Estes customer service for further assistance.
How can I submit a freight pickup request to Estes?
To submit an Estes freight pickup request (or LTL pickup request), follow these steps:
Step 1:

Visit the Estes Pickup Request page on their website

Step 2:

Log in to your My Estes account, or create a new Estes account if you don't have one.

Step 3:

Provide necessary details, such as the pickup location, contact information, preferred pickup date and time, and shipment details

Step 4:

Submit the pickup request.
Also, you can contact Estes customer service to schedule a freight pickup.
How can I calculate the Estes transit time?
To calculate the transit time for your Estes shipment, follow these steps:
Step 1:

Visit the Estes Transit Time Calculator page on their website

Step 2:

Enter the origin and destination information of your shipment

Step 3:

Choose the date you would like to send the shipment

Step 4:

Click the "Submit" button to view the estimated transit time for your shipment.
The transit time provided is an estimate based on various factors, including the service type, distance, pickup time, and additional service requirements. It is important to note that transit times are subject to change should unforeseen circumstances or events beyond Estes' control occur.
If you have any questions regarding Estes tracking or transit times, it is recommended to contact Estes customer service for personalized assistance.
Estes Tracking Customer Service
Estes Express Lines provides various channels for customers to seek support and assistance regarding package tracking and other inquiries. Here are the possible ways to get in touch with Estes customer service:
Phone Support: Customers can contact Estes customer service for immediate assistance. The Estes customer service number is:1-866-ESTES4U (1-866-378-3748)
Estes customer service representatives are available to assist customers during the following working hours:
Monday to Friday: from 8:00 AM to 6:00 PM (Eastern Standard Time)
Email Support: For non-urgent inquiries or written communication, you can contact Estes customer service via email at [email protected]. Make sure to submit accurate contact information and details about your inquiry.
For more specific requests, consider using the information in this table:
Online Support: Estes offers an online support feature on their official website. With it, customers can get answers to frequently asked questions and access helpful resources.
Estes customer service strives to provide prompt and reliable assistance to customers regarding their tracking inquiries or any other concerns they may have. It is recommended to contact Estes during their working hours for the most efficient support.