About ABF Freight
ABF Freight System, Inc. is an American-based less-than-truckload freight carrier company located in Fort Smith, Arkansas. It is part of ArcBest Corporation founded in 1923 with a single truck, but has grown to a long-distance freight carrier. In 1997, ABF Freight opened U-Pack as its residential and storage arm. Through U Pack, customers can rent a moving container, pack only as much space as they need, and ABF will drive the container to its destination.
ABF Freight boasts over 7,000 drivers, 4000+ tractors, and 22,000+ trailers allocated across nearly 240 service centers across 50 states in the U.S. The vast network allows the company to transport over 20,000 LTL shipments daily. ABF trucking puts a strong emphasis on quality, and this has seen them win several awards, including;
American Trucking Associations President's Trophy
The ATA's Excellence in Claims and Loss Prevention Award
The Excellence in Security Award
With U-Pack, ABF Freight has facilitated the transportation of over 1 million household shipments to various destinations across the United States, including Alaska, Puerto Rico, Hawaii, and across the border to Canada.
To sum up, ABF Freight stands out as an excellent choice for freight shipping needs in the United States. Its top competitors include R+L Carriers, XPO, TForce Freight, FedEx Freight, Estes Express Lines, and Old Dominion.
ABF Tracking
When choosing a service provider to deliver your LTL freight, efficiency, best-in-class service, and availability of multiple options should be your considerations. ABF Freight ticks all the boxes because they have been in the freight industry for more than 100 years, thus garnered much-needed experience. The company provides clients with various business solutions for efficient transportation, including:
LTL
Volume LTL
Time-critical delivery
Final-mile options
Vendor compliance
The freight company offers direct services to all 50 states in the U.S. and extends the same to international destinations such as Mexico, Canada, and Puerto Rico. The extensive range of service centers (over 240) provides a proper framework for businesses to grow their brands because they get the opportunity to connect with customers worldwide.
ABF allows you to monitor the transportation process through ABF Freight tracking to give you the peace of mind that your shipment is secure. You simply go to the tracking tool of the ArcBest website and enter your package's PRO number or a U-Pack tracking number to view its current status.
ABF Freight system tracking gives you the privilege of monitoring your shipment round-the-clock through live updates. In case you need assistance with ABF shipment tracking, .or need proof of delivery, email the ABF customer service team at [email protected].
How to Track ABF Freight Shipment?
By using ABF Freight Tracking
ABF Freight tracking integrates sophisticated technology that allows you to know the location of your shipment throughout the entire process. To use the ABF freight tracking system, visit their mobile website and choose "Track Shipments".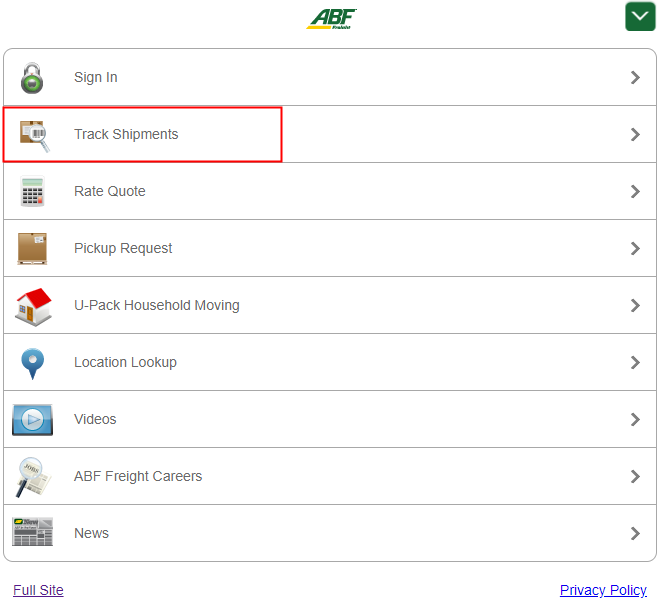 Key in your ABF PRO number to get detailed information.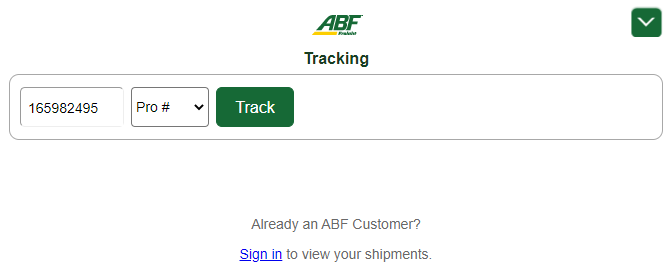 You can utilize the Bill of Lading (BOL) for ABF shipment tracking. This is because an ABF BOL, a document that outlines the commodities in the shipment alongside payment terms, and consignor names. It can be utilized as a contract between the carrier and shipper and also as a shipping receipt.
To do this, just choose "BOL#" in the drop-down menu, enter your ABF BOL tracking number, and click "Track."
The ABF LTL tracking service enables you to monitor your shipment and predict the expected delivery time since it is not definite. In this way, you'll know when the freight shipment reaches the destination terminal and schedule a pickup as soon as possible.
By using ArcBest Shipment Tracking
ArcBest allows you to track ABF Freight shipments through its online shipment tracking tool. Simply key in your ABF PRO number and click "Track Shipment" to obtain all the necessary details, including the shipment status, pickup time, delivery time, freight information, and origin and destination terminals. The tool works superbly since you can access details round-the-clock.

If you fail to receive tracking updates, it is possible due to an erroneous entry of the ABF PRO number or your ABF LTL shipment has not yet entered the system. In the latter circumstance, check again after a few hours to give the carrier ample time to get to the origin terminal. Ensure you have the driver's number if you need further verification.
By using ParcelPanel
ParcelPanel adequately collects information from over 1,100 carriers worldwide to give businesses an integrated universal tracking option. You, therefore, do not have to contact your service provider, thus saving much-needed time and funds. The extensive ParcelPanel carrier network allows you to conduct freight, first and last-mile carrier tracking, and end-to-end shipment tracking.
You can track right from ParcelPanel's universal carrier tracking page by typing in the ABF tracking number and clicking on track to generate the tracking details. Alternatively, you can select (or search via the search box) ABF Freight System and enter the tracking number on the dedicated ABF tracking page that comes up.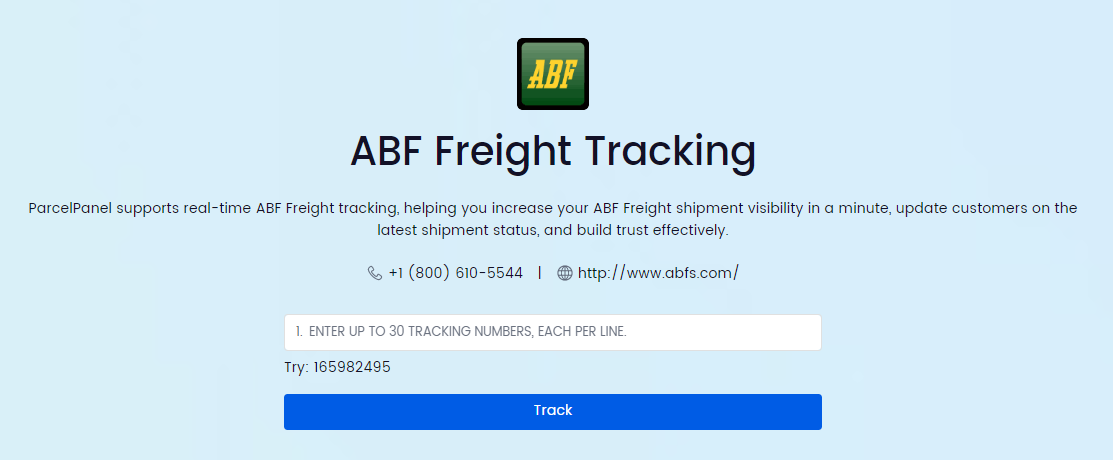 If tracking through Shopify, you automatically get a branded tracking page, then every time your customers return to the page for tracking updates, they are exposed to your brand and offers that may interest them. This increases the likelihood of more sales. You use the ABF tracking number to track from this page.
ParcelPanel is integrated with the ABF Freight System's API, as it is with many other carriers. You can therefore centralize your business for greater convenience in tracking your shipments.
ABF Tracking Number
ABF tracking number is a distinct code for your shipment that is generated when you place an order from ABF Freight for transportation that you can use to track your ABF load while it's in transit. You can find the number on the ABF website once you log in with your details or in the email you receive immediately after placing an order. Remember to keep this information safe with your login credentials to guarantee the safety of your shipment.
ABF Tracking Number Format
The ABF PRO tracking number generally consists of nine digits. Each ABF Freight PRO tracking number is a unique shipment identifier. There is, therefore, no probability of finding different loads with the same PRO number. Always check to ensure the ABF freight PRO tracking number works because there is no way of tracking your shipment without it. In case of any issues, check that you have typed the code correctly before contacting customer care.
ABF PRO number examples are as follows:
ABF Tracking FAQ
How to make an ABF Freight pickup request?
ArcBest® offers a convenient and straightforward method of scheduling your ABF Freight pickup online. You, therefore, don't have to visit their offices. To commence a ABF Schedule pickup, go to the pickup request tool, and key in the details of your shipment, including:
Origin and destination address
The time when the shipment will be ready for transportation
Shipper and consignee details
Special instructions
Commodities information
Additional services for the shipment
To view recent requests, log in to your account. You can also change the pickup time and modify the requirements to suit your preferences. There are several ABF Freight pickup request options to choose from based on the shipment size and requirements for special handling, including:
| Type | Meaning |
| --- | --- |
| Time-critical service | For a shipment that requires fast and time-definite delivery |
| Liftgate-ground pickup | For extra-large shipments that need machine loading or unloading |
| Inside pickup | When the load is not next to the pickup vehicle |
| Limited access pickup | For shipments that may get delayed due to various reasons, such as security, construction site, or military base |
| Residential pickup | For pickups at private residences |
| Secure shipment divider | Intended for enhanced security and/or privacy |
| Trade show pickup | Caters to your exhibiting needs |
| Flatbed pickup | For oversized shipments that necessitate top or side loading |
| Sort & segregate | For shipments that dictate special handling, either through segregating or sorting |
| Freeze protection | For shipments that need protection from extreme coldness |
The above options cater to all freight shipment needs. When you schedule a pickup, make sure that you choose a convenient time for you and the pickup team to ensure the process is hassle-free. Constant communication with the driver or ABF customer service is essential.
How can I conduct an ABF terminal lookup?
ABF Freight features an extensive ABF terminal map that covers even the international platform. If you are unsure about the ABF terminal close to you, go to their website and choose "Location Lookup," to access the "ABF Locations" page.

Then, enter your zip code, for example, 10001, and you'll get the exact ABF pickup locations and phone numbers that you'll need to make a ABF pickup request.
How can I get ABF Freight proof of delivery for my shipment?
It is important to get proof that your shipment has been delivered successfully. The ArcBest Document Retrieval tool allows you to get all the evidence you need in case of any ABF Freight delivery issues. Visit the tool page, and log in to view and print essential transportation documents for all your shipments.
Some of the documents you will find include:
Signed bills of lading
Packing lists
Weight confirmations
Customs documents
Delivery receipts
Access the documents by entering your shipment reference number.
How do I design my ABF Bill of Lading?
To create or edit an ABF Bill of Lading (BOL), you must log in to your ArcBest account. If you don't have an account, create one to use this feature. You can then create one by choosing a new template or editing a recently used copy. Once you have generated the template, enter the necessary information and select the "Save as a New Template" button. Afterward, name the template and then click save.
To access the new template, visit the TEMPLATES tab to double-check or change the details.
If you need further assistance with the use of the Bill of Lading tool, call the ABF Freight Help Desk at 479-785-8900 or email them at [email protected].
ABF Freight Customer Service
ABF Freight has a dedicated ABF Freight customer service that provides unmatched help for all customers across the globe. If you have any issues related to official operating times, packaging tracking, terminal lookup, and shipment queries, the team is always ready to help. The support center is open from:
Monday-Friday: 7 a.m.-7 p.m. CST
Saturday: 9 a.m.-4 p.m. CST.
For urgent issues, call ABF Freight at 844-594-3077.
You can also reach support through the following ways:
Mail: 8401 McClure Drive, Fort Smith, AR 72903
Fax: (479) 494 – 6925
For ABF Freight customer support, you can use the following contacts:
ABF Freight System
P.O Box 10048
(800) 610-5544
Email: [email protected] [email protected]
You can also communicate with an expert through the live chat option on their website if you have an urgent matter. If you prefer to send an email instead, feedback can take longer (up to 24 hours). Therefore, it's recommended to call or visit their terminal if you are a consignee residing nearby.
Shipment delivery times vary across various destinations because of underlying factors such as pickup delays, weather, traffic, and construction. The mode of transport (either through rail, road, or air) also affects the transit time. However, you can expect maximum professionalism and safety from ABF Freight at all times.