About R&L Carriers
R&L Carriers (formally R+L Carriers) is a family-owned and operated freight shipping company headquartered in Wilmington, Ohio. Established in 1965, R+L Carriers has quickly grown from one truck to a massive fleet with over 21,000 tractors and trailers with extended international coverage. With the tagline, 'We ship anything, anywhere, anytime,' R+L Carriers aims to ensure customer satisfaction for every delivery.
To this end, the carrier has established an expansive nationwide network of 155 terminals serving all 50 states as well as a footprint in Canada, The Dominican Republic, Puerto Rico, and various Caribbean Islands.
R+L Carriers' core services include LTL, truckload services, Business Critical for time-sensitive shipments, and logistics solutions. It also offers international shipping, global supply chain management, warehousing, customs brokerage, etc., through R+L Global Logistics.
R&L Carriers won the Logistics Management's Quest for Quality Award 2022 for its remarkable LTL services. The company was also named 2022 Excellent Supplier by PPG Industries, 2022 North American Carrier of the Year, and 2022 LTL Carrier of the Year by Leaf Home.
Major competitors of R&L Carriers include XPO Logistics, Saia LTL Freight, Estes, ABF Freight System, Xpress Global Systems, Forward Air, and Old Dominion Freight Line.
R&L Tracking
The R+L Carrier tracking service is critical in helping you craft a quality customer experience. Its ability to track shipment alleviates the recipient's anxiety while waiting and enhances transparency and trust.
With R&L Carriers tracking API, you can use tracking numbers like the PRO, Bill of Lading, Shipping Reference Number, and Manifest to locate your shipment in transit. In comparison, R&L's tracking system on the website can monitor up to 25 shipments each time only by using the Pro number.
R and L tracking tells you the current status of your shipment, estimated delivery date, pickup date, billing parties, weight, appointment date, and complete transit history.
R&L LTL Tracking
The LTL shipping service offered by R&L Carriers is ideal for businesses that ship packages under 20,000 lbs throughout the entire United States or cross the border to Canada and Mexico. R+L Carriers' LTL shipping service is a flexible and cost-effective option, with the exceptional on-time service performance and an unmatched exception-free delivery rate.
R&L LTL Freight service provides complete shipment visibility and control. In particular, the state-of-the-art, interactive online R&L Carriers tracking tool helps you keep track of your LTL shipment with the R&L Pro number at every step of the shipment process. You can also access R&L freight tracking through your MyRLC account. This allows you to use different reference numbers while getting a holistic view and more detailed information.
Notably, seamlessly integrated with the R+L tracking API, ParcelPanel is the best R&L Carriers tracking tool for e-commerce businesses on Shopify and WooCommerce.
R&L Truckload Tracking
R&L Carriers provides truckload shipping services throughout the US, Mexico, and Canada via its subsidiary, R&L Global Logistics.
The carrier's truckload shipping is a suite of solutions designed to meet every shipping need you may have at any scale.
Here are some of the services you can expect when you employ R&L's truckload shipping:
Dry Van truckload shipping for long and short hauls domestically and across borders, particularly throughout the North American continent.

Flatbed shipping for oversized merchandise and palletized cargo. R+L Global Logistics has the specialized equipment to meet flatbed shipping needs.

Refrigerated shipping for shipments that must be temperature controlled.

High-value or high-risk shipping

Intermodal shipping with premium door-to-door delivery service.

Expedited shipping for time-sensitive shipments
You can track your R&L truckload shipments through your account with R+L Global Logistics for status updates on your shipment. Alternatively, you can use professional shipment tracking websites like ParcelPanel for RL Carriers tracking.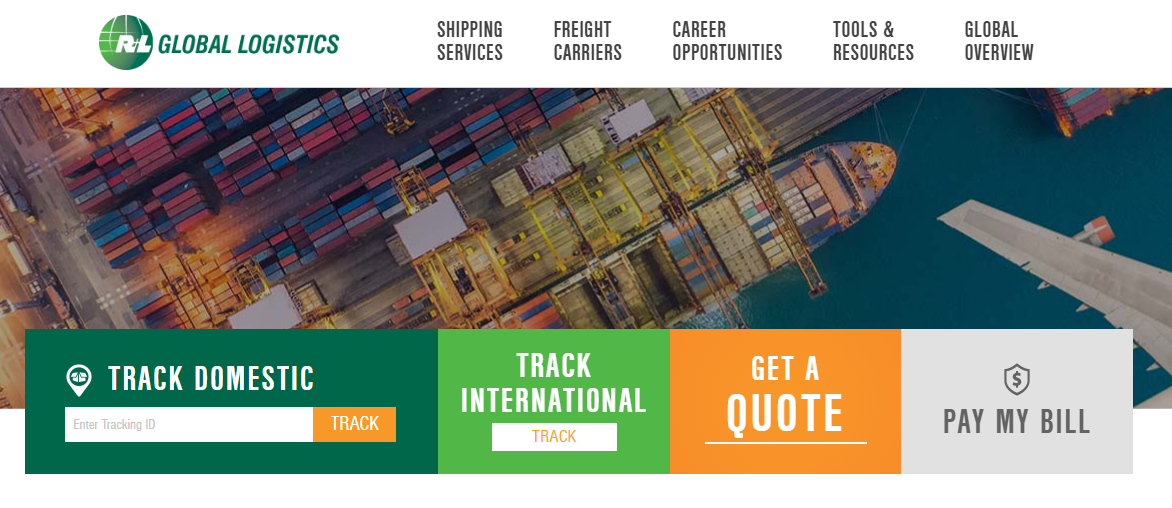 R&L Freight Tracking
R&L's freight services for cross-border shipping include sea and air freight. R+L Carriers' extensive partnership network of ocean shipping companies, commercial airlines and charter services, and ground transportation providers ensure on-time shipments worldwide. The carriers employ cutting-edge online tools to maintain cargo visibility from dispatch to delivery.
R+L Global Logistics assists you with both LCL (less than container load) shipments and FCL (full container load) shipments, and it offers standard and over-dimensional cargo services. R+L Global has an integrated fulfillment network with extensive coverage of customs clearance, distribution, and door-to-door services, catering to various sea cargo shipping needs. Moreover, buyers consolidation and purchase order management are available in certain overseas markets.
In comparison, R&L air freight services are intended for time-sensitive shipments, with a capacity to ship globally. R+L Global Logistics offers such options as Guaranteed Next-Flight-Out, Standard/General, Priority, and Air Charter services, along with same-day pickup and processing.
R&L tracking for sea and air freight can be done through R+L Global tracking tools.
R&L Global Tracking
As a member of the R&L family, R+L Global Logistics brings the same dedication to customer satisfaction as the parent company. One way it does that is by maintaining end-to-end shipment visibility through the R&L Global Tracking services.
The R&L Global Track & Trace tool supports shipment tracking by using the Order/Tracking number, Bill of Lading Number, Consignee Reference Number, and Reference Number, while "Track International" is complementary, supporting the House Bill, Master Bill, Order ID, and Container Number.
However, to monitor your shipment's latest events while keeping an eye on the customs statuses, invoices and documents, cargo details, and much more, you need a MyRLG account with R+L Global Logistics.
How to Track R&L Packages?
You can track your R&L package using any one of the following ways:
By using R&L Carriers
You can access R&L's tracking services at rlcarriers.com by logging into your MyRLC account. Enter your username and password as prompted in the dialog boxes in the top right-hand corner and click the "LOGIN" button.
If you do not have an account, Click the "Sign Up" button and follow R&L's prompts. Remember, a MyRLC account gives you access to more features other than R&L Carriers tracking.
Alternatively, click the Shipment Tracing button in the same column.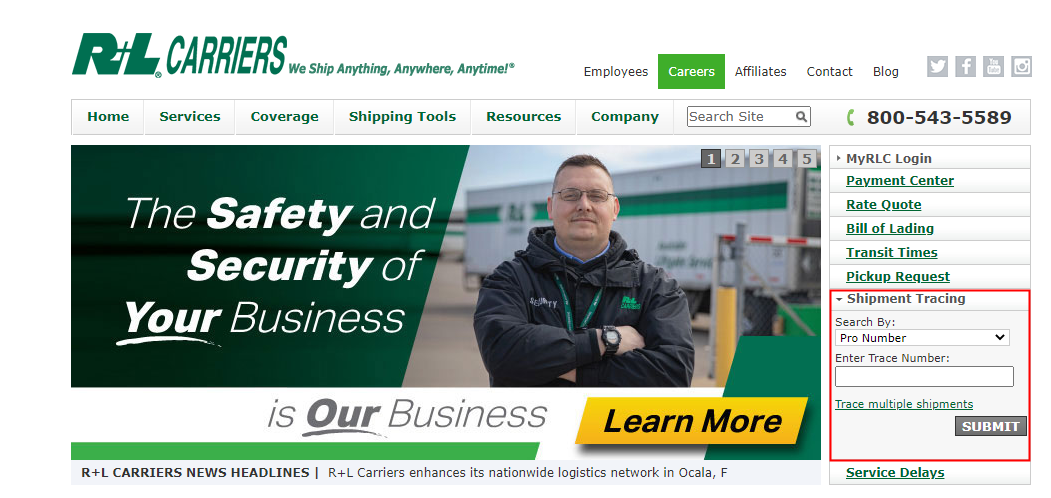 Click "Trace multiple shipments" to use the advanced R&L tracking tool. On this page, the tracking number type is limited to the R+L PRO number. Therefore, enter the PRO number in the following box and click "Submit" to begin the R&L Pro tracking process.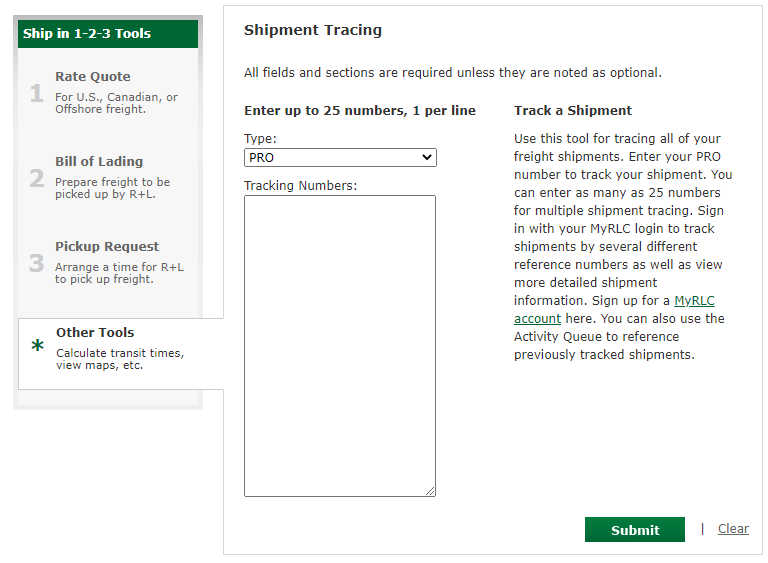 The dialog box can accommodate up to 25 PRO numbers. If you are tracking more than one shipment, enter each PRO number on its own line without commas. You can get R&L shipment tracking results like this: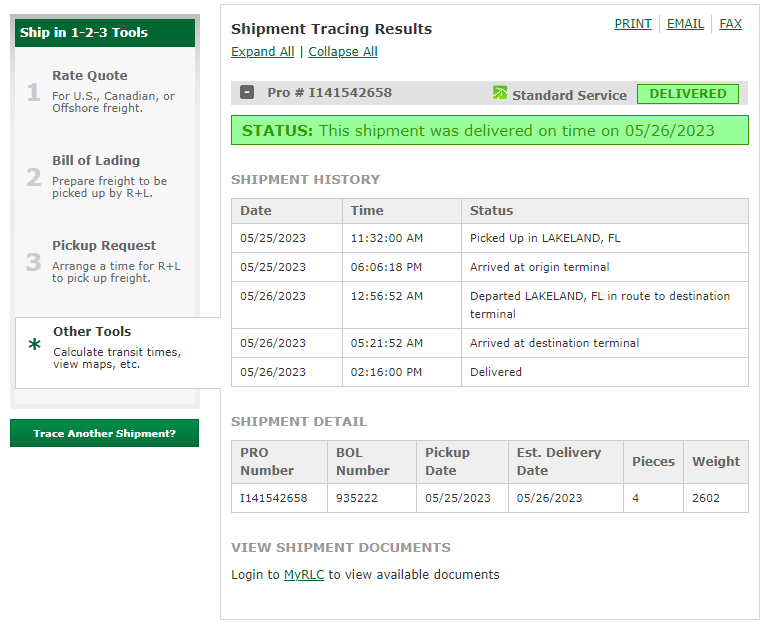 You can also track your sea and air freight shipments through the R+L Global tracking page directly or through your MyRLG account. Notably, you need the R&L BOL (Bill of Lading), Order ID, or Container Number to achieve this purpose.
ParcelPanel is a premier package tracking site that offers tracking solutions for e-commerce businesses. When you track with ParcelPanel, you benefit from their vast network of over 1,100 carriers worldwide and top-notch 24/7 customer service.
You also benefit from the following features:
ParcelPanel website
You can track your package through the dedicated "R+L Carriers Tracking" page.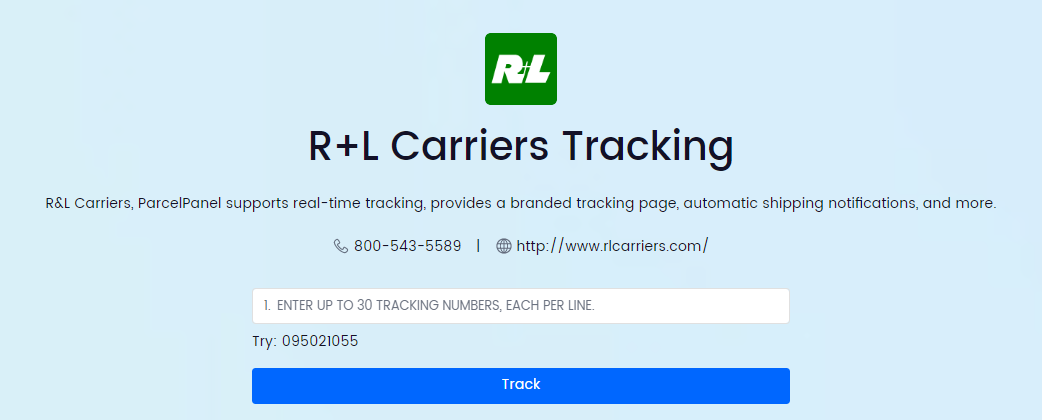 Enter the R&L tracking number in the top dialog box and click "Track." The box can accommodate up to 30 tracking numbers each time. If you are tracking more than one shipment, enter a number per line without commas.
A new page will show up with the complete R+L tracking information, including the latest shipment status, milestones, and transit time.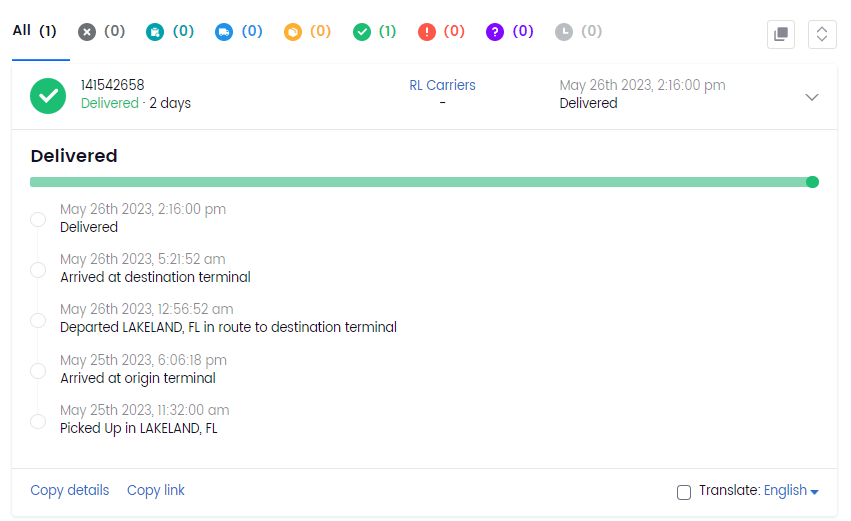 ParcelPanel has a Shopify app for those who sell on the platform. As soon as you finish installing the ParcelPanel Order Tracking app, a branded tracking page is created automatically for your business. Plus, a variety of customization options are available so that you can make it the pink of perfection.
It is on this page that your customers can track their packages without your help. Your customers will need the order number or the R&L tracking number they've received to track their package. This increases the shipment visibility during the entire shipment journey. Moreover, your customers can see recommendations similar to the goods they have already purchased. This leads to more sales.
Meanwhile, customers can receive shipment updates in real time via the automated email that ParcelPanel sends on your behalf. This helps to provide the best-in-retail post-purchase experience.
R&L Tracking Number
R&L Tracking Number Format
An R&L tracking number is a unique code that identifies a shipment and can be used to track the shipment through transit. R&L supports a variety of tracking numbers, including the Pro number, BOL number, order number, Manifest, etc. Among them, a Pro number is the most widely used because the LTL Freight service plays a significant role in R&L Carriers' businesses, and R&L LTL shipments are identified using PRO numbers. Typically, the R&L PRO tracking number is composed of 9 digits.
R&L PRO Tracking Number Example
Here are some examples of the R&L Pro numbers:
R&L Tracking FAQ
What are R&L transit times?
As a rule of thumb, R&L transit times follow this formula – shipments whose haul distance is within 500 miles are delivered the next day, within 1000 miles are delivered in two days, and within 1500 miles are delivered in three days.
The distance is measured from the point at which the package is presented for shipment to the point at which it will be delivered or picked up. As R&L has an expansive footprint domestically, on the North American continent, and globally, you can always look forward to short delivery times.
R&L has a detailed coverage area map on their website to help you find these distances to schedule dispatch and delivery more effectively.
You can calculate how long your shipment will take using R&L's online transit time calculator. Fill in the required fields, especially the package's origin, destination, and zip codes, and submit.
However, R&L's transit times also depend on the service you choose. For instance, the carrier guarantees business critical shipments to arrive quicker than other services.
How can I schedule a pickup of the R&L shipment?
Though R&L offers pickup services, the available pickup time varies by location, depending on the line haul schedule. You can find your location's pickup schedule by consulting the local service center or sales representative.
Alternatively, you can fill out a pickup request form to get informed of the accurate pickup times in your region. Fill in all the required details unless the field is indicated as optional.
R&L Tracking Customer Service
R&L Carriers' declared mission is to provide logistics services that exceed customers' expectations. Therefore, customer support is a critical component of their business.
You can contact R&L's customer service in several ways when you encounter issues while tracking your shipment:
Call customer care at 800-535-1984 for customer support for R+L tracking. For tracking issues specific to shipments handled by R+L Global Logistics, call 877-510-9133; as for LTL services, call 800-543-5589.
Also, you can fill out the R&L contact form detailing your comments, grievances, or inquiries and leave your contact details so that customer support can get back to you. R&L Carriers does not indicate an email address on their site and only offers the contact page.
You can also log your issue on R+L Carriers' Twitter or R&L's Facebook pages. R&L Carriers tackles many problems in their YouTube channel. If your specific issue has not been tackled, you could leave a comment, and you may expect a reply from the R+L customer service representative.
Please note that R&L Carriers customer service is not available on these days according to the R&L holiday schedule 2023:
New Year's Day (2023 & 2024)

Memorial Day

Independence Day

Labor Day

Thanksgiving Day & Black Friday

Christmas Day