About TForce
As a TFI International company, TForce is a conglomeration of freight and logistics subsidiaries headquartered in Montreal, Canada, with operations in over 80 cities throughout Canada and the United States.
Through its various subsidiaries, TForce offers transportation solutions that include LTL shipping, FTL shipping, last-mile shipping, and logistics services.
TForce Freight handles freight shipments, while TForce Logistics specializes in last-mile delivery services. In comparison, the TForce Worldwide subsidiary is a non asset-based platform focusing on providing logistics services through its local network of agent stations and corporate sales and operations personnel.
In 2022, TForce Logistics has added the TForce Medical Logistics division to provide freight and logistics services exclusive to the healthcare industry. These services include scheduled and on-demand transportation, distribution, and business-to-home services.
Many of TFI International's subsidiaries were acquired from other companies. TForce Freight was formerly owned by UPS and known as Overnite (1935 - 2006) and UPS Freight (2006 - 2021). While TForce Freight and UPS are now separate companies, their five-year contract (still current) means UPS will still resell TForce Freight's services.
Moreover, the synergies built over time between UPS and TForce Freight will still be in effect through a soft transition. For instance, users logging into TForce Freight at the sale would be redirected to the UPS login page.
TForce is among North America's largest freight and logistics companies and competes with significant players such as UPS, FedEx, DHL, R+L Carriers, Estes Express, XPO Logistics, and more.
TForce Tracking
TForce offers transport solutions through TFI International's network in over 80 cities in Canada and the US. TForce offers a wide range of services, including Package and Courier, LTL, FTL, and Logistics services.
The Package and Courier services focus on seamless same-day or next-day door-to-door delivery through a highly optimized fleet. LTL shipping services are offered via over-the-road transportation that ensures timely delivery across the US and Canada.
TForce offers truckload services for conventional and specialized shipments, including oversized shipments using its flatbeds, tanks, and dumps. The company's Logistics segment offers reliable freight transportation solutions that make for expedited parcel delivery to any major city in their service area.
TForce Freight offers efficient, convenient, and cost-effective LTL shipping for clients that cannot fill a truckload. TForce Freight's LTL services cover all of Canada, 50 states of the US, all major cities, and over 600 points in Mexico, Puerto Rico, the US Virgin Islands, and Guam.
The LTL shipping services that TForce Freight offers include the following:
Regional, interregional, and long-haul transportation

TForce Freight Guaranteed delivery for specific locations and time

Expedited and multimodal service with time-definite and location-specific delivery guaranteed
When you ship with TForce Freight within the 48 contiguous US states, you can benefit from UPS Ground with Freight Pricing that lets you send multiple shipments from 151 to 500 pounds off the pallet at cheaper costs.
To track TForce Freight, you need the TForce PRO tracking number, as is typical for LTL shipments. In comparison, if you choose UPS, you may take advantage of Quantum View Manage to get detailed reports, and Quantum View Notify to proactively update your customers on the shipment progress.
TForce Logistics' final mile services move the shipment from your warehouse or brick-and-mortar store to the customer's doorstep. The last-mile services are ideal for delivering e-commerce, B2B, and big and bulky shipments across the US and Canada.
TForce Logistics understands how important final mile tracking is to the overall customer experience in a competitive world and offers up-to-the-minute shipment status updates, push notifications, and complete order visibility through the TForce Final Mile tracking tool.
UPS TForce Tracking
Though TForce Freight is no longer part of UPS, the synergies they had built still exist. For instance, TForce Freight must still resell UPS LTL services under UPS Ground with Freight Pricing.
Under the service, TForce Freight offers the option to ship off pallets with UPS rather than TForce. Clients who choose UPS can track their shipments through UPS tracking systems. All they have to do is enter the PRO tracking number into either system to learn the latest shipment status.
TForce Worldwide Tracking
TForce Worldwide is a non-asset-based multimodal platform that offers various transport and logistics solutions to over 10,000 businesses. An account on the platform gives you access to the company's network of 130+ 24/7 service locations and the human resources of 200+ experts. As such, however complex your shipping demands are, TForce Worldwide can match you with the most efficient and affordable transport service that is just the right fit.
TForce Worldwide offers a tracking system for shipments made on its platform for enhanced visibility. You can track your shipment using a reference number on the Connect TFWW website.
TForce Critical Tracking
TForce Medical Logistics is the latest division of TForce Logistics dedicated to serving the health sector. The division specifically serves hospitals, laboratories, and pharmacies and delivers medical devices and supplies to patients at home.
Delivering for the health industry is exacting and often requires prompt deliveries as well as specialized processes and equipment. This informed TForce Logistics's decision to form a special division to serve the health sector.
The services TForce Medical Logistics provides include scheduled and on-demand transport, specimen collection, business-to-home delivery, and next-day or same-day distribution services.
You can track your medical shipments through the TForce Logistics tracking system. The TForce Critical tracking service provides real-time visibility throughout the shipment progress.
Next-Day TForce Tracking
Guaranteed next-day service is a delivery solution provided by TForce Logistics that prioritizes the processing of your shipments to make sure that they will arrive the next business day, providing you with peace of mind. It caters to e-commerce and B2B businesses.
TForce next-day tracking allows you to get the estimated time when the shipment or package will arrive so that you can set aside some time for the delivery. If you use the ParcelPanel app, you can add TForce tracking capabilities to your online store, and automatically update customers to get ready for the TForce next-day delivery.
Same-Day TForce Tracking
TForce offers the same-day delivery option for time-critical shipments with over 75 North American locations, 6,000+ professional service providers, and extensive coverage of over 90% of the population. Same-day delivery is available for all locations in the US and Canada via both the morning and evening routes.
You can track your package at any time by using the TForce tracking system, as up-to-the-minute status updates are provided. Besides, ParcelPanel also supports same-day TForce delivery tracking.
How to Track a TForce Shipment?
Since TForce is a group of companies offering diverse shipping and logistics services, it is advisable to track through the company whose services you have used.
By using TForce Freight Tracking
If tracking shipments delivered from or within the US, follow this procedure: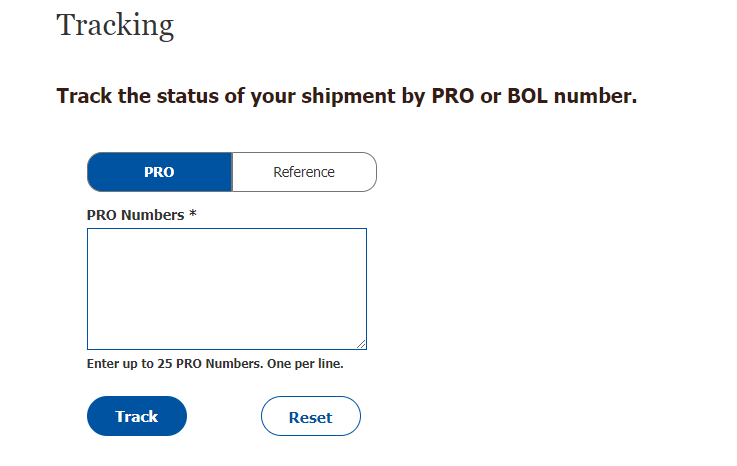 Choose between PRO and Reference number

Enter the PRO tracking number or Reference number according to your chosen option. You can add up to 25 TForce tracking numbers, each on its own line without a comma in between.

Press "Track" to start tracking. Then, tracking information about your shipment will come up.
Use this procedure to track your TForce Freight shipment sent from/within Canada:

Go to the TForce Freight Canada tracking page

In the first dialog box, click the

"Select tracking option"

and choose from the drop-down.

In the next dialog box, enter the tracking number. The number you enter here should correspond to the tracking option you chose above. For instance, enter a Bill of Lading number if you chose Bill of Lading.

Click "

Go

," and a page with your shipment's status will come up.

Alternatively, you can embed TForce tracking capabilities into your website through API to enable customers to track their packages from your website, enhancing customer experience and increasing site visits.
By using TForce Logistics Tracking
To track your final mile package, go to the TForce Logistics tracking page, enter the Order Number, Reference, or Package ID, and click "Track."
You can also use this tracking page and procedure to track your TForce medical shipments.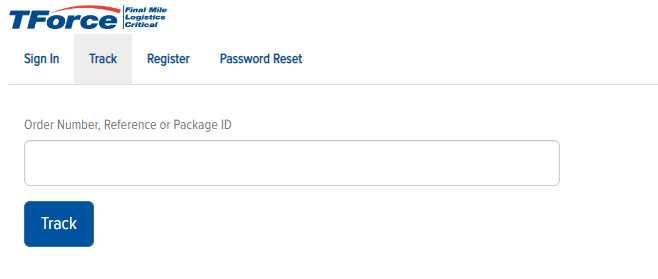 By using ParcelPanel
ParcelPanel provides tracking solutions to e-commerce businesses that enhance your customer's post-purchase experience. ParcelPanel's features include:
All-in-one tracking

Branded tracking page for 24/7 self-service

Shipping notifications to proactively update end customers at any step

Smart analytics for drawing actionable insights

Seamless integrations with Shopify, WooCommerce, and 20+ third-party apps
ParcelPanel website
You can track your TForce shipment from ParcelPanel's universal tracking page by entering the TForce tracking number in the search box. The box can accommodate up to 30 tracking numbers (one per line).
Or, you can type "TForce" in the Search Carrier bar and choose "T Force (UPS Freight)" or "TForce Last Mile" to access the dedicated TForce last-mile tracking service.

Enter your TForce tracking number and click on "Track" to begin the tracking process. Information on your shipment's status will be displayed on a new page.

The ParcelPanel app allows you to effortlessly extend ParcelPanel's order tracking functionality to your Shopify store. After installation, you'll get a branded tracking page. Every time a customer returns to check the shipment's status, they need to access the tracking page and constantly get exposed to products they may be interested in.
To track through Shopify, your customers need to enter an order number or a tracking number that they've received. Once set up, proactive shipping notifications are sent by ParcelPanel automatically.
Moreover, you can centralize TForce shipping tracking at the backend, and get notified of the delivery exceptions in time to take effective measures.
TForce Tracking Number
The TForce tracking number is a unique number the carrier assigns to your shipment. Every time the shipment changes hands, the number is scanned. You can see where the shipment has been when you use this number.
TForce tracking number format consists of a series of digits and letters. A typical TForce Pro tracking number has 10 digits, while the TForce last-mile tracking number is usually a combination of 2 letters and 8~13 digits.
Here are a couple of examples:
TForce Pro number – 867270180
TForce last-mile tracking number – TF1000003421772
TForce Tracking FAQ
How to submit a TForce pickup request?
Submit the pickup form before 3 PM local time if you want a same-day pickup. You have to pay additional charges if you want to pick up the shipment on a weekend or during a holiday.
You can also log in to your account to schedule a TForce Freight pickup and get access to enhanced functionality.
Follow this procedure to submit a TForce pickup request:
Fill out the pickup form on TForce Freight's website

Fill out the following sections as prompted. The fields marked with an asterisk should be filled in:
Pickup Time
Pickup Information
Requester Information
Shipment Information (Here, you may enter up to 25 commodities using the "Add Another Commodity" button at the end of each commodity)
Check if your shipment is guaranteed

Fill in extra instructions in the last field.

Save the recommended information checked in the last three boxes if you expect to submit other pickup requests to avoid filling it in again.
How about TForce transit times?
As for last-mile deliveries, TForce offers same-day and next-day delivery solutions with morning and evening delivery schedules. However, TForce delivery hours also depend on the location, shipping package chosen, and expected day of delivery. TForce does not deliver over the weekend or holidays except at additional costs.
As for freight shipments, you can find the exact transit times on TForce Freight's website if your business is based in the US; if in Canada, go to the TForce Freight Canada site instead.
When does TForce Freight deliver?
TForce Freight conducts morning and evening delivery runs. The standard delivery hours are between 6:00 AM and 7:00 PM (Monday to Friday). Upon special agreement and at a premium rate, TForce Freight will deliver over the weekend and on holidays.
TForce Tracking Customer Service
TForce is a group of companies with various specialized services operating in many countries. Therefore you need to be specific when seeking customer care to benefit from TForce customer service.
Here are the ways to contact TForce customer service:
TForce Freight Customer Service
The TForce Freight Customer Service number is 800-333-7400. Call toll-free from the US, Canada, Guam, US Virgin Islands, and Puerto Rico for tracking, rating, proof of delivery, lane information, and issue resolution.
Call 804-231-8555 if you are outside the US or Canada.
You can also use the TForce Freight Contact Us page.
The TForce Freight customer care email address is [email protected]
The TForce Freight Facebook page also provides customer support.
For TForce Canada customer service, use the TForce Freight Canada Contact Us form or call 800-461-8023.
TForce Logistics Customer Service
TForce Logistics Customer Service Number
855-396-2639 (US)
800-387-7787 (Canada)
TForce Medical Logistics Customer Service
212-497-4680
You can also reach TForce Logistics customer care on their Contact Us page or the "HOW CAN WE HELP" SECTION on the homepage of TForce Logistics.