About An Post
An Post is the national postal service of Ireland. It offers universal parcel delivery across the country, along with other package delivery services to international locations.
Headquartered in Dublin City, An Post is one of Ireland's largest employers, with 9,000 employees. The company has experienced strong revenue growth post-pandemic and expects further acceleration in the upcoming years.
Technology and digital innovation are at the heart of An Post's vision, with a new transformation agreement between the company and its Unions supporting its commitment to deliver substantial change. Additionally, An Post is leading the efforts to make postal delivery more sustainable, with its initiatives on track to deliver 50% carbon reduction by the end of 2025.
Furthermore, An Post is restructuring its base and plans to deliver significant change in the next few years. It recently shifted 900 staff members to a new HQ at the EXO Building in North Wall Quay plus eliminated the gender pay gap for a consecutive year. The company also provides support to refugees in Ukraine, which has seen Ukraine become the third largest postal destination for An Post.
An Post Tracking
An Post offers both business and personal shipping within Ireland and around the globe. From small businesses to retailers to exporters, anyone can take advantage of its parcel delivery solutions to connect with their customers. Additionally, the company offers tracking services for a variety of services, including:
An Post Parcel Tracking
As for individuals, An Post has a dedicated tracking page where you can track the status of your traceable parcels.
| An Post Shipment | Eligible for Track & Trace |
| --- | --- |
| Standard Post | Available for parcels only in the Republic of Ireland |
| Digital Stamp | ☓ |
| Registered Post | ✓ |
| Express Post | ✓ |
| International Courier | ✓ |
You can track up to 5 shipments at a time by entering your order numbers or tracking numbers in the order ID field. Think of it as a centralized resource where you can track and manage all your deliveries in a few clicks.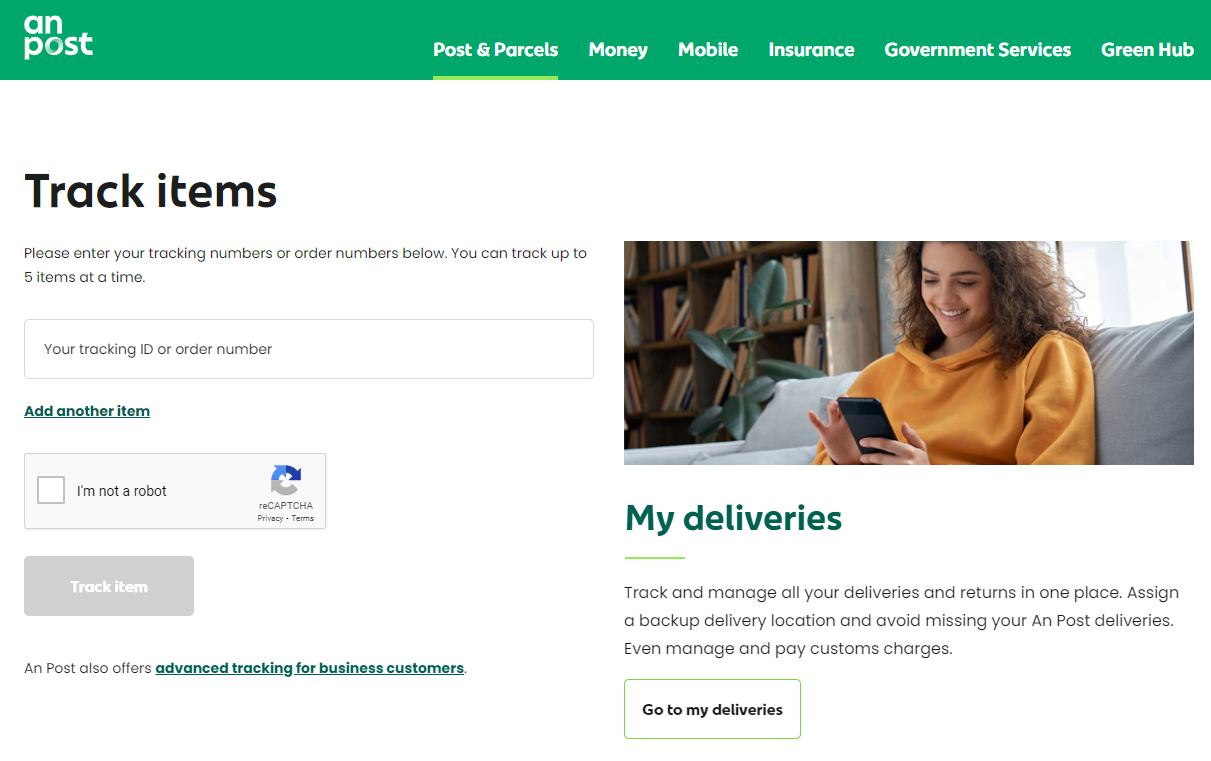 If you fear that your parcel might arrive at a time when you're unavailable, you can assign a backup delivery location to avoid missing your deliveries.
Plus, An Post is there to help if you are unsure how to trace your item. Click the "Help & Support" button on their parcel tracking page, and you'll find answers to this and many other common questions.
Business customers can visit the Commerce Track & Trace page and track their shipment by entering their An Post Ireland tracking ID. This also enables users to track up to 5 shipments at a time but also provides additional options to track - by account or by range. Plus, business customers get all the other perks, like the backup service that reduces the odds of customers missing an An Post delivery.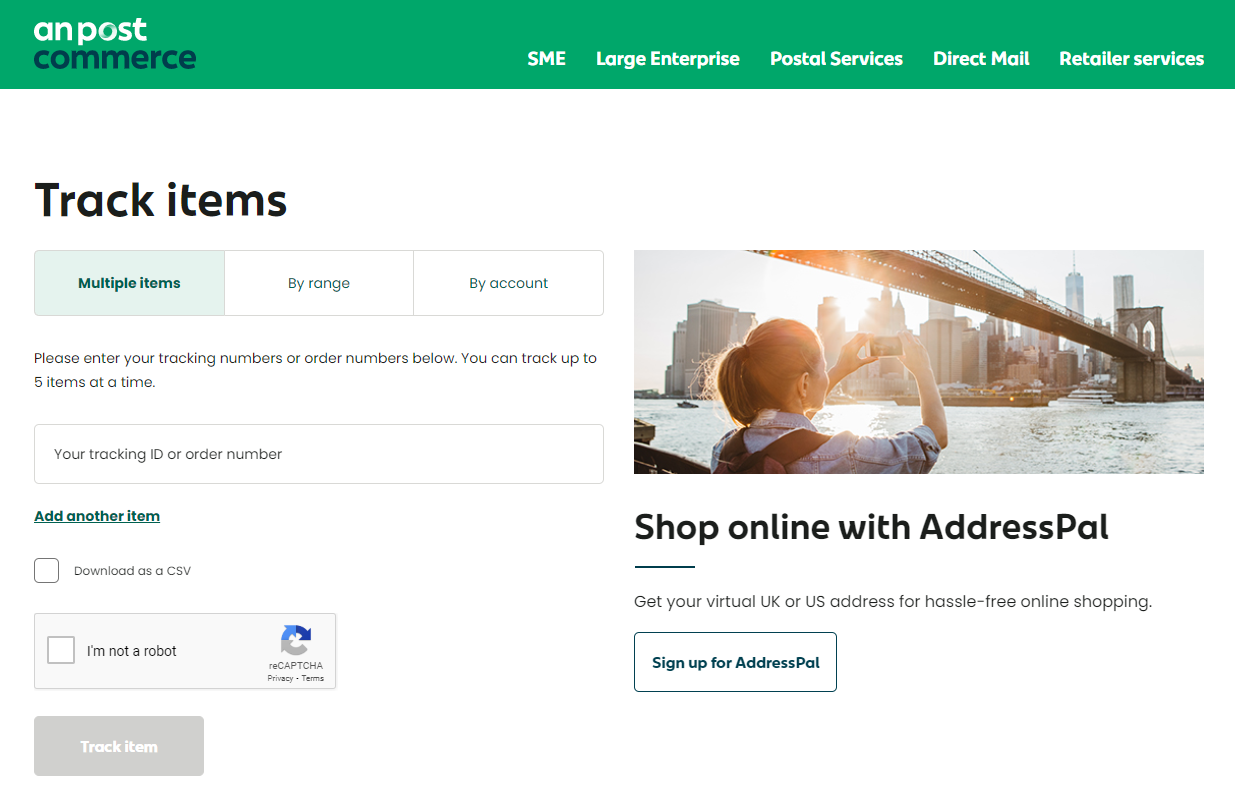 If you want to improve your efficiency in An Post parcel tracking, ParcelPanel is a great choice: the ParcelPanel official website allows you to track An Post parcels in bulk - up to 30 each time. Moreover, the ParcelPanel app offers enhanced tracking functionality, and it pulls An Post tracking numbers and other necessary information like zip code from order details to automate An Post parcel tracking for Shopify & WooCommerce merchants.
An Post Tracking International
You can track an An Post international package at different stages of the shipment journey. If you have purchased an An Post tracked service, you can monitor the item first by using the courier's Track & Trace tool. And once the package has left Ireland, you can use the destination country's tracking service to see the status of your package. As ParcelPanel seamlessly integrates over 1,100 carriers worldwide, you can count on ParcelPanel as a one-stop International An Post Tracking service.
An Post international delivery times are as follows:
| Destination | Delivery Time |
| --- | --- |
| Within Europe | 3 to 7 days (Nearby countries like UK and France are usually faster than countries like Hungary and Germany) |
| Asia and Africa | 1 to 2 weeks or more |
| Oceania | Around 2 weeks |
| North & Central America | Between 2 and 3 weeks |
| South America | 3 weeks to a month or more |
An Post Returns Tracking
An Post doesn't just deliver shipments; the courier also collects returns on your behalf. You can track returns via the same dedicated An Post tracking page on the official website. This courier offers label-free returns, and customers can choose to have the package collected from their home or drop it off at over 900 An Post offices nationwide.
How to Track an An Post Parcel?
There are different ways to track an An Post package:
By using An Post Tracking
You can use An Post's Track and Trace tool to identify the status of your package. These tools allow you to track up to 5 shipments at a time using the order numbers or tracking numbers. An Post gives a tracking number to each parcel sent via its courier.
By using ParcelPanel
ParcelPanel is a shipment tracking platform for global merchants. It allows you to track packages from over 1,100 couriers, including An Post. Go to ParcelPanel's "Carriers" page, select An Post Tracking after entering "An Post" in the search bar, and then key in your An Post tracking number to see the real-time location of your package. With ParcelPanel, you can track up to 30 An Post shipments at a time.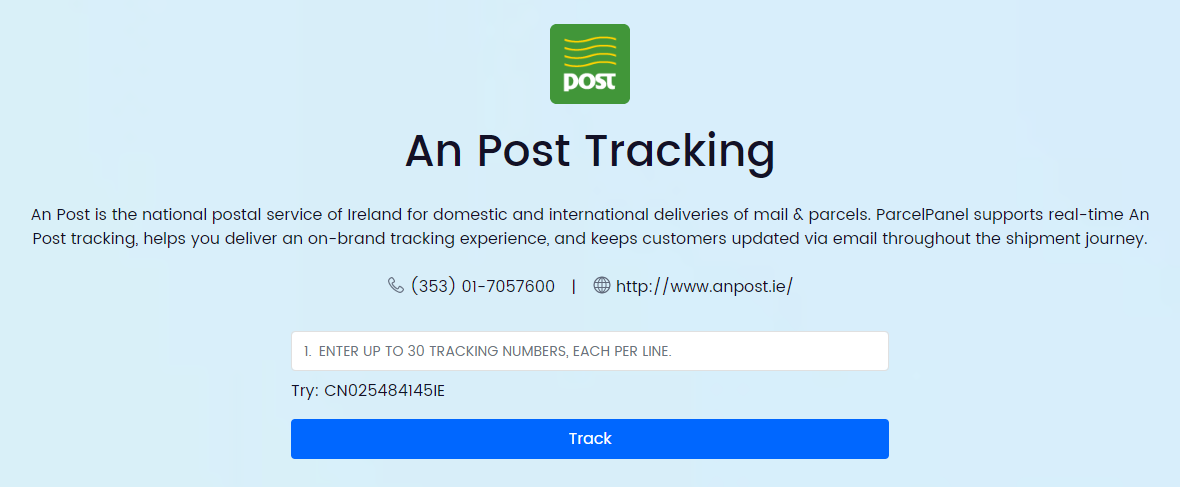 After clicking the "Track" button, you'll be able to access the detailed An Post tracking information, including the latest shipment status, transit time, origin, and so on.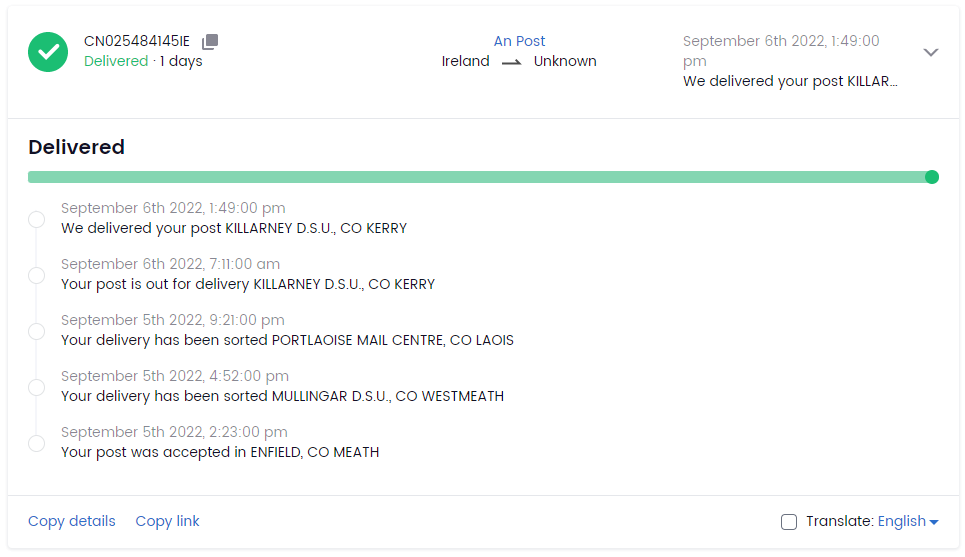 Additionally, you can use ParcelPanel's Shopify app to add a branded tracking page to your storefront. This page removes the need for customers to visit An Post's site or many other carriers' websites—they'll be asked to enter the tracking number on this page to see the details of their packages.
Another feature of ParcelPanel is personalized product recommendations. This helps you drive repeat purchases via post-purchase upsells. You can use AI for personalized product recommendations or showcase relevant products to customers who visit your branded tracking page to see the status of their packages and watch your average customer lifetime value soar.
Furthermore, customers will receive shipping notifications (emails) and return back to your store to get the latest tracking updates. You can customize the preset email templates as you want and add coupons to incentivize revisits.
An Post Tracking Number
An An Post tracking number is a unique sequence of codes associated with each tracked parcel/mail. It's typically 13 characters long and includes a combination of digits, letters, or both.
You can find this tracking number by logging into your account on An Post's website or by asking their customer services team. Another way is to buy and print a shipping label using An Post's Click & Post service.
An Post tracking number format
An Post only has one tracking number format that consists of 13 characters. In these characters, there are two alphabets at the start, 9 digits in the middle, and the country code "IE" at the end.
Some An Post tracking number examples are:
CN025484145IE

LX343035345IE
An Post Tracking FAQ
What time does An Post deliver?
An Post delivers all packages between 8 am and 5 pm on weekdays.
Does An Post deliver on Saturdays and Sundays?
An Post offers delivery in urban areas across Ireland between 8 am and 12 pm on Saturdays but does not deliver on Sundays.
Does An Post deliver on bank holidays?
An Post does not deliver on public or bank holidays.
How long does An Post take to deliver?
An Post takes 1-2 working days to deliver shipments within Ireland. For Ireland, the UK, and select European countries, the courier also offers a next-day delivery service.
For international packages, An Post takes 1-5 working days to deliver Express Post and 3-7 working days to deliver Standard Post.
How to request an An Post redelivery?
An Post offers redeliveries for missed shipments. To request one, you must provide them with:
The original address

The address you want the courier to redeliver to

The item information from your "Sorry we missed you" notice
Once you've completed the application, An Post will send you a confirmation email and then try to redeliver your parcel promptly.
How long will An Post hold a package?
The length of time An Post holds a package depends on the type of mail or post. It is:
3 working days for Registered Post

5 working days for Express Post and Standard Post

16 working days for International Post
If the recipient does not collect the package during this time, An Post will return it to the sender with an explanation sheet.
How to find an An Post collection point near me?
An Post has over 900 post offices in Ireland. Use the courier's post office locator to find your nearest collection point and check its opening time.
What are An Post Parcel Lockers?
An Post offers free Parcel Lockers all over Ireland. These lockers help you send, receive and return parcels with ease. Remember, locker access depends on the location's opening hours. Some areas offer 24/7 access. Lockers keep items for 48 hours after delivery. If no one collects them within 48 hours, the delivery depot takes them back.
What are An Post Post Office & PostPoints?
You can send parcels weighing up to 20 kg by visiting any An Post branch or PostPoint agent. PostPoint stores let you use a range of An Post services. These include parcel returns, collections, and bill payments.
What countries does An Post deliver to?
An Post delivers to over 200 countries, including Northern Ireland. Despite Brexit, letters flow freely between Ireland and Great Britain without customs charges or forms. Note that certain destinations may have size and weight limits when shipping with An Post.
I lost my An Post tracking number. How can I find it?
First, talk to the recipient. If they received the item, they might have the tracking number.
Next, try the post office. If the person at the counter cooperates with you, you might be able to get the An Post tracking number.
Lastly, search for your receipt. Look in the trash or any spot where you usually place papers--it could be there.
Why can't I track my An Post package?
Here are a few possible reasons why:
Maybe you put in the wrong reference number. Take a second look and ensure all the characters are correct.
Some packages can't be tracked
Not all services and packages offer tracking. Some An Post parcels just get delivered without the option to track them along the way.
Issues on the An Post website
Sometimes the An Post website might have glitches or be under maintenance. If it's down, you won't be able to track your package. Check back after a while.
How can I use An Post Click & Post?
Using Click & Post is quick and simple for getting postage labels or setting up shopping returns online. You can use it without an account, but if you sign up for free, you'll get extra perks, especially for frequent shipping.
To buy postage:

Find out the An Post shipping cost with their online tool. Then, pay, print the label, and take your item to a nearby drop-off point. No printer? Show the code you get in the confirmation email when dropping off.

For shopping returns:

Choose between home collection or drop-off. If you opt for collection, you won't need to print anything; the driver brings the label.
An Post Customer Service
You can contact An Post through several channels to get support for package tracking. These include:
Web chat:

You can access An Post web chat via the Help & Support hub. The courier's team is available Monday to Friday from 9:00 am to 5:00 pm and Saturday from 9 am to 2 pm.

Phone:

An Post's staff is reachable at 353 (1) 705 7600 from Monday to Friday from 9 am to 5:30 pm and on Saturday from 9 am to 2 pm.

Email:

You can also reach An Post via electronic email. Direct your email to the following address:

[email protected]

.

FAQs:

Those who want a quick response to inquiries can check the FAQs in An Post's Help & Support Hub.

Contact page

: You can submit general inquiries or file a complaint by filling in the form on An Post's website.