About Intelcom
Intelcom Courier Canada Inc, known as Intelcom Express in short, is a logistics company of courier & package delivery services based in Canada. Daniel Hudon founded Intelcom in 1986 as a same-day delivery service for businesses.
Its headquarters are in Montreal and Quebec. The company has 2,500 permanent employees to offer support through 10 provinces and 2 territories. Notably, it delivers more than 500,000 parcels (including deliveries and returns) per day with over 725 individual delivery contractors and over 70 distribution centers.
In support of leading-edge technology, Intelcom provides fast and reliable delivery solutions to online business owners so that they can timely deliver the product online shoppers purchase.
One of Intelcom's clients is Amazon. For urgent deliveries in Canada, like on the same day or the next day, Amazon Prime uses Intelcom. Their relationship has come this far through different ups and downs since 2015. At that time, Amazon tested its delivery services and soon signed an agreement to expand services. As a result, Amazon got their product delivery improved, and Intelcom got high-volume product delivery across Canada.
Later between 2017 and 2022, Intelcom was criticized for negligence in delivery, leaving packages where the packages might have been stolen. Amazon took note and stepped on that, such as Intelcom drivers needing to get the product receiver's signature.
Currently, Intelcome is one of many delivery services with which Amazon is connected, and it has successfully expanded to Australia.
Intelcom offers last-mile solutions with the highest value. Its services include:
Speedy delivery (Package, Documents, etc.)

Freight shipment

Same-day delivery

Shipment tracking

Home handoff returns

Convenient drop-off returns

First- & middle-mile service

Signature confirmation

Timely notifications
Some of its competitors include Canada Post, DHL, UPS, etc.
Intelcom Tracking Explained
Intelcom is one of the best logistic service companies that offer same-day courier services and covers 4,000 cities and towns in Canada.
Intelcom Shipping Services
Intelcom offers last-mile shipping and delivery solutions across Canada. You can make your clients satisfied by ensuring fast delivery. Also, your clients will be informed through notifications of every step along the way. The benefits include:
7 days/week delivery

Customer notifications

Bilingual customer service team

Real-time tracking

Shipping to remote areas or alternative locations

No surcharge for peak time or rural locations

Up to 3 delivery attempts and pickup attempts.
Intelcom courier services are categorized into 3 categories, namely:
1. Standard
2. Same Day Accelerated
3. Same Day Priority
Here's a list of what these specific services offer.





Standard



Same Day Accelerated



Same Day Priority

Shipping
Speed
Local
Next day
< 14 hours
< 14 hours
Regional
Next day
N/A
N/A
National
1-7 days
N/A
N/A
Benefits
7-Day Delivery
✔
✔
✔
No surcharge on the last mile
✔
✔
✔
Customer support
✔
✔
✔
Specifications
First mile
Pick up & move to regional hubs
Direct injection only
Direct injection only
Middle mile
Freight & data received by 10 pm
Direct injection only
Direct injection only
Last mile (direct injection)
Freight received by 2 am
Freight received by 8 am
Freight received by 2 pm
Delivery
Options
(Delivery to door by 10 pm)
Leave at door
✔
✔
✔
Counter delivery
✔
✔
✔
Locker delivery
✔
✔
✔
Re-delivery (up to 4 times)
✔
✔
✔
Free address change
✔
✔
✔
Signature
✔
✔
✔
Free return to the client
✔
✔
✔
Tracking and Delivery
Tracking and delivery confirmation
✔
✔
✔
Shipment updates
✔
✔
✔
3-hour slot delivery notification
✔
✔
✔
Proof of delivery
✔
✔
✔
Reference number tracking
✔
✔
✔
Insurance and Coverage

Liability coverage up to $100
✔
✔
✔
Additional liability coverage
$
$
$
Tracking is one of the vital services for customers Intelcom offers. If you just put your tracking number in the search box here, it will show you the details of your shipment information, the latest shipping status, delivery time, etc.
But if you are facing trouble, you can get the most common answers on this page. For example, if you can't find your package or you want to change the delivery date, call (514) 807-6086 or 1-833-622-1570. If you lose your tracking number, you can retrieve it from your email or the website with which you ordered.
Let's get to know the corresponding Intelcom services.
Intelcom Express Tracking
Intelcom Express Tracking is Intelcom's parcel tracking service for deliveries and returns. You can monitor the status of your order, whether it is on the way to delivery, and the projected time when it will be delivered. Intelcom notifies its clients through email about every step of the process, including delivery.
Intelcom Amazon Tracking
Intelcom Amazon Tracking means tracking Amazon orders delivered by Intelcom within Canada. The process doesn't vary much from that of the Intelcom express tracking. By entering an Intelcom tracking number, anyone can check their order status from Intelcom tracking page or ParcelPanel.
Transit Time: Intelcom mainly does business within Canada. So, delivery within Canada is within 2-4 business days. In comparison, international deliveries will take up to 15 business days.
Delivery Area: Intelcom offers its services all across Canada. However, they work with Amazon and do international deliveries as well.
Tracking Number Format: Intelcom Amazon tracking number follows the same format for both national and global deliveries, the alphanumeric sequence. But they are all unique, with no repetition.
How to Track an Intelcom Parcel?
Intelcom has made it easier to track the parcel number. There are different ways to track where your packages are and find out how long it will take for you to receive them. Here's a step-by-step guide for you:
By using the Intelcom tracking page
The Intelcom website has a dedicated 'Track your package' page. This is the simplest way to know the whereabouts of your page. Here is how you can do that.
First, go to the Track your package page on Intelcom. Upon landing, you will see a search box on this page.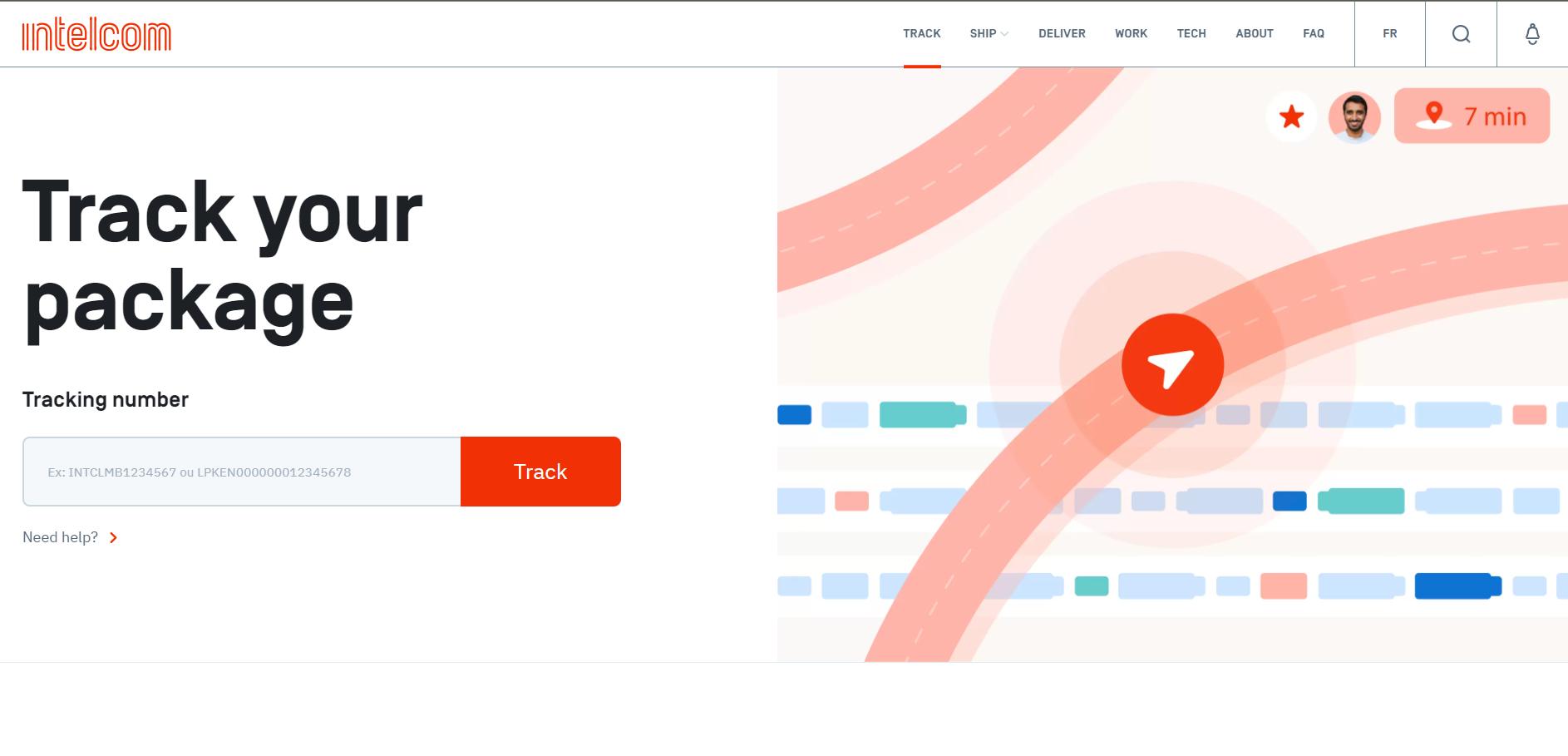 Insert your tracking number there and click 'Track.' Once done, you will be able to see detailed information about your Intelcom package.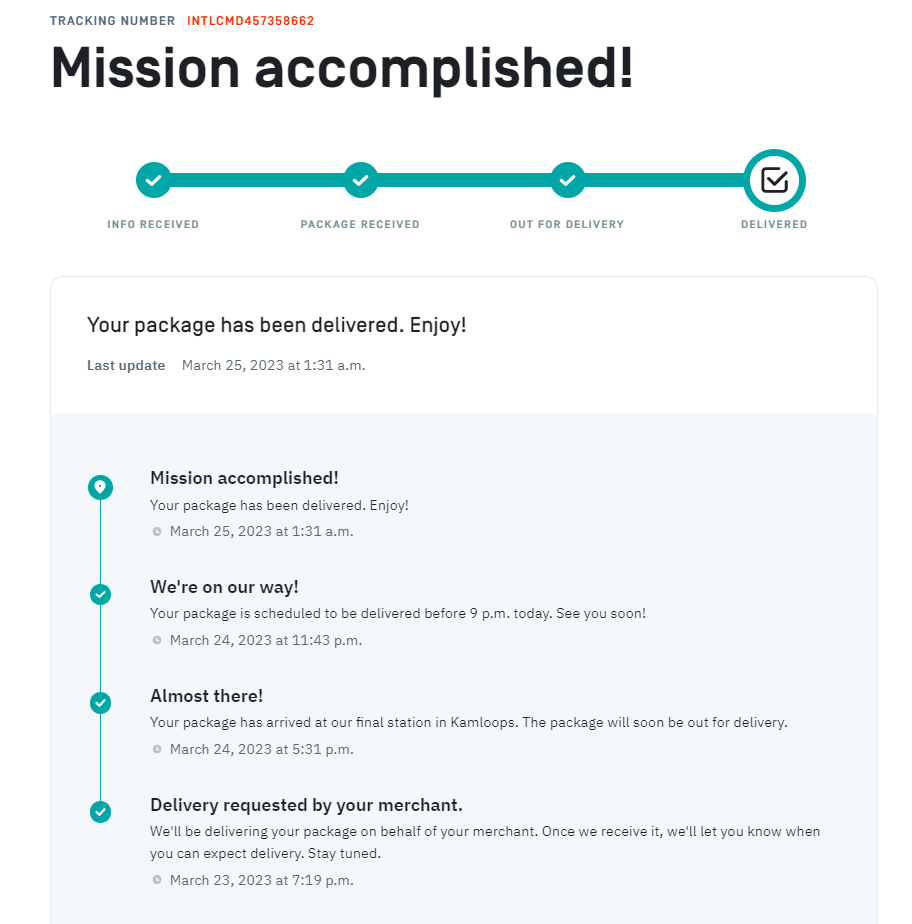 Note: If your tracking number is more than 3 months old, or the sender hasn't informed Intelcom yet -which will take a couple of hours for confirmation, you will not be receiving any information. In this case, a pop-up will show up, indicating that the tracking number isn't found. Here's an example.
By using Intelcom's email notifications
The next option is using the email notification. For that, you have to fill up the 'support form' to subscribe. Here's how you can do it.
Step 1: Go to the support page.
Go to the Intelcom support page. Then, scroll down near the footer section. You will find this form.

Step 2: Choose a category of your inquiry
Click on the box, and you will see a list of choices appear before you. From there, you have to choose a category. Select Email notifications here.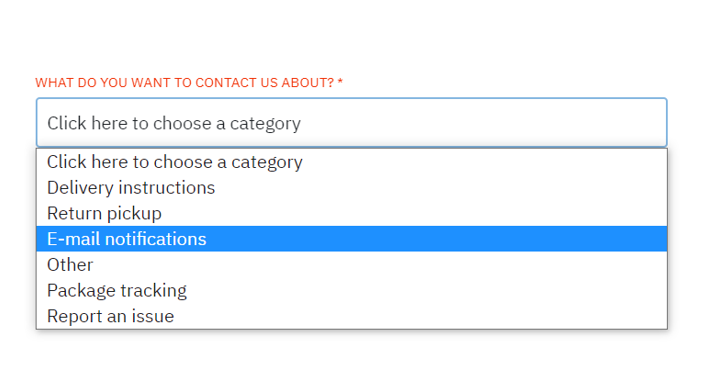 Step 3: Subscribe with your email address
After that, a panel will open up for you to subscribe. Click 'Subscribe.' This will require you to enter your email address.
Once you have confirmed the subscription, you will receive notifications at every step of the way.
You can use ParcelPanel, a third-party solution for Intelcom package tracking. It offers the best order-tracking solution for Shopify and WooCommerce businesses.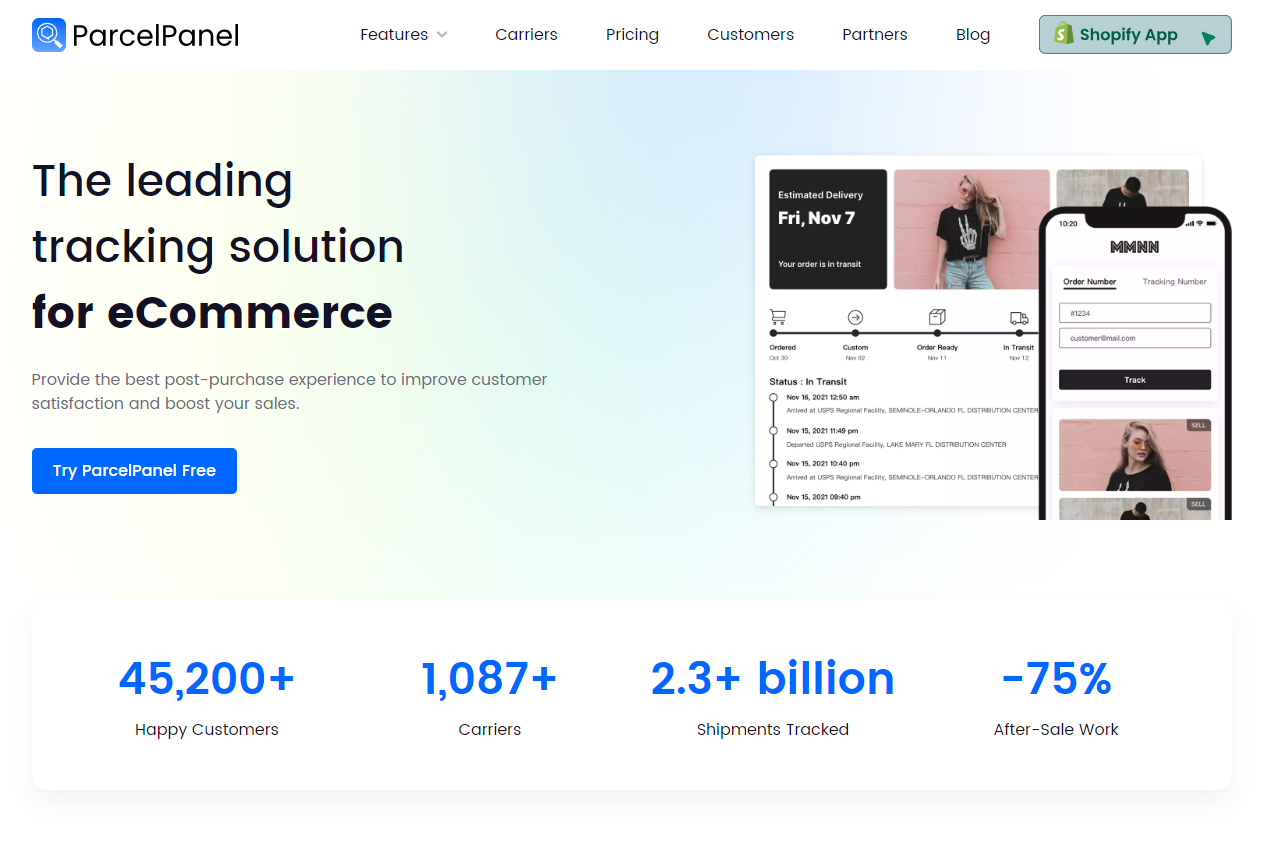 Businesses can centralize Intelcom parcel tracking with ParcelPanel since it is already integrated with Intelcom tracking API.
There are 2 ways to use ParcelPanel for Intelcom tracking.
●
Use ParcelPanel Website
First, go to the Intelcom Tracking page. Then, enter your Intelcom shipping tracking number. If you have several packages, put each one per line. ParcelPanel allows you to enter up to 30 tracking numbers.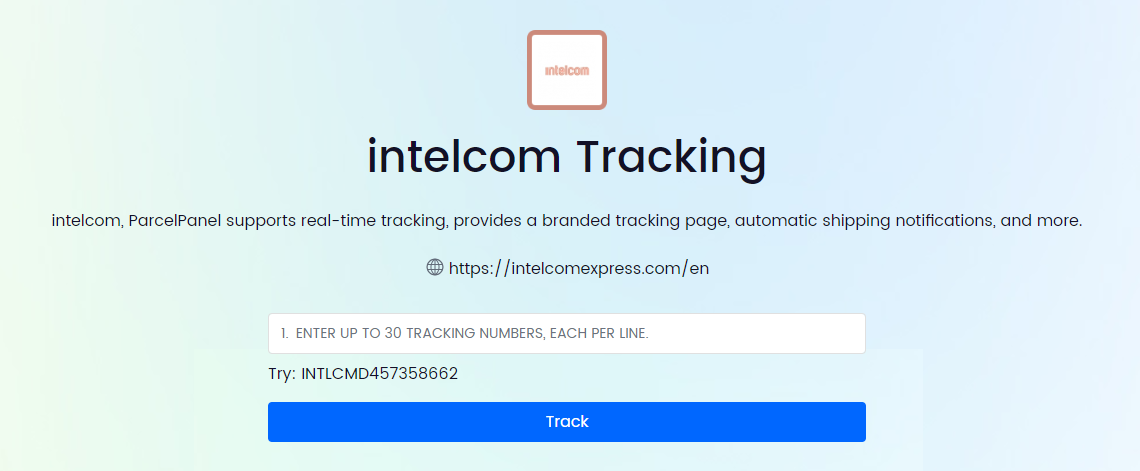 After entering an Intelcom tracking number, click 'Track,' and you will be redirected to a new page showing in which stage your Intelcom parcel is right now with the transit time and transit history.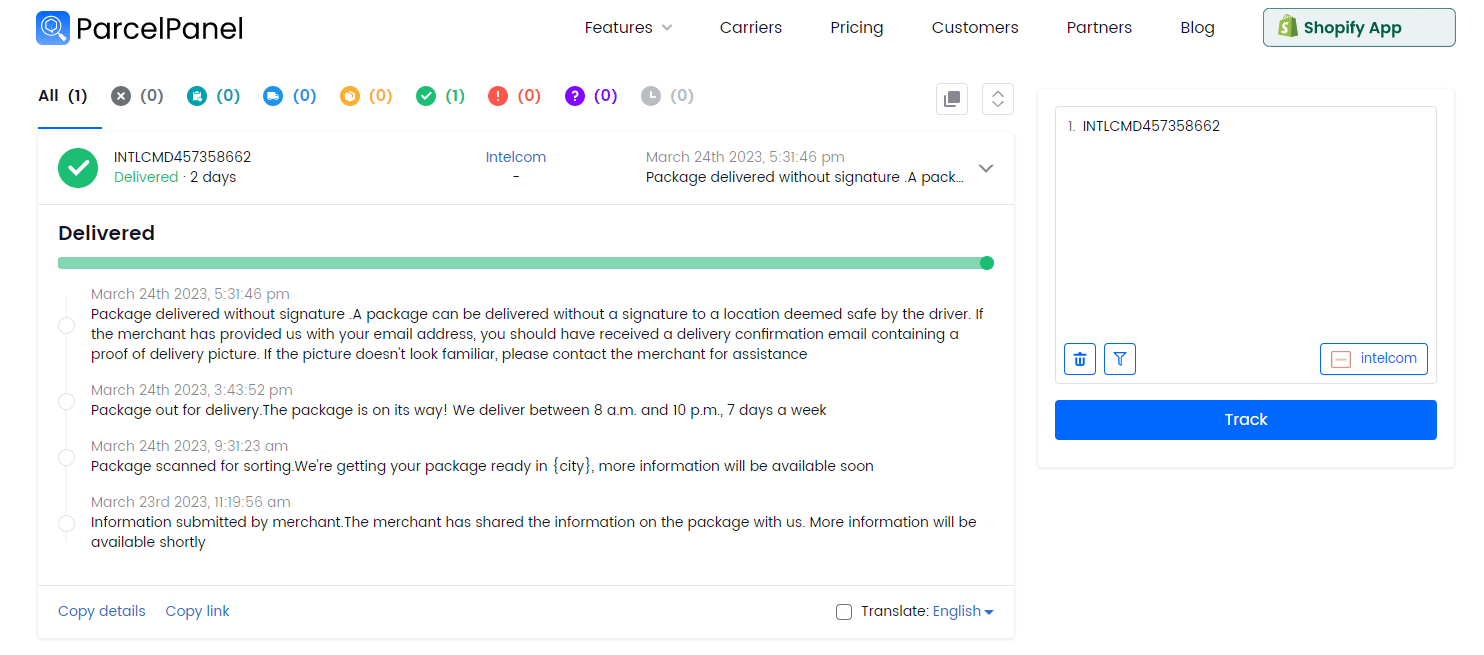 A branded tracking page will be generated automatically once you finish the installation of the ParcelPanel Shopify app. Customers can access this page to get real-time updates on their packages with an order number or tracking number. They can also receive email shipping notifications and return to your store for the latest tracking updates.
Here's an example of a branded order tracking page created by ParcelPanel.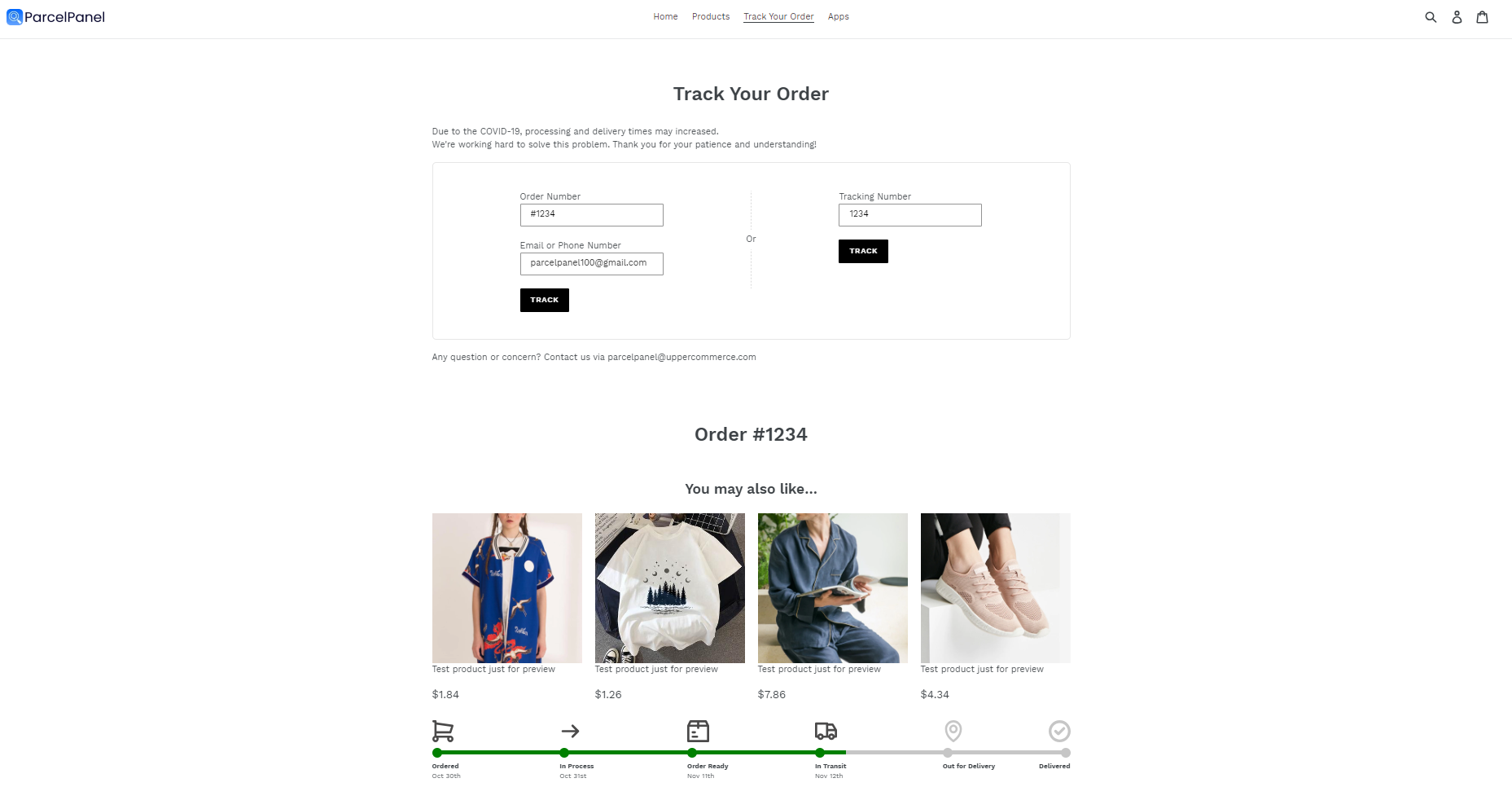 By using Intelcom's integration with Shopify
Now small and medium businesses can centralize their Intelcom parcel tracking with its Shopify integration.
Intelcom integration allows you to onboard swiftly & smoothly and enjoy fast delivery services like the large business, track your orders' latest status & location of Intelcom packages in real time, and receive notifications of every step of the delivery.
However, in order to use Intelcom's Shopify integration, you'll need to fill in a support form and submit it to get the access you need.
Intelcom Tracking Number
A tracking number is essential if you need to check the status or update your order, the location of your package, the estimated date of delivery, etc.
So, what is an Intelcom tracking number? Intelcom tracking number is a sequence of numbers and letters. This identifier is unique and doesn't match with another tracking number of Intelcom.
Generally, the letters come first as capitalized, and then the numbers. Here is an Intelcom tracking number example: INTLCMA0000000, INTLCMD457358662, or LPKEN000000012341234. So, if you happen to receive any number that doesn't follow the Intelcom tracking number format, you will receive an error message.
There are no specific rules on the number of digits in this tracking number. You can find this number on your merchant's website, with which you made the order, and in your email.
By entering your Intelcom tracking number in the search box on the Intelcom tracking page, you can find your delivery status update and current package location to find out the expected delivery date and even change the date of delivery.
Intelcom Tracking FAQ
I lost my Intelcom tracking number. What can I do?
The Intelcom tracking number consisting of 16-20 alphanumeric characters serves as the unique identifier of a package. With this code, you can know the latest update of your parcel and track its whereabouts and delivery time.
If you happen to lose your Intelcom tracking number, you can always find that in the following 2 places.
a. On your merchant website - where you made the purchase and
b. In the shipping confirmation email, which informs you of shipping and the Intelcom tracking number.
Why is Intelcom tracking not working?
Intelcom tracking generally works and shows an update as soon as any parcel is updated. However, sometimes, it cannot show you the data you are asking for. The most common reason is that maybe the package has not entered the Intelcom network.
So, if you haven't received any update for a few days, you'd better contact Intelcom.
Why my Intelcom package is not delivered?
Generally, Intelcom representatives hand the delivery over to the person directly. But in certain cases, if the receiver isn't available or present at the time of delivery, Intelcom's representative will put it in the box that they deem as the safest place around the delivery location.
So, if you didn't receive your package in person, check the email first because you are supposed to get proof of delivery. Also, check the surroundings of your house to see if the package is hidden somewhere to avoid theft.
If you have received neither the email nor no the package within the due date, you should contact Intelcom as soon as possible.
How can I change the delivery date of my Intelcom package?
If you need to change the delivery date of your Intelcom package for any unforeseen reason, you should directly contact Intelcom customer care directly. Here's the phone number Intelcom provides for clients:
a. (514) 807-6086 (Local)
b. 1-833-622-1570 (Toll-free)
Intelcom Tracking Customer Service
If you encounter any trouble with your order or delivery, you should contact Intelcom customer service right away.
● Intel working Days
Every day
● Intelcom delivery hours
8 a.m. to 10 p.m.
Here, we have listed the possible ways for you to get in touch with the Intelcom support team.
● Intelcom customer service phone number
(514) 807-6086 (Locally)
1-833-622-1570 (Toll-free)
You can call anytime following this schedule:
Monday-Friday: 8 a.m.- 11 p.m. (ET)
Saturday-Sunday: 9 a.m.- 8 p.m. (ET)
● Social media
Intelcom's social media accounts include LinkedIn, Facebook, and Youtube.
● Email address
If you receive any suspicious emails that request confidential or personal information, you can report this mail and forward it to Intelcom's email address: [email protected].
● Online support form
You can also use their online form for any questions.
Click this link: https://intelcom.ca/en/support/