About Loomis
Loomis Express is a premier courier company in Canada. Loomis Express has consistently established its reliability since 1905 when it served the Alaskan gold rush using its armored cars.
Today Loomis Express is a subsidiary in the TFI family of companies in the package delivery segment. Loomis' coming under TFI marked the end of the long-running DHL Loomis Express association in 2011.
As a delivery service provider, Loomis Express places particular emphasis on Canadian small businesses with a Small Business Boost Program. It has put in place systems to ensure efficient delivery and return of packages, tracking, and automation technologies to ease the use of its services.
Loomis Express also benefits from the synergies of its fellow subsidiaries and the parent company TFI in providing its services to you.
On its Twitter page, Loomis Express prides itself on its ability to deliver to any postal address in Canada. Elsewhere, the company can deliver to 220 countries worldwide using its resources and those of its subsidiaries and partners.
Some of Loomis Express's competitors include Modaexpress, TFT Global, Brady Trucking, CoVar Transportation, and Triumph Express Services. All of these offer similar services and target the same market.
Loomis Shipping & Tracking
Loomis Express's services include domestic shipping, US & international shipping, returns, and tracking services.
Loomis Domestic Shipping
Loomis Express domestic shipping covers Canada from coast to coast. Under domestic shipping, Loomis offers Express shipping and ground shipping, differentiated by transit times and destinations.
Depending on the urgency, Loomis offers Express shipping to deliver at 9:00, 12:00, and 18:00 the next business day. The 9:00 and 12:00 delivery times are 'Guaranteed' accessorial services, subject to a fuel surcharge at prevailing rates.
Loomis Express does not deliver over the weekend and public holidays but will deliver on Saturday for an additional charge of $23 per shipment.
Loomis Express shipping is only available to and from the major metropolitan areas in Canada.
Conversely, the Ground service is available throughout Canada, with longer transit times – from 1-6 business days. Ground service may also deliver on Saturday at a charge. Loomis Ground shipping is ideal for those who need affordable but still dependable shipping.
Suppose you're looking for Loomis Express Tracking and Loomis Ground Tracking services. In that case, you can use the Loomis Courier Tracking tool online or rely on a professional package tracking website like ParcelPanel to provide you with shipment updates from order to door. The recipient can subscribe to email/SMS notifications when the package is picked up, out for delivery, delivered, or experiencing a delivery exception.
Loomis International Shipping
Loomis Express offers the time-definite Loomis Express, Worldwide Express, and Loomis Economy Express options under the US & international shipping category.
Depending on the urgency of the shipment, Loomis Express offers next-day "Guaranteed" 9:00, 10:30, and 12:00 delivery. You pay extra for the guaranteed option. The Worldwide Express delivers in 2-7 business days, while the Economy Express delivers in 1-6 business days.
The Loomis Express's 9:00 and 12:00 delivery and the Worldwide Express are available for shipments to and from Europe, Asia, the Middle East, and Africa. In contrast, the Loomis Express 10.30 hours and the Economy Express are available for shipments to and from the major centers in the US.
You can use the Loomis location finder page to find out if the services you want are available in a specific area and for a more accurate estimation of transit times and rates.
You can use the official Loomis Express tracking tool or a dedicated package tracking website like ParcelPanel to track Loomis International deliveries. If you need to embed package tracking capabilities into your Shopify store, ParcelPanel is the best choice.
Loomis Returns
Loomis understands that returns are the inescapable reality of e-commerce business and that the estimated return rate of e-commerce products in Canada is 40%. Therefore, running an efficient return system is as essential to the small business owner as to shipping and delivery.
Through the e-returns service, Loomis Express provides an easy-to-use online portal that customers can use to initiate return requests and generate shipping labels. The e-return solution is designed to simplify the process for the business and its customer and to eliminate all those hiccups that make returns costly.
You can access Loomis Returns tracking by entering the Return Authorization number in the official Loomis tracking tool.
Loomis Tracking
Loomis Express tracking system efficiently takes the burden of allaying customers' anxiety from you, letting you focus on the core aspects of your business.
The Loomis shipping tracking system offers end-to-end shipment visibility through all transit points, with real-time tracking information available 24/7.
The cutting-edge parcel management system operates based on a handheld computer carried by every Loomis driver. At every critical point, the driver scans the package. The computer logs all information about who has the package and when, waybill and parcel number, proof of delivery, and signatures.
Your customer can access this information anytime through the online tracking tool on the Loomis website or customer support to track Loomis Express deliveries domestically and internationally.
How to Track a Loomis Package?
You can track Loomis through the Loomis online tracker, customer support, or a third-party tracker. ParcelPanel offers efficient third-party tracking full of benefits.
By Using Loomis Express Tracking
The most common way of tracking Loomis packages is by using the Loomis online tracking tool.

Once in the tracking tool, follow this simple process:
i. Enter the tracking number. This can be a Waybill, Door Knocker, Reference, or Return Authorization number.
ii. You can enter up to 25 Loomis Express tracking numbers each time. If entering multiple tracking numbers, enter each on its line.
iii. Click on "Track."
A Tracking Results page will come up detailing the current and previous statuses of the package. The most recent status appears on top. Loomis tracking system offers visibility from when the shipment record is received until it is delivered to the final destination.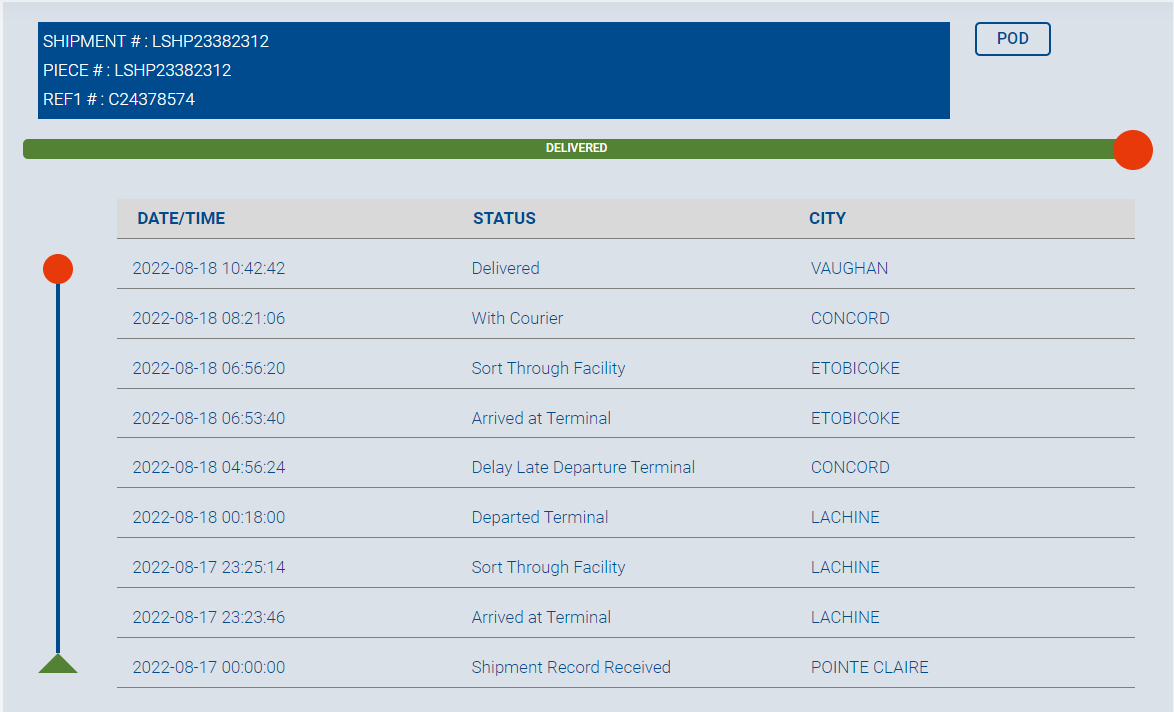 Click the "Get Notified" button, and you can opt-in to notifications about a particular status sent to your email or phone. Up to 3 email addresses are supported.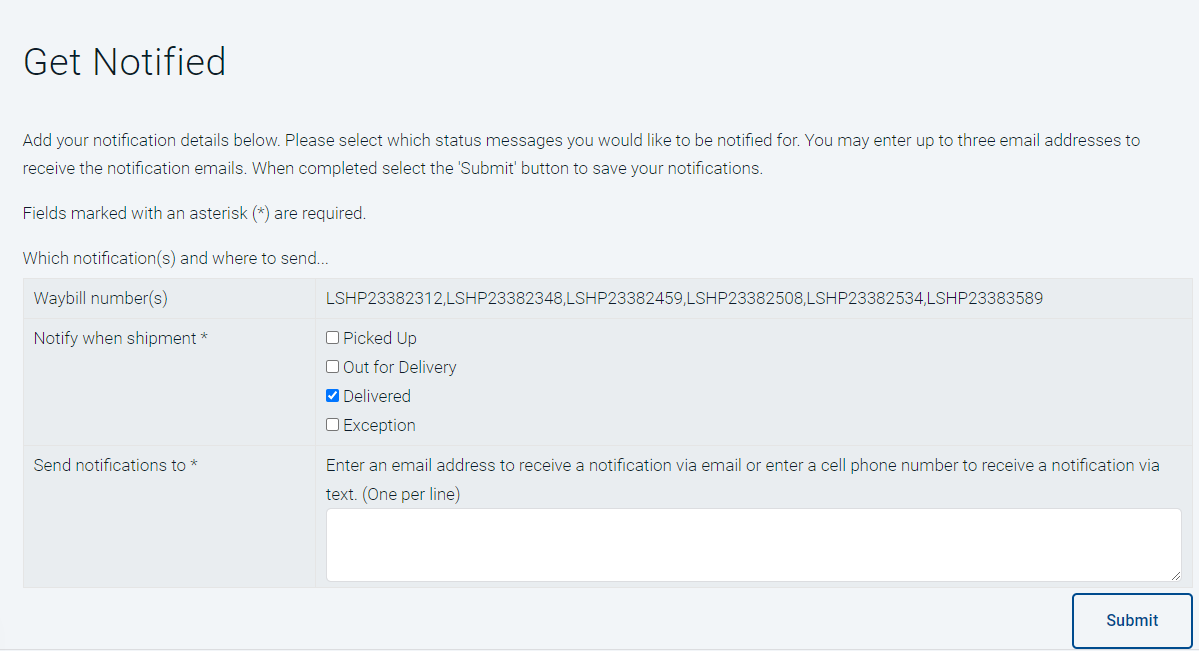 Alternatively, you can resort to customer support to help you track your package. Call a customer care representative at 1-855-256-6647 to help you track your package. If you live outside of Canada, call 1-905-460-2530 instead. You may also lodge your complaint on one of Loomis' social media pages.
By Using ParcelPanel
ParcelPanel is a leading third-party package tracking solution that answers WISMO questions on your behalf in a way that leaves the customer satisfied and motivated to buy more from you.
With 45,200+ happy customers and over 1,100 carrier integrations, ParcelPanel's tracking system reduces the effort you put into the post-purchase experience by 75% and for greater returns.
Here are some specific features you experience by tracking Loomis packages through ParcelPanel:
All-in-one tracking with real-time synchronization to keep your customers updated on the status of their Loomis Express packages

A branded tracking page for self-service and improvement of post-purchase experience

Automated shipping notifications at every stage of the shipment journey

Intelligent analytics to help you make the most of available shipping solutions

Seamless integrations with many popular third-party apps to automate your workflows
ParcelPanel Website
Here is how you track Loomis packages from the ParcelPanel website:
i. Click on 'Carriers' from the top menu bar to access the universal tracking page with the Carrier Auto-Detect feature
ii. Enter the tracking number in the upper dialog box. You can search up to 30 numbers at once. If entering multiple numbers, enter each on its line without a comma.
iii. Click on 'Track.'
iv. Alternatively, enter "Loomis Express" in the carrier search bar and click the search button.
v. Open the dedicated Loomis Express tracking page.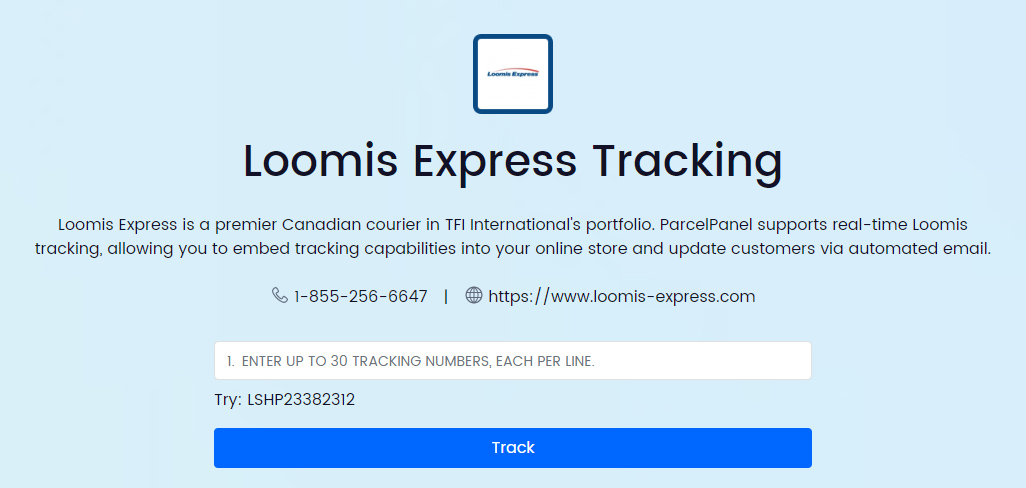 vi. Proceed with your search on that page by entering your Loomis tracking number in the dialog box
A page with all the relevant shipping details about your package will appear.
If you have a shop on Shopify, you can set up the ParcelPanel app to get a branded tracking page for customer self-service.
This page also features innovative upsell features like recommendations of products related or complementary to what the customer has bought.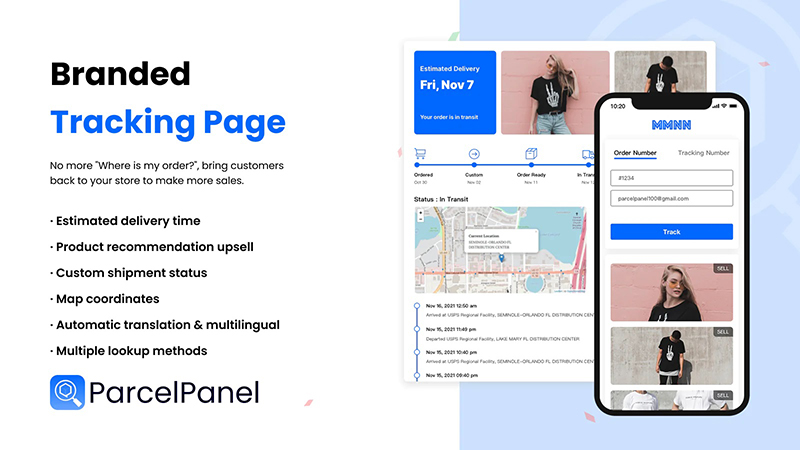 Considering the average customer will return about three times while checking for updates, this is a cost-effective and smart way to promote your brand and market your products.
Customers also receive automatically sent shipping notifications to help them know when to expect delivery.
To track Loomis Express through your Shopify store, your customers need a Loomis tracking number or an order number.
Loomis Tracking Number
A Loomis Express tracking number is the unique identifier assigned to a shipment that can be used to track it. Waybill numbers, reference numbers, door knocker numbers, and return authorization numbers all function as tracking numbers.
Loomis Tracking Number Format
The Loomis Express tracking number format comes in two forms. One is a series of 12 characters – eight digits preceded by four letters, LSHP; the other consists of 11 characters - eight digits preceded by three letters, NET.
Loomis Express Tracking Number Example
LSHP23382312

LSHP24482756

NET72752673

NET72583581
Loomis Tracking FAQ
Why is my Loomis tracking number not working?
If your Loomis tracking number is not working, check to see if you have entered it correctly, as you received it. If you have, check with the courier if they sent the correct number.
Otherwise, a trucking number that does not work indicates that the courier has not scanned the barcode, probably because the package has not left the sender. Sometimes the barcode cannot be scanned because it is damaged. If that is the case, you may notice the status is no longer updating.
It is also possible that your Loomis number is not working because it is fake and, therefore, invalid. This often is the work of a scammer who wants you to think you are receiving a package handled by Loomis.
Check with the Loomis website or customer support to find out why your tracking number is not working.
When does Loomis Express deliver?
Loomis Express delivers Monday to Friday from 7:00 AM to 6:00 PM. Ordinarily, Loomis Express delivery hours do not cover the weekend and public holidays. However, Loomis will deliver on Saturday at an extra charge.
Specifically, when Loomis Express delivers depends on the shipping service you've chosen. Domestic Loomis Express with "Guaranteed" delivery arrives at 9:00 and 12:00, while the Loomis Ground service delivers by the end of the business day.
Guaranteed international delivery arrives at 9:00, 10:30, and 12:00 the next business day. Worldwide Express and Economy Express packages arrive by the end of the business day.
How do I reschedule a Loomis Express delivery?
Sometimes, Loomis couriers may be unable to successfully deliver a package. They will often update the package's status to indicate that the delivery failed and why. Also, they will generate a door knocker number which you can use to track the incomplete delivery.
To reschedule a delivery, call customer support at 1-855-256-6647, or you can reach out through email or social media for assistance. Remember, you may use the door knocker number to track the package until final delivery.
How do I find a Loomis Express pickup location near me?
Your Loomis Express package will be picked up by a driver from the location closest to you. Since Loomis Express locations provide both pickup and drop-off services, you can search for a pickup service nearby the same way you search for a drop-off location.
How do I find a Loomis Express drop-off location?
You can find a Loomis Express drop-off location using the "Find a Drop-off Location" page on the courier's website.
On that page, check as applicable the boxes inquiring if you have an account and if your package is labeled and prepaid or if it is a return package.
In the search bars, enter your address and postal code and click "Search" so that the Loomis Express drop-off locations near you will be displayed.
Loomis Tracking Customer Service
You can contact Loomis Express for customer support through any of these ways:
Telephone Number
1-855-256-6647 (Canada)
1-905-460-2530 (Outside Canada)
Call Center days and hours are Mon-Fri – 7:00-20:00 ET; 8:00-17:00 ET (Quebec).
Live Chat
Tap on the Live Chat button at the bottom right corner of the homepage for real-time assistance. Live chat hours are Mon-Fri 10:00-19:00 ET.
Mailing Address
National Customer Service
Loomis Express
201 Westcreek Blvd
Brampton, ON Canada, L6T 5S6