About Toll
Toll Group is an Australian freight and logistics company headquartered in Melbourne.
Albert Toll founded the company in 1888 as a business that hauled coal using a horse and a cart. Although the company was quite humble at the beginning, by his death in 1958, Albert had grown the enterprise to a fleet of trucks operated in five locations.
Since then, Toll Group has engaged in expansion and acquisition programs to build its reach and service capabilities in a commitment to provide comprehensive end-to-end logistics services nationwide. Today, Toll Group is Asia Pacific's leading freight and logistics provider, employing 40,000+ people in about 1200 locations in over 50 countries.
Toll IPEC (Toll Interstate Parcel Express Company) was once a Toll Group subsidiary that provided high-speed domestic and short-range delivery of items weighing up to 25kg. Toll IPEC, however, changed its name to Team Global Express as part of a transformation to enhance its customer services. The rebranding also comes after some private firm Allegro Funds acquired the underperforming parcel and logistics operation within Toll Group, focusing on both turnaround and growth.
Toll's services include ocean, air, and ground, intermodal and multimodal freight transportation, customs brokerage, contract logistics, integrated supply chain management and consulting, and e-commerce and supply chain logistics.
Its areas of operation span the Asia Pacific, Europe, the Middle East, Africa, and America. However, it serves most of these areas through partners.
Toll Group's main competitors include Sinotrans Ltd, Arcbest Corp, Hub Group Inc, and CH Robinson Worldwide Inc.
Toll Group Tracking
Toll Group's services include the following:
Freight Services
Toll offers ocean, air, and ground services to satisfy various transport needs.
Ocean freight services – Toll has a partnership with major shipping lines around the world. FCL and LCL freight services offered are Toll-controlled and Toll-coordinated.
Toll-controlled services include port-to-port and door-to-door delivery, Toll Fast Track delivery in certain areas, Flexitank solutions for liquid freight, end-to-end tracking through Toll iCON, and many other services.
Toll-coordinated services comprise executing the client's direct contract with a shipping line. Coordinated services include FCL, LTL, breakbulk shipments, drayage coordination, customs clearance, and end-to-end shipment visibility with Toll iCON.
Air Freight Services – these are provided through Toll's ties with major airlines and cater to freight needs that require speed and flexibility. Air freight services include door-to-door delivery, full and part air charter, and expedited delivery.
Ground Freight Services – Toll's expansive road and rail network powers domestic and cross-border freight services. Ground freight services include FTL, LTL, FCL, and LCL freighting (express and expedited), heavy haulage solutions, contract pick up and delivery, and customs clearance.
Contract Logistics
Toll's contract logistics services include the following:
Warehousing and intralogistics services in their warehouses are strategically distributed around Australia and the world

Distribution services of supplies to production centers, goods to wholesale centers, retailers, or directly to the consumer

Value-addition services like co-packing, localization, kitting, tagging, labeling, and testing

Optimized reverse logistics
With a focus on efficiency and accuracy, Toll IPEC ensures that your shipments are handled with care and delivered timely. The IPEC shipping service is tailored to take in businesses' preferences that need dependable freight transportation and parcel delivery services with a commitment to excellence.
It's also important to note that after Toll IPEC's rebranding to Team Global Express, you can monitor and trace all shipments with the new name. Additionally, ParcelPanel also presents a dedicated tracking page for Team Global Express (Toll IPEC).
Toll Priority Tracking
Toll Priority stands as a premier express shipping service that prioritizes swift deliveries. Tailored for urgent shipments, the service has 3 delivery options: StandardStandard, Express, and Priority. Each of these services is highly flexible and guarantees expedited transit times without compromising security.
Using a Toll tracking number, you can track Toll Priority deliveries through the MyToll dashboard. Though having an account on MyToll opens other benefits to you, it is not necessary for tracking.
Toll Express Tracking
Toll Express delivers your parcels efficiently while focusing on affordability and utmost reliability. If you need a trusted and dependable shipping solution without breaking your budget, Toll Express is the service for you.
The service also allows you to monitor your package's whereabouts. So you can easily follow up for better management of your logistics operations.
Toll Road Express Tracking
Toll Road Express service optimizes land-based transportation. The road freight service is meant to provide efficient and secure road freight solutions, such as express and expedited road services, patches and satchels delivery, customs clearance, and many other services. Each road freight service is designed to ensure your goods are transported safely across varying distances.
Toll IPEC makes it easy to track and ensure you have real-time visibility into the status and location of your goods as they navigate across Toll Group's network.
Toll Tracking International
Maintaining visibility over international freight is one of Toll's missions. You can track Toll international freight through MyToll if you have the tracking number or a MyToll account.
Toll Global Express Tracking
Toll Global Express is no longer a part of the Toll Group international freight division. The subsidiary was sold off and is now called Team Global Express. To track delayed Team Global Express shipments, visit MyTeamGE. For more detailed information, please go to the Team Global Express website.
Toll deliveries in New Zealand can be tracked through the Toll Track and Trace using a tracking number.
Toll Freight Tracking
Besides the usual Toll tracking system, you can use Toll iCON with 24/7 self-service to track air and ocean freight. A Toll iCON account gains you access to other benefits such as reporting and system integrations.
Toll Intermodal Tracking
With the intermodal tracking, Toll Group ensures you remain informed of your package's status despite the multiple modes of transportation involved in the intermodal transportation.
Through a seamless coordination of each transportation mode, the intermodal tracking system ensues you have accurate status and real-time visibility of your shipments.
How to Track Toll?
By using MyToll Tracking
MyToll provides a convenient single platform from which you can manage your shipments. Using MyToll, you can create shipments, book pick-up, print and share shipping labels, customize alerts and notifications, and track shipments.
You can track shipments from the dashboard using MyToll's quick-serve function or log into your account. Create one if you do not have an account.

Follow this straightforward procedure to track from the dashboard or the MyToll account:
i. Enter the shipment, reference, or purchase order number in the provided field. The field can accept up to 30 Toll tracking numbers.
ii. If tracking multiple shipments, enter the tracking numbers separated by a comma.
iii. Click on "Search."
For international freight, visit the Toll iCON tracking page, enter the house bill or shipment number, and click "Track."
A tracking results page will show the current status of your shipment, shipment details, where it has been so far, and when you can expect to receive it, etc.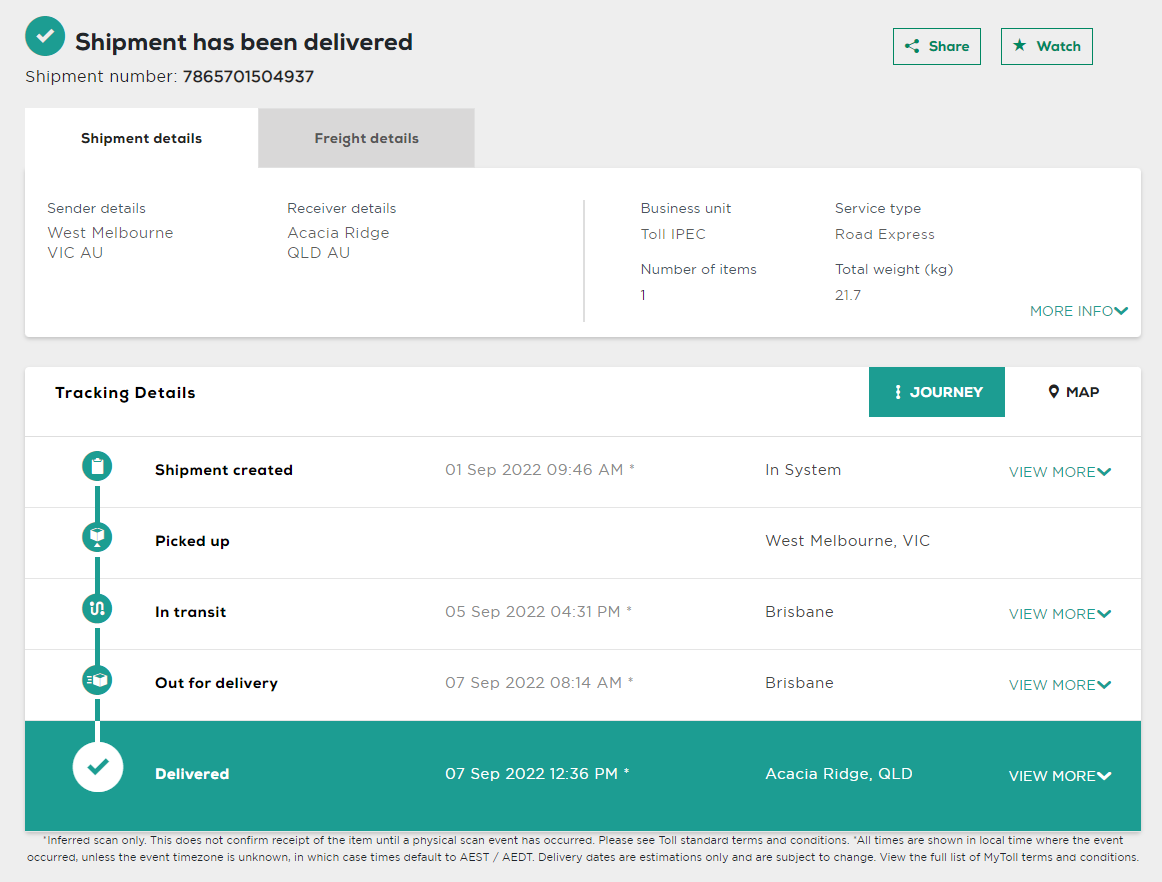 Typically, Toll's shipment status update will be one of the following:
| Toll Tracking Status | Description |
| --- | --- |
| Shipment created | Toll has entered vital information about your shipment into its systems, and so a record exists in MyToll. |
| Shipment picked up | Toll has collected the load from the sender. From this point, Toll can estimate the delivery date and make the information available. |
| Shipment in transit | The shipment is moving to the recipient. How long the shipment stays in this state depends on the distance and geography of the journey. There may be several load/unload events during this stage. |
| Out for delivery | Your shipment has been loaded onto the delivery truck. It will be delivered within the day, depending on your location and the number of driver's delivery stops. |
| Delivered | The shipment has been delivered. If you signed for it, it will be visible on MyToll after you log in. |
| Exception | Something has gone wrong, leading to a likely delay in delivery. |
ParcelPanel is a leading tracking solutions provider for e-commerce businesses. It has a partnership with 1,100+ carriers worldwide, so you will get results from whatever carrier you use.
It has an auto-detect function that decodes carrier identity from a tracking number. You could feed it tracking numbers from different carriers simultaneously and still get accurate results, making tracking simple and convenient.
Here are two ways to use ParcelPanel for Toll tracking:
i. On the ParcelPanel Homepage, click "Carriers" on the top menu bar. This opens a universal tracking page. Use this page if you are uncertain of the carrier or if you are tracking multiple carriers simultaneously.
ii. If not, type "Toll" in the search bar. The Toll Tracking service on ParcelPanel will appear. You can also find the one for Toll IPEC (now Team Global Express).
iii. Access the dedicated Toll Tracking page.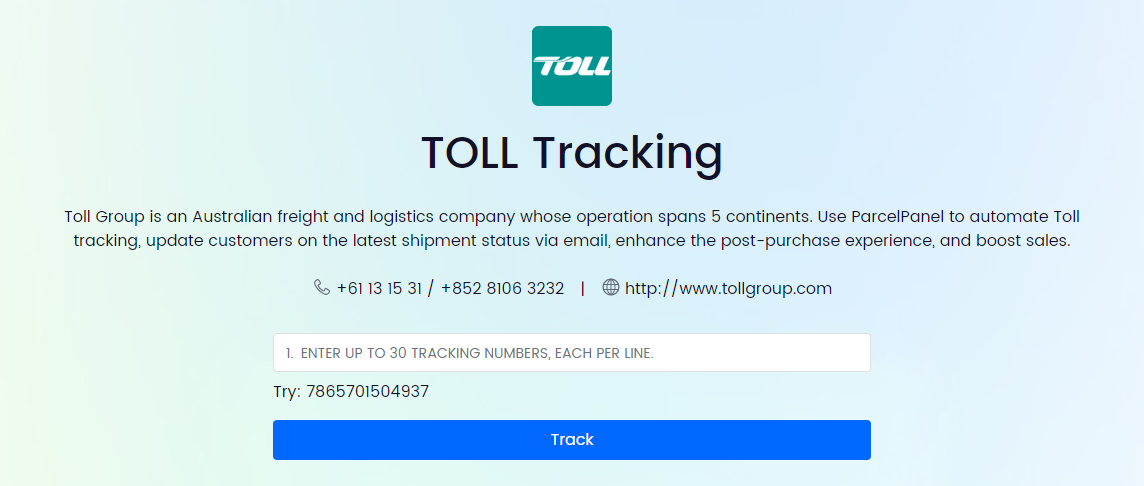 iv. Enter your Toll tracking number in the provided field. You can enter a maximum of 30 tracking numbers. Enter each number on its line to track multiple shipments.
A tracking results page will come up displaying your shipment's current status. You can also view the transit history and transit time.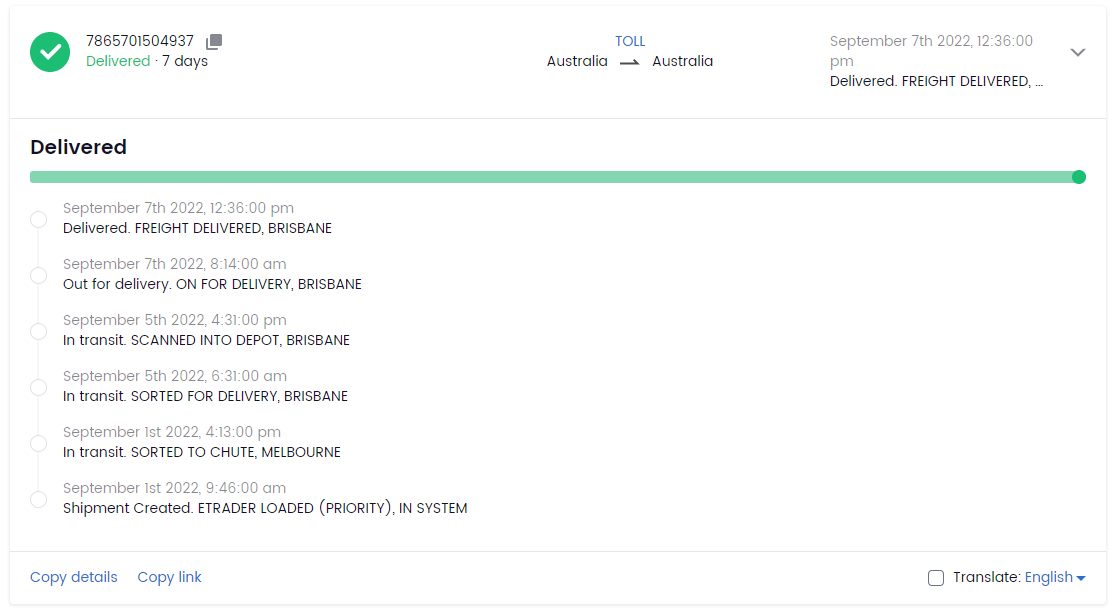 When it comes to tracking multiple Toll shipments, ParcelPanel allows you to export the tracking information to a spreadsheet, which is more convenient.
ParcelPanel Order Tracking App
The ParcelPanel Shopify App is a powerful tool designed to enhance the customer experience and streamline your order tracking process.

This order tracking app seamlessly integrates with your Shopify store, offering a user-friendly interface that allows you and your customers to stay updated on the status of their orders in real time. With ParcelPanel, you can provide accurate tracking information with a branded order tracking page and real-time email notifications.
Toll Tracking Number
Toll assigns a tracking number to each package that you can use to track it. Depending on the nature of the shipment, the Toll tracking number may be a shipment number, reference number, purchase order number, or house bill number.
You can find the tracking number on the shipping receipt or on the communication from the carrier referencing the number.
Toll Tracking Number Format
The length of Toll tracking numbers varies from 7 to 22 digits.
Toll Tracking Number Example
Toll Tracking FAQ
Does Toll deliver on weekends?
Toll does not deliver on Saturdays or weekends unless the nature of the shipment is a priority delivery request for shipments like drugs and other urgent items. Private delivery providers may deliver on weekends. If your area is served by a private contractor, you may request a weekend delivery.
Also, you could request to pick up your shipment from their warehouse if you cannot wait out the weekend. However, you may need to make the request before the shipment reaches the Toll Collection point because Toll does not let you manage delivery once the shipment has reached the collection point.
Where is my nearest Toll collection point?
Toll collection points are alternative delivery points for your shipment after a failed delivery attempt.
Usually, the Toll collection point will be nearest to the original delivery address.
MyToll will find the Toll collection point for you as it highlights it when you try to manage your delivery from your account.
Also, when you track a missed delivery on MyToll, the collection point is usually indicated in the status update.
What time does Toll stop delivering for the day?
Toll delivers until 5:30 PM during weekdays. If you have not received your package by then, wait until the next business day. Once you receive a notification that your Toll package is out for delivery, it's expected that you can receive it before 5:30 PM.
However, Toll's priority service will deliver after hours on request and for urgent deliveries.
Does Toll deliver on public holidays?
Toll delivers only Monday to Friday until 5:30 PM. Usually, it will not deliver on public holidays. However, for time-sensitive shipments, the company offers the Toll Priority delivery service, which delivers even on public holidays.
Note that delivering on off days and after hours is a premium service for which Toll charges an extra fee. Try to arrange the delivery process (by placing your order timely, for instance) so that the package gets to you in good time.
Why is Toll tracking not working?
Here are some reasons Toll tracking is not working:
You have entered an invalid tracking number. Check the Toll tracking number and try again.

Your shipment has not entered the Toll tracking system, so there aren't any shipment details. Try again after a while. If the issue still exists, contact Toll customer service.

The Toll tracking system is overwhelmed by traffic or is experiencing technical hiccups. Come back to track the package again after some time. Alternatively, try tracking with ParcelPanel.
Toll Customer Service
Here is how to contact Toll customer support for assistance with your delivery and tracking:
Contact Us page

Telephone – MyToll (1800 698 655) 8:30 AM-6:00 PM Mon-Fri AEST

Toll customer service email:

[email protected]