About USPS
According to President Joe Biden, the United States Postal Service (USPS) is an essential pillar of American life. Indeed, as a government-owned corporation dating back to 1775, USPS boasts an extensive network of post offices, parcel collection/drop-off points, distribution centers, and shipping partners. USPS serves nearly 165 million addresses throughout the United States, covering every state, city, and town. More so, it delivers to 180 countries in the world.
According to the official statistics, its mail volume hit 127.3 billion, and its shipping/package volume hit 7.2 billion in 2022. Whether you are looking to deliver mail, letters, documents, packages, or other postal items, USPS has the largest vehicle fleet in the world as well as over half a million employees, to ensure fast and reliable delivery services.
USPS Tracking
USPS tracking is essential for individuals and businesses who depend on USPS mail & shipping services. USPS tracking is an end-to-end tracking service available for nearly all domestic mail products that are big enough and intended to be sent to a U.S. address. You'll be impressed by the well-orchestrated effort behind each delivery by using live USPS tracking.
USPS tracking may start from the moment when USPS receives an electronic notification from the item's sender or a shipping partner. After dispatch, the label of a trackable item will be scanned regularly throughout the entire process until it arrives in the hands of the recipient or the recipient's agent. Tracking information is updated through scanning.
Notably, USPS tracking can't expedite or assure timely delivery. It is free for USPS mail or shipping services that inherently come with United States Postal Service Tracking, such as USPS Certified Mail and USPS Priority Mail. In contrast, if you are shipping USPS Marketing Mail parcels, adding USPS tracking requires an additional fee.
Here are the most popular USPS mail tracking services:
USPS Certified Mail Tracking
USPS Certified Mail offers extra protection for important items and documents that need to be delivered in person. It is widely used in the continental U.S. and its territories. After paying for USPS Certified Mail, you'll receive a mailing receipt which contains a USPS Certified Mail tracking number. With the tracking number, you can go to USPS official website or a third-party parcel tracking website to keep track of the whereabouts of the USPS mail. Once the item is delivered, the sender can request proof of delivery.
Wondering how much the USPS Certified Mail tracking costs? The USPS Certified Mail service includes tracking, which means that you don't need to pay a buck to access USPS Certified Mail Tracking.
USPS Priority Mail Tracking
Compared with USPS Certified Mail, USPS Priority Mail is a more economical choice. It boasts fast delivery within 1 ~ 3 business days, and flat-rate pricing option is available regardless of destination. Moreover, USPS Tracking is included in USPS Priority Mail - no additional fee is required. USPS Priority Mail is considered the best alternative if you want to ship large items within 70 lbs.
To conduct USPS USPS Priority Mail tracking, the 22-digit tracking number on your shipping label is necessary. With it, you can go to the tracking page on USPS official website or use universal tracking services like ParcelPanel.
USPS Priority Mail Express Tracking
USPS Priority Mail Express promises as fast as next-day or 2-day delivery and provides a money-back guarantee. It delivers every day, all year round. Proof of delivery signature record is included in the price and can be requested at the time of purchase. However, an additional fee is required for delivery on Sundays and holidays in various major markets.
As the record storage period of USPS Priority Mail Express tracking is 2 years, you have plenty of time to access the tracking information. On the USPS Priority Mail Express shipping label, a 22-digit tracking number or a tracking number consisting of "EA," 9 digits and "US" can be found. This is what you can use to track USPS Priority Mail Express packages.
USPS First Class Mail Tracking
USPS First Class Mail is the best affordable service for delivering letters weighing up to 3.5 ounces or large envelopes and parcels up to 13 ounces within 1 ~ 5 business days in the United States.
If you use First Class Package Service-Retail or First Class Package Service-Commercial, USPS Tracking is already included, and you're allowed to access the real-time shipment status by using the 18-digit USPS tracking number you get.
If you use USPS First Class Mail to send postcards, letters and flats, the option of USPS Tracking isn't available. To send/receive USPS First Class Mail with tracking, you can choose extra services like Registered Mail to get barcodes for scanning.
USPS Registered Mail Tracking
The most secure as it is, the USPS Registered Mail is protected by safes, cages, sealed containers, locks, and keys and is processed manually. Therefore, it takes longer to deliver the item, and it can't be tracked en route to its destination. After it reaches the destination, the delivery information will be provided (except for APO / FPO / DPO addresses).
When the item is in transit, it's no use tracking a USPS Registered Mail on third-party tracking websites - since all tracking information is pulled from USPS, it's impossible to know the real-time location and estimated delivery time. Apart from safety, if delivery speed is of paramount importance, it's not sensible to choose USPS Registered Mail.
USPS Ground Tracking
USPS Ground Tracking is about tracking oversized packages and not-so-urgent deliveries sent by the USPS Retail Ground® service. The USPS Tracking cost is included in USPS Retail Ground®. After the upgrade, the delivery of USPS Retail Ground® takes 2 ~ 5 business days within the contiguous United States, and the 2-8 day delivery standard is guaranteed.
The USPS Retail Ground tracking number is alpha-numeric, which generally starts with two letters, ends with "US", and has 9 digits in between. For example, "RR 000 111 222 US".
USPS International Package Tracking Solution
Although USPS provides international package tracking services, due to the fact that USPS subcontracts out delivery duties to other carriers out of the United States and some just don't provide data back to USPS, you can't receive tracking information updates from USPS in this circumstance. Don't panic. This is not because your packages are missing. You just need a universal tracking solution that seamlessly integrates with USPS and more than 1,000 other carriers worldwide to track USPS international packages. That's where ParcelPanel comes in.
ParcelPanel tracks your USPS international packages from start to finish. It allows you to access the real-time shipment updates on this USPS tracking page, or with the ParcelPanel order tracking app, which is also the easiest way for businesses to automatically track USPS package delivery, no matter how large the package volume is.
USPS First Class Mail International Tracking
Different from USPS First Class Package International, USPS First Class Mail International doesn't come with USPS Tracking, so you'll need to pay for the Registered Mail Service to enable tracking. If you need proof of delivery, you can pay extra for a return receipt.
How Long Can You Access USPS Tracking?
First of all, ensure your item is eligible for USPS Tracking and has been shipped for a while; otherwise, you may find "tracking status not available". Normally, USPS Tracking records, including package history and proof of delivery (if available), can be held for up to 120 days. In other words, you can access USPS tracking information during the 4-month period.
USPS Tracking Plus
If you need to extend the period during which you can access the tracking history of a package delivered within the U.S., USPS Tracking Plus is available for a wide range of USPS mail & shipping products: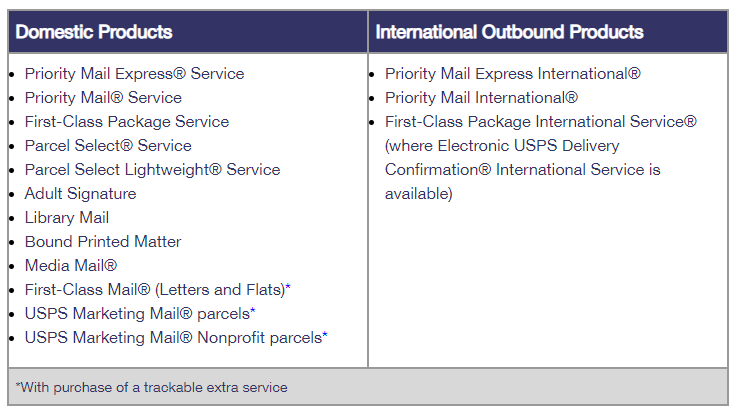 Small businesses and e-commerce marketplaces that need USPS statements to resolve disputes or claims can purchase USPS Tracking Plus from the first day the tracking information is available on USPS official website. The last day for the purchase varies due to the differences in the original record storage period (shown below).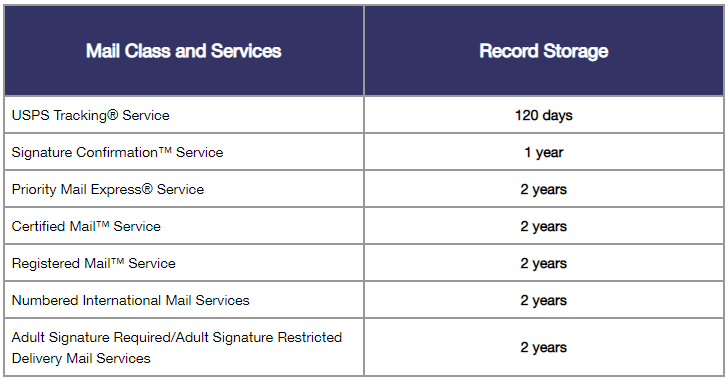 USPS Tracking Number Example
Except for Global Express Guaranteed® and First Class Package®, a USPS tracking number usually consists of 22 digits and typically starts with the number 9. In comparison, an international USPS tracking number begins with CP or EC, ends with US, and has 9 digits in between.
It's worth noticing that USPS tracking isn't included in the First-Class Mail®, First-Class Mail International® and USPS Marketing Mail services. Nevertheless, you can add tracking to your item at extra costs.
| Service | USPS Tracking Number Example | Format |
| --- | --- | --- |
| USPS Tracking® | 9400 1000 9999 8888 7777 00 | 22 digits |
| Priority Mail® | 9205 5000 9999 8888 7777 00 | 22 digits |
| Priority Mail International® | CP 000 999 888 US | CP + 9 digits + US |
| Priority Mail Express® | 9270 1000 9999 8888 7777 00 or EA 000 999 888 US | 22 digits, or EA + 9 digits + US |
| Priority Mail Express International® | EC 000 999 888 US | EC + 9 digits + US |
| Certified Mail® | 9407 3000 9999 8888 7777 00 | 22 digits |
| Collect on Delivery Hold for Pickup | 9303 3000 9999 8888 7777 00 | 22 digits |
| Global Express Guaranteed® | 82 000 999 88 | 10 digits |
| Registered Mail™ | 9208 8000 9999 8888 7777 00 | 22 digits |
| Signature Confirmation™ | 9202 1000 9999 8888 7777 00 | 22 digits |
| Marketing Mail | N/A, USPS tracking isn't available | N/A |
| First-Class Mail® | N/A, USPS tracking isn't available | N/A |
| First-Class Mail International® | N/A, USPS tracking isn't available | N/A |
| First Class Package® | 9210 4000 9999 8888 00 | 18 digits |
USPS Tracking Status
| USPS Package Status | Description |
| --- | --- |
| Label Created | Exclusive for newly-created labels, the status indicates that it has not yet been scanned into the USPS system, which might take up to 24 hours. |
| Available for Pickup | The status is reserved for Parcel Return Service (PRS) or Priority Mail Express Hold For Pickup. |
| Accept or Pickup (by carrier) | The scan indicates that the package was accepted at a post office or picked up at a customer's residence. |
| Picked Up By Agent | The status is reserved for special products, including Parcel Return Service (PRS) or Priority Mail Express Hold For Pickup. |
| Departed Post Office | The package departed from the USPS Post Office specified by the city, state and zip code. |
| Arrival at Unit | This status shows that the mailpiece was scanned at the last postal facility, where it will eventually be sent for delivery. |
| Sorting / Processing Complete | The status indicates that the scan of "Arrival at Unit" is finished, as well as the processing of outbound mail. |
| Departed Sort Facility | The package departed from the USPS sorting facility specified by the specific city, state and zip code. |
| In Transit | The item is being processed and sent to your nearest USPS facility. |
| No Access | The scan means that your carrier couldn't deliver to your address due to various reasons, such as a non-delivery day, delivery address in a gated community, ferocious animal presence, etc. |
| Receptacle Blocked | This status applies to Priority Mail Express when the receptacle couldn't be accessed due to an obstacle. |
| Arrival at Pickup Point | Mailpiece reached a postal facility for pickup. |
| Out for Delivery | This status means that the package is intended to be delivered during a specified period on the designated date. |
| Attempted / Notice Left | The scan indicates that a delivery attempt was made, but the recipient was absent, and a notice has been left. It's possible to schedule a redelivery. |
| Refused | The recipient refused to accept the mailpiece at the destination. |
| Return to Sender/Not Picked up | The item failed to be delivered, and it is being returned to the sender. |
| No Secure Location Available | The location was considered unsafe for delivery, and there was no instruction on where the package should be left at the delivery address. |
| No Authorized Recipient Available | This status is typically associated with the requirement of Signature Confirmation. |
| Delivered | The status indicates that USPS has delivered the package to its destination. |
| Forwarded | The recipient has moved from the delivery address, and the item is being sent to the new address. |
| Dead Letter | This generally refers to items that can't be delivered to the specified address, and no return address or sender information is available. |
| No Such Number | The delivery address on the package is nonexistent. |
| Insufficient Address | The delivery address on the package isn't specific enough for the delivery. |
| Moved, Left No Address | The recipient moved from the original delivery address and left no information on the new address. |
| Forward Expired | The recipient moved from the original delivery address and left an expired forwarding address. Thus, items can't be forwarded. |
| Vacant | The delivery address is empty, and no forwarding information has been left. |
| Unclaimed | Nobody picked up the item after the notice(s) left. |
How to Track a USPS Package?
Many ways are available for you to track a USPS package from its origin to its destination, reassuring you that your package is safe and on its way. You can take advantage of a diverse range of USPS real-time tracking services and even automate USPS parcel tracking with ParcelPanel.
Use USPS Tracking Services
1. Track USPS Packages Online
Go to the tracking page on USPS official website. If you're a Spanish speaker, consider USPS Tracking en español. You can enter up to 35 USPS tracking numbers in one go and start USPS live tracking immediately.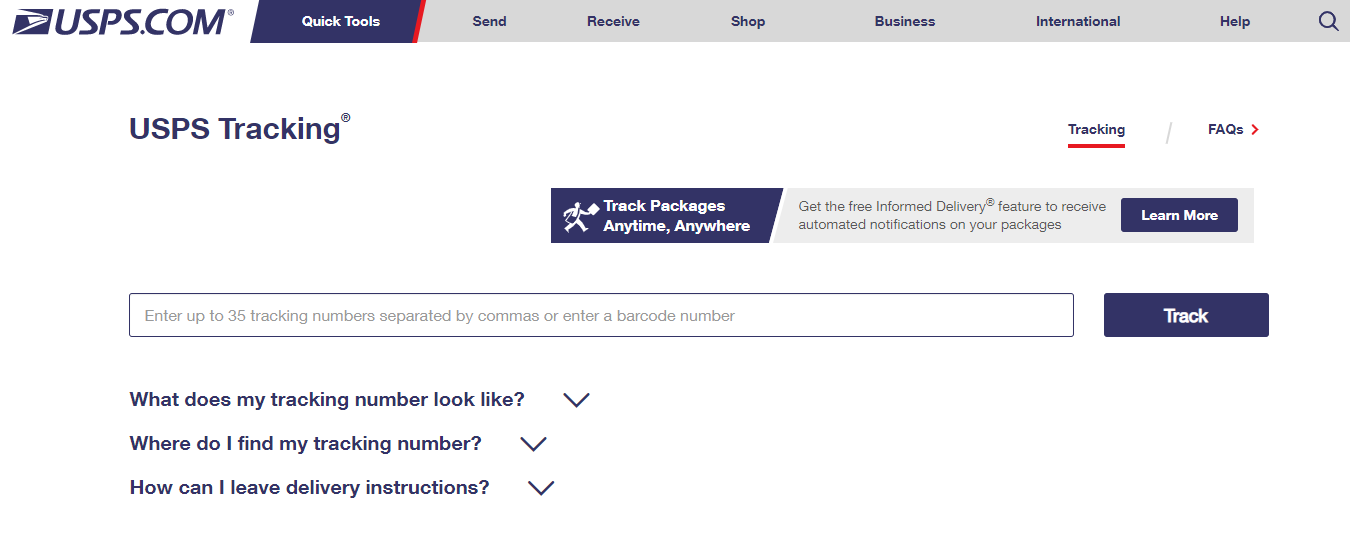 2. Track USPS Packages by Text
Send a text message that contains your tracking number to 28777 (2USPS), and you can receive a text reply with the latest tracking information from USPS. If you wish to learn specific information, you'd better include corresponding keywords. To get the complete keyword list, simply text "KEYWORD" to 28777 (2USPS).
3. Track USPS Packages by Smartphone
You can benefit from the free USPS Informed Delivery feature to track your USPS packages anywhere at any time. After you create a personal USPS account, verify your identity, install the USPS Mobile app on your smartphone, and you can receive automated notifications on your packages.
4. Contact USPS Support Directly
Call 1-800-222-1811 during the hours of operation to obtain the tracking information. For telecommunications devices for the Deaf/Teletypewriter, call 1-800-877-8339 instead. The automated information is available 24/7.
Track USPS Packages with ParcelPanel
Anyone with a USPS tracking number can track USPS packages on the ParcelPanel official website. Just go to the USPS tracking page, enter one USPS tracking number per line, and you can obtain the latest USPS tracking information. The USPS universal tracking tool supports tracking all kinds of traceable USPS mail and packages. Please note that the US Postal Tracking service on ParcelPanel supports up to 30 tracking numbers at a single time.

This is a great choice for businesses that organize USPS tracking numbers in one column in a CSV or Excel file. The USPS tracking results on ParcelPanel containing the tracking number, carrier, country of departure/destination, shipment status and delivery time can be quickly copied into a spreadsheet. Simply put, the USPS Track and Trace tool can effectively boost your work efficiency.

Shopify and WooCommerce merchants who always have a great number of USPS packages to track can install the ParcelPanel app to centralize package tracking to save valuable time and effort. This app represents ParcelPanel's best USPS tracking service for e-commerce.

With the ParcelPanel app, businesses can proactively inform customers of the order statuses, nip costly WISMO calls in the bud, and encourage repeat business with exclusive discounts. Instead of driving traffic to USPS, the branded tracking page created by ParcelPanel can help to increase the return traffic to their online stores and use AI-powered product recommendations to laser-target customers' interests for more sales.
How to Find Your USPS Tracking Number?
Tracking USPS packages is crucial for customers, especially when it comes to time-sensitive deliveries or valuable items. To track your USPS package, a tracking number is necessary. Here are several ways to get the tracking ID you need to start USPS tracking number lookup:
Check your USPS receipt for your tracking number.
If you bought insurance at the Post Office, the USPS tracking number can be found on your sales receipt.
Look for your tracking number in the automated email confirmation from USPS.
Your shipping confirmation email from an online retailer should also include your USPS tracking number.
Check the bottom peel-off portion of your USPS Tracking label to find your USPS tracking number.
If you missed a delivery, look at the backside of the orange slip in your mailbox or on your front door.
If none of the aforementioned ways worked for you, consider tracking your USPS package without a tracking number.
How to Track Your USPS Package without Tracking Number?
If you lost your package tracking number, USPS agents can't help you recover it. However, if your package hasn't been delivered, you can submit a Missing Mail Search request to USPS. To do so, you need the sender's address, recipient's address, and date of mailing, and you should provide a description of the package.
In comparison, setting up USPS Informed Delivery is a better way to track a USPS package without tracking number. USPS Informed Delivery is an amazing tool with which residential consumers can digitally preview their mail, manage all package deliveries, and never lose track of them! The best part of it is that this tool is completely free to use!
Here's how to set up USPS Informed Delivery in 6 easy steps:
Step 1: Create a USPS account by visiting the "Sign Up for Informed Delivery" page on USPS official website.
Step 2: Enter your address (including street address, city, state, and zip code) to check if it is suitable for Informed Delivery. If it is, log in to your USPS account and click "Informed Delivery" in the top right corner.
Step 3: Afterward, select "Enroll" and navigate to the Informed Delivery box beneath "Account Management."
Step 4: Proceed by ticking the relevant boxes to indicate your agreement to the terms and conditions and verify your address.
Step 5: Once done, choose "Enroll in Informed Delivery" to move on.
Step 6: Don't skip the identity verification questions if you haven't done so when setting up your USPS account before.
After completing the steps above, you'll be able to access USPS live tracking and stay informed of the delivery status and the estimated time of arrival.
Possible Reasons Why USPS Tracking is Not Updating
If you encounter the problem that USPS tracking is not updating, you should make sure that you have input the correct tracking number. If the issue persists, chances are a glitch on the carrier's side needs to be resolved. There are mainly 6 reasons why you can't get timely updates of your USPS packages:
Reason 1: Unforeseen Weather Conditions Affect USPS Delivery
Extreme weather conditions, such as snowstorms, floods, wildfires, and hurricanes, can cause power outages, road blockages, delivery disruptions and delays. In this case, the shipment status will remain the same for several days. Furthermore, if the weather has damaged the barcode of your USPS package, it can't be scanned to push delivery updates.
Reason 2: Mail Not Scanned or Updated in USPS Tracking System
Although it's USPS workers' responsibility to ensure every mail is scanned properly, it's likely that they miss a few items on the mailstream. What's more, the scanning might not take place upon arrival but at the time of dispatch, which causes delays in delivery status updates.
Reason 3: Package Delayed During Peak Seasons
Normally, USPS updates tracking information within 24 hours. However, this is not the case, especially during the holiday season. This is when businesses are as busy as a bee driving sales with tempting offers, which leads to spikes in sales and package volumes. Chances are USPS will reach its full capacity at this time of the year. Still, it's impossible to process every item the moment it reaches the Post Office, so you'll find USPS tracking is not updating.
Reason 4: Mailpiece Lost En Route to the Destination
Mail can get lost or misplaced in transit due to inaccurate or invalid addresses because they confuse postal workers or sorting machines. Such addresses make delays or returns unavoidable. That's another reason why USPS tracking is not updating.
Reason 5: Delayed Update Caused by the Mail Carrier
The mail carrier is to blame for USPS tracking not updating in the following two scenarios:
Scenario 1: The postman has already completed his shift and taken the rest of the mailpieces back to the distribution center. This will cause at least a 1-day delay in delivery.
Scenario 2: Unexpected emergencies, such as a truck malfunction, driver's illness, or flat tires, occur in the delivery process. Although this might be remedied in several hours by USPS. Still, several hours' delay should be foreseen.
Reason 6: Mailpiece Already Delivered without Delivery Status Update
It is common that the postman forgets to update the delivery status of a mailpiece after putting it in the intended mailbox. This is not a big problem to fuss about. What you need to do is just ask the recipient to check the mailbox. In this case, as the recipient, you're away from home, you might check the tracking status first and wait for several hours before taking further action.
According to USPS, only after delivery will a Registered Mail item be scanned. Therefore, tracking updates aren't available in transit. What's more, to track First-Class Mail, an extra service is required when shipping.
USPS Customer Service
The working hours of Domestic and International USPS Tracking are between 8:00 a.m. and 8:30 p.m. ET on Mondays ~ Fridays, 8:00 a.m. and 6:00 p.m. ET on Saturdays. When you need immediate help with a USPS missing package, don't hesitate to make a phone call.
USPS Tracking Customer Service Number: 1-800-222-1811
USPS Customer Service Number for General Inquiries: 1-800-275-8777
If the case is less-than-urgent, whether you're looking for your package or mail, use the USPS Email Us form by selecting the reason for your inquiry first.