About Bpost
Founded in 1830, Bpost, or the Belgian Post Group as it is more formally known, is Belgium's national postal service. It offers various logistics services to e-commerce businesses. Before September 2010, Bpost was known as De Post (Dutch) and La Poste (French) and was responsible for delivering national and international mail.
However, the company has transformed itself through strategic acquisitions of subsidiaries such as Radial, Inc., Landmark Global Inc., and more. Now, Bpost is a significant player in logistics services in Europe, North America, and Asia.
Bpost's services include domestic and international courier services, insurance, direct mail marketing, and banking. In particular, Belgium PC banking services can be accessed conveniently and securely online; for its e-commerce clients, Bpost aspires to provide a seamless, customer-centric, omnichannel brand experience with cross-border shipping, fulfillment, and last-mile delivery services.
Though headquartered in Brussels, Belgium, Bpost has a physical presence in 10+ countries on four continents. Bpost extends its services to 200+ countries through its partners or its various entities. For instance, through The Benelux Couriers, Bpost partners with DHL in the Netherlands to help each other deliver in the respective spheres of influence.
Bpost's competitors in European countries include Deutsche Post, Mondial Relay, PostNL, TNT, and PostNord.
Bpost Tracking
Bpost aims to be the leading logistics service provider (LSP) to e-commerce businesses by offering services that cover the entire e-commerce chain. Bpost services cover every logistics need from when the customer clicks to purchase to when they receive their order.
For personal shipments, Bpost offers various options, including standard and express delivery and international shipping. Each of these comes with convenient drop-off and pickup points or home delivery.
These services also come with guaranteed real-time tracking, delivery notifications, and time windows for added convenience and peace of mind.
Businesses sending parcels are also assured of distinct benefits, from bulk shipping services to e-commerce integration and customs assistance for international shipments.
Bpost International Tracking
Bpost International service stands out as the company's testament to its over 200 countries' global connectivity. These bridges geographical boundaries ensuring you have a streamlined, reliable, and efficient shipping solution internationally.
Transit times for the Bpost International shipping services vary depending on several factors, including public holidays and origin country customs. Typically, international deliveries may take anywhere from 2-10 working days.
For an accurate estimate, track your package, and Bpost will give you an estimated time of arrival for the international shipment.
Customers can track international shipments through the Bpost Track and Trace tool or My bpost app using the barcode or reference number. Even when Bpost hands the package to a foreign courier, customers can still access shipping updates through Bpost.
Alternatively, customers can track their international packages through the corresponding foreign postal or courier services.
Bpost partners with DHL to deliver in the Netherlands, giving you a chance to send large or small parcels between these two countries.
In a bid to ensure your peace of mind, Bpost Nederland Tracking allows you to confirm accurate addressing and proper franking on your parcels and letters.
Bpost uses the franking and addressing approach to ensure all your shipments are correctly labeled for hassle-free delivery processes. These procedures are also an important commercial approach that ensures postage is paid appropriately.
DHL will send the status updates of your shipment to Bpost. However, you can also track your Bpost package through DHL's tracking system.
Using the provided Bpost tracking number, customers can monitor their shipment's status, location, and expected arrival time within the Netherlands. You can always get the Bpost tracking information translated to Dutch by switching the website language.
Tailored for parcels heading to the United Kingdom, Bpost UK service guarantees efficient shipping and delivery solutions.
Bpost UK services also ensure senders and recipients benefit from a smooth shipping experience supported by real-time parcel tracking.
The company also reassures you of complete visibility of your parcel's shipment with streamlined customs procedures, dependable tracking, and professional handling.
You can track packages from or to the UK through the Bpost Track and Trace. By entering the unique tracking number, you will gain access to real-time updates on the parcel's location, status, and anticipated delivery time in the UK.
Focused on parcels destined for France, Bpost France service is a comprehensive shipping solution.
The company promises to go the extra mile to give tailor-made solutions guaranteeing an efficient delivery of all your France-bound parcels.
Tailored for parcels destined for France, this tracking service allows you to input your tracking number to receive timely information about your shipment's whereabouts, delivery status and projected delivery time within France. You can also choose to switch the language to French.
Bpost Registered Mail Tracking
The registered mail service is evidence of Bpost's dedication to ensuring the safe and traceable transit of all your parcels and important documents.
In addition, to the designated tracking features that come with the Registered mail service, our customers are assured of an added layer of security and accountability. This is to ensure we have valuable shipments with exemplary care and protection.
You can track Bpost registered mail through the Track and Trace tool using the barcode number printed on the mailing receipt.
Bpost Express Tracking
Bpost offers express delivery services through the Euro Sprinters. In Belgium, this expedites pickup and delivery on the same day.
Typically, Bpost has swift delivery solutions to ensure your urgent shipments reach their destinations promptly. Within Europe, express delivery happens in two days, while it takes only five days for the rest of the world.
You can track and trace Bpost express deliveries through the Track and Trace tool or My Bpost app.
How to Track a Bpost Parcel?
By Using Bpost Tracking
You can track Bpost parcels by following the steps below:
i. Visit the Bpost Track and Trace page

ii. Enter the Bpost tracking number you've received in the field. Bpost tracking numbers with 10-30 digits work, except those starting with the letter "U," as they are not traceable. If tracking registered mail, enter the barcode on the mailing receipt.
iii. Enter a postal code in the following field, asking for the postal code.
iv. Click on the red button to initiate the tracking process.
A track and trace results page will indicate the shipment's current status and expected delivery date.
Alternatively, you can track Bpost deliveries and returns through the My Bpost app with enhanced reporting capabilities. My Bpost app displays a map with live location tracking and a live countdown of the number of stops to be made before your package reaches you. With My Bpost app, you can even change your preference 5 minutes before the delivery.
By using ParcelPanel
ParcelPanel is a leading third-party order-tracking platform for e-commerce businesses.
Being an all-in-one tracking solution, Parcepanel integrates over 1,100 carriers and offers a branded tracking page for a seamless and unified tracking experience.
The extensive carrier integration into ParcelPanel makes it easy for e-commerce businesses to track shipments across multiple carriers, therefore simplifying their logistics process.
Here is the procedure to track Bpost packages through ParcelPanel:
If tracking from the ParcelPanel universal tracking page, enter the tracking number in the field provided. You can enter 30 tracking numbers. If so, enter each number on its line and click on the "Track" button.
Alternatively:
i. On the universal tracking page, enter "Bpost" in the search bar, and the tracking service will appear immediately.
ii. On the dedicated Bpost tracking page that comes up, enter the Bpost tracking number in the provided field. You can enter 30 Bpost tracking numbers, each on its line.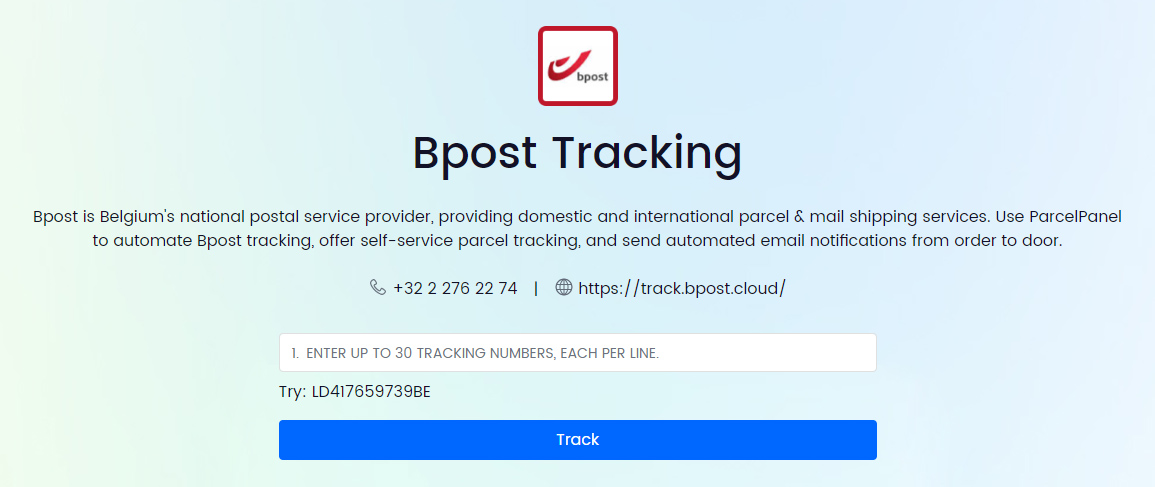 iii. Click on "'Track."
iv. A tracking results page with the latest shipment status will appear.
ParcelPanel Order Tracking App
Parcelpanel's Shopify app makes it easy for businesses with Shopify stores to offer their customers self-service order tracking. This comes with various upselling features, including related product recommendations for your customers.
You can also activate the automatic email notification feature that keeps your customers informed, making them know when to expect their packages.
To track through Shopify, your customers will, however, need a tracking number or an order number that they can enter in the field shown below: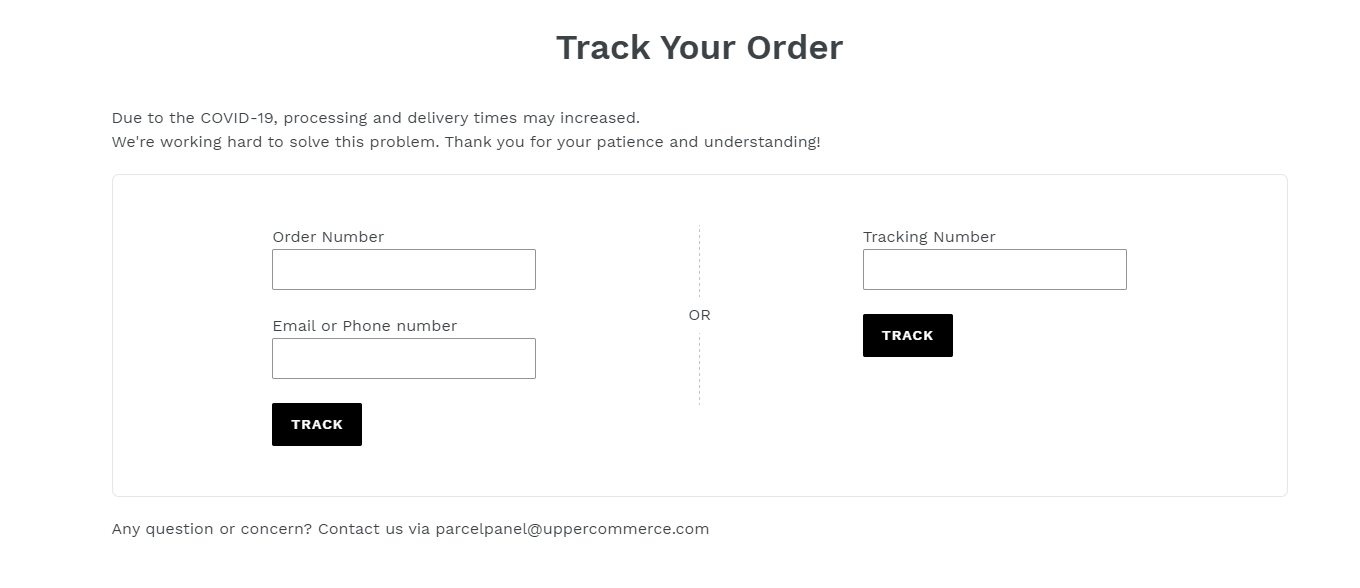 As ParcelPanel Order Tracking app pulls necessary tracking information from Shopify order details, it is an enhanced tracking tool, more powerful than the tracking tools on the ParcelPanel official website.
Bpost Tracking Number
The Bpost tracking number is a unique package identifier to track your package. Typically, Bpost uses the barcode number tagged on the package or mail as the tracking number, which you use whenever a tracking number is required.
Here are some of the places to look for the Bpost barcode:
Receipt

Mailing receipt

Shipping label

Notice of absence (when you are unavailable for a delivery attempt)

Shipping confirmation mail

Communication from the sender
Bpost tracking IDs come in various formats. Here is a comprehensive list of the formats, plus some examples:
Bpost tracking number for parcels:
24 digits beginning with 3299 or 3232 (e.g. 329912345678901234567890)

18 digits starting with 3232 (e.g. 323212345678901234)

13 alphanumeric characters beginning with two letters, such as CE, EE, CD, or CZ, and ending with two letters, e.g., BE (e.g. CE12345678BE)

27 alphanumeric characters starting with JJBEA (e.g. JJBEA1234567890123456789012)
Bposttracking number for mail:
30 digits for nationally registered mail with 010 at the beginning (e.g., 0101234567890123456789012345678)

13 alphanumeric characters for international registered mail that start with R (e.g., RB123456789BE)
Bpost Tracking FAQ
How many Bpost collection points are there in Belgium?
Bpost boasts the vastest network of collection points in Belgium, with 2,800+ collection points (also referred to as pickup points) and 600+ parcel locker locations. Bpost's ambition is to ensure each of Belgium's 589 municipalities is adequately covered so that one is never far from a collection point.
Moreover, most of these collection points are open 24/7, so you can always send or pick up your parcel.
To find a Bpost pickup point near you, visit the Bpost Locator page and fill in the query box to search.
Does Bpost deliver on Sundays?
Yes, Bpost delivers on Sunday, but only under certain circumstances. Bpost Sunday delivery is associated with the type of shipment, the sender, as well as the delivery address. For example, Bpost will not deliver letters and registered mail on Saturday or Sunday.
Under special arrangements, Bpost may deliver parcels to home addresses, pickup points, and parcel lockers on Saturdays from 8:00 am to 5:00 pm; and to home addresses on Sundays from 9:00 am to 7:00 pm. Otherwise, deliveries only take place during weekdays.
Currently, Bpost will not deliver to any pickup point or Parcel Locker on Sunday.
How to get the Bpost registered mail delivery proof?
Bpost will be able to provide evidence of a signed delivery document that the registered mail was delivered. However, you need to prepare to receive confirmation of delivery for registered mail beforehand.
At the post office or An Post PostPoint, request registered mail with confirmation of receipt.
Provide necessary information to a post office employee so you can send the registered mail and get a stamped mailing receipt. Then, you can use the Bpost barcode on the receipt to track your Bpost registered email.
When the registered mail is delivered, the recipient will sign the confirmation of delivery form, which will be sent back to you.
I found my Bpost parcel was not delivered. What can I do?
If your Bpost parcel has not been delivered, check its status via Bpost's Track and Trace tool or ParcelPanel. It could be that it still is in transit.
If it is inexplicably stuck in transit, give it at least another five days for shipments to neighboring countries and 10 days to the UK and the rest of the world. After that, contact Bpost customer service to commence an investigation. Using an online contact form is the quickest way to start an investigation.
However, note that only the sender can file a claim with Bpost, so contact the sender and request them to do so.
Until what time does Bpost deliver?
Bpost's regular delivery hours are between 9:00 and 18:00, Monday to Friday. These hours may vary depending on the delivery location.
Try to make yourself available during these hours or make alternative arrangements to receive your package so you do not have a missed delivery.
Bpost Customer Service
Often, you can find answers from Bpost's extensive FAQ. If you fail, reach out to Bpost customer service in any of the following ways:
Call Mon-Fri, 8:00-12:30; 13:00-18:00 or Sat, 9:00-13:00. Charges vary with the zone. There may be waiting times.
Online Complaint Form

Online chat for services such as bpaid, Service de Demenagement, and Track and Trace are available.

You can choose to go to the nearest physical service point by using the online locator.

Mailing Address
bpost
Postbox 5000
1000 Brussels