About NZ Post
NZ Post (New Zealand Post Group) is the largest parcel and mail delivery operator in New Zealand. Its humble beginnings stretch back to the 1830s when traders and missionaries had to use occasional passing ships. Today, it's recognized as a successful commercial entity delivering within New Zealand and abroad.
Headquartered in Wellington, New Zealand, NZ Post has a team of over 7,000 contractors and employees supporting its core mail business and related business activities. NZ Post began its activities with nearly 1,200 post offices, which it later branded as PostShops. PostShops now comprise postal agencies, full post offices, and retailers of postage stamps. The courier is committed to offering accessible postal services to New Zealanders through nationwide outlets.
New Zealand Post also has a comprehensive international supply chain network through relationships with postal organizations and agents. It delivers more than 41 million courier parcels annually, with tracking services provided for free. NZ Post's holdings in companies like DHL and ECL allow it to cover a vast network of global destinations.
New Zealand Post previously operated three brands: CourierPost, NZ Post, and Pace. But later, it merged them into one brand to reduce confusion. The courier also runs several businesses, such as international consultancy and philatelic business units.
NZ Post Tracking
NZ Post serves both consumers and businesses within New Zealand. Anyone can take advantage of its local and international delivery services, from retailers to mom-and-pop stores to small businesses. Plus, NZ Post offers a range of tracking services, including:
NZ Post Courier Tracking
As for shipping within New Zealand, you can send small parcels of up to 3 kg via NZ Post's Courier or Economy services; for larger parcels of up to 25 kg, choose the relevant Courier or Courier Economy service. All these services include tracking, meaning you'll receive a tracking number after posting your item with NZ Post. Put the NZ Post tracking number on the Track a Parcel page or NZ Post mobile app, and you'll see the status of your parcel.
| NZ Post Domestic Service | Delivery Time | Weight Limit | Item Value Limit | Price Range |
| --- | --- | --- | --- | --- |
| Courier (small) | Next working day* | Up to 3 kg | Up to $2,000 | $6.80 - $15.00 |
| Economy (small) | Up to 3 working days* | Up to 3 kg | Up to $250 | $4.80 - $13.00 |
| Courier (large) | Next working day* | Up to 25 kg | Up to $2,000 | $7.50 - $185.00 |
| Courier Economy (large) | Up to 3 working days* | Up to 25 kg | Up to $2,000 | $22.00 - $110.00 |
NZ Post International Tracking
NZ Post offers three options for international delivery: Economy, Courier, and Express. Those who choose Economy get optional tracking, whereas Courier and Express come with both tracking and signature on delivery. To track NZ Post international deliveries, just enter the tracking number you receive on the NZ Post app or tracking page to know the whereabouts of your shipment in real time. You may also use ParcelPanel to centralize NZ Post international tracking.
| NZ Post International Service | Delivery Time | Weight Limit | Item Value Limit | Destinations |
| --- | --- | --- | --- | --- |
| Economy | 3-13 working days* | Up to 20 kg | Up to NZD 2,000 | 220 |
| Courier | 2-6 working days* | Parcels: Up to 30 kg, Letters: Up to 1 kg | Up to NZD 5,000 | 59 |
| Express | 1-5 working days* | Parcels: Up to 30 kg, Letters: Up to 1 kg | Up to NZD 10,000 | 220 |
NZ Post also had a subsidiary company called CourierPost that provides a nationwide courier service. It was established to protect New Zealand Post's parcel delivery business from private competition.
CourierPost has four deliveries and pickup cycles per day. You can track any parcel you send via this service through NZ Post's standard tracking page or mobile app. You may also access NZ Courier Post Tracking via the ParcelPanel official website.
NZ Post EMS Tracking
NZ Post also offers EMS, which is an international courier service for businesses and customers. The courier started this service after joining the EMS Cooperative in 1999. International courierMoreover, NZ Post delivers EMS to 4.7 million businesses and customers six days a week.
You can send an international EMS by visiting your local post office in New Zealand. The office will provide you with a tracking number that you can enter in the NZ Post parcel tracker or mobile app to see where your shipment is at any time. After the shipment enters the destination country, you can track NZ Post EMS through the tracking service provided by the corresponding postal service.
NZ Post Prepaid Bags Tracking
Note: The service is now discontinued. Although NZ Post didn't disclose the reason behind the decision, merchants are no longer able to purchase prepaid bags featuring printed pricing.
How to Track an NZ Post Parcel?
You can track your NZ Post parcel in the following ways:
By using NZ Post Tracking
NZ Post's website has a dedicated tracking page where you can enter the NZ Post tracking number to see the status of your parcel. You can track multiple parcels as well as save all tracking numbers under your NZ Post account.

Note that NZ Post assigns a tracking number to each parcel, so that's the key to locating your shipment.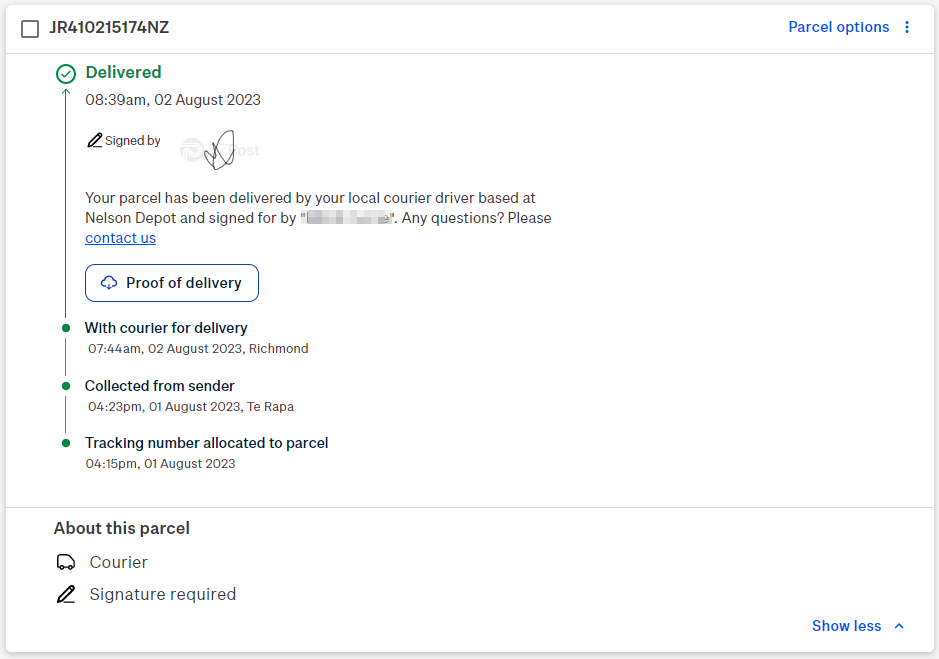 Alternatively, you can take advantage of the NZ Post tracking app. Available for both Android and iOS, it gives you quick access to shipment tracking, email alerts, and proof of delivery while you're on the go. Additionally, you can use it to find an NZ Post office nearby, check an address, and add delivery instructions for the rider.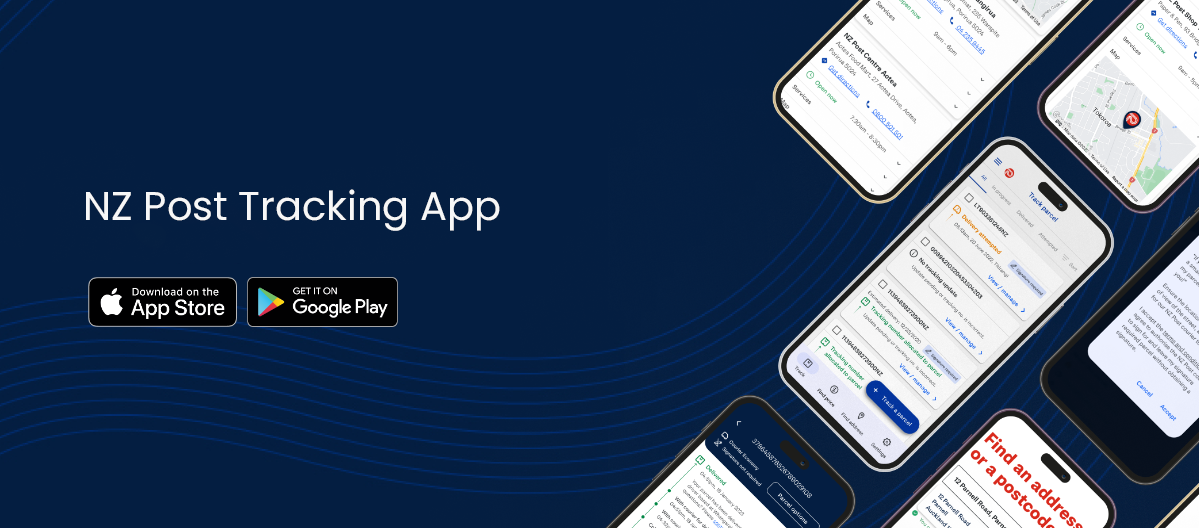 Bear in mind that an NZ Post account allows you to monitor all your parcels across devices.
ParcelPanel is a leading parcel tracking platform for businesses. With it, you can track parcels from over 1,100 couriers, including NZ Post. Here's how to do it:
1. Head over to ParcelPanel's "Carriers" page.
2. Enter "NZ Post" in the search bar and choose the corresponding "NZ Post Tracking" service.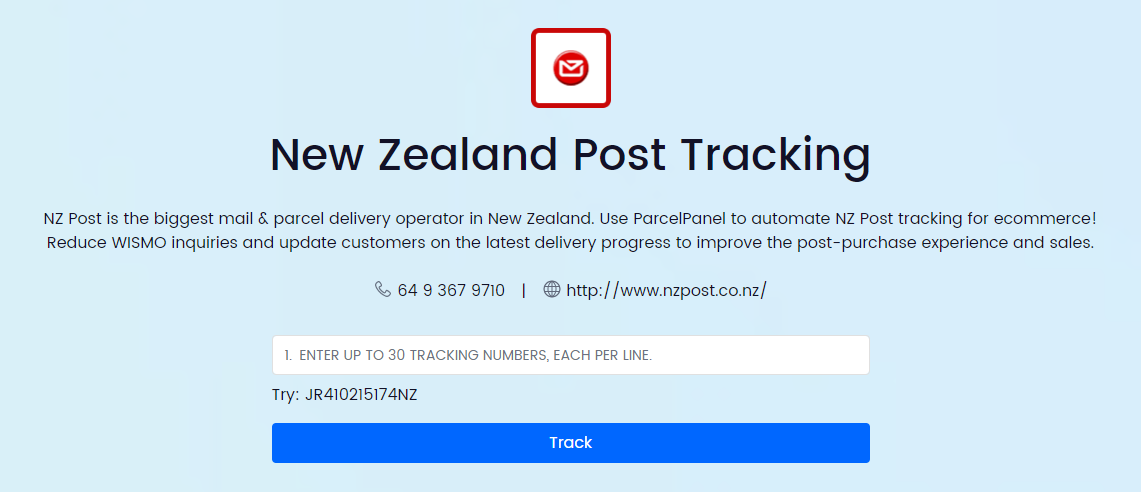 3. Enter your New Zealand Post tracking number.
And that's it. Now, you should see the real-time status and the transit history of your shipment.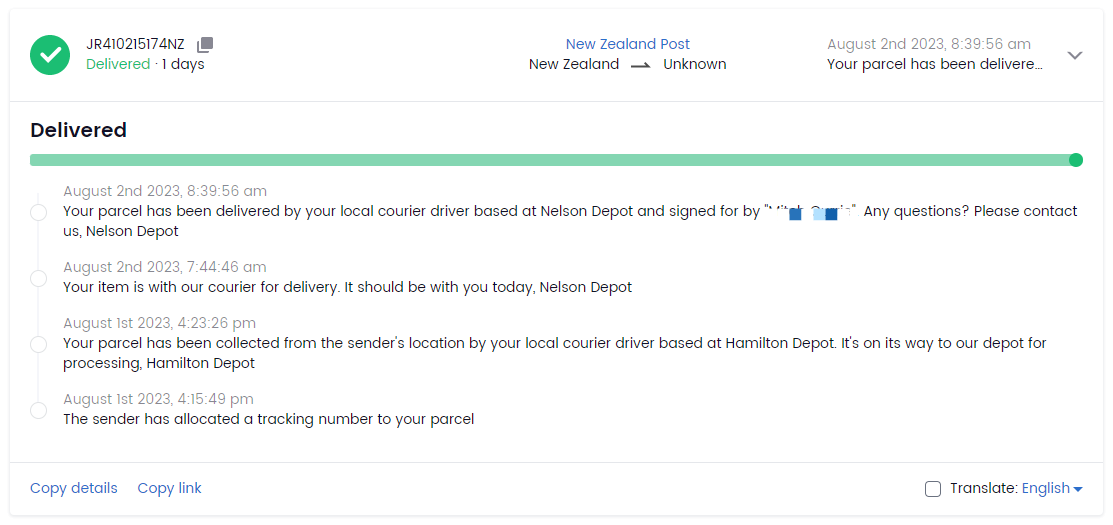 The ParcelPanel official website allows you to track up to 30 NZ Post shipments at a time and export all tracking information into a spreadsheet. This can significantly boost your productivity.
Plus, ParcelPanel offers a Shopify app that lets you provide a branded tracking experience. Installing it automatically adds a tracking page that matches your branding. This removes the need for customers to visit other carrier sites —they just need to enter the tracking number on your site to view the details of their parcels.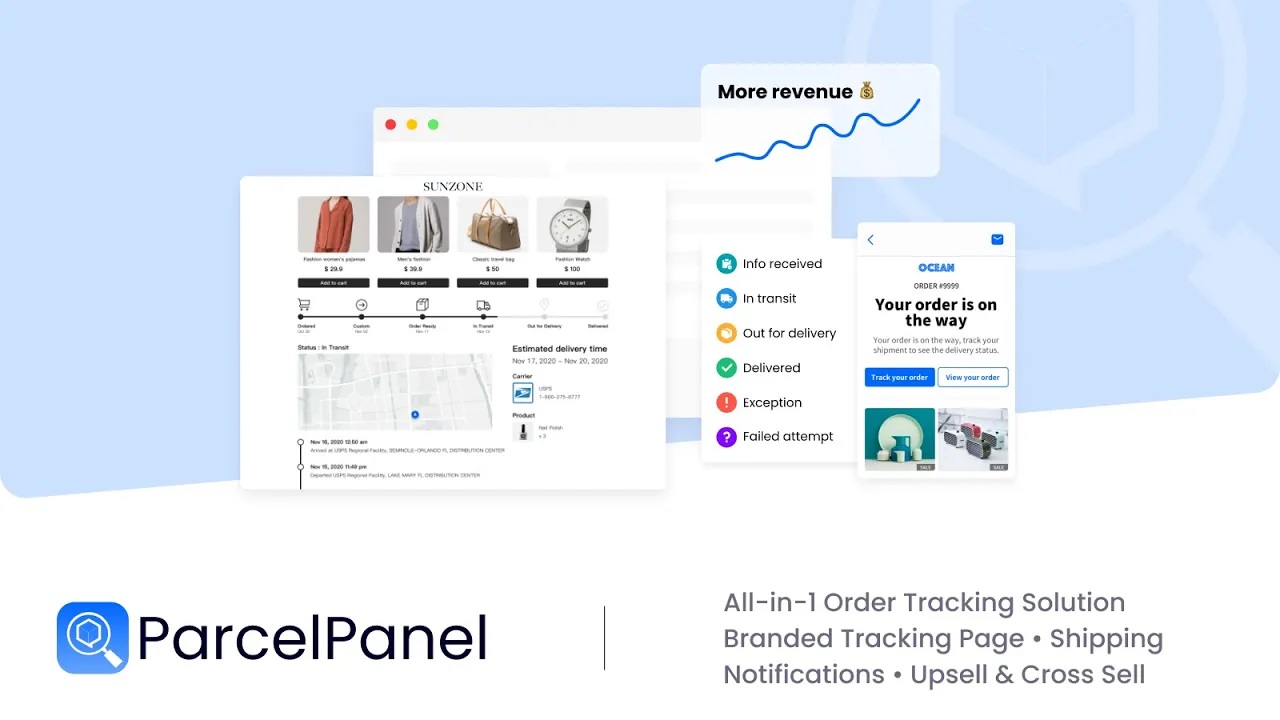 What's more, with the ParcelPanel app, personalized product recommendations can be displayed. With the power of AI, this feature allows you to showcase relevant and complementary products to those who are using your branded tracking page. This enables you to make post-purchase upsells that significantly improve your customer lifetime value.
Customers can also get shipping alerts (emails) and revisit your store for the latest tracking updates, creating meaningful interactions at every touchpoint.
NZ Post Tracking Number
An NZ Post tracking number is a unique sequence of numbers associated with each shipped parcel. It's available to both merchants and customers.
You can find the NZ Post tracking number by asking the NZ Post customer support team or by logging into your NZ Post account. Those who dispatched their parcel from the local PostShop and purchased a tracking service may find the tracking number at the bottom of the receipt.
NZ Post Tracking Number Format
Generally, apart from the NZ Post Courier service that doesn't require signature on delivery, the tracking number consists of 13 characters. These characters comprise two alphabets at the beginning, nine digits in the middle, and the country code "NZ" at the end. In particular, the NZ Post EMS tracking number starts with "E."
NZ Post Tracking Number Example
NZ Post tracking number (Economy shipping service):
NZ Post Courier tracking number (signature required):
JR410215174NZ

JR410198533NZ
NZ Post Courier tracking number (signature not required):
00794210334031640656

00794210334026990636

4670690000262101AKL001ON

4603830001068001TAU002PP
NZ Post EMS tracking number:
NZ Post Tracking FAQ
What days does NZ Post deliver?
NZ Post delivers economy parcels and standard letters in big towns and cities 3 days per week. These days are either "Monday, Wednesday, and Friday" or "Tuesday, Thursday, and Saturday".
The courier follows a different schedule for mail to rural addresses, delivering them 5 days per week.
Search for your address on the Address & Postcode Finder to see your mail delivery schedule.
Does NZ Post deliver on Saturdays and Sundays?
NZ Post does not deliver on Sundays. However, days of delivery in some major cities and towns include Saturdays.
Does NZ Post deliver on public holidays?
NZ Post mail isn't delivered on public holidays.
Who owns NZ Post?
NZ Post is 100% owned by the New Zealand Government and operates as a State Owned Enterprise (SOE).
How much does it cost to post a letter in NZ?
The size of the letter determines the amount you'll pay to post it in NZ. NZ Post charges $2.00 for a medium-sized letter, $3.30 for a large-sized letter, and $4.60 for an oversized letter.
Is NZ Couriers part of NZ Post?
No, NZ Couriers is a separate company with staff, branches, and contractors throughout New Zealand. However, NZ Post has three delivery brands: NZ Post, Pace, and CourierPost.
Why is NZ Post tracking system down?
Sometimes, the NZ tracking system goes down due to a backend issue with their server. But the chances of this happening are minimal, and you can always see the system's existing status using Down Detector.
How much does NZ Post rural delivery cost?
NZ Post doesn't charge a fee for sending standard letters to a rural address. However, you must purchase a rural delivery ticket costing $5.50 if you send an item to a rural address using any of NZ Post's parcel sending services, such as Economy and Courier services.
What about NZ Post international delivery times?
NZ international delivery times vary depending on the shipping zone the recipient's country falls in. For instance, sending an NZ Post Express Delivery to South Asia will take 2-4 working days. You can learn more about NZ Post international delivery zones and times using the table below.
Country/Region
Shipping Time by Service
Express
Courier
Economy
Australia
1 - 3 business days
2 - 3 business days
3 - 6 business days
South Pacific
2 - 5 business days
4 - 6 business days
6 - 13 business days
Asia
2 - 4 business days
4 - 6 business days
6 - 13 business days
Canada, UK, Europe
2 - 4 business days
4 - 6 business days
6 - 13 business days
USA
2 - 4 business days
4 - 6 business days
6 - 13 business days
Rest of the World
2 - 5 business days
5 - 6 business days
6 - 13 business days
What does NZ Post "handed over for delivery" mean?
It means the package has been transferred to another party in the delivery chain. For example, when New Zealand Post hands over the parcel to Box Lobby or Rural Post, the status in NZ Post tracking will show as handed over for delivery.
NZ Post Customer Service
Want to contact NZ Post support for help with Parcel Tracking? Here's a list of channels you can use:
Online inquiry:

You can make several types of inquiries through the NZ Post online contact form. These include standard parcels, damaged parcels, YourShop parcels, international shipping, mail, and other inquiries.

Hotline

: Another way to contact support is to dial NZ Post contact number 0800 501 501 (from within NZ) or +64 9 977 0102 (outside NZ). NZ Post's hotline is open 8 a.m. to 6 p.m., Monday to Friday (excluding public holidays).

Direct Mail:

Merchants can also send direct mail to NZ Post customer care at the following address: Private Bag 208038, Highbrook, Auckland 2161.

FAQ:

NZ Post has a dedicated FAQ page to find answers to common questions and information related to tracking, sending delayed shipments, and more.

Email

: If you've been a victim of phishing or online fraud related to NZ Post, you can report the issue via email:

[email protected]

.