About OnTrac
If you have ever considered sending a package or parcel within the U.S., you may have thought about OnTrac. OnTrac is a reliable, efficient, and quick small package shipping and logistics company that has now grown to become among top players in the logistics industry, serving 80% of the U.S. population in the 31 states and Washington D.C.
OnTrac specializes in logistics and shipping using expedited ground facilities to deliver temperature-sensitive and time-sensitive parcels.
OnTrac was established in 1991 in California under the name California Overnight. The company was set up through the acquisition of multiple small Canadian and American courier companies, which gradually expanded to more states.
Headquartered in Chandler, Arizona, with a focus on expedited ground delivery, OnTrac aims to offer faster shipping and help you reduce costs by 10% to 35% compared to traditional national carriers.
Formally known as Express Messenger International, OnTrac International can arrange parcel distribution to more than 240 countries and territories.
Today, OnTrac has more than 2,300 employees. Apart from its parcel delivery business, the company also offers various logistics services to meet customer needs, including mail, data, and fulfillment services. OnTrac Shipping has a vast network of 102 locations and 16 sorting centers, and its parcels are efficiently delivered by a fleet of more than 500 trucks. You can rely on OnTrac delivery services for the reason that the company has been in the industry for more than 30 years.
OnTrac is a USPS (United States Postal Service) qualified wholesaler offering discounted USPS shipping rates for global shipping and mailing. What's more, OnTrac has merged with LaserShip to handle the final mile of e-commerce package deliveries coast to coast in the United States.
OnTrac Tracking
OnTrac provides a wide range of shipping and tracking services to meet the needs of its customers. Their main services include parcel shipping, mailing, logistics and distribution solutions for e-commerce, retail, healthcare, and other industries. Besides the shipping and logistics services, OnTrac offers cutting-edge online tracking tools!
Here is a situation: you're eagerly awaiting a much-anticipated package, and the suspense is building. OnTrac's delivery notifications can keep you informed about the status of your packages, which is convenient and reassuring. This helps ensure peace of mind and transparency regarding the delivery process.
With OnTrac tracking services, you have the power to track your package with ease, ensuring peace of mind and saving you valuable time.
Here is a summary of OnTrac tracking by service:
OnTrac Ground Tracking
OnTrac specializes in expedited ground delivery and offers faster shipping times compared to conventional carriers. OnTrac Expedited Ground Delivery is convenient as it offers delivery within just one to two business days.
You can keep track of OnTrac ground packages from pickup to last-mile delivery. OnTrac also provides the SMS notification option - just opt-in by clicking the "NotifyMe" button next to "Shipment Progress" when tracking your OnTrac shipment.
OnTrac California Overnight Tracking
OnTrac is the preferred overnight delivery service for swift and time-sensitive delivery of packages within California, Arizona, Nevada, Oregon, Washington and Utah. You can check the company's site to see if your address is eligible for overnight delivery.
To qualify for OnTrac overnight delivery, you have to ship your package before a specific cutoff time, and it must be within a particular delivery zone.
Similarly, OnTrac overnight delivery tracking is easily accessible on the OnTrac official website. You can receive SMS notifications with the latest tracking details, and you can get visual proof of delivery.
OnTrac Ecommerce Tracking
The company offers e-commerce delivery tracking for packages shipped from online retailers and stores to consumers. So, how can you track your package?
It is simple - just enter your tracking number on the OnTrac tracking page. Also, you can opt-in for text message alerts that update you on your package's progress.
You may also take advantage of ParcelPanel's OnTrac Tracking tool to keep track of up to 30 OnTrac package search times.
OnTrac International Tracking
OnTrac is proud to offer international tracking for packages that are shipped to or from the U.S. The service is convenient as it offers real-time tracking information for up to 10 packages at a single time. This will help you see where your package is and when it will arrive.
If you need to track multiple OnTrac shipments in one go, consider using ParcelPanel's OnTrac Tracking service.
How to Track an OnTrac Package?
You can track your OnTrac package in many ways, such as tracking your package online, by text message, or by phone. You must have a tracking number for your OnTrac package.
This OnTrac tracking number is usually provided by the shipper. However, the Ontrac tracking number can also be provided by the online retailer from whom you purchased.
By Using OnTrac Tracking Services
Online Tracking
Tracking your package online is simple and quick. To track your package, visit the OnTrac website. You may also Google "OnTrac tracking" and enter the dedicated tracking page.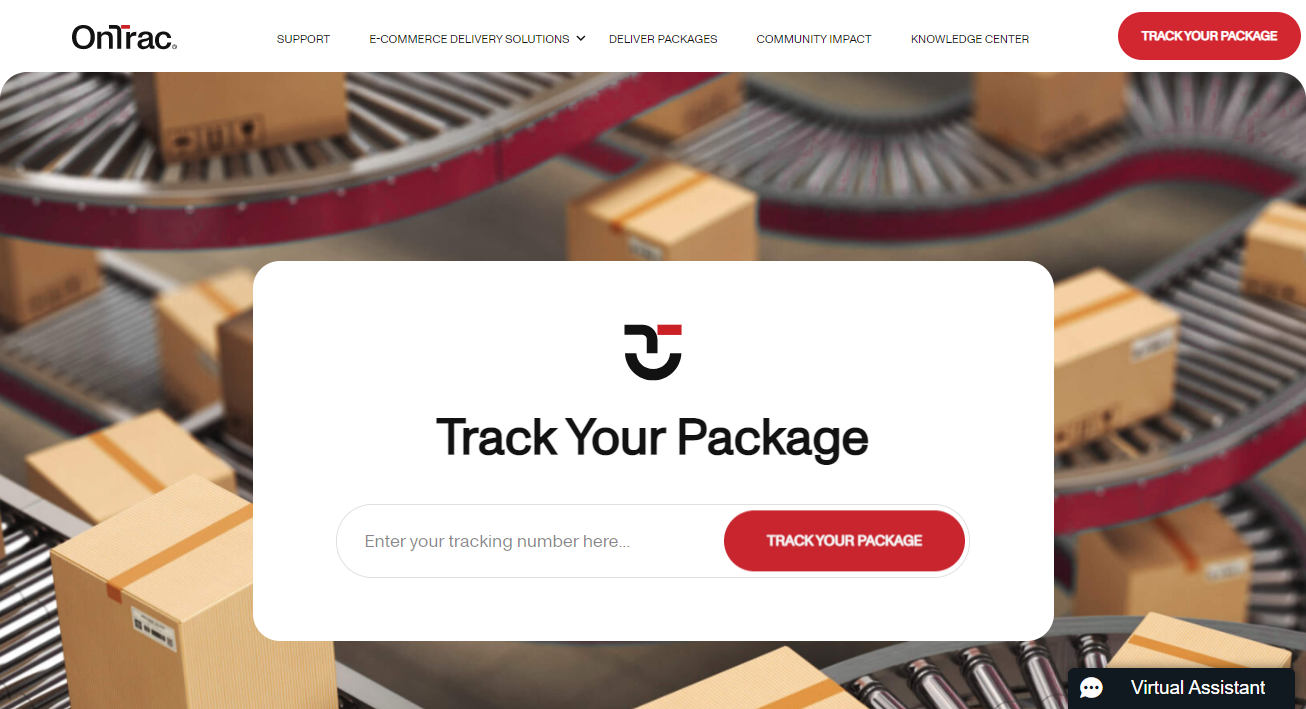 Enter your tracking number in the provided field or search bar. Make sure that you input the number correctly to avoid any errors.
Then, click on the "Track Your Package" button to initiate the tracking process, and you will be able to see the up-to-date status of your package, as well as specific shipment details, including package dimensions, weight, reference number, origin, destination, and corresponding zip codes. If your OnTrac package is out for delivery, you can get the estimated delivery date and time.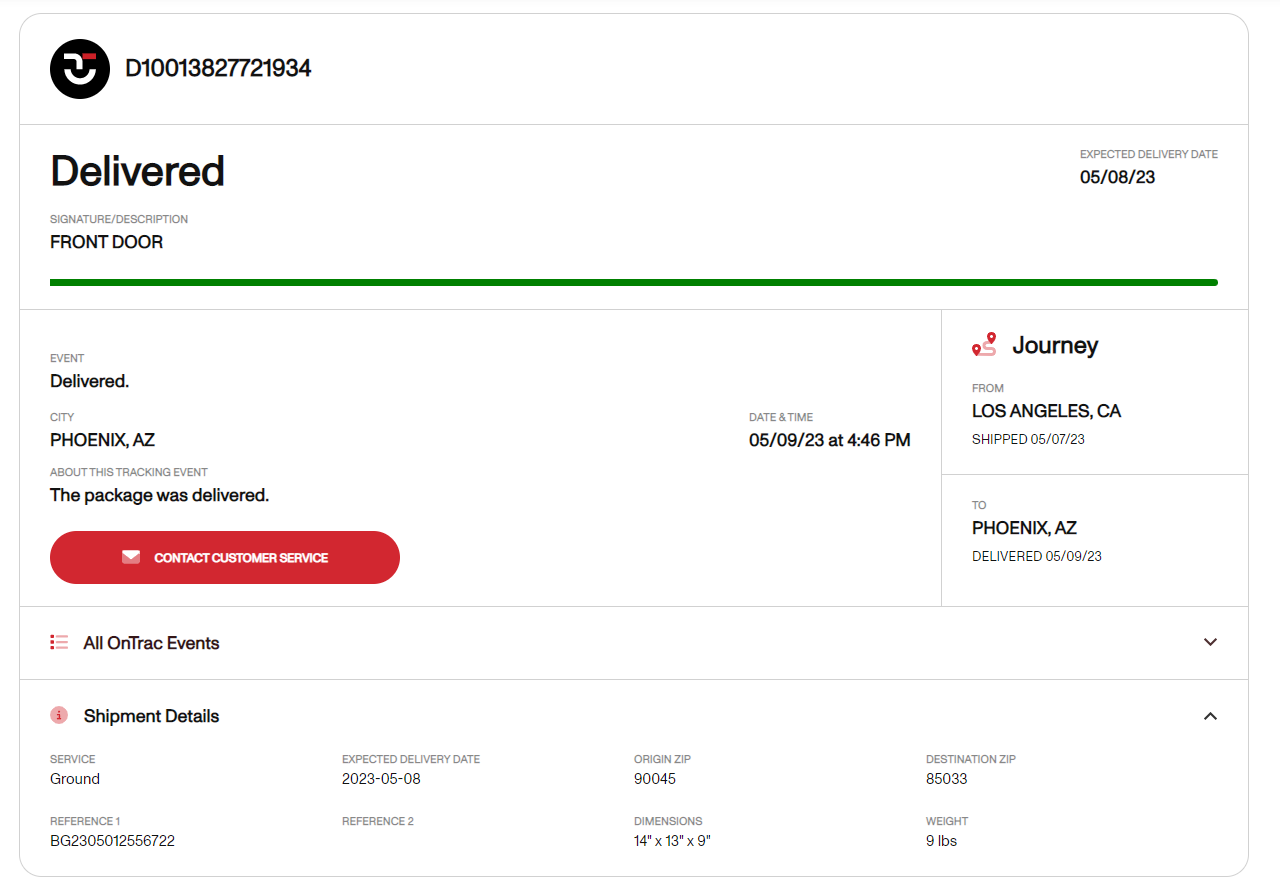 If you look at the OnTrac Events here, you'll find the descriptions are very short. Each event has a timestamp, and it is associated with the up-to-date package location (City).

Text Message Tracking
This is another option to track your parcel. To receive timely text message updates regarding your OnTrac package, you can easily opt into the NotifyMe program. All you have to do is just follow the simple steps below:
Visit the OnTrac site and enter your tracking number.
After that, click the "NotifyMe" button. It is next to "Shipment Progress."
Now simply follow all the prompts to opt-in for text message notifications when your parcel or package goes out for delivery or when your package is delivered.
How OnTrac Tracking Works with ParcelPanel
You will be happy to learn that ParcelPanel is a reliable third-party package tracking service provider that integrates with OnTrac to offer businesses a more comprehensive and seamless shipping experience.
With ParcelPanel, businesses and companies can track their OnTrac shipments in real time. Your customers can also receive email notifications that update them on the latest delivery progress.
With ParcelPanel Website
ParcelPanel is a reliable third-party shipping tracking website that allows you to track packages and parcels from multiple carriers, including OnTrac. If you would like to track your OnTrac package using ParcelPanel, you can enter up to 30 OnTrac tracking numbers in the search bar and click on the "Track" button. After entering your tracking number, you will be able to see the real-time delivery status of your OnTrac package.

You can find that using ParcelPanel for OnTrac package tracking offers you the same tracking information. It's a better option if you need the transit time for a great number of packages.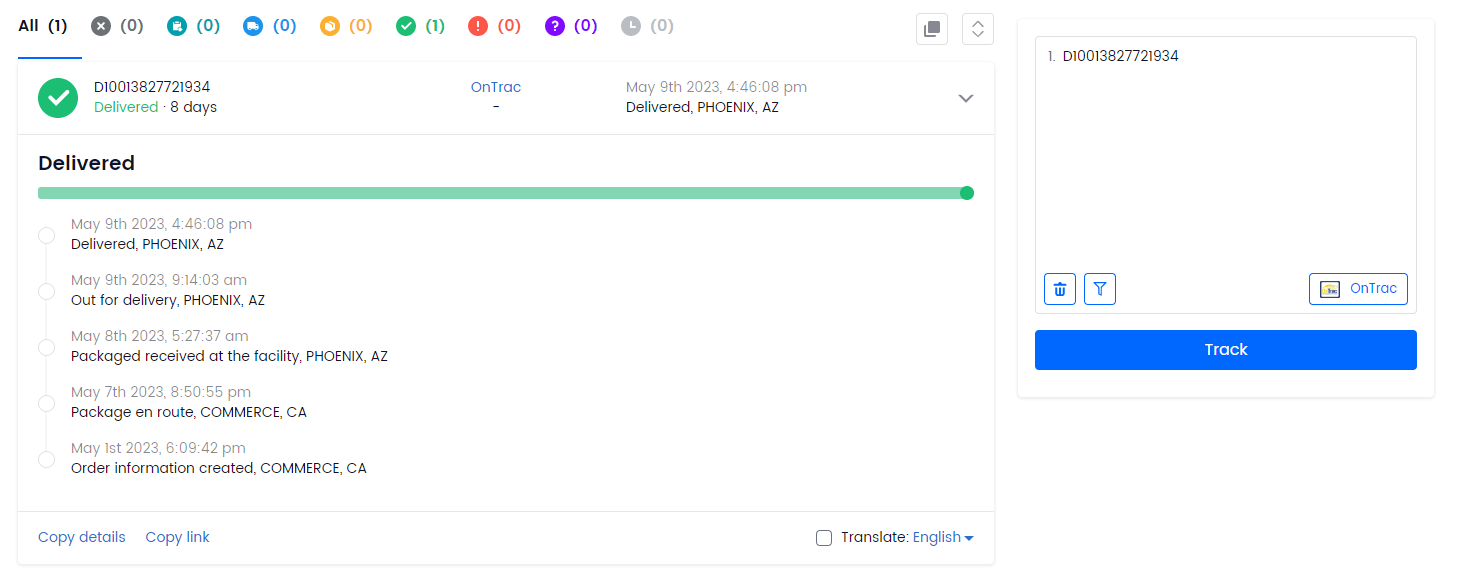 If you are a Shopify or WooCommerce merchant and prefer an app to centralize parcel tracking, the ParcelPanel Shopify app is a great choice. The app is already integrated with over 1,090 couriers worldwide and can pull tracking information from the integrated couriers, including OnTrac.

A branded tracking page will be automatically created for you. Your customers will need an order number or a tracking number to track their packages. Your customers can also receive emails and stay updated on every stage of the parcel's journey.
ParcelPanel is an indispensable tool for Shopify and WooCommerce businesses and companies to automate package tracking and reduce WISMO calls with proactive delivery notifications.
OnTrac Tracking Number
An OnTrac tracking number is a unique package identifier. This number is assigned to each package that is shipped by OnTrac. You can use the Ontrac tracking number to track and monitor the progress of your OnTrac shipments until they reach your destination.
There are two ways to find your OnTrac tracking number. You can easily find your OnTrac tracking number by getting in touch with the retailer that shipped the package to you.
Alternatively, you can also find your OnTrac tracking number on the shipping label that was attached to the package. You will find the tracking number located in the upper right corner or the center of the shipping label.
Once you've your OnTrac tracking number, you can easily track your package online by visiting the OnTrac website or a third-party tracking website like ParcelPanel.
You should be familiar with the OnTrac tracking number format. OnTrac tracking numbers start with one of the following letters or combinations of characters:
Here are a couple of examples of OnTrac tracking numbers:
C1099992268
D10013038197453
D10011210951580
D10011071138393
OnTrac Tracking FAQ
1. I was informed that my OnTrac package is yet to be tendered to. What does it mean?
When you receive a notification stating that your OnTrac package is "yet to be tendered to," it means that the Ontrac package has not yet been picked up by OnTrac. In other words, your package is still with the shipper or the retailer, and it has not entered the OnTrac network.
In some cases, the status may mean that the shipping company doesn't deliver in your region. As a result, OnTrac may contract a secondary company in your area that delivers so that you can receive your item. This could also be because the package is still being processed or packed by the retailer, or it could be because it is waiting to be picked up from a carrier.
However, as soon as the package is picked up by OnTrac, the status will change to "picked up," and you'll be able to track the progress of your package.
Here are some possible reasons why your OnTrac package may not have been tendered yet:
Your shipper hasn't yet scheduled a pickup.
The package is being held up at customs.
The package is being held up at a distribution center.
2. Why is OnTrac tracking not updating?
There are a couple of reasons why OnTrac tracking might not be updated.
Your package hasn't yet been scanned is one of the most common reasons. You may know that packages are scanned at several points in their journey. So, if your package is not scanned, the tracking information will not be updated.
Your package is in transit. When your package is in transit, it might not be scanned every time it changes hands, leading to gaps in the tracking information updates.
In some instances, the retailer or shipper may not provide timely updates or submit tracking information to OnTrac.
If your package is delayed, it may not be scanned as frequently as it would be if it were on time, leading to gaps in the tracking information updates.
Unforeseen events like severe weather conditions, natural disasters, or other disruptions in the transportation network can impact the timely updating of tracking information.
3. OnTrac says "Delivered," but I did not receive my package. What should I do?
If OnTrac says "Delivered," but you did not receive your package, you can take the following steps:
Check your delivery address and make sure that it is correct. If your address is incorrect, the package may have been delivered to the wrong address.
Check with your neighbors, especially if you live in an apartment. Your neighbors may have received your package by mistake. Sometimes, the package may have been left in the presence of someone else.
If you have checked your delivery address and with your neighbors and still have not received your package for more than 2 business days, it is best to contact OnTrac customer service by submitting an inquiry.
You may also choose to reach out to the individual or company from whom you purchased. They may be able to investigate the delivery issue, initiate a claim with OnTrac, or provide further guidance on the next steps.
OnTrac Tracking Customer Service
To get support regarding package tracking from OnTrac, you can use the following methods:
OnTrac Customer Service Number
You can reach OnTrac's customer service by texting (302) 246-7136 to get help from an OnTrac customer service representative. If you call them, make sure that it's during the operating hours:
Monday - Friday: 8 a.m. to 9 p.m.
Saturday: 8 a.m. to 8 p.m.
Sunday: 8 a.m. to 5 p.m.
Make sure to avoid New Year's Day, July 4th, Thanksgiving Day, and Christmas Day.
OnTrac Delivery Hours
OnTrac's delivery time may vary based on the specific region. In most cases, OnTrac delivers from 8 a.m. to 9 p.m., Monday to Friday.
OnTrac Delivery on Weekdays
You will be happy to know that OnTrac's delivery time spans from 8 a.m. to 9 p.m. in some select service areas. This is the case especially during the peak seasons or when specific delivery commitments have been made.
OnTrac Weekend Delivery
OnTrac does offer Saturday delivery and Sunday delivery in select areas from 8 a.m. to 9 p.m.