About Purolator
Since 1960, Purolator has been an industry-leading integrated freight, package, and logistics provider headquartered in Ontario, Canada. It has over 14,000 employees, 300+ shipping centers, and drop boxes, and it picks up and delivers over 1 million packages per day. Numerous Purolator drop-off locations are available, and you can choose from various parcel collection options, including pick-up from home or business. Purolator boasts extensive networks in Canada as well as US expertise.
Purolator offers a wide range of shipping services, freight services, as well as business solutions. It is a subsidiary of Canada Post, Canada's National postal service, and its major competitors in Canada include FedEx and UPS. You may also watch Purolator's corporate video to get a better understanding of its services.
Purolator Tracking
With its extensive reach, Purolator offers a wide variety of specialized logistics services, including but not limited to shipping, freight forwarding, returns management, import & export, etc. The company provides real-time tracking information for all its shipments from pick-up to delivery. You can take advantage of the Purolator official website, app, and third-party package tracking websites like ParcelPanel to track your Purolator parcel.
Here, we'll take a look at Purolator package tracking by service first:
Purolator Freight Tracking
Purolator Freight is a specialized service designed for businesses wanting to ship large or heavy items. Purolator Freight offers flexible solutions for moving freight easily and efficiently from and within Canada, including TL (truckload), LTL (less-than-truckload), and freight forwarding services. Purolator's freight services fall into two categories, namely, the Expedited and Standard TL and LTL services. Both offer online tracking, providing full visibility of your freight shipments.
To keep track of a Purolator freight shipment, you need to have a BOL (bill of lading) number. The purolator freight tracking tool supports a list of BOL numbers and export of the tracking information.

Similarly, you can do so with ParcelPanel's Purolator tracking tool.
Purolator Express Tracking
Purolator Express is a premium shipping service that provides guaranteed time-definite next-day deliveries across Canada, with detailed tracking information included throughout the parcel's journey. Here's a summary of the Purolator Express shipping services:
| Service | Purolator Express® 9AM | Purolator Express® 10:30AM | Purolator Express® 12PM | Purolator Express® | Purolator Express® Evening |
| --- | --- | --- | --- | --- | --- |
| Delivery | By 9AM to major cities in Canada | By 10:30AM to major cities in Canada | By 12PM to major cities in Canada | By 9PM to all provinces and territories in Canada | Between 5:30PM and 9PM to major cities in Canada |
If you are searching for a next-delivery service to the United States, Purolator Express is among the best choices. You can choose from various time-definition delivery options, including by 9AM, 10:30AM, 12PM, and the standard end-of-day delivery. It's worth noticing that only the standard option applies to most US destinations.
| Service | Purolator Express® US 9AM | Purolator Express® US 10:30AM | Purolator Express® US 12PM | Purolator Express® US |
| --- | --- | --- | --- | --- |
| Delivery | By 9AM the next business day to certain US destinations | By 10:30AM the second business day to certain US destinations | By 12PM the next business day to certain US destinations | The second business day to the majority of US destinations |
In comparison, Purolator Express International is the second fastest way (slower than Purolator Expedited) to deliver up to 150 lbs from Canada to over 210 countries and territories the next business day.
| Service | Purolator Express® International 9AM | Purolator Express® International 10:30AM | Purolator Express® International 12PM | Purolator Express® International |
| --- | --- | --- | --- | --- |
| Delivery | By 9AM the next business day to certain destinations outside Canada | By 10:30AM the second business day to certain destinations outside Canada | By 12PM the next business day to international destinations | By the end of the next business day to most international destinations |
All Purolator Express packages are eligible for end-to-end tracking, which means that you can access the package status in real time. If you are a business using Purolator Express, you can use the Purolator Client Portal to access tracking and trigger automated emails to keep your customers in the loop of their Purolator Express package statuses. Certainly, if you are running a Shopify/WooCommerce store, the ParcelPanel app is the easiest way for you to centralize Purolator Express tracking.
Purolator Ground Tracking
Purolator Ground allows you to access over 16 million residential and business addresses in Canada. Domestically, packages sent with Purolator Ground can be delivered by morning to major cities in Canada within 2 or more business days; internationally, it takes 3 ~ 5 days for Purolator Ground packages sent from the US to arrive at designated Canadian addresses. Purolator Ground's pick-up and delivery services are available on Saturdays.
Purolator Ground packages can be tracked at every stage of the shipping progress, ensuring full visibility and peace of mind. If you use Purolator International's ground service, your deliveries will be proactively monitored by a client relationship representative at Purolator. Since ParcelPanel seamlessly integrates with Purolator tracking API, ParcelPanel is also an efficient way to track Purolator Ground shipments.
Purolator International Tracking
Purolator has a dedicated international service portal for Purolator International shipments. Purolator International offers mostly shipping services to and from Canada and the US. It serves an assortment of industries, such as Automotive and Transportation, Aviation, eCommerce, Fashion and Apparel, Life Sciences, and Technology. Whether you are shipping parcels, small packages, or freight and have special requirements for the delivery speed, you can count on Purolator's services.

Service



PuroPost



Purolator Courier (Express/Ground)



Expedited Forwarding



LTL/FL


Shipment limit
Under 66 lbs
Under 150 lbs
Under 150 lbs (No limit if you choose EXF Elite)
Valued at $3,300 or less
Destination
Canadian residences
Canada/US
Canada/US
(From US to) Canada
Full tracking capabilities
Yes
Yes
Yes
Yes
Transit time
2 ~ 7 days (Opt for PuroPost Plus for guaranteed 2 – 5 days delivery)
Purolator Express: 1 ~ 3 days
Purolator Ground: 3 ~ 5 days
EXF 1: 1 day
EXF 2: 2 days
EXF 3: 3 days
EXF Elite: Day-definite
Fewer than 5 days
Returns management
Yes
Yes (Can be customized)
N/A
N/A
You can access the real-time parcel/package status on the homepage of the Purolator International website. Additionally, since all Purolator Purolator international shipments come with PuroTouch, which represents the highest level of Purolator's customer service, you can leverage it for real-time skid-level tracking.
How to Track a Purolator Package?
You may follow the your shipment's progress using Purolator tracking in real-time from pick-up to delivery. To track your package online, you will need your Purolator tracking number, which is referred to as a PIN. Purolator provides a wide range of tools that can update you on the your package's delivery progress. You may also use third-party package tracking websites like ParcelPanel. Let's find out how to track Purolator packages in detail:
By using the Purolator tracking page
To track packages delivered within Canada, go to the Purolator official website. On the homepage, locate the "Track a shipment" field or access the Purolator shipment tracker by clicking the button on the top navigation menu. (Purolator International website provides similar tracking services, and the "Track Shipment" tool is placed at a prominent position.)

Then, enter a Purolator tracking number (PIN) or reference, for example, VDM003751037. Click "Track Now," and you'll be able to view your package's current status, the (estimated) delivery date, shipment date, related shipping service, package weight, origin, destination, references, transit history, etc.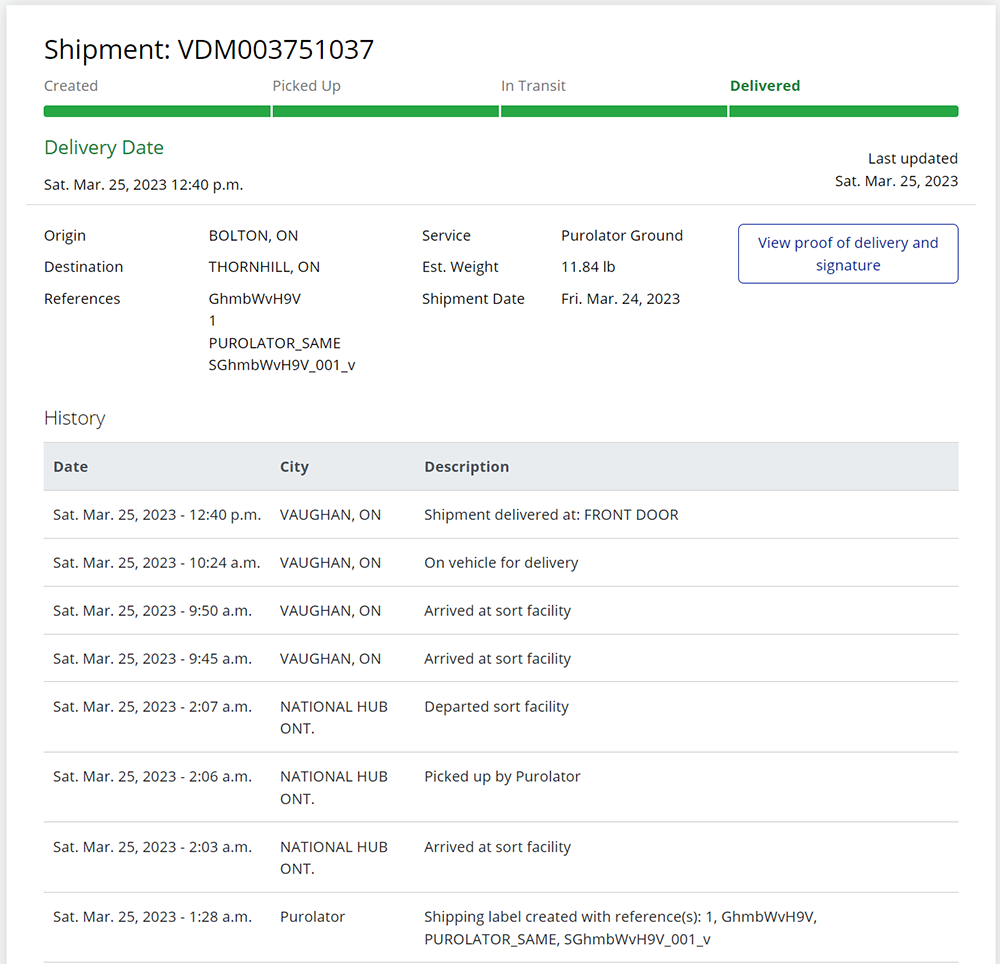 However, if you click "Track a LTL freight shipment," you'll be taken to the tracking tool on the Purolator Freight website. Then, you are required to enter a BOL number for tracking a Purolator LTL freight shipment. The tool makes tracking Purolator freight shipments in bulk easy, as the tracking details can be downloaded with one click.

By using the Purolator Mobile app
The Purolator Mobile app is another best option to track your package. With it, you can monitor the statuses of your Purolator shipments, get the estimated delivery time, and receive shipment status updates in real time. In this way, you can stay informed of the latest shipment status on the go. Just register an account to start using the Purolator app.
By subscribing to Purolator Your Way
Purolator Your Way is a service that allows you to receive SMS notifications about the status of your package from pick-up to delivery, personalize your delivery experience by indicating your preferences, obtaining proof of delivery, and so on. What's the best thing - you don't have to download the Purolator app to be eligible for this service.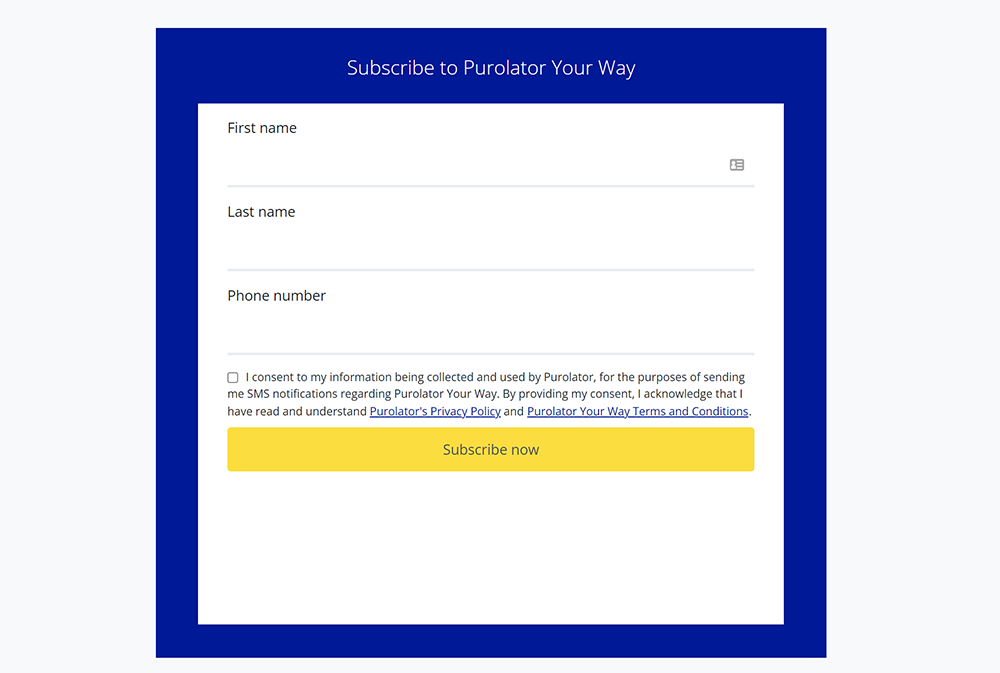 Just provide your first name, last name, and phone number as required, and you'll be notified of your Purolator packages whenever there is an update.
By using ParcelPanel
ParcelPanel has integrated with over 1,090 carriers worldwide to facilitate e-commerce order tracking. You may utilize the ParcelPanel official website to track packages in bulk. For example, to track a Purolator package, choose "Purolator" among all supported carriers, and you'll be taken to the dedicated Purolator tracking page.

Then, enter your Purolator tracking number, and you can see the tracking details in a second. You can find the tracking information is consistent with what you can get by using Purolator's official tracking tool.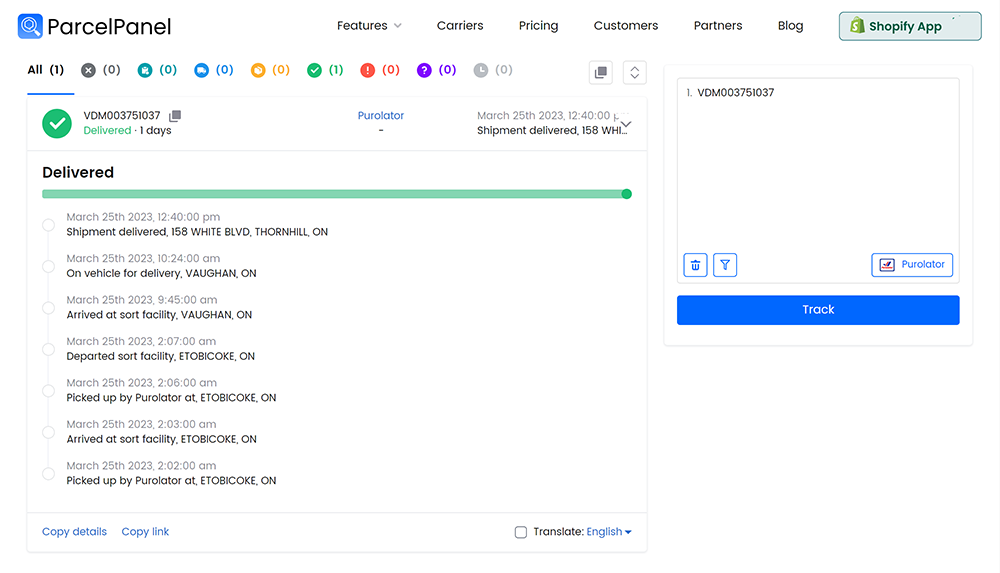 Moreover, the ParcelPanel Order Tracking app is the best way for Shopify/WooCommerce businesses to track packages, proactively update customers on the real-time shipment status, and effectively increase revenue with curated product recommendations.

ParcelPanel is trusted by over 40,000 merchants, and it is rated 5.0 out of 5.0 stars based on over 1,400 reviews in the Shopify App Store. It's an economical order tracking app for SMBs that want to optimize the post-purchase experience and build trust. Meanwhile, ParcelPanel is also a marvelous post-purchase solution for established businesses to effectively upsell and boost the customer's lifetime cycle.
Purolator Tracking Number
The Purolator tracking number, also called a PIN, is a unique identifier assigned to each package that Purolator is shipping; as for Purolator freight shipments, the BOL (bill of lading) number functions as the tracking number.
The Purolator tracking number is used to track the package's status, from order to delivery and every stage in between. It can be seen on the shipping label on your package being shipped by Purolator. Alternatively, you can also find the Purolator tracking number in the email notifications from a retailer.
It would be best if you've got an idea of what the Purolator tracking number format looks like. On the whole, a Purolator tracking number is usually composed of 12 digits, or 3 letters followed by 9 digits.
Purolator tracking number example:
608301544805
608301544797
VDM003751037
Purolator Tracking FAQ
Why is Purolator tracking not updating?
There are a few reasons why your Purolator tracking is not updating:
It is likely that your Purolator package is still in transit and has not yet reached the distribution center of the destination.

You entered the Purolator tracking number incorrectly.

Purolator is experiencing a breakdown of the tracking system, and you need to come back later.

If this problem persists for several days, contact Purolator customer service to find out whether there exists a delay in the delivery of your package and get further assistance.
Why is information not available for my Purolator package?
When information is not available for your Purolator package, one possible reason is that your package has not yet been scanned and handled by Purolator. In other words, the information about your package has not yet entered the tracking system.
If you haven't seen any information about your package for a few days, contact Purolator customer service to resolve the problem.
I missed my Purolator package delivery. What can I do?
To get help with this, call the person who delivered your package to see if they left the parcel with one of your neighbors, in the local pick-up location, or in a safe spot near your doorstep. Don't worry too much because Purolator will make another delivery attempt. You can reschedule your delivery or pick up your package from a Purolator drop-off location in your proximity.
Purolator Tracking Customer Service
You can contact Purolator customer service in many ways. Customer service representatives are always geared to give the best solutions for any client. You can reach out to the Purolator customer service team by using the following methods:
Service Hotline
The Purolator customer service number is 1-888-SHIP-123 (1-888-744-7123). Purolator customer service representatives are available from 7 am to 9 pm ET Monday ~ Friday and from 8 am to 8 pm ET on weekends. As for freight shipments, call 1-888-302-8819 between 7 am and 8 pm ET Monday ~ Friday.
Live Chat
Visit the Purolator official website, find the chat button at the bottom right corner to use the Virtual Assistant for general inquiries and requests, such as "Where is my package," submitting a package pick-up request, and changing your delivery address. This service is available 24/7.
Email
To send an email, enter the "Contact Us" page and find "For email support click here." You will be asked to enter your personal information and then briefly describe your inquiry. Representative customer services will then contact you by email within 72 hours.
Social Media
The Purolator offers customer support through the Facebook Business page and Twitter account. You can tweet Purolator @PurolatorHelp to get assistance around the clock.
Purolator Delivery Hours
The delivery hour is usually from 8 am to 9 pm ET Monday ~ Friday, and extra charges apply to Saturday delivery services. To be entitled to the Purolator Saturday delivery service, you must choose a Purolator Ground service.
Purolator has earned its reputation for delivering quality services worldwide. Its commitment is portrayed in its ability to provide excellent and time-definite secured deliveries for individuals and businesses. Use Purolator tracking services wisely to build trust, foster customer loyalty, and drive incremental growth!