About EMS
EMS (short for Express Mail Service) is an international courier service created by the Universal Postal Union (UPU) to ensure fast and reliable delivery of mail and packages around the world. Since 1999, EMS has been under the governance of the EMS Cooperative. EMS boasts the world's most extensive delivery network of over 170 member states and serves to promote worldwide cooperation.
At present, EMS's member postal organizations process a staggering number of 8 million packages per week. Notably, China Post EMS, USPS EMS, India Post EMS, Japan Post EMS, Korea Post EMS, and France EMS are among the most popular EMS services that handle a substantial volume of mail and parcels.
Although EMS confronts ferocious competition of commercial express services, such as DHL, FedEx, and UPS, it remains the fastest cross-border postal service at affordable pricing while promoting cooperation between state-owned postal organizations worldwide.
Now that you know EMS meaning and what EMS is, let us move on to EMS tracking.
EMS Tracking
Simply, EMS provides full shipment visibility, and comprehensive EMS post tracking services are available from acceptance to final delivery.
EMS International Tracking
EMS international services are available among all EMS Cooperative member countries. EMS International Tracking can be conveniently accessed on the homepage of the official EMS website, ensuring easy access for customers seeking to track their international shipments.
The tracking service is designed to provide a seamless and user-friendly experience, allowing customers to stay informed about the latest shipment status and location. To cater to a diverse global user base, EMS International Tracking supports four languages: English, Spanish, French, and Portuguese.
Tracking number format: The international EMS tracking number typically consists of 13 alphanumeric characters. It starts with two letters (of which the initial letter is "E") followed by nine digits and ends with two letters representing the abbreviation of the origin country.
If you want to grow your business internationally, you'd better familiarize yourself with the key EMS operators, as well as their corresponding EMS shipping and tracking services. Here, we will explain EMS tracking by shipping service of the key members.
China Post plays a prominent role in the EMS network, offering shipping services within and from China. China Post EMS international service is an express service for delivering documents and merchandise under 30kg globally, except for Syria and Iraq. It covers value-added services, including insurance, packaging, and customs clearance.
Weight limit: 30kg
Maximum length: 1.5m
Maximum Girth (L+W+H): 3m
China Post EMS includes pickups within 1 hour and end-to-end shipment tracking as standard. By using China Post EMS tracking, an EMS tracking number or a phone number is required, or ParcelPanel, you can get real-time shipment status and current locations.
Tracking number format: As for international deliveries, China Post EMS tracking numbers typically consist of 13 alphanumeric characters that start with two letters (of which "E" is the first letter) followed by 9 digits, and end with "CN," the country code of China. Domestically, the China Post EMS tracking number merely composes of 13 digits.
KR EMS is the EMS service offered by Korea Post. In particular, Korea Post offers two types of EMS services, EMS and EMS Premium.
By choosing KR EMS, you can send letters, documents, and merchandise up to 30kg to most countries within 1 ~ 6 days. Since the global computerized mail tracking network connects 59 EMS Cooperative member countries, Korea Post EMS destined to these countries can be tracked in real time.
In comparison, EMS Premium is an upgrade EMS service provided by Korea Post and UPS. Customers can go to any post office in Korea and ship documents and packages up to 70kg to 208 countries worldwide; moreover, a payment-on-delivery feature is available for delivering items to 145 countries.
Customers can get the latest shipment status and monitor the delivery progress with KR EMS Tracking. Notably, the Korea Post EMS and Premium EMS Track & Trace services are separate.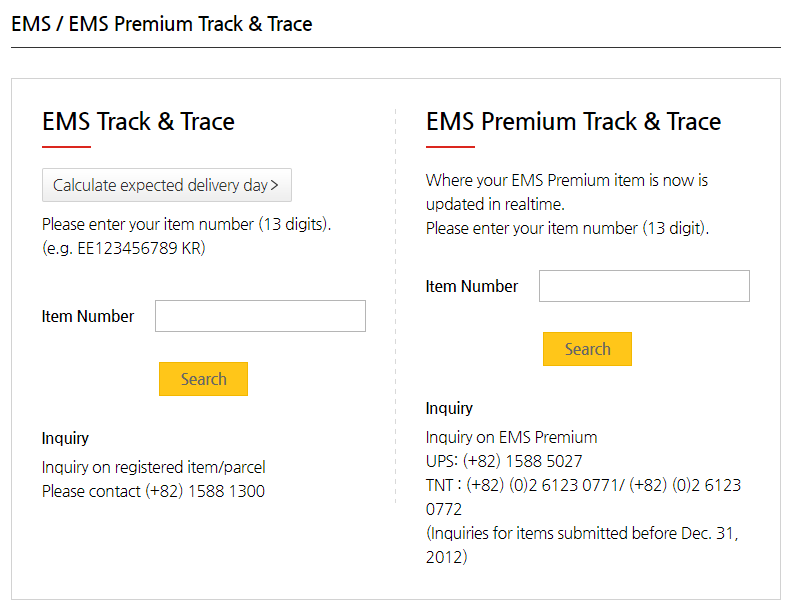 Tracking number format: Similar to that of China Post EMS, a Korea EMS tracking number is usually composed of 13 alphanumeric characters, except for the fact that the KR EMS tracking number ends with the country code of the Public of Korea, "KR." For example, EE123456789 KR.
The EMS service provided by the United States Postal Service (USPS) is known as Priority Express Mail International, whose hallmark is fast speed, reliability, and affordability. USPS EMS can ship packages up to 70 lbs or envelopes up to 4 lbs to nearly 180 countries in the world, such as the United Kingdom, Canada, Australia, Mexico, etc. It only takes 3 ~ 5 business days to deliver to major countries.
In addition, USPS EMS also provides free pickup and a money-back guarantee to certain destinations. What's more, the USPS Tracking service on the USPS official website is available for monitoring the shipment progress in real time, whereas ParcelPanel is a better choice for ecommerce as our app can automate EMS USPS tracking.
Tracking number format: The USPS EMS tracking numbers consist of 13 alphanumeric characters. The tracking number typically starts with "E" followed by a letter and nine digits, and it has the country code "US" at the end to indicate the origin.
Japan Post promotes EMS by featuring it as its fastest shipping service. Different from other postal services in neighboring countries, it also offers Cool EMS for keeping items fresh between 0 and 10 degrees Celsius or conserving frozen items below minus 15 degrees Celsius.
EMS Tracking (EMS 追跡) offered by Japan Post is only available in Japanese. Nevertheless, you can translate all tracking information to the default language of your browser. Although the translation is not perfect, at least you can understand the delivery status without difficulty.
| Before Translation | After Translation |
| --- | --- |
| | |
Tracking number format: The Japan Post EMS tracking number format follows the same pattern, starting with "E" and another letter, with 9 digits in between, and ending with "JP."
How to Track an EMS Package
An EMS package can be tracked through various methods, including the official EMS shipping tracking services and specialized tracking platforms like ParcelPanel.
By using Official EMS Tracking Services
The EMS tracking services are available on all EMS official websites. For EMS global tracking, you can go to the www.EMS.post website for tracking EMS international deliveries or the postal service website of the origin country.
If you use the international EMS website, you can enter your EMS tracking number in the search box and click the "Track" button. Here, we use EA686973872CN.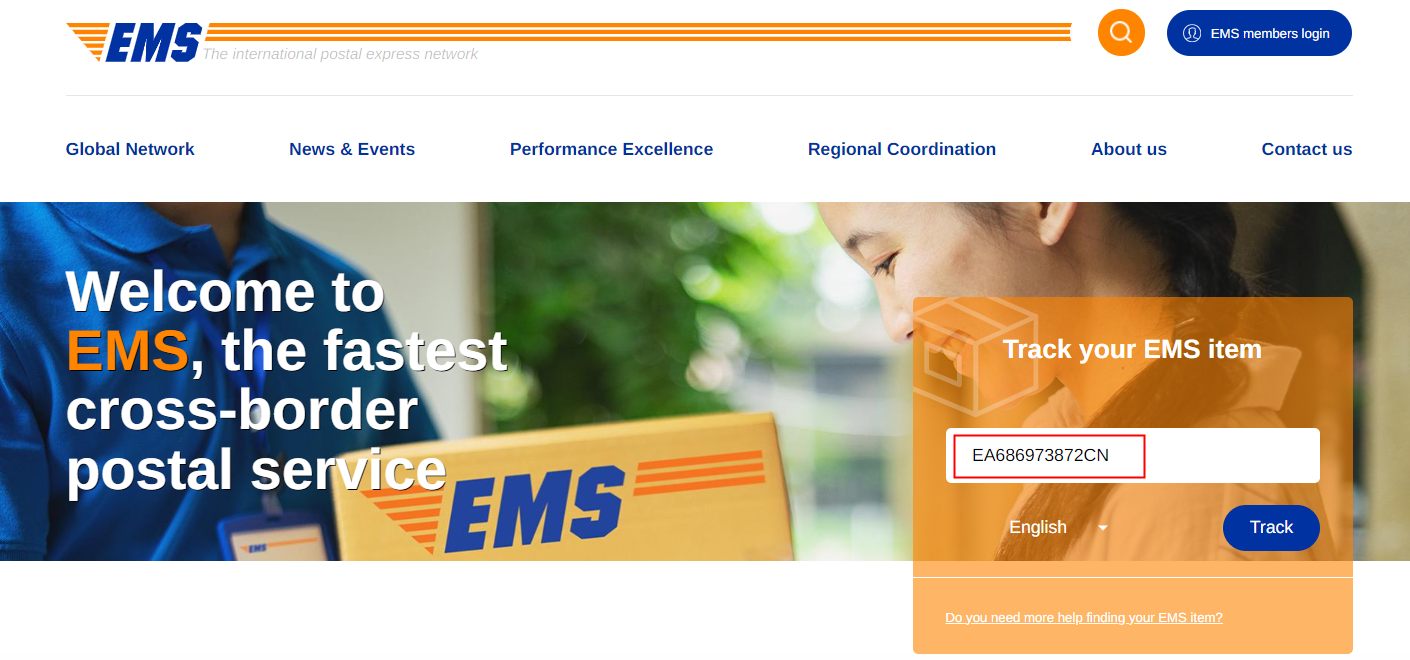 Then, the page will be redirected, and you can find the"Status of Item" and "Location" information arranged in chronological order. As for the EMS package location, you probably can't tell from the codes - a series of numbers or letters.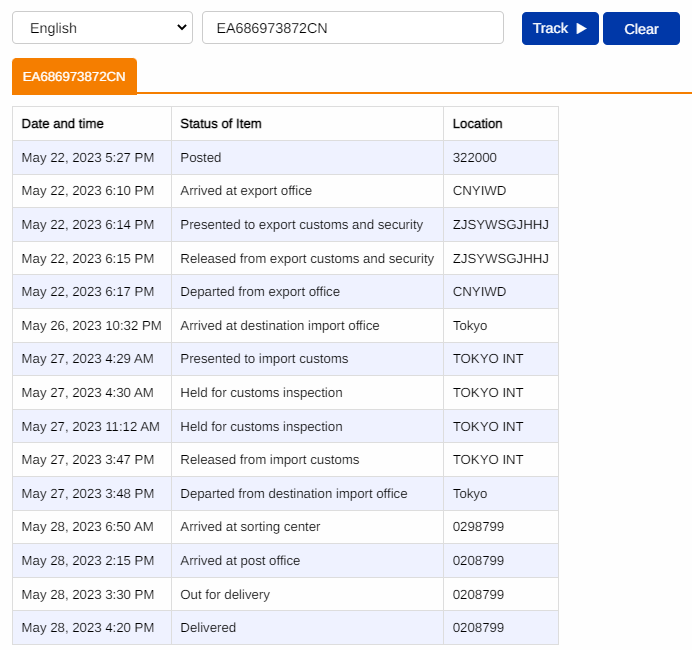 Evidently, the website doesn't offer the best EMS International tracking services. If you would like to obtain more details, consider using the EMS tracking services provided by the corresponding postal organization to track EMS international deliveries. In this case, you should use China EMS tracking, and the image below shows what tracking information you can get.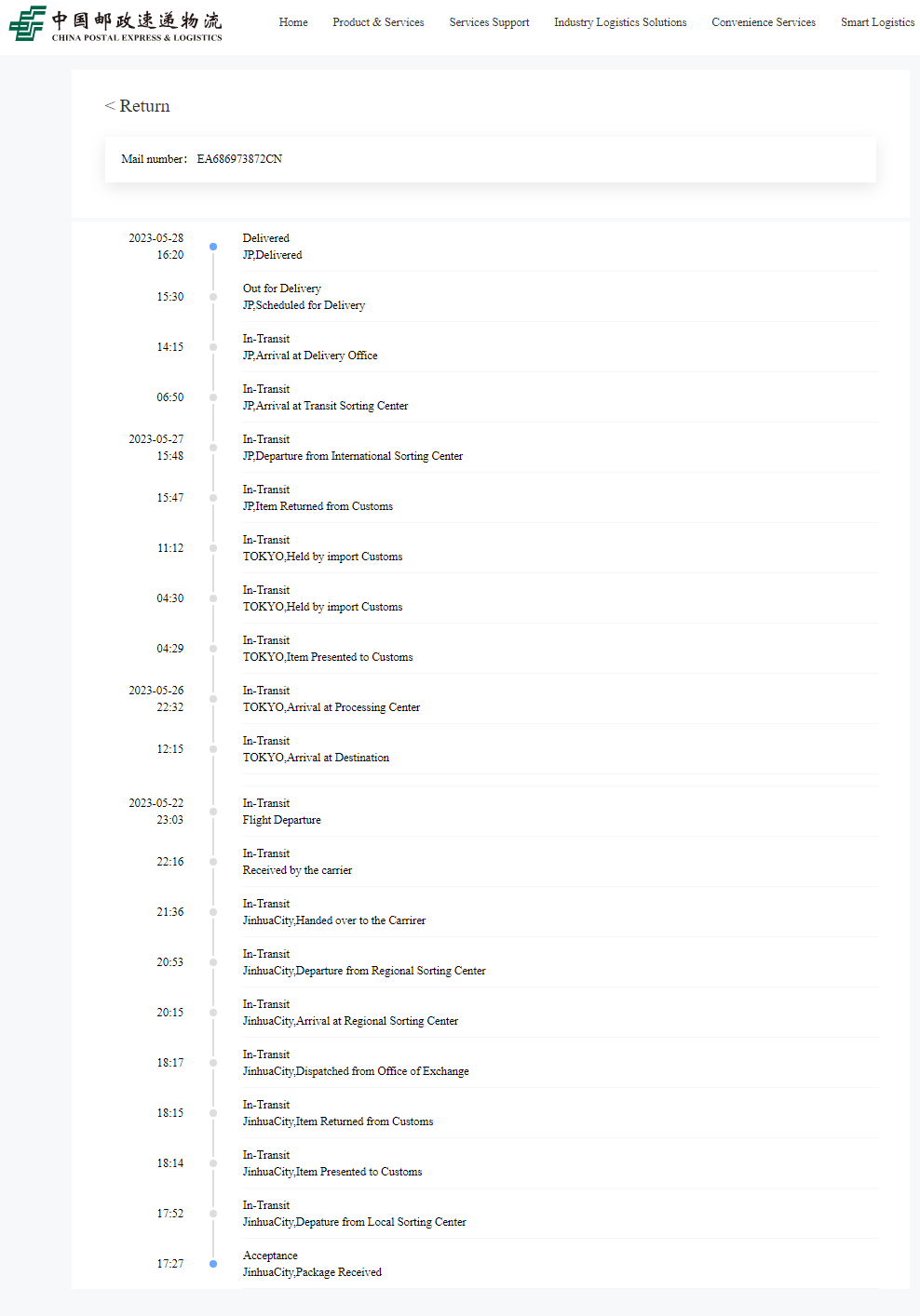 By using ParcelPanel
ParcelPanel is among the best EMS tracking service for e-commerce businesses. If you use ParcelPanel, you can get the same EMS parcel tracking information as by using a postal service website because it seamlessly integrates with EMS tracking APIs of various postal services, including China Post, USPS, Japan Post, Korea Post, La Poste, and so on.
Visit the ParcelPanel website, go to the "Couriers" page, and choose the corresponding postal service or EMS tracking service, for example, China EMS Tracking.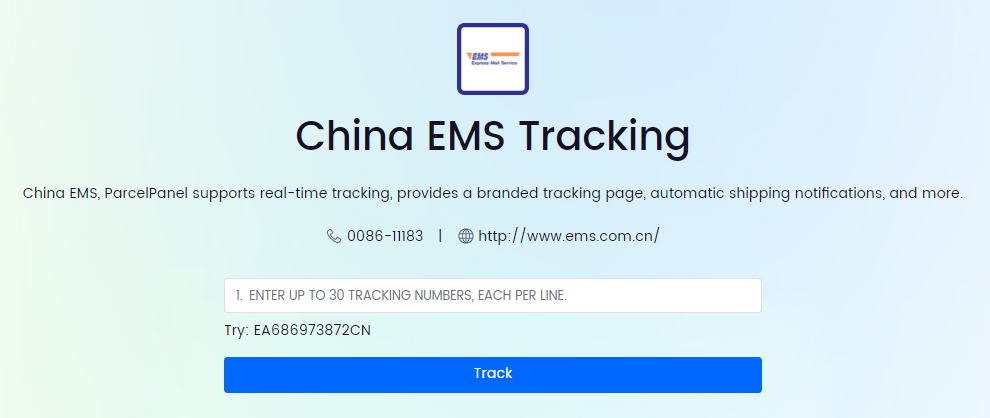 Enter the EMS tracking number in the search box, e.g. EA686973872CN.
Click on the "Track" button to initiate the tracking process.
ParcelPanel will retrieve the tracking information for your EMS package, displaying the current status, location, and available transit history.
The tracking information is consistent with that provided by the China Post's official EMS tracking tool, and it contains substantial details. More importantly, it can be exported easily, translated into a variety of languages, and shared with the recipient.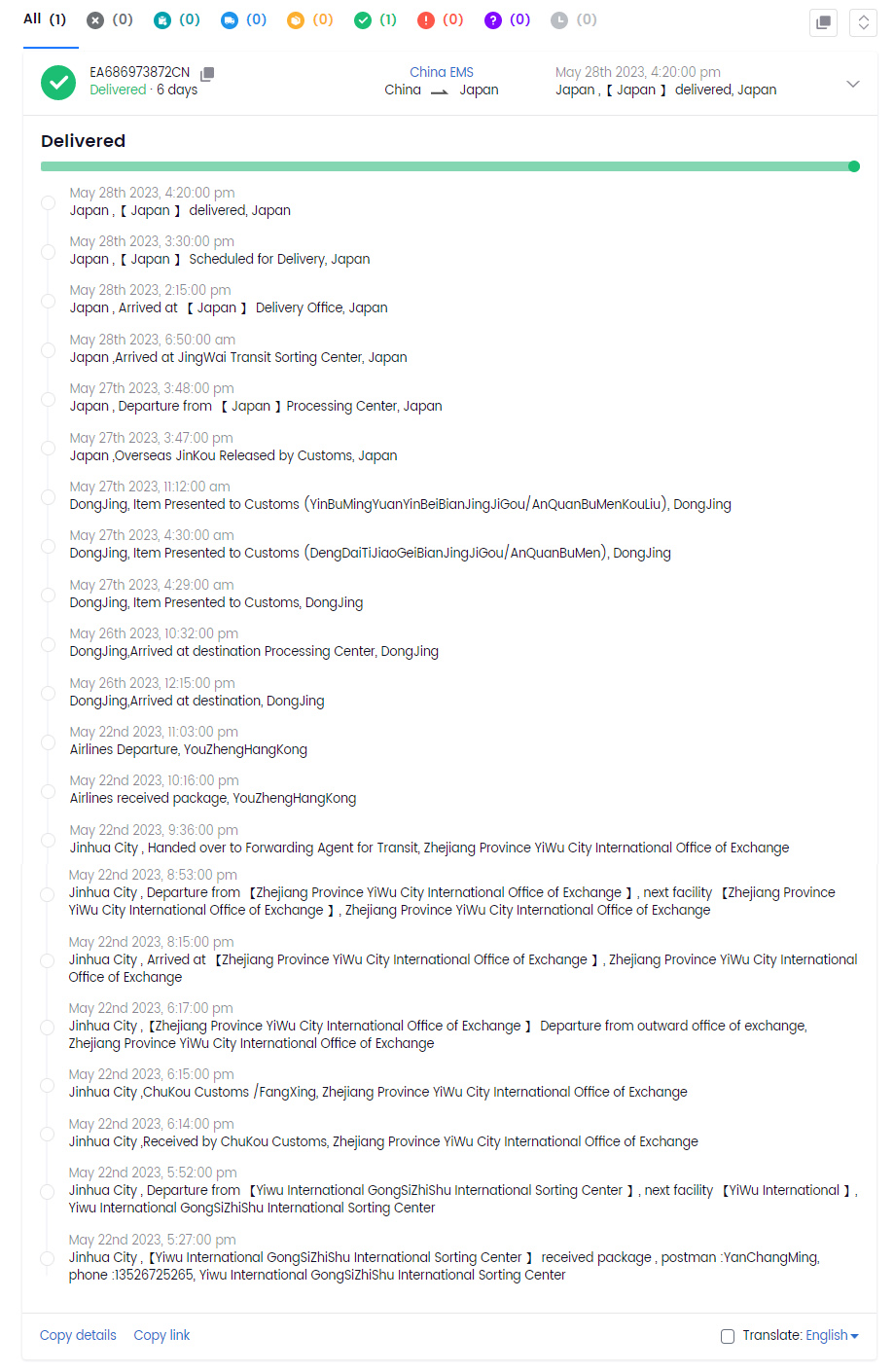 Above all, you should install ParcelPanel Order Tracking, which is the top-rated order tracking app on the Shopify App Store.

Once installed, the app will automatically create a branded tracking page that fits your brand's color scheme and fonts. Moreover, you can further customize the look and feel of the order tracking page by setting up the "Estimated Delivery Time" and "Product Recommendations" sections, as well as choosing package tracking information that you want to share. Then, put the order tracking page in your website navigation menu so that your customers will have easy access. In this way, the number of WISMO-related support tickets and calls can be effectively reduced.
If you want to proactively update your customers on the latest shipment status, just enable "Shipping Notifications" after editing the email templates. In this way, emails will be automatically sent as the order status changes.
ParcelPanel's integration with a variety of EMS tracking APIs enables businesses to centralize and automate their EMS package tracking. ParcelPanel lets you access all tracking information from a single dashboard. It keeps updating the tracking information and categorize your orders accordingly. The dashboard not only provides you with shipment/order lookup reports, shipping notification reports, and upsell performance reports at any given time but also reminds you to take measures against abnormal orders. This saves you a lot of time and significantly improves your productivity.
EMS Tracking Number
An EMS tracking number is the unique identifier of an EMS package or envelope assigned by the local postal organization when shipping. It can be found on the EMS shipping label or the email notification you receive.
International EMS Tracking Number Format
The international EMS tracking number format is quite distinctive. To summarize, an international EMS tracking number is made up of 13 alphanumeric characters. In particular, the initial letter is "E," with another letter and 9 digits coming after, and ending with the Alpha-2 country code that indicates the origin. Therefore, finding where the EMS packages are shipping from is easy.
EMS Tracking Number Example
China Post EMS tracking number: EA686973872CN
USPS EMS tracking number: EB171398291US
India Post EMS Speed Post tracking number: EG078029789IN
Japan Post EMS tracking number: EN260309948JP
Korea Post EMS tracking number: EB056695431KR
France EMS tracking number: EW123922235FR
EMS Tracking FAQ
How long does EMS shipping take?
EMS shipping time depends on various factors, such as the origin and destination countries, customs clearance processes, and the selected service level. For example, Korea Post offers Premium EMS service, which is a superior EMS service, by cooperating with UPS. Generally, EMS delivery takes 1 ~ 3 business days across a country; international EMS deliveries take over 3 business days.
However, specific EMS shipping times may vary, and it is recommended to check with the estimated delivery time provided by the local postal service.
Why is EMS tracking not updating?
There can be several reasons why EMS shipping updates are not available:
Your EMS package has not entered the EMS network;
The package is held at customs, awaiting processing;
A scan is missing, or the upload is delayed when the package is in transit;
A technical hiccup in the postal service system occurred and caused delays in updates.
What Does EMS "Delivery Attempted" Mean?
The "delivery attempted" status of EMS means that the local postal service tried to deliver your EMS package/envelope but ended up with a failure. At this time, your EMS shipment will be returned to the local post office, and in most cases, another delivery attempt will be made next day.
EMS Tracking Customer Service
To get support for EMS package tracking and know the exact delivery time, you can reach out to local EMS service through the following methods:
Contact the EMS customer service number on their working days and during working hours.
Send an email to the EMS customer support email address provided on the official website.
Visit the official EMS website and access their online support or contact page for additional options, such as live chat or support tickets.
The working hours, business days, and contact methods may differ across countries, so it is recommended to check the local EMS website for accurate and up-to-date information.
Here is the contact information of some major EMS service providers:
1. China Post EMS:
- Website: www.ems.com.cn
- Customer Service Hotline: 11183 (within China)
2. USPS EMS (United States Postal Service Express Mail International):
- Website: www.usps.com
- Customer Service Hotline: 1-800-ASK-USPS (1-800-275-8777)
3. Royal Mail EMS (United Kingdom):
- Website: www.royalmail.com
- Customer Service Hotline: +44 (0)3457 740 740
4. Deutsche Post EMS (Germany):
- Website: www.deutschepost.de
- Customer Service Hotline: +49 (0) 228 4333112
5. La Poste EMS (France):
- Website: www.laposte.fr
- Customer Service Hotline: 3631 (within France)
6. Japan Post EMS:
- Website: www.post.japanpost.jp
- Customer Service Hotline: 0570-046-111 (within Japan)