About ePacket
ePacket, also known as EUB (Eyoubao, E邮宝 in Chinese), is a global shipping service offered by China Post. The service is specifically designed for eCommerce, allowing packages to be shipped from online markets in China, Hong Kong, and Macau to international customers. ePacket shipping is one of the best options for lightweight packages; hence, it's mostly used by major e-commerce platforms, including Amazon, AliExpress, DHgate, eBay, and so on.
China Post collaborates with other postal services around the world, including USPS, Royal Mail, Canada Post, and others, to ensure smooth and hassle-free ePacket delivery. Currently, it is a quick and affordable shipping solution that allows shipping to 46 countries, including the USA, UK, Australia, Canada, France, Germany, Japan, Malaysia, Indonesia, South Korea, Switzerland, Ukraine, and so on.
Although China Post EMS (Express Mail Service) is another service that allows international shipping, Chinese eCommerce merchants prefer ePacket over EMS for small shipments. EMS is a faster shipping service that delivers within 15 days but is far too expensive for small shipments. However, despite having a 2-month delivery window, ePacket is a cost-effective choice for shipping small packages in large quantities.
ePacket Tracking
ePacket is a reliable global shipping service of China Post. The packages shipped via ePacket are assigned unique identifiers, also known as tracking numbers. These tracking numbers are 13 digits long and made up of letters and numbers. Customers can use these tracking numbers to track the location of their packages at any time from anywhere by using the China Post tracking tool or other third-party tracking services.
China ePacket Tracking
China Post ePacket service is a low-cost shipping option preferred by merchants in China and Hong Kong for shipping lightweight eCommerce packages. The service offers fast international shipping within 2 months with an end-to-end tracking feature. ePacket tracking allows customers to track the shipment from dispatching to the final delivery without additional cost.
⦿ Package size limit:
● Minimum size:
-Length: 14cm
-Width: 11cm
**Roll form: (length+2*diameter)≥ 17cm, length ≥ 11cm
● Maximum size:
-Length, width & depth combined:90cm
-Dimension: 60cm
**Roll form: (length+2*diameter) ≤104cm, length ≤90cm
⦿ Package weight limit:
Standard: 2 kg

Russia: 3 kg

UK & Israel: 5 kg
⦿ Delivery time:
USA: 7-15 working days

Mexico: Up to 20 working days

Russia, Saudi Arabia, and Ukraine: 7-20 working days

Other countries: 7-30 working days
⦿ Delivery range:
USA: Contiguous US and all US territories, including overseas military addresses

UK: Mainland and islands

France: Only mainland, excluding French overseas territories

Other countries and regions: Only mainland
⦿ Compensation:
The ePacket shipping service does not include compensation if the shipment gets delayed, lost, or damaged.
ePacket Tracking DHgate
DHgate is a B2B cross-border online marketplace based in China. It is headquartered in Beijing and has several offices around the world including Latin America, North America, Europe, and other places. Small and medium-sized enterprises (SMEs) around the world can purchase wholesale from DHgate. For shipping from China, DHgate sellers mostly prefer the ePacket service, and they choose to send ePackets via DHLink, the logistics carrier in DHgate's portfolio.
ePacket tracking APIs are interconnected with the DHgate system. This allows tracking of the ePacket through the tracking tool available on the DHgate website for those who placed orders from DHgate. To track the package, customers have to log in to the website. Then they can access the DHgate tracking tool, where simply entering the tracking number and other required information will provide customers with tracking information. As for DHgate sellers, they can track ePackets sent via DHLink by using the DHLink official website or ParcelPanel.
USPS ePacket Tracking
USPS is the government-operated postal service of the United States. ePackets delivered within the USA are handed over to USPS after customs clearance. As China Post and USPS work in partnership, the tracking API of China Post ePacket is integrated with the USPS system. As a result, customers expecting delivery in the USA can use the USPS tracking tool to track their ePacket.
Customers can visit the USPS website and click the 'Quick tool' option from the menu bar. Inside it, the tracking tool named 'Track a page' is available, which allows the entry of up to 35 tracking numbers. Customers can enter their 13-digit ePacket tracking number to check their package's whereabouts and status.
AliExpress ePacket Tracking
AliExpress is an international marketplace with numerous Chinese third-party sellers offering products at low prices. These third-party sellers prefer shipping them using ePacket, a cost-effective shipping solution from China and Hong Kong in a reasonable timeframe. Sellers provide their customers with ePacket tracking numbers from China Post after registering the packages.
The ePacket tracking APIs are integrated with the AliExpress system. As a result, customers can track their package by simply visiting their order page on AliExpress after login. Customers can also enter their ePacket tracking number in the tracking tool available on the China Post website or on a third-party tracking service website like ParcelPanel.
How to Track ePacket?
Tracking ePackets is easy since there are several options for customers to monitor these packages shipped from China. China Post has an official website, and there are numerous reputable third-party tracking service providers like ParcelPanel that make ePacket tracking convenient.
Let's learn about the ways of tracking ePackets using China Post and ParcelPanel ePacket Tracker in detail.
By using China Post ePacket Tracking
China Postal Express & Logistics is an official website provided by China Post. The website has an integrated tracking tool that can be used to track ePacket. The step-by-step guideline for using the tracking tool is given below.
Step 1: Go to the China Post EMS website. At the bottom of the homepage, there is a search box named 'Tracking and Information.' Enter your ePacket tracking number in the search box and click on the search icon on the right side of the search box.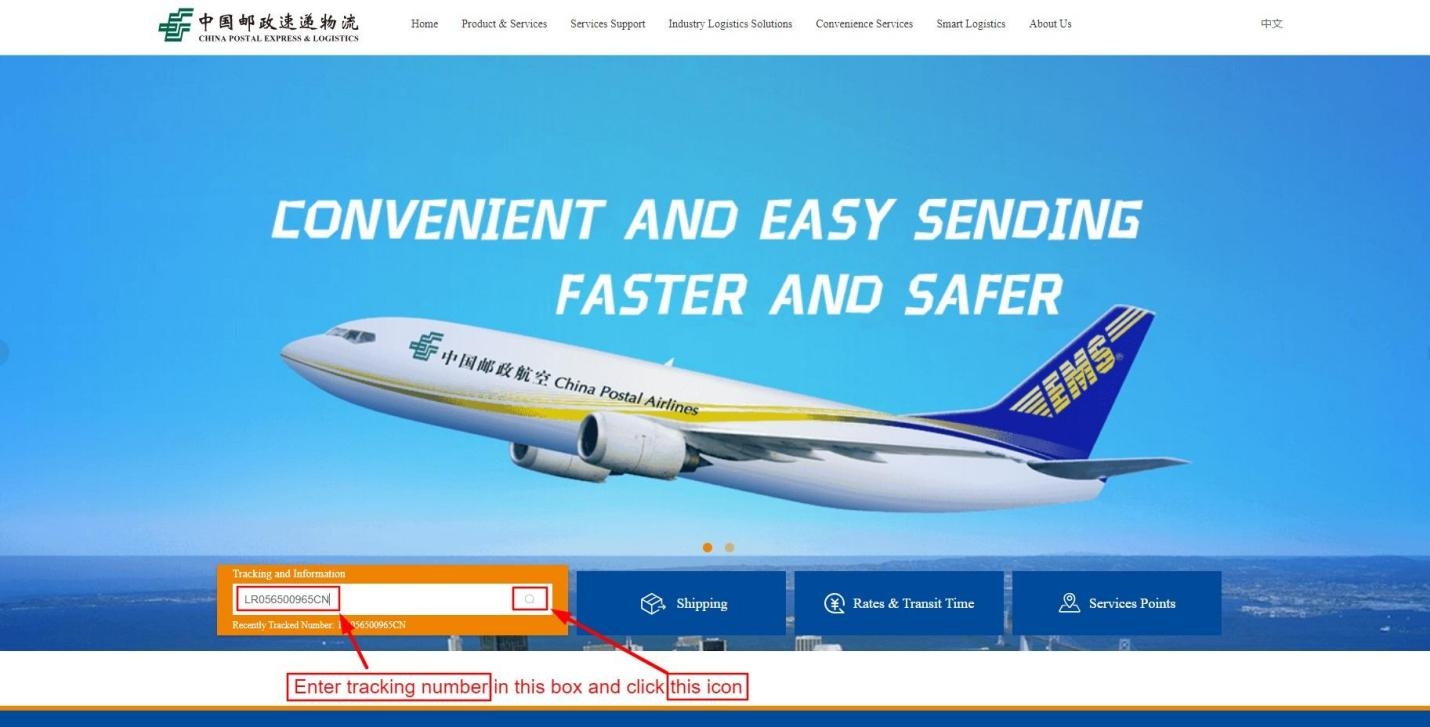 Step 2: A puzzle will show up on the screen immediately after you click the search icon. To solve the puzzle, move the slider to fit the puzzle piece.
Step 3: After the puzzle is solved, you will be redirected to a new page that contains the tracking details. The shipment journey, including timestamps, locations, and statuses, will be shown.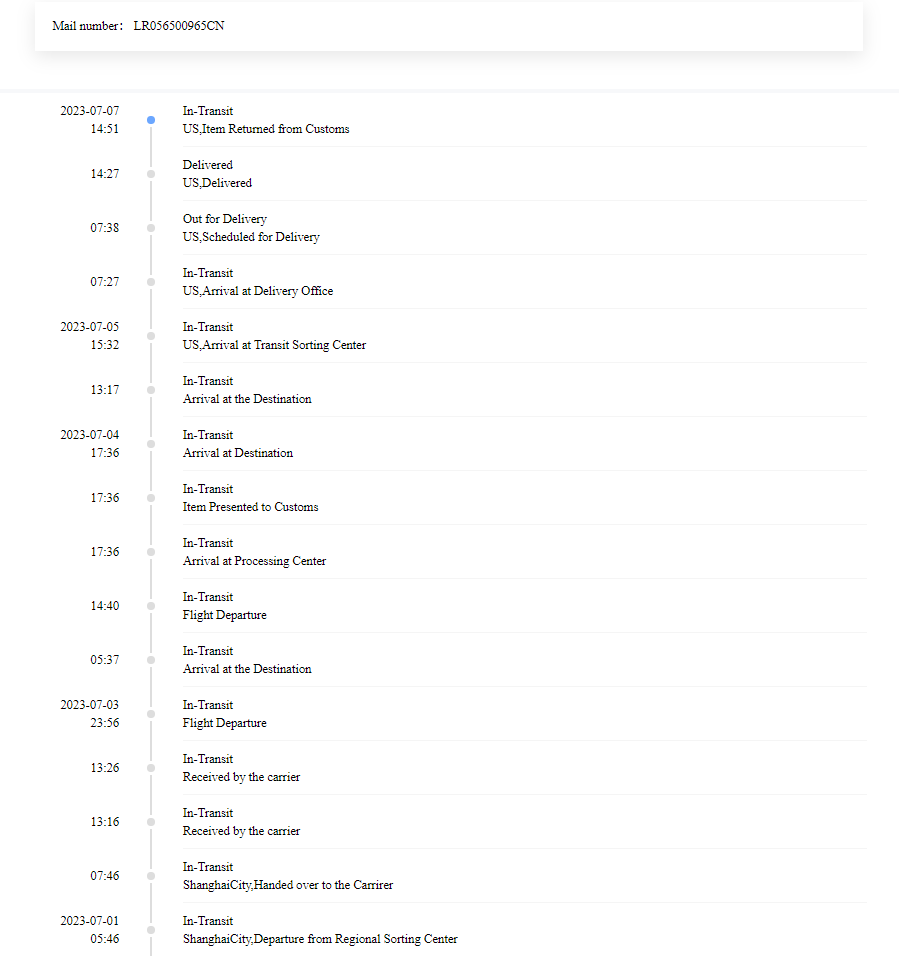 By using ParcelPanel
ParcelPanel is a leading tracking solution for eCommerce. It seamlessly integrates more than 1,100 carriers worldwide, with more carrier integrations on the way. Its extensive network of carriers includes ePacket. The seamless integration of ParcelPanel with the China Post tracking API allows customers to track the real-time progress of their ePacket delivery through a branded tracking page, automated shipping notifications, and so on.
Here's how you can track an ePacket using ParcelPanel.
Step 1: Go to the ParcelPanel official website homepage. Click on 'Carriers' from the top menu bar.
Step 2: On the Carriers page, there is a search bar under the heading 'All carriers.' Type 'ePacket' in the search bar and click on the 'ePacket' tracking option.
Step 3: In the ePacket tracking page, a search box will appear that allows the entry of up to 30 tracking numbers. Enter your ePacket tracking number and click on the 'Track' button.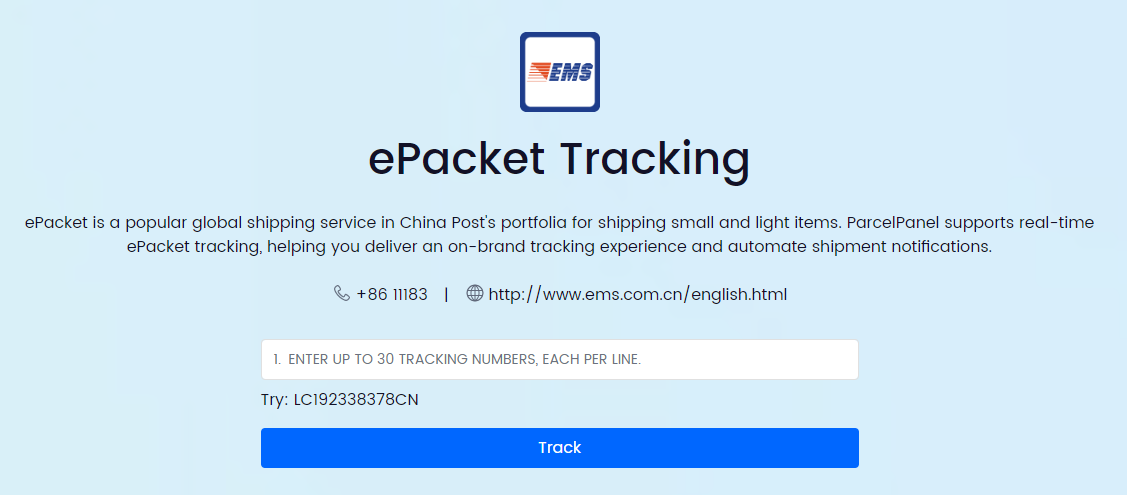 Step 4: After clicking the 'Track' button, you can see your shipment's journey from the time it was dispatched to the current stage. The detailed information includes the transit time, origin country, destination country, delivery milestones, and the latest shipment status.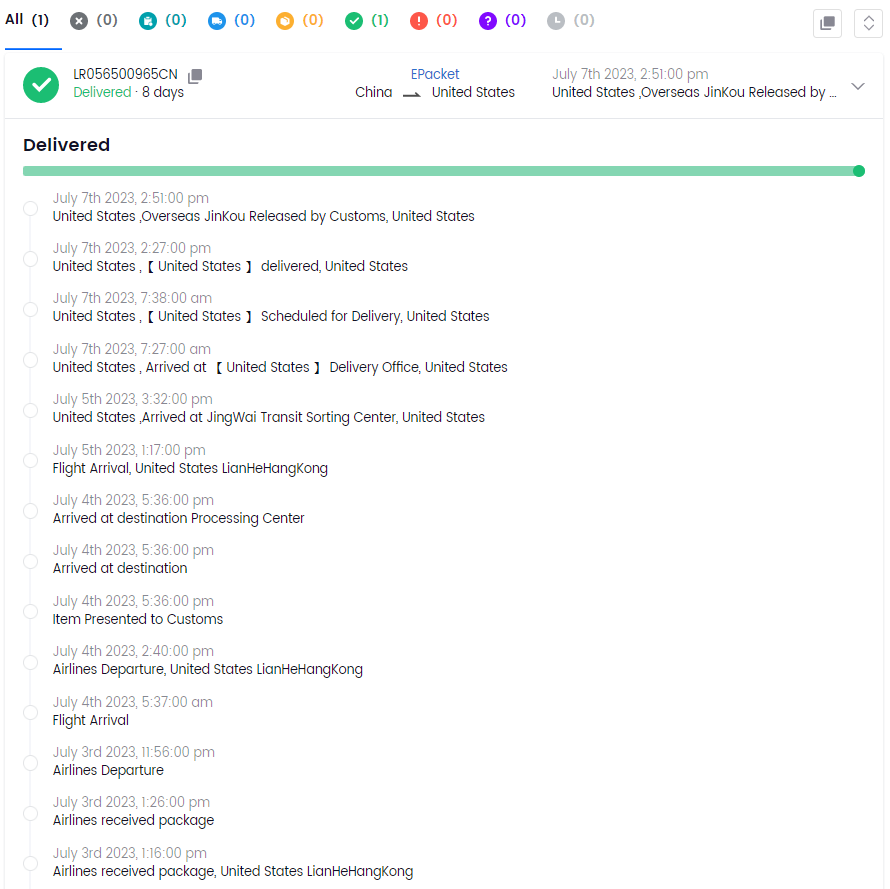 ePacket tracking is also possible through the ParcelPanel Order Tracking app. The app is designed especially for Shopify and WooCommerce merchants. The integration of this app with the stores provides merchants with a consistent tracking experience.

After the installation, it can automatically create a branded tracking page for customer self-service. In this way, your customers can use the order number or the tracking number that they've received to get the latest shipment updates instead of going to other package tracking sites. It also provides you with great opportunities to recommend products that the returning customers might be interested in and close more sales.
The app then extracts all tracking information from the store order details, such as the order number, tracking number, courier names, last checkpoint, transit time, order date, and status, and organizes it in the dashboard, which provides easy access at the backend for merchants.
Convenient access to all information from a single location allows you to efficiently monitor orders, answer customers' post-purchase questions, and guarantee customer satisfaction.
ePacket Tracking Number
The ePacket tracking number is the unique identifier that China Post assigns to packages registered and shipped via the China Post network. The number is printed on the shipping label and is also sent to the recipient via a confirmation email or text message.
ePacket tracking number format
The standard China Post ePacket tracking number consists of 13 alphanumeric characters. The ePacket tracking number begins with a pair of letters, the first of which is 'L.' 9 digits come after, and it ends with a pair of letters, 'CN.' Here, CN stands for China's Alpha-2 code.
ePacket tracking number example
Here are a few examples of ePacket tracking numbers.
LR056500965CN

LC192338378CN

LP642571795CN

LJ000061781CN

LV799390665CN

LV793299822CN

LV776497567CN
ePacket Tracking FAQ
How long does ePacket take to deliver?
ePacket shipping time is influenced by many factors, including the distance between the origin & destination, package type, customs clearance, weather, holidays, unpredictable circumstances, etc. However, the usual ePacket shipping time from dispatching to last-mile delivery in the destination country is between 7 and 45 days.
Here is the list of estimated ePacket delivery times for different destination countries.
| Destination Country | ePacket/EUB Delivery Time |
| --- | --- |
| Singapore, Thailand, Vietnam, Pakistan, UAE & Turkey | 7-20 days |
| Russia | 7-30 days |
| Australia, India, Malaysia, Indonesia, Philippines, Japan & New Zealand | 10-25 days |
| UK | 10-35 days |
| USA, Saudi Arabia | 10-40 days |
| Canada, France, Italy, | 15-40 days |
| South Africa, Brazil | 15-45 days |
Who delivers ePacket?
Since ePacket is a global shipping service of EMS, the packages pass through various transfer points or hubs. First, the package is registered at China Post by the sender. Then, the package is sent to the border after passing through the transfer hubs of the origin country (China or Hong Kong). Later, the package is sent via EMS's network to the destination country.
When the package reaches the destination country, it is subject or customs clearance. In the end, the package is handed over to the local postal service for final delivery, e.g., USPS delivers ePacket in the US.
Why is ePacket tracking not updating?
There are several possible reasons why ePacket tracking is not updating, including the following:
The ePacket is still traveling - it has not arrived at a facility and got a scan yet.

The package was not scanned due to a heavy workload or an error.

The package is stuck at customs for clearance or at other hubs because of bad weather, an accident, or unforeseen circumstances.

The package has been lost or misplaced in transit due to inaccurate or invalid addresses.
How to track ePacket from China?
You can track ePacket from China in the following ways:
The first way is to track via the official website. You can use the China Post EMS website to access your ePacket tracking information. The website has a tracking tool where you must enter your tracking number, and detailed tracking information will appear on your screen.

The alternative way is to track via third-party tracking services. There are numerous reliable third-party tracking websites likeParcelPanel.
China Post ePacket Customer Service
Contact China Post customer service if you need help with your ePacket package tracking or want to inquire about a delayed shipment or missing package. Customer service representatives will answer general queries and resolve your problems.
The following is China Post customer service contact information.
No. A3 Jinrong Street,
Xicheng District,
Beijing, China
Zip code: 100808
China Post Customer Service phone number
Call +86 10 11183 and press 8 to communicate in English. Customer service is available between 08:00 a.m. and 8:00 p.m. GMT+8 on Monday to Friday except for major Chinese holidays.
You can also email your queries to [email protected]