About Landmark Global
Landmark Global is a renowned international logistics and shipping company founded in California, USA, in 2004. Operating as a subsidiary of the BPOST Group, Landmark Global inc has its headquarters in Santa Barbara, California, United States.
The company operates a comprehensive package of services, including global shipping, customs clearance, fulfillment, and returns management. Based on these services, Landmark Global ensures end-to-end shipping solutions for businesses of all sizes, servicing over 220 countries.
Landmark Global Canada, for instance, is a key focus for the company, as it ensures a guaranteed smooth movement of goods across the US-Canada border, one of the company's most important shipping routes. This is in addition to 20 Direct Lanes and 25 Facilities strategically positioned across 4 continents.
Additionally, Landmark Global operates in the United Kingdom, providing comprehensive logistics solutions to businesses in the region. With a global presence, Landmark Global Inc. has established strong partnerships with leading organizations and platforms internationally. These collaborations enable seamless logistics operations and ensure reliability and efficiency in delivering goods.
The company operates in a competitive industry and faces competition from other international logistics providers, such as R+L Global, XPO Logistics, Logistics Plus Inc, and CMAC Transportation LLC. However, with its wide range of services and global reach, Landmark Global continues to be a trusted choice for businesses seeking reliable international logistics solutions.
Landmark Tracking
Landmark Global's expertise lies in cross-border shipping, as is evident in its skillful management of the complexities associated with international trade.
The company's advanced technology platforms make it easy for businesses to seamlessly overcome logistical challenges, whether it is about customs clearance or diverse shipping requirements. Backed by Landmark Global, businesses are assured of seamlessly navigating the global marketplace.
Landmark Global also allows its customers to monitor the real-time progress of their packages throughout the delivery process using its shipping tracking services. Customers have assured peace of mind when shipping with Landmark Global by accessing user-friendly interfaces with relevant shipping details.
Let's delve into Landmark Global tracking by shipping service that keeps the customers connected and informed:
Landmark Parcel Tracking
Landmark Global offers comprehensive shipping and handling services that include domestic and international parcel delivery as well as return services. It operates 25 locations in 11 countries in North America, Europe, and Asia, serving a total of 220 destinations. Wherever you need to ship, Landmark Global will get you there.
Besides its local pick-up and drop-off features, Landmark offers complete visibility for your domestic and international packages. Landmark Global allows customers to monitor the Landmark delivery process, providing transparency and building trust.
Transit times for intra-country delivery (Canada and US) are 2-5 days for standard delivery and 1-2 days for express delivery. Internationally, standard DDP takes 1-9 days, while standard DDU takes 5-14 days. Notable, the standard DDP and DDU services differ in shipment visibility - the former is fully trackable, while the latter is only trackable in the destination country.
Landmark Canada Tracking
Through Landmark Global's largest in-house network in Canada, all shipments are in full control of Landmark Global from pick up to delivery. For shipments across the border, packages are shipped by Landmark Global's trucks to Landmark Global's Canadian facilities closest to your customer. From there, local couriers facilitate final mile delivery and returns.
This system maintains a high level of visibility which simplifies the tracking process.
Landmark Courier Tracking
Apart from simple parcel delivery, as part of Bpost - a member country of the Universal Postal Union, Landmark Global also offers international mail delivery. The Landmark shipping service comprehends efficient and reliable delivery solutions through various service levels, including Economy, Prior, Sorted, and Unsorted, with line-haul expertise. The mail delivery service also comes with tracking and returns management.
With the company's courier tracking service, customers can confidently monitor their shipment and mail movement globally and effortlessly manage returns. You may also use ParcelPanel as an alternative way for Landmark Courier tracking and get extra benefits.
Landmark Global UK Tracking
Landmarks Global UK Limited offers land and air transportation services to meet the customers' specific needs for cost-effective solutions. The company has a new facility adjacent to Heathrow Airport, which is strategically located to empower the growth of e-commerce worldwide.
Landmark Global UK's uniqueness is its effort in the end-to-end delivery process. From the moment the package is picked up, processed, and eventually delivered, the company does not drop the ball. Its focus on client satisfaction, efficient account management, and in-house customs clearance is exemplary.
The Landmark shipping UK services also come with a dedicated online tracking form that gives customers access to real-time data on their shipment status.
How to Track Landmark Packages?
Landmark Global utilizes tracking to ensure safe and reliable delivery, as well as accountability and risk management.
By incorporating the latest technological advancements in their systems, the company maintains the highest level of package safety and visibility throughout the shipping process.
Here are two ways to track your packages with the Landmark Global tracking number:
By Using Landmark Tracking
Landmark Global provides an online tracking form that gives customers access to real-time updates and transit events about their packages. With a simple and easy-to-navigate interface, the tracking form presents a convenient and efficient way for customers to follow up on the packages.
Designed to accommodate needs of businesses and individuals with multiple shipments, the tracking form can handle up to 25 tracking numbers (or reference numbers) simultaneously.
To track your shipment:
Enter your Landmark tracking ID. To track multiple packages, enter Landmark tracking numbers separated with commas, and click on the "See Tracking Status" tab.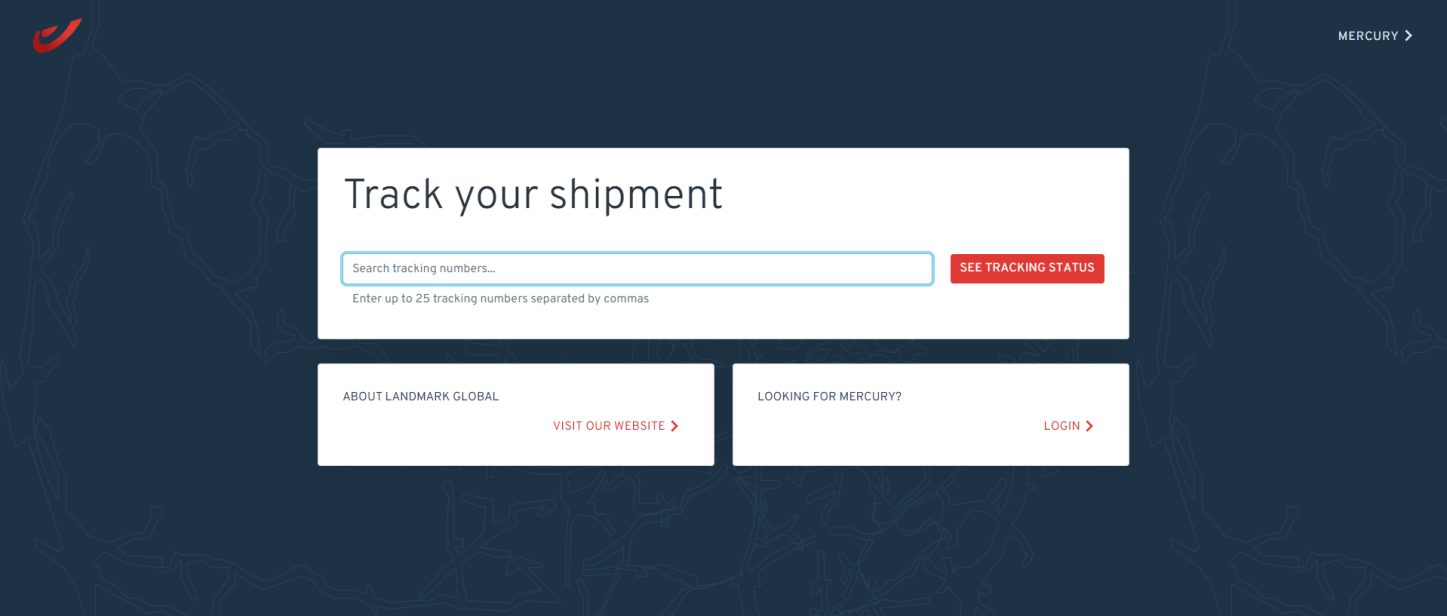 Here we use the Landmark Global tracking number, LTN252192115, to find out what tracking information we can get from Landmark Global. You may also use the package reference number LPR00111400012208251.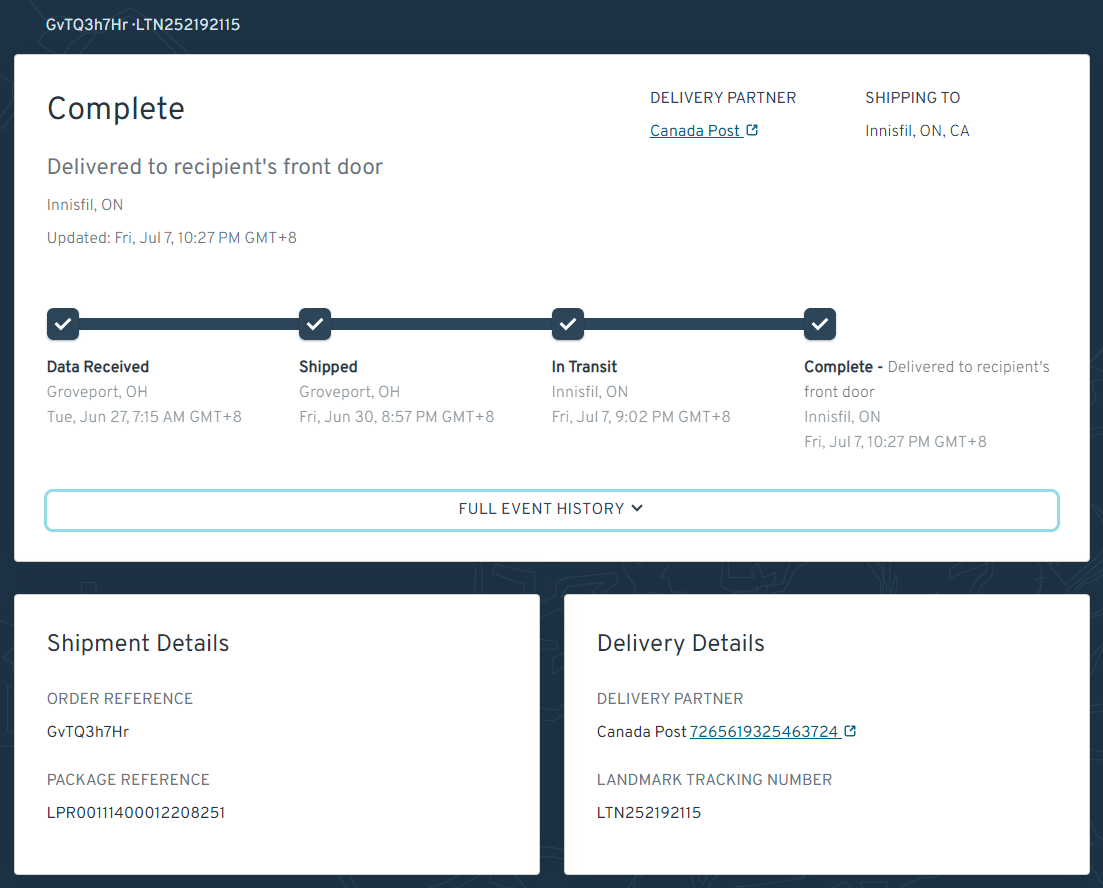 As you can see from the image above, the Landmark Global tracking information includes the delivery address, shipment milestones with locations & timestamps, full event history, order reference number, package reference number, last-mile courier, and last-mile tracking number.
ParcelPanel is a dedicated online tracking tool where customers can access updates of their packages using pre-assigned tracking numbers. By integrating over 1,100 carriers into its platform, ParcelPanel eliminates the need for customers to visit separate websites for their tracking information.
The integration also ensures that customers have a centralized hub to monitor the progress and status of their packages across different carriers. As a result, this enhances convenience and efficiency in package tracking processes.
To track your packages with ParcelPanel, you can use either:
ParcelPanel Website
Visit the ParcelPanel website and navigate to the couriers' list. Search for Landmark Global by typing "Landmark," and it will appear shortly.
Access the dedicated Landmark Global tracking page, and enter your tracking number or reference number provided by Landmark Global. ParcelPanel allows you to input up to 30 tracking numbers at a single time and retrieve information simultaneously.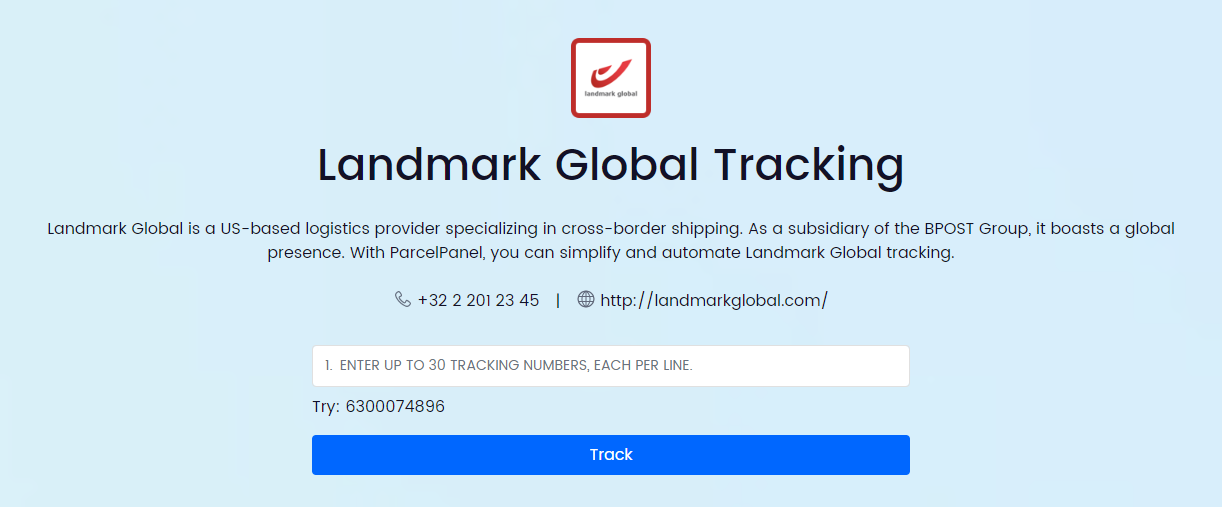 You can then view the latest Landmark Global shipment status, location, and total shipping time. The tracking information is complete – from order creation to final delivery, consistent with what's in the "Event History" using the Landmark Global official website tracking tool.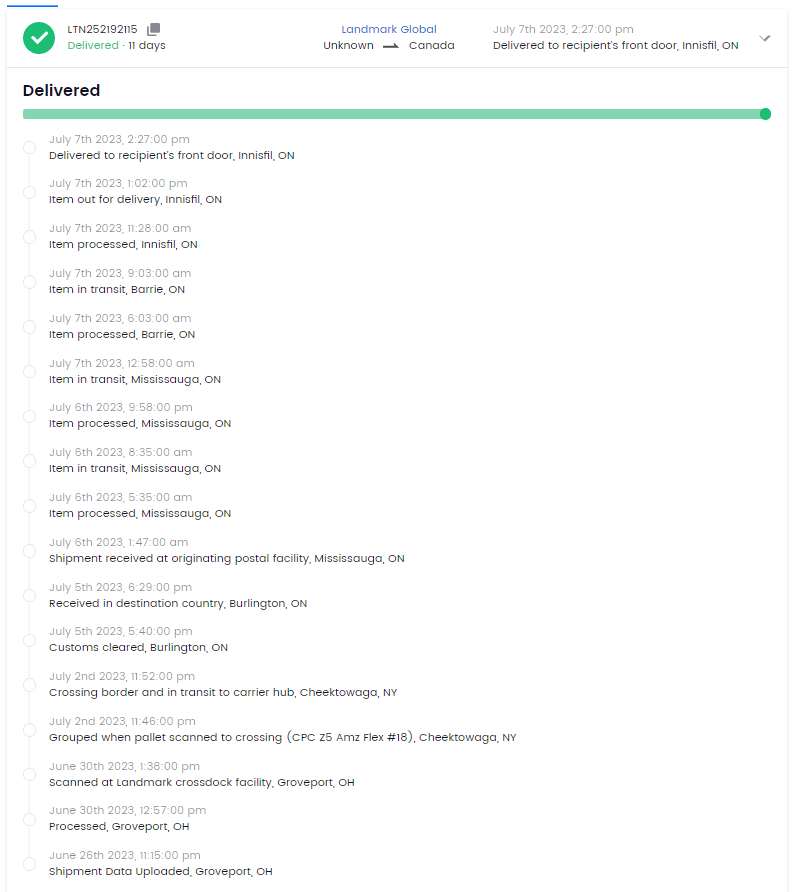 You can easily copy and export the tracking information to a spreadsheet. Moreover, you can translate it into a different language and share it with the recipient.
The ParcelPanel Order Tracking app is the best Shopify order tracking solution popular among DTC brands - with a stellar rating of 5.0 stars based on 1,500+ reviews. The app features a branded tracking page, a shipment tracking dashboard, and shipment notifications.
To use the ParcelPanel app, you should install it from Shopify App Store first. If you're using the ParcelPanel official website now, just go to the Shopify app store listing by clicking on the "Shopify App" button in the top right corner.
Click the "Add app" button and follow the given instructions to finish the installation.

On the branded tracking page, your customers can input the tracking number associated with the package and check the retrieved information.
The app is also integrated with the Shopify product recommendations API which recommends products related or complementary to what the customer has already purchased on the tracking page, increasing the possibility of more sales.
ParcelPanel integrates with Shopify and WooCommerce, which helps you provide your customers with a seamless tracking experience with automatic shipping notifications. This can help bring more customers back to your store for the latest tracking updates.
Apart from Landmark Global tracking API, ParcelPanel seamlessly integrates tracking APIs of over 1,100 carriers. It also provides timely alerts and comprehensive analytics, which helps businesses cope with delivery exceptions in time to ensure customer satisfaction and make informed decisions to streamline their logistics operations in the long run.
Landmark Tracking Number
A tracking number is automatically assigned for every package when placing an order or purchasing through a company that ships with Landmark Global. The tracking number is a unique identifier that allows individuals and businesses to track the statuses of their packages in real time.
If you're a business using Landmark's shipping service, you can log in to the Landmark Global Mercury tracking portal to retrieve any Landmark tracking number for your customer.
On the contrary, if you're expecting a Landmark parcel, to find your Landmark Global tracking number, you need to:
Keep an eye on the

shipping notifications

from the retailer you purchase from. These notifications often contain the relevant tracking number.

If you have an account with your retailer's website, visit the account and check for

order history

details that should contain the specific tracking number.

Contact the

sender's customer support

and inquire about the tracking number.
Landmark Tracking Number Format
Landmark Global tracking number often follows a specified format, which comprises 10 to 20 alphanumeric characters. However, the exact numbers may vary depending on the shipping system.
The idea behind this is always to create a unique identifier that will differentiate the package from all other shipments.
Here are some examples of Landmark Global tracking numbers:
LPR0012360044640
LTN252192115
LDLBUS025435086
Landmark Tracking FAQ
Why is Landmark Global tracking not working?
There could be different reasons why Landmark Global tracking may not be working for your package.
Firstly, you may have entered an incorrect tracking number. You must, therefore, double-check for any errors in the tracking number.
Secondly, if your package has just been shipped, activating its tracking status may take some time. Allow a few hours for the tracking status to be uploaded and registered, and try again in about 24 hours.
Landmark Global's technical system may be under maintenance or experiencing hiccups sometimes.
If the issue persists, contact Landmark Global customer service for further assistance with tracking.
Why is my Landmark Global tracking number not working?
Your Landmark Global tracking number's failure to work could be because of an expired or incorrect tracking number.
Sometimes, your package may not have been registered yet, due to technical errors when scanning packages, so you need to try again after a few hours, especially if your package has just been shipped.
Contact Landmark Global customer care after a 24-hour wait if the tracking number is still not working.
Does Landmark Global deliver on weekends?
Landmark Global's delivery schedule may vary based on the region and the chosen shipping service. Factors such as destination, size, weight, and mode of transport may affect the due delivery day. While some delivery services may offer Saturday delivery options, it is important to confirm with customer support if Landmark delivers on weekends in the respective country.
How long does Landmark Global take to ship?
The Landmark Global international shipping time is around 2 to 14 working days. This depends on several factors, such as the origin and destination of the package. The selected shipping service, customs clearance procedures, and other potential delays may also disrupt the transit.
In comparison, the shipping time of the standard domestic service is 2 – 5 days within the US and Canada. As for the Express domestic service, the delivery takes 1 – 2 days. You may need to contact customer support for precise information regarding the expected transit time for your package.
Landmark Global Customer Service
Landmark Global is committed to providing excellent customer support services. With a dedicated customer service team, the company works on delivering prompt and effective communication that will provide knowledgeable support for its customers' shipping needs.
Whether you need to resolve delivery concerns, track packages, or seek general guidance about the company's services, Landmark's support team is well-trained and equipped to assist you.
You can get customer support from Landmark Global about tracking your package's whereabouts in several ways. Some possible methods include:
Phone Support

– However, the Landmark Global phone number may vary based on your location and the Landmark office you are dealing with. You can speak directly to a Landmark Global representative at (805) 965-3058 (US), (206) 248-6835 (Canada), or +44 20 7042 1300 (UK).

Email Support

- It is possible to contact Landmark's support via email at

[email protected]

. However, the response time may vary depending on the working hours and the volume of inquiries. Your email should therefore be direct and outline your tracking-related concerns to increase the chances of fast responses.

Online Support Form

- On the Landmark Global website, an online support form is available to describe the package tracking issue and fill in your contact details. Once you submit the form, you will initiate communication with the Landmark Global customer service representative, who will help you accordingly.