Introduction
Customers enjoy quality, affordability, and fast delivery when they buy electric bicycles, 3D printers, laser engraving machines, laptops, robot vacuum cleaners, RC drones, and smartwatches from BuyBestGear. However, the company's passion for providing a dependable e-commerce solution for high-quality, low-cost products would not be enough to shield BuyBestGear from significant challenges, such as stagnant cash flow and rising customer service costs.
With BuyBestGear's e-commerce presence skyrocketing during Black Friday weekend in 2021, the BuyBestGear team turned to ParcelPanel for help with reducing tracking-related questions, which ultimately dropped by almost 70%, and to improving the customer experience.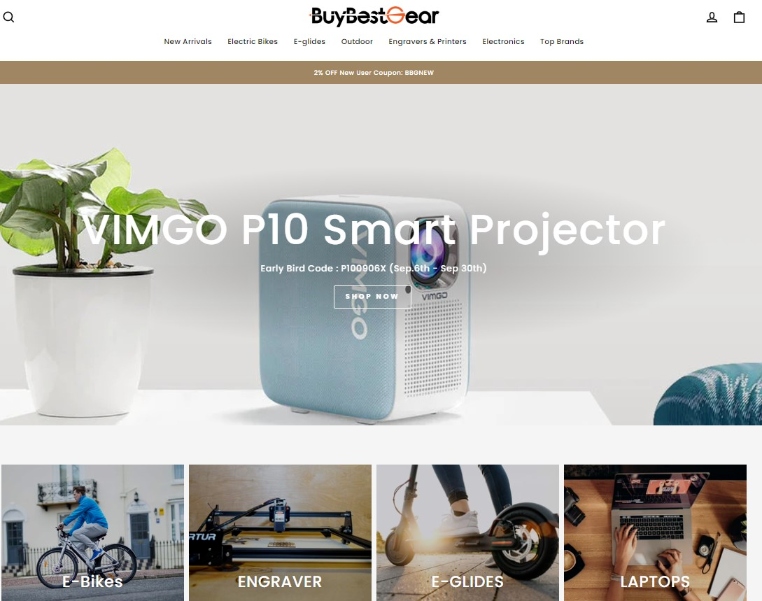 Within a month of implementing ParcelPanel's main functions (tracking, email notification, and branded tracking page), BuyBestGear saw its shipping-related inquiries drop by 70% and experienced a 15% increase in its CTR from the BuyBestGear branded tracking page back to the website.
 Let BuyBestGear's Customers Know the Last Mile Delivery
Before working with ParcelPanel, BuyBestGear could not offer customers real-time order tracking information. In the past, BuyBestGear instead emailed its customers with a tracking number and directed them to enter the number on the carrier's website to track their order.
"Our four staff on the customer support team often handle an enormous number of tracking-related inquiries. As a result, they sometimes forgot to address important customer questions, such as 'should I charge my e-bike after every ride?' We need a solution to manage shipping-related questions."                                   
                                                   BuyBestGear Team
It was complicated.
BuyBestGear had no control over its customers' post-purchase experience, losing engagement with these consumers. ParcelPanel's shipping email notification system was able to help BuyBestGear solve this pain point and improve its customer engagement rate. Since partnering with ParcelPanel, the company's customers receive real-time order information proactively and in a timely manner thanks to tracking and shipping notifications.
"Since partnering with ParcelPanel, we have seen a 70% drop in tracking-related inquiries. Our customer support team now has more time to resolve more important customer issues, which has led to a dramatic improvement in the customer service we provide."
  BuyBestGear Team
Offer Full Brand Customer Experience
Reducing "where is my order" inquiries is just the first step. ParcelPanel also helped the company scale its brand awareness throughout the buying journey.
The BuyBestGear team realized that selling products to customers is not the ultimate goal: the company needs to build long-term and first-rate relationships with its customers if it wants to improve its business and generate more sales.
Before working with ParcelPanel, order information was generally provided by the carrier, and it was unbranded.
"Before working with ParcelPanel, we often targeted our audience via emails and Google ads, but we wanted to learn more ways to engage with our customers. ParcelPanel has helped us to achieve that goal."                                           
BuyBestGear Marketing Team
BuyBestGear used ParcelPanel's branded tracking page to spread its brand awareness, develop lifelong customer relationships, and share product recommendations with customers, such as for e-bikes, power stations, engravers, how-to guides, and more.
"Thanks to ParcelPanel, we can offer our customers a positive and honest experience, and we frequently receive positive feedback about our delivery services. ParcelPanel is a reliable partner." 
Director of Digital E-commerce from BuyBestGear
After partnering with ParcelPanel, BuyBestGear's revenue increased by €100,000 in two months. ParcelPanel's branding and marketing features showed a 15% CTR from the BuyBestGear branded tracking page back to the website. BuyBestGear now enjoys engagement with its customers and fully controls the customer shopping experience from start to finish.