About Aramex
Aramex is a Jordanian logistics provider headquartered in Dubai, UAE, with an unmatched portfolio of transportation services worldwide.
Since its launch in 1982, Aramex has boasted outstanding logistics services. Today it is an established multinational enterprise with over 600 locations in 65 countries, serving thousands of customers.
Nonetheless, Aramex is not exempted from stiff competition in the current global logistics market. Key logistics providers competing with Aramex include DHL, FedEx, UPS, TNT, and GLS.
Despite the competition, Aramex increasingly attained significant development milestones, including trading shares on the NASDAQ stock exchange In 1997 and going public on Dubai Financial Market (DFM) in 2005,
Aramex management understands the essence of strategic partnerships in the logistics industry. Some key Aramex partners include eBay, PayPal, GeoPost, ShipStation, and many other key industry players that enhance its global reach and service offerings.
Its dedication to excellence has led to the receipt of several awards, including:
"Last Mile Leader of the Year" - the Logistics Middle East Awards 2023

"The Most Innovative Company in Logistics" - the TLME Innovation Awards 2022 in Dubai

"Bespoke Logistics Project of the Year" - the 2021 Logistics Awards

"ABA100 Winner for Service Innovation" awarded to Aramex Australia at The Australian Business Awards 2021

"Best Environmental Sustainability" Award (2020)
Aramex Tracking
With a commitment to reliability and a seamless customer experience, Aramex offers local clients fast and same-day door-to-door shipping and doorstep collection for documents and packages. Aramex's international clients also enjoy full customs clearance with 2 to 3 days of door-to-door deliveries, whether you are sending from the UK, US, or any other of its service countries.
Businesses and individual customers interested in international deliveries are also assured of direct daily and weekly flights for all urgent deliveries.
Aramex further incorporates advanced tools to allow its customers to monitor and track their packages throughout the shipment process. From freight & logistics to express solutions, the dedicated Aramex tracking system allows customers to track their parcels for secure delivery globally. The tracking process entails entering the unique Aramex tracking number assigned to each shipment to enable customers to monitor the parcel movement and get real-time notifications.
Aramex Tracking UAE
Aramex has a reliable and well-established network that meets different logistics needs of customers within the UAE. Whether customers need to send packages within the UAE or from the state, Aramex ensures flexible shipping services meet customers' needs.
Whether for domestic within the UAE or international deliveries, real-time tracking is included to help customers keep tabs on the whereabouts and progress of their packages.
Aramex International Tracking
Aramex offers efficient international freight services through its global network of air, sea, and land carriers, warehouses, and agents.
These services include
Cross-border door-to-door delivery

Faster shipment with direct flights

Freight insurance and customs clearance

Prompt updates on changes in weather conditions or customs rules
Typically, international shipments take between 3-10 days, depending on where you are.
Aramex offers real-time tracking services for its international freight to keep customers updated on the state of their shipments.
Aramex Tracking India
Aramex's services in India comprise efficient and reliable logistics solutions providing a one-stop platform for businesses and individual customers alike. With 25 strategically located offices across India, Aramex is committed to providing a hassle-free logistics experience.
Aramex India offers an efficient tracking solution that enables customers to effortlessly follow up on their shipments within and across Indian borders. This enhances Aramex's customer experience, and it also helps to strengthen the company's mission of setting new standards for efficiency and reliability in the logistics industry.
Aramex Australia offers reliable courier services that include collection, delivery, and returns through an expansive network of 29 regional franchises and 800 courier franchises expansively that cover from Cairns to Sydney to Perth.
Additionally, it offers delivery services like authority to leave, standard delivery, and signature delivery to cater to various delivery needs.
Aramex Australia also offers real-time track and trace services to help with shipment visibility from collection to delivery. The track and trace tool is available on the official Aramex Australia tracking page. Alternatively, you can do Aramex parcel tracking through ParcelPanel for added benefits.
Aramex acquired Australia's Fastway Couriers in 2016, a move that has since reshaped Aramex operations in the country. As a result, if you're looking for a Fastway tracking service, use one that supports Aramex AU tracking instead.
Aramex Tracking South Africa
Aramex South Africa's suite of services includes PostNet, Aramex Store-to-Door Courier service that delivers throughout SA at just R99.99, Aramex Global Shopper that offers 25 forwarding addresses worldwide, and Click-Way Couriers service that leverages technology to make sending parcels easier.
This range of freight, logistics, and warehousing solutions is beneficial - making your e-commerce business more accessible.
Aramex South Africa provides track and trace capabilities to help customers track their domestic and international shipments. Aramex courier tracking services for South Africa are available using the waybill number on the "Aramex SA Track Shipment" page.
Aramex Tracking Saudi Arabia
Aramex shipping services in Saudi Arabia comprise reliable express delivery, flexible logistics & freight solutions. These services ensure each customer shipping within the country gets various customized solutions that match their needs. With Aramex, shipping to and from Saudi Arabia is made easy.
Additionally, at the heart of these services are tracking options (Aramex tracking online, Aramex app, and WhatsApp) to enhance visibility and ensure customers stay informed of every shipment's progress.
Aramex New Zealand offers domestic and international shipping services with a variety of delivery options to suit different needs.
The "Authority to Leave" is the standard offering where the package is dropped off in a safe place at the delivery address. The "Authority to Leave" option is available on all Aramex NZ platforms, services, and products.
The signature delivery option is available exclusively on the MyFastway online portal. This option demands a signature from the recipient at the time of delivery.
Aramex NZ offers the Secure Pin Service for sensitive and high-value shipments, the most secure delivery option. Here, the system generates a PIN which is sent to the recipient and which they must enter before delivery can be completed.
Customers can track Aramex NZ shipments with the "Parcel Tracker" page or the homepage of the official website.
How to Track Aramex Shipments?
There are multiple ways to track shipments on Aramex to ensure convenience and transparency, including:
By Using Aramex Tracking
Tracking with Aramex is a user-friendly process that guarantees real-time updates on the status of your package.
All you need is to input your tracking number in Aramex's official tracking tool. Then, click on the "Track" button.

Here's what we've got by using the Aramex tracking number, 34480166136. You can get the latest shipment status, transit history, package content, and so on.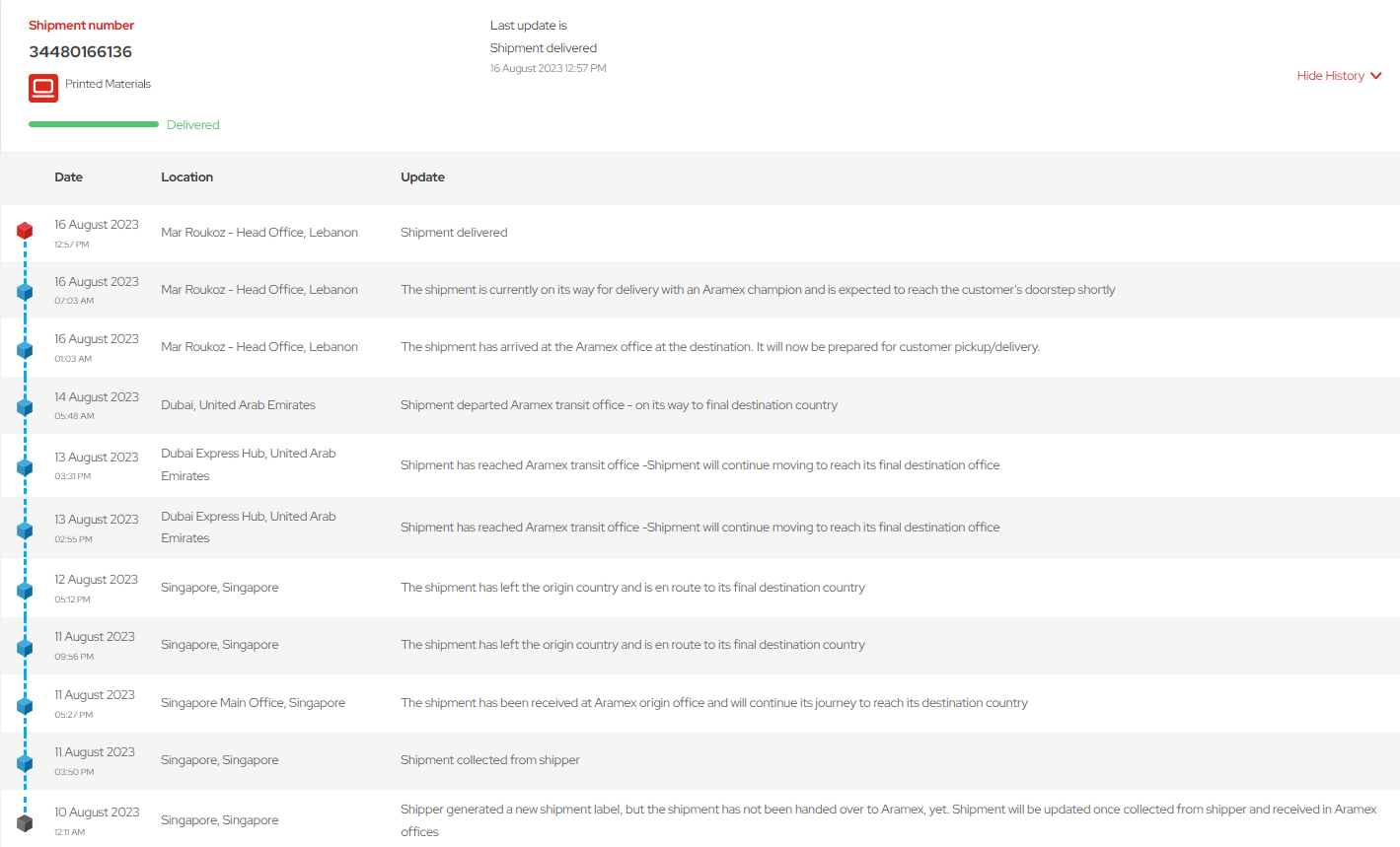 You can also view the shipment details and opt-in to notifications. Just click "Get Notifications," enter your email address or phone number, and the Aramex tracking system will keep you informed from pickup to final delivery.

By Using ParcelPanel
ParcelPanel is among the leading third-party order tracking solutions for e-commerce businesses. ParcelPanel has helped more than 45,200 customers with over 2.3 billion shipments successfully tracked.
ParcelPanel provides businesses with an all-in-one tracking page and advanced tracking solutions across 1,100+ carriers. This saves you substantial time and helps you focus on the most important things instead of visiting multiple carrier websites to track your shipments.
You can track your Aramex packages with ParcelPanel in 2 different ways, either by using the ParcelPanel official website or the order tracking app.
Visit the ParcelPanel official website and select the "Carriers" option in the top navigation menu.
Scroll down to the "All Carriers" section and enter "Aramex" in the search field.

Click "Aramex" in the search results as in the image above for redirection to the dedicated

Aramex tracking

page.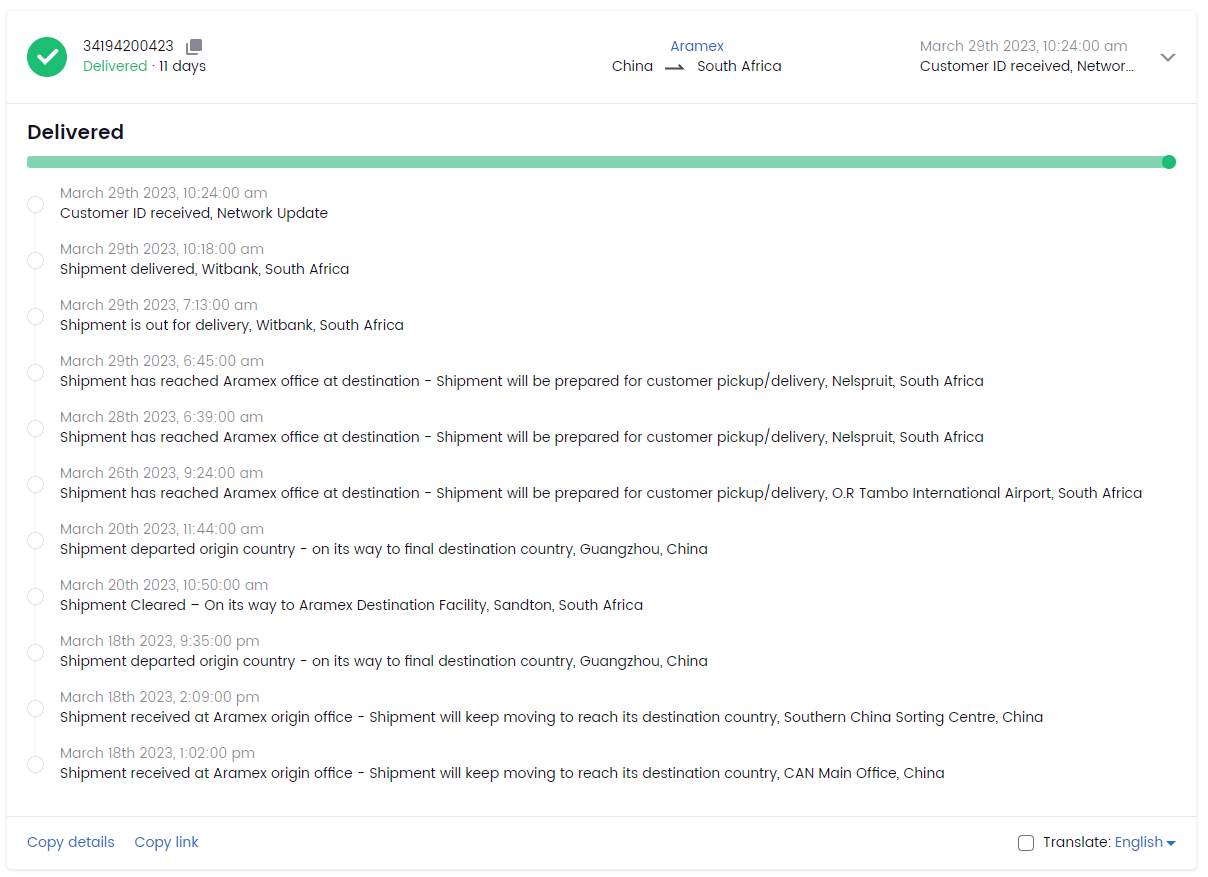 An additional advantage of using ParcelPanel is that you can track up to 30 tracking numbers at a go, effectively improving your work efficiency.

With ParcelPanel, you can create a branded tracking page for your store, which increases exposure every time your customer returns for updates on their package's delivery. What's more, customers can receive automatic shipping notifications to keep them in the loop on the status of their shipments.
These features improve the customer's post-purchase experience, making them more likely to buy from you and recommend you.
ParcelPanel is also convenient to use, as it supports 1,100+ carriers and it seamlessly integrates with Shopify, WooCommerce, and over 20 third-party apps.
Aramex Tracking Number
An Aramex tracking number is a unique identifier assigned to each parcel to allow customers access to real-time statuses about their parcels and monitor their whereabouts and delivery progress.
The Aramex tracking number is generated when the shipping order is placed and is usually indicated on the receipt. It also is printed below the barcode on the waybill.
Aramex Tracking Number Format
Aramex tracking numbers typically consist of a series of 9, 10, 11, 12, or 20 digits.
Aramex Tracking Number Example
31682309422

34480166136

32444287245

32202569346
Aramex Tracking Status
Here are the standardized Aramex tracking statuses that you need to know.
| Aramex Tracking Status | Meaning |
| --- | --- |
| Shipment charges paid | The Aramex shipping fee has been paid by the sender/recipient. |
| Shipment delivered | The Aramex shipment has been successfully delivered to the specified delivery address. |
| Customer ID received | The identification details of the customer have been received. |
| Shipment is ready for customer pickup | Shipment is prepared and available for pickup at the destined Aramex office/distribution center. |
| Shipment departed origin country | The package left the country it originated from and is in transit to its destination. |
| Delay in transit | There has been a delay during the package transportation process, and it may possibly affect the estimated delivery time. |
| Shipment x-ray scanned at Aramex origin facility | Your package has been scanned in preparation for shipping to the Aramex facility of the origin. |
| Shipment is out for delivery | The shipment is en route to the recipient's address and is scheduled for delivery. |
| Requires additional documents from customer prior to shipping | Additional documents from the sender or recipient are needed before the package can be shipped. |
| Consignee contacted to set delivery address & schedule - Email | The recipient has been contacted to confirm the delivery details, including the address and possible delivery time, via email. |
| Delay at the origin facility | The package has encountered a delay at the Aramex origin facility. |
| Shipment collected from shipper | The shipment has been picked up by Aramex from the sender. |
| Shipment received at Aramex origin office | The package has arrived at an Aramex facility near the origin. |
| Shipment has reached Aramex office at destination | The package has been received at an Aramex facility in the destination country and is in progress for further processing and delivery. |
The Aramex tracking statuses provide crucial information about the progress of your shipment, including payment status, delivery or pickup confirmation, etc.
Aramex Tracking FAQ
Does Aramex deliver on Saturdays?
Yes, Aramex delivers on Saturdays. However, collections from the Aramex drop boxes happen before 4:00 pm or 5:00 pm. Therefore, to ensure delivery on Saturday, drop off the shipment before 5:00 pm on Friday. If you miss that, delivery will take place on Monday.
Does Aramex deliver on weekends?
Yes, Aramex delivers on weekends. You might as well contact the company to confirm precise information about weekend deliveries primarily based on the service you choose and the destination for the package in transit.
Does Aramex deliver after 5 pm?
Typically, Aramex delivers between 8:00 am and 5:00 pm. If you dropped off your package at the Aramex drop box before the collection cut-off time, you could expect delivery by 10:30 am the next day if you're in any of the main centers.
Make an effort to be available for delivery within the stipulated time. It's also important that you contact the company to confirm the after 5 pm deliveries, as the service may vary in some regions.
Is Aramex part of Australia Post?
Aramex is part of Australia Post, having been acquired in 2016. The acquisition has expanded Aramex's scope and efficiency by leveraging each company's capabilities.
Aramex Customer Service
In case you need to get immediate help with shipment queries and tracking from Aramex, here are the Aramex contact details that you need:
Aramex Head Office Dubai: +97 160 054 4000
Aramex Australia: (03) 9320 8100
Aramex India: 022 6480 3300 (Toll-Free)
Aramex Netherlands: +31206558080
Aramex WhatsApp Number: +920035200
You may also visit Aramex's local office near you for further assistance.