About GLS
General Logistics Systems BV (GLS Group) is a parcel delivery company based in the Netherlands. The brand belongs to a British logistics company – Royal Mail and is part of the larger International Distributions Services PLC. Since its inception in 1989, the brand has succeeded internationally, serving the United States, Canada, and 41 European countries. GLS specializes in parcel shipping, express delivery, and logistics solutions, with nearly 4,500 long-haul trucks and 37,000 vehicles for last-mile delivery. To date, GLS has over 22,000 employees, and it operates around 1,600 depots and over 120 hubs, and 26 subsidiaries.
GLS is a well-established carrier company with a strong presence in Europe, especially in Italy and Germany. In particular, GLS Italy has acquired one of Italy's biggest parcelshop networks, ProntoPacco, to serve the e-commerce sector better, while the GLS Germany company partners with various transport, technology, parcel shops, and supplying companies for bigger success.
However, GLS shipping still faces competition from other industry logistics and parcel delivery companies. The major competitors are DHL, FedEx, USPS, and UPS.
GLS Tracking
GLS offers a comprehensive service suite that meets various business and individual needs. Through general parcel shipping, logistics, express delivery, and tracking, the company has established itself as an efficient and reliable service provider in the logistics industry.
GLS Services
GLS Parcel Shipping
With standard delivery times, GLS Group commits to efficiency, guaranteeing a seamless delivery of packages domestically and internationally. However, the delivery times may sometimes vary based on other factors related to the shipment.
GLS Group also offers domestic and international parcel delivery services, meeting B2B and B2C shipments. Its customers can send and collect small and larger packages all over the carrier's 42,000 parcel shops.
The carrier company also has optional services for parcel shipping to enhance the delivery experience, especially for special delivery requirements.
In addition to these parcel shipping services are various receiving options for all GLS package delivery recipients. This caters to each customer's convenience and preferences, allowing them to choose the best method to receive their parcels.
The receiving options include:
Drop Off boxes- GLS operates secure and accessible drop-off boxes strategically located in different areas. These drop points make it easy for recipients to collect or drop off parcels at their convenience, especially if one is unavailable during home delivery services.
Home Delivery- With the home delivery service, the company saves the recipients from traveling to pickup points. Instead, the parcels get delivered to the recipient's doorstep.
Parcel Shops- With a network of parcel shops, GLS enables its recipients to pick parcels from nearby locations. This way, the recipients enjoy retrieving their packages at their convenient times.
Logistics
GLS operates separate freight distribution networks ensuring efficient handling of transportation and delivery of its customers' goods. With these distribution networks in different countries such as North America, Belgium, and the Netherlands, GLS Group can ensure localized expertise and specialized infrastructure catering to the specific freight shipping needs of each country. As a result, the transportation of goods is much faster and smoother, thanks to the company's reliable and efficient logistics services.
GLS also recognizes the importance of catering to diverse business and individual requirements. The company provides standardized transport services and solutions for goods that need special handling due to their size, weight, or urgency.
Whether handling delicate and fragile equipment or large-scale industrial equipment, GLS standardized services ensure proper and secure handling.
Express Delivery
GLS offers time-sensitive express delivery ensuring urgent shipments get delivered by the end of the next working day. With the company prioritizing speed and punctuality, businesses can rely on GLS to meet tight deadlines and help fulfill their time-critical requirements. The express delivery service, therefore, facilitates seamless operations and customer satisfaction for all GLS Group customers within national boundaries and across Europe.
Additionally, with a focus on time-critical deliveries, various GLS express delivery options are available in countries such as Denmark, Italy, Germany, and North America. GLS Group, therefore, ensures rapid and reliable transportation catering to specific urgent needs in these countries.
GLS Parcel Tracking
GLS Group offers a wide range of shipping services that ensure reliable and timely parcel deliveries across their delivery networks.
To enhance its customers' experience, GLS provides comprehensive parcel tracking services.
Whether it is GLS US Tracking, GLS sendungsverfolgung (German: GLS shipment tracking), or GLS Tracking UK, the courier ensures the utmost transparency. This helps keep customers informed and updated on the status of the progress of the shipments.
Here are some of the different GLS parcel tracking services:
GLS Freight Tracking
GLS understands that its customers have different freight shipping needs. The GLS Freight service is available in the United States, Canada, Belgium, Netherlands. Notably, the freight distribution networks are separate.
For example, in the US:
GLS US provides various customized services, including Less-than-Truckload (LTL), Full Truckload (FTL), and cross-border shipping services. These include shipping to Canada.
LTL freight services mean the customers' shipments won't need an entire truck. GLS combines such shipments to optimize capacity and reduce costs. FTL freight services are for larger shipments that need a dedicated truck. The carrier company takes it upon itself to ensure efficient and reliable delivery through each customized solution.
Therefore, the GLS freight tracking service is integral to the courier's overall service. Customers can monitor their bulk shipments in real time with GLS Pro tracking numbers or interline numbers.
GLS Freight Tracking lets the customer access detailed information, including the location, status, and estimated delivery time of their freight shipments.
GLS Ground Tracking
GLS offers reliable and cost-effective ground transportation services for shipments that need no time-definite shipping options.
GLS ground services are different from expedited shipping -- they balance affordability and reliable transit times. However, specific GLS Ground services may vary based on the region, country, and specific parcel shipping service offered.
With GLS Ground Tracking, such as GLS Tracking Italia, customers have peace of mind because of the visibility of their parcels. This means with the GLS Tracker information, customers will stay informed. Using relevant shipment details, customers can obtain the estimated delivery time. This enables them to plan their schedules as they anticipate deliveries and ensure the successful receipt of their shipments.
GLS Express Tracking
GLS Express delivery services are designed to cater to customers that require time-critical deliveries. The company prioritizes speed, punctuality, and reliability to ensure the parcels get delivered swiftly.
Whether you are dealing with urgent documents, high-value goods, or other time-sensitive packages, GLS Express services have customized options nationally and internationally. Some express service options include same-day, next-day, or guaranteed delivery within optional scheduled options.
In this case, GLS Express tracking keeps you updated on all your time-sensitive shipments. This ensures shipment visibility as the customer stays informed with detailed tracking information about the shipment.
GLS Paketshop Tracking
With ParcelShops, GLS ensures customers find drop-off and delivery points across their wide parcelshop network.
Paketshop means Parcelshop in German. In Germany alone, there are over 7,000 GLS ParcelShops for great convenience.
To find a GLS ParcelShop within the wide networks in Germany, customers can use their location details to locate their nearest parcel shop options. You can find active ParcelShops in cities like Berlin by entering your location or zip code. Then, you can view the exact locations and opening hours of all ParcelShops in proximity.
GLS Paketshop Tracking is a complementary GLS tracking service to make it convenient for recipients to pick up or drop off their GLS parcels.
How to Track a GLS Package?
You can stay informed of the whereabouts of your GLS package by any of the following GLS tracking services:
The GLS official websites allow you to track your parcel online anytime. The official GLS tracking services differ from country to country.
For example, as for orders dispatched from France, search "Suivi colis GLS" (French: Track GLS package) on Google, and you can enter the GLS France site for package tracking.
Similarly, you can go to the corresponding GLS website to track shipments handled by GLS Italy by searching "GLS Tracking Italy."

Enter a GLS parcel number (or GLS tracking number) and click the blue arrow.
Then, you'll obtain all the details, including shipment status, reference numbers, sender's and recipient's information, and detailed shipment tracking information throughout the entire delivery progress.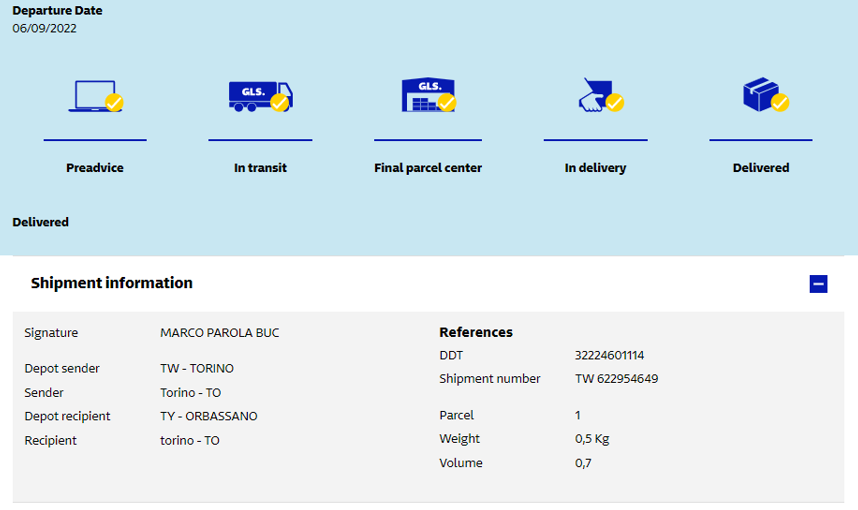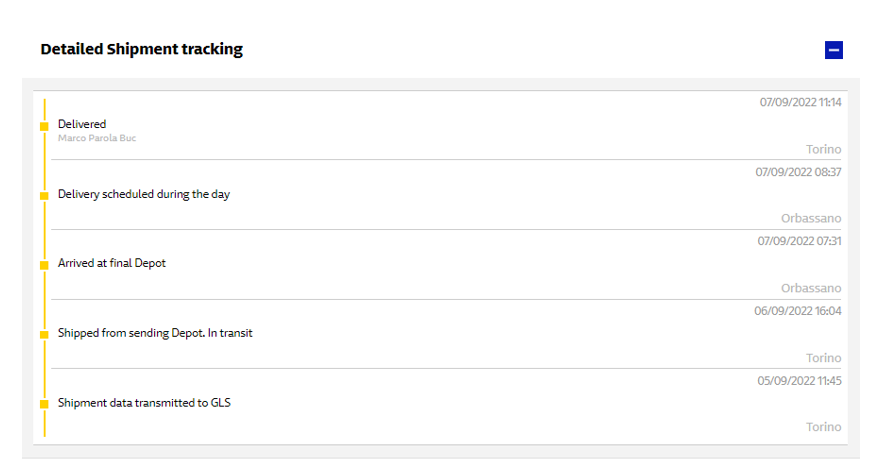 It's recommended to go to the country-specific GLS site to track domestic deliveries. More explicitly, a GLS Italy tracking number might not work on the GLS site for another country or even the GLS Group site. Notably, the GLS Group site requires you to enter a postal code to view the signature, whereas the GLS Italy site displays it directly.
By Using GLS Web Labeling
GLS Web Labeling allows clients to manage their shipments directly and in coordination with the GLS systems. There are many advantages of WebLabeling, including faster & better service, better customization, higher quality, and greater flexibility.
GLS web labeling comes with a track and trace tool that allows you to monitor the real-time status of your shipments. You'll also enjoy an easy-to-use tracking interface with guaranteed comprehensive tracking information and multiple tracking options.
To track your GLS packages with the GLS weblabeling track and trace tool, you'll need to:
Visit the GLS website and navigate to the weblabeling section.
Log in to your GLS weblabeling account. If you don't have an account, you need to register and create one.
Once you have access to the track and trace tool, initiate the tracking process and see the current status of your shipment.
Using ParcelPanel
ParcelPanel is an online tool that offers convenient and efficient shipment tracking. It features one centralized platform that you can use to track multiple carriers without necessarily visiting the carrier websites individually.
ParcelPanel seamlessly integrates more than 1,100 carriers around the globe to offer a comprehensive tracking solution to e-commerce businesses and online shoppers. The online platform automates tracking by gathering data from famous carriers such as FedEx, DHL, USPS, DPD, Hermes, China Post, etc. As for GLS tracking, ParcelPanel offers GLS tracking services, including universal GLS Tracking, GLS Italy Tracking, GLS US Tracking, and so on.
To track your GLS packages with ParcelPanel, you can use the following ways:
Visit ParcelPanel's "Carriers" page.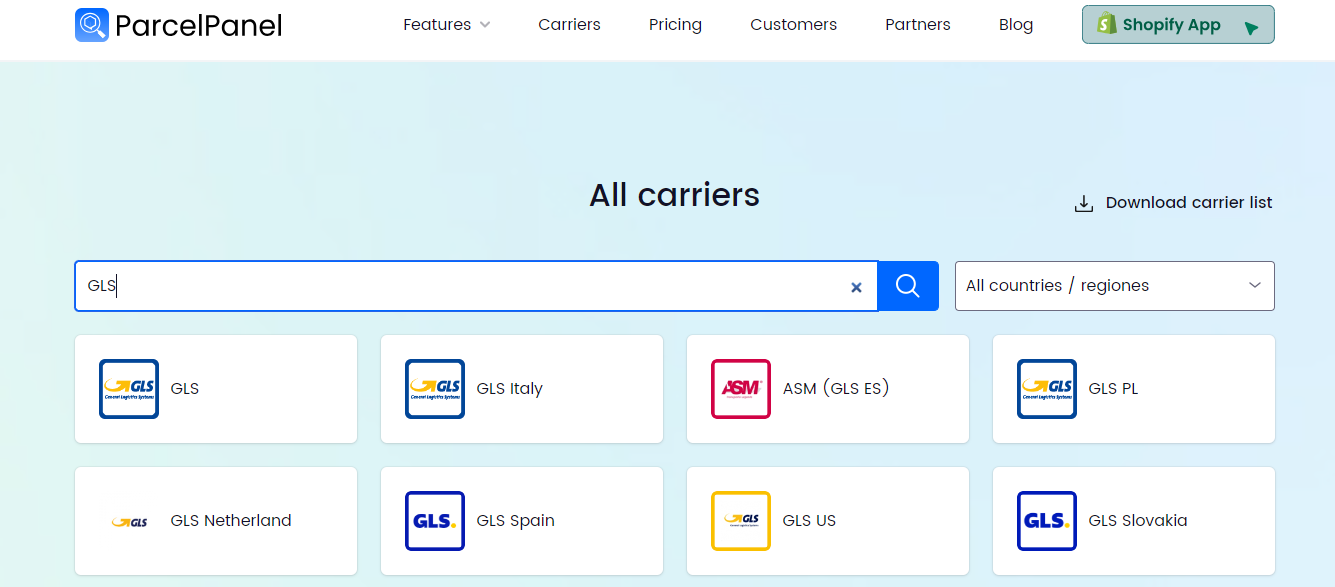 Scroll through the list of carriers to choose the GLS. Note that GLS Group is widespread in different countries, so choose the GLS tracking service in your country for accurate information.
Once you have the right GLS carrier, enter your GLS Tracking number in the search field.
Click on the "Track" button to start up the tracking process. When complete, you can view the status, including location and estimated delivery time for your package.
The Shopify app is designed for store owners who ship with GLS in mind. The platform's seamless integration with GLS APIs makes tracking your GLS packages directly from your admin dashboard easy. This gives you an intuitive and user-friendly interface that ensures you stay on top of your shipments.

The ParcelPanel Shopify app makes it easy for customers returning to your store to get the latest tracking updates for their GLS packages. On the branded order tracking page generated by the ParcelPanel Shopify app, customers can key in their GLS tracking numbers and initiate the tracking process.
You can also set up email notifications to keep customers informed about the status and any changes in the delivery progress.
Visiting external carrier websites or tracking portals is no longer necessary, as ParcelPanel brings the tracking information directly to your Shopify store. This guarantees a seamless and cohesive experience allowing your customers to access all their orders and tracking details in one place.
GLS Tracking Number
A GLS tracking number is a unique identifier assigned to every package shipped by GLS Group carriers. With the tracking number, you can be sure of real-time information on the progress of your shipment.
As a GLS customer, you can get the number on:
Your shipping confirmation email. When shipping your goods with GLS, you'll receive an email informing you that your order has been shipped. The tracking number may be phrased as "Shipment ID," "Parcel Number," or "Tracking Number."
Order History. If you have an account with the retailing platform from which you bought your goods, check your order history for information about the tracking number.
If you are a GLS recipient, you can contact your sender's customer service and ask for assistance with the tracking number.
GLS Tracking Number Format
The length of a GLS tracking number varies from 8 to 14 alphanumeric characters. Typically, the number often has 9 digits.
The exact GLS tracking number format depends on the specific shipment and the relevant country.
Take GLS Italy and GLS France shipments as examples:
For GLS shipments in Italy, the Italian tracking number comprises two letters / a letter and a digit followed by up to 9 digits, for example, Y1 550012467.
For GLS shipments in France, un numéro de suivi consists of 8 alphanumeric characters, for example, 00A6Z78A, or a series of 11 digits like 36631234567.
GLS Tracking Status
A GLS Tracking status refers to the current condition of a package in shipment through GLS. This will give you information about the whereabouts and the real-time progress of the package from initial pickup to final delivery.
Some common GLS Tracking statuses include:
| Status | Meaning | Possible Reason | Solution |
| --- | --- | --- | --- |
| Preadvice | The GLS parcel's data has been formulated, and the GLS tracking number has been assigned. | The package is registered in the GLS system but has not been physically picked up. | Wait for updated information after the carrier picks up the package. Contact the sender if the status has not changed after some time. |
| Canceled | The pickup order has been canceled since the parcel is not ready for collection. | The sender requested to cancel the shipment. | Contact the sender or GLS customer service to resolve this issue. |
| In transit | The parcel is already on the way to the final destination via various parcel centers. | The package is moving through various sorting facilities. | No action is required. Keep monitoring the tracking updates. |
| Final parcel center | The package is already at the final center and waiting to be delivered. | The package has undergone sorting in preparation for final delivery. | No action is required. |
| In delivery | The package departing from the final center is in a GLS delivery vehicle. You can expect the delivery at any time during the day. | The package is en route for delivery with a local delivery driver. | Make sure you or someone else is available at the delivery address. |
| Shop delivered | The package is delivered to a parcel shop or designated pickup location for the recipient to pick up. | The package was directed to a designated parcel shop. | The recipient is to visit the specified shop within the specified timeframe to pick up the parcel. |
| Delivered | The package has been delivered to the designated recipient successfully. | The package was handed over to an authorized person at the delivery address. | If you have not received it, check with family members or neighbors. In case of an issue, contact GLS customer service. |
| Not delivered | The GLS parcel was not delivered successfully due to various reasons, such as an incorrect address or the recipient's absence. | Incorrect address or unsuccessful delivery attempt. | Check tracking details for delivery attempt notice left by the local delivery driver. Follow instructions and arrange for redelivery or pickup. |
| Stored | The parcel has been transported back to the final center because it was not delivered successfully. | The package is stored for various reasons, such as incorrect address and vacation. Further instructions from the recipient are needed. | Contact GLS customer care to understand why the package was stored. |
GLS Tracking Customer Service
GLS Group offers unparalleled support for all its clients if they have any issues or require clarification. The GLS customer service team relays information regarding package tracking, official opening and closing times, and the steps to take if you have any queries about missing parcels.
GLS has many business locations. For support regarding GLS Package tracking, here is the contact information of GLS customer care in some primary countries:

Country



GLS Customer Care Number



Email



Working Hours


United States
1-800-322-5555
Monday - Friday 7:00 AM - 7:00 PM (PST)
Saturday 7:00 AM - 4:00 PM (PST)
Germany
+49 (0) 6677 / 646 90 70 40
[email protected]
9:00 AM to 6:00 PM (regular business hours)
Italy
02.98.03.55.56
Available Monday to Friday from 09:00 to 12:30 and from 14:30 to 18:00, excluding public holidays
United Kingdom
+0344 800 44 66
9:00 AM to 6:00 PM (regular business hours)