About Blue Dart
Blue Dart Express Limited is an India-based courier delivery and logistics company. It's headquartered in Mumbai, Maharashtra. The company was founded by Tushar Jani and his two friends, Khushroo Dubash and Clyde Cooper, in 1983. In 2002, Blue Dart and DHL formed a business alliance. Now, DHL is a major shareholder of Blue Dart.
Blue Dart is operating as a division of DHL eCommerce and has another subsidiary cargo airline named Blue Dart Aviation. The company serves a wide network of over 55,400 locations across India and operates with a fleet of over 12,000 vehicles and 6 Boeing 757 aircraft, offering shipments to over 220 countries worldwide.
The services offered by Blue Dart include:
Domestic Priority

Dart Apex

Dart Surfaceline

Dart Plus

Airport to Airport

Charters

Smart Box, etc.
With the combined network of DHL and Blue Dart, it has overcome challenging milestones and become one of the leading Express couriers in India. Blue Dart outperforms competitors such as India Post, Delhivery, XpressBees, and others by providing dependable and on-time deliveries, resulting in customer satisfaction.
Blue Dart Tracking
Blue Dart provides both domestic and international shipping services with a real-time tracking feature. The partnership with one of the top international shipping companies - DHL, makes Blue Dart's international shipments seamless.
The shipping is conducted via Air and Surface to ensure on-time delivery as per the requirements of the sender. Each shipment is assigned a unique waybill number that serves as the identity for the package. Customers can use that number to track their packages online at any time and from any location.
The following are the popular Blue Dart Express services that include a tracking feature:
Blue Dart Surface Tracking
Blue Dart Surfaceline is an economical shipping service that offers door-to-door delivery to over 35,000 locations in India via ground freight. As the delivery time is a bit longer for ground distributions, it's not suitable for meeting urgent shipping needs. Surface shipping allows for the delivery of packages weighing 10 kg or more.
The value-added features and benefits included in this service are-
✔Real-time tracking with proof of delivery
✔Cash on delivery (COD)
✔Demand Draft on Delivery (DOD)
✔ Time-definite Delivery
✔Freight on Delivery (FOD)
✔Freight on Value (FOV)- with insurance coverage
✔Regulatory clearance
✔Pickup scheduling
Blue Dart Air Tracking
Blue Dart airport-to-airport shipping is the domestic air freight service operated by Blue Dart Aviation. This service is launched to meet urgent delivery needs, like next-day delivery. The Blue Dart airplanes shuttle between the airports of Delhi, Mumbai, Kolkata, Chennai, Bangalore, Hyderabad, and Ahmedabad.
The benefits of airport-to-airport service include:
✔Zero cooling period (X-ray-equipped warehouses eliminate the need for the mandatory 24-hour cooling period required for security reasons)
✔Next-day delivery (night operations ensure shipments manufactured during the day can be transported with night flights to ensure delivery the following morning)
✔Large shipping capacity compared to other domestic airlines
For those who need to deliver sensitive equipment or large amounts of cargo as soon as possible, it's better to choose the Blue Dart Charters, which represents the top-notch service quality in India's logistics industry.
Blue Dart POD Tracking
Blue Dart offers reliable shipping services with electronic Proof of Delivery (POD). The POD includes information about the consignee's name, the delivery date, and the time of delivery. It is an important part of tracking that ensures the shipment is delivered to the right person.
The POD is available with almost all of their services, including Domestic Priority, Dart Apex, Dart Surfaceline, and so on. Customers can view, download, or print copies at no cost.
Blue Dart DHL Tracking
Blue Dart's international shipping services are all subject to the terms and conditions of DHL, as DHL is a major shareholder in Blue Dart. Blue Dart offers a number of international services, including Express Worldwide (DOC), DHL Express Worldwide (NON-DOC), Express Easy Box 8, and Express Easy Box 6. These dependable and time-bound services ensure door-to-door delivery of international documents and packages to over 220 countries and territories worldwide.
The benefits the Blue Dart International Services are as follows:
✔End-to-end real-time tracking
✔Urgent delivery of international documents and packages
✔A vast range of packaging types to ensure shipment safety
✔Customs clearance by experts in 228 countries worldwide and even pre-clearance for in-transit shipments bound for most destinations
Blue Dart
Apex Tracking
Dart Apex is a domestic, day-definite door-to-door shipping service. It is the fastest and most efficient shipping solution for time-sensitive commercial shipments weighing 10kg or more than 10kg. The service offers two economical options - Airport-to-Door and Door-to-Airport services.
The service is available at the primary airports in Chennai, Bangalore, Mumbai, Delhi, Kolkata, Hyderabad, and Ahmedabad. By choosing the Airport-to-Door service, customers can reserve space for their shipments by contacting customer service and delivering the shipment to the Blue Dart Aviation Office at the designated departure airport, and the recipient can expect doorstep delivery; as for the Door-to-Airport service, recipients must travel to the destination airport to pick up the shipment.
The offers and benefits of the service include:
✔Time-definite delivery
✔Real-time tracking
✔Cash of Delivery (COD)
✔Demand Draft on Delivery (DOD)
✔Freight on Delivery (FOD)
✔Freight on Value (FOV) -with insurance coverage
✔Free Proof of Delivery on Demand
✔Single-Window Clearance
✔Flexible delivery options
How to Track a Blue Dart Parcel?
You can track Blue Dart parcels by entering your AWB (Waybill) number or Reference number in the tracking tool integrated with Blue Dart's official website. Apart from that, you can use a reliable third-party tracking service like ParcelPanel.
Let's find out more about the different ways to track Blue Dart packages:
By Using Blue Dart Tracking
Blue Dart offers a variety of tracking options. There are web-based tools such as TrackDart, ShopTrack, PackTrack, MailDart, and stand-alone tools such as ShipDart and Customized Solutions for various industry segments.
Here are the steps that you need to follow to track your Blue Dart package using the Blue Dart tracking tools: TrackDart and MobileDart.
Step 1: Go to Blue Dart's official website and select the Waybill option or the Ref. No. to track Blue Dart online.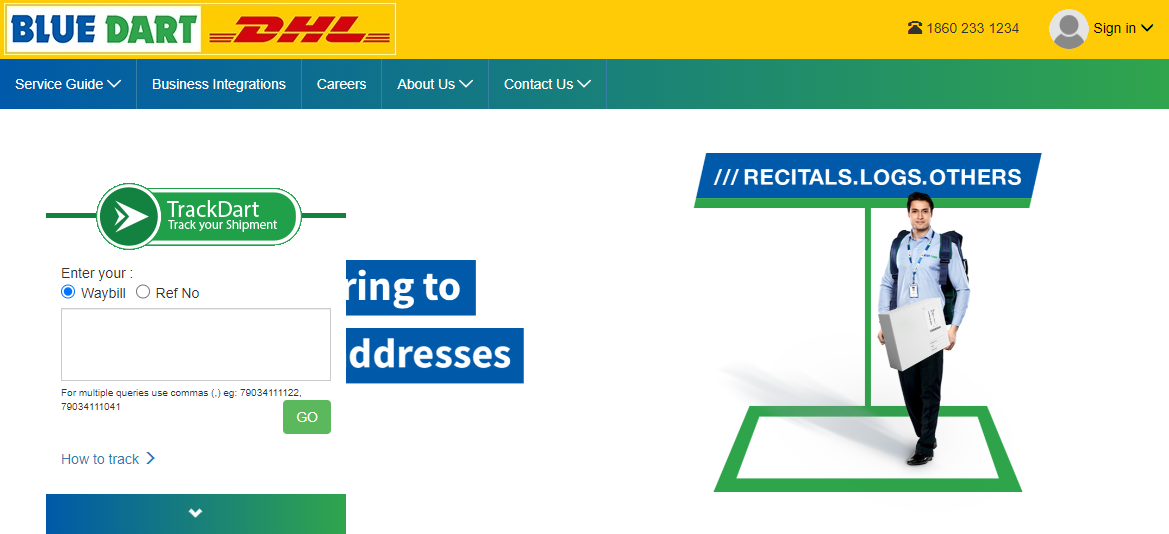 Step 2: Enter your tracking number (Waybill/Reference as per your selection) and click "Go."
Step 3: Then, a page with the detailed shipment history will appear on the screen.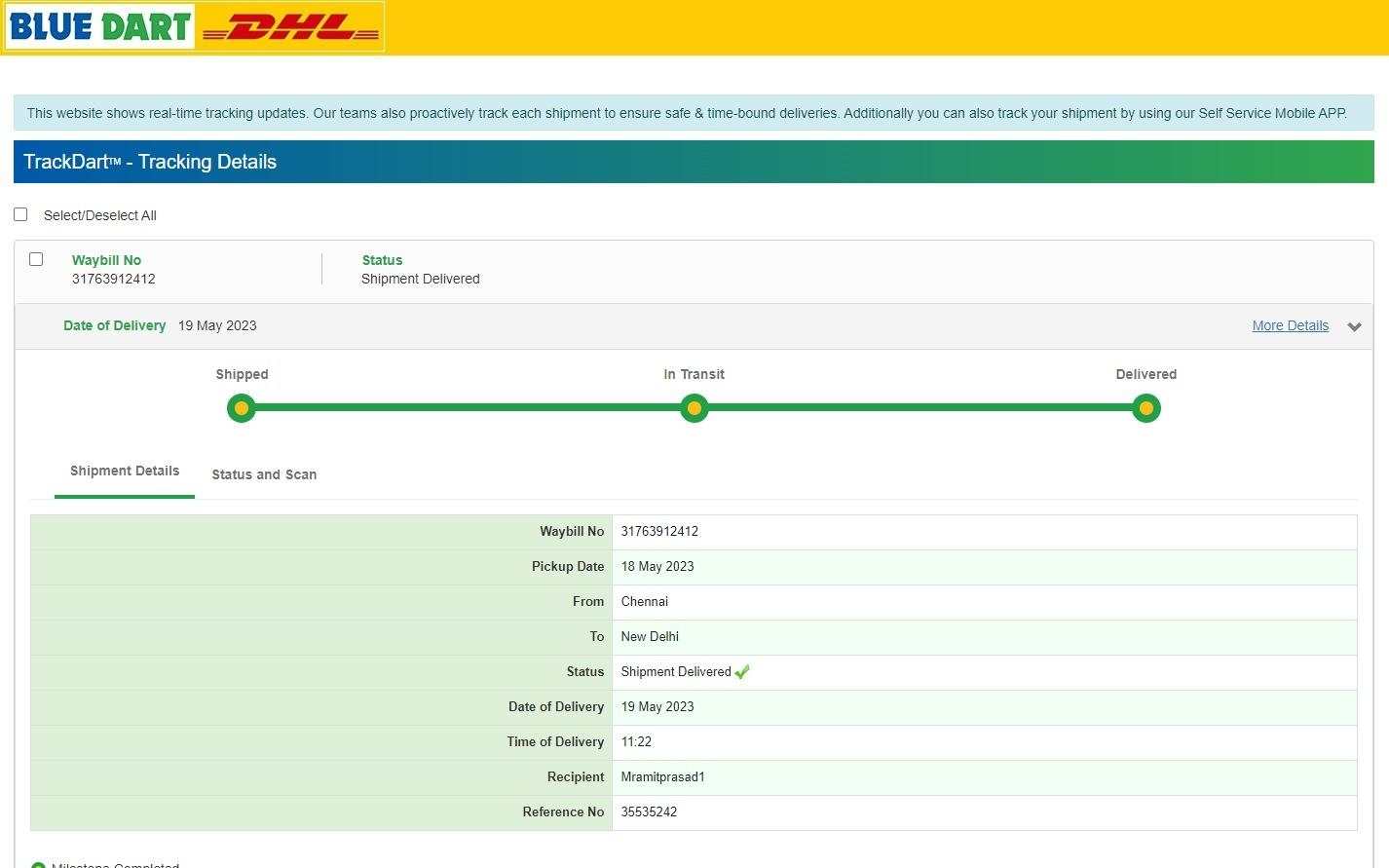 MobileDart is another alternative way of tracking Blue Dart packages. Customers can use the MobileDart service to receive notifications about the current status of their shipment as well as automated delivery messages on their phones. MobileDart SMS is compatible with any mobile phone or device that supports email.
✔To get the current Blue Dart shipment status via email, send an email to [email protected], followed by the waybill number or reference number.
✔To get delivery notifications, send an email to [email protected] followed by the waybill number or reference number.
By using ParcelPanel
ParcelPanel is a leading all-in-one tracking solution for eCommerce. It boasts integrations with more than 1,100 carriers worldwide, including Blue Dart, and more carrier integrations are on the way. Its seamless integration with Blue Dart's tracking API allows customers to access a branded tracking page, track the real-time progress of their package, receive automated shipping notifications, and so on.
Here is a detailed guide on how to use ParcelPanel for Blue Dart tracking.
Step 1: Go to ParcelPanel's homepage and click "Carriers" on the top menu bar.
Step 2: On the "Carriers" page, enter Bluedart in the search bar and continue with the search result to access the dedicated Blue Dart tracking tool.
Step 3: A tracking tool will appear after you select the Bluedart tracking service. Enter your Blue Dart tracking ID in the box and click the "Track" button.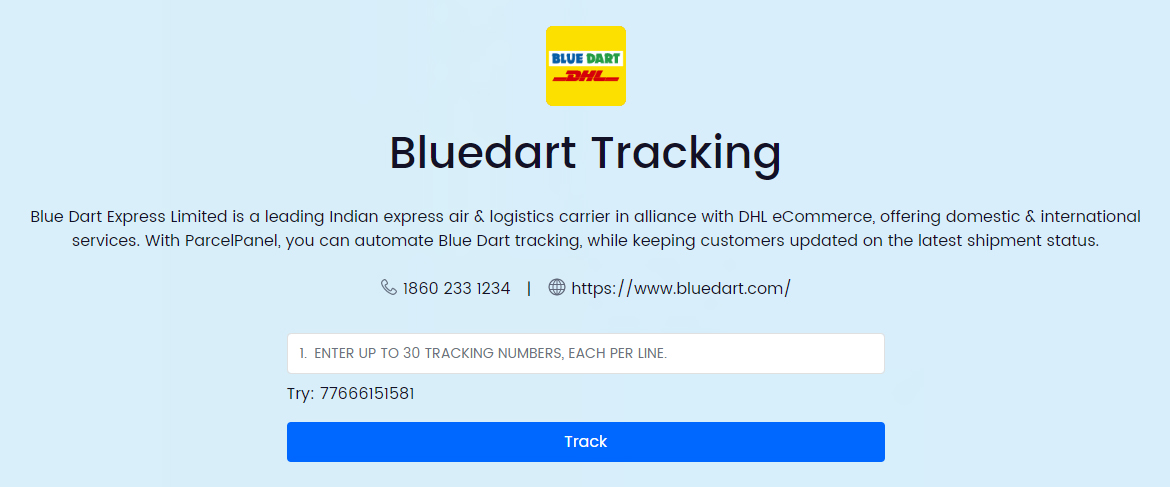 Step 4: Finally, a new page with the Blue Dart tracking details will open.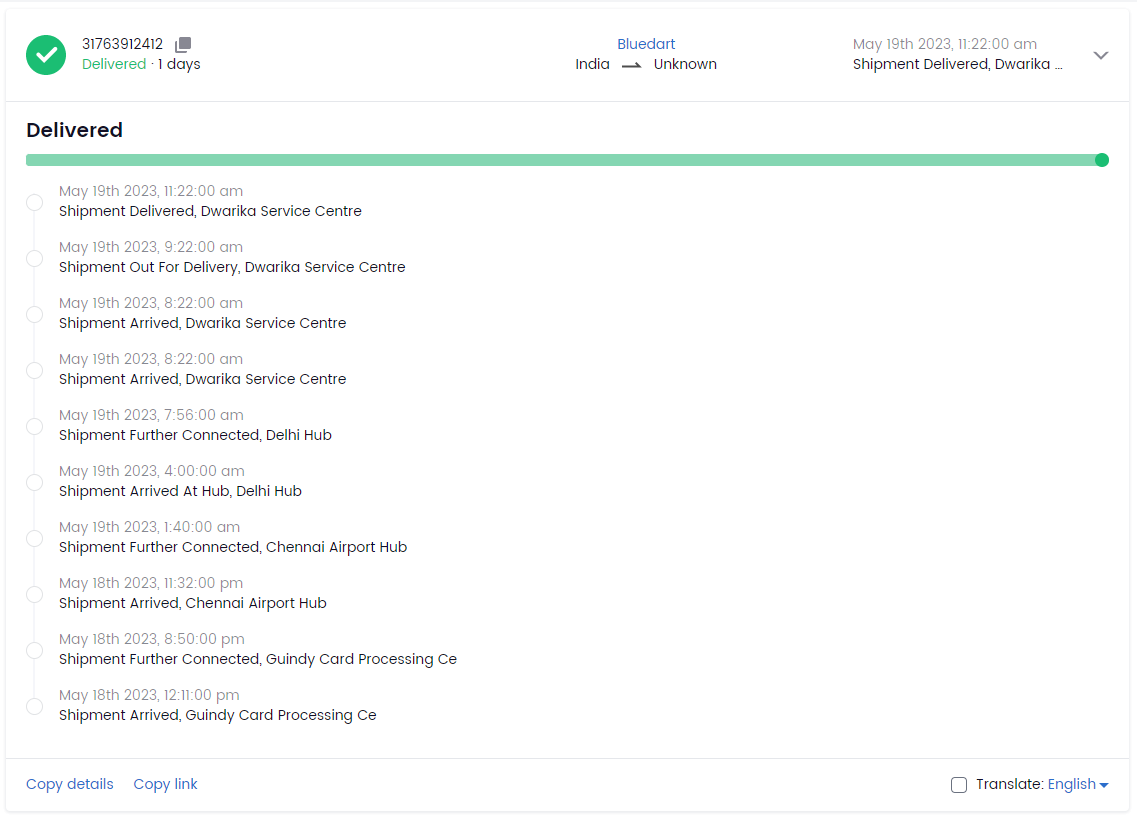 ParcelPanel created the order tracking app to give Shopify and WooCommerce merchants and their customers a seamless order tracking experience.

After installation, the app can automatically generate a branded tracking page for end customers to keep track of their orders, thus reducing WISMO inquiries for merchants. Customers can use their order number or tracking number to get the most recent shipment updates from the shop without having to visit other package tracking websites. Moreover, the app can trigger automated shipment notifications to bring your customers back for order lookup and encourage repeat purchases.
Moreover, the app can pull tracking information from the store order details and organize data, including the order numbers, tracking numbers, courier names, last checkpoints, transit times, order dates, and the latest statuses. In addition to in-depth analytics, the ParcelPanel app helps you greatly improve logistics management.
Blue Dart Tracking ID
Blue Dart assigns a unique identifier to every package registered and shipped through its network. That identifier is the tracking ID, which allows for easy package sorting and can be used to track the shipment's progress. The tracking number can be found beneath the barcode on the Blue Dart shipping label or receipt.
It's worth mentioning that Blue Dart shipments can be tracked for 45 days from the date of dispatch.
Blue Dart Tracking Number Format
The Blue Dart courier tracking number is the waybill number or the reference number provided at the time of shipping. A Blue Dart tracking number typically consists of 8 to 11 digits.
Blue Dart Tracking Number Example
The following are some Blue Dart tracking number examples.
31763912412
77666151581
81253036421
Blue Dart Tracking Status
The following are the Blue Dart courier tracking statuses and their meanings.
| Blue Dart Tracking Status | Meaning |
| --- | --- |
| Online Shipment Booked | The sender has registered the package with Blue Dart for pickup. |
| Shipment Picked Up | Personnel from Blue Dart have picked up the package. |
| Shipment Arrived | The package has arrived at the local facility or a warehouse near the destination. |
| Shipment Further Connected | The package is on its way to the destination. |
| Shipment Arrived At Hub | The package has reached the Blue Dart distribution center. |
| Network Delay, Will Impact Delivery | The shipment is delayed due to traffic, holiday, weather, and other factors. |
| Shipment Out For Delivery | The local delivery facility has received the package and is getting it ready for delivery. |
| Shipment Delivered | The Blue Dart package has been successfully delivered to the recipient. |
| Undelivered Shipment Held At Location | The package delivery attempt was unsuccessful for a specific reason, such as failing to pass customs, and is currently being held at the designated location until the issue is resolved. |
Blue Dart Tracking FAQ
How do I contact the Blue Dart delivery person?
When the package is ready for delivery, Blue Dart notifies the recipient through a text message. However, the delivery person's contact information is not usually included in the message. Hence, to contact the Blue Dart delivery person, you have to either call customer service or send an email mentioning your tracking number.
How to track Blue Dart courier services?
Blue Dart courier service can be tracked online, via email, or by calling customer service. For online tracking, you can use the tracking tools available on the website, app, or website of other third-party tracking services. Regardless of the method you select, you must use your Blue Dart tracking ID.
Is Blue Dart open on Sunday?
No, Blue Dart is closed on Sunday. Blue Dart's working hours are from Monday to Saturday (business days) from 8 a.m. to 8 p.m. However, during the festival seasons, the services are open 24/7.
How long does Blue Dart take to deliver?
The delivery time Blue Dart takes depends on the type of service the customer uses. Usually, Blue Dart is a fast shipping service that takes around 1-2 business days to ship their express service packages within India. However, delivery time for standard service can range between 3-5 business days.
How to reschedule Blue Dart delivery?
Don't worry if you missed a Blue Dart delivery attempt. Usually, another attempt will be made the next day. Certainly, you can reschedule Blue Dart delivery by contacting their customer service. Mention your package identification number (order number) and ask to reschedule the delivery.
How to change Blue Dart delivery address?
You can call Blue Dart's customer service or email them with your order number to change the delivery address.
Is Blue Dart and DHL the same?
No, Blue Dart and DHL are not the same; they are separate logistics companies. In 2002, an alliance was formed between Blue Dart and DHL. Later, in November 2004, DHL invested €120 million and acquired 81 percent of Blue Dart's stake. DHL is thus a major shareholder of Blue Dart.
Currently, Blue Dart is operating as one of the top express and air delivery services in India, whereas DHL is considered one of the top 3 global logistics companies.
Is Blue Dart safe?
Yes, Blue Dart is safe for shipping both domestic and international packages. One of the top logistics companies in India, Blue Dart is known for its affordable prices and commitment to timely and safe door-to-door deliveries. They currently deliver to over 55,400 locations across India.
How to track Blue Dart couriers with reference number?
To track your Blue Dart courier with a reference number, go to the Blue Dart official website and select Ref. No. option when using the Blue Dart's tracking tool named "TrackDart." Then, enter your reference number in the tracking field and click "Go" to get the tracking information.
How to return a product on Blue Dart?
To return a product on Blue Dart, you have to contact customer service and make a return request. When submitting the request, make sure to include your order number, which serves as the identifier for the product you want to return. Blue Dart will respond within 24 hours to proceed with your request.
Blue Dart Customer Care
If you need assistance with any general inquiries or have issues with your shipment, contact Blue Dart customer service.
Blue Dart customer care number
To communicate with the Blue Dart customer care representatives, dial the following numbers from Monday to Saturday from 6:30 a.m. to 9:30 p.m. (GMT+5:30).
1860 233 1234
022 6260 1234
044 6634 4600
BlueDart customer support email address
You can email your queries to [email protected]
You can also seek assistance from the Blue Dart 24-hour counters, which are located in the following locations.
✔ Mumbai (Airport Vile Parle)
Hotel Avion,
Opp. Domestic 1a Terminal,
Nehru Road, Vile Parle (East), Mumbai
Phone: (022) 26184202/3286
✔ Delhi (Delhi Cantt.)
Iv-1/48,
Gopinath Bazaar,
Delhi Cantonment, New Delhi
Phone: (011) 25699951/52/53/54
✔ Hyderabad
Gr. Floor,
Uma Hyderabad House,
Raj Bhavan Road, Hyderabad
Phone: (040) 23311919/2110/2060
Note: The "Contact Us" section also has the option "Write to Us" for submitting both positive and negative feedback.