About Delhivery
Delhivery is one of India's leading logistics, supply chain, and global B2B and B2C shipping companies. The company was established in May 2011 by five individuals–Sahil Barua, Mohit Tandon, Bhavesh Manglani, Suraj Saharan, and Kapil Bharati.
Its headquarters are in Haryana, and its registered office is in New Delhi. The company has established a nationwide network with offices in all states. It has 94 gateways, 2880 direct delivery centers, and 24 automated sorting facilities. Besides, the team of over 57,000 people works 365 days a year and provides services to over 18,500 pin codes.
Delhivery is moving forward with the goal of becoming India's largest and most profitable logistics company for digital commerce. To transform its vision into reality, Delhivery offers a wide range of domestic and international shipping services and is competing with other leading logistics companies in India, such as XpressBees, Shiprocket, eKart Logistics, and so on.
Delhivery Tracking (डिलीवरी कूरियर ट्रैकिंग)
Delhivery provides a wide range of shipping services, including:
Express Parcel

Partial truckload Freight (B2b freight deliveries)

Truckload Freight

Cross-border Service (B2B and B2C International shipping via air and sea)

Supply Chain Service
In particular, real-time package tracking is available for both domestic and international shipping. No matter which service you choose, a unique tracking number between 12 and 14 numeric digits will be assigned to every Delhivery package. You can use this number to track your package delivery online. Because the pronunciation of Delhivery is similar to "Delivery," you may still access "Delhivery Tracking" services even though you've entered "Delivery Courier Tracking" in the search engine.
The following are the services that Delhivery provides, along with a detailed overview.
Delhivery Surface Tracking
For domestic surface shipping, Delhivery offers Partial-Truckload (PTL) and Truckload (TL) Freight services. These services are designed to serve B2B's regular and seasonal shipping needs across the country at a competitive rate while also providing real-time shipment visibility and electronic proof of delivery.
Delhivery Air Tracking
Delhivery partners with FedEx to provide air shipping services for transporting packages and air cargo to and from India. Packages that are registered for shipping via airplane are provided with an Air Waybill (AWB) number on the receipt.
The AWB number is the tracking number that allows customers to track and monitor their packages using the Delhivery tracking tool integrated into the Delhivery official website. You may also use professional package tracking websites like ParcelPanel for Delhivery AWB tracking.
Delhivery LTL Tracking
Delhivery LTL (Less Than Truckload) shipping services are referred to as PLT services, suitable for items destined for domestic addresses. The LTL shipping is conducted via Delhivery's own vehicle fleet and its vast network of pan-India truckload partners. When the cargo is loaded onto a specific lorry, it is assigned a Lorry Receipt Number (LRN) that can be used to track the shipment progress. As for Delhivery LTL tracking, if you're the sender, you can log in to the Delhivery LTL Panel. Notably, ParcelPanel also supports Delhivery cargo tracking.
Delhivery Prepaid Tracking
Delhivery has different payment methods for its various services. Among them is the prepaid service - the payments related to the package are paid from a merchant's Delhivery Miles Wallet at the time of shipping. It is common when the merchant is responsible for the shipping costs.
To give customers peace of mind, Delhivery provides real-time package tracking along with prepaid shipping. You may also use the Delhivery tracking number for real-time Delhivery prepaid tracking on ParcelPanel.
Delhivery Express Tracking
The Express Parcel is Delhivery's fastest shipping service that covers more than 18500 pin codes in India. It allows for consignments with a weight limit of 10 kg. Delhivery's extensive pan-India network and PTL service support the shipping of heavy goods such as furniture, large electrical products, fitness equipment, etc.
After shipping with Delhivery Direct app, you can track your Delhivery Express package status using the Delhivery tracking tool on the official website or a professional third-party courier tracking website like ParcelPanel. The Delhivery Direct app also offers real-time express tracking, as you may find by searching "Delhivery Direct Express tracking."
Delhivery COD Tracking
The Delhivery cash-on-delivery (COD) service is one of the flexible payment options offered by Delhivery. The COD service can be provided through Delhivery SME, which is specially designed keeping small and medium enterprises in mind and caters to Indian consumers' needs to inspect products in person before payments.
The SME service offers door-to-door delivery with a real-time tracking feature. The delivery personnel deliver the package to the recipients and receive the cash from the delivery location. Due to the digitalization of the process, the successful delivery notification and the payment history are updated right away on the app. You can choose Delhivery online tracking tools or professional package tracking websites like ParcelPanel for Delhivery COD tracking.
Delhivery International Tracking
Delhivery International Shipping Service, also known as the Cross-Border Service, provides door-to-door and port-to-port express parcel services via air cargo, ocean freight, and road freight transportation. Delhivery's international operations are powered by Starfleet, combined with a reciprocal relationship with FedEx to expand its footprint. Below are more details about Delhivery international tracking by service:
Air express & cargo services
✔Real-time package location tracking
✔Space is allocated every week to major traffic lanes for conducting regular deliveries and ensuring damage-free transits.
✔Bulk break options are offered at the destination for package consolidation before they are further distributed.
✔Full-container load or less-than-container load as per demand
✔Temperature-controlled containers to keep long-distance package shipments safe.
✔Multi-modal connectivity for door-to-door delivery
✔Real-time shipment visibility with regular notifications sent to business owners
✔Precise real-time Delhivery shipment tracking
✔Full-truckload or less-than-truckload, depending on SME needs
✔A full-fledged on-road freight network across the SAARC nations
Delhivery also provides on-demand warehousing services where cargo can be held momentarily without paying a detention fee in case of unfavorable conditions. Furthermore, it provides warehousing services at major ports and cities, with bonded, non-bonded, and Free Trade Zone (FTZ) warehousing options.
How to Track a Delhivery Parcel?
Delhivery's official website has an integrated Delhivery parcel tracking tool that allows customers to track their parcels around the clock from anywhere in the world. You can use that tool to track your package by using a tracking number, mobile number, order ID, or LRN number. You can also track your package through reliable and secure third-party tracking services like ParcelPanel.
Here is a detailed step-by-step guide on how to track a Delhivery package so that you can understand the procedure in the easiest way possible.
By using Delhivery Tracking
If you're searching Delhivery tracking India services, the official Delhivery tracking tool on the official website is a perfect choice. To track your package using the Delhivery tracking tool on the official website, all you need to do is:
Step 1: Go to the homepage of the Delhivery official website.
Step 2: Select the Delhivery tracking option (mobile number, tracking ID, Order ID/Ref ID, LRN number) you want to use.
Step 3: Enter the Delhivery tracking number or mobile number in the tracking field.
Step 4: Click the "Track" button for the tracking number or "Get OTP & Track" if you use your mobile number.

After that, the latest tracking update on your package will appear on your screen.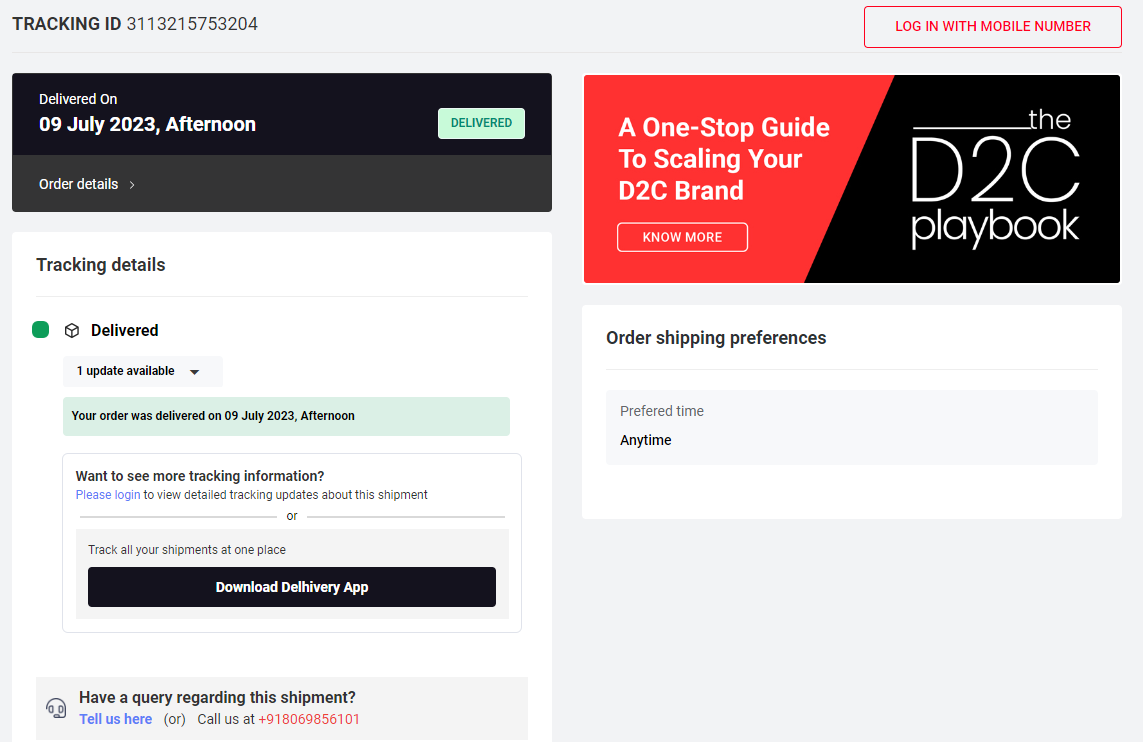 To get more detailed tracking information, you'll need to log in to your Delhivery account or download the Delhivery App.
Please note that you can't use the Delhivery tracking tool to track packages that have been delivered for more than 7 days. Otherwise, you'll see this message:'

Note: For tracking with a mobile number, use the number that has been used to register your package.
By using ParcelPanel
ParcelPanel is an all-in-one eCommerce order tracking solution that supports more than 1,100 shipping carriers worldwide, and Delhivery is one of the carriers. The integration of PanelPanel with the Delhivery tracking API has made it easier for businesses to centralize their package tracking, whether they need Delhivery tracking India or Delhivery International Tracking services.
Simply enter the tracking number into the tracking tool, and the APIs will retrieve all of the tracking information and display specific updates of the package's journey on your screen.
You can track your Delhivery package through ParcelPanel in two ways: The official website and the Order Tracking app.
Here is a detailed guide on how to use ParcelPanel for Delhivery parcel tracking.
Step 1: Go to the ParcelPanel "Carriers" page
On the homepage and click on "Carriers" from the top menu bar.
Step 2: Select "Delhivery"
On the "Carriers" page, search for Delhivery in the search bar and click on "Delhivery."
Step 3: Enter the tracking number
On the Delhivery Courier tracking page, a tracking number box will appear where you need to enter your Delhivery tracking ID and click on the 'Track' button. You can enter up to 30 Delhivery tracking IDs at a single time.

Then, you will be redirected to another page that contains the Delhivery shipment tracking information in detail.

ParcelPanel has built order tracking apps for Shopify and WooCommerce merchants and they serve as a complete shipment tracking solution. Such an app can automatically generate a branded tracking page once installed. This order tracking app allows merchants to centralize shipment tracking by displaying the tracking data of all their carriers on a single dashboard. Since they can access all the necessary information in onne place, including order number, tracking number, shipping status, etc., it becomes easier for merchants to keep track of orders and answer customer service queries.
Delhivery Tracking ID
Every package registered and shipped by Delhivery comes with a tracking ID. This Delhivery tracking ID (or Delhivery tracking No.) is usually sent through the confirmation email, text message, on the receipt, or under the barcode on the package.
Delhivery tracking number format
The standard Delhivery tracking number consists of 12 to 14 numerical digits.
Delhivery tracking number example
Here are some Delhivery tracking number examples to assist you in identifying your Delhivery tracking number.
21194910108194
3613010330654
3613010328300
7420257836120
5871810678613
19041430371232
4839511128212
1109412310604
Delhivery Tracking Status
The tracking tool displays the shipment progress of your packages through various statuses. Therefore, you must understand what those tracking statuses mean.
The following table lists the common Delhivery tracking statuses that you might see while tracking your package, along with their meanings.
| Delhivery Tracking Status | Meaning |
| --- | --- |
| Shipment not ready for pickup | The delivery personnel will be unable to pick up the package on the scheduled date. |
| Package arrived at Delhivery facility | The package is now being processed at the Delhivery facility and will be out for delivery shortly. |
| Our executive is out for pickup | The delivery personnel is on his way to the sender's location to pick up the package. |
| Shipment picked up | A delivery personnel has picked up the package from the pickup location. |
| Our executive is out for delivery | The delivery personnel is on his way to the recipient's location to deliver the package. |
| Shipper unavailable | Delhivery is unable to get in touch with the shipper or sender to get the necessary instructions for moving forward with the delivery or to give updates on the shipment. |
| Delivery rescheduled | The package won't be delivered at the scheduled time; rather, the date has been shifted to another day. |
| In transit for return | The package is on its way back to the sender due to the recipient's absence/rejection, package damage, a return request, and other factors. |
| Unexpected scan | The shipping label on the package might not be scanned for a period. However, the package is still moving, and the Next Expected Tracking Event will be provided. |
| Pickup pending | The shipping company has not yet picked up the package. |
| Trip received / Order received for delivery | The courier, Delhivery, has been informed of the order. |
| Package delivered / Item delivery confirmed | The recipient has received the package. |
| Send receptacle abroad (OTB) | The India Post consignment of bulk shipments (receptable) has been sent to a foreign country. |
| Received Receptacle from abroad | The receptable (a consignment of bulk shipments) has reached the destination country or a transit country midway for transfer. |
Delhivery Tracking FAQ
Here are the answers to the most frequently asked Delhivery questions.
The Delhivery customer care number is not working. What can I do?
Don't panic if the Delhivery customer service number is not working, as there are alternative ways to contact Delhivery. You can email them at their customer support email address or contact them via social media.
They have linked all of their social media accounts to their official website. You can DM your queries on Instagram, share posts mentioning Delhivery on LinkedIn, or tweet your queries to the @help_delhivery Twitter account. Make sure to use the hashtag #delhivery to make your post visible to a mass audience.
Why is my Delhivery shipment not ready for pickup?
The common reasons your Delhivery shipment is not ready for pickup are:
The shipment is still under processing.

The courier hasn't reached the pickup location.

Operation challenges such as staff scarcity, high shipment volume, or technical glitches can cause delays in the pickup process.
How much time does Delhivery take to deliver?
The time Delhivery takes to deliver packages depends on the type of shipping service, distance, and other factors such as weather conditions, customs clearance for international shipments, and so on. The fastest domestic service is Express Parcel, which can deliver on the same day, the next day, and within 48-96 hours (2-4 days) for long-distance shipments.
How much are Delhivery delivery charges?
Delhivery delivery charges vary depending on the types of services and other influencing factors, such as package size and weight, delivery speed, and destination. The estimated costs of Delhivery courier services are as follows:
Express delivery:

The delivery charge for a package weighing up to 500 g begins from INR 40 for local deliveries and INR 75 for national deliveries. Depending on the destination, shipping a package over 10kg can cost anywhere between INR 300 and INR 500.

Ground shipping:

A package weighing up to 1 kg can be delivered from Delhi to Mumbai for about INR 75, whereas a package weighing up to 10 kg can be shipped from Delhi to Kolkata for about INR 180.

Air cargo:

The delivery charge for a package weighing up to 1 kg begins at INR 100 for local deliveries and INR 150 for national deliveries. Depending on the destination, shipping a package over 10kg can cost anywhere between INR 350 and INR 550.
What Delhivery first-time coupon code can I use?
When placing an order through the mobile app, you can use the promo codes DELAPP10 for a 10% discount and DELAPP20 for a 20% discount. The coupon code GET20 can save you 20% off Delhivery Direct services.
What is the AWB number in Delhivery?
The AWB number in Delhivery is the Air Waybill tracking number. Customers can use this unique code to track the progress of their packages in real time with ParcelPanel's Delhivery tracking tool.
How do I contact Delhivery delivery?
You can contact Delhivery delivery in the following ways-
The information is available under the "Raise a Query" section of their official website. The contact information will also be included in your shipping confirmation email.
Delhivery Tracking Customer Service
You can contact Delhivery customer service if you have any questions about your shipment or returns, need general information, or want to file a complaint.
Here is a detailed list of the contact information of Delhivery customer service.
HEADQUARTER
DELHI NCR
Plot 5, Sector 44,
Gurugram,
Haryana - 122002
REGISTERED OFFICE
NEW DELHI
N24-N34, S24-S34,
Air Cargo Logistics Centre-II,
Opposite Gate 6 Cargo Terminal,
IGI Airport, New Delhi – 110037
Delhivery customer care number
Call the Delhivery toll-free number (+91) 8069856101 to speak with a Delhivery customer service representative. Offices are open Monday to Saturday (9 a.m.–8 - 8 p.m.).
International customers can call +91 (124) 4718919 or 1-800-103-6354
You can also contact them on WhatsApp. They usually include their WhatsApp contact number in the confirmation email.
You can also email them at [email protected]
For general information, you can email them at [email protected]