About eKart
Founded in 2009, Ekart Logistics is a delivery company headquartered in Bangalore, Karnataka, India. The company was initially started to meet the logistics needs of Flipkart. However, with the passage of time, it has been fulfilling the needs of other businesses along with Flipkart. Now, it is considered a subsidiary of Flipkart Pvt. Ltd. and is operated by Instakart Services Pvt. Ltd.
eKart works as a logistics partner of the largest eCommerce platforms in India, such as Amazon India, Flipkart, Myntra, etc. Even though it has only served the logistics needs for a small period compared to other popular couriers, it has gained consumer trust and love by providing satisfactory services.
The collaboration with the Singapore-based company Klick2Shop Logistics Services in 2017 has been a great achievement for the company. Currently, eKart is giving head-to-head competition to other logistics providers, including Delhivery, DTDC, Shiprocket, India Post, and others.
eKart Tracking
eKart provides reliable shipping services to all the major cities in India. The packages shipped via eKart are provided with unique combinations of tracking numbers. These numbers can be used to track and trace shipments online anytime, from anywhere.
eKart Surface Tracking
eKart Surface is a reliable B2B delivery and pickup service designed for Micro, Small, and Medium Enterprises (MSMEs). This service aims to provide logistics solutions to a variety of businesses, including manufacturers, retailers, brands, and eCommerce merchants.
With a fleet of more than 7000 GPS-equipped trucks and 80 hubs, eKart offers full truckload (FTL) service for shipping large-volume goods and part truckload (PTL) service for the transportation of small-quantity goods to major cities in a single shipment.
The features of the eKart Surface service include:
Real-time tracking with accurate updates

Clear supply chain visibility

Easy return process

Safe & secure transportation
eKart Return Tracking
eKart supports the return of items. If a customer has a problem with a package they received from eKart, they can request and initiate a return to the seller or sender. To return the package, the customer has to open the order section to initiate a return process. They can also request a return through the customer care service.
You'll then receive an eKart return tracking number, which you can use to track the returned item until it's successfully sent back to the seller.
eKart Flipkart Tracking
eKart is a subsidiary of Flipkart that serves as the company's in-house logistics provider. Around 90% of Flipkart orders are delivered by eKart. Flipkart orders whose shipping is handled by eKart are assigned individual tracking numbers.
Customers can track their orders on the Flipkart app, as the systems between eKart and Flipkart are seamlessly connected. They can also track their Flipkart order in the eKart system using their tracking number. Alternatively, customers can conduct Flipkart eKart tracking through third-party logistic tracking websites like ParcelPanel.
Myntra Tracking eKart
Myntra is one of the largest fashion and lifestyle eCommerce websites in India. After Flipkart acquired Myntra, its logistics were merged with eKart. Hence, orders from Myntra are mostly shipped through eKart.
The Myntra orders shipped via eKart can be tracked in both the Myntra app and eKart Logistics tracking system. Customers can enter the eKart Myntra tracking number into the eKart tracking tool or a third-party tracking website like ParcelPanel for the latest shipment update.
eKart Amazon Tracking
eKart might be a logistics partner of certain Amazon India sellers. For fulfilling the shipping needs of Amazon India, certain sellers may use eKart along with other shipping companies. These sellers provide eKart tracking numbers to their customers at the time of shipping. Although eKart is not an Amazon courier partner, customers can get eKart tracking ID for their order on the Amazon India site and visit the eKart Logistics official website or a third-party tracking website that supports eKart tracking to monitor the delivery progress in real time.
How to Track eKart Logistics?
The eKart official website has an integrated eKart Logistics tracking tool that allows customers to track packages using the eKart tracking number. Apart from the eKart website, there are other alternatives, such as third-party tracking service providers. On that note, ParcelPanel is a reliable and trustworthy third-party tracking service provider that streamlines shipment tracking across numerous carriers.
The following is a step-by-step guide for tracking your eKart package using eKart and ParcelPanel.
By using eKart Tracking
Step 1: Go to the homepage of the eKart official website and click on the "Track Order" option at the top right corner or use the prominent "Track Your Shipment" tool directly.

Step 2: Enter your eKart tracking number in the tracking field and click on the search icon of the tracking tool, or simply press "Enter" on your keyboard.
Step 3: A new tracking page with a detailed shipment history will open immediately. Here's what we've got by using the eKart tracking ID, FMPC2927978921. As we can see this is a Flipkart order that was successfully delivered on July 29, 2023.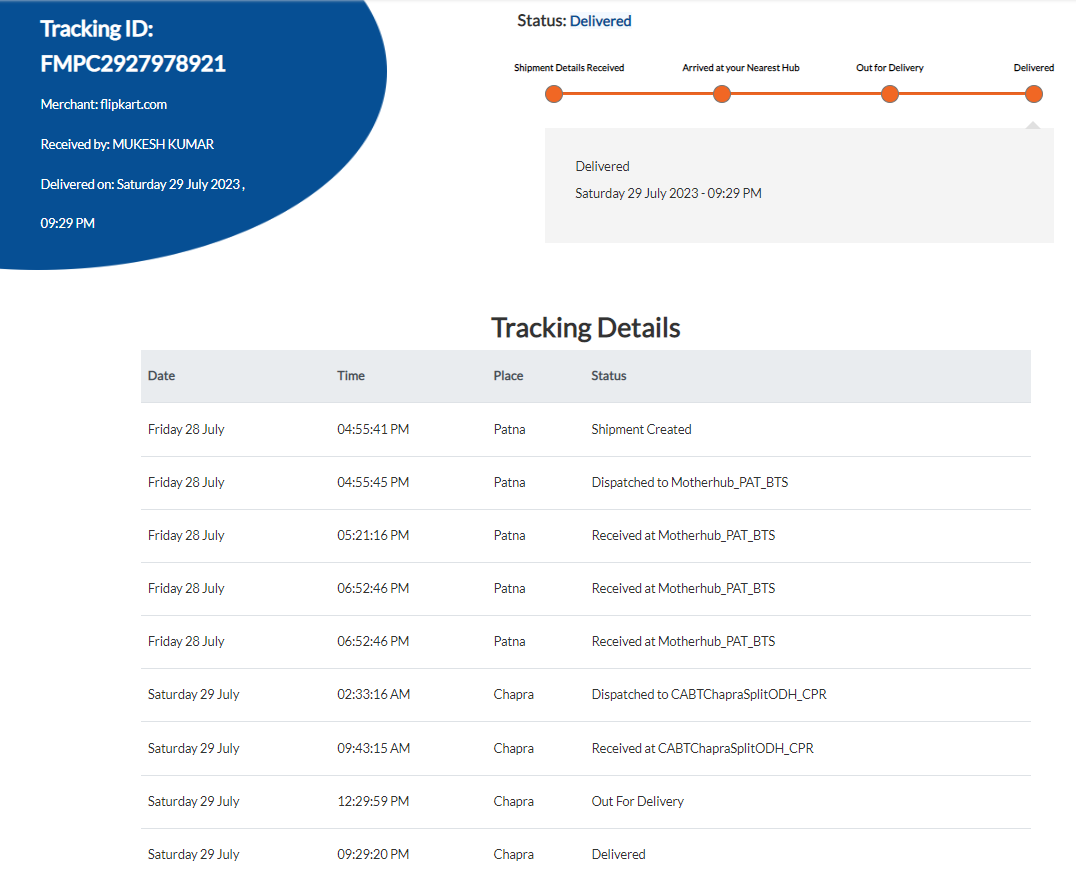 By using ParcelPanel
ParcelPanel is a leading all-in-one tracking solution for eCommerce. It has a vast network of over 1100 carriers worldwide and is expanding over time, with more carrier integrations on the way. In this extensive network of logistics service providers, eKart is one of the carriers.
The seamless integration of ParcelPanel with the eKart tracking API allows customers to track the progress of their eKart packages, receive automated shipping notifications, access real-time updates through a branded tracking page, and more.
The following is a step-by-step guide on how to use ParcelPanel for eKart tracking.
Step 1: Go to ParcelPanel's homepage and click the option "Carriers" on the top menu bar.
Step 2: On the Carriers page, there is a search bar. Type "eKart" in the search bar and click on the eKart tracking tool that appears below the search bar.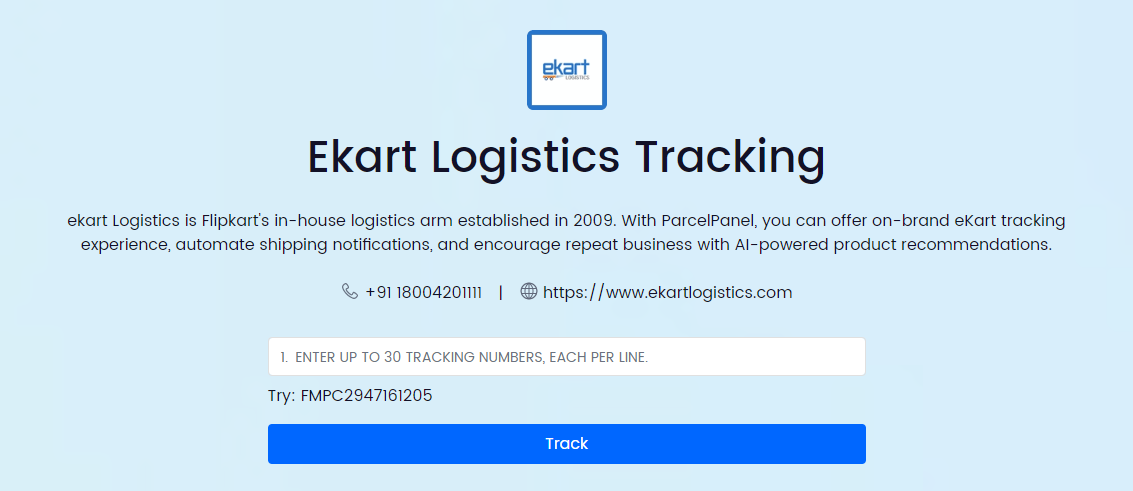 Step 3: Enter your eKart tracking ID in the tracking toolbox on your screen and click the "Track" button.
Note: You can enter up to 30 eKart tracking numbers per search. Make sure to separate each tracking number by line.
Step 4: A tracking page with a detailed shipment history will now appear on the screen.
Usually, the status bar shows only the latest shipment status. There is a small arrow icon on the right side of the status bar. Click on the icon to view the milestones the package has reached, along with the exact time and date.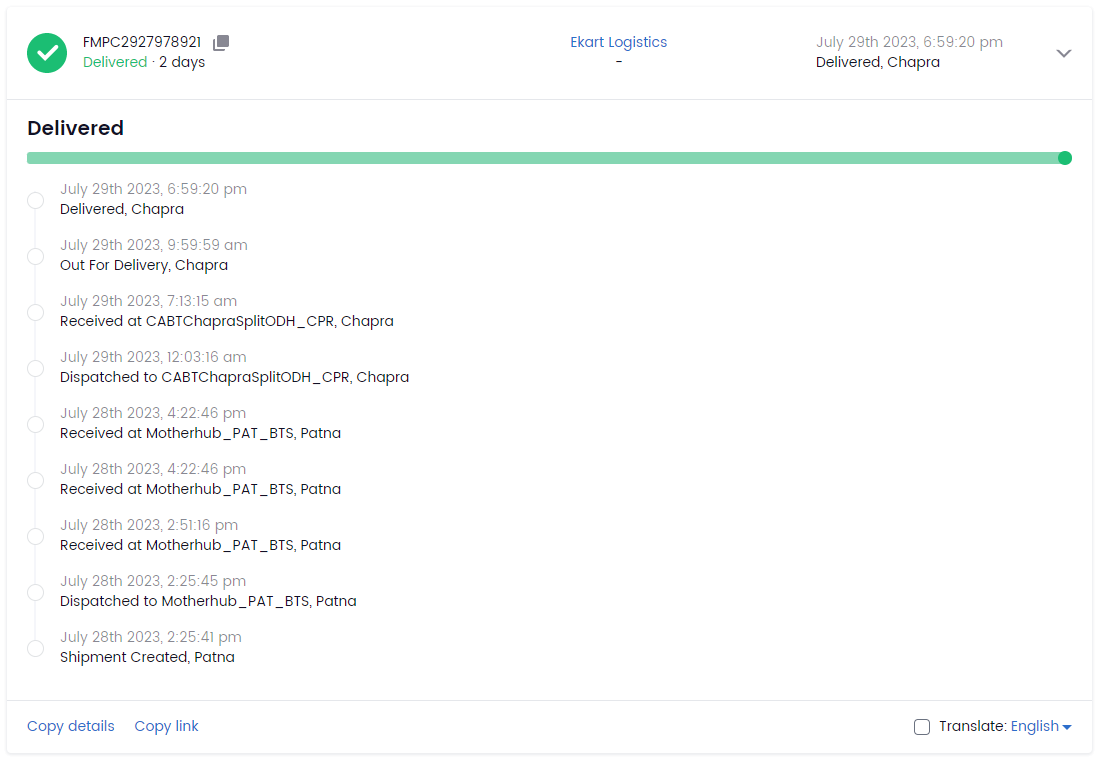 ParcelPanel order tracking app is an all-in-one shipment tracking solution specially designed for Shopify and WooCommerce merchants. The app, after installation, generates a branded tracking page automatically. The order tracking page provides end customers with enhanced shipment visibility and peace of mind after the buy button.

With over 1,100 carrier integrations and more powerful functionalities, it is a better choice than the ParcelPanel official website for you to track eKart Logistics shipments. The ParcelPanel app extracts tracking numbers and carrier information from store order details and retrieves shipment tracking information with over 1,100 carrier integrations in real time. The shipments will be categorized into standardized statuses - in transit, out for delivery, failed attempts, delivered, expired, pending, and so on.
The app also shows other detailed information, such as order numbers, tracking numbers, courier names, last checkpoints, transit times, order dates, and current statuses.
With all these, merchants can access this detailed information about multiple carriers in one place from the backend and save hours of work on order tracking.
With ParcelPanel, merchants can give customers a positive customer service experience, encourage loyalty, turn them into repeat customers, and increase sales.
eKart Tracking Number
eKart assigns a unique combination of tracking numbers to every package it delivers. The tracking number is available on the receipt, in the shipping confirmation email, or in SMS.
The tracking number is key to tracking and staying up to date on the status of the package. eKart also provides the order number on the receipt. Please do not confuse it with the tracking number.
eKart Tracking Number Format
The eKart tracking number is a combination of 14 alphanumeric characters. The eKart tracking ID begins with 4 uppercase letters and is followed by 10 numerical digits. For example, FMPP0123456789
eKart Tracking Number Example
Here are a few eKart courier tracking number examples:
FMPC2927978921
FMPP1720702906
eKart Tracking Status
Here is a list of eKart tracking statuses, along with the explanation.
| Tracking Status | Meaning |
| --- | --- |
| Shipment Created | A shipment label has been generated for the package. |
| Pickup from seller | eKart courier has picked up the package from the sender. |
| Received at XXX address (warehouse) | The eKart warehouse has received the package. |
| Dispatched to XXX Sort Center | After scanning, registering, and other warehouse formalities, the package was sent to the sorting center. |
| Received at XXX Sort Center | The sorting center has received the eKart package. |
| Dispatched to XXX (Local/Nearest Hub) | The eKart package is sent to the local distribution center for final delivery. |
| Received at XXX (Local/Nearest Hub) | The local distribution center has received the package and will deliver it soon. |
| Out for delivery | The package is on its way to the recipient. |
| Delivered | The recipient has received the package successfully. |
| Unsuccessful Delivery Attempt (Reason) | The package delivery failed for the reason mentioned. |
| Marked RTO | RTO stands for 'Return To Origin,' which means the package has been/will be returned to the sender. |
eKart Tracking FAQ
The following are some of the most frequently asked questions about eKart Logistics.
What is eKart Logistics?
eKart Logistics is a privately owned Indian-based courier delivery company. It was established in 2009 and is run by Instakart Services Pvt. Ltd. The company is a subsidiary of India's one of largest e-commerce platforms, Flipkart.
Does eKart deliver on Sunday?
Yes, eKart delivers on Sunday. Those who cannot receive deliveries during the week can schedule Sunday deliveries at eKart. Customers can contact eKart customer service via phone call or text message to schedule delivery on Sundays or holidays.
However, Sunday and holiday delivery options are limited to certain pin codes and services. So, customers are advised to check the eKart Logistics website to confirm whether their location is eligible for Sunday or holiday delivery.
Is eKart owned by Flipkart?
Yes, Flipkart is the owner of eKart. Sachin and Binny Bansal, the founders of Flipkart, launched eKart in 2009 to provide in-house logistics and supply chain services. Flipkart started out as an online bookstore. Later, it expanded its services by selling a wide v of products, including home appliances, fashion, electronics, furniture, jewelry, groceries, and many more.
Initially, the purpose of eKart was to handle the delivery requirements for Flipkart orders as well as offer supply chain management services to other companies. Ekart Logistics has grown to become one of India's largest and most reputable logistics and supply chain companies. Now, it operates as a subsidiary of Flipkart and is managed by Instakart Services Pvt. Ltd.
How to give feedback to the eKart delivery boy?
After your order is delivered, you will receive an SMS on your registered phone number with your order details and a feedback link. If you want to provide feedback to the eKart delivery boy, all you need to do is:
Step 1: Open the text message and click on the feedback link
On the feedback page, there are rating options to share your delivery experience and a box to share thoughts.
Step 2: Click on the reactions, either happy, I'm okay, or I'm not happy and type your experience in the feedback box.
Step 3: Click on the "Submit" button.
What is a 3-digit pin in eKart?
The 3-digit pin code in Flipkart is a way to contact the delivery man. The pin code is provided beside the contact number of the delivery man. Customers can dial the official number and enter the pin code to get connected with the delivery man.
How do I return an item to eKart Logistics?
eKart Logistics offers a return option for delivered items. To return your item to eKart, follow these steps.
Step 1: Go to the "Orders" tab from the menu
Step 2: Click on the delivered order you want to return
Step 3: Click on the "Create Return" option
Now, a page containing your order details will appear on your screen immediately, and you can proceed to return your product.
eKart Customer Care
For queries related to eKart shipping, tracking issues, and lost, stolen, or damaged packages, it is advised to contact eKart customer care for their assistance.
Wondering how to contact eKart Logistics? Here is the contact information.
Tower 5 (A, B, C)
Embassy Tech Village
Bengaluru, Karnataka - 560103
eKart customer care number
Dial 1800 208 9898 to speak with eKart customer care representatives. They can provide suggestions and general information, as well as assist you in filing complaints and returns. The customer care service is available Monday to Saturday from 8:00 a.m. to 5:00 p.m. GMT+5.
eKart customer support email
You can also email eKart at [email protected] for technical support.