About India Post
India Post is the government-operated postal service in India, as part of the Department of Posts under the Ministry of Communications. The postal service was established under the name of Company Mail by Warren Hastings at the East India Company in 1766.
India Post is making progress toward its vision of becoming customers' top choice for its products and services and its mission of delivering postal deliveries, money transfers, and other retail services with speed and reliability.
India Post has introduced services such as Railway Mail Service and Sea Mail Service from India to the UK and China, banking and insurance services, and others. Besides, IT and modernization projects are being implemented to improve the department's operational effectiveness and cope with digital challenges.
India Post, also known as the Post Office, is headquartered in New Delhi. With its network of 1,59,251 post offices (2022 Annual Report), it is the largest postal service network in the world. It successfully offers domestic and international postal services and competes head-to-head with major postal and express services, such as USPS, China Post, UPS, DHL, FedEx, and others.
Services offered by India Post include:
Business & E-commerce services (mail and parcel delivery)

Speed Post

Banking & Remittances

Insurances

National Pension Service

Stamp Sales and many more!
India Post Tracking
India Post offers a tracking service that allows customers to track the real-time shipment status of their India Post parcels. With each parcel, they provide a tracking number that acts like a unique identifier, allowing customers to follow the parcel's journey from dispatch through all the stations to final delivery.
Their delivery service is divided into 3 major categories: Premium, Domestic, and International. In particular, the services that can be tracked are as follows:
Premium:
Speed Post (Domestic & International), Business Parcel, Business Parcel COD
Others:
Registered/Insured/Value Payable/Insured Value Payable Letters

Registered Packets

Registered Periodicals

Registered/Insured/Value Payable/Insured Value Payable Parcel

Express Parcel, Express Parcel COD

Electronic Money Order (e-MO)

International EMS

Electronic Value Payable Parcel (eVPP)
Let's learn more about India Post Tracking by delivery service.
India Post Parcel Tracking
India Post Parcel allows shipping of everything except items prohibited by state law. The postage on a parcel and the registration fee for a registered parcel must be paid in advance by the sender. They also offer compensation of 40 SDR* per parcel and 4.50 SDR* per kg in case of loss, theft, or damage.
(*It is subject to prevailing rates.)
Notably, here are more details about India Post's premium parcel service, Business Parcel, which allows you to ship parcels up to 35kg to the recipient's doorstep. Cash on Delivery is optional, and India Post consignment tracking is included as a standard for monitoring the parcel from order creation to final delivery.
Size and weight:
The standard parcel service has some specific requirements for the weight and size of the package. The maximum length of the package is 1 meter, and the length and girth combined must be under 1.80 meters.
Unregistered parcels have a weight limit of 4 kg, registered parcels have a weight limit of 10 kg (if posted at or addressed to a post office), and in all other cases, a weight limit of 20 kg applies.
In comparison, for business parcels, the maximum weight is 35 kg, and the maximum length must not exceed 150 centimeters in all dimensions or 300 centimeters for the length and the largest circumference measured in a direction different from the length.
Business parcel delivery time:
The average transit time of the business parcel (from order creation to delivery) depends on the distance and locations:
| | |
| --- | --- |
| Local | 3 days |
| Metro-Metro | 4-5 days |
| State Capital to State Capital | 4-6 days |
| Same State | 3-6 days |
| Rest of the Country | 6-7 days |
Speed Post is considered the best service India Post offers for its fast and time-bound delivery. Customers can use the Speed Post service to send letters, documents, parcels, etc., domestically and internationally. India Speed Post offers various business solutions, including Book Now Pay Later, Cash on Delivery Option, monthly billings, pickup from business premises, discounts, etc.
India Post domestic tracking is an indispensable part of India Post Domestic EMS/Speed Post service - it ensures full shipment visibility as you can track your packages from anywhere and at any time using the 13-digit alphanumeric shipment number.
Domestic EMS/Speed Post delivery time:
| | |
| --- | --- |
| Local | 1-2 days |
| Metro-Metro | 1-3 days |
| State Capital to State Capital & Same State | 1-4 days |
| Rest of the Country | 4-5 days |
International EMS/Speed Post delivery time:
The average estimated time from booking to delivery can be between 2-9 days for outbound shipments posted in cities with OEs, namely, Delhi, Mumbai, Kolkata, Chennai, and Kochi. For bookings from other cities, the standard domestic shipping times will be added.​ Since all international mailpieces are subject to customs clearance, the actual delivery time is longer.
India Post Complaint Tracking
If your package is stolen or damaged, you can file a complaint directly with India Post. India Post ensures transparency and accountability between customers and India Post by enabling customers to track the progress of their complaints.
The official website of India Post has the complaint registration form under the Tools & Help option. The form can be found under Help & Support > Customer Complaints > Register Complaint. It must be filled with necessary information such as service category, specific service, article number, issue type, description, booking details (sender & recipient information), supporting documents, and so on. After clicking the "Submit" button, customers will receive a complaint registration number.
In the Track N Trace option on the website's home page, customers can enter their complaint tracking number and keep track of the complaint's status.
India Post Consignment Tracking
India Post consignment tracking allows customers to track their packages online. Customers can use the consignment tracking tool on the official website to monitor their packages. They simply need to enter the unique 13-digit tracking number India Post issued in the tracking bar and follow the instructions of the tool.
It's worth noticing that the tracking information will be kept for 60 days from the time of booking. Beyond this period, you will no longer be able to use the www.indiapost.gov.in tracking tool to get any tracking information.
Customers can also use SMS to track their India Post parcels. To track the parcel via SMS, they should type POST TRACK, followed by the India Post consignment tracking number, and send the message to 166 or 51969.
Example: POST TRACK RX123456789IN
Note: Make sure "POST TRACK" is written in capital letters.
India Post International Tracking
India Post International services include a tracking solution for all registered letters, parcels, packets, etc., that are shipped overseas via India Post, including International EMS, Tracked Packets, Air Parcels, and so on.
The India Post tracking feature gives customers peace of mind by allowing them to view the real-time status of their international parcels.
As for India Post tracking international parcel-specific service, the tracking number format consists of 13 alphanumeric characters, with a variation of starting letters depending on the shipping service. For example, EG078029789IN (International EMS).
Apart from the official India Post Track & Trace tool, you may rely on the ParcelPanel app (with enhanced tracking capabilities) for International India Post tracking.
India Post Registered Post Tracking
India Post enables registration for letters, postcards, book packets, prepaid parcels, etc. Plus, the India Post registered post tracking service allows customers to track and monitor parcels shipped within the country and across the border. The registered post service ensures the safety and security of the parcels because the recipients must provide a signature upon receipt to ensure the package has been delivered successfully.
The 13-character India Post registered post tracking number starts with a pair of letters, followed by 9 digits and a pair of letters. For example, RX123456789IN. Setting aside the official India Post tracking tool, with ParcelPanel official website and app, you can simplify registered post tracking India nationwide and cross-border.
How to Track an India Post Parcel?
India Post's official website offers an India Post online tracking tool on its homepage that allows customers to track their packages from anywhere in the world. Apart from the official website, you can track your India Post parcel through various third-party tracking services. However, when using a third-party site, you must choose a trustworthy one, such as ParcelPanel.
ParcelPanel is an all-in-one tracking solution that seamlessly integrates with over 1,100 shipping companies worldwide, and India Post is one of these carriers. The integration of PanelPanel with the India Post tracking API makes it easier for businesses to centralize their tracking systems. All you need to do is enter the tracking number into the tracking tool, and the APIs will retrieve all of the tracking information and update you and your customers on the shipment status.
Let's check out the different ways of tracking India Post parcels.
By using India Post Tracking
To track India Post packages using the tracking tool on India Post's official website, you first need to visit India Post's official website or simply search "www.indiapost.gov.in tracking" on Google. On the homepage, there is a section called "Track N Trace" with 3 different options, including Consignment, Ref No, and Complaint. These options mean you can conduct tracking using a consignment number, a reference number, or a complaint number.
To track your package with an India Post tracking number:
Step 1: Choose "Consignment"
Step 2: Enter your India Post tracking number in the tracking field
Step 3: Solve the expression
Step 4: Hit the "Track Now" button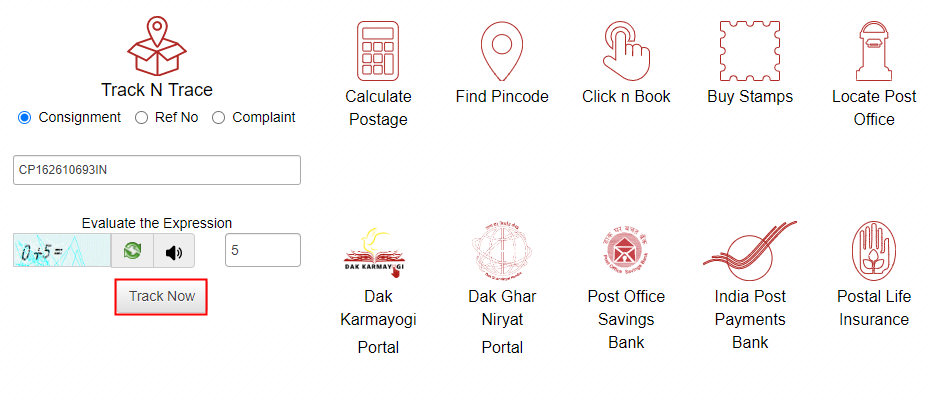 Then, you can get the complete tracking information of your India Post parcel, including origin, destination, major events, current location, etc.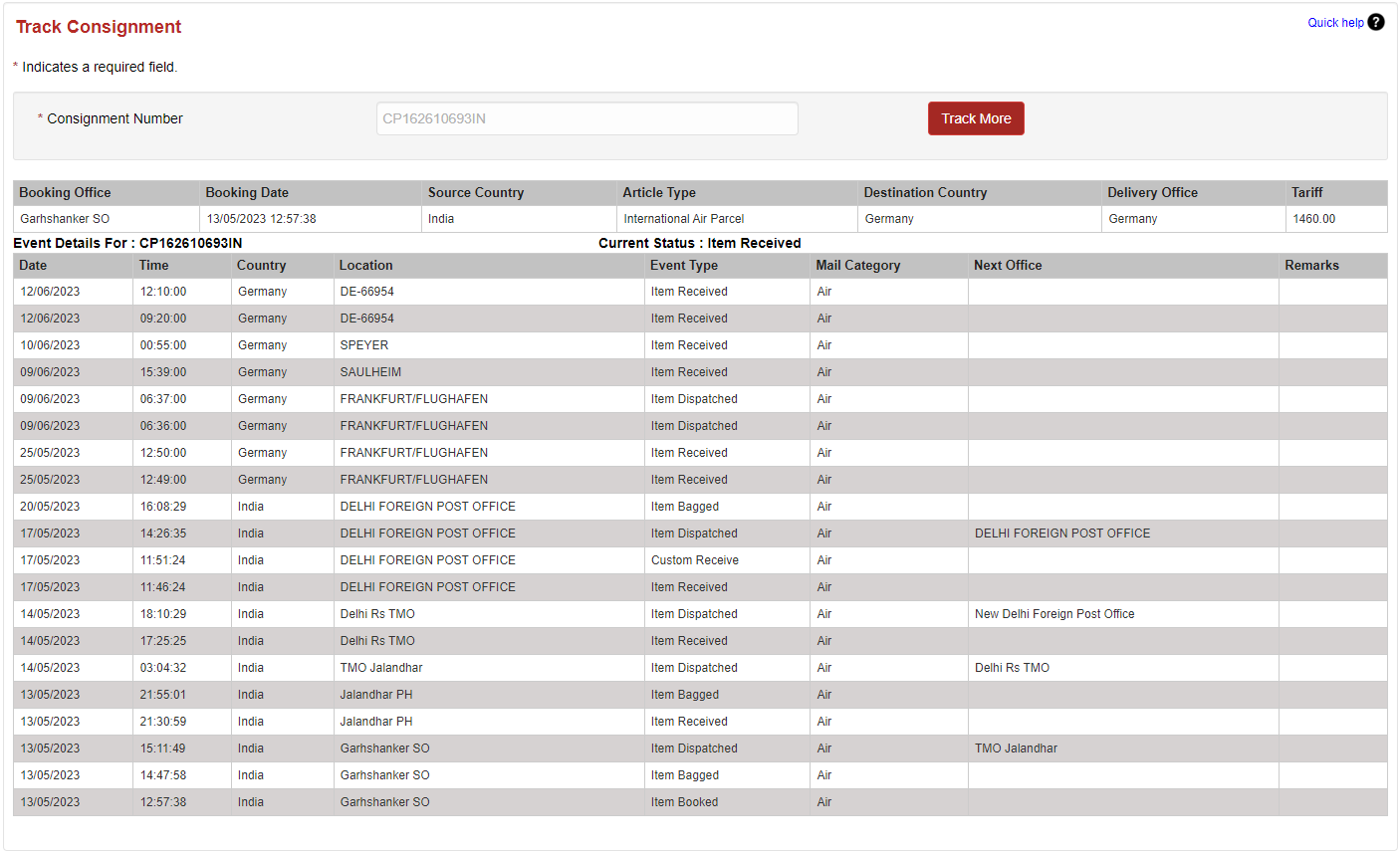 By using ParcelPanel
ParcelPanel meets all your India Post domestic tracking and India Post international tracking needs. You can conduct India Post parcel tracking by using ParcelPanel in two ways. Here is a step-by-step guide on how to use ParcelPanel to track your India Post package.
ParcelPanel official website
If you need to simplify India Post tracking international and domestic, ParcelPanel's website provides two India Post tracking services for you, namely, India Post Tracking and Speed Post Tracking. The following is the process of how to track your India Post parcel.
Step 1: Go to the ParcelPanel website
First, go to the ParcelPanel website. Click on "Carriers" in the menu bar.
Step 2: Carriers page
On the "Carriers" page, you will find a list of carriers with a search bar. Type India Post or Speed Post in the search bar, and it will appear below. Click on India Post or Speed Post to proceed to the next step.
Step 3: Enter your tracking number
After you access the India Post tracking or Speed Post tracking page on ParcelPanel, enter your tracking number in the box and hit the "Track" button.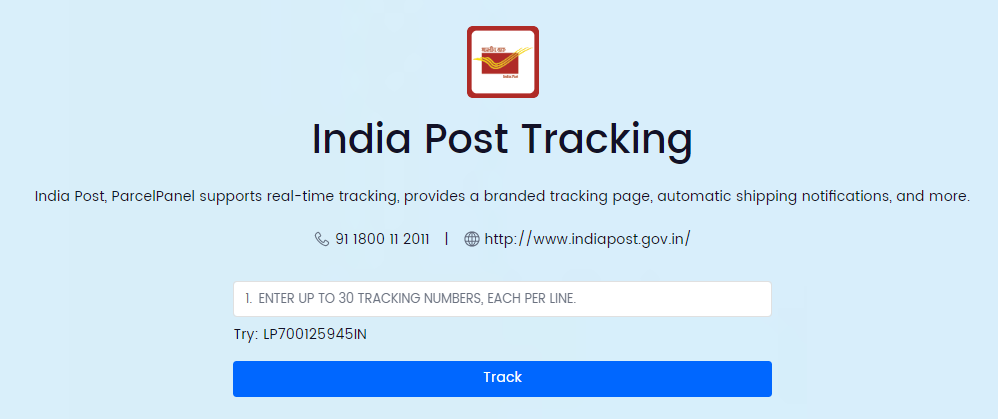 Step 4: Tracking results
Now, a column will appear, where you can see the current status of your India Post package. For India Post detailed tracking information, click on the small arrow on the right end of the status bar.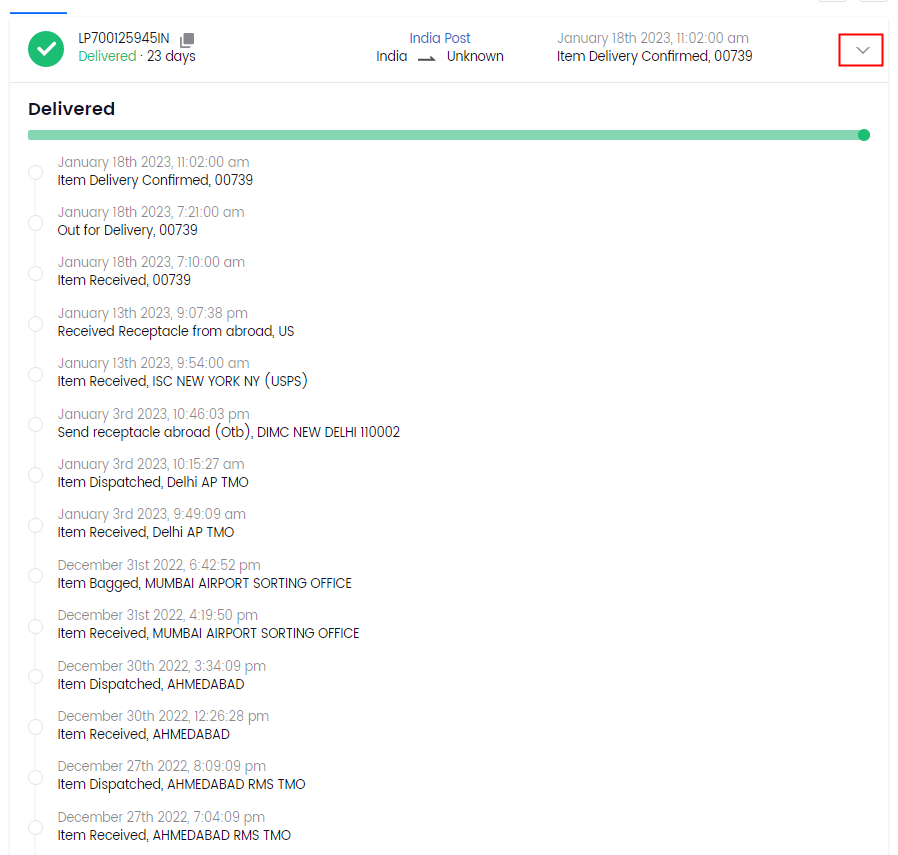 The ParcelPanel Shopify app is another tracking alternative for Shopify and WooCommerce store owners. They can integrate the app into their store, and the app will automatically generate a branded tracking page for providing self-service order tracking to end customers, reducing support calls related to order statuses & delivery progress. What's more, it can also cater to customers' interests with AI-powered product recommendations to boost revenue.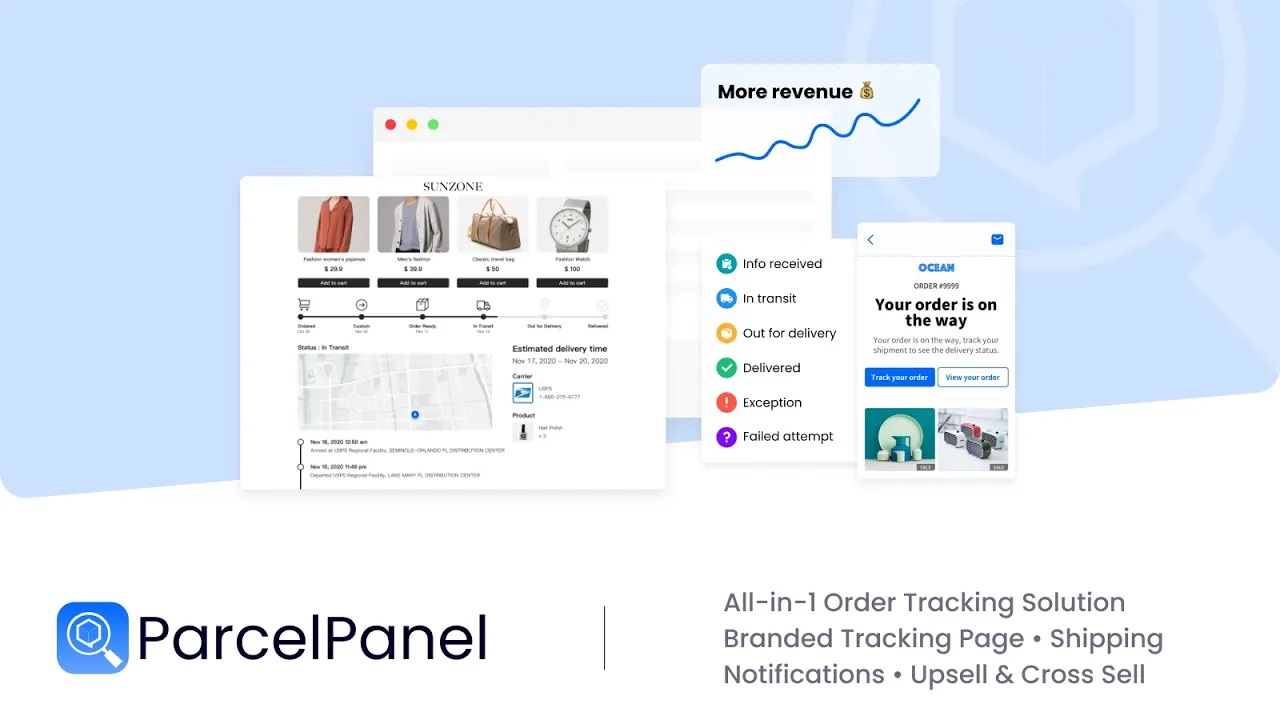 The ParcelPanel dashboard clearly lists all the necessary tracking information for each order, such as order number, tracking number, courier, last checkpoint, transit time, order date, and order status, which helps merchants keep track of all their orders in one place on the backend.
A lot of Indian Shopify merchants have implemented ParcelPanel for India Post article tracking. Learn how Bummer achieved 3x sales growth and 25% repeat purchases within 6 months.
India Post Tracking Number
The India Post tracking number, often referred to as the India Post consignment number, is a unique combination of numbers assigned to every package registered and shipped via India Post. This special set of numbers is an essential tool that allows both senders and receivers to track the progress of their package from order to delivery.
The India Post tracking ID is usually found on the receipt, shipping label, or package body. India Post also sends consignment tracking numbers via email and text message.
India Post tracking number format
The standard India Post consignment number usually consists of 13 alphanumeric characters. The India Post tracking ID begins with a pair of letters, is followed by 9 numbers, and ends with a pair of letters. Depending on the service type, the tracking number begins with the letters E, R, or C.
Registered mail tracking number format: RX123456789IN
Speed Post tracking number format: EX123456789IN
Standard package tracking number format: CX123456789IN
Tracking number format of international package delivered to India: EX123456789XX (XX indicates the origin country)
ExpressParcel tracking number format: XX123456789XX
Domestic parcel tracking number format: LP123456789IN
Here, the starting letters refer to the type of shipment, and the ending letters refer to the location of the postal service, such as IN for India.
India Post tracking number example
Some examples of India Post tracking numbers are provided below:
CP162610693IN
LP700125945IN
EG078029789IN
ED015187942IN
JH000053290IN
ET572433163IN
India Post Tracking Status
Entering your India Post tracking number in the tracking box will take you to a page detailing your package's journey from start to estimated time of arrival based on various shipment statuses.
The following table is a list of common India Post statuses that you may encounter while tracking your package, along with their meanings.
| India Post Tracking Status | Meaning |
| --- | --- |
| Item booked | The package is booked on the India Post website. |
| Item bagged | The package is packed in a shipping bag for shipment. |
| Item received | An India Post office has received the package. |
| Item returned - refused | Due to the recipient's rejection of the package, it was being returned to the sender. |
| Out for delivery/Item Dispatched | The package has been dispatched for delivery. |
| Dispatched to BO | The package has been dispatched to a branch office and will be delivered to the recipient shortly. |
| Customs Receive | Customs has received the package for inspection. This status is assigned to international packages requiring custom clearance. |
| Custom Return | The package got through customs clearance and has been passed to the post office for delivery. |
| Item delivery confirmed | The recipient has confirmed receiving the package. |
| Transport leg completed | The package has arrived at the postal office of its destination and is now waiting to be delivered. |
| Item redirected - insufficient address | Due to insufficient information on the designated address, the package has been redirected to another address. |
| Item on hold - door locked | The delivery is held back due to the recipient's absence at the delivery address. |
| Send receptacle abroad (OTB) | The package in a container is being loaded onto an aircraft destined for the departure airport. |
| Received receptacle from abroad | The shipping container carrying your package has arrived in the destination country. |
| Assigned to load plan | The package has been assigned to a shipment, but the delivery may take some time due to the high volume of shipments. |
| Aircraft takeoff | The aircraft carrying your package has departed for the destination country. |
India Post Tracking Customer Service
You can contact the India Post tracking customer care service for any queries related to tracking your package, registering a complaint, or any other information.
Postal Directorate
Dak Bhavan
New Delhi- 110001
India
India Post customer care number
Toll-Free Number: 1800 266 6868
Call center agents are available from 09.00 a.m. to 06.00 p.m. (excluding Sundays and gazetted holidays). However, the IVRS (Interactive Voice Response) facility is available 24/7. The automated telephone system gives customers access to information and services at any time of the day.
India Post has numerous branches across the country, so you can email your local India Post office. Here is a list of email addresses that you may find helpful.
Note: More detailed contact information is available on their official website's Contact Us page.