About DTDC
DTDC is among India's leading integrated express logistics companies, providing a wide range of technology-enabled logistics solutions. The full form of DTDC is Desk to Desk Courier & Cargo. The company was founded by Mr. Subhasish Chakraborty in 1990. In 2012, DTDC established a strategic cooperation with GeoPost, the express logistics arm of La Poste Groupe.
DTDC is headquartered in Bangalore, Karnataka, India. The company currently has 580 operating facilities, 14,000+ channel partners, 1,500+ vehicles serving 96% of the Indian population, and over 220 destinations worldwide.
The DTDC services include:
Although the company started its journey as a courier company, it has evolved into a significant player in end-to-end express logistics with solutions for e-commerce. It maintains a competitive position among the other top shipping services such as BlueDart, Delhivery, Shiprocket, eKart, and others by handling 12 million shipments every month.
DTDC Tracking
DTDC provides a real-time package tracking feature with all its domestic and international shipping services. The unique tracking number assigned to each package helps customers learn about the whereabouts of their packages and provides them with peace of mind.
The following are the popular DTDC services that include a tracking feature. Let's dive into the detail about DTDC tracking (DTDC कूरियर ट्रैकिंग)!
DTDC Lite Tracking
DTDC Lite is the domestic shipping service offered by DTDC. Customers can use this service to deliver documents and small packages at a reasonable price across India. However, the delivery time is not guaranteed. So, this service is not ideal for those who need urgent delivery.
Delivery time: Depending on the transportation mode, distance, and other shipping influencing factors, the packages can be delivered within 3-7 business days. This is for you to get a basic idea about the DTDC Lite estimated delivery time.
DTDC Plus is a premium express service ideal for those who need urgent delivery. This service offers a guaranteed delivery time and other features, including real-time tracking, precise estimated delivery time, tamper-proof security pouches, SMS alerts, and delivery proof. That means the recipients can track their packages and must sign when they receive them to confirm they are delivered successfully.
These features ensure the transparency and credibility of this service as well as provide peace of mind for customers. However, when compared to DTDC Lite, the DTDC Plus service is more expensive.
Delivery time: Next business day in all major cities in India.
DTDC Express Tracking
Express Parcels Vertical is a versatile shipping service provided by DTDC. This service is designed to meet both C2C and B2B shipping needs. Customers can use this service to deliver documents, small and large parcels, including partial-truckload shipments, to almost anywhere in India. They provide a diverse range of services, ranging from time-sensitive express service to cost-effective ground express service.
Services offered under the Express Parcels vertical are:
➢ Express service (for small to medium-sized urgent parcel shipments)
✔Express Standard: Express delivery at an affordable rate with optimized pickup and drop-off timings, and parcels are transported via multi-modal logistics.
✔Express Premium: Day-definite and Time-definite shipping services for urgent deliveries.
✔DTDCShipAssure™: Day-definite d shipping with a 100% money-back guarantee if delivery fails within the expected delivery date.
➢ Ground service (for medium to large-sized shipments)
✔Ground Standard: Cost-efficient logistics solution for B2B customers with a high volume of large-sized and less-than-truckload shipments
✔Ground Premium: Intended for B2B customers with a high volume of medium- or large-sized shipments that require the quickest turnaround by using point-to-point trucking.
➢ Value-added Services
✔Securitized Logistics
✔Critical Logistics
✔Packaging for Electronics
✔Temperature-controlled Shipments
✔Reverse Logistics
✔Drop-off
DTDC International Tracking
DTDC International Shipping Services are reliable and efficient, with a coverage of over 220 destinations across the globe. The services are available to both individuals and businesses, with tracking features that assure the safety of the shipment.
To track the international shipment, you need to use the DTDC International website. Enter your tracking number into the tracking tool and get up-to-date information on the status of your shipment, location, and estimated delivery date.
DTDC international shipping services are as follows:
➢ Premium Express: Shipping of urgent documents and parcels within a specified time frame, with end-to-end tracking of parcels right from pickup to delivery included.
➢ Priority Express: Fast yet cost-effective international shipping without time-definite assurance.
➢ Import Express: For importing goods into India.
➢ E-commerce Solutions: International shipping for e-commerce companies using both private and postal delivery networks.
➢ Freight Forwarding: Customized air and sea freight solutions at the most competitive price for international commercial shipments.
How to Track a DTDC Parcel?
DTDC provides several methods for tracking its packages. The website has an integrated tracking tool that serves as an E-tracker. Through this tracker, you can track your shipment online from any part of the world. They offer other options, such as SMS tracker and Email tracker, to make tracking more convenient.
You can also use a trusted and reliable third-party tracking service like ParcelPanel to track a DTDC parcel.
Let's check out the different ways of tracking DTDC packages - using DTDC tracking services and ParcelPanel.
By using DTDC Tracking Services
DTDC Tracking via official website
To track your package using the DTDC online tracking tool from their official website, all you need to do is-
Step 1: Go to their official website. To track domestic deliveries, go to the DTDC India site; to track international deliveries, head to DTDC international site.
Step 2: Under or on the hero banners, you will find 'Track your Shipment.' Click on it.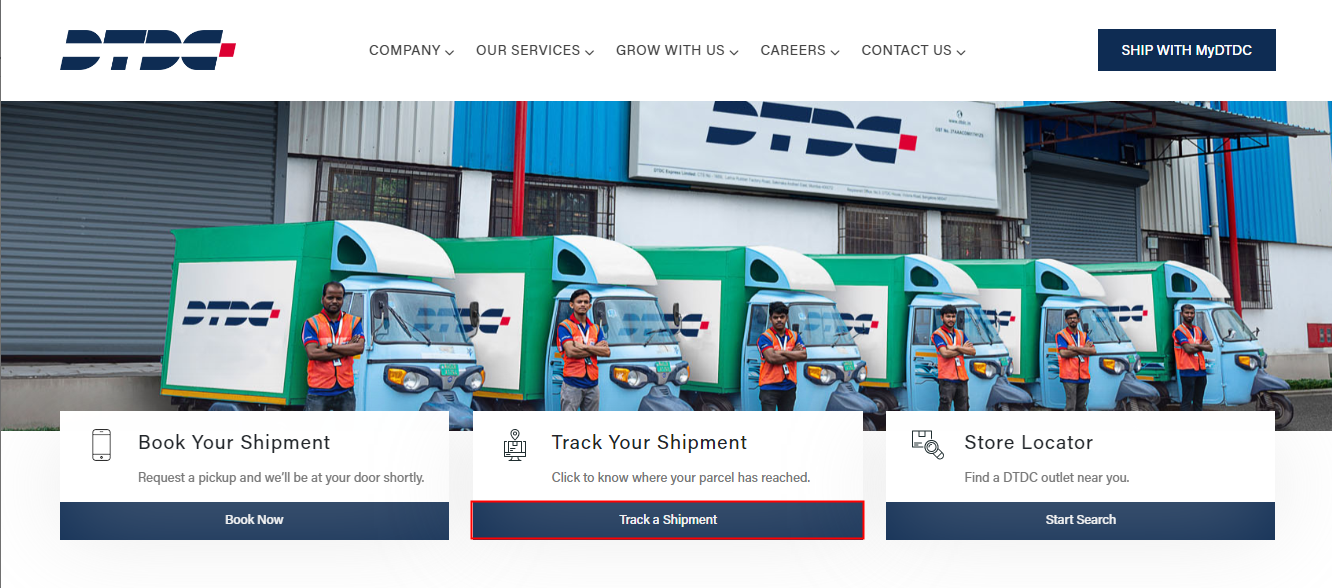 Step 3: Choose either the option AWB/Consignment number or Reference number.
Step 4: Enter the tracking number in the tracking box and click the 'Track' button.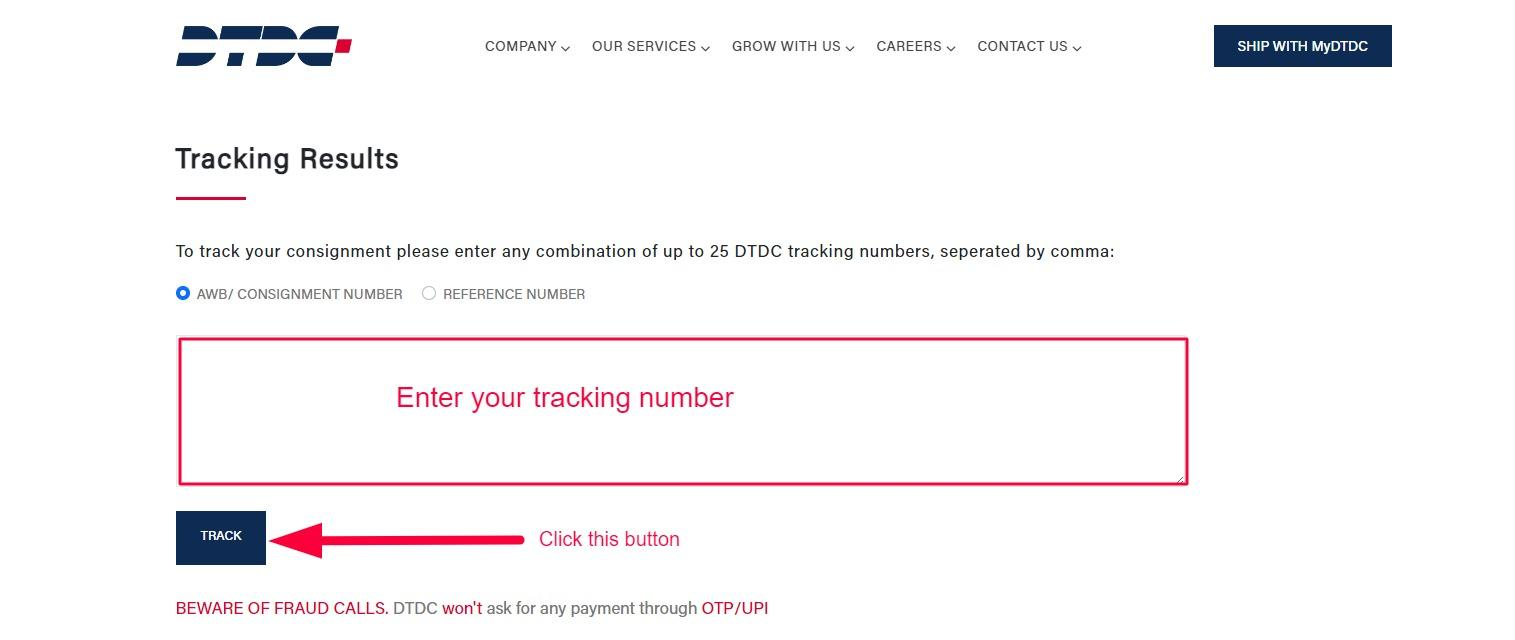 DTDC parcel tracking can also be done via SMS.
To track your package through SMS, type "DTDC (space) Consignment/Tracking number," for example, DTDC B22399923, and send the SMS to 9845324040. Make sure to write 'DTDC' in capital letters.
To track your shipment through the email tracker, mention your tracking number in the email body and send the email to [email protected]. You can use this feature to track multiple shipments at a time. Mention all the tracking numbers separated by a comma, and the DTDC's tracking system will process your request and immediately send back an email with the latest shipping status.
By using ParcelPanel
ParcelPanel is one of the leading package tracking solutions for eCommerce. It is linked to over 1,100 carriers worldwide, and more carrier integrations are coming. Among its wide network of carriers, DTDC is one of them. Its seamless integration with the DTDC tracking API allows customers to track the real-time progress of their package, receive automated shipping notifications, access a branded tracking page, and more.
Here is a detailed guide on how to use ParcelPanel for DTDC tracking after shipping.
Step 1: Go to the homepage of ParcelPanel.com and click 'Carriers' on the top menu bar.
Step 2: On the 'Carriers' page, you can find the services for 'DTDC tracking number check online.' Just search for DTDC and click on 'DTDC' Courier. To track DTDC Plus packages, choose 'DTDC Plus' instead.

Step 3: A tracking number box will appear after you select the DTDC tracking service. Enter your tracking number in the box and click the 'Track" button.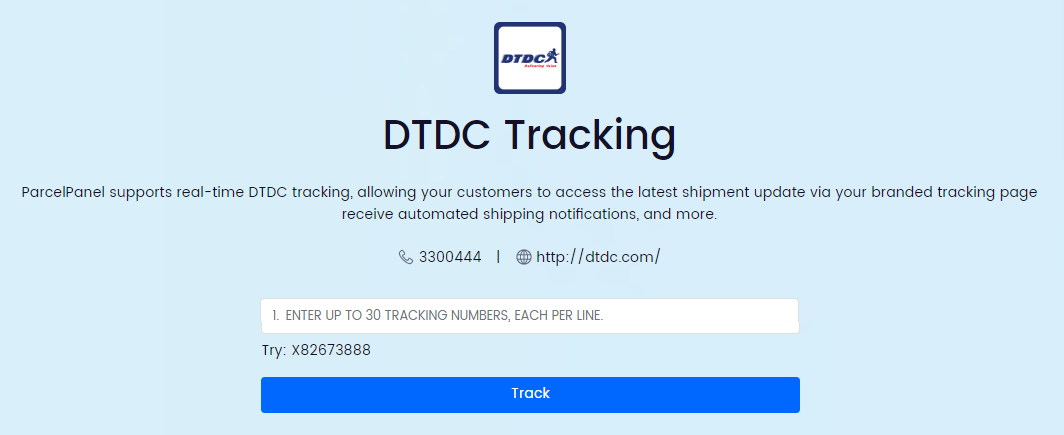 Step 4: At last, you will be redirected to the new page to view the detailed shipment history.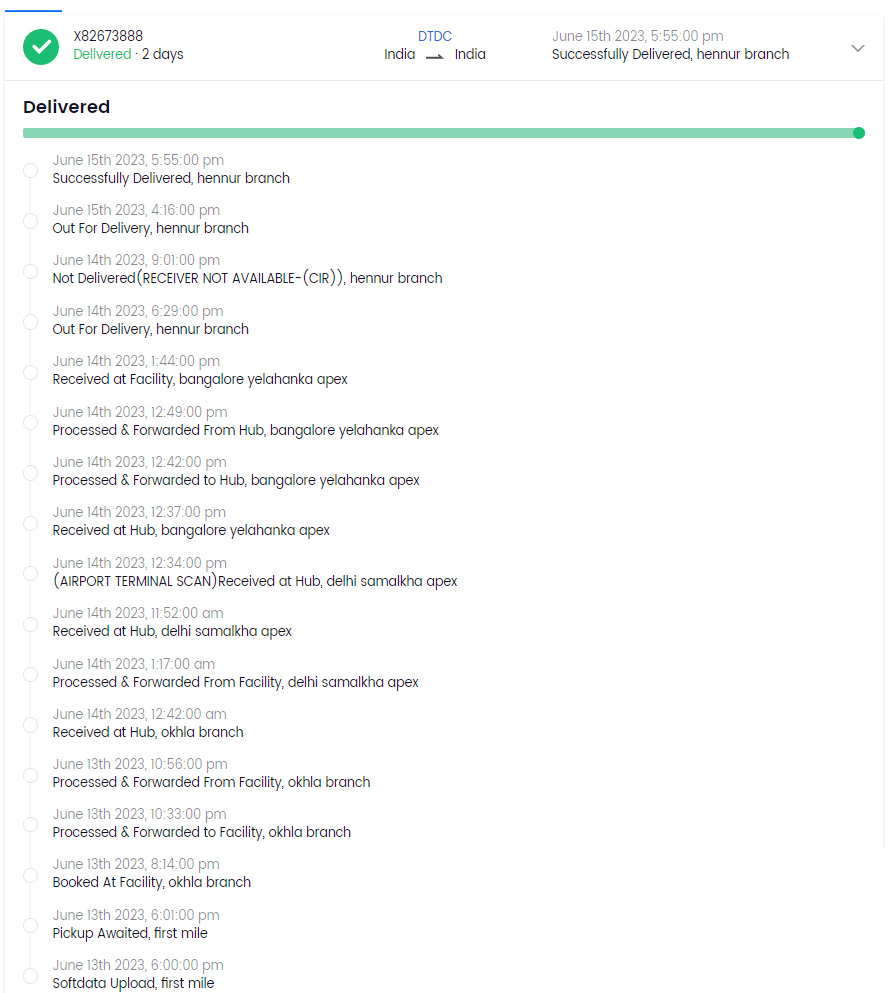 ParcelPanel has built order tracking apps for Shopify and Woocomerce merchants to keep track of orders and improve customer satisfaction by providing full shipment visibility.

After installation, this order-tracking app can automatically generate a branded tracking page for customers to keep track of the whereabouts of their orders without external help.
The app can pull order numbers, tracking numbers, and carrier information from the store order details and update the shipment statuses in real time. The information is then organized in the dashboard and made available to merchants from the backend.
The convenience of accessing all information from a single location allows retailers to more efficiently monitor their orders and respond to customers' post-sales questions.
DTDC Tracking Number
Each package registered in the DTDC system is assigned a unique tracking number, also known as a consignment number or a DTDC tracking ID. Usually, the tracking number is available on the handwritten consignment note provided while registering the package.
So, how to find the DTDC tracking number?
On a DTDC shipping receipt, there is a barcode underneath which you can find your tracking number. DTDC also sends the tracking number to the recipient via a confirmation email or text message.
DTDC tracking ID format
The standard DTDC tracking number consists of 9 alphanumeric characters.
What does a DTDC tracking number look like?
The DTDC tracking ID begins with a capital letter and is followed by 8 numerical digits, for example, X12345678.
DTDC tracking ID example
Here are some DTDC tracking number examples to assist you in identifying your tracking number.
X82673888
I12933281
X44669326
X43196505
B19075561
D39249496
DTDC Tracking Status
The common DTDC tracking statuses are listed below, along with their meanings, so that you can understand what a DTDC tracking status means and be assured about the package delivery progress.
| DTDC tracking status | Meaning |
| --- | --- |
| Softdata upload | The package has been registered in the DTDC system, awaiting confirmation. |
| Booked at facility | DTDC has received the package and is now processing the shipment. |
| Processed & forwarded to facility | The package has been processed and forwarded to a facility for further processing. |
| Processed & forwarded from facility | The package has been processed and sent to the next transit point. |
| Processed and forwarded to hub | The package has been processed and forwarded to the sorting facility or the central hub. |
| Received at hub | The sorting facility or the central hub has received the package. |
| Received at facility | The DTDC package has arrived at one of DTDC facilities or hubs. |
| Processed and forwarded from hub | The package has been processed and forwarded from the hub to the next transit point. |
| Pickup scheduled | The package is scheduled for pickup by the courier. |
| Pickup awaited | A shipping label has been created, and the package is currently waiting to be picked up for delivery. |
| Not Picked | The courier hasn't picked up the package yet. |
| Not delivered (Receiver not available) | The delivery was unsuccessful as the recipient was not available at the destination. |
| Out for delivery/In transit | The DTDC package is on its way to the recipient. |
| Successfully delivered | The recipient has received the package successfully. |
| RTO in Transit | RTO means 'Return to Origin.' The package is on its way back to the sender. |
| FDM Prepared | FDM stands for "Franchise Delivery Manifest," which means the package is ready to be out for delivery. |
DTDC Tracking FAQ
The following are the answers to the most frequently asked DTDC tracking questions.
Why is my DTDC package "FDM Prepared" but not delivered?
DTDC 'FDM Prepared' or 'Franchise Delivery Manifest Prepared' means the package is ready for delivery, and the delivery will take place in several hours. However, even if the package is ready for delivery, it may not be delivered for various reasons, including:
The package is stuck at the city franchise distribution center due to heavy workload, workforce shortage, bad weather, transportation issue, or other unforeseen circumstances.

The package is held at the transit point and is still making its way through sorting centers.

The expected delivery day might be a non-business day.

Delivery personnel may be unavailable to receive the package from the distribution center.
How long does DTDC take to deliver?
DTDC delivery time depends on several factors, such as the shipping service, delivery mode, origin location, destination, etc. For domestic shipping, DTDC takes around 3-7 days. However, depending on the priority, some premium services deliver within 12 to 48 hours.
Does DTDC deliver on Sundays?
DTDC does not provide delivery on Sundays for its regular delivery services. However, DTDC is aware of the necessity for Sunday delivery services. On that note, DTDC offers a service called 'Prime Time Plus Sunday' that is specifically for Sunday delivery.
Usually, such consignments are picked up on Saturday before 6 p.m. and delivered on Sunday. This service is available for selected pin codes across the country. To find out if DTDC Sunday delivery is available in your area, contact customer service.
How can I find a DTDC office near me?
You can find the nearest DTDC branch location, both domestically and internationally, using their official website and mobile app's 'location Finder' tool. Alternatively, you can utilize Google Maps to find the nearest DTDC office. Keep your live location on and search for 'DTDC Courier near me' or 'DTDC near me' on the Google Map search bar. You can also call the DTDC customer service hotline for assistance.
I lost my DTDC tracking number. What can I do?
If you lose your DTDC tracking number, try the following solutions:
Check your shipping confirmation email or text message for the tracking number.

You can contact the sender, as the tracking number is also given to the person.

If you provide DTDC customer service with information such as the sender's name, recipient's name, shipping address, shipping date, and so on, they can assist you in identifying your package.
How to track DTDC courier without tracking number?
It is nearly impossible to track DTDC courier without tracking numbers. It's recommended that you contact the sender/seller, and ask the DTDC customer service for help. If you can't find the DTDC tracking number in the end, just hope for the best - if everything goes well, you will be happy with the timely doorstep delivery of the DTDC package that you expect.
DTDC Tracking Customer Service
If you encounter issues such as a delayed shipment, a tracking problem, a missing package, or need general information, please contact DTDC customer service at your earliest convenience.
The following is DTDC customer service contact information:
DTDC House,
No. 3, Victoria Road,
Bangalore 560047,
Karnataka, India.
DTDC Customer Care Email Address
You can contact DTDC via email at [email protected]
DTDC Customer Care Number
You can dial +91-8929869688 to speak with a DTDC customer care representative. They offer a variety of language options, including English, Hindi, and regional dialects.
DTDC Customer Service Business Hours
Customer service representatives are available Monday- Saturday, 9.30 a.m.–6 p.m.
Note: Whether you contact DTDC via mail, email, or phone, make sure to provide your tracking number and other relevant information precisely.