About XpressBees
XpressBees Logistics Solutions Pvt. Ltd. is a fast-growing end-to-end express delivery & supply chain solution provider based in Pune, Maharashtra, India. Amitava Saha and Supam Maheshwar established the company in 2015. The parent company of XpressBees is Busybees Logistics Solutions, which was founded by the same people.
XpressBees has received funding of around $300 million from logistics companies and ventures like Alibaba, Paytm, SAIF Partners, and so on. XpressBees currently has 3,000+ offices and service centers, 100+ hubs, 52+ cargo airports, 35,000+ field executives, 10 lacs square feet of warehouse capacity, and 500+ customer care executives.
The company has partnered with well-known and top e-commerce platforms in India, such as Flipkart, Myntra, Snapdeal, and so on. The company is operating to meet the logistics needs of the Indian Ecommerce industry. On that note, XpressBees delivers approximately 3 million shipments per day, giving head-to-head competition to Indian logistics service providers, such as DTDC, Delhivery, eKart, Ecom Express, and so on.
XpressBees offer the following services:
✔B2B Xpress
✔B2C Xpress
✔Cross-border Logistics
✔3PL (Third Party Logistics)
XpressBees Tracking
XpressBees provides domestic, cross-border, and third-party delivery services with end-to-end tracking facilities. The unique tracking number, which is the AWB number assigned to the consignments, is scanned at every transit to ensure the transparency of the service. Customers can access real-time shipment updates and have peace of mind by entering their tracking number into the tracking tool.
XpressBees Courier Tracking
XpressBees Courier service is, in fact, XpressBees's B2C Xpress, the popular delivery service for eCommerce. The service can deliver to over 20,000 pin codes within India. The B2C express delivery includes same-day and next-day delivery options.
Real-time tracking is provided to ensure smooth end-to-end operations. An AWB number or order ID is provided to the XpressBees packages for tracking via the XpressBees tracking tool or a third-party tracking website like ParcelPanel.
XpressBees Surface Tracking
XpressBees offers surface shipping services for B2B Xpress shipments and cross-border logistics. Although surface transportation is slower compared to air transportation, XpressBees Surface is an affordable shipping option.
The surface service includes Part Truck Load, Full Truck Load, and Surface/Rail Cargo service. The best feature of this service is that it provides on-time deliveries using GPS-enabled vehicles. As a result, the packages remain under constant surveillance from dispatch to delivery.
You can rely on XpressBees online tracking tool or professional shipment tracking websites like ParcelPanel for XpressBees Surface tracking.
XpressBees AWB Tracking
XpressBees provides AWB numbers to packages registered at XpressBees for delivery. The AWB number, also referred to as the Air Waybill number, is a unique series or combination of numbers that makes every package distinctive. This number acts as the package identifier and can be used as a tracking number.
A package passes through several transit points throughout its journey. At every point, the barcode of the AWB number is scanned, and corresponding information will be updated in the tracking system. The timestamps and location changes serve as proof that the XpressBees package is on its way to the destination. Also, XpressBees ensures that the sender and recipient can access the shipment updates at any time.
XpressBees Order Tracking
As for each shipment, XpressBees provides a unique order ID and allows you to track your shipment with it. A typical XpressBees order ID is composed of 13 digits and it can be found above the other barcode on the shipping label and receipt. The XpressBees order tracking process is easy and it is considered an alternative way to track XpressBees shipments.
XpressBees Pickup Tracking
XpressBees offers pickup services for both domestic and international shipments. The B2C Xpress service(which is part of the eCommerce logistics solution) and Cross-Border Logistics & International Cargo services include the pickup service.
Customers can request a pickup, and XpressBees delivery staff will pick up the package at the agreed location. Tracking starts from the order creation. As for XpressBees pickup tracking, the tracking information includes data such as pickup location, date, time, pickup status, and pickup driver.
XpressBees pickup tracking is useful in that there may be times when customers need to go somewhere or have other businesses to attend to. In this case, XpressBees pickup tracking helps them plan their work according to the pickup schedule.
XpressBees Logistics Tracking
XpressBees Logistics services include Cross-Border and 3PL (Third Party Logistics) services. Cross Border Logistics is an International Cargo service that delivers goods via air, surface, and sea to and from the USA, China, East & Central Asia, Europe, and Scandinavian countries. Depending on the shipping factors, the estimated shipping time of air freight is 3 to 7 days. However, surface and ocean freight may take longer.
The 3PL (Third Party Logistics) service offers comprehensive product fulfillment services to businesses of all sizes. The service is designed to meet the needs of different industries. Moreover, the logistics tracking feature provides real-time visibility, which helps with stock control and order cycle time improvement.
The service includes:
✔Customs bonded & non-bonded
✔Inventory management
✔Order fulfillment
✔Return Management
✔Managed warehousing services
XpressBees Return Tracking
XpressBees B2C Xpress service and 3PL services come with reverse logistics or return management that allows customers to return products to the seller. This eCommerce logistic solution delivers to more than 20,000 postal codes within India. The tracking feature of the service allows customers to monitor real-time shipping updates until the unwanted products are successfully returned to the sellers.
How to Track XpressBees?
XpressBee's official website has an integrated tracking tool that allows customers to track their packages or shipments using the AWB number or Order ID. You can also track your XpressBees package via a reliable third-party tracking service like ParcelPanel.
Let's check out the different ways of tracking XpressBee packages- using the XpressBee tracking tool and ParcelPanel.
By Using XpressBees Tracking
To track your package using the XpressBees online tracking tool, go to the XpressBees official website. The tracking tool available on the homepage has a tracking field for tracking domestic packages and another option for tracking XpressBees international deliveries.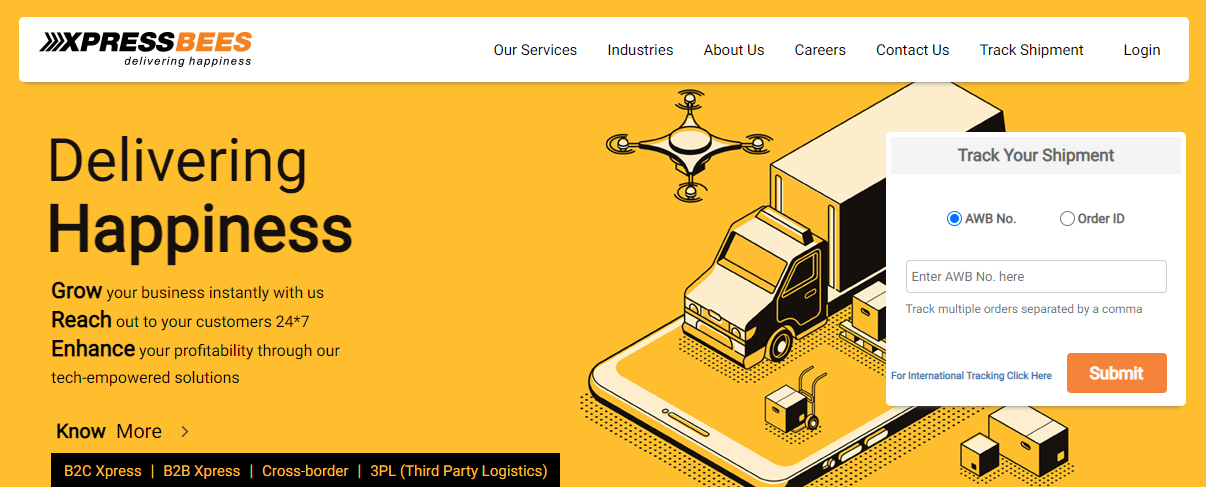 To track XpressBees domestic packages, follow these steps:
Step 1: Keep the option AWB number selected and enter your XpressBees tracking number in the tracking field, and click the submit button.
Step 2: A new tracking page which requires the CAPTCHA verification will appear.
Step 3: Now, on the same page, the tracking information will be available. Click on "View" to see the tracking information in detail.

Then, you can find the current status and estimated delivery date of your XpressBees package.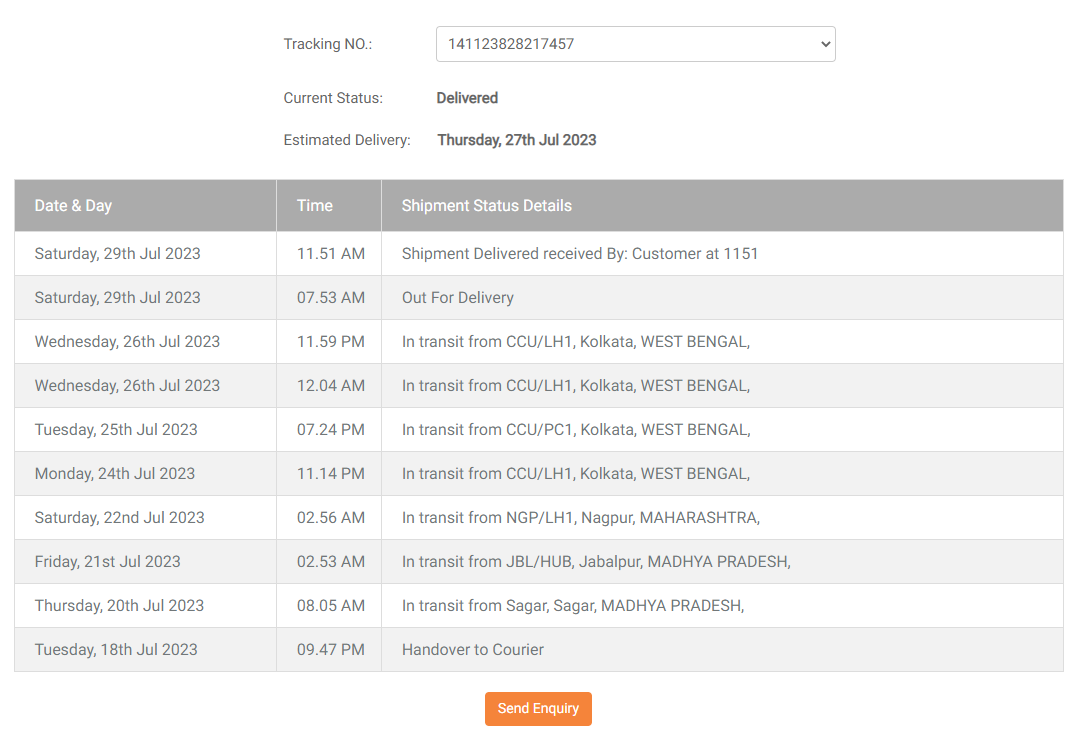 Note: The process for International package tracking is the same as the domestic shipments. Just select the International tracking tool, enter the AWB number, and click the "Track" button.
ParcelPanel is the leading one-stop package tracking solution for eCommerce. It seamlessly integrates over 1,100 carriers worldwide, and more carrier integrations are coming.
XpressBees is among ParcelPanel's vast network of carriers, which means that ParcelPanel's system is seamlessly connected with the XpressBees tracking APIs. This allows end-customers to access a branded tracking page to track the real-time progress of their XpressBees shipments, receive automated shipping notifications, and more.
Here is a detailed guide on how to use ParcelPanel for XpressBees tracking.
Step 1: Go to the homepage of ParcelPanel.com and click "Carriers" on the top menu bar.
Step 2: On the "Carriers" page, search for "XpressBees" and click on the "XpressBees" courier that appears in the search result.
Step 3: Then, you will be able to access the dedicated XpressBees Tracking tool, which can accommodate up to 30 XpressBees tracking numbers. Enter your XpressBees tracking number in the box and click the "Track" button.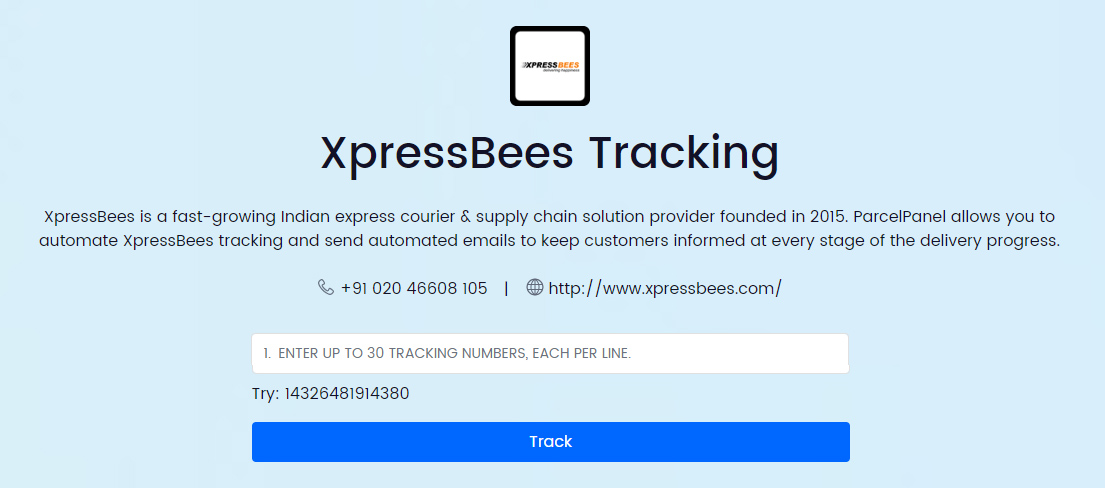 Note: Make sure to enter a tracking number per line if you need to track multiple XpressBees shipments.
Now, a new XpressBees tracking page will appear on the screen, containing the detailed shipment history and transit time.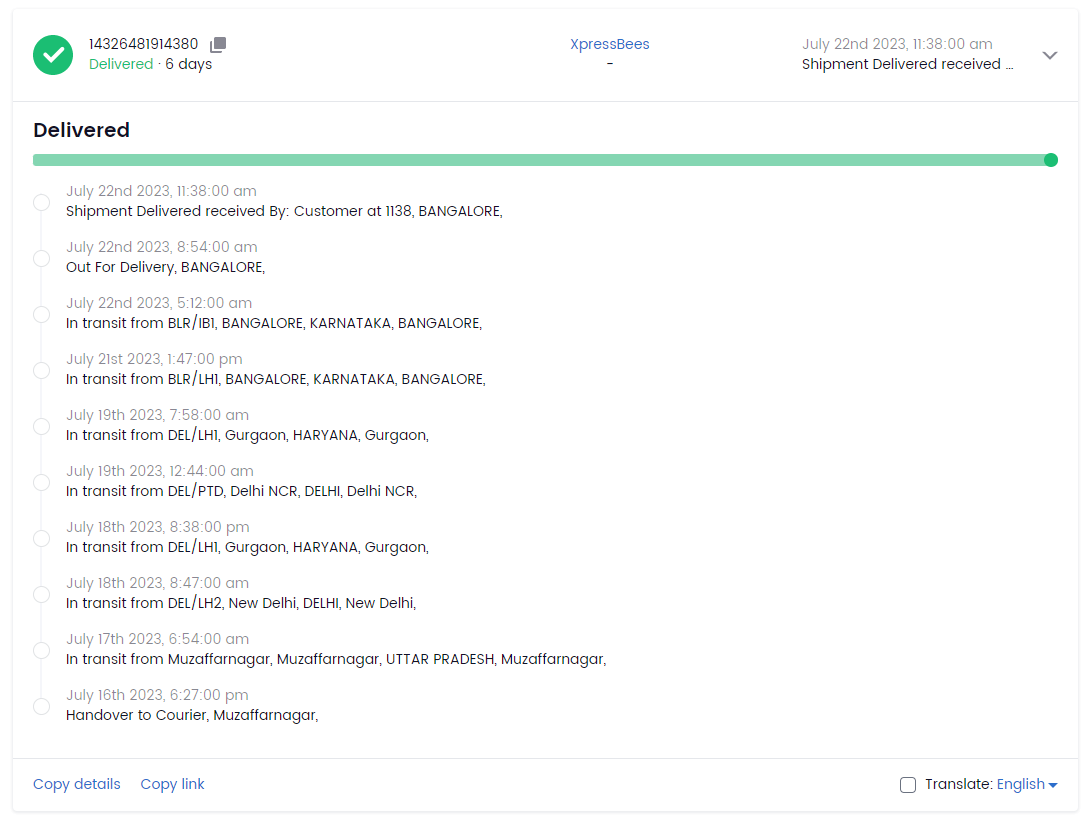 The ParcelPanel Order Tracking app is a specially designed app for Shopify and WooCommerce merchants. It is built to provide a hassle-free tracking experience to eCommerce merchants, especially those who have to deal with multiple carriers to ship their goods.

After installation, the app can automatically generate a branded tracking page, which provides customers with self-service order tracking. What's more, on the backend, the app gathers information (including tracking numbers) from the store order details, pulls tracking updates from its network of carriers, and organizes everything nicely in a tracking dashboard, including the tracking number, courier name, last checkpoint, transit time, order date, and status. The orders are categorized according to different shipment statuses, namely, shipment pending, in transit, out for delivery, failed attempt, delivered, etc.
The dashboard and in-depth reports are accessible to merchants from the backend. Al the information helps the merchants answer customers' post-sales questions faster, optimize logistics operations, and ensure satisfactory customer service.
XpressBees Tracking ID
Each package handled by XpressBees is associated with a unique identifier. The special sequence of code serves as the tracking ID for the XpressBees package.
The XpressBees tracking ID, also called the XpressBees courier tracking number and AWB number, can be found on the XpressBees shipping label, confirmation email, or text message from the sender.
XpressBees Tracking Number Format
The XpressBees tracking number format is different for every package and service. Various factors, such as the shipment's origin, destination, or type of service, determine the tracking number format.
Usually, the XpressBees tracking number consists of a series of 14 or 15 alphanumeric characters. The tracking number may only consist of 14 to 15-digit numeric digits or start with a pair of letters followed by 12 numeric digits.
XpressBees Tracking Number Example
The following are some XpressBees tracking number examples to help you identify your tracking number.
141123828217457

141123832217740

141123830901629

14326481914380
XpressBees Tracking Status
The common XpressBees tracking statuses are listed below, along with their meanings, so that you can understand what an XpressBees tracking status means and be prepared for the delivery.
| XpressBees Tracking Status | Meaning |
| --- | --- |
| Handover to Courier | The XpressBees courier has picked up the package. |
| In transit from (location) | The XpressBeesshipment is moving from the mentioned location. |
| Customer not available | The delivery attempt failed as the recipient was not present at the delivery location. |
| Out for delivery | The XpressBees delivery man is on his way to send the package to the designated delivery address. |
| Customer refused to accept | The recipient refused to accept the package. As a result, the delivery attempt is unsuccessful. |
| WHHandover | WH refers to the warehouse. For this status, customers have to coordinate with the seller company. |
| Shipment delivered received by: (Customer name) | The shipment or parcel has been delivered successfully. |
XpressBees Tracking FAQ
The following are the answers to the most frequently asked questions about XpressBees tracking.
Why is XpressBees tracking not working?
XpressBees tracking may not work for the following reasons:
Incorrect tracking number:

Entering the wrong tracking number could be a possible reason. It is advised that you copy the XpressBees tracking number from the email or text message and directly paste it into the tracking tool. In case you need to enter the tracking number on the receipt, double-check the number after typing it into the tracking tool.

Unregistered Package:

The package has not yet been processed and registered in the XpressBees system. It is possible that theXpressBees package is recently shipped and requires some time to be processed.

Technical glitch:

XpressBees tracking system may experience technical difficulties due to which tracking may not work. This issue is usually resolved within a few hours, so wait and try again later.

Package lost or delayed:

The tracking status will not be updated if the package is lost, delayed, or not scanned at a transit point.
Does XpressBees deliver on Sunday?
Yes, the XpressBees delivery option is available on Sunday. XpressBees delivers on weekends (Saturday and Sunday) from 10 am to 7 pm.
How much time does XpressBees take to deliver?
XpressBees offers a lightning-fast delivery service. For domestic delivery all over India, XpressBees takes 24 to 48 hours. Since the delivery time for international orders depends on various factors, including transit, customs clearance, weather, and so on, International delivery may take between 3 and 7 days.
XpressBees Customer Care
If you are experiencing problems such as a delayed shipment, a tracking issue, or a missing package, or if you require general information, please get in touch with XpressBees customer care at your earliest convenience.
The following is XpressBees customer care contact information:
XpressBees Head Office
Building# B1, Kumar Cerebrum IT Park,
Kalyani Nagar, Pune,
Maharashtra - 411014
Phone: +91 (020) 4911 1900 (Board Number)
XpressBees Customer Care Number
You can dial +91 (020) 4911 6100 to get assistance from an XpressBees customer service representative. The working hours for customer service are:
✔Monday to Friday: from 9 am to 8 pm
✔Saturday: from 9 am to 7 pm
✔Sunday: from 10 am to 7 pm
XpressBees Customer Care Email Address
You can reach XpressBees customer service via email at [email protected]
XpressBees Callback Service
On the XpressBees "Contact Us" page, customers can also submit their AWB number and wait for the XpressBees agent to call back.