About Canpar Express
Canpar Express is a leading Canadian courier and small parcel shipping company. Founded in 1976, the company has evolved into a leading small parcel delivery company for regular day-to-day shipping needs, whether for individuals or e-commerce businesses. TFI International, a North American transportation and logistics company, acquired Canpar Express in 2002, and the latter has been operating as one of its subsidiaries since then.
It is headquartered in Brampton, Ontario, Canada, and has over 1,700 members, 55+ terminals, including major sort facilities in Toronto, Montreal, and Vancouver, as well as 800+ SMARTSpot locations nationwide.
The services Canpar Express offers include:
Ground
Express
USA Delivery
International
Premium Services (by 10 am, by Noon, Saturday delivery)
Collect Service
Pickup on Demand
Declared Value
Returns Solutions
Advanced Shipping Notification
Pre-Authorized Payment Plan
Its guaranteed on-time delivery policy makes it reliable for customers and helps to maintain a competitive position among the other top shipping services such as UPS, Purolator, FedEx, DHL, and others.
Canpar Tracking
Canpar Express provides both domestic and international delivery services with real-time parcel tracking. Each parcel registered in the Canpar Express system receives a tracking number up to 20 characters long that serves as its unique identifier. Customers can use these tracking numbers to track their packages online at any time and from any location.
The following are some of the popular Canpar Express shipping services.
Canpar Express Tracking
The Canpar Express service is the fastest shipping service offered by Canpar Express. This service is ideal for those who need guaranteed urgent deliveries within the next day across Canada. Moreover, Canpar Express tracking can be used to track the current status of express service packages from anywhere.
Delivery time: The Canpar Express service takes 1-2 days to ship across Canada.
Canpar Ground Tracking
Canpar Ground is a trackable shipping service offered by Canpar Express. It is a reliable and affordable shipping service for deliveries across Canada. Canpar Ground is preferred by approximately 20,000 customers because it has earned customer satisfaction by remaining consistent and providing on-time deliveries. This service also includes the special "Pickup Tag Collect" service, which ensures regular, scheduled pickup by Canpar Express delivery personnel.
Delivery time: The Canpar Ground service takes 1-4 days for shipping across Canada.
Canpar International Tracking
The Canpar international shipping service offers deliveries to over 215 countries around the world. The reliable service and affordable rates make this service a top choice for shipping among customers. To meet urgent shipping needs in the United States, Canpar Express provides expedited delivery via the Select services, which guarantees on-time delivery to anywhere in the continental U.S. from Montreal, Toronto, and Vancouver.
Delivery time: Depending on the origin and destination points, the transit time for international shipments may take a minimum of 3 days to a maximum of 10 days. A detailed estimate of the transit time is available on the Canpar Express website.
How to Track a Canpar Package?
Canpar Express's official website has tracking tools integrated into their system that allow customers to track their shipment's current status and other delivery information. However, the official website is not the only place where you can track your shipment. There are several trusted and reliable third-party tracking services, such as ParcelPanel, that provide shipment tracking information while keeping the customer's personal information completely secure.
Let's check out the different ways of tracking Canpar Express packages.
By using Canpar Tracking
To track your Canpar package on the Canpar Express official website, you can either go to the Canpar CA site or the international site. Head to the homepage and locate the Canpar Tracking tool under the banner. After entering the tracking number of your Canpar package, click on the "Track" button.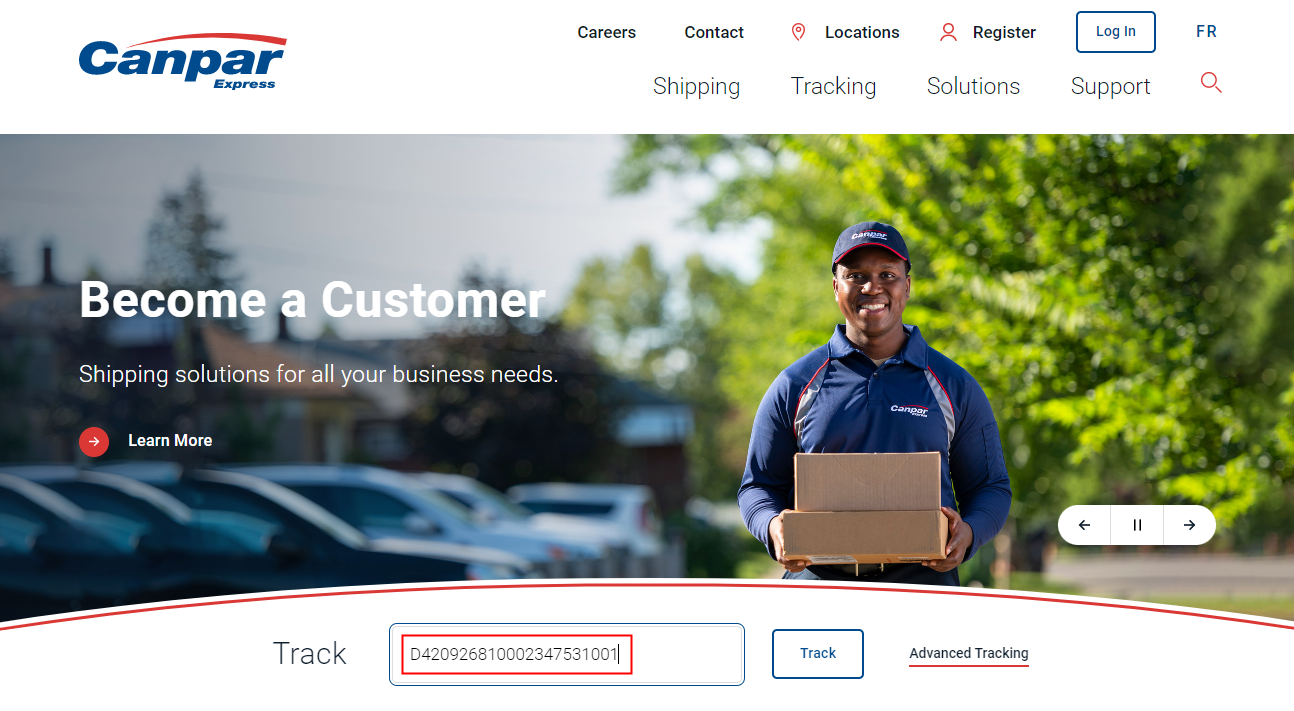 Then, you will be redirected to a new page where you can find the tracking summary and tracking details and even obtain proof of delivery directly.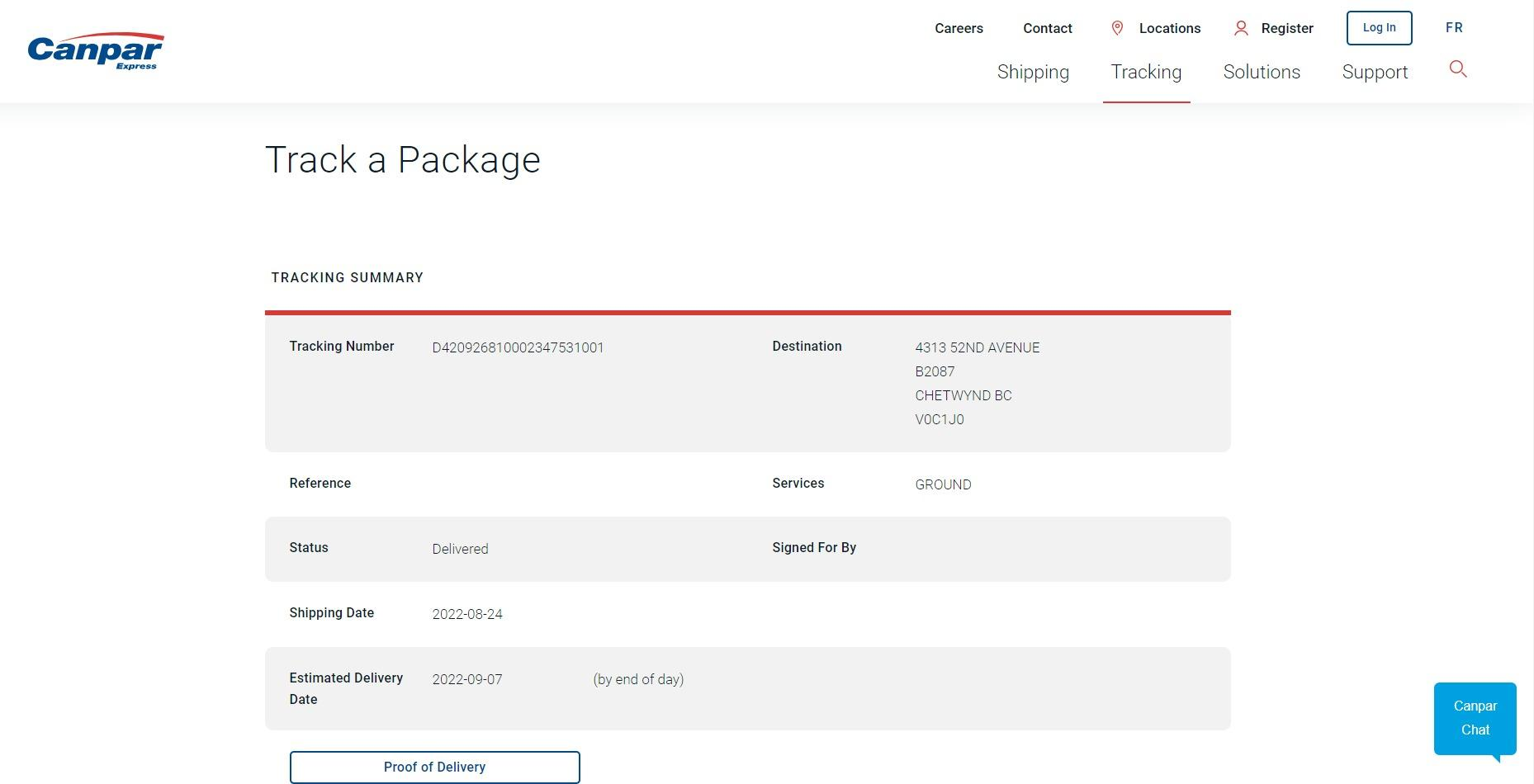 If you want to track your package with a barcode or reference number, you can use the Canpar Express Portal website. Select the Barcode or Reference option, enter the shipment number or other information, and click the "Track" button.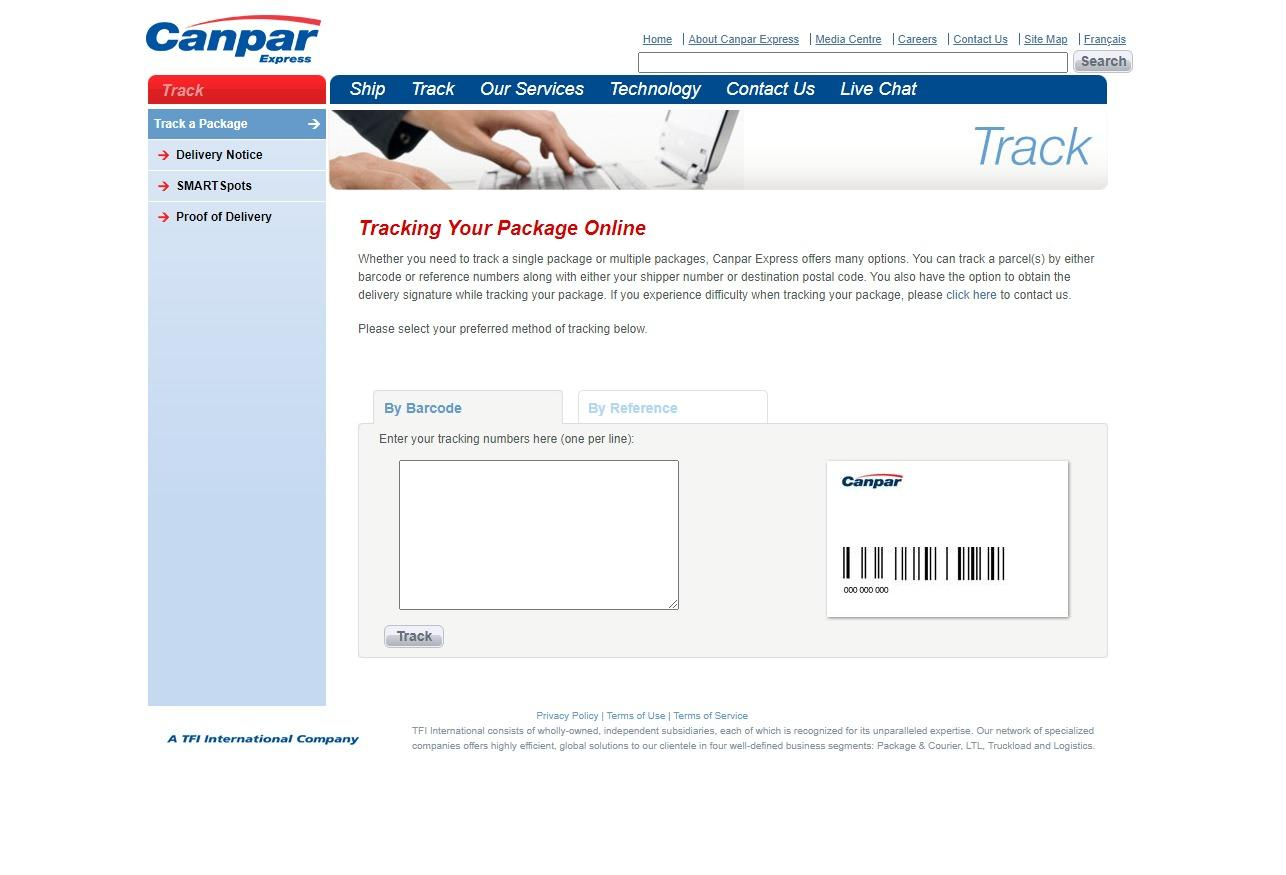 By using Canpar SMARTSpots
Canpar Express has hundreds of pickup and drop-off locations known as SMARTSpots. Customers who are unable to receive shipments at their desired location can use SMARTSpots for their convenience. If you are sure that you won't be able to receive the parcel in person, you can redirect it to your nearest SMARTSpot location using the SMARTSpot locator tool on the website.
Delivery personnel will leave a delivery attempt notice for customers if the package fails to be delivered to the recipient. The delivery notice contains a delivery notice number beginning with W and followed by numeric digits.
Customers can use the delivery notice number to access the delivery notice that states the information, including package tracking number, SMARTSpots location, hours of operation, and so on.
To track your package with SMARTSpots, go to the official website of Canpar Express and click on "Tracking" and then on "SMARTSpots", exactly as described above.
Then, scroll down and click on the "view delivery notice" option. On the redirected page, you will find an underlined phrase, "Click here" which will take you to the tracking tool. Simply enter your delivery notice number and get the SMARTSpots delivery information.
An easier way to access this page is through the top navigation menu. Just choose "Tracking," "Track a package," and finally "Delivery Notice."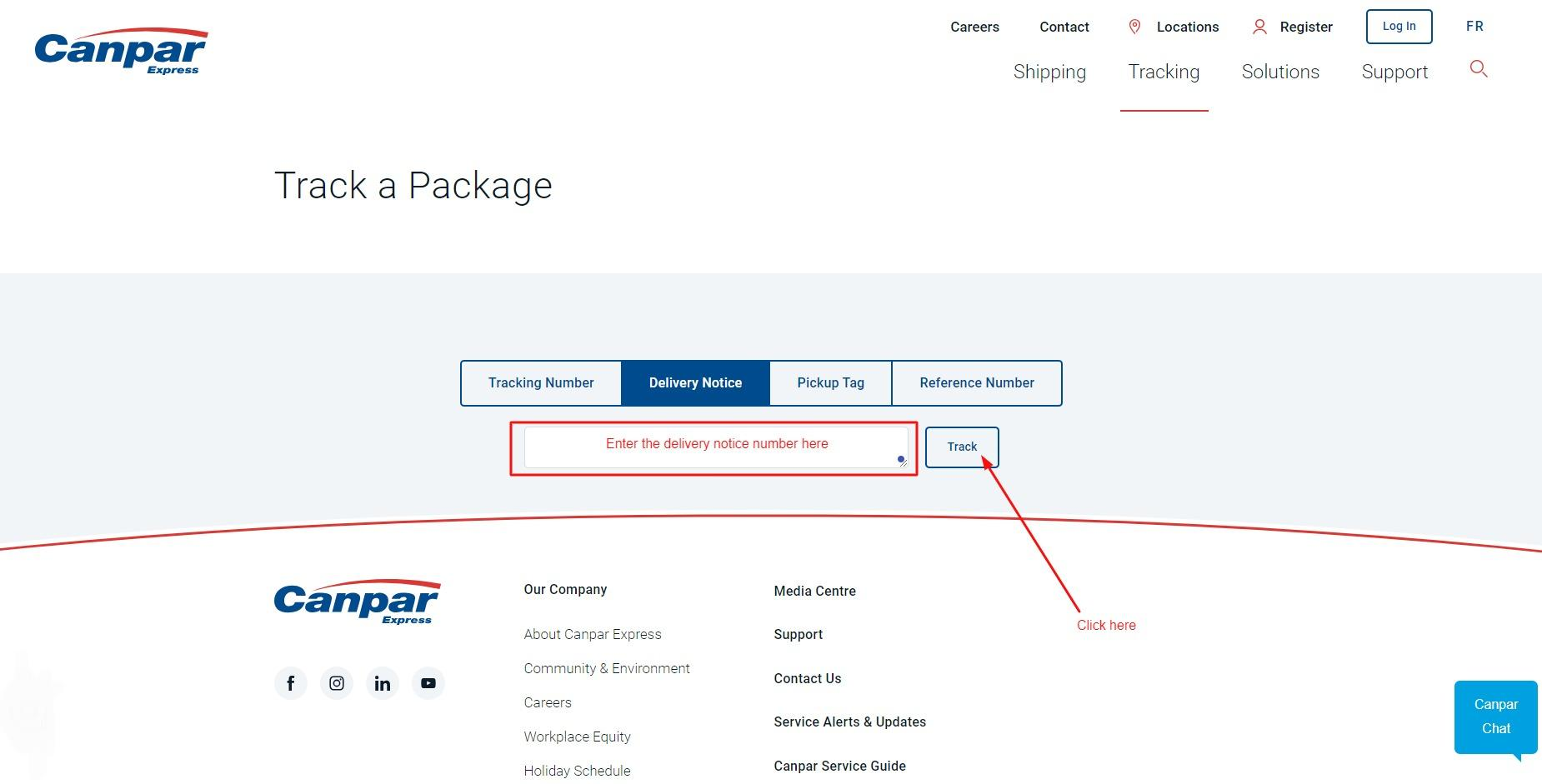 By using ParcelPanel
ParcelPanel is one of the leading tracking solutions for eCommerce with over 1,100 carrier integrations around the world, and Canpar Express is one of its carriers. Its seamless integration with the Canpar Express tracking API brings tracking details for every order together in one place. All you need to do is enter the tracking number in the tracking tool, and the tracking details will be at your fingertips.
You can track your domestic and international Canpar Express package via ParcelPanel in two ways; the Official website and the ParcelPanel Order Tracking app. Here is a detailed guide on how to use ParcelPanel for parcel tracking.
ParcelPanel's official website
Step 1: Go to the Official Website home page and click on "Carriers" from the menu bar.
Step 2: Select "Canpar Express"
On the Canpar Express Tracking page, search for Canpar in the search bar and click on "Canpar Express."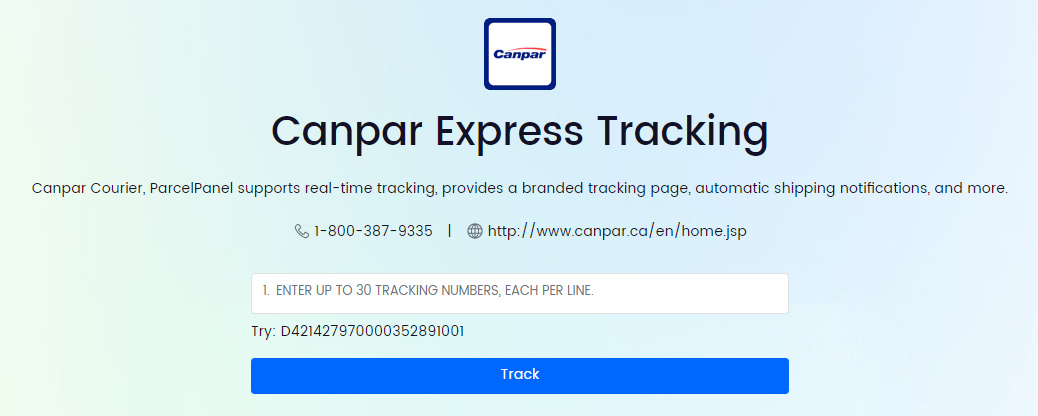 Step 3: Enter the tracking number
After clicking on the "Canpar Courier," a dialogue box will appear where you're required to enter your Canpar tracking number and click on the "Track" button. Then, your shipment tracking information will appear.
ParcelPanel order tracking app
ParcelPanel order tracking app is the complete shipment tracking solution for Shopify and WooCommerce merchants. After the simple installation, it can generate a branded tracking page, providing end customers with easy access to real-time shipment updates. This can also help merchants bring customers back regularly, build trust and increase revenue.
The app allows businesses to centralize their shipment tracking from tens of carriers and get all the tracking information in one dashboard, including the order number, tracking number, the latest shipment status, and so on.
With ParcelPanel app, you can automate Canpar tracking Canada and Canpar tracking international, provide full shipment visibility & real-time updates, effectively build trust, bring customers back to your store, and encourage repeat business.
Canpar Tracking Number
A Canpar tracking number is a unique 8–20 alphanumeric number provided with every package registered for shipping with Canpar Express. The tracking number serves as the package's identity, allowing both senders and recipients to track it.
The tracking number is usually sent to the recipients through a confirmation email. The number is also written on the shipping label, which is attached to the body of the package. You can also contact the sender to provide you with the tracking number.
Canpar Tracking Number Format
The tracking number begins with a letter like D, S, L, K, C, U, Z, or X, depending on the shipment type, and it is followed by 8 - 20 numeric digits.
Wondering what a Canpar tracking number looks like? Here are the common Canpar tracking number formats:
A typical Canpar tracking number starts with a letter followed by several digits, for example:
1 letter + 12 digits: D012345678912
1 letter + 20 digits: D01234567891234567890
1 letter + 21 digits: D012345678901234567890
A return tag number starts with the letter R and is followed by 8 numeric digits. For example, R12345678
A pickup tag number starts with P and is followed by 9 numeric digits. For example, P123456789
A delivery notice number begins with a W and is followed by 8 or 9 digits. For example, W12345678 or W123456789
Canpar Tracking Number Example
Here are some Canpar tracking number examples:
D420926810002347531001
D421561420087943187001
Canpar Tracking FAQ
Here are some of the most frequently asked questions about Canpar Express and Canpar package tracking.
When does Canpar deliver?
Canpar Express delivery hours for business deliveries are usually between 9 am and 5 pm. However, the residential deliveries last until 7 pm.
I missed Canpar delivery. What should I do?
Don't worry if you missed your Canpar Express delivery. Missed deliveries are dropped off at the SMARTSpots. These SMARTSpots hold packages for up to 5 days and are available for self-pickup after 12 pm on the next business day.
When you receive a notice from Canpar Express about a missed delivery, the first thing you should do is visit Canpar Express's official website to track your shipment by using the tracking number on the delivery notice the Canpar courier left. Information related to the current shipment status and the exact SMARTSpot address will be available.
Note: For residential deliveries, only one delivery attempt is made. However, contact Canpar customer service, and you'll get an alternate arrangement.
What does Canpar "Out for delivery" mean?
The Canpar Express tracking status "Out for delivery" indicates that the package has left the local shipping facility and is on its way to the recipient. The estimated delivery time is usually between 9 am to 6 pm.
How long does Canpar take to deliver?
As for domestic deliveries, if you choose the Canpar Express service, it takes 1 to 2 days to deliver to the recipient's doorstep. In comparison, 1 - 3 days is needed for Canpar Select service, while Canpar Ground shipment takes 1 - 4 days to arrive.
Canpar international shipments take longer. Around 2 - 10 days is needed.
Why is Canpar tracking not updating?
There are several reasons why Canpar tracking is not updating, including:
Technical error: The website's technical issues could cause a delay in the updating of the tracking information.
Package not scanned: A scan might be missed or fail to be registered in the system.
Delays: The package may be passed to the next point in delay due to a variety of factors, such as work overload, bad weather, or other unforeseeable issues.
Package lost: If your package goes missing, the tracking information will not be updated.
Note: If your parcel has passed its expected delivery date, you must contact your retailer/seller to open an investigation.
Canpar Tracking Customer Service
Contact Canpar Express customer service at your earliest convenience if you have any questions about your mail, parcel, or postal service or if you want to report a problem. Here is Canpar Express's contact information:
● Mailing Address
Their head office mailing address is:
Canpar Express
201 Westcreek Blvd. Suite 102
Brampton, Ontario, L6T 0G8
● Canpar Customer Service Number
To contact Canpar customer service, call 1-800-387-9335 Monday to Friday, between 8 am and 8 pm EST. The bilingual agent is available from 8 am to 4 pm EST.
● Technical Support
For technical support related to their electronic shipping system, you can call on 1-866-588-1488
● Live Chat
Canpar Express has a live chat option at the bottom of their official website. You just have to click on the live chat icon and convey your message. However, Live Chat is available Monday to Friday from 10 am to 7 pm EST.
● Email Address
You can also contact Canpar customer service via email at [email protected]
● 2023 Holiday Schedule
The Canpar Express holidays are as follows:
New Year's Day (2023 and 2024)
Family Day (B.C., AB, SK, MB, ON, PE, NS, NB only)
Good Friday
Victoria Day
St. Jean Baptiste Day (Québec only)
Canada Day
Civic Holiday (excluding Québec)
Labor Day
National Day for Truth and Reconciliation
Thanksgiving
Remembrance Day (excluding Ontario and Québec)
Christmas Day / Boxing Day