About LBC Express
LBC Express Inc. is a leading courier company in the Philippines. Founded in 1945 as a brokerage firm, the company has grown an impressive network of 6,400 locations in over 30 countries.
The company's tagline is 'We like to move it,' which speaks to their belief that their services connect lives and their commitment to reliability and efficiency. Their primary market is Filipinos at home and abroad, and they will happily serve any customer.
Through its strong domestic and international presence and numerous shipping locations, LBC Express offers the following services:
Money remittances through a vast network of branches and partners worldwide, particularly in the US, Europe, Asia, and the Middle East.
Courier services that include pickup, door-to-door service, safe and secure delivery of documents, mail, parcels and boxes, and cargo.
Logistics services that include end-to-end supply chain solutions aimed at businesses. LBC Express also helps with warehousing, inventory management, cross-border shipping, and specialized logistics solutions.
LBC SoShop platform, which aims to help entrepreneurs grow their businesses with reduced shipping rates, business tips & tutorials, special seminars, etc.
LBC Express rates vary with the service but are some of the friendliest. The company also accepts flexible payment options, including cash on pickup and delivery.
Domestically, LBC's competitors include JRS Express, Lalamove, Ninja Van, J &T Express, and 2GO. Global competitors include USPS, UPS, DHL, Parcelforce, and so on.
LBC Tracking
The shipping services offered by LBC Express include land, sea, and air freight services nationwide and abroad. LBC has a network of transporters and sites that ensure quick delivery. LBC will deliver at your closest location as well as door-to-door. Sometimes LBC relies on partners to help it with last-mile delivery abroad.
By land and domestically, LBC express delivery may be as fast as 24 hours as long as you ship before the cut-off hour of 3 PM. Sea freight takes 40-60 days to deliver to the door, while air freight takes 7-10 days.
LBC Tracking Philippines and LBC tracking international are what customers are actively searching to track their LBC shipments.
Let's take a closer look at LBC Express tracking by service:
LBC Domestic Package Tracking
LBC Tracking Philippines helps you keep updated on your package's location and delivery status domestically. When you ship a product, LBC generates a tracking number that uniquely identifies your package. This number helps track your parcel throughout its journey.
You enter your LBC tracking number on the track and trace page on the LBC Express website. Alternatively, you can monitor the delivery progress of your package through Facebook Messenger on your phone. The LBC Express track and trace system will then update you in real time on the status of your package. It will send you real-time notifications on the delivery progress.
LBC International Tracking
LBC tracking international works in nearly the same manner as LBC Track and Trace for deliveries in the Philippines, except for a few differences.
As for LBC international shipment tracking, LBC Express tracking updates you on the departure and arrival of your package through national transits, necessary customs clearance procedures, and any transfers between logistics facilities, whether owned by LBC or its partners.
LBC tracking international is important as the transit time of your parcel will be longer, and it might be handed over to a third-party carrier. You need to keep track of your LBC international package to be sure it is on the right path for you (or the recipient).
LBC Cargo Tracking
In LBC cargo tracking, the number you get when you book a shipment acts as the LBC tracking number. Typically, speaking of LBC international shipments, the cargo tracking number only consists of 5 numeric characters.
Feed this number into LBC's online track and trace system or the app to learn about the delivery progress. If the cargo is moved across borders, the status update will contain details similar to those in international tracking.
How to Track LBC Packages?
The LBC Express tracking number comes with the receipt or shipping confirmation email. Here is an overview to help you use it to perform LBC Express package tracking:
Note that these procedures apply to domestic and international shipments.
By using LBC online tracking service
Follow these steps to check the LBC tracking status of your package:
On your PC or mobile phone, open the web browser and visit the LBC Express tracking page.
Enter a valid tracking number in the input box and click on the "Track" button to begin the tracking process.
The track and trace system will retrieve and display the LBC package tracking information, including the current location, delivery status, and other relevant information.
You may choose to receive updates on the shipment status via Facebook Messenger on this page.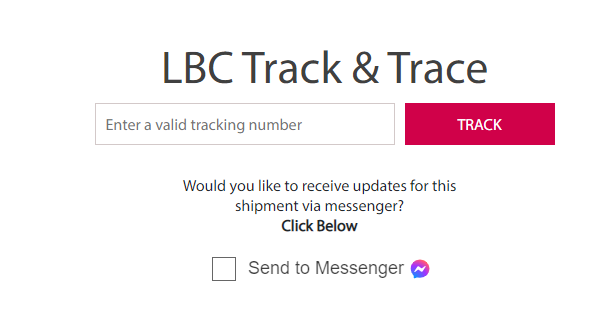 By using the LBC Connect app
The LBC Connect app runs on Android and IOS and is free on Google Play and App Store. The LBC app helps you keep track of your LBC Express shipments more easily from any place and at any time. What's more, the LBC Connect app notifies you of the shipment progress and also provides you with access to a wide range of LBC's shipping and delivery services.
You have to register an LBC Express account in order to use it. Tracking numbers you enter will be automatically saved and pinned at the top so that you won't miss any important updates on any shipment or delivery.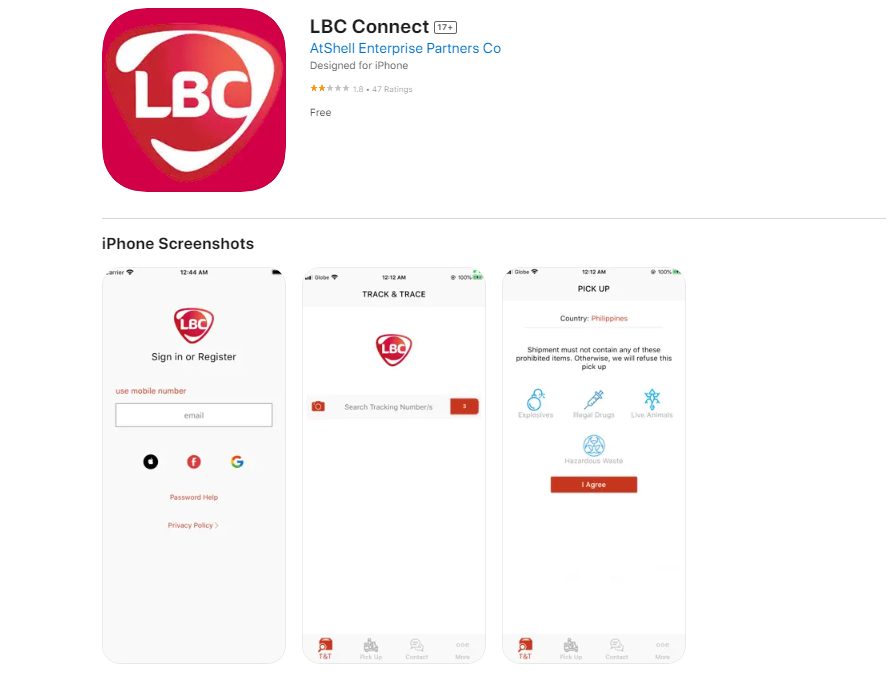 By using ParcelPanel
ParcelPanel is a universal parcel tracker that provides tracking with over 1,090 carrier integrations. You can track LBC shipments by entering the LBC Express tracking number on the LBC tracking page on the site. The input box can take up to 30 tracking numbers each time, which helps you save a lot of time. What's more, you can export the tracking information in bulk to a spreadsheet.

If you are an online seller on Shopify, you or your customers can track packages through ParcelPanel's Shopify app.

After you install the ParcelPanel Order Tracking app, a branded page is automatically created on which your customers can track their order with the order number or LBC tracking number. ParcelPanel can also update your customers via email at every stage of the delivery progress.
As ParcelPanel is already integrated with LBC API, you can centralize your LBC package tracking, increase efficiency and reduce costs.
LBC Tracking Number
An LBC tracking number is a unique identifier for your LBC shipment, and you can use it for tracking purposes.
Your LBC Express tracking number is at the top of your receipt, below the barcode. You may also find your LBC Express tracking number by using your LBC Connect account or checking the shipping confirmation from the retailer.
LBC tracking number format
For domestic shipments, the LBC tracking number is composed of 12-17 digits, whereas, for international shipments, the cargo tracking number only consists of 5 digits.
LBC tracking number example
4630 0000 3395 80
4420 0001 4765 98
1254 3212 2495
1813 5859 3446
3134 6628 6304
1618 5161 7753
1737 2929 3274
You can track LBC international packages in the same manner you track domestic packages, except you use the 5-digit tracking number.
LBC Tracking Status Explained
These are LBC tracking statuses and their meanings:

LBC Tracking Status



Meaning


Delivered
The LBC package has been successfully delivered to the ultimate recipient.
In transit / In progress
Your LBC Express package has left the warehouse, and it is on the way to the intended destination, no matter by road, air, or sea.
Consignee out
The recipient was not there when the LBC courier arrived.
Non-delivery
LBC was not able to deliver your package due to an unforeseen event.
Out for delivery
LBC courier is on the way to deliver your package.

Pending
LBC Express is making a few changes to the existing route. If the 'Pending' status does not change to In Transit in 48 hours, contact customer support.
If the issue persists, there might be bottlenecks in the transit systems, like when stuck in customs or with no mode of transport available.
Received
The package was received at an LBC branch or picked up from home/business.

LBC Tracking FAQ
How long does LBC shipping take?
LBC shipping time depends on whether the shipment is local or international, the mode of freight, and the port of departure. Other chance factors like weather, war, and pandemic may also play a role.
Typically, domestic shipping takes 24-48 hours. International shipping takes 3-5 days and is done by air. Non-expedited air freight takes 7-10 days.
In comparison, the transit time of air freight is usually 7 - 10 days, while that of sea freight is 40 - 60 days before it reaches the destination.
Why my LBC tracking number is not found?
Sometimes, you will get an error message after you enter your tracking number in the track and trace system. This indicates that the tracking number has not been found.
These are the possible explanations for such an occurrence:
You have entered an invalid number. It is easy to mistake any other number for the tracking number, for example, another number on your receipt. The tracking number is the number on the top of the receipt.
The LBC track and trace system may be down. Wait a while, then try again. Alternatively, try logging in and tracking from the LBC Connect app on your Android or IOS.
LBC has not picked up the package yet and does not have the number in the system.
LBC has picked up the package but has not scanned the tracking number and updated the information yet.
If you cannot find your LBC tracking number in the system, contact LBC Express customer service for assistance.
How to track an LBC package without tracking number?
If you do not have an LBC Express tracking number, you cannot use the LBC track and trace system because you can't track your LBC package by address.
Here is what you should try and find your LBC tracking number:
Access your package information from your LBC Express account by using the website or LBC Connect app. Locate the shipment you'd like to track to find the tracking number.
Reach out to the sender for the tracking number if you are the recipient and are expecting a package.
For pickups made and paid for online, find the tracking number in the confirmation notification sent to you.
Visit your local LBC branch, or contact customer support via phone call, email, or social media for further assistance.
LBC Tracking Customer Support
LBC Express's operating hours span from 7:00 AM to 7:00 PM on weekdays (Monday ~ Friday). In comparison, the business hours are between 8:00 AM and 5:00 PM (GMT+8) on weekends. The Philippine courier works even during holidays. However, LBC deliveries take place between 8:00 AM to 7:00 PM (GMT+8) from Monday to Saturday in the Philippines (except holidays). Notably, the cut-off time is 3:00 PM every day - if you fail to hand over a package to LBC Express before 3:00 PM, your package will be shipped the next day.
Otherwise, here are LBC Express's contact details:
Email:

[email protected]

Facebook Messenger account: @lbcexpress
LBC contact number: (02) 8-858-5999 (NCR) or 1800-10-8585999 for provincial calls
You can also contact LBC Express customer service on Facebook and Twitter.