About Parcelforce
Parcelforce Worldwide is a courier and logistics service headquartered in Milton Keynes, England, UK. In 1986, Royal Mail created a separate parcel function, which formed the foundations of the business that we know today. In 1990, Royal Mail Parcels was officially rebranded to Parcelforce. In the UK Parcels, International, and Letters division of the Royal Mail Group, Parcelforce Worldwide operates as part of the company's parcel service.
The company uses an international partner network to deliver to destinations worldwide. More than 6,500 employees work for it, and on average, 35,000 parcels are processed per day. Parcelforce Worldwide uses a network of 54 depots in the UK as well as post offices to collect and deliver packages. Parcelforce has also invested significantly in technology over the past decade, enabling them to provide exceptional service in the express parcel market.
Parcelforce partners with GLS and EPG to deliver in Europe, and as an EMS network member, it guarantees global priority deliveries. Notably, its major competitors include DHL, FedEx, UPS, and DX Delivery.
Parcelforce Tracking
Parcelforce offers various UK and overseas delivery services to meet different needs. Every parcel is delivered with care by Parcelforce's dedicated team. Tracking is available for all Parcelforce delivery services except globalvalue and globaleconomy.
We'll look at Parcelforce tracking by delivery service in detail:
Parcelforce Express 24 Tracking
Among all Parcelforce UK courier services, Parcelforce Express 24 is the most popular for sending time-sensitive items. You can consider using this next-day shipping service if you need to deliver the parcel to another place on the next business day.
Parcelforce Express 24 provides full visibility of your parcel. The exceptional end-to-end tracking capability ensures peace of mind at every stage of the parcel's journey. What's more, by using Parcelforce's online tracking tool, you can get an electronic signature in the end.
If you need to track Parcelforce Express parcels in bulk, you'd better use ParcelPanel's Parcelforce tracking tool.
Parcelforce Express 48 Tracking
Parcelforce Express 48 is a parcel delivery service that offers great value for your money, ideal for less-than-urgent parcels. You can expect your Parcelforce Express 48 parcel to be delivered within 48 hours to a UK address. If you are seeking for large parcel delivery services, consider Parcelforce Express 48 Large, as it offers generous size limits and weight limits. Nevertheless, the large parcel delivery service doesn't guarantee two-day delivery to certain remote areas.
Each Parcelforce Express 48 parcel is fully tracked by the team, which means that you can access the real-time progress of your parcel's delivery by using Parcelforce tracking services or a third-party parcel tracking website like ParcelPanel. ParcelPanel is a better option if you need to track Parcelforce parcels in bulk.
Parcelforce International Tracking
Parcelforce provides 5 different international delivery services. Among them, end-to-end tracking is available for Global Express, Ireland Express, and Global Priority; Global Value and Global Economy are not trackable. In particular, the named confirmation of delivery for European and major worldwide destinations is included in the Global Express and Global Priority services. If you choose Ireland Express, you can get an electronic signature upon delivery.
As international deliveries take longer, tracking plays a more important role. To track Parcelforce international deliveries, you may use the Parcelforce track and trace tool and your Parcelforce Worldwide account. Integrated with Parcelforce tracking API, ParcelPanel is also a great choice for Parcelforce international tracking.
How to Track a Parcelforce Parcel?
As tracking is part of Parcelforce's parcel delivery service, Parcelforce provides different ways for you to track your parcels, including the online track and trace tool, Parcelforce Worldwide account, and mobile app. Besides, you may use third-party package tracking services like ParcelPanel to facilitate tracking.
Let's dive into the detail of the 4 ways to track your Parcelforce parcel:
By using Parcelforce tracking page
The easiest way to track a Parcelforce parcel is by using the track and trace tool. Just enter your Parcelforce reference number, and detailed tracking information will display in a second. Normally, if you're the recipient, you can get a tracking number from the sender of the parcel.

By using Parcelforce Worldwide account
You can get better customer support if you use Parcelforce to send two UK parcels (or one international parcel) per week on average. You can enquire about an account by submitting an online form. You may also call Parcelforce on 03448 429102 between 8:45 am and 5:30 pm on Monday to Friday.
After you open a Parcelforce Worldwide account, you can manage and monitor individual parcel deliveries using the Dashboard. You can get an overview of the parcel statuses, keep tabs on priority parcels with the watchlist, and view the top sending destinations of international parcels.
By using Parcelforce Worldwide app
The "My Parcel Live" map in the Parcelforce Worldwide app provides both the sender and the recipient with full visibility of the parcel on the delivery day. The Parcelforce live tracking option uses the street map to show the parcel's journey to the delivery address. Generally, the recipient will be given a one-hour time slot in advance to prepare for the delivery. In a word, the app allows customers to track parcels on the go, set delivery preferences, and get additional guidance and support.
Parcelforce Worldwide app is easy to use and free to download. Moreover, it allows businesses to provide easy access to the tracking details that their customers need, ensure excellent customer service, and build trust.
By using ParcelPanel
Parcelpanel is a leading e-commerce order tracking software that seamlessly integrates with over 1,090 carriers worldwide to help Shopify/WooCommerce merchants and their customers to keep track of shipment statuses. Anyone can use the Parcelforce tracking tool on the ParcelPanel website. It facilitates Parcelforce package tracking, as it can accommodate up to 30 Parcelforce tracking numbers at a single time and allow users to export all tracking details to a spreadsheet.

With the ParcelPanel Order Tracking app, your customers will be notified of the latest parcel status via email and come back to the dedicated order tracking page in your online store.

In this way, you can reduce customer support tickets related to "Where is my Order" inquiries. ParcelPanel also allows you to enable AI-powered product recommendations to target customers' interests, effectively upsell and increase the customer lifetime value.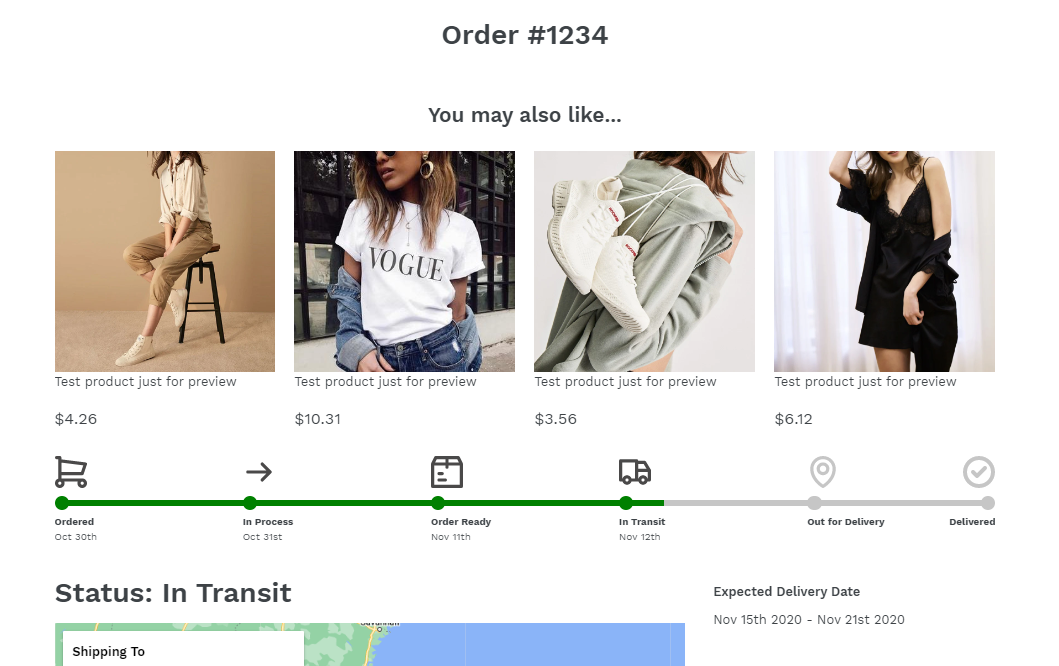 Parcelforce Tracking Number
How to find your Parcelforce tracking number?
Parcelforce will provide you with a specific tracking number when you place an order or when you drop off a parcel at a Post Office. The retailer should have provided you a reference number if you shopped online.
There may be letters and numbers in our parcel tracking numbers. The number of characters can be 9, 11, 13, 14, 16, or 21.
Parcelforce tracking number example:
PBTE2777883001
PBTI6756186001
Parcelforce Tracking number format
There are the following Parcelforce tracking number formats:
UK tracking
Two letters and seven numbers (e.g., AA1234567)
Four letters and ten numbers (e.g., AAAA1234567890)
International tracking of imports
Two letters and nine numbers and two letters representing the destination country (e.g., AA123456789AA)
International tracking of exports
Two letters and nine numbers and GB (e.g., AA123456789GB)
12 digits (e.g., 123456789012)
Parcelforce Tracking Status Meanings

Parcelforce Tracking Status



Meaning


Address Problem
The address on the parcel is incomplete or incorrect, which is not possible for Parcelforce and their delivery partners overseas to locate the delivery address. You need to contact Parcelforce by calling 03448 00 44 66 to provide further details.
Address to collect from PO
Your parcel is sent to the local post office because you are not at home. You can collect the parcel at the local post office by providing your ID and the card that the driver has left as early as the next working day.
Advised
The tracking of the status of the parcel will be "advised" from the moment it is sent. When it enters Parcelforce's network and receives a tracking scan, this status will be changed to "in progress."
Awaiting customs clearance
During the importing process, the system will inspect the item for the validation of some custom duties or taxes. It is necessary to pay them before the item can be released. All the items imported to the UK or other countries must go through this standard procedure.
Awaiting payment of charges
You need to pay customs charges before the delivery of the parcel. If you are the recipient in the UK, you will receive a letter about the details of the costs. After doing this, the automated system will be informed, and your parcel will be delivered.
Damage recorded
If any damage to the parcel is recorded during the whole journey, Parcelforce will repackage the item so that it can be delivered.
Delivered
Your Parcelforce parcel has been delivered to its destination successfully.
Delivery attempted
In case you are not at your location, the delivery person will transfer this parcel to the neighbor or to the local post office for you to collect. He will leave a card to inform you about the situation and what steps you should take.
Forwarded for export
It means your parcel is in one of Parcelforce's locations, ready to be exported. It is also possible that the parcel is in overseas locations.
Handed to RM
The status means that Parcelforce's sister company Royal Mail will collect and deliver your parcel.
Held
This status implies that your parcel has been held due to one of reasons below:
· Awaiting instructions
· Damage recorded
· Incorrect paperwork
· Restricted contents
· For redelivery
In progress
The parcel has entered Parcelforce's network, and after a tracking scan, the "in progress" status will appear on the website.
Parcelforce Tracking FAQ
Why is Parcelforce tracking not working?
In case Parcelforce tracking is not working, you can do the following things:
Make sure that you have correctly entered the tracking number.
Check the Parcelforce tracking number provided by the sender if you're expecting a delivery.
It is possible that the sender has created a tracking number, but Parcelforce has not yet received the parcel. So, wait for a while and try later, allowing time for Parcelforce to receive the item.
Parcelforce might experience technical issues at the moment. You may contact Parcelforce customer support for help.
How can I arrange for Parcelforce redelivery?
If unfortunately, you missed an attempted delivery of your Parcelforce parcel, many options are available for you to get Parcelforce to redeliver your parcel securely:
Find the "Where's my parcel" card left by your driver. Read that card carefully because it notifies you whether:
Your parcel will be delivered tomorrow;
Your Parcelforce parcel has been delivered to a neighbor;
Your Parcelforce parcel has been taken to a local post office branch nearby;
Your parcel has been returned to a Parcelforce depot.
If your Parcelforce parcel needs to be redelivered to a different address, you'll need to pay an extra £5.5 before the delivery. If you missed a Saturday delivery and want to rearrange a delivery on Saturday, you'll need to pay £12 for the Parcelforce service.
What does Parcelforce mean by saying "Advised, not received"?
The status of "Advised" usually means that the item is waiting to be collected by Parcelforce from the sender's address. Therefore, "Advised, not received" means that Parcelforce has been informed of the parcel and has not yet received it.
Parcelforce Tracking Customer Service
There are a great many ways to contact Parcelforce customer service to resolve problems regarding your parcel. Except for UK Public and Bank Holidays, Parcelforce customer service representatives work between 8:00 am and 7:00 pm on Monday to Friday and between 8:00 am and 12:30 pm on Saturday.
If you're in the UK, you may contact Parcelforce customer service by calling 0344 800 4466. Local rates apply to calls. You'd better contact your local parcel carrier if you're not in the UK.
Our efficient customer service team will be in close contact with you by email if you're an individual who has posted your parcel from a Post Office, Parcelforce depot, online, or if you're expecting a parcel, you can fill out the online form to get a reply via email from the Parcelforce customer service team.
The Account Support Help Form can be used if you are a Parcelforce Worldwide Business Client.
Feel free to contact Parcelforce by using Twitter if your question consists of 280 or fewer characters. Parcelforce's Twitter team is available for further assistance from 8 am to 6 pm (GMT+1) on Monday to Friday.
Parcelforce Saturday delivery service is available for most UK addresses, provided an additional fee of £9 per consignment is paid. It usually takes place between 7 am and 1 pm.