About PITT OHIO
PITT OHIO Express LLC is a privately owned transportation and logistics company headquartered in Pittsburgh, Pennsylvania. With a legacy Less-Than-Truckload (LTL) freight solution service, PITT OHIO is known for its operations in the Mid-Atlantic and Midwestern United States, ranking 14th among the top US LTL carriers.
The supply chain management company also boasts of its recent expansion to North America with specialized ground services, supply chain, and truckload services. PITT OHIO terminals are strategically located throughout its service map, covering various regions in the United States. The company also offers several other supply chain and logistics services, including truckload, warehousing and distribution, expedited, freeze protection, container drayage & trans-loading, and many more dedicated services.
The family-run business has received several awards and recognition for its quantitative performance and outstanding value-added services.
Matt Lowery, a Director of Procurement at Uber Freight, acknowledged the private company's consistent quality service at Uber Freight while awarding PITT OHIO as a Regional LTL Carrier of the Year 2023.
Some of the many other awards won by the company include:
2023 Top Green Fleet awards by Heavy Duty Trucking

2023 Green Supply Chain Partner awards by Inbound Logistics

2022 Innovation Carrier of the Year by GlobalTranz, etc.
The company's safety department has consistently achieved top ratings within the logistics industry, earning numerous prestigious awards. PITT OHIO has also been honored with the American Trucking Association's (ATA) President Trophy for the operations of the US's safest fleet.
As a significant player in the transportation and logistics sector, PITT OHIO Express LLC has operated since 1979, earning over $900 million in revenue in 2022. The company, however, faces competition from other reputable players in the market, including UPS, R+L Carriers, ABF, TForce Freight, etc.
PITT OHIO Shipping & Tracking
PITT OHIO's tracking services are essential to their comprehensive shipping solutions. This provides their customers with real-time visibility and control over their shipments. Each of the services offered by the company is tailored to meet diverse customers' needs.
These services include:
Supply Chain Services

: These services vary from small package delivery to expedite, truckload, and even technology, providing businesses with tailored solutions to streamline the entire supply chain process. Supply chain services vary in transit times depending on each customer's specific requirements and the supply chain's complexity.

Ground Services

: With a strong emphasis on reliability and customized parcel solutions, PITT OHIO's Ground services ensure flexibility and customer satisfaction. Transit times for the company's Ground services are typically based on distance and destination, with flexible pricing.

Less-Than-Truckload (LTL) Services

: PITT OHIO Express LTL Services cater to oversize shipments without requiring filling an entire truck while ensuring 2 to 5+ days transit time. The LTL services boast a broad network of terminals in the Mid-Atlantic and Midwest regions, extended coverage with sister companies, and Sunline Express.

Truckload (TL) Services

: Specializing in dedicated FTL transportation, PITT OHIO offers competitive transit times. The delivery area for TL services is comprehensive, ensuring reliable transportation to various locations nationwide.
With a legacy LTL service, PITT OHIO has built a sterling reputation on reliability, efficiency, and unwavering commitment to customer satisfaction.
Here are some of the benefits that set the company apart as a top shipping and logistics service provider:
Reliable and Timely Deliveries: With a 97% on-time service record, shipments from PITT OHIO arrive when needed and in good condition.

Industry-Leading Safety: As a hazmat-certified carrier, PITT OHIO provides a secure and reliable shipping experience by enforcing new safety protocols.

Dedicated Account Manager: You can be sure of a dedicated Account Manager, ensuring personalized support and quick responses to inquiries.

Last-Minute Solutions: PITT OHIO effectively handles all your emergency volume-shipping needs, with experienced logistics experts for efficient responses.
In addition to its dedicated customer support team, PITT OHIO offers advanced live tracking capabilities to enable a transparent and worry-free shipping experience.
With the tracking number, anyone shipping with PITT OHIO can seamlessly track their shipments from pickup to delivery, obtaining crucial details, such as the current location and estimated delivery time.
PITT OHIO Express Tracking
One standout service of PITT OHIO Express involves transporting freight to Northern California within 3 days and to Southern California within 4 days. This provides businesses with a swift and reliable delivery solution. What's more, end-to-end tracking is included.
PITT OHIO also provides Express LTL long-haul services through its partnership with Daylight Transport, whose dedicated driver teams are dependable.
Thanks to PITT OHIO's comprehensive tracking capabilities, customers can closely monitor their shipments from pickup to final delivery in California. This ensures complete visibility and fosters peace of mind as customers can stay informed at any time.
PITT OHIO Freight Tracking
Sending goods with PITT OHIO freight services comes with a guarantee of timely deliveries, efficient transportation, and the highest standard of service for all your shipping needs.
Let's check how PITT OHIO enables customers to monitor their packages with freight services:
PITT OHIO LTL services excel in delivering shipments to numerous destinations on time. The company's robust tracking system ensures real-time visibility, enabling customers to monitor their shipments' journey from pickup to final delivery.
The company has a specialized LTL delivery service across a 25-terminal network within the Midwest and Mid-Atlantic regions in 1 ~ 2 days. PITT OHIO also takes pride in its extended services to 34 additional terminals in New England and the Midwest states through sister companies like Ross Express, Dohrn Transfer, and US Special Delivery. Whether it's within the North American region or beyond, customers can count on PITT OHIO for LTL freight shipping in 1 to 5 or more days.
PITT OHIO Truckload Tracking
PITT OHIO also specializes in transporting various types of FTL shipments within the United States and across the Canadian border. The company's diverse fleet of equipment and highly skilled drivers possessing various certifications guarantees their ability to handle any unique FTL shipments. For example, when transporting hazardous materials, odd-sized loads, or packages that require special handling, there are PITT OHIO's Hazmat-certified drivers.
The PITT OHIO trucking tracking promises customers real-time updates throughout the entire transportation process.
PITT OHIO Ground Tracking
PITT OHIO's Ground services stand out for their innovative incorporation of cutting-edge technology, guaranteeing flexible and customized solutions to meet specific customer needs. This advanced technology empowers PITT OHIO to offer dynamic and adaptable transportation solutions, ensuring timely and efficient deliveries tailored to individual requirements and cost reduction.
The PITT OHIO Ground tracking service provides enhanced shipment visibility, whether with expedited shipping, specialized handling, or unique delivery requirements.
How to Track a PITT OHIO Shipment?
One of the critical aspects of providing excellent customer experience is allowing your customers to track a shipment. This keeps the customers informed and engaged from order to doorstep delivery. PITT OHIO recognizes the importance of shipment tracking and offers several ways to track PITT OHIO packages, ensuring their customers' satisfaction.
Here are some practical ways to track your PITT OHIO shipments:
By Using PITT OHIO Tracking
To track PITT OHIO LTL shipments: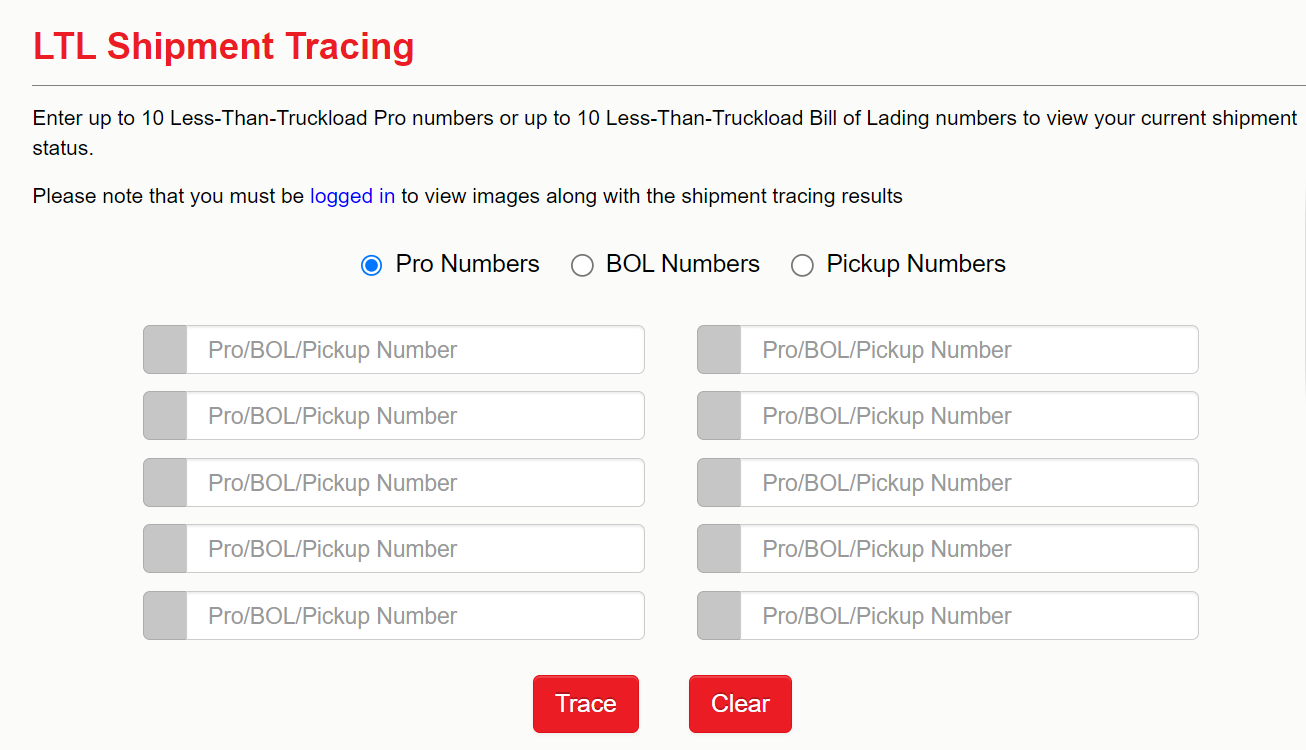 Enter the PITT OHIO Pro number you received after placing your shipment order. Up to 10 LTL Pro, BOL (Bill of Lading), or pickup numbers can be entered each time.

Then, click on the "Trace" button for all available tracking information on your current shipment, as shown in the image below: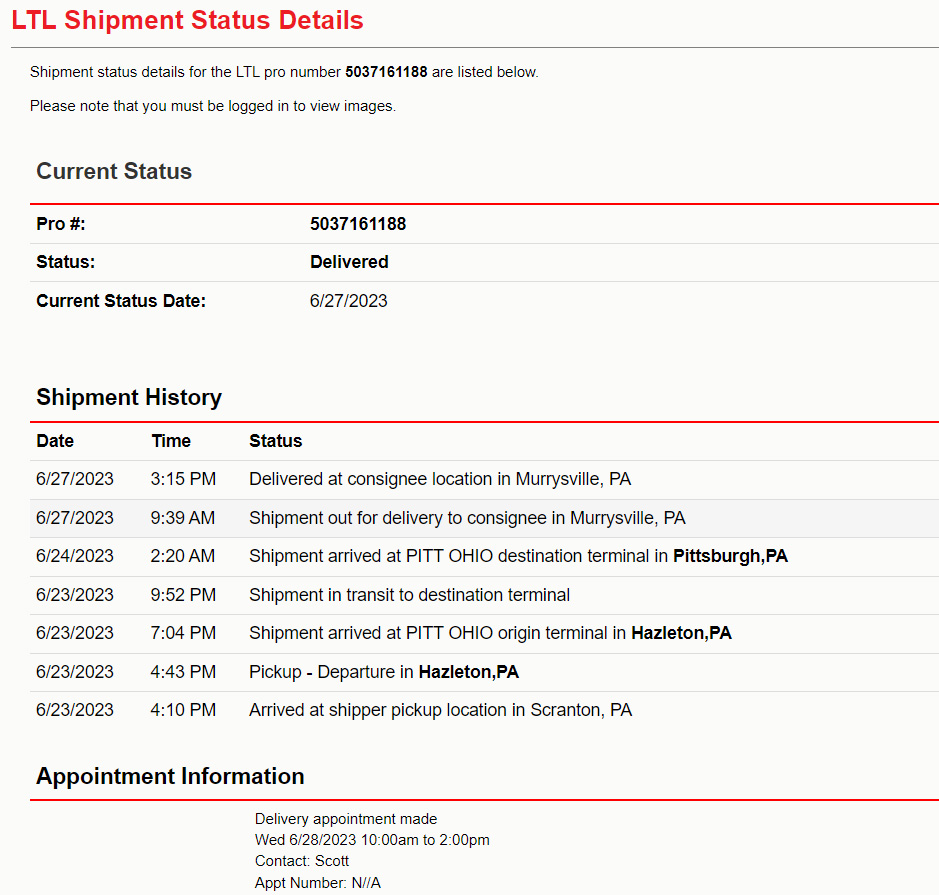 Please note that currently, some shipments, especially from NY state in Albany, Buffalo, Utica & Watertown, may have a slowed or limited tracking visibility. However, appropriate corrective measures are in place to enhance the tracking speed and the overall tracking process.
Speaking of PITT OHIO Ground shipment tracking: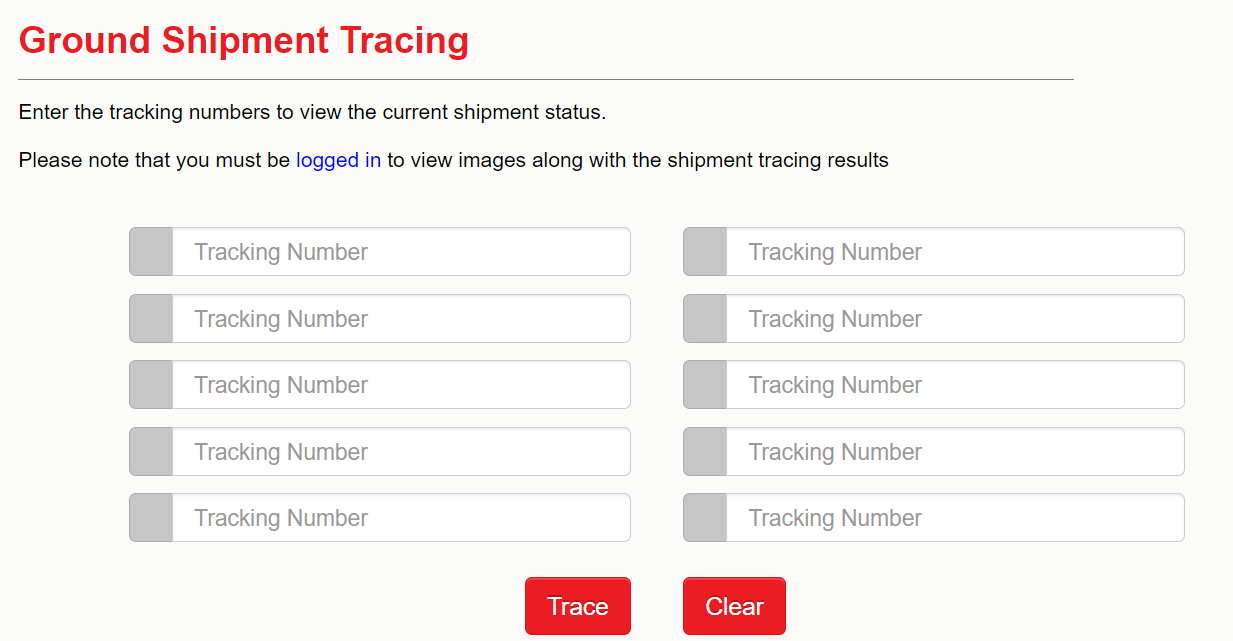 However, if you do not require the images, logging in may not be necessary.
Enter the tracking number that you've received after placing your order.

Click on "Trace" for the latest shipment status information.
To track TL Shipment: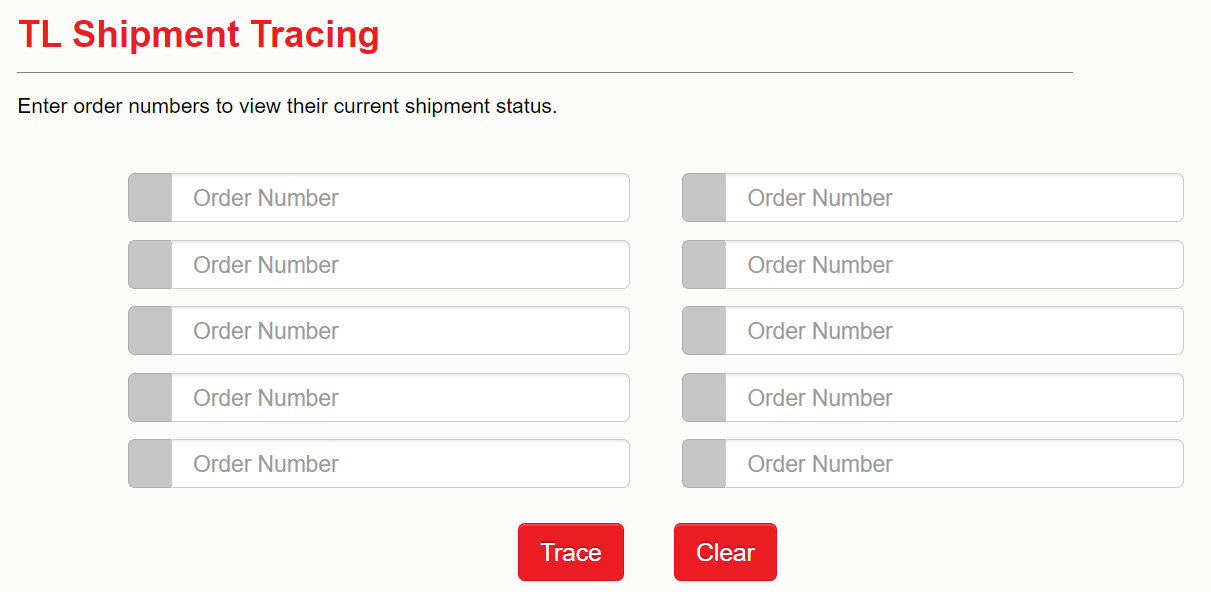 Alternatively,

Enter the respective PITT OHIO tracking number that you've got in the shipping confirmation

Select either the "LTL/Ground" or "TL" buttons based on the service you've chosen

Click on the "Track Shipment" below the entry field to view the current delivery status and your shipment's current location.
By Using Parcel Panel
ParcelPanel is a specialized online tracking tool designed with advanced tracking capabilities and guaranteed real-time updates. Working as a third-party alternative, the ParcelPanel seamlessly integrates with the PITT OHIO shipment tracking API to enhance the tracking experience for their customers. As a result, customers may receive automatic notifications, status alerts, and delivery confirmations, providing them with full visibility of their PITT OHIO shipments.
Additionally, retail store owners can incorporate ParcelPanel tracking capabilities into their online stores. After installing ParcelPanel, you can further customize the automatically created order tracking page, which your customers can easily visit and check shipment updates. As the merchant, you can also enable email notifications to keep customers updated on the shipment status in real time.
ParcelPanel provides two different ways for PITT OHIO tracking:
ParcelPanel Website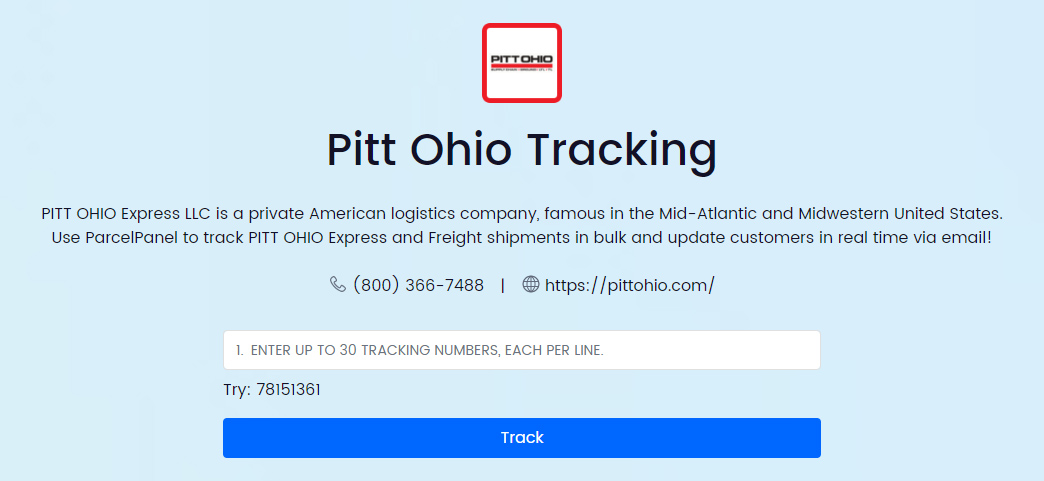 Enter the PITT OHIO tracking number or Pro number you've received after placing your order.

Click on "Track" to initiate PITT OHIO shipment tracking. A new page with detailed shipment transit history will appear.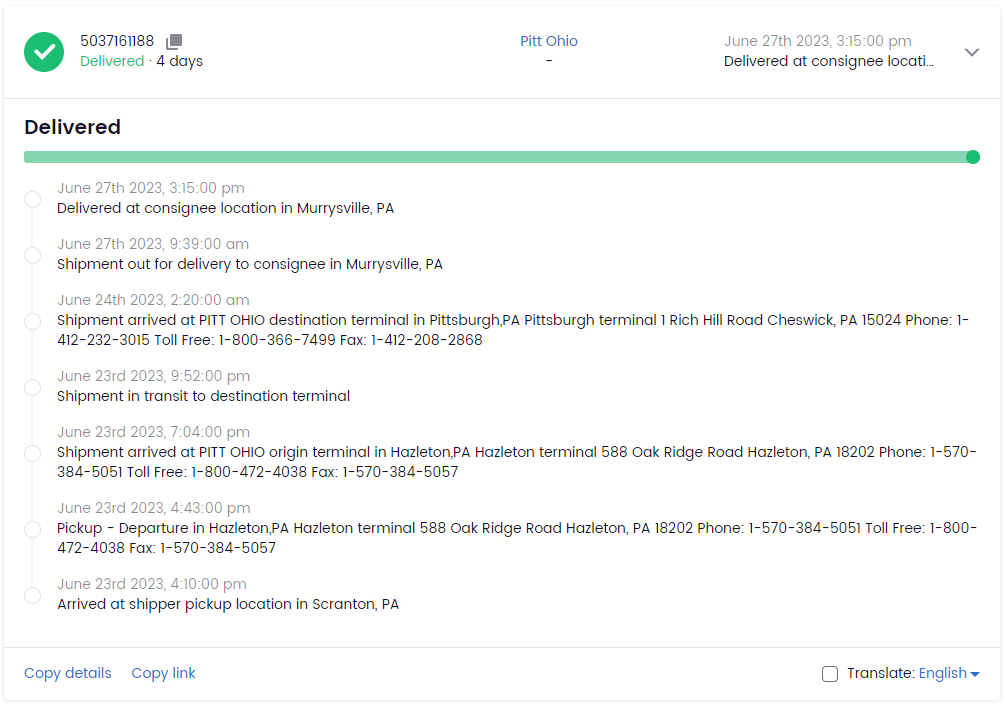 ParcelPanel allows you to track up to 30 different PITT OHIO shipments, which means higher efficiency than using the official tracking services. To track multiple shipments, enter each tracking number on its line without a comma.
The ParcelPanel app is a powerful and user-friendly tool designed to streamline and enhance the shipping and tracking process for Shopify and WooCommerce merchants. With the app, they can easily integrate unique tracking capabilities into their online stores, giving customers easy access to real-time shipment status.

By leveraging the ParcelPanel order tracking app, e-commerce merchants can elevate their post-purchase service and build trust, increasing customer satisfaction and loyalty.
The ParcelPanel Order Tracking app is rated 5.0 out of 5.0 stars based on over 1,600 reviews on Shopify App Store. To learn more about how it works, click the "View demo store" button on the Shopify app store page.
Customers will need to enter their order numbers or PITT OHIO tracking numbers on the order tracking page to track PITT OHIO shipments.
PITT OHIO Tracking Number
A PITT OHIO tracking number is a unique alphanumeric code assigned to each shipment that customers can use to monitor their packages and receive real-time updates on the status and location.
First, you must have initiated a shipment order with the shipping company to have a PITT OHIO Pro tracking number. Once you have the tracking number, you can track a shipment either through the PITT OHIO website or a third-party tracking page. Notably, you can track your PITT OHIO shipment with a tracking number, a BOL (Bill of lading) number, a Pro number, or an order number.
Typically, a PITT OHIO tracking number is a sequence of 10 digits though it may vary from one shipment to another.
PITT OHIO Tracking Number Example
5037161188
5036298194
PITT OHIO Tracking FAQ
How long are PITT OHIO transit times?
PITT OHIO transit times vary depending on the service, distance, and destination. For instance, PITT OHIO's deliveries within the North East, Midwest, and Mid-Atlantic regions are 1-2 days. This range, however, extends to 3 or more days for more destinations in other regions.
You can check the actual transit time by filling in your package's origin and destination details in the North American and Mid-Atlantic Midwest Transit Time maps. You can also use the PITT OHIO core service map to estimate the transit times based on the indicated color codes.
How to schedule a PITT OHIO pickup?
To schedule a PITT OHIO pickup, log into your PITT OHIO account on the official website, then access the "Schedule a Pickup" section. By providing the essential shipment details, such as the pickup location and delivery destination, you will receive an email confirming the pickup is scheduled in the system.
How can I find the PITT OHIO pickup request phone number?
To find the PITT OHIO pickup request phone number, navigate to the Coverage area, then the terminals section, and scroll through the list of PITT OHIO terminals. You can check for the nearest terminal to your location to request a pickup.
PITT OHIO Customer Service
You have several options to get PITT OHIO Express customer support regarding package tracking.
PITT OHIO Corporate Office Address: 15 27th Street, Pittsburgh, PA 15222
Here are some of the toll-free numbers that you can use to reach out to PITT OHIO:
PITT OHIO Corporate Office: (800) 366-7488
PITT OHIO Ground Customer Service: (866) 748-8240
PITT OHIO LTL Customer Service: (800) 291-7488
PITT OHIO Supply Chain Customer Service: (800) 366-7488
PITT OHIO TL Customer Service: (800) 366-7488
You can also contact PITT OHIO customer service by filling out the company's General Inquiries Form and submitting your feedback.