About TCI Express
TCI Express Ltd is an independent shipping company that provides shipping services in India and worldwide. The company started in 1996 as TCI XPS (former name). At the time, TCI XPS was one of the foremost divisions of India's most honored logistics company: TCI (Transport Corporation of India). TCI Express Ltd focuses on fast and reliable express cargo distribution in India and globally.
The company's services include surface, domestic air, international air, rail, E-commerce, cold chain express, and C2C services. The shipping company is committed to helping small businesses and enterprises grow to new heights and becoming the industry leader that customers love.
As the only cargo company in India with its own set-up across the country, TCI Express Ltd sets itself apart from its competitors, such as Delhivery, Bluedart, Gati, Allcargo Logistics, and so on, with fast and reliable shipping services. The company's 40,000 pickup and delivery locations, supported by over 3,500 professionals, ensure customers get their parcels in record time. For this reason, TCI Express Ltd received the honorable Iconic Brand of the Year India and the Business Superbrands 2021 awards. The company also allows businesses to access exclusive resources in the value chain through partnerships and collaborations.
TCI Express Tracking
TCI Express enables customers to track TCI Express cargo throughout the shipping journey from the loading zone to the delivery address. TCI surface, domestic air, international air, rail, E-commerce, and cold chain express include TCI Express courier tracking as standard so that you can get real-time updates on your shipment's status. Each TCI Express shipment has a unique tracking number, which customers can use to track packages anywhere, at any time, on the official TCI Express Ltd. tracking page.
Each shipping service has unique attributes and key differentiators that allow quick delivery and convenient tracking. As for surface express, TCI transport tracking is made even more convenient as the company's GPS-enabled fleet of vehicles can be traced in real time.
TCI Express Courier Tracking
TCI Express Limited courier tracking provides surface shipment tracking for services like surface express, air express, E-commerce, and rail express.
By choosing TCI Surface Express, you can get day-definite pickups and deliveries from any TCI location across India and benefit from Sunday and holiday deliveries. Customers can count on real-time vehicle GPS tracking and 24/7 tracking support.
The rail express service is surprisingly more affordable, with faster TAT (Turnaround Time) than air express. The service comes in break-bulk and full-rake movements with careful handling of bulky shipments. As for rail express shipments, tracking is not included.
E-commerce shipping services also allow deliveries on Sundays and during the holidays. Additionally, TCI Express offers real-time tracking API so that E-commerce consignments can be tracked through the customer portal.
TCI Express Air Tracking
The courier company's express air services include domestic and international air shipping services.
Domestic air express provides one-day deliveries in all major metros and two-day deliveries in A-class cities and mini metros. Customers can get door-to-door, door-to-airport, airport-to-airport, airport-to-door, or multimode delivery services. Additionally, TCI Express also offers air domestic express deliveries on Sundays and holidays, along with late pickup and deliveries. TCI express consignment tracking is included as standard, whatever delivery option you choose.
TCI Express International Air delivery services are available to around 208 countries across the world. With over 24 air gateways, customers from different countries can expect to get their shipments in record time. You can equally benefit from TCI Express consignment tracking and get real-time shipment updates.
TCI Express Freight Tracking
TCI Express also offers shipping and tracking services for temperature-sensitive products and Consumer-to-Consumer (C2C) shipping services.
C2C Express allows the delivery of high-value cargo with end-to-end transportation that ensures efficient and secure shipping. The service uses GPS-enabled vehicles to ensure customers can conveniently track TCI Express cargo.
Cold chain express vehicles are also GPS- and tracer-enabled. Consumers can easily access the vehicle's container temperature and real-time location.
Whether you need to track air, surface, or freight express shipments, TCI Express offers different ways to track and trace your parcel en route.
How to Track TCI Express?
Primarily, there are two ways customers can track and trace their parcels in transit. One is using the official TCI Express online tracking tool, which you can find on the official website. Another is using a third-party tracking tool offering more track and trace features. In particular, ParcelPanel is the best e-commerce order tracking solution that offers TCI online tracking. Whichever way you choose to track your shipment, you can always be sure to get precise information on your shipment's status.
Here, we'll detail the 2 different ways to track TCI Express shipments.
By Using TCI Express Tracking
To track your TCI shipment using the official TCL online tracking tool, head over to the TCI Express tracking page on the official website. Once there, you'll have to enter your shipment's docket number, which is the TCI tracking number in the field, and then click "Submit." The tracking tool also lets customers input multiple TCI docket numbers to track several shipments simultaneously.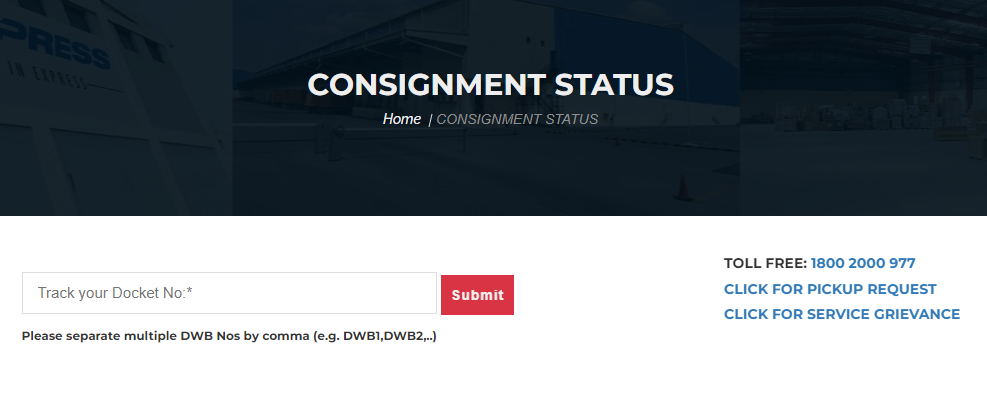 Once you've entered the docket number, the TCI Docket Tracking page will display all TCI tracking information available. The tracking information contains all the necessary details, including delivery information, booking information, and transshipment information. Apart from the TCI tracking details, an image copy of the DWB note for customers to cross-check is also included.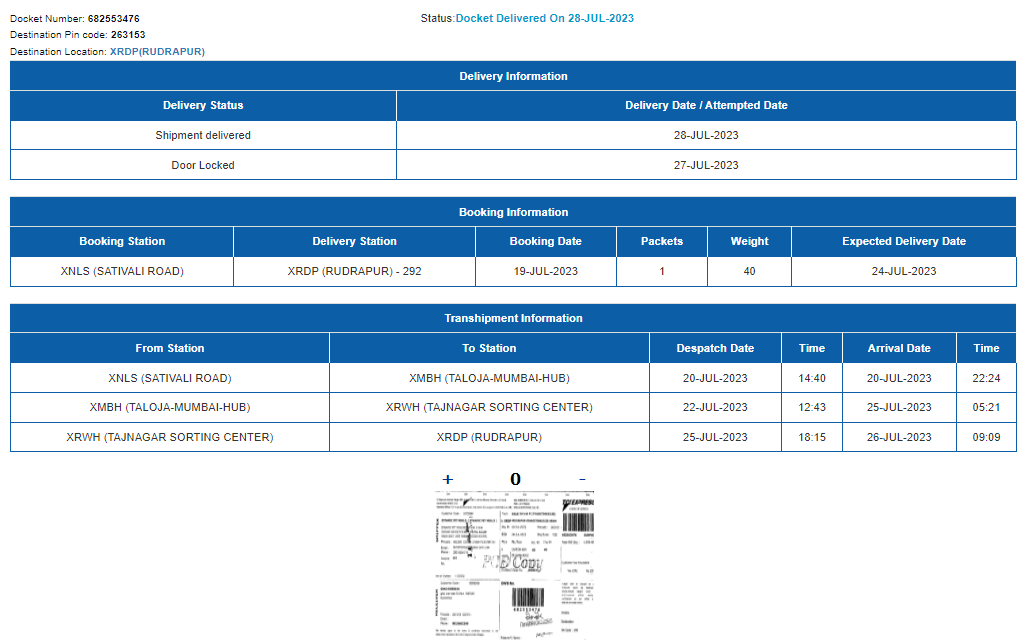 You can access the TCI online tracking tool to get all the above-mentioned TCI tracking details anytime.
By Using ParcelPanel
ParcelPanel is a leading third-party parcel tracking tool that integrates 1,100+ worldwide carriers. The centralized parcel tracking with real-time sync and tracking features, proactive shipment notifications, and competitive pricing set ParcelPanel apart.
ParcelPanel offers two ways to track your shipments: the ParcelPanel website or the ParcelPanel Order Tracking app.
To begin TCI online tracking with the ParcelPanel website, head to the ParcelPanel official site, then click "Carriers" on the top menu. As you can see, ParcelPanel supports tracking across a network of 1,100+ carriers worldwide.
Head over to the carrier's search bar and enter "TCI Express" to access the TCI Express tracking page. Finally, enter your TCI Express tracking number and click on "Track" to get real-time tracking updates on your shipment. The tool allows you to add up to 30 tracking numbers and track multiple shipments simultaneously.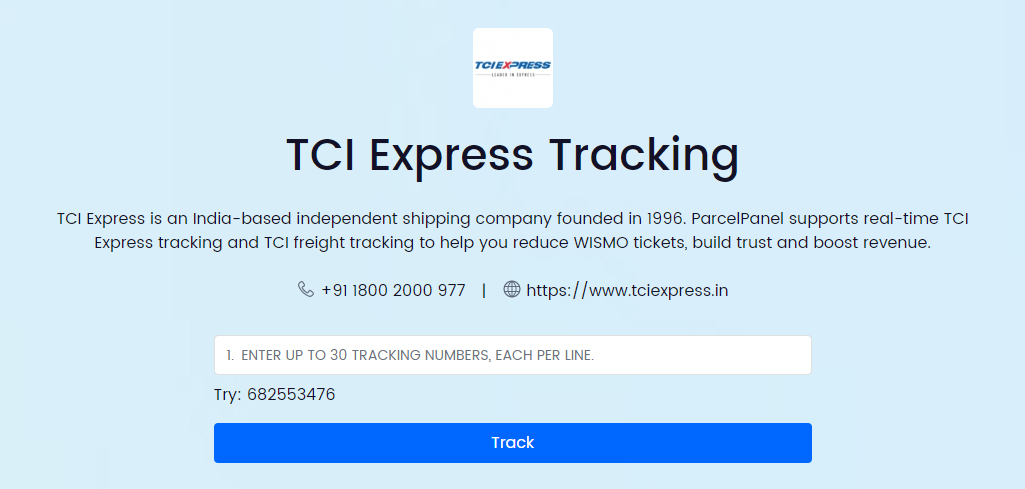 ParcelPanel will then display the TCI tracking details of your shipments.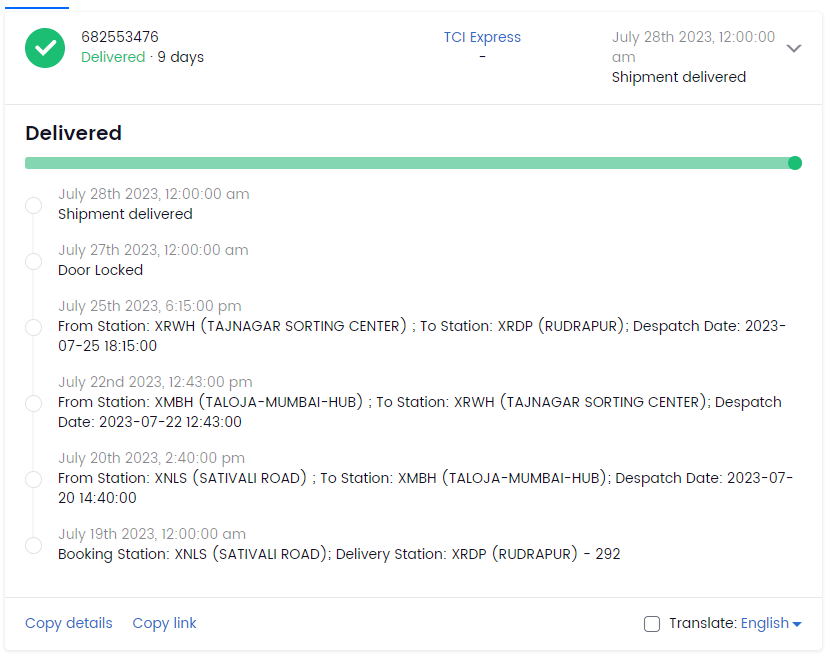 You can get the same TCI tracking information from ParcelPanel as the official TCI online tracking tool. The advantage of ParcelPanel over the official TCI tracking tool is that it makes tracking multiple shipments easier and you can export all the tracking information to a spreadsheet. Plus, if you're running an international business, with ParcelPanel, you can easily translate it into a different language.
ParcelPanel's order tracking app is a top-notch e-commerce tool to automate shipment tracking for all your orders with unmatched efficiency. In addition to its user-friendly features, the ParcelPanel app is the go-to solution for any online merchant interested in smart analytics to optimize logistics operations.
As soon as you finish the installation of the ParcelPanel Order Tracking app, it automatically creates a branded tracking page offering your customers easy access to their orders' whereabouts. You can also enable automated email notifications with exciting exclusive offers to get more return customers, use AI-powered product recommendations to yield extra revenue and display the estimated delivery time so that they know when to expect the delivery. This engages customers, improves the post-purchase experience, and drives more sales.
To use the order tracking app, install it directly from Shopify.

TCI Express Tracking Number
TCI Express assigns a unique docket number (also called DWB), which serves as the TCI tracking number for a particular parcel it handles. TCI tracking numbers are essential for TCI consignment tracking and monitoring. The tracking process is also called TCI docket tracking, as it involves the docket number.
To track TCI shipments, TCI docket numbers are needed. Your docket number is on the TCI Express shipping label and shipping receipt. If you made an online purchase, in most cases, you can find the TCI tracking number in your order details and the shipping confirmation email from the retailer.
TCI Express Tracking Number Format
TCI Express tracking number typically consists of a 9-digit number series that one can use for TCI Express tracking.
TCI Express Tracking Number Example
682553476
362992943
431757141
101593483
TCI Express Tracking Status
Here are common TCI Express statuses and the corresponding meanings:
| TCI Express Tracking Status | Meaning |
| --- | --- |
| Shipment delivered | This TCI tracking status means the consignment has been successfully delivered to the designated location. |
| Door locked | The recipient was unavailable, and the item was on hold as the door was locked. Usually, delivery will be attempted again the next working day. |
| In transit | The TCI Express package is traveling smoothly en route to the destination facility. |
| Pending | The pending status means your package is with TCI Express, but the company needed to pause shipping for some reason. It may result from typical reasons such as TCI concerns about your package's contents and customs clearance delays. If your package status remains pending for longer than 3 days, you can call the TCI Express customer service center for more information. |
TCI Express Customer Service
Here are the different ways you can contact TCI Express customer service.
TCI Express customer service contact number –

1800 2000 977

TCI Express tracking contact number – 1800 2000 977

TCI Express toll-free number - 1800 2000 977

TCI Express virtual assistant – live chat feature on the website

TCI Express head office contact number – +91-124-238-4090, +91-124-238-4094

TCI Express customer support email -

[email protected]