About Gati
Gati Limited is a leading Express Delivery and Supply Chain Management company based in India. The company was founded in 1989 by Mahendra Kumar Agarwal. It is headquartered in Hyderabad, Telangana, India. Gati offers multiple modes of transportation, including air, surface, and rail, to deliver goods all over India. Gati has an extensive logistics network in India, covering over 19,800 pin codes and 735 districts.
Gati has partnered with a Japanese logistics firm, Kintetsu World Express (KWE), and has given the company a 30% stake. Thus, Gati-KWE, a subsidiary of Gati, was established to provide expedited services throughout India and beyond its borders. Gati-KWE is currently ranked among the top 10 names in many industries, such as healthcare, automotive, engineering, and e-commerce.
Although Gati is not among the largest logistics companies in India, it has become quite popular among other couriers and logistics companies like Delhivery, Blue Dart, DTDC, eKart, XpressBees, and so on. Probably in the near future, Gati will be able to achieve its goal of dominating the logistics and transportation sectors.
Gati Tracking
Gati provides fast delivery services to all the major cities and remote areas of India and other countries. The services include tracking features that enable customers to track their shipments with the help of docket numbers assigned to the packages.
Let's dive into more details about Gati tracking.
Gati Docket Tracking
Gati provides a docket number for the parcels registered at Gati for shipping. The docket number is a random sequence of unique codes that serve as the identifier as well as the tracking number of a document, package, or freight shipment.
Every time the barcode representing the docket number gets a scan, precise shipment information will be updated on the Gati tracking system.
The Gati docket number typically consists of 9 unique digits for every shipment. Senders usually send the docket number to receivers or customers via shipping confirmation email to notify them that their package has been shipped and is on its way to them.
Customers can enter that number in the Gati tracking tool or a professional third-party tracking site like ParcelPanel to check the latest shipment status and plan their schedule accordingly.
Gati-KWE is a subsidiary of Gati that provides many logistics services. As mentioned earlier, this joint-venture company was formed through a collaboration between Gati and Kintetsu World Express, a Japanese logistics company. Gati-KWE offers various shipping services, ranging from time-definite and cost-effective to various freight modes.
Every Gati-KWE service includes tracking that provides the customer with peace of mind. The packages assigned with Gati-KWE docket numbers are scanned at every transit point. This marks the parcel's shipping route and informs the sender, receiver, and shipping company of its current location.
The Gati-KWE docket number comprises 9 numerical digits that can be tracked via the official Gati-KWE tracking tool and a third-party shipment tracking site like ParcelPanel.
Gati Courier Tracking
Gati provides expedited services throughout India to meet the needs of urgent deliveries. Along with the faster shipping time, the services are secure and cost-effective. The services include end-to-end online tracking to ensure the packages are delivered successfully to the proper hands. Customers can use the tracking number to track the progress of their package and learn when they can expect to receive it.
Gati Express Tracking
Gati-KWE provides several Express Distribution services with different business requirements considered. These services are as follows:
Express is a surface cargo shipping service that offers delivery of time-bound shipments at a reasonable cost. The 5,000 vehicles nationwide, 16 Express distribution centers, 61 Gati-KWE distribution warehouses, and a well-developed route planning system contribute to the successful on-time Express delivery.
The features of this service include:
✔Real-time shipment tracking
✔SMS and email updates
✔24/7/365 access to customer service
✔Door pickup and doorstep delivery
✔Weekend and holiday pickup/delivery
✔E-billing and e-POD (Proof of Delivery)
✔Multiple payment modes (FOD, COD, DOD)
Express Plus is a faster shipping option compared to the Express delivery service. This service lets Customers access route connectivity to all of India's major cities. Although the serviceable locations are limited, the delivery time of Express Plus is generally 2 ~ 3 days.
Gati Premium Tracking
This service meets urgent delivery needs at an affordable rate. This service is intended to meet delivery needs ranging from 24 hours to 48 hours or more. To ensure on-time delivery, this service uses multiple modes of transportation to all metro and non-metro locations.
This is another service for meeting urgent deliveries that must be delivered within 12 hours or before noon the next day. Customers can use this service at all major Indian ports.
Gati Cargo Tracking
Gati-KWE provides end-to-end logistics solutions to both businesses and individuals. Gati's pro logistics solution serves over 99% of areas in India and over 200 countries worldwide. It uses multiple modes of transportation, including air, rail, and surface freight, to meet shipping demands.
The features of the services include:
✔Online tracking
✔Proof of Delivery (POD)
✔Email and SMS shipment updates
✔365 days, 24/7 customer service
Gati Surface Tracking
Gati-KWE Surface Lite is a road freight delivery service provided by Gati. This service was initially created to meet the delivery needs of small, non-commercial household goods and allow corporate organizations to ship print materials, presents, or other types of cargo at low costs.
The service charge increases with the increase in weight. A shipment charge starts at Rs 100 for a package weighing 1 kg and gradually increases to Rs 150 for 2kg and Rs 200 for 3kg. Customers can send shipments worth up to Rs 2000.
Features of this service:
✔Doorstep pickup and delivery
✔ Weatherproof vehicles to ensure shipment safety
✔24/7 customer care service
Gati Air Tracking
Gati-KWE Premium Flexilite is a time-bound premium air express service that ships goods in a fast and cost-effective way. This service is ideal for delivering small parcels at a reasonable cost all over India within 24 hours/48 hours/over 48 hours (multimodal service).
The features of this service include:
✔Doorstep pickup and delivery
✔Multimodal shipping for fast and on-time delivery
✔Booking is available 24/7
✔24/7 customer care support
✔ E-billing and e-POD (online proof of delivery) are available
✔Online tracking, SMS, and email notification
The Gati tracking feature increases the reliability of its services, as both the sender and receiver know where their package is and the estimated date it will be delivered. Besides, it is also possible to find out if the package is misplaced, lost, or stuck in transit.
Gati Courier Flipkart Tracking
Flipkart is one of India's biggest online marketplaces. It has its own logistics service, eKart, to meet most of its shipping needs. However, as eKart is not accessible to all areas in India, Flipkart uses other logistics services, such as Gati, to meet its delivery needs.
Orders confirmed from Flipkart and sent via Gati are assigned Gati tracking IDs (docket numbers) that customers can use to track and trace their shipments. Even though the docket or tracking number is assigned and given to the senders, the customer can receive it through a shipping confirmation email.
Gati DKT Amazon Tracking
Although Amazon delivers the majority of its packages through its own logistics company, Amazon Shipping, it has other logistics partners. Although Amazon fulfills most of its orders through its own logistics company, Amazon Shipping, it has other logistics partners. Gati is one of the logistics partners of Amazon India, delivering parcels all over India.
Amazon orders registered at Gati are given docket numbers (DKT) as the identifiers of the shipments. Customers can use the numbers to monitor their shipment throughout the journey until the final delivery.
How to Track Gati?
Gati and Gati-KWE parcels can be tracked using the Gati and Gati-KWE official websites. The website has integrated tracking tools that customers can use to track and trace their Gati packages. However, if you want to lessen the hassle of tracking and get tracking information from a single source, you can use a third-party site specializing in ParcelPanel.
Let's check out the process of using the Gati online tracking tools tool and ParcelPanel for Gati parcel tracking and get Gati tracking details.
By Using Gati Tracking
To track your Gati shipment using the Gati online tracking tool, go to the official website of Gati. On the left side of the homepage, there is a section named "Track Your Parcel." A button labeled "Get Status Online" can be found in this section; click on it.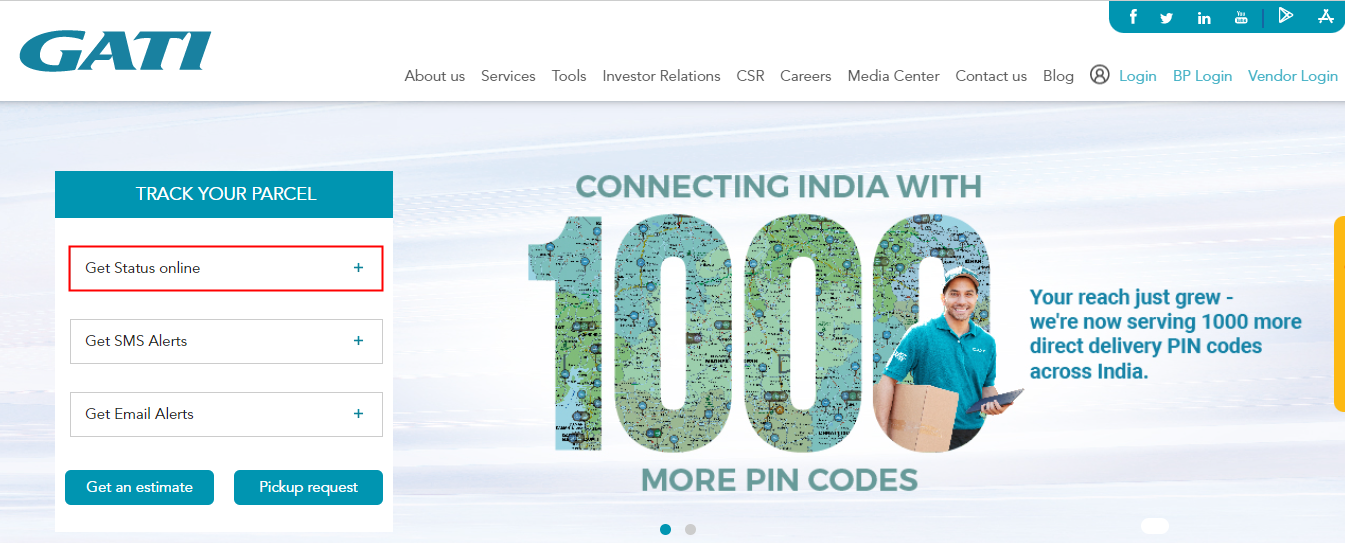 Now, the tracking tool will appear, where you have to select the "Docket No" tracking option, enter your Gati docket tracking number, and click on the "Submit" button.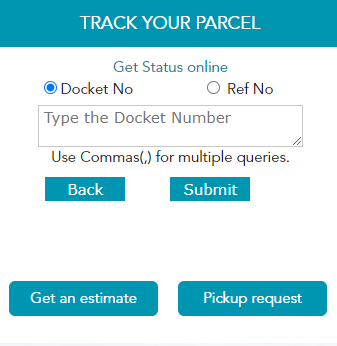 If you are tracking multiple shipments in a single search, separate the Gati tracking numbers with a comma.
Then, you'll see the current status of the shipment. There is a "plus (+)" icon on the right side of the dashboard.
Clicking that icon will reveal shipment details, including the booking date, weight, number of packages, a list of transit points the shipment has passed along with dates, and so on.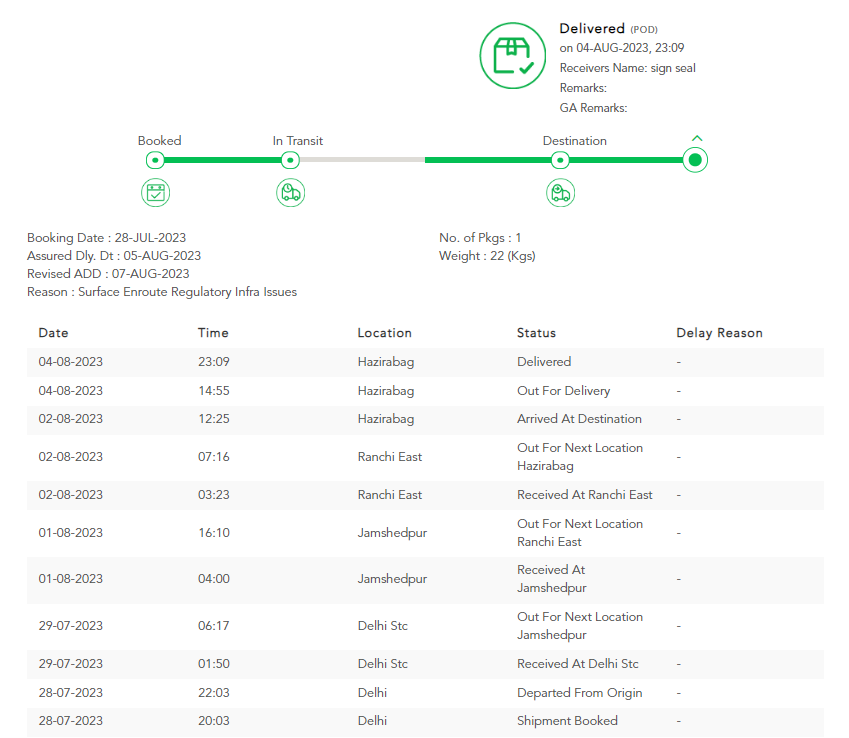 By Using Gati-KWE Tracking
Gati-KWE provides e-receipts for the shipments registered at Gati-KWE for international delivery. The e-receipt contains the Gati-KWE tracking number, also known as the docket number.
To track your Gati-KWE shipment from the Gati-KWE official website, visit the official website, and you will find the option "Track your Parcel" on the menu.
Copy and paste your docket number from the e-receipt, type it manually in the tracking tool, and click the "Track" button.
Then, you will have access to your shipment details. You'll see the shipment's progress in detail by clicking on the plus icon on the right side.
By Using ParcelPanel
ParcelPanel is a one-stop solution for tracking shipments for eCommerce. It has built integrations with over 1,100 shipping carriers worldwide via tracking APIs. Its extensive network of carriers makes it possible to centralize shipment management in one place.
The tracking API of Gati is connected with ParcelPanel. Hence, customers can use ParcelPanel's Gati courier tracking tools to track their shipments with Gati docket tracking numbers.
You can track your Gati shipment using ParcelPanel in two ways: the official website and the order tracking app. The following detailed guide will show you how to track Gati shipments using ParcelPanel.
Go to the ParcelPanel official website and click "Carriers" from the menu bar on the top.
On the "Carriers" page is a list of carriers supported by ParcelPanel and a carrier search bar. Type "Gati" in the search bar, and you will find two different services: "Gati Courier Tracking" and "Gati-KWE Tracking." Select the carrier to which your shipment is assigned to proceed.
Then, you'll access the dedicated Gati tracking page. Enter the Gati docket number in the tracking field and click on the "Track" button.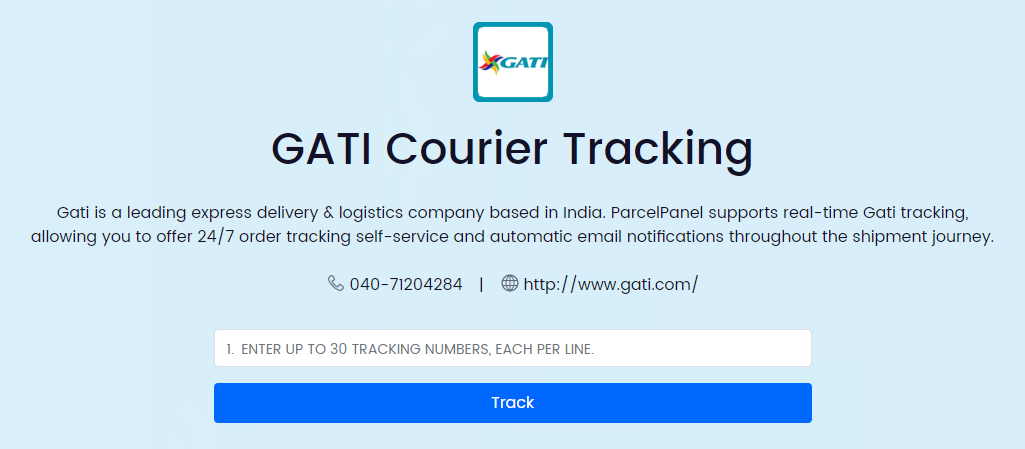 Usually, a small preview of the tracking information appears first, stating the current status. There is a small arrow icon beside the status. Clicking the arrow icon reveals the detailed shipment journey history.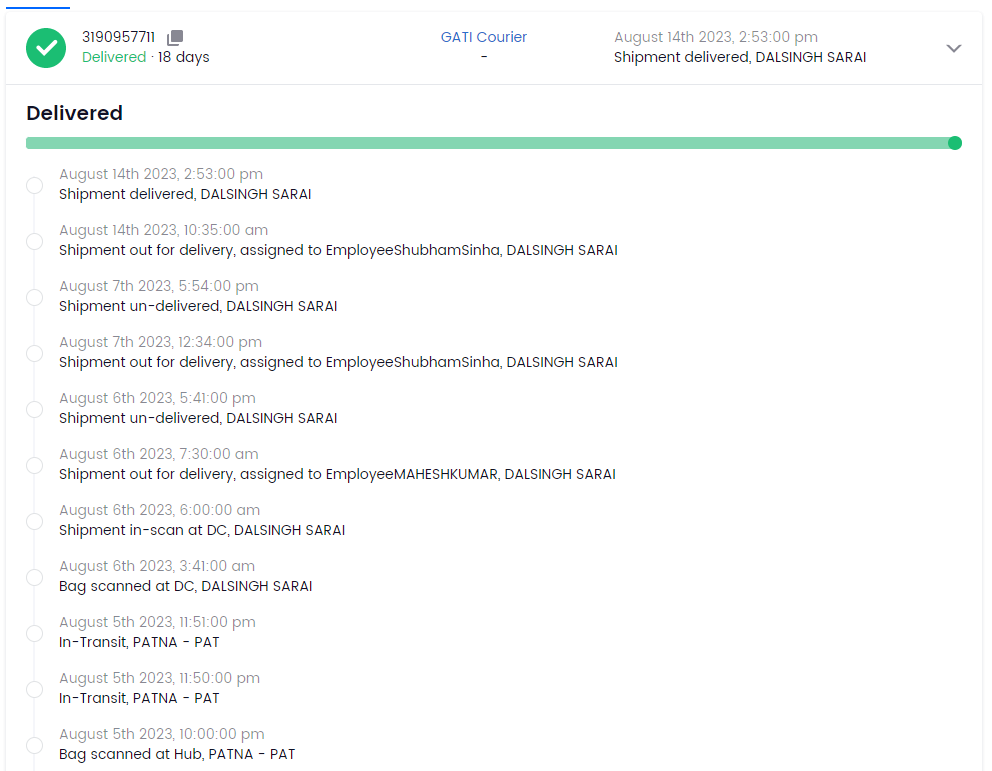 ParcelPanel Order Tracking App
You can also use the ParcelPanel Order Tracking app to track your Gati shipment. The app is specially designed for Shopify and WooCommerce merchants.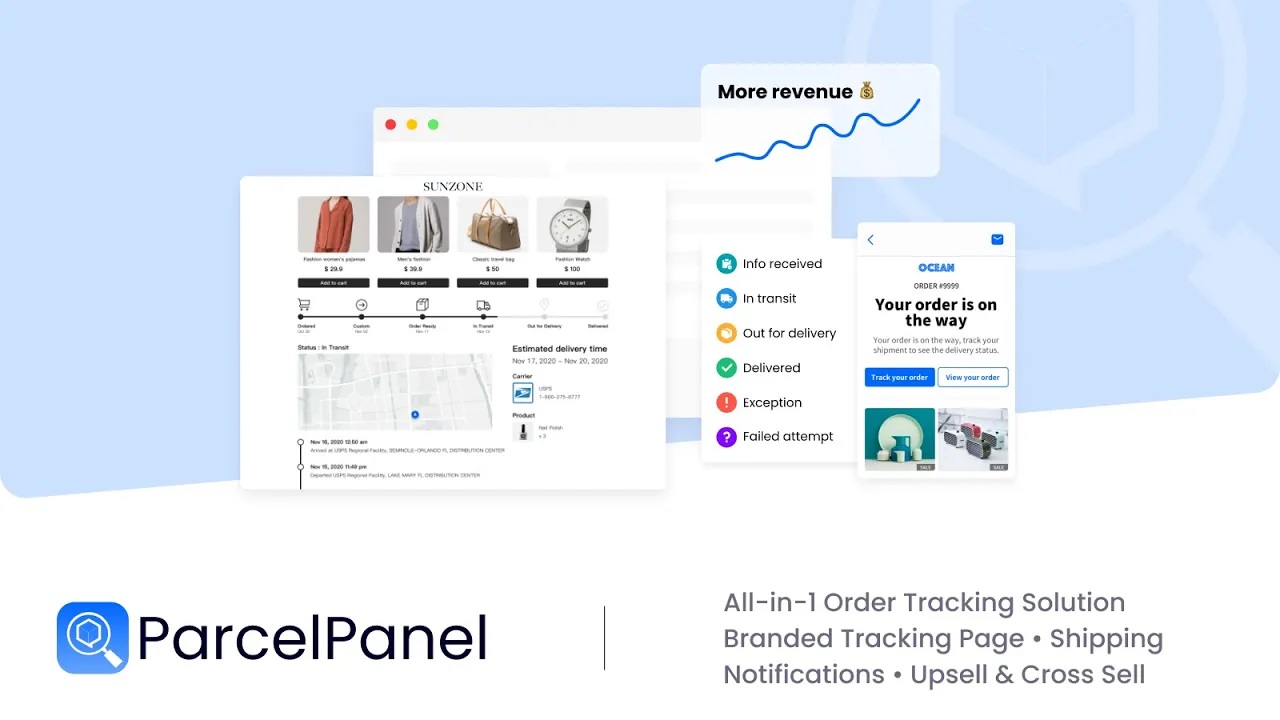 A branded tracking page is automatically generated after the app is installed. After being put on the storefront, this page provides customers with 24/7 self-service order tracking and showcases products catering to customers' interests, which helps you reduce WISMO inquiries and encourage repeat business.
The app pulls information from store order details, streamlines tracking for merchants by retrieving tracking data from multiple carriers, and categorizes orders according to their latest shipment statuses.
In this way, merchants can know what orders require their attention and provide feasible solutions to customers.
Gati Tracking Number
A docket number is given to each shipment registered at Gati for shipment visibility. The Gati docket numbers are the unique identifiers of the shipment that are scanned at every transit point, and related information gets updated on the Gati tracking system.
This docket number is also referred to as the Gati tracking ID because it can be entered into the shipment tracking tools to obtain real-time shipment updates.
The docket number is usually sent by the seller through a shipping confirmation email after an online purchase.
Gati Tracking Number Format
The Gati tracking number is a random sequence of 9 numerical digits; a typical Gati-KWE tracking number also consists of only 9 digits.
Gati Tracking Number Example
Here are some Gati tracking number examples:
Gati tracking number: 3190957711
Gati-KWE tracking number: 200832117, 313511612
Gati Tracking Status
The following are the common Gati tracking statuses you will see while tracking your shipment. The meaning of each status is provided to assist you in decoding the tracking statuses and understanding the delivery progress.
| Gati Tracking Status | Meaning |
| --- | --- |
| Shipment booked | The sender has booked the shipment at Gati, and it has been registered in the Gati system. |
| Departed from the Origin | The Gati shipment has been processed, sent off from the origin warehouse, and is on its way to the next destination. |
| Received at (location name) | The mentioned location has received the Gati shipment for further processing. |
| Out for Next Location (location name) | The shipment has left a Gati facility and is on its way to the next facility mentioned (sorting or distribution center). |
| Arrived at Destination | The Gati shipment has arrived at the destination warehouse and will be delivered to the recipient. |
| Out for Delivery | The shipment has been handed over to the Gati deliveryman, who is currently on his way to the delivery location. |
| Delivered | The Gati shipment has been successfully delivered to the recipient. |
Gati Customer Care
Contact Gati customer care for any queries related to your shipment, Gati shipping service, pickup, business inquiry, or complaints.
Here are the Gati contact details.
Western Pearl, 4th Floor,
Survey No. 13(P), Kondapur,
Hyderabad – 500 084, Telangana, India
Telephone number: 040-71204284, 27844284
Gati Customer Care Number
Dial 1860-123-4284 to speak with a customer service representative. If the customer service hotline is occupied, call 0712-7144284 or 0712-2534284 instead. Customers calling from outside India should dial +91-712-7144282.
Gati Customer Care Email Address
If you prefer written communication, you can email your queries to Gati at [email protected]
To receive an immediate response, send your shipment inquiries on WhatsApp at +91 7400012000, and the WhatsApp bot Genie will respond to your queries instantly.