About Dhlink
Established in 2014, Dhlink (驼飞侠 in Chinese) is a comprehensive cross-border logistics platform in the portfolio of DHgate, a renowned B2B cross-border e-commerce platform headquartered in China, which is similar to Alibaba. Dhlink mainly serves DHgate's customer base, Myyshop merchants, and external customers who need efficient end-to-end logistics solutions and warehousing services. By the end of 2020, Dhlink operated over 100 logistics routes and more than 10 warehouses outside of China, with a comprehensive service coverage of 223 countries and territories in the world.
Dhlink is powered by state-of-the-art technologies, including artificial intelligence, cloud computing, big data, as well as Internet of Things. By working with logistics companies such as China Post, 4PX, J&T Express, Sunyou, FedEx, and UPS, as well as integrating the resources of a dozen Chinese logistics service providers, it offers shipping, multimodal transport, warehousing, and last-mile delivery services to online retailers.
Dhlink Tracking
Dhlink provides four different types of shipping services, namely, FBD (fulfillment by Dhlink) direct-line shipping services, FBD CN, and overseas warehousing services. Notably, Dhlink direct-line shipping services fall into four categories, i.e., Express, Standard, Simple, and Economy. Here, we will mainly focus on popular Dhlink shipping services and the corresponding Dhlink tracking service.
Dhlink Express Shipping
Dhlink partners with many shipping carriers, including FedEx, UPS, 4PX, J&T Express, and DPEX Worldwide, to provide Express shipping services, and the average shipping time varies from 3 to 20 days, which is great for time-sensitive, bulky, and valuable items.
You can use the Dhlink tracking service on the Dhlink official website. The Dhlink tracking service requires a Dhlink tracking number composed of 15 alphanumeric characters (two letters + 13 digits). As soon as the package is handed over to a Dhlink courier partner, you can get another tracking number and the courier name, with which you use the courier website for package tracking. If you have a large number of Dhlink packages, you'd better leverage dedicated package tracking websites like ParcelPanel to automate tracking.
Dhlink Standard Shipping
A great number of Dhlink Standard shipping services are provided by China Post, 4PX, and Dhlink. Many of Dhlink's logistics partners are lesser-known to international sellers outside China, such as Yuanyou, Topwin, Linlong Express, and CNE Express. Dhlink Standard shipping services differ in package collection service areas, destinations, weight limits, product attributes, and transit times. In particular, China Post ePacket and EMS shipping services account for the largest share; Dhlink Smart US Line (G+E+S) and Dhlink Smart EU Line (G+E+S) are among Dhlink's most popular branded shipping services.
Dhlink, in cooperation with China Post, provides online sellers an easy way to ship products from cities including Guangzhou, Shenzhen, Shanghai, Zhengzhou, Fuzhou, Xiamen, Putian, Wuhan, Yiwu, Ningbo, and Nangchang by using ePacket (also referred to as EUB). The average transit time varies from 7 to 60 days, depending on the destination country.
Launched in September 2022, Dhlink Smart US Line is a premium shipping service for shipping general, electric, and special products under 5kg to the contiguous United States (excluding Alaska, Puerto Rico, Guam, Hawaii, P.O. boxes, military addresses, etc.).
It aims to improve DHgate merchants' shipping experience by providing more affordable shipping rates. The average transit time of Dhlink Smart US Line is between 14 - 28 days. Dhlink Smart US Line pickup service is available in certain districts in Shenzhen, Guangzhou, Foshan, and Putian. However, merchants can send packages to Dhlink's warehouse located in Bao'An, Shenzhen.
You can rely on the Dhlink tracking service on the official website or third-party package websites that support Dhlink tracking.
Dhlink Smart US Line vs ePacket: the shipping service provider, transit time, origins, destinations, and shipping requirements are all different.
Dhlink partners with Sunyou to offer Smart EU Line, a premium shipping service for shipping general, electric, and special products under 2kg to the United Kingdom, France, Germany, Italy, and Spain. To be eligible for this service, merchants must be IOSS-registered. Additionally, only white-label packages will be accepted, and the product value of each order should not exceed 150 euros.
If you're expecting a Dhlink Smart EU Line parcel, you may use the Dhlink tracking service, Sunyou package tracking service, or a third-party package tracking website like ParcelPanel to access real-time updates.
Dhlink Recommended Shipping Services
Since Dhlink works closely with couriers, including DHL, FedEx, UPS, and TNT, online retailers can get up to 80% off official shipping rates by using Dhlink. Go to DHgate Seller Portal, and you can find shipping couriers recommended by Dhlink, including:

Destination



Weight



Shipping Partner



Starting Price



Transit Time



Updates


US
0 - 10kg
SF International
102 RMB (approx. 14 USD)
3 - 7 days
The service is not available on Dhlink now
10 - 20kg
FedEx Guangzhou
93 RMB (approx. 13 USD)
5 - 7 days
Europe
0 - 20kg
SF International (shipping from Eastern China)
E.g. 80 RMB (approx. 11 USD) for shipping to UK
3 - 7 days
The service is not available on Dhlink now
0 - 20kg
FedEx Guangzhou (shipping from Southern China)
E.g. 110 RMB (approx. 15 USD) for shipping to UK
5 - 7 days
Canada
0 - 5kg
UPS
94 RMB (approx. 13 USD)
1 - 3 days
5 - 20kg
FedEx Guangzhou
78 RMB (approx. 11 USD)
5 - 7 days
Australia
0 - 6kg
UBI
89 RMB (approx. 12.5 USD)
5 - 7 days
6 - 20kg
SF International
89 RMB (approx. 12.5 USD)
3 - 7 days
The service is not available on Dhlink now
Middle East
0 - 20kg
Aramex
58 RMB (approx. 8 USD)
3 - 7 days
The Dhlink tracking tool also allows you to track packages handled by Dhlink shipping partners. You should use the Dhlink tracking number (referred to as 运单号 in Chinese), which typically consists of 15 alphanumeric characters (two letters + 13 digits) for tracking on the Dhlink official website. It's worth mentioning that since the Dhlink tracking tool only supports up to 10 Dhlink tracking numbers at a single time, you may take advantage of ParcelPanel's Dhlink tracking services to improve efficiency.
Dhlink Shipping with Satellite Warehouse
DHgate has built its satellite warehouse with China Post. The warehouse operates all year round and boasts one-stop, end-to-end fulfillment services. The DHgate satellite warehouse, located near Guangzhou Baiyun International Airport, offers integrated warehousing and shipping services to cross-border businesses in Southern China. It covers a total of over 5,000 square meters, with a daily order processing volume of over 50,000. If you choose the Dhlink satellite warehouse, tracking updates will be available within 24 hours of shipping. The best thing is that your products can be shipped in 2 ~ 4 hours and delivered to American and European consumers' doorsteps within 7 days.
Dhlink Last-Mile Delivery
Dhlink cooperates with EDA Warehousing and Winit Corporation to provide local warehousing and fast last-mile delivery services, as you can find in the following table:

Warehouse



Warehouse



Service



Last-Mile Delivery Partners



Last-Mile Delivery Time



Shipping from Warehouse


EDA Warehousing
Poland Warehouse
Ordinary Mail
Deutsche Post, Poczta Polska
5 - 7 working days
1 working day
Express
GLS, UPS, DHL, DPD, InPost
1 - 2 working days
Freight
DHL
3 - 5 working days
Special
FBA Freight, large parcel delivery services
/
Spain Warehouse
Ordinary Mail
Correos es
5 - 7 working days
Express
Correos, ASM, DHL, SEUR, UPS, GLS
1 - 2 working days
Freight
DHL
2 - 3 working days
Special
EDA Trucking Service
/
Winit Corporation
US Warehouses
Postal Service + Express
UPS, USPS, DHL
1 - 6 working days
1 working day
Belgium Warehouse
Deutsche Post, B2C Europe
7 - 14 working days
UPS, B2C Europe
1 - 7 working days
DHL, DPD
1- 3 working days
After shipping, you can get the tracking number issued by one of Dhlink's last-mile delivery partners and go to the official website to track a package until it arrives at your doorstep or local pickup point. With over 1,100 carrier integrations, ParcelPanel allows you to easily track Dhlink packages of all kinds throughout the entire shipment journey.
How to Track Dhlink Packages?
By using Dhlink
You can access the Dhlink tracking service on the homepage of the Dhlink website. The tracking tool allows you to monitor the shipment progress of up to 10 packages sent by using Dhlink each time.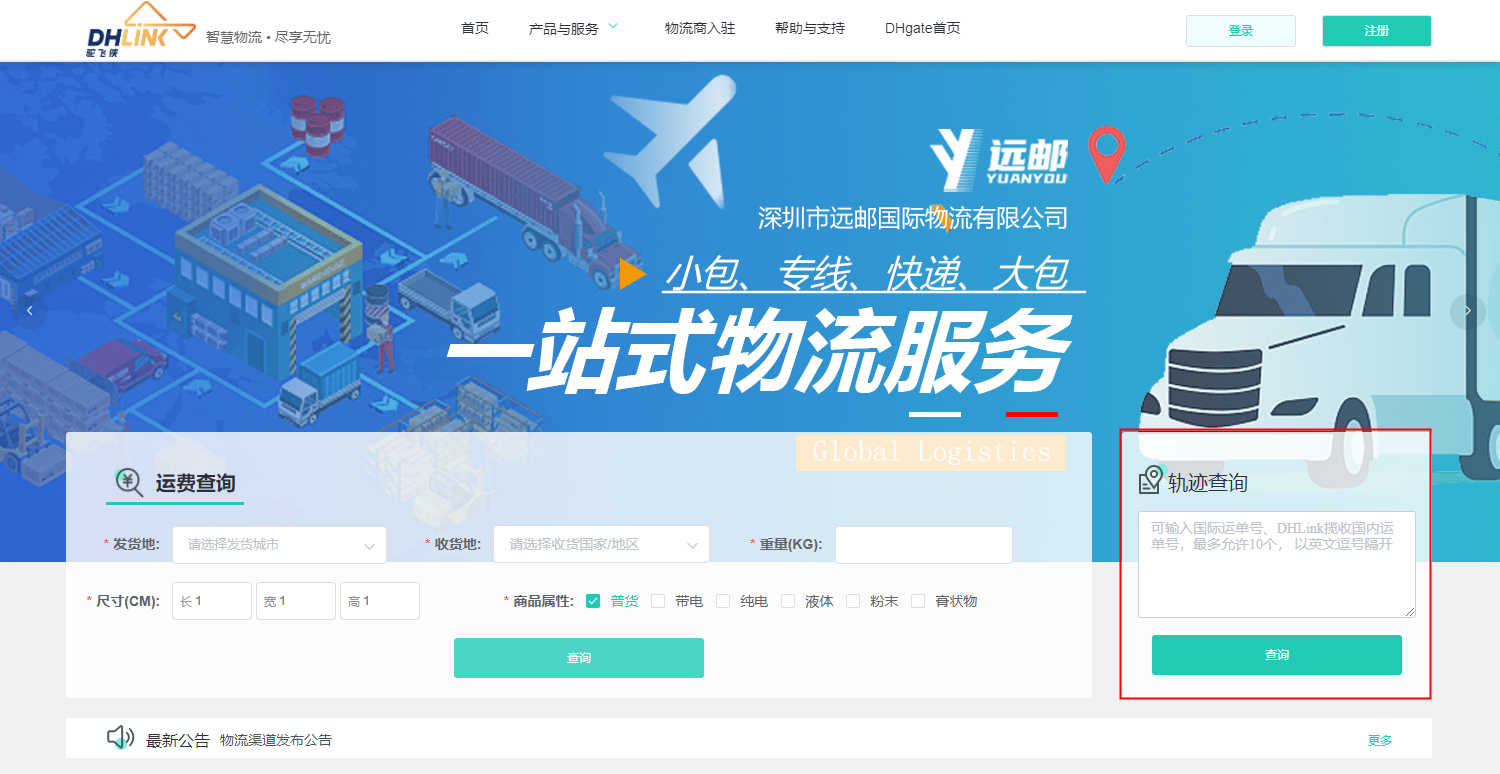 Just enter the Dhlink tracking number that you've got, for example, LB6010121398706, and you'll get all the tracking information you need, including the latest shipment status, shipping service, last-mile tracking number, shipment milestones, current package location, and so on.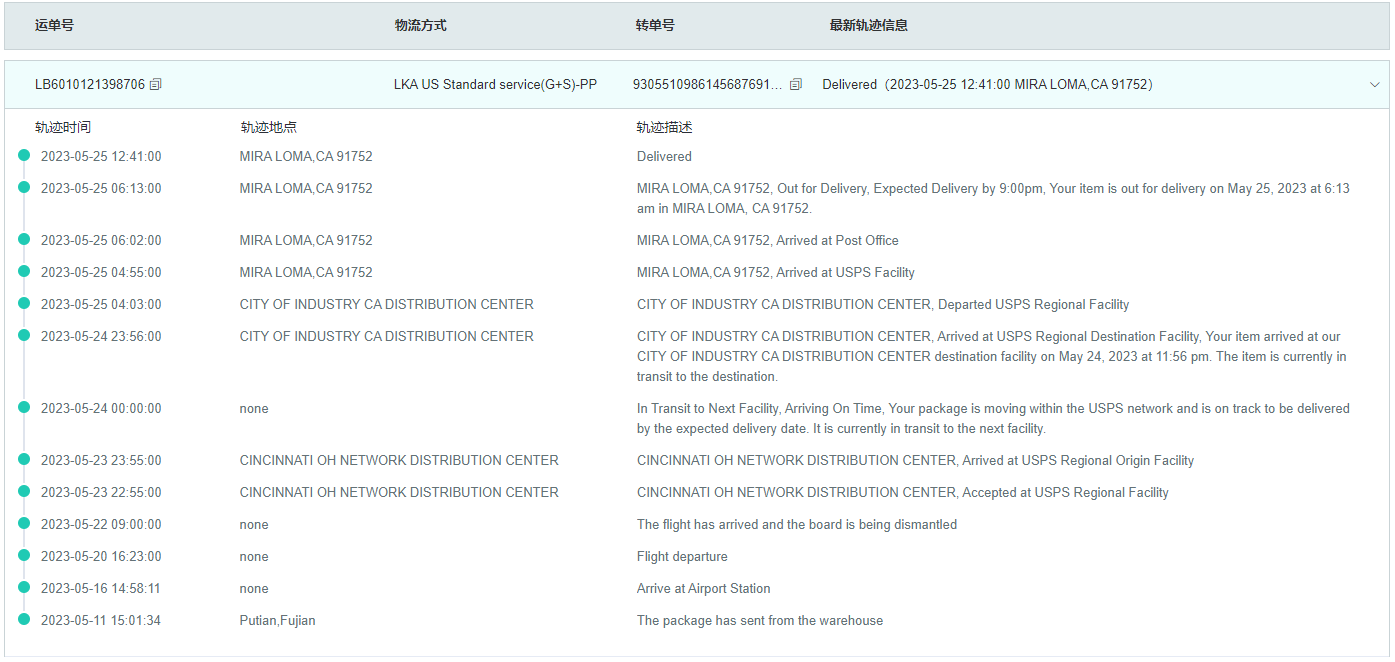 If you're using Dhlink to fulfill orders, you can also access the Dhlink package tracking information via the Dhgate Seller Portal or ERP.
ParcelPanel is the best e-commerce order tracking website, with over 1,100 carrier API integrations. The ParcelPanel Dhlink tracking tool can accommodate up to 30 Dhlink tracking numbers each time, which helps you save a lot of time.

Enter a Dhlink tracking number, and you can access tracking information from shipping to last-mile delivery, including the last-mile courier, estimated delivery time, current shipment status, transit time, and so on.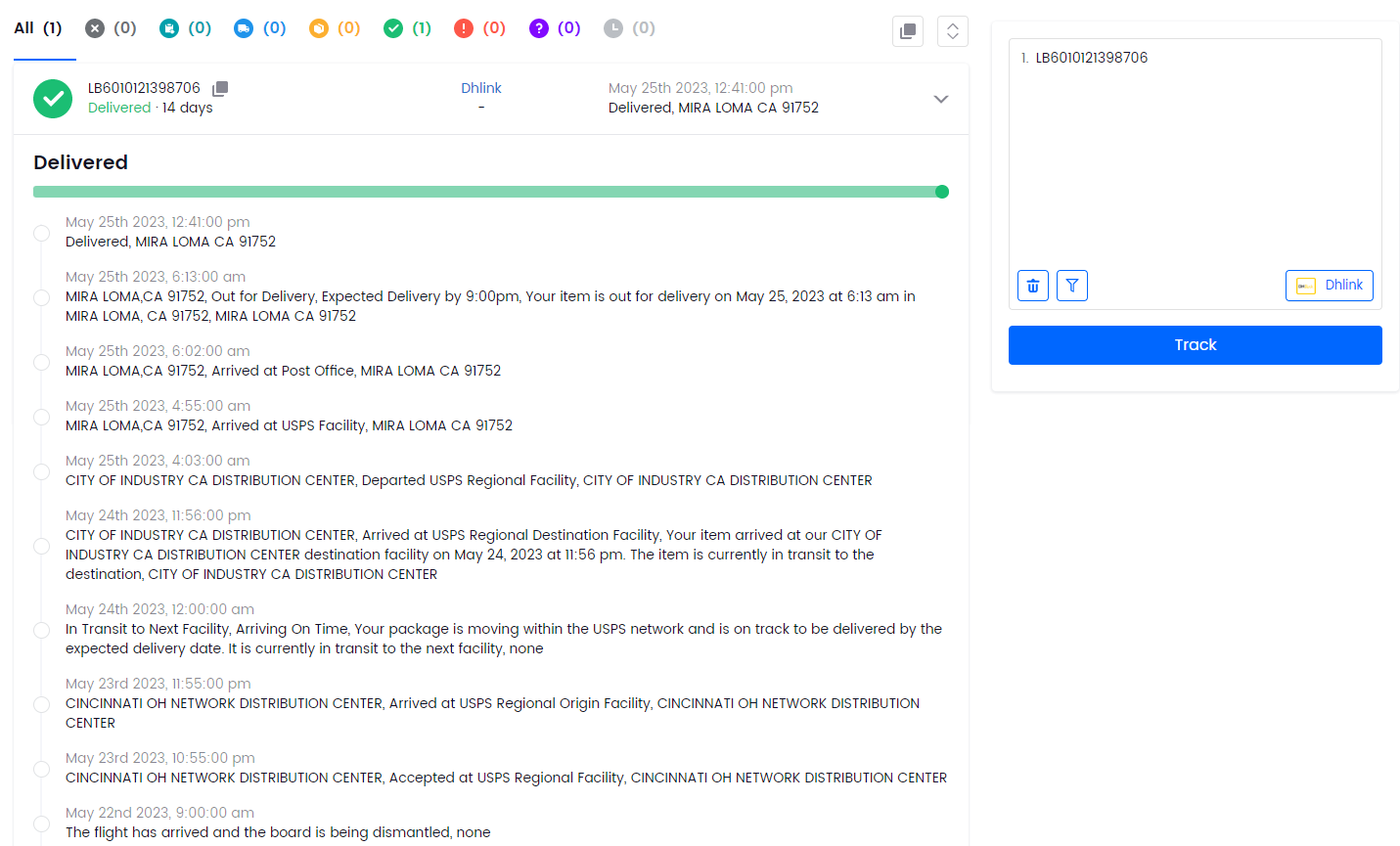 All information is in English, and you may choose to translate the tracking information to other languages, such as French, German, Spanish, and so on. ParcelPanel also allows you to copy the tracking details and tracking link to share with the recipient.
Additionally, ParcelPanel makes tracking Dhlink packages in bulk easy. You can export the tracking details of up to 30 Dhlink packages to a spreadsheet in a few seconds.
If you are running a Shopify/WooCommerce store, install the ParcelPanel app to automate Dhlink tracking.

With the order tracking page automatically created by ParcelPanel for self-service, you can effectively reduce "Where is My Order" inquiries, get customers to return more frequently for order lookup, and get additional sales easily with AI-powered product recommendations. Merchants who want to proactively update customers on the latest shipment status can enable shipping notifications, so emails will be sent on your behalf automatically.
Dhlink Tracking Number
If you buy from Dhgate, it's very likely that your package will be sent via Dhlink. In this case, you can get the Dhlink tracking number you need for package tracking by going to "My Orders" after login. If you're selling on Dhgate and using Dhlink for order fulfillment, after shipping, you'll find the Dhlink tracking number in the order management section of the seller portal.
Dhlink Tracking Number Format
The Dhlink tracking number typically starts with 2 letters, followed by 13 digits. If Dhlink works with a logistics partner for the package delivery, you can find another tracking number by using the Dhlink official tracking tool. However, the format of the second tracking number depends on the service provided by Dhlink's partners.
Dhlink Tracking Number Example
LB6010121398706
HP164618812678
Dhlink Tracking Customer Service
Because Dhlink mainly targets cross-border sellers in China, the official website is only in Chinese. If you're an end customer confronting problems with your Dhlink package, contact the seller first. In contrast, if you're using Dhlink's fulfillment services, reach out to them via email or by using WeChat.
Dhlink customer service email: [email protected]
WeChat Official Account: DHLink驼飞侠