About JNE Express
JNE or JNE Express, officially known as PT Tiki Jalur Nugraha Ekakurir, is an Indonesian carrier established by Mr. H. Soeprapto Suparno on November 26, 1990, as a division of Suparno's PT Citra Van Titipan Kilat (TIKI). Initially managing customs clearance and delivering shipments to local regions, the company was able to expand its network internationally after joining the Air Transport Association (IATA) in 1991.
Additionally, JNE formed a network of courier firms in Hong Kong, Malaysia, Japan, Singapore, Taiwan, and the Philippines by establishing the ACCA (the Association Courier Conference of Asia). It also separated from TIKI and became an independent courier after a few years.
Along with the information technology development and foreign investment, JNE has been growing and developing in the courier sector. Beyond small packages and documents, the company gained credibility in handling logistics, transportation, and distribution.
Today, JNE Express ships parcels to all major cities in Indonesia and several countries abroad. Over 40,000 employees are seeing to its operations across more than 6,000 service locations (150 of which are connected via an advanced online communication system). JNE Express is the most popular courier in Indonesia, followed by J&T Express, SiCepat, DHL, TIKI, Anteraja, FedEx, and Shopee Express. JNE's credibility and reliability have been validated by an ISO 9001:2008 certificate and various awards in shipment and logistics.
JNE Tracking
JNE Express caters to both consumers and businesses all across Indonesia and abroad. Its services span from standard and express shipping to same-day and next-day deliveries. Let's go into more detail about the JNE shipping and tracking services.
JNE Cargo Tracking
JNE's freight service includes:
Air Freight:

This includes International Cargo, Hand Carry (where a JNE courier carries your parcel or document), Next-Flight Out delivery, and global airfreight agent services.

Ocean Freight:

LCL (Less than Container Load), FCL (Full Container Load), and Special Container services comprise JNE's Ocean Freight service range.

Custom Brokerage:

This spans from airport customs clearance and rush handling to import permit brokerage and professional consulting.
For parcels sent via air or ocean freight, JNE will issue a tracking number. You can enter this JNE tracking number on JNE's Trace & Track page to see the status of your package.
JNE Express Tracking
JNE Express handles time-sensitive shipments of documents and packages using the fastest transportation modes. It has more than 1,500 service points throughout Indonesia and offers various services, from pickup to delivery.
You can track your JNE Express package via the JNE Trace & Track page. Delivery times vary depending on the JNE Express service you're using. Below is a list of services that fall under the JNE Express division and corresponding tracking services:
JNE Super Speed
Super Speed (SS) is a parcel delivery service that prioritizes speed. The estimated delivery time is 24 hours, right after the package is received by the courier, except for unforeseen conditions or special instructions.
JNE Diplomat
This JNE service is exclusively designed for high-value items and documents. It involves direct handling of JNE staff members, thus prioritizing the processing of the parcel all the way to the recipient.
JNE YES Tracking
JNE YES is a service that ships packages at specified times. YES shipments reach the recipients by 11:59 p.m. local time on the following day (including Sundays and national holidays). You can track YES packages by entering your airway bill number on JNE's website. By using ParcelPanel, you can track YES packages in bulk and even automate JNE YES tracking.
*Note that this service is limited to certain cities within Indonesia.
JNE Regular Tracking (JNE REG Tracking)
JNE offers a regular delivery service to every part of Indonesia. The estimated delivery time of JNE Regular service is between 1-7 business days. Compared with other services, it doesn't come with a money-back guarantee.
You can track these shipments using your airwaybill tracking number via JNE's website. Professional package tracking websites like ParcelPanel allow you to improve your JNE Regular tracking efficiency with bulk shipment tracking and a dedicated app for JNE REG tracking automation, analytics, and more.
JNE OKE Tracking
JNE OKE service is similar to its REG service but with more economical rates. However, OKE parcels may have longer delivery times depending on the destination zone, and the JNE OKE service is not applicable to intra-city delivery. Enter your airwaybill number on JNE's site to access real-time shipment status and see the precise estimated delivery time. Alternatively, you may use ParcelPanel to simplify JNE OKE tracking for your e-commerce business.
JNE Trucking Tracking (JNE JTR Tracking)
JNE JTR is a high-volume delivery service by sea and land. It offers shipments at competitive prices and even accepts motorbike delivery. JNE JTR tracking works the same way as other JNE tracking methods—your air waybill number is key to seeing the status of your package.
JNE International Tracking
JNE offers weekday-only international delivery to various destinations worldwide. Delivery times for international shipments vary based on the country zones. You can track international parcels by entering your airway bill number in the official JNE tracking tool. Seamlessly integrated with JNE via JNE tracking API, ParcelPanel also allows you to track JNE international deliveries from start to finish.
JNE Cashless Tracking
JNE Cashless enables online sellers at Shopee, Lazada, Zalora, and other online stores to make deliveries via JNE outlets. After completing JNE Cashless Seller Registration, they don't need to pay cash at these service points and are issued a receipt. Shoppers can find the JNE tracking number by going to "Orders" on the e-commerce platforms and stores, while the sellers can log in to their JNE account to track JNE cashless shipments.
How to Track JNE?
You can track your JNE parcel in two different ways: by using the official JNE tracking tools and dedicated order tracking services like ParcelPanel. Here are the detailed step-by-step guides:
By using JNE Tracking
There's a dedicated landing page on JNE's website where you can enter the JNE tracking number to see the status of your package. You can track up to 20 packages/airwaybills at once—just separate them by commas. Since JNE assigns a tracking number to each package, having it handy is key to locating your package.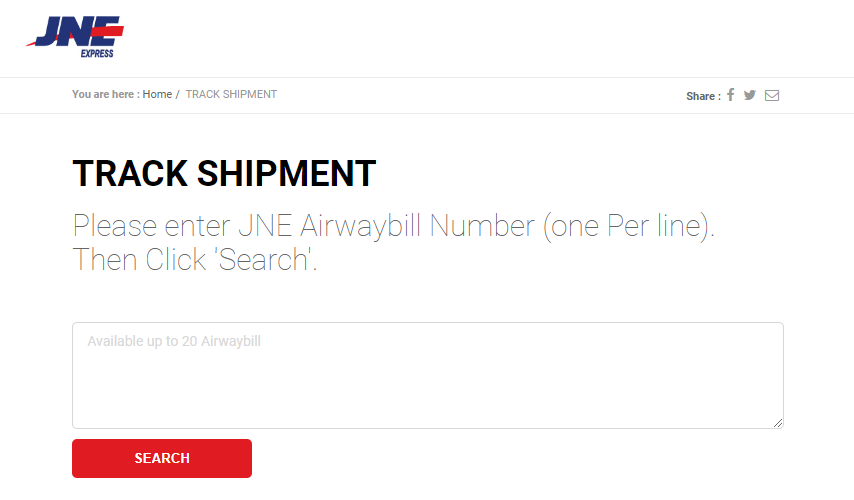 Then, you'll see the detailed JNE tracking information, including the shipping service, origin, destination, estimated delivery date, POD (proof-of-delivery) date, shipment history status, and shipment details. Notably, the shipment details contain the shipper name, recipient name, shipment date, weight, and so on.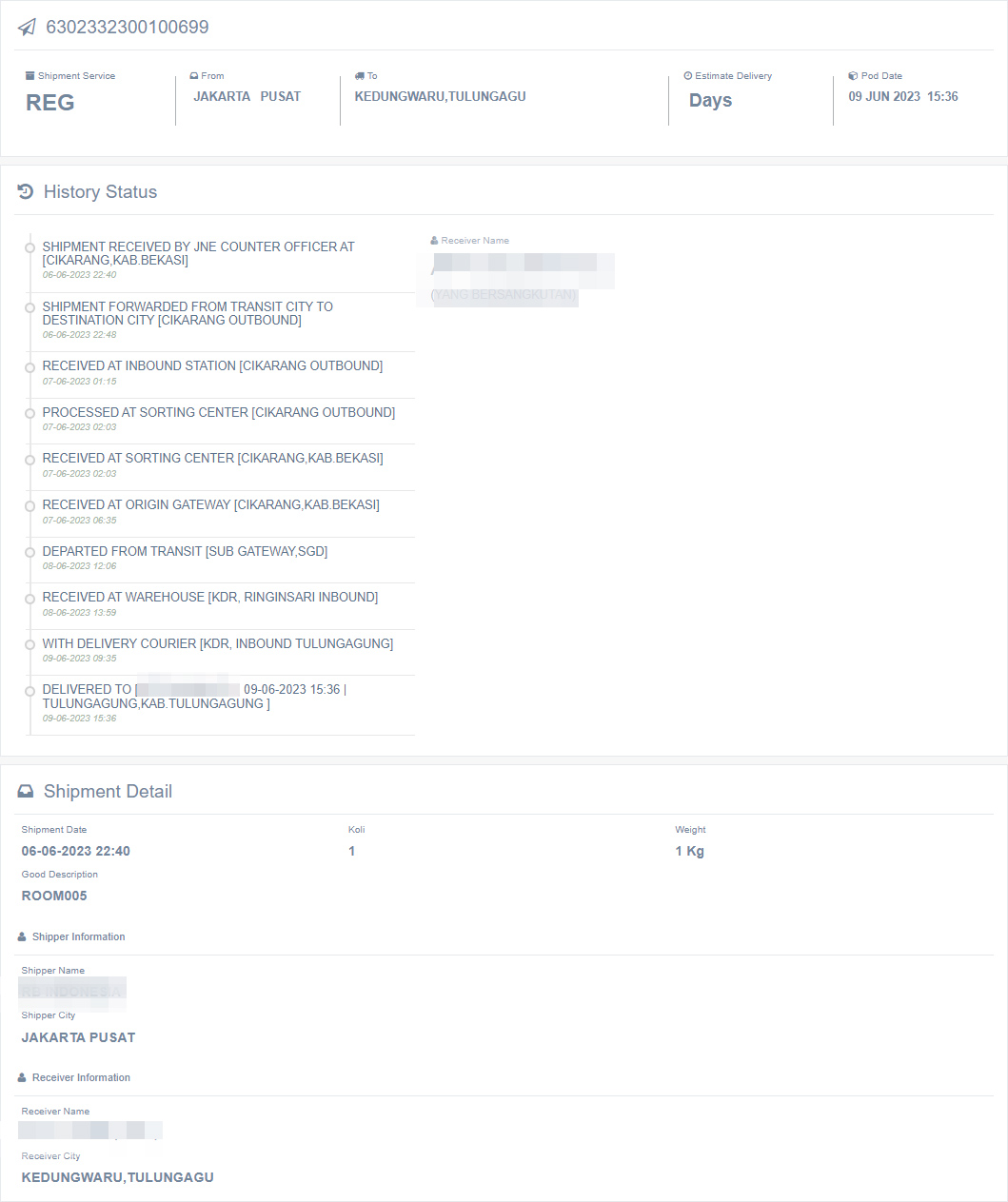 JNE also offers a dedicated app for Android devices. With it, you can:
Track the status of your JNE deliveries

Get JNE courier rates for any destination within Indonesia

Find the closest JNE location to you
To find it, search for "MyJNE" on Google Play or App Store.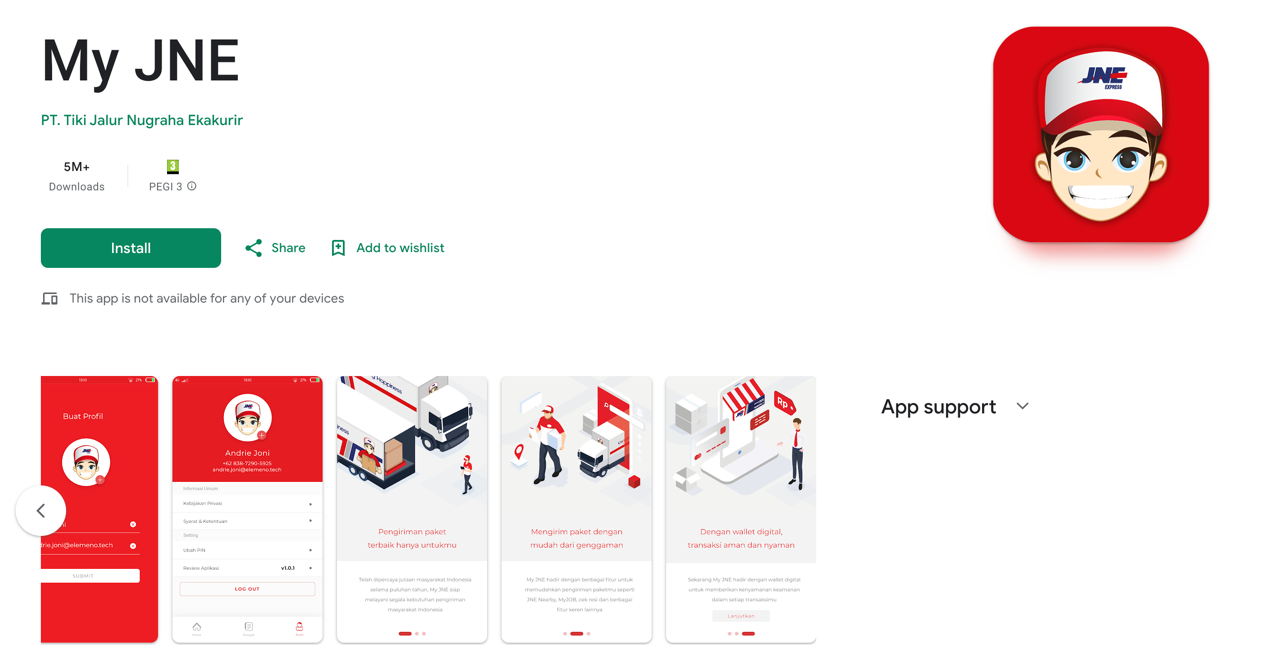 Note that you'll need to provide some basic information to start using the app. After that, JNE will send you a confirmation email. Click the tracking link in the email, fill out the additional required fields, and your JNE account will be activated. This process also links your phone number to your JNE shipments.
ParcelPanel Website
ParcelPanel is a leading e-commerce parcel tracking solution for merchants. Its network comprises more than 1,100 couriers, including JNE Express. To track a JNE parcel, follow these steps:
1. Open the ParcelPanel website.
2. Go to the "Couriers" page.
3. Enter "JNE" in the search bar to access the JNE Tracking page.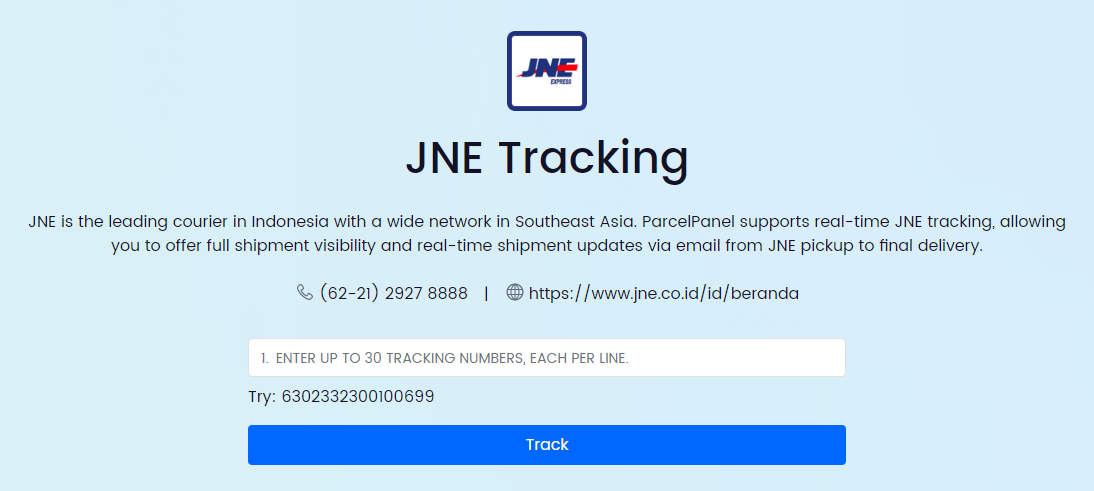 4. Enter your JNE tracking number and click "Track."
Now, you'll see the real-time status of your JNE shipment, along with the transit time and transit history.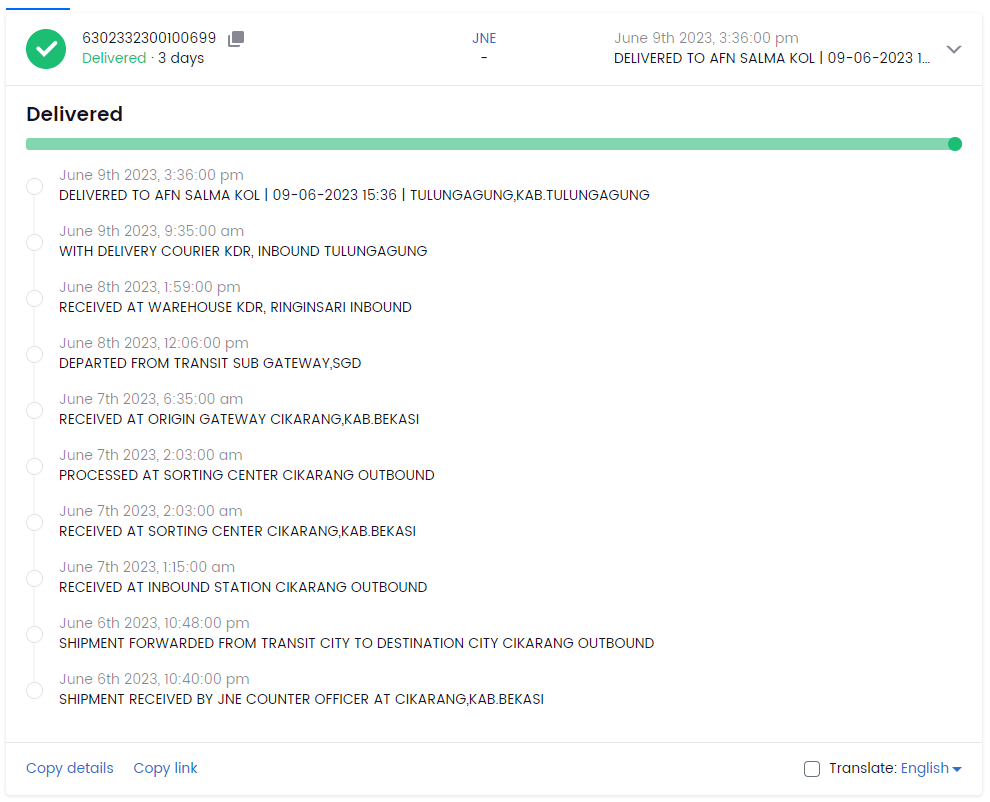 The ParcelPanel website allows tracking of up to 30 JNE shipments at the same time. You can also export the tracking information into a spreadsheet for easier management.
Apart from the JNE tracking tool on the official website, you can use the ParcelPanel app to automate JNE tracking. After installation, ParcelPanel automatically creates a branded tracking page that matches your store's branding. Customers can enter their tracking number directly on this page to view their parcel details rather than visiting JNE's website. With the ParcelPanel app, you can also proactively update customers on the latest JNE shipment status via email.
Additionally, you can use ParcelPanel to upsell and cross-sell products to your customers. This feature leverages the power of AI to showcase relevant items on the branded tracking page. As a result, the app enhances your post-purchase experience while boosting the customer lifetime value of your Shopify business.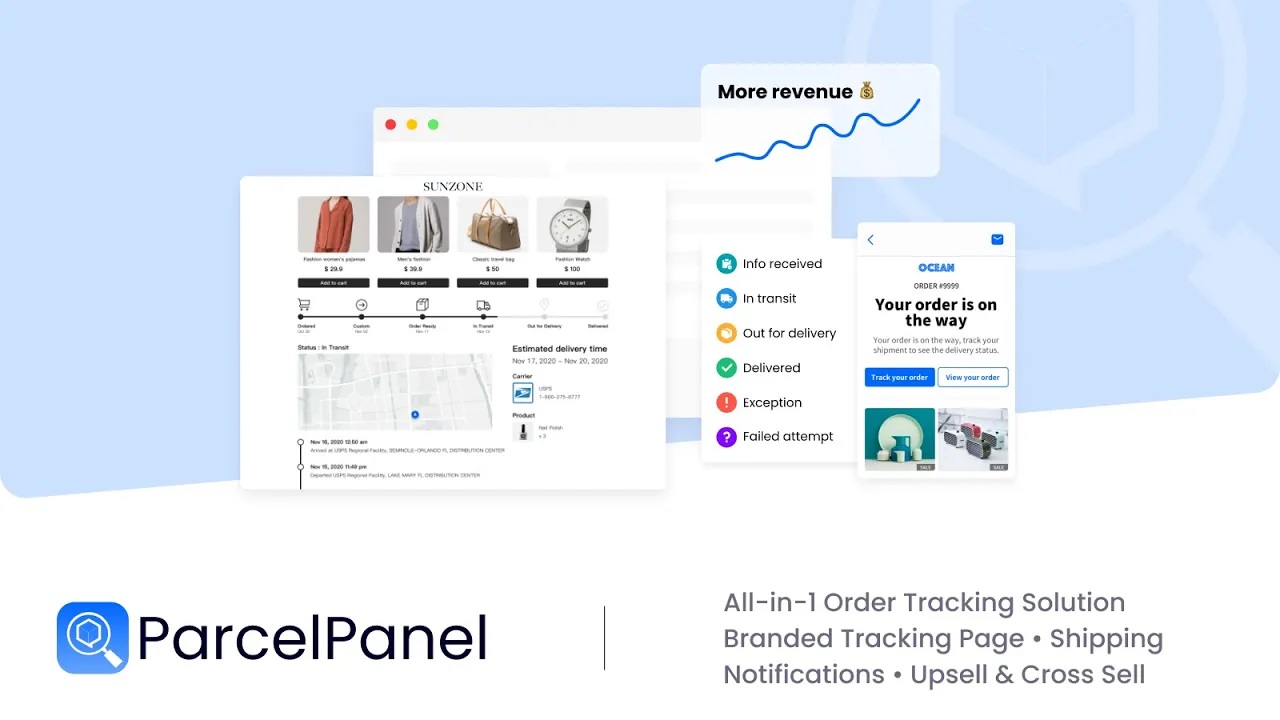 JNE Tracking Number
A JNE tracking number is a unique airway bill number assigned to every shipped package. You can find it by logging into your MyJNE account or contacting the JNE customer support team.
Another way to locate the tracking number is to check your shipping label or receipt. Make sure to check the area beside the JNE logo—this is where the courier usually prints the tracking number.
If you shopped online, your retailer must have the tracking number JNE issued.
JNE Tracking Number Format
JNE tracking numbers generally consist of 15-16 alphanumeric characters. These characters are just numbers or a combination of letters and numbers with varying digits.
JNE Tracking Number Example
Here are a few JNE tracking number examples:
6302332300100699

012230053125223

TLJR3DV44TRX0L1V

CSS5223082125393
JNE Customer Service
Do you want to contact JNE customer care to help with a query? Here's a list of ways you can get support:
Online inquiry:

You can ask JNE's support staff any questions via the contact form. Choose "Customer Service" in the subject field before submitting your inquiry.

Hotline

: JNE also provides support via phone. You can reach their customer case by dialing

21 2927 8888

(within Indonesia) or

+62 21 297 8888

(outside Indonesia).

The hotline is open Monday through Friday from 8 am to 8 pm and on Saturdays from 8 am to 5 pm.
Email:

Another way to contact JNE customer care is via email. Send over your question or request to

[email protected]

.

Live chat

: You can also access JNE customer service chat via "Ask Joni" on the courier's official website. Use this option when you want an instant response to your inquiry.