About J&T Express
J&T Express (极兔速递) is an international delivery company and integrated logistics services provider founded by Jet Lee and Tony Chen in Indonesia in 2015. It is dedicated to the e-commerce industry. "J" in J&T represents "Jet," while "T" means Timely and Technology. What's more, the Chinese brand name (极兔) means "ultimate" and "speedy rabbit," which is in accordance with its tagline, "Express Your Online Business."
J&T Express has grown into a leading express courier in Southeast Asia and China. Its express delivery service network covers 13 countries, including Indonesia, Malaysia, Philippines, Singapore, China, Thailand, Vietnam, Cambodia, Saudi Arabia, United Arab Emirates, Mexico, Brazil, and Egypt. Additionally, in May 2023, J&T Express came to an agreement to acquire 100% shares of Fengwang Express from SF Express, which marks a milestone in the company's development.
Until now, J&T Express operates over 280 transit hubs and 21,000 service centers globally, with 9,600+ partners and 400,000+ staff members. Notably, its sub-brands include J&T Cargo and J&T International Logistics.
Speaking of J&T Malaysia, the branch has over 300 employees and 1,100+ service locations nationwide. It invested RM 600 million to build a logistics center in Malaysia. Moreover, with a strong presence in the country, it won the "Consumer Choice Brand" in the courier industry at the "Ikon Brand Award 2022."
J&T Malaysia stands out in the competition, being the most popular courier in Malaysia, followed by PosLaju (Pos Malaysia), GDEX, DHL, City Link Express, Ninja Van, SkyNet, and so on.
J&T Tracking Malaysia
J&T Malaysia offers various domestic and international shipping services. Other J&T services, including J&T Cargo and J&T International Logistics, are available in Malaysia.
In this section, we'll go into the details of different J&T shipping and J&T tracking services.
J&T Express Tracking
Regarding domestic shipping, J&T Standard Delivery, One-Time Order, Multi-Piece Shipments, and Next-Day Delivery services are available. They differ in the shipment type, weight & dimension limits, delivery time, and destination, as shown in the table below.
| Shipping Service | Shipment Type | Weight Limit | Dimension Limit | Destination | Delivery Time |
| --- | --- | --- | --- | --- | --- |
| Standard Delivery | Parcel/document | 30kg | L+W+H = 300cm, max. length: 120cm | Across Malaysia | 2 - 5 days |
| One-Time Order | Parcel/document | 30kg | L+W+H = 300cm, max. length: 120cm | Across Malaysia | 2 - 5 days |
| Multi-Pieces Shipment | Parcel | At least 3kg per parcel, up to 30kg | L+W+H = 300cm | Across Malaysia | 2 - 5 days |
| Next-Day Delivery | Parcel/document | 5kg or below | L+W+H = 390cm, max. length: 30cm | West Malaysia to West Malaysia, East Malaysia to East Malaysia (excluding outskirt areas) | Guaranteed next-day delivery within West Malaysia |
Whatever shipping service you choose, tracking is included as standard. To track J&T Malaysia deliveries, you can go to the J&T Trace and Trace tool on the official website, use J&T Malaysia App, or visit a professional package tracking website like ParcelPanel for J&T Express tracking Malaysia.
J&T International Tracking
As for international express shipping, J&T Malaysia can deliver documents and parcels up to 30kg to 7 international destinations, namely, Philippines, Indonesia, Singapore, Thailand, Brunei, China, and Hong Kong, within 3 - 5 days.
Before you ship an item with J&T Express, you should make sure to provide accurate information about the recipient. Moreover, the girth (L+W+H) mustn't exceed 180cm, and the longest side should be under 80cm. Please note that only one shipment per waybill is allowed, and you can't send prohibited items such as counterfeit goods, animals, flammables, power banks, etc.
The J&T International tracking service is accessible via the J&T Track and Trace tool online. The J&T online tracking service provides you with full shipment visibility from pickup to last-mile delivery. Integrated with J&T tracking APIs, ParcelPanel also allows you to track J&T international deliveries originating from Malaysia.
J&T Cargo Tracking
J&T Cargo is a sub-brand in the J&T Group that aims to improve cargo transportation efficiency and distribution for businesses and individuals.
J&T Cargo offers two different types of services, i.e., Rapid Go and Standard Go. Both are fully traceable, coupled with responsive customer service. Rapid Go also boasts transparent pricing and free door-to-door delivery, while Standard Go is an economical solution for transporting bulky goods across Malaysia and other nations.
With J&T Cargo tracking, you can monitor the movement of your freight at any time and report problems to J&T Cargo once they are found. It's worth noticing that, according to J&T Cargo, this can prioritize handling. Generally, it takes 1 - 3 working days for J&T to deliver cargo.
How to Track J&T Malaysia Delivery?
If you're looking for a J&T tracking Malaysia service, you can either choose the official J&T Tracker or rely on a professional order tracking solution provider like ParcelPanel to centralize J&T tracking, especially if you're running a multi-national business.
In this part, we'll go into the nitty-gritty of J&T Tracking Malaysia.
By Using J&T Malaysia Tracking Tools
J&T Track & Trace
Visit the J&T Malaysia official website, head to the "Services" section on the top, choose the J&T "Track & Trace" tool from the drop-down menu, and you'll access the J&T online tracking tool immediately.

You're allowed to enter up to 10 J&T tracking numbers. To track multiple shipments, make sure to separate the tracking numbers with a comma.
After entering your J&T tracking number and clicking "Go," you'll need to go through the verification by completing a puzzle to see the J&T tracking details. Here's what we got by using the tracking number 630881420689‍.
The origin, destination, and the latest shipment status are shown. If you want to find the shipment transit history, click "See More," and more details will be shown.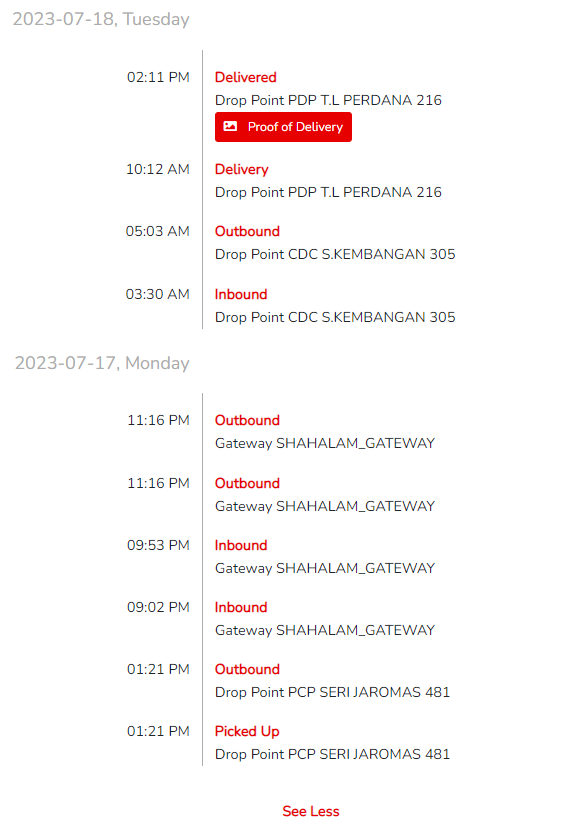 Last but not least, to view the proof of delivery, you can click the "Proof the Delivery" button and enter the last 4 digits of the phone number of either the sender or the recipient.
That's all about using the online J&T Express Malaysia tracking tool. If you need to track J&T Cargo, use the J&T Cargo tracking tools instead. The steps are similar.
J&T Malaysia App
If you want to avoid the manual J&T tracking process, you'd better install the J&T Malaysia App. This app is available on the App Store and Google Play. The app provides easy access to all J&T Malaysia services, whether you need to ship parcels, keep track of the delivery progress, find a J&T outlet nearby, and so on.
After you download the app, register an account with your telephone number and receive the verification code via SMS. Enter the code, and you'll be able to proceed.
ParcelPanel is the leading e-commerce order tracking solution for Shopify & WooCommerce merchants. It seamlessly integrates over 1,100 carriers worldwide, including J&T Express, to help e-commerce businesses deliver an on-brand order tracking experience for better post-purchase experience and more repeat business.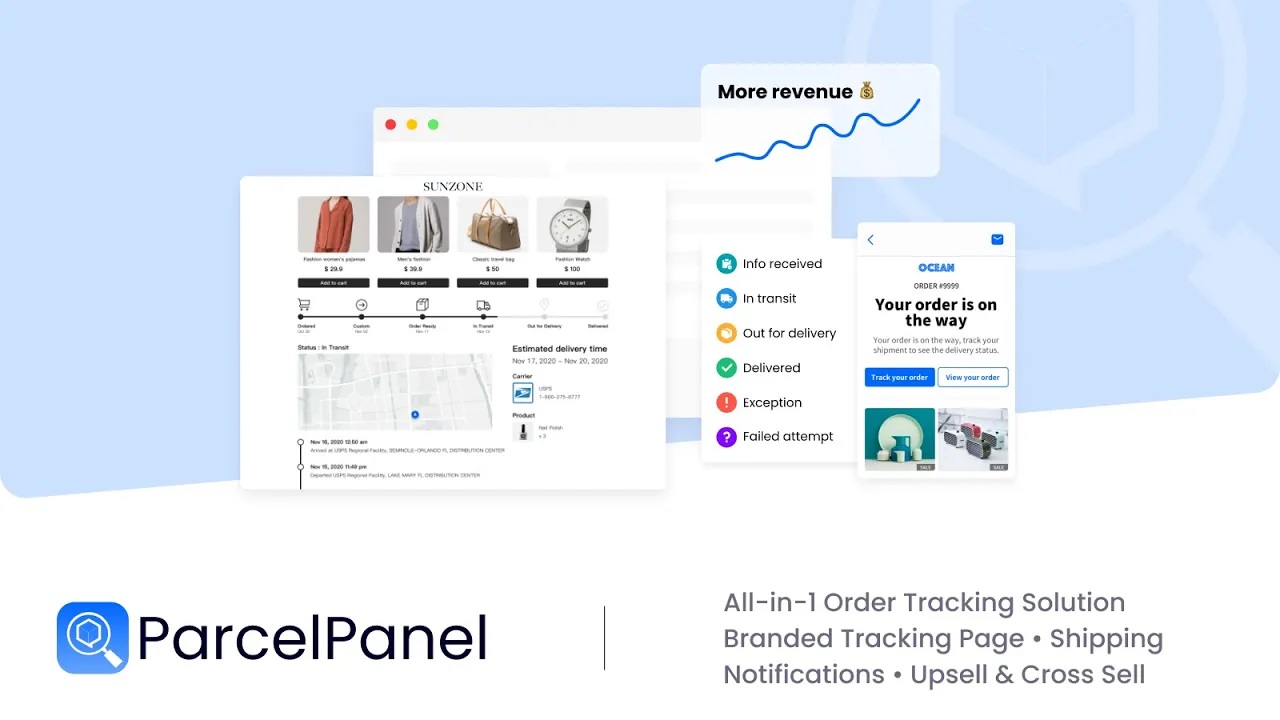 The ParcelPanel order tracking app is more powerful than the ParcelPanel official website, not only because it provides more features but also because it can gather more necessary information required by a specific carrier for delivery tracking, for example, the postal code. The app will keep automatically pulling the latest shipment updates across its network of carriers and categorizing the orders according to the standardized order statuses - pending, in transit, out for delivery, delivered, failed attempt, expired, and exception.
To automate J&T tracking along with tracking many other carriers, the ParcelPanel app is a perfect choice.
As soon as you finish the installation, a branded order tracking page that perfectly fits your branding will be automatically created. You can further customize the design by going to the "Tracking Page" settings. After you put the tracking page URL to your storefront, your customers can easily access the order tracking information in real time without your help. This can prevent WISMO inquiries from pouring in and ease customers' delivery anxiety.
Upselling & Cross-Selling
What's more, the ParcelPanel app allows you to set up AI-powered product recommendations on the tracking page. In this way, as your customers actively come back to your store for order tracking, they will be interested in other products you're selling and make a purchase. This can help you effectively increase the customer's lifetime value.
Automatic Shipment Notifications
You may also choose to enable automatic email notifications to update customers on the latest shipment status proactively. Just edit the preset email templates with the intuitive email editor to deliver personalized messages with enhanced brand presence according to your needs. By doing so, you can interact with customers across different touchpoints, build trust, and bring customers back to your store.
Apart from all the above, our app will generate in-depth reports for you with which you can optimize the supply chain and improve the delivery experience. These reports allow you to gain insights about shipments, transit time, tracking page, and shipping notifications.
J&T Tracking Number
As for each parcel or document, J&T Express will assign a unique shipment identifier. The J&T tracking no. allows you to monitor the entire shipment progress - from pick up to final delivery. You can find the tracking number J&T issued by going to the order details, checking the shipping notification email or SMS, or simply asking the sender.
J&T Tracking Number Format
The J&T Express tracking number typically consists of 12 numeric digits, and it can be found under the barcode of the shipping label and receipt.
Plus, the J&T Cargo tracking number format is the same as the J&T Express tracking number. On the J&T Cargo receipt, the J&T Cargo tracking number is under the barcode and after some letters.
J&T Tracking Number Example
J&T Express tracking number: 630881420689, 620076460826
J&T Cargo tracking number: 200159673253, 200174060128
J&T Tracking Status
Different from the tracking statuses of J&T Singapore, J&T Malaysia provides quite a few shipping statuses.
| J&T Tracking Status | Meaning |
| --- | --- |
| Picked Up | The J&T parcel has been collected by the personnel. |
| Inbound | The J&T parcel has arrived at one of its gateways or drop points. |
| Outbound | The J&T parcel has departed from one of its gateways or drop points. |
| In transit | The J&T parcel is en route to the destination. |
| (Out for) Delivery | The J&T parcel is out for delivery, and the deliveryman is on the way to the delivery address. |
| Delivered | The J&T parcel has been successfully delivered, and proof of delivery has been obtained. |
J&T Customer Service
In case you need immediate help with delayed, lost, damaged, or stolen parcels from J&T Malaysia, here's the J&T customer service number that you need. You can also file a complaint by going to the Complaint Center on the official website.
If the situation is less than urgent, you may send an email to the J&T customer support team.
You may also use the J&T outlet locator and go to the local office for further assistance.