About GDEX
GDEX (short for GD Express Carrier Berhad) is a leading Malaysia-based express delivery company with a strong presence in Southeast Asia. The company was founded in 1997 with the goal of providing express delivery services to both domestic and international markets.
Nowadays, GDEX also operates in Singapore, Indonesia (SAP Express Courier), and Vietnam (NETCO) and offers delivery, warehousing, and digital solutions with a workforce of over 10,000 employees and a fleet of 6,000 vehicles. It provides a variety of express delivery services, such as same-day delivery, next-day delivery, bulk shipment, cash on delivery, and other value-added services both within Malaysia and across borders, using various modes of transportation.
To ensure a greener and clearer future with renewable energy, the company prioritizes Environment, Social, and Governance (ESG). It complies with legal and other environmental policies to build a brighter future.
GDEX is the 3rd most popular courier in Malaysia, following J&T Express (1st) and Pos Laju (2nd). At the same time, its ranking is higher than DHL, Shopee Express, ABX Express, City-Link, and Skynet.
GDEX Tracking
GDEX offers reliable shipping services that deliver both domestically and internationally. The delivery service includes a real-time tracking feature that allows customers to monitor their shipment until they receive it.
Let's dive in to learn the details about GDEX shipping services.
GDEX Tracking Malaysia
GDEX offers fast delivery of consignments to over 70,000 destinations in Malaysia. Shipping, be it for businesses or individuals within Malaysia, is conducted through various vehicles, including bikes, trucks, and vans, 24/7 to ensure on-time delivery.
Refrigerated truck service is also available to deliver seafood, meat, pharmaceuticals, medical supplies, and other goods that require precise temperature control and conditions. Full Truck Load (FTL) with single or multiple drop points, temperature monitoring, and strict quality control are all part of this service.
It's also worth mentioning that the GDEX freight service can transport bulky goods within Peninsular Malaysia and East Malaysia. All trucks are armed with GPS for real-time tracking.
Speaking of GDEX tracking MY, the GDEX shipments are assigned consignment numbers that customers can use to monitor the shipment route and get peace of mind. GDEX domestic services include:
Same-day delivery
Next-day delivery (door-to-door service)
Cash on delivery
Bulk shipment of heavy goods
Stamped and signed delivery order (DO)
Proof of delivery with 6-digit TAC code
GDEX International Tracking
GDEX International shipping service offers door-to-door delivery of documents and packages to over 200 countries around the world. GDEX's tailored solutions can meet the logistics demands of companies of different sizes, from SMEs to MNCs.
GDEX provides various types of freight services for all business categories, be they small or large. The services ensure reliability and transparency by providing real-time tracking features. The consignment numbers given along with the shipments are scanned at every transit. Customers can use the GDEX tracking number to monitor their packages online 24/7.
The international freight services include:
Cross-Border Land Freight
Apart from the domestic freight service, GDEX provides land freight service to ship both international shipments. The trucks are all equipped with a Global Positioning System (GPS) and controlled by the Fleet management system. Land freights are carried out via Full Truck Load or combined Loose Truck Load to meet B2B shipping requirements to and from Malaysia and nearby countries - China, Singapore, Thailand, Vietnam, and Laos.
Air Freight
The most popular international freight service is air freight. GDEX air freight offers a variety of delivery options for the convenience of the customers, including:
✔ Door-to-door service
✔Airport-to-door service
✔Door-to-airport service
✔Airport-to-airport service
Sea Freight
Sea freight is a cost-effective shipping solution. The GDEX sea freight delivery options are as follows:
✔Door-to-door delivery
✔Port-to-door delivery
✔Port-to-door delivery
✔port-to-port delivery
Hajj & Umrah Baggage service
In partnership with GNEX and Mohsen Cargo Service Arab Saudi, GDEX provides baggage delivery service for Hajj and Umrah with a tracking feature and customs clearance in Malaysia and Saudi Arabia. Customers can receive delivery to their doorsteps within 7-14 days without worrying about being charged excessively for extra baggage at the international Airport.
GDEX Tracking China
GDEX provides international express delivery and freight shipping services to China. In particular, businesses and individuals can use GDEX cross-border land freight service to transport their consignments safely to China, as the vehicles are GPS-equipped and support end-to-end tracking. Urgent shipments can be delivered via air freight; the cost-effective option is ocean freight.
The service includes real-time tracking from dispatch to delivery, even if the shipment is handed over to local couriers in China for final delivery.
MyGDEX Tracking
MyGDEX is a GDEX-powered online shipping platform. It supports integration with eCommerce platforms such as Shopify, WooCommerce, Magento, Payex, Unicart, etc. MyGDEX features include:
✔Domestic and international shipping management
✔Real-time shipment tracking & SMS out-for-delivery notifications
✔Store creation option
✔Access to 1,000+ pickup or drop-off points across Malaysia
✔Generating up to 100 consignment notes at a time
✔Insurance coverage for shipment protection
✔Top-up rewards such as free credits, free pickups, or free flyers
How to Track GDEX?
GDEX offers end-to-end tracking for shipments delivered via the GDEX network. Each item registered at GDEX is provided with a unique combination of consignment numbers, which both the sender and receiver can use to track their shipment.
GDEX has an integrated tracking tool on its website that customers can use to track their packages online 24/7. Other GDEX tracking options include third-party tracking platforms like ParcelPanel for up-to-date tracking data.
You can track your GDEX packages by using the following ways.
By Using GDEX Tracking
The integrated tracking tool on the GDEX website supports tracking 20 GDEX consignments at the same time. Please note that the GDEX tracking numbers must be separated by commas.
To track your package using the GDEX tracking tool:
Go to the GDEX or MyGDEX website
On the GDEX website, the tracking tool is available on the lower part of the homepage. Enter your GDEX tracking number in the tracking field and click the "Track" button.

Alternatively, on the MyGDEX website, if you don't have a GDEX account, click on "Info" in the top menu bar and click on the option "Tracking." This will take you to the tracking tool of the GDEX website, where you must enter your GDEX tracking number and then click the "Track" button.
Then, the tracking dashboard will appear on your screen with the detailed shipment route.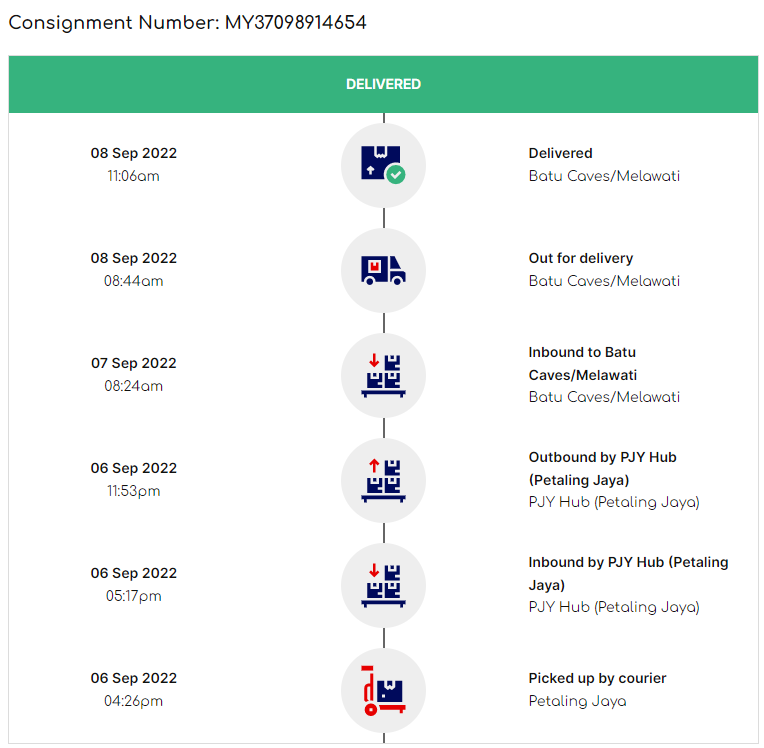 By Using ParcelPanel
ParcelPanel is a renowned order-tracking solution for Shopify and WooCommerce store owners. Its seamless integration with over 1,100 carriers worldwide makes for centralized shipment tracking and an enhanced post-purchase experience.
You can track your GDEX package using the ParcelPanel official website and the ParcelPanel app.
Visit the ParcelPanel website and then
Click on "Carriers" from the menu to go to the Carriers page
On this page, search for GDEX in the carrier search bar to access the dedicated GDEX tracking service.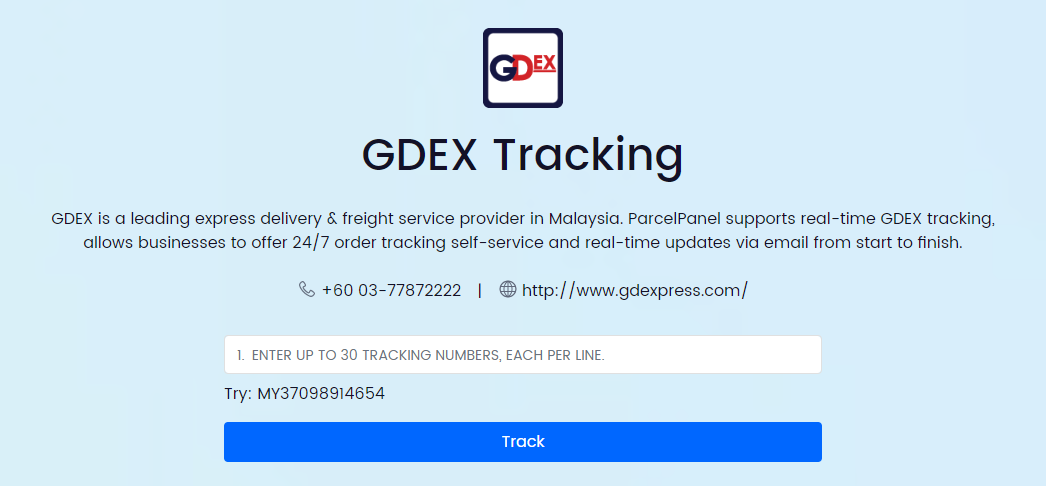 Enter your GDEX tracking number in the tracking field and click the "Track" button to access the detailed tracking information. You can enter up to 30 GDEX tracking numbers in a single search attempt.
Then, you will be taken to a new tracking page on which you can see the delivery route in detail, including the shipment status, location, date, and time at every transit point.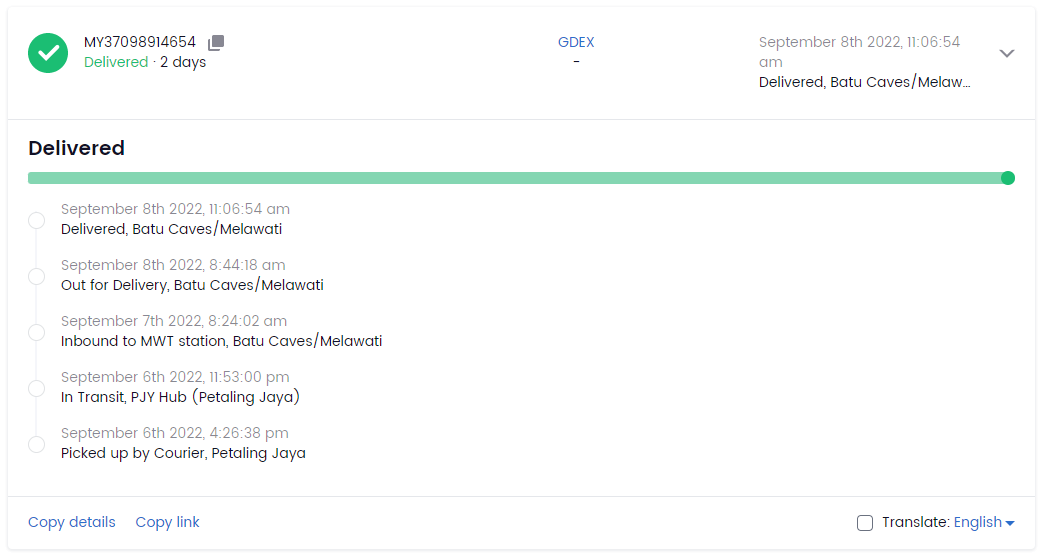 Furthermore, with ParcelPanel, you can translate the GDEX tracking details into 10 popular languages and export all tracking information to a spreadsheet.
The ParcelPanel order tracking app is specially designed for eCommerce businesses built with Shopify and WooCommerce. Being one of the most popular Shopify order tracking apps, it has earned 5-star ratings and over 1,700 customer reviews. Moreover, currently, the ParcelPanel WooCommerce plugin is 100% free!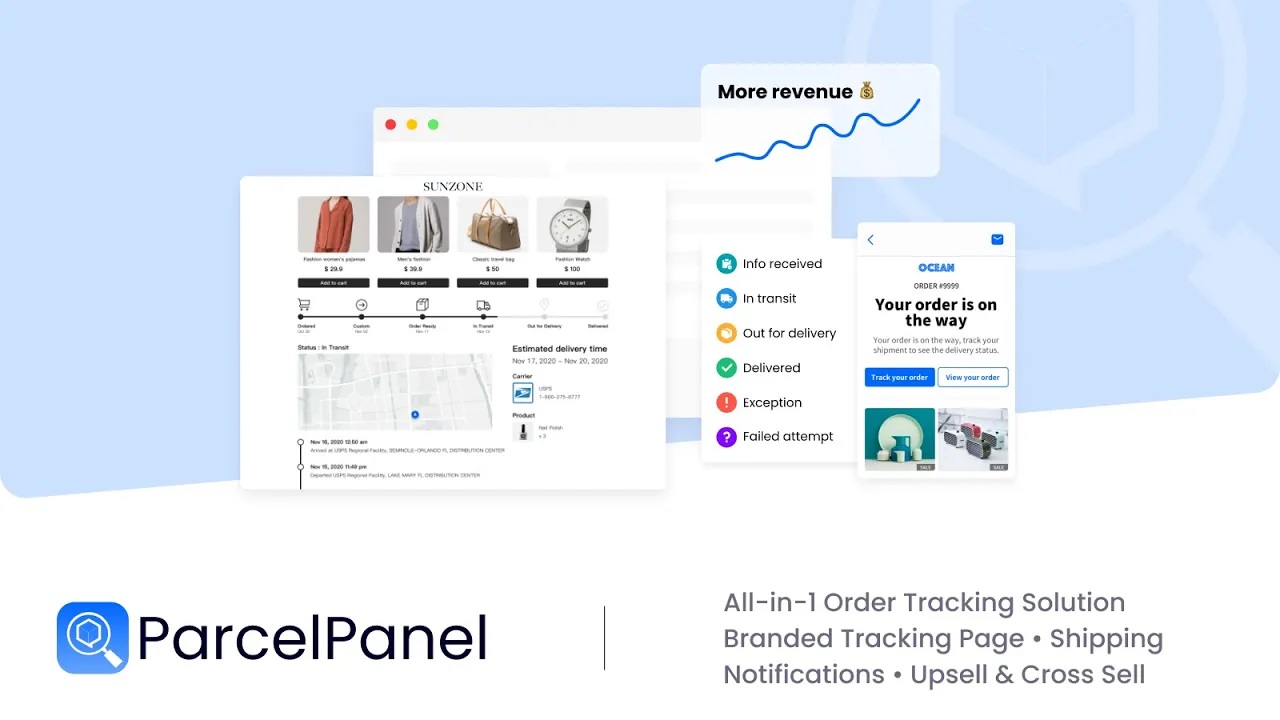 After installation, the app creates a branded tracking page that matches your brand. You can go to the settings to further customize it. The tracking page URL can be put in the navigation menu, where customers can track their packages using the GDEX tracking number.
The app can send automatic shipping updates to customers on your behalf and enhance the post-purchase experience. You can also enable product recommendations to engage customers, encourage repeat purchases, and increase the customer lifetime value.
GDEX Tracking Number
After registering packages at GDEX and completing the payment, GDEX will send the sender an electronic receipt with a consignment note. The consignment number (also known as the GDEX tracking number) is written below the barcode on the shipping label and receipt.
GDEX Tracking Number Format
Generally, the GDEX tracking number consists of 13 alphanumeric characters with a pair of letters "MY" at the beginning and followed by 11 numerical digits.
GDEX Tracking Number Example
Here are some examples of GDEX tracking numbers.
MY37098562226
MY37098914654
MY37146016379
GDEX Tracking Status
The common GDEX tracking statuses you will see while tracking your package are listed below, along with the meaning.
| GDEX Tracking Status | Meaning |
| --- | --- |
| Picked up by courier | GDEX has collected the package from the sender or the designated pickup location. |
| Inbound by ABC Hub | The package has arrived at the mentioned GDEX facility for scanning, quality assurance, and other processing.The package has arrived at the mentioned GDEX facility for scanning, quality assurance, and other processing. |
| Outbound by ABC Hub | The package has completed the required processing and left the mentioned GDEX facility for its next destination. |
| Out for delivery | The GDEX package has departed the local distribution center or office, having been loaded into the vehicle for final delivery. |
| Unsuccessful delivery due to change of delivery station by GDEX | The delivery attempt failed because the delivery address was changed upon the customer's request. |
| Delivered | The GDEX package has reached its final destination and has been received by the recipient. |
GDEX Customer Service
For any kind of assistance regarding package tracking or issues such as filing complaints for lost or missing packages, contact GDEX customer service.
Here is the GDEX customer service contact information:
GD Express Sdn Bhd
No. 19 Jalan Tandang, Petaling Jaya
Selangor Darul Ehsan, Malaysia - 46050
You can email your queries to [email protected]
GDEX Customer Service Number
For urgent matters, dial the GDEX customer service hotline number 03-64195003 to speak with the GDEX customer care representatives, or send your queries via WhatsApp. The WhatsApp service is available 24/7.
You can also contact the GDEX customer service via various social media platforms - LinkedIn, Facebook, Instagram, and Twitter.
You can also submit your inquiry via an online form available on the "Contact Us" page on the GDEX website.