About PosLaju
PosLaju is a reputable Malaysian express courier known for its efficient and reliable delivery solutions. Although the logistics provider is a subsidiary of Pos Malaysia Berhad, the country's leading postal and parcel service provider, PosLaju has established itself as the best express delivery courier in the country, taking up 38% of the domestic courier market share.
Specializing in a wide range of services domestically and internationally, PosLaju offers prepaid packaging, multiple express services, and many other customized e-commerce solutions.
Since its establishment in 1986, PosLaju (it means "Fast Post" in Malay) has achieved several development milestones, including:
The Establishment of 19 EziDrive-Thru,100 EziDrop, and about 139 Ezibox

Set up a second integrated processing center (IPC2) capable of processing 230,000 parcels a day

Recorded a parcel processing capacity of 530,000 parcels a day with its existing processing centers

Introduction of SendParcel, a digital platform customized for SMEs and micro SMEs. This helps customers confirm delivery dates, book specific deliveries, and create consignment notes seamlessly

Increased flight frequency between the Peninsular and East Malaysia for transportation of more items
PosLaju continually broadens its reach to rural areas and islands, ensuring it serves potential customers nationwide. The company has also acquired advanced tools to help improve its operational efficiency, boosting its service quality.
Despite its over 1,500 primary service delivery channels, PosLaju faces stiff competition from various logistics providers, including J&T Express, GDEX, TNT, Skynet, DHL, and FedEx.
PosLaju Tracking
PosLaju is the fastest way to deliver parcels within Malaysia and from Malaysia to countries worldwide. Pos Laju provides a huge range of shipping and tracking services customized to meet its customers' personal and business needs. These shipping services include Express (Same-Day and Next-Day Delivery), specialized prepaid packs, Economy shipping services, and extensive and efficient parcel delivery services.
The logistics company further provides insurance services for customers to add to their PosLaju parcels. This is in addition to the effortless schedule of parcel pickup services and efficient motorcycle delivery nationwide.
Another benefit your business is guaranteed access to the company's warehouse and remote access to consistent monitoring from when your parcel leaves until it reaches its destination.
PosLaju's digital technology ensures real-time visibility for all shipments, which provides customers peace of mind.
PosLaju Tracking Malaysia
With a commitment to reliable and efficient delivery services, PosLaju provides a comprehensive set of customized services to satisfy different shipping needs. These services vary from urgent same-day deliveries to cost-effective next-day solutions.
PosLaju meets precise timing requirements with guaranteed same-day and next-day delivery services and strikes a perfect balance between speed and cost. With its broad reach, the logistics company covers a vast location across every street and local area of Malaysia.
The PosLaju track and trace tool constantly provides updates on the current status of the packages. This keeps every customer using PosLaju Malaysia informed throughout the shipping process.
PosLaju International Tracking
PosLaju International services are your first and quickest way to send packages from Malaysia to other countries. Whether you are shopping from US merchants or shipping across the world, the company offers convenient international air and sea services.
The international services also include prepaid envelopes for sending small items weighing 500g by air. Customers can choose from XS, S, and M-size envelopes for packing their items. The prepaid envelopes can be tracked by using the official PosLaju Track & Trace tool or professional tracking websites like ParcelPanel.
PosLaju Express services include EMS and AsiaXpress. Both come with assured door-to-door deliveries and a wide coverage of 200 nations worldwide. If special handling is required, you should choose AsiaXpress.
Compared with the Express service, PosLaju Economy services (Air Parcel and Surface Parcel) are ideal choices for sending bulky and heavy items to over 200 countries worldwide at low costs. PosLaju online tracking is included as standard, as well as the proof of delivery.
The exact transit time for PosLaju's international services varies based on different factors, including the destination country and the chosen service level. The mode of transportation also matters - you can choose between air and sea.
Despite the broad delivery coverage, PosLaju offers complete visibility, ensuring you can monitor your shipments effortlessly at any time.
PosLaju Express Tracking
PosLaju Express services ensure you can send your parcels quickly within Malaysia and abroad.
The domestic express service is called Poslaju Standard, intended for Malaysia's largest delivery coverage. This gets all your parcels delivered countrywide. PosLaju keeps you informed through the Askpos system, ensuring you remain informed throughout the delivery journey.
With PosLaju's Express international service also comes Express Mail services (EMS), which deliver your parcels to over 200 countries at affordable prices. You can also enjoy AsiaXpress, which has guaranteed special handling for all your parcels, whether documents or non-dangerous goods.
Each express service has an assured online tracking system and offers proof of delivery for your peace of mind.
Shopee PosLaju Tracking
A reliable logistics solution plays a significant role in the ever-changing e-commerce landscape. To match the e-commerce revolution, Shopee partners with many logistics service providers, among which is PosLaju. PosLaju services meet various shipping needs of Shopee sellers and shoppers, whether it is an urgent delivery or a regular delivery, but with intentions to save costs.
The PosLaju service also boasts an efficient tracking system for every Shopee Malaysia customer's peace of mind. This helps Shopee sellers manage their customer expectations with current status updates on the location of their orders. The Shopee PosLaju tracking feature also instills transparency and helps to build trust between Shopee sellers and its customers.
PosLaju EMS Tracking
PosLaju's EMS service is an international express service for delivering up to 30kg of documents or parcels to more than 200 countries worldwide. The EMS service caters to a wide range of needs, from personal parcels to urgent business documents. PosLaju EMS, therefore, bridges geographical gaps and connects people seamlessly across different nations.
A significant benefit of the EMS service is its convenience of doorstep pickup and optional insurance protection. The pickup service lays off the burden of physically visiting a drop-off location, saving off the customers' time.
The estimated delivery time of PosLaju EMS service varies depending on the parcel's destination country. So, the EMS transits may take anywhere between 2 and 11 days.
It's worth mentioning that PosLaju EMS service provides proof of delivery and reliable track and trace features.
How to Track PosLaju?
Find an effortless way to track your PosLaju shipments from the moment they are picked up until they reach their destinations.
You can enjoy the experience of real-time tracking with PosLaju in many ways, including:
By Using PosLaju Tracking

Enter your PosLaju tracking number on the provided search field, then click the button to query your parcel's latest status.

PosLaju considers your convenience, allowing you to track up to 5 parcels simultaneously.
Here is a sample result you'll get every time you track with the official PosLaju Track & Trace tool.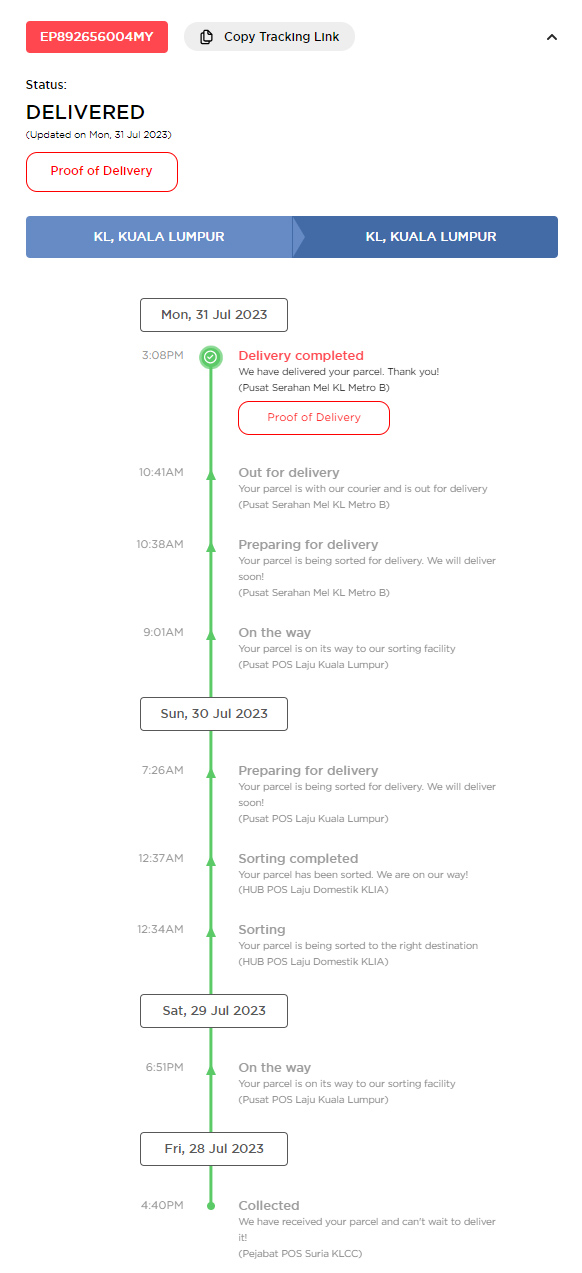 It's worth noticing that you can click the "Proof of Delivery" button to get the electronic proof.
Alternatively,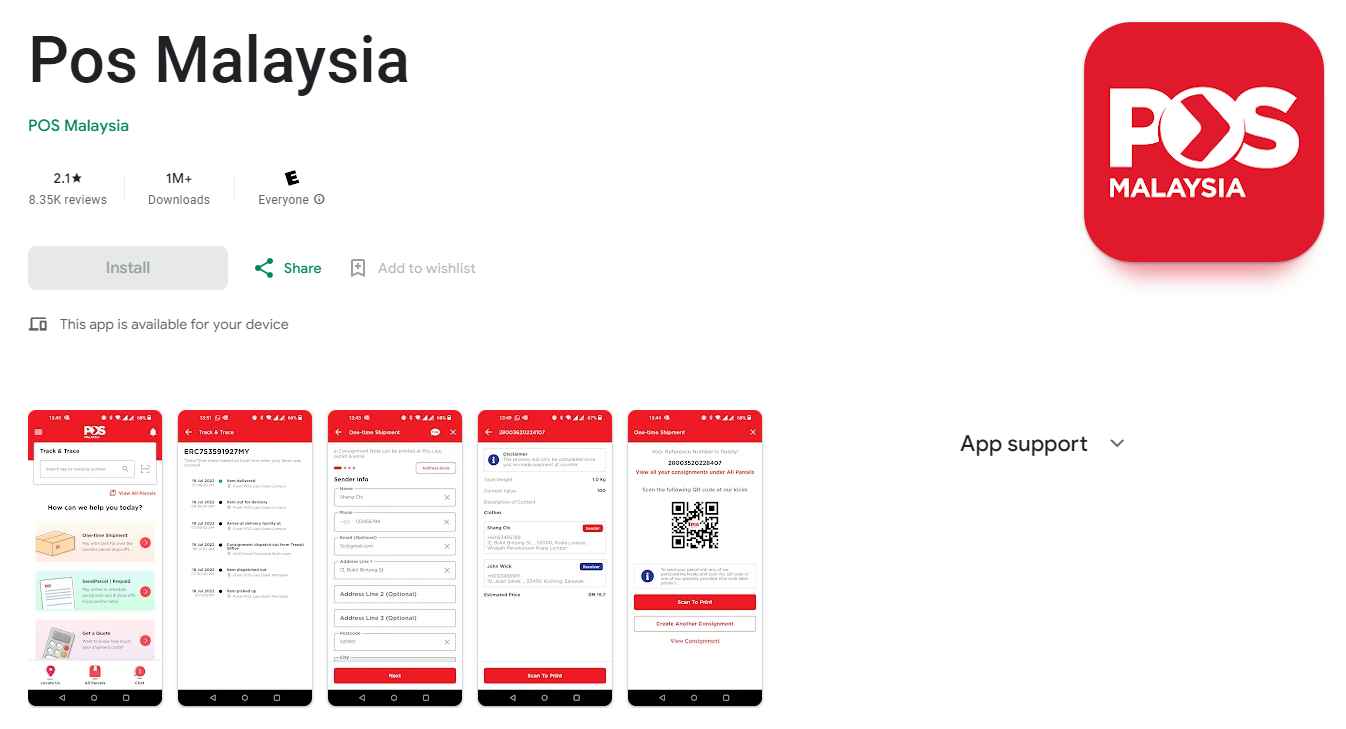 Download the Android version of Pos Malaysia app from the Google Play Store, or the iOS version from Apple App Store

.

Open it, enter your PosLaju tracking number in the Track & Trace tool, and you can immediately see the latest shipment status.
By Using ParcelPanel
ParcelPanel is a leading third-party package tracking platform integrated with over 1,100 carriers, and it is trusted by over 45,000 merchants worldwide.
ParcelPanel lets you track your PosLaju parcels through the PosLaju tracking tool on the official website and its order tracking app.
Visit ParcelPanel's official website.

Navigate to the "

Carriers

" section and select it.

Scroll down to the All Carriers list, and enter PosLaju on the search field.

Once you select the result from the search, you'll be automatically redirected to the dedicated

PosLaju tracking

service on ParcelPanel.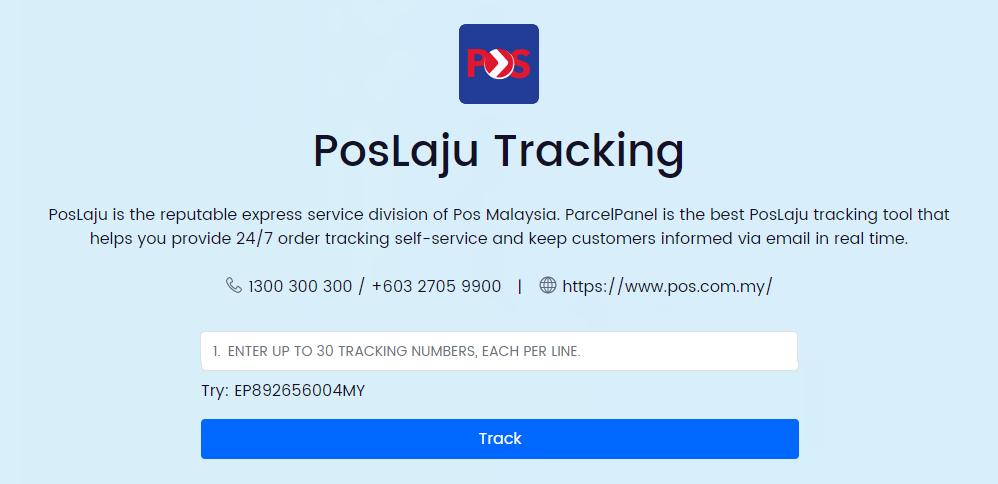 You'll receive a sample result after initiating the ParcelPanel tracking process.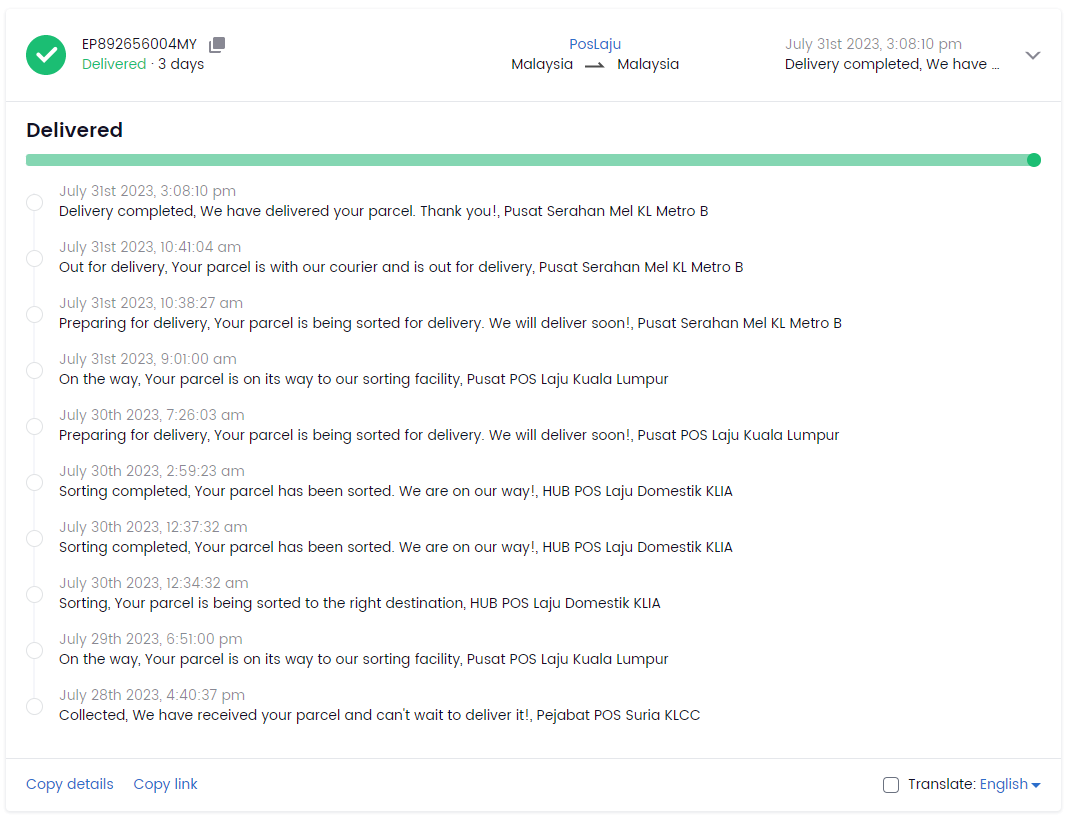 With ParcelPanel, you don't need to calculate the transit time. In addition, you can track up to 30 shipments each time, and the tracking information can be easily exported to a spreadsheet, saving you valuable time.
The ParcelPanel order tracking app is intended to enhance and boost customer satisfaction for merchants. It offers many benefits, including 24/7 on-brand order tracking service to reduce WISMO inquiries, automatic email notifications, repeat business, actionable insights, etc.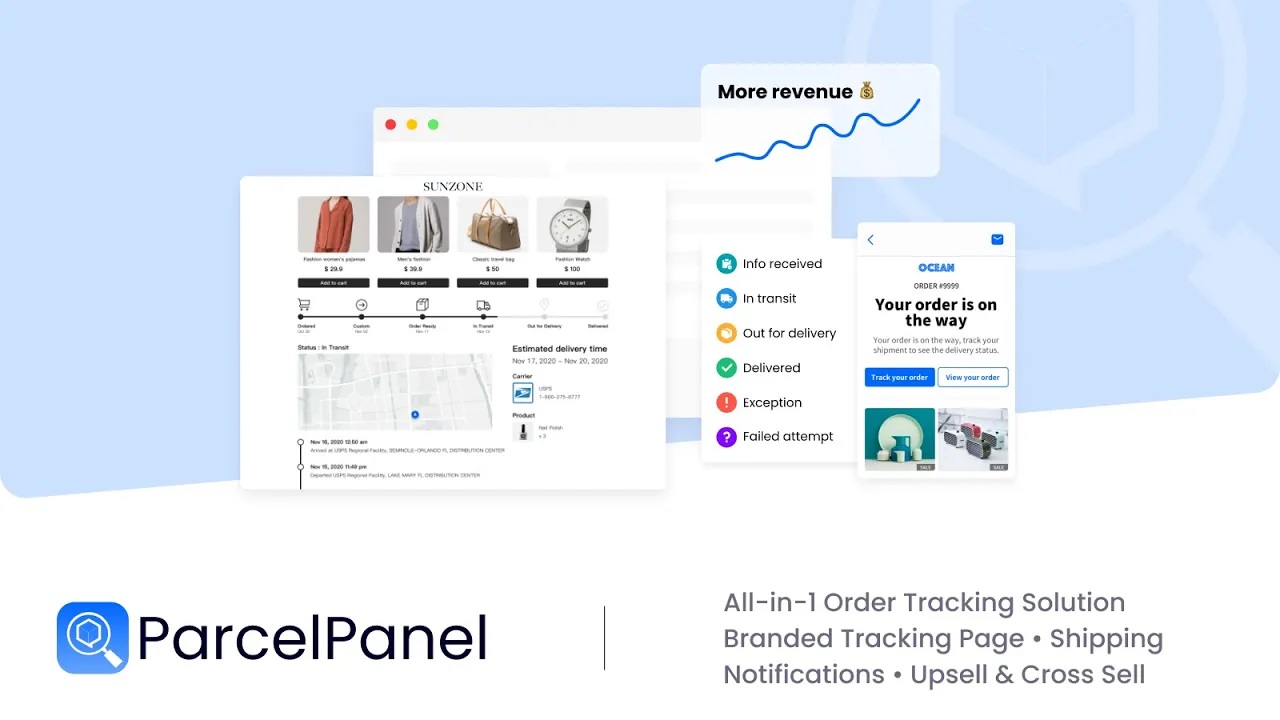 As a business owner, you can activate proactive email notifications to help you engage with your customers effortlessly at every touchpoint of the shipment journey.
ParcelPanel's order tracking app integration with PosLaju API makes it easy for businesses to centralize and automate PosLaju package tracking. So, if you have the order tracking app integrated with your business, your customers can seamlessly track their package status without switching websites from your online shop. The best thing is, with ParcelPanel, as they return to your online shop, you can continue marketing to them with products that they might be interested in and get additional revenue.
To install the ParcelPanel order tracking app for Shopify, just click the image below.

Click on the install button, and once you log in, the app will update the statuses of your orders in the past 30 days for free and categorize them according to the shipment status. Besides, you can get actionable insights for logistics optimization and get alerts of delivery exceptions to take measures in time.
PosLaju Tracking Number
A PosLaju tracking number is a unique alphanumeric code assigned to your parcel once it is booked for shipment with PosLaju. With the unique code, you can track your parcel from the moment it leaves the pickup point until it gets to the destination.
If you're shipping international packages via PosLaju, you may sometimes receive new tracking numbers once they reach their destination country. Don't worry, and you'll find the new tracking number in the PosLaju tracking information.
How to Find Your PosLaju Tracking Number?
As a recipient, you can find your PosLaju tracking number on your shipping confirmation email. If you're the sender, the tracking number can be found on your PosLaju shipping receipt that you get at pickup time. You may also find the PosLaju tracking number after logging in to your Pos Malaysia account.
PosLaju Tracking Number Format
PosLaju tracking numbers typically contain 4 alphabets and 9 digits. The tracking number follows a pattern where it starts with the letter "E," followed by a series of 9 digits, and ends with a couple of letters, "MY."
However, apart from the "E" and "MY," the exact PosLaju Malaysia tracking number may vary from one shipment to another.
PosLaju Tracking Number Example
EP892656004MY
ERC895467971MY
PosLaju Tracking Status
Here is what your PosLaju tracking status means:
| PosLaju Tracking Status | Meaning |
| --- | --- |
| Picked up | PosLaju has picked up the parcel from the sender's drop-off point or location. This marks the beginning of the shipment process. |
| Collected | The package has been collected by the company from the sender and is now with PosLaju in processing for delivery. |
| On the way | The parcel is en route to its destination from the sender's location to the PosLaju sorting facility. |
| Sorting | The package arrived at the PosLaju sorting facility and is currently being sorted with other parcels in preparation for delivery. |
| Sorting completed | The parcel's sorting is finished and ready for the next phase of the delivery journey. |
| Preparing for delivery | The package is being prepared for the final phase of its journey to the delivery point. The preparation may involve organizing for dispatch to a local delivery point. |
| Out for delivery | The parcel left the PosLaju sorting facility and is on its way to the recipient's location. This involves the final steps before the package gets to the recipient. |
| Delivery completed | The PosLaju parcel has reached its intended destination and has been successfully received by the designated recipient. |
PosLaju Customer Service
PosLaju offers multiple ways to obtain support for your package tracking. These include:
Customer Service Hotline
Local customers within Malaysia can reach PosLaju customer service through their PosLaju customer service hotline: 1300 300 300.
International customers can call the company's overseas customer support hotline: +603 2705 9900.
However, PosLaju opening hours and availability may vary based on location and public holidays.
Live Chat
PosLaju's website provides live chat that lets you engage with their customer service's AskPos virtual assistant in real time. This is especially helpful for quick clarifications.
Social Media
Pos Malaysia Berhad has an active Facebook business page where you can reach out for support at your convenience.
PosLaju Post Office
You can contact the PosLaju post office in your proximity during their operating hours for in-person assistance. The company's headquarters is in Dayabumi Complex, 50670 Kuala Lumpur, Malaysia.
PosLaju Website FAQ
The Pos Malaysia official website has a dedicated FAQ section. The guides and troubleshooting tips there can help you find answers to common related questions other customers have.