About SkyNet Express
SkyNet Express is a leading courier company providing domestic and international logistics services in Malaysia. Since its establishment in 1992, SkyNet has proved to be a one-stop delivery service provider providing multiple services, including express, freight forwarding, custom brokerage, warehousing & fulfillment. Many specialized solutions are also included, such as special pickup & delivery, motorcycle transport, bulk mailing, priority and security handling, etc.
Since its launch, SkyNet Malaysia has successfully achieved several milestones throughout its service history, establishing itself as a fast, accurate, and reliable (F.A.R.) logistics provider. Here are some of these notable achievements:
SkyNet's upgrade of the ISO standard certification to ISO 9001:2015

Launch of the SkyNetGo App on Play Store and App Store for mobile users

Online shipment delivery request feature for saving time
SkyNet has also formed tactical partnerships with great logistics providers such as InPost Portland & Toll to ensure a seamless and efficient logistics network meeting all customers' needs.
SkyNet envisions being a top courier company in its region; however, it is not immune from the stiff competition from other logistic providers, including J&T Express, Pos Laju, GDEX, Ninja Van, FedEx, Shopee Express, UPS and DHL.
SkyNet Tracking
SkyNet Express provides a wide range of fast, accurate, and reliable shipping services with special logistics services to meet diverse customer needs. Speaking of domestic services, SkyNet offers assured next-day delivery, international freight services by air/sea, logistics & warehousing, and many other specialized services.
Shipping with SkyNet also has a vast range of benefits, including
Pick-and-pack solutions

Secure parcel handling with dedicated employees

Fast, accurate, reliable, and time-definite deliveries

Online tracking and assured proof of delivery
SkyNet Express uses the DPEX Network and offers NET-TRAK, an integrated tracking system that continuously updates customers on their freight's whereabouts. The SkyNet courier tracking system comes with a track and trace tool and offers proof of delivery, ensuring SkyNet's customers have a reliable and transparent way to monitor the delivery of their valuables.
SkyNet offers a huge set of collections and delivery services within Malaysia. The services come with personalized delivery solutions to meet all customers' needs. Apart from extended service hours, remote area services, and weekend and holiday services, SkyNet Malaysia uses dedicated trucks to offer special pickup and delivery services.
SkyNet Malaysia also has a diplomat solution with guaranteed same-day delivery. This door-to-door delivery is available 24 hours a day.
Moreover, if you need to transport your motorcycle across Malaysia, you can count on SkyNet to do this for you.
SkyNet delivery time varies from 1 to 5 working days in Malaysia. Notably, deliveries to major towns can be completed within 1 ~ 3 working days. The SkyNet Malaysia service also has an online SkyNet track and trace feature that lets you monitor all your shipments with the company.
SkyNet Worldwide Express is a legendary service that constantly offers fast and reliable solutions that meet a wide range of customer needs. With over 700 offices globally and over 33,000 PUDO points, SkyNet Worldwide offers multiple logistics solutions, including Economy Express, Export Express, Cargo, returns, mail, logistics & fulfillment services, and so on.
Whether your parcel/document needs to be shipped from or delivered to any country in the world, SkyNet Worldwide Express has got you covered. The service comes with many other specialized solutions, such as business-to-business and business-to-consumer customs clearance.
SkyNet Worldwide Express also offers a 24/7 online tracking system to ensure full shipment visibility.
Lazada SkyNet Tracking
The Lazada SkyNet services are a collaborative effort with shipping and delivery solutions intended for Lazada customers across Southeast Asia. While the services aim to offer the utmost reliability and enhanced shipping experience for Lazada customers, the delivery times may vary depending on the specific shipping destinations.
The available delivery options depend on the shipping service chosen when checking out at the store. Additionally, the service comes with real-time SkyNet Express tracking that helps customers monitor their parcels' movement.
DPEX SkyNet Tracking
DPEX SkyNet service involves close cooperation - either the SkyNet or DPEX team completes the customs clearance procedures for all local deliveries inbound for Malaysia.
The DPEX service within Malaysia covers every corner of Malaysia, from the West to the East territory. The delivery time is generally within 2 - 5 working days. If requested, POD (proof of delivery) will be provided, while COD (cash on delivery) deliveries are also supported.
While making the declaration on the shipping documents, the sender is expected to fill in the information as well as the recipient's details, type of service, and other unique instructions. DPEX SkyNet service includes a reliable real-time tracking feature. The system provides an air waybill ticket once you create a shipment. The DPEX/SkyNet air waybill number can be used for shipment tracking.
How to Track SkyNet?
Find out how to stay updated on your SkyNet shipment. There are mainly 2 ways to track Skynet parcel/freight and stay informed of the latest delivery progress. Let's go into more detail now.
By Using SkyNet Tracking
SkyNet Official Website

Here's what we've got by using the SkyNet tracking number 23889735546.
As you can see from the SkyNet tracking result, SkyNet tracking starts from pickup and ends with last-mile delivery. The transit points are listed, along with timestamps. You may export the SkyNet parcel tracking information by clicking the "PDF" button next to "Download."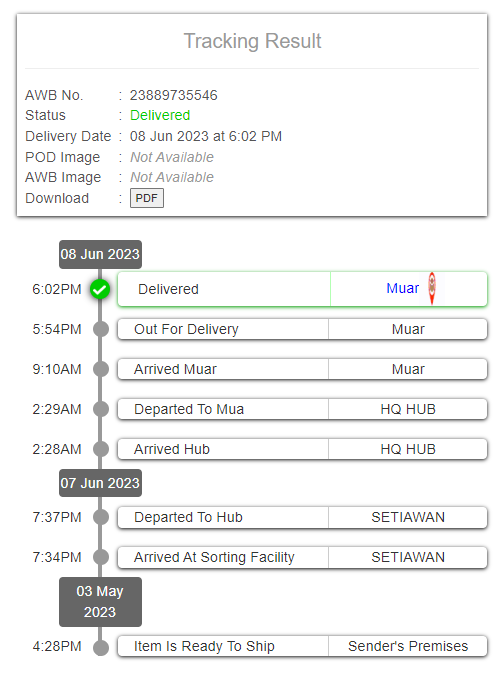 *Please note that so far, the SkyNet tracking tool doesn't support tracking by using the shipper reference number.
SkyNetGo App
The SkyNetGo app is versatile, aiming to provide easy access to SkyNet parcel tracking from anywhere, 24/7.

The app lets you get detailed SkyNet tracking information, including the parcel's whereabouts, current status, and estimated delivery time.
To track your SkyNet parcels using the app, choose "Track," enter your SkyNet tracking number, and click the "Track" button. You may also enter your SkyNet tracking number by scanning the barcode on the shipping receipt.
You can also check out SkyNet branches before ordering a shipment and arrange for doorstep pickup from the delivery point.
By Using Parcel Panel
ParcelPanel is an influential third-party tracking tool that has built integration with 1,100+ carriers worldwide to offer businesses and their customers an improved tracking experience. The ParcelPanel app for Shopify is among the best order tracking apps, rated 5 out of 5 stars based on over 1,700 reviews.
ParcelPanel allows you to track SkyNet deliveries in 2 different ways: by using the SkyNet tracking service on the official website or by automating tracking with the ParcelPanel app. Here, we'll go into more detail about how to use these 2 different ways of SkyNet tracking.
ParcelPanel Website
Go to the

ParcelPanel official website

.

Navigate to the "

Carriers

" list from the top menu bar.

In ParcelPanel's "Carriers" section, scroll down the page a bit to the search bar.

Type in "SkyNet" in the carrier search bar to see the corresponding results.

Select "SkyNet Malaysia" to track your SkyNet shipments within or from Malaysia. You may also choose the SkyNet Worldwide Express to track SkyNet international shipments.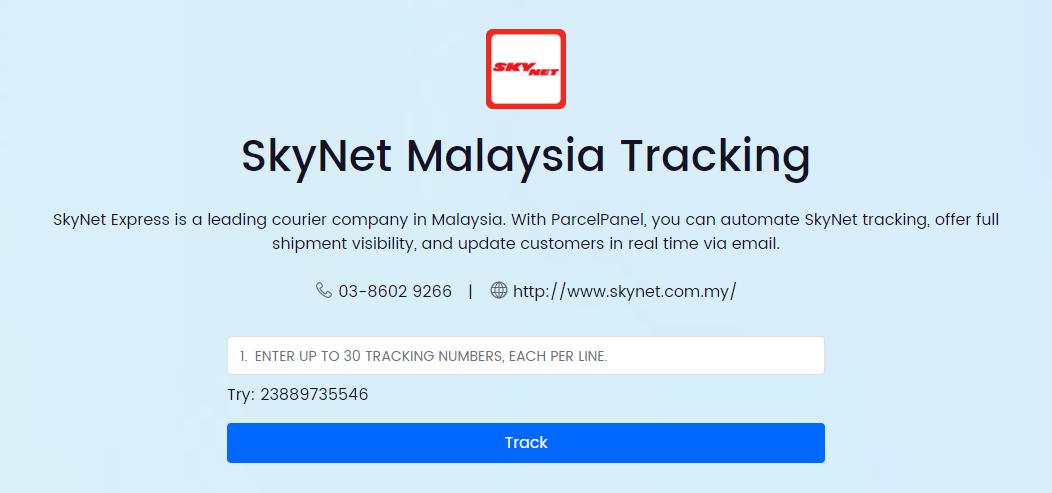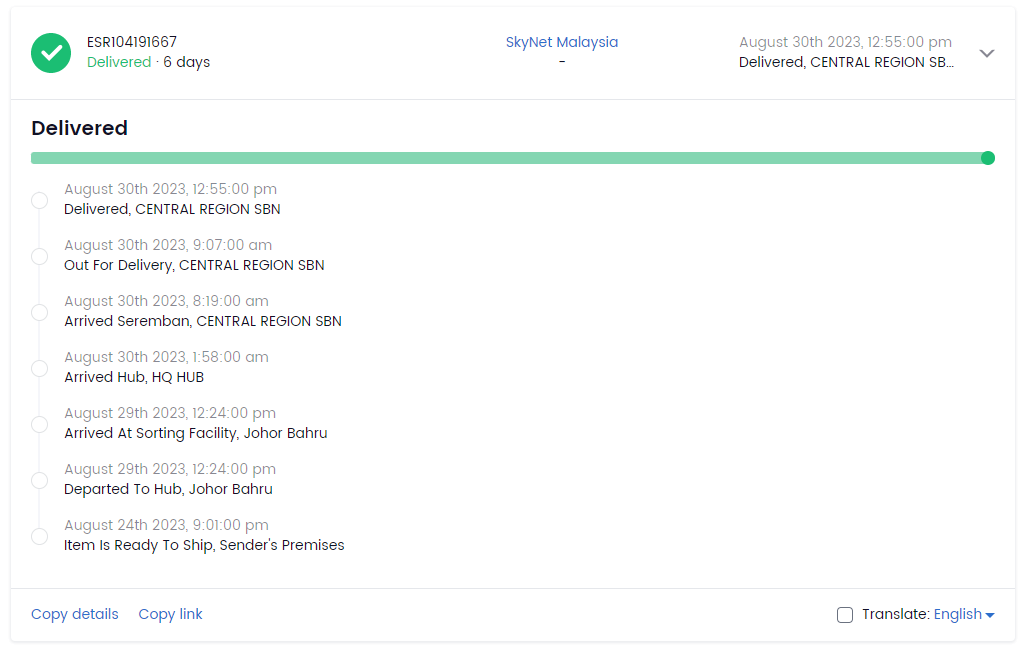 It's worth noticing that ParcelPanel's SkyNet tracking tool allows you to do more than export the tracking information - you may get it translated into your customer's mother tongue or simply share it. Furthermore, you might find that it's impossible to track multiple shipments with the official SkyNet tracking tool. In contrast, ParcelPanel allows you to track up to 30 SkyNet shipments in one go, significantly improving your work efficiency.
ParcelPanel Order Tracking App
The ParcelPanel order-tracking app is an automated tool to streamline online merchant order-tracking. It offers a self-service parcel tracking feature that's beneficial for customers buying from you since they can easily track their parcel at any time from anywhere without leaving your online store. The branded tracking page also improves your brand presence and awareness.
Additionally, the app helps you upsell through its targeted approach - by catering to return customers' interest with AI-enabled product recommendations.
Moreover, with the ParcelPanel app, merchants can proactively notify customers of the latest shipment status via automatic email at every touchpoint and offer exclusive discounts/coupons to encourage repeat business.
Install the ParcelPanel Order Tracking app from the Shopify App Store to enjoy its revenue-boosting solution and improve your post-purchase experience!

SkyNet Tracking Number
SkyNet tracking number (also written as SkyNet tracking No.) is the air waybill number - a unique code assigned to each shipment made through SkyNet Express. It is a crucial shipment identifier that helps locate and identify your SkyNet package.
To find your SkyNet tracking number, you can:
Check for it on your shipping receipt or SkyNet account once you booked your shipment with SkyNet

Search it in your shipping confirmation email or contact the seller if you have made an online order whose shipping is handled by SkyNet

Contact SkyNet customer service to get the SkyNet tracking number if you can't readily locate it
Once you have the tracking number, enter it into the SkyNet tracking tool to monitor the shipment's progress.
SkyNet Tracking Number Format
A SkyNet tracking number typically consists of 12 alphanumeric characters. In most cases, there are only digits, whereas characters can also be found at the beginning.
SkyNet Tracking Number Example
23889735546
ESR104191667
ESR102405669
EPKG02871961
SkyNet Customer Service
SkyNet offers several ways for you to contact its customer service, including:
SkyNet HQ Address
No.4 Jalan SS13/5, 47500 Subang Jaya, Selangor Darul Ehsan, Malaysia
SkyNet Contact Number
03-8602 9266
(Monday ~ Friday: 9:00 am ~ 6:00 pm
Saturday: 9:00am ~ 1:00pm
Sunday & Public Holidays: Closed)
Facebook
SkyNet Malaysia
Instagram
SkyNetmalaysia
YouTube
SkyNet Malaysia
SkyNet customers can also use the platform's live chat service, which is accessible at the bottom right corner of the page, or fill out the inquiry form if unable to get in touch by calling the SkyNet hotline.