About Ninja Van
Ninja Van Express is a fast-growing logistics company renowned for its quality logistics solutions. The Singaporean courier company grew from a second-hand van to serving six key markets across Southeast Asia. These include Indonesia, Singapore, Malaysia, Vietnam, Thailand, and the Philippines.
With its commitment to offering exceptional logistics services, Ninja Van Malaysia offers multiple reliable services, including:
Last Mile Delivery

International Delivery

Freight Forwarding

Product Sourcing & Procurement

Fulfillment & Warehousing
Since its founding in 2014, Ninja Van has continually advanced its position in the logistics industry, growing into a trusted logistics courier. Understanding the scaling customers' logistics needs, Ninja Van offers several technology-driven services.
Ninja Van Express has obtained the ISO 9001:2015 Quality Management System certification and received the Best Courier Delivery of the Year Award in 2023. It has also accomplished many other development milestones, including:
100% coverage across Southeast Asia with operational networks established in 6 primary markets

Achieved 2 million parcel deliveries per day with 66,000+ reliable staff and Ninjas (delivery personnel)

Successfully delivered parcels to over 120 million customers
Ninja Van Malaysia has formed partnerships with different e-commerce platforms serving customers in Southeast Asia, including Lazada, Shopee, MONMALL, Zalora, and so on. These partnerships are meant to provide logistics and delivery services for the sellers on the e-commerce platforms.
Ninja Van is a tech-driven logistics company that never stops working with new technologies and making improvements. However, it still faces competition from key logistics providers such as DHL, FedEx, Singapore Post, UPS, Qxpress, Speed Post, and PosLaju.
Ninja Van Tracking
Ninja Van provides nationwide and international delivery services, ensuring your parcels get to their destination on time. Whether you need to ship within Malaysia, Indonesia, or across Southeast Asia, the logistics company offers a hassle-free service for all shippers.
Ninja Van also lets you integrate Ninja Dashboard directly into your e-commerce stores. This enables you to skip the manual order creation and air waybill generation for Ninja Van delivery time tracking. Instead, you are guaranteed real-time updates on your parcel statuses on the Ninja Dash and the e-commerce platform.
The integration also comes with automated order fulfillment, so you don't need to worry about typos that would lead to wrong recipient addresses. Similarly, the e-commerce integration comes with seamless order management on one platform.
Ninja Van's international customers are also not left out of these benefits. Here is what you are sure of when shipping internationally with Ninja Van:
Daily parcel delivery to over 2,000,000 SEA locations

Effective parcel deliveries with 95% service level agreement

Competitive shipping prices with Ninja Van to any country
In addition to Ninja Van's quality delivery services, the company also provides a stress-free tracking solution for all packages shipped with Ninja Van. You can visit the Ninja Van Track and Trace page to keep an eye on the item or sign up for live updates.
Ninja Van Tracking Malaysia
Ninja Van Malaysia offers Ninja Pro and Ninja Lite for businesses shipping over 150 parcels and under 150 parcels per month, respectively. Both are secure, fast, and hassle-free package delivery services in Malaysia. These services come with prompt pickups and real-time tracking solutions, making the company a crucial and reliable last-mile delivery solution in Malaysia.
Whether you need a local delivery service to handle orders from e-commerce platforms in Malaysia, such as Shopee, Lazada, Monmall, Love Bonito, and Zalora, Ninja Van is a great choice - with it, you're assured that your packages are in safe hands and are handled carefully while getting delivered with speed.
With an extensive network coverage across Malaysia, the company also allows you to create a delivery order and arrange for doorstep collection or drop off parcels at the nearest Ninja Points.
Additionally, you can get real-time tracking updates through the Ninja Van tracking tool online or in the app to stay informed of your package's delivery progress and benefit from a seamless parcel delivery experience. Generally, it takes Ninja Van 1 - 3 working days to deliver within Malaysia, and the delivery occurs between 9 am and 10 pm.
How to Track Ninja Van?
Tracking Ninja Van parcels is no longer a problem. Discover how to stay updated on your parcel's whereabouts with our step-by-step Ninja Van parcel tracking guide.
We'll focus on two key ways to track your Ninja Van parcel: the Ninja Van tracking tool and the leading parcel tracking website - ParcelPanel.
Ninja Van Tracking
Ninja Van offers different ways to track domestic and international packages.
Follow the guide on Ninja Van parcel tracking below: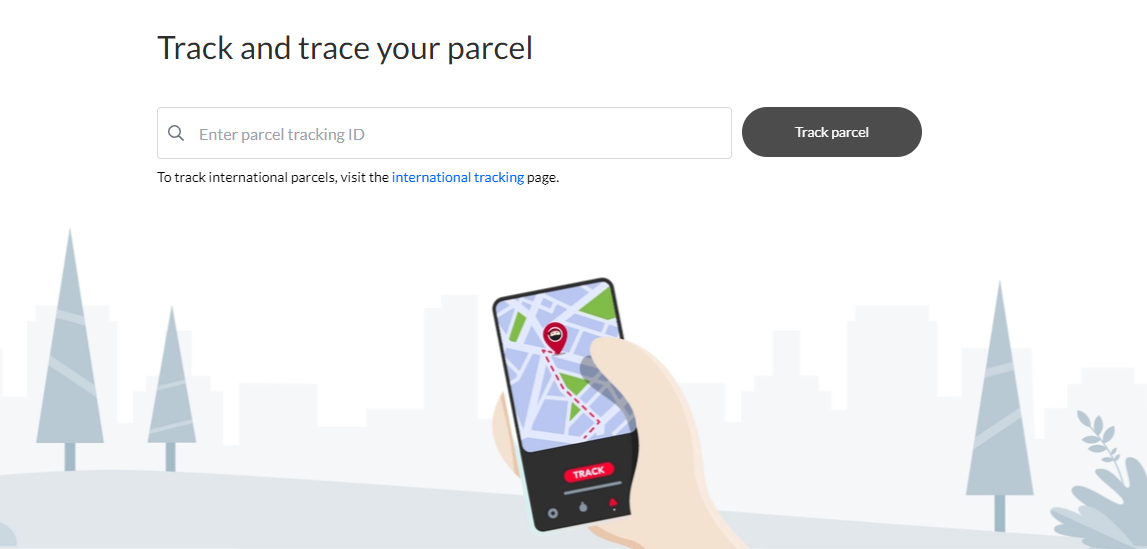 By using the online Ninja Van Track and Trace tool, you can get tracking result that includes current shipment status, detailed transit history, and specific delivery date.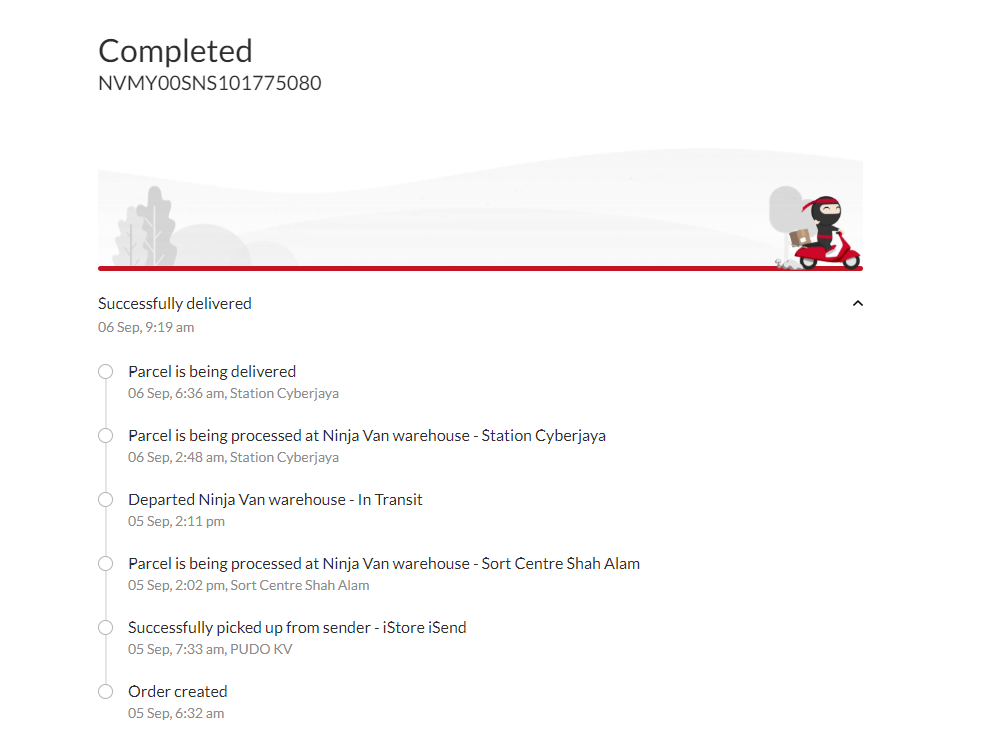 Alternatively, you can track your Ninja Van parcel with "My Ninja Van App." Download and install the iOS or Android version, register a Ninja Van account and proceed to get real-time updates on your parcel's delivery progress.
By Using ParcelPanel
ParcelPanel is a reputable third-party parcel-tracking platform for e-commerce businesses built with Shopify and WooCommerce.
The ParcelPanel platform offers an easy-to-use interface and integrates over 1,100 carriers worldwide. This improves your customers' post-purchase experience while centralizing all your shipments, helping you to focus on other important business aspects.
The platform also offers smart analytics so that you can draw actionable insights easily. Moreover, its AI-powered product recommendations help drive more sales by catering to customers' interests.
Here's how you can track Ninja Van parcels with the ParcelPanel Website and the ParcelPanel Order Tracking app:
ParcelPanel Website
Go to the

ParcelPanel

official website.

Click on the "

Carriers

" option to open the carriers list.

Enter "Ninja Van" in the search field and select the respective Ninja Van service you chose for your shipment.

After selecting a matching result, you'll be redirected to a dedicated

Ninja Van tracking

page.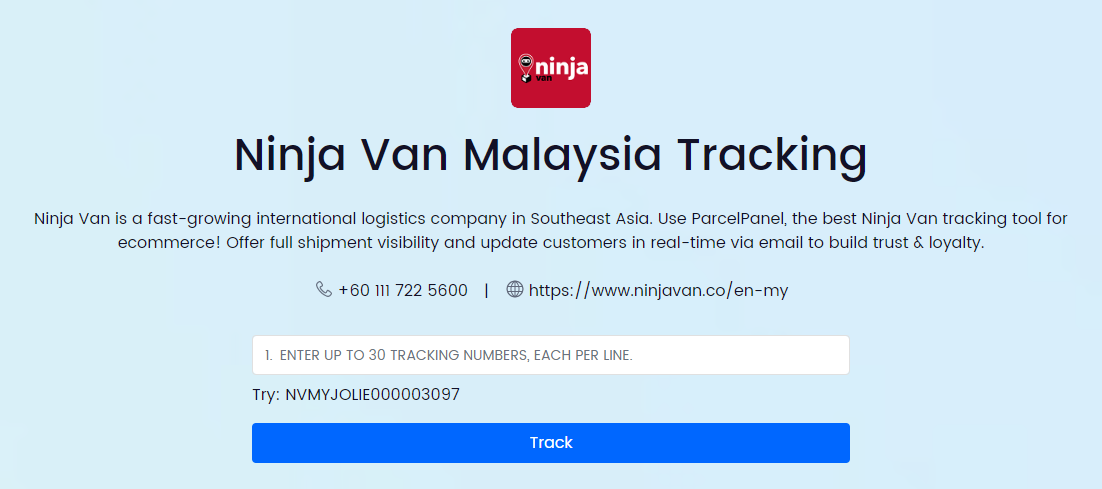 Here is a sample Ninja Van tracking result you'll receive with your parcel's exact location and delivery time.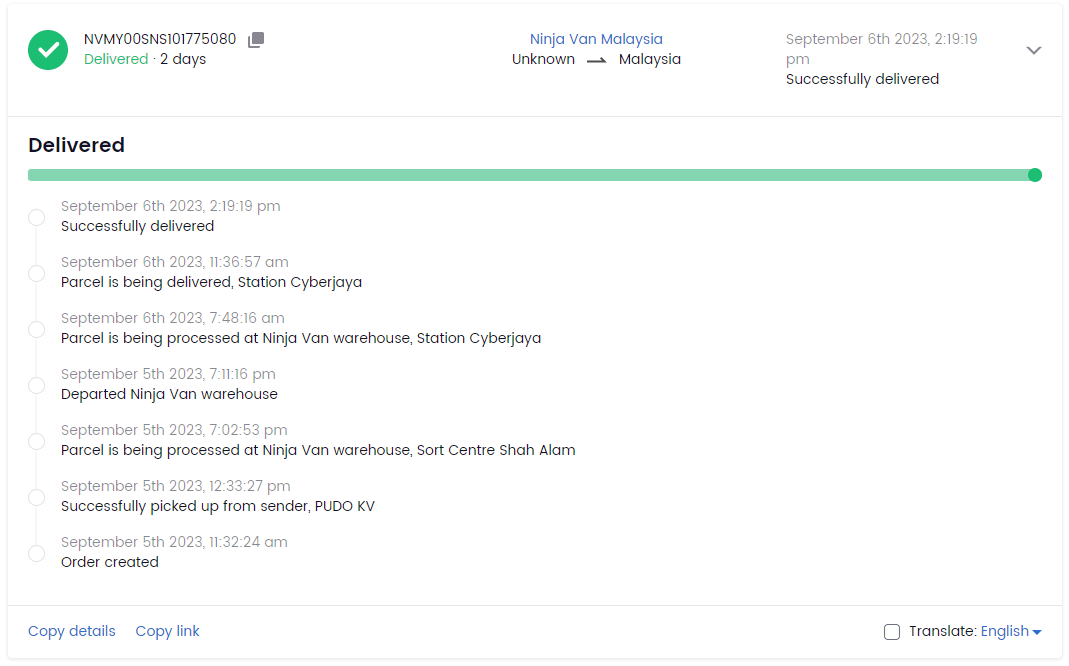 An additional advantage of using the dedicated Ninja Van ParcelPanel website is the capability to track up to 30 Ninja Van parcels each time. This also comes with the ability to translate the tracking information into multiple languages. If you have foreign customers, you may translate it into their mother tongues so they can easily understand.
ParcelPanel Order Tracking App
The order tracking app is a merchant-designed platform that takes the hassle of order tracking. The app automates the tracking processes for all your orders and crafts a branded tracking page where customers can effortlessly monitor their orders.
You can customize nearly everything on the order tracking page, from a button to the display of the estimated delivery time. You can also benefit from AI-powered product recommendations to engage your customers and boost sales.
Customers are often concerned about their package status, but not all are familiar with the order tracking service. In this case, the ParcelPanel app makes it easy to proactively update customers on their real-time item status through automated email notifications.
Join other successful merchants today by installing the ParcelPanel Order Tracking app from Shopify App Store.
Ninja Van Tracking Number
A Ninja Van tracking number (Ninja Van tracking No.) is a special alphanumeric code assigned to each shipment sent through Ninja Van delivery services. The Ninja Van tracking number is useful in knowing the current status of your Ninja Van parcel in transit.
Here is how to locate your tracking No. Ninja Van issued :
Visit your online e-commerce account and check the order history for the Ninja Van tracking number.

Check your inbox for the shipping confirmation email. The Ninja Van tracking number is often included in the email if you bought from an online seller.

Check for the Ninja Van tracking number on your shipping receipt. To easily locate the number, find the barcode first. The shipping receipt is often designed this way for easy scanning.
Ninja Van Tracking Number Format
The Ninja Van tracking number combines about 11 to 18 alphanumeric characters. However, the exact Ninja Van tracking number varies depending on the Ninja Van service chosen or the shipper code. Notably, the Ninja Van tracking number often begins with uppercase letters.
Ninja Van Tracking Number Sample
NVMY00SNS101775080
NVMYGHILL000017536
NVMYJOLIE000003661
Ninja Van Malaysia tracking number for same-day delivery: SSDMY223370
Ninja Van Malaysia tracking number for next-day delivery: NXDMY223336, NXDMY223293
Ninja Van Tracking Status
Here are the common meanings of the different Ninja Van tracking statuses you'll receive:
| Ninja Van Tracking Status | Meaning |
| --- | --- |
| Order created | The order for your parcel shipment has been created and processed in the Ninja Van system. It often means the sender has started the shipping process. |
| Parcel dropped at parcel drop-off counter | The sender has physically dropped off the parcel at a designated location for Ninja Van personnel to pick up. |
| Successfully picked from sender | Ninja Van successfully picked up the parcel from the sender or drop-off point. |
| Departed drop-off counter | The Ninja Van parcel left its initial drop-off point and is on its way to the next facility. |
| En-route to sorting hub | The Ninja Van parcel is in transit to a sorting hub where it will be organized for further distribution. |
| Arrived at sorting hub | The Ninja Van parcel reached the sorting hub and will be processed, sorted, and consolidated with other parcels. |
| Parcel is being processed at Ninja Van warehouse | Ninja Van team is currently processing the parcel at a warehouse. This may include sorting, scanning, and processing it for the next stage of delivery. |
| Departed Ninja Van warehouse | The parcel left a Ninja Van warehouse and is en route to the delivery stage. |
| Parcel is being delivered | The Ninja Van parcel is with a delivery driver, to be delivered to the designated address of the recipient. |
| On vehicle for delivery | Loaded onto a delivery vehicle, the Ninja Van parcel is on its way to the recipient's address. |
| Delivery is unsuccessful | The initial delivery attempt was unsuccessful due to reasons such as an incomplete address or the recipient not being available. |
| Parcel delivery has been rescheduled | The delivery has been rescheduled for a later time or date after an unsuccessful delivery attempt. |
| Successfully returned to sender | The Ninja Van parcel has been returned to the sender due to multiple unsuccessful delivery attempts, recipient's rejection, or incorrect address. |
| Parcel is being delivered | The Ninja Van parcel is en route and on its way to the recipient's address. It means the parcel is with a local delivery company actively working to bring the package to its destination. |
| Successfully delivered | The Ninja Van parcel has reached its destination and is handed over to the recipient or someone at the delivery address. |
Ninja Van Customer Service
Here is how to contact Ninja Van customer care:
Alternatively, you can get live updates by using NinjaChat to reach out to the Ninja Van customer service rep online. Just click on "Enquiries" and choose the "Speak to live agent" option.
Ninja Van live chat service is available Monday to Saturday, from 9:00 am to 7:00 pm, and Sunday, from 9:00 am to 6:00 pm. (excluding holidays).