About ABX
ABX Express (now KEX Express) started as a homegrown logistics brand specializing in last-mile delivery within Malaysia. Since its establishment in 1984, ABX continually served as a courier provider and has grown to have 3,000+ employees and more than 100 branch offices in Malaysia with 2,500+ operating vehicles.
2021 marked the start of ABX Express Malaysia international services after becoming the global agent of SF International. In October 2022, having served for over 38 years as a reliable B2B, B2C, C2C, and cross-border logistics solutions provider, the ABX rebranded to KEX Express. Henceforth, KEX Express is set to provide a pack of international delivery services in addition to its nationwide existing routes in Malaysia.
KEX Express now offers domestic and international Express services and e-commerce logistics solutions. While improving its operations, KEX Express is also building international networks to widen its business coverage.
Since its first successful parcel delivery in EM Labuan, KEX Express has achieved several milestones, including;
Expanding their delivery coverage from East Malaysia to the whole of Malaysia

The launch of Smartship Web came with e-commerce delivery services for online retailers

Expanding their parcel shops from Kenanga Mall to 100+ branches across Malaysia

The launch of digital Cash-on-Delivery and Freight-on-Delivery services

720+ service locations with over 3,000 employees across Malaysia

3,200+ employees and delivery service coverage of 200 countries globally
With its reliable and consistent service, KEX Express is comparable with top logistics providers in Malaysia and across its borders, including J&T Express, Pos Laju, GDEX, DHL, Ninja Van, FedEx, Shopee Express, and Skynet.
ABX Tracking / KEX Express Tracking
ABX provides several logistics solutions, giving Malaysians hassle-free local and international deliveries. Having reached a limit of about 2,500,000 parcels a day, the company offers customers the convenience to drop off packages at any of ABX Express branded stores and touchpoints. These come with an optional EasyShip platform for customers who want to arrange pickup and manage their parcel deliveries with no upfront commitments.
Whether you need KEX Express to ship to international destinations or need to purchase from overseas, the company offers flexible solutions to match its clients' needs. From customs clearance to last-mile delivery, KEX Express ensures all your cross-border deliveries are handled precisely and securely.
Some other additional benefits guaranteed from shipping with ABX are:
Multiple value-added services for B2B clients, including SMS delivery notifications, self-pickup services, real-time track & trace features, shipping label printing, and special handling for valuable items

Parcel wrapping and regular real-time tracking at the parcel shops

Increased income for traders who are KEX Express agents offering KEX Express premium service points
ABX Tracking Malaysia
The ABX Malaysia service has 700+ service points and the most extensive network in East Malaysia, ensuring a smooth parcel shipment route across Malaysia. Whether you need deliveries to the suburbs, around urban Penang Johor, or KL, ABX will effectively get the service done for you.
ABX's domestic service within Malaysia comes with digital Freight on Delivery (FOD) and Cash On Delivery (COD). The FOD means the package's recipient gets a cashless payment method to pay for the shipping fee upon receiving the package. The COD means the recipient gets to pay for the product once they receive it.
The logistics company also offers a hassle-free experience with EasyShip and Smartship features. Each comes with affordable rates, same-day pickup assurance, and a bulk upload feature to save shipment time. Customers don't need to meet any special requirements for the SmartShip and EasyShip capabilities; instead, anyone interested in these services can register for free.
ABX also offers a Corporate ABX Track and Trace tool to help customers monitor their parcels effortlessly. All you need to track a shipment is the KEX Express tracking number.
ABX Tracking China
The ABX China service is an international shipping service offered by ABX Express (now KEX Express) and SF International. It supports shipping to and from China Mainland, Hong Kong, Macau, and Taiwan. 3 different shipping options are provided, namely, Economy Express, Standard Express, and Global Express. KEX Express also offers other solutions for those who do e-commerce businesses in Malaysia, such as warehousing & distribution, API integration, and a dedicated account manager.
It's worth mentioning that through its cooperation with SF International, all packages shipped with the KEX Express can be easily monitored and handled efficiently worldwide, including in China. Regarding shipments originating from China, SF International will pass them to KEX Express as soon as customs clearance in Malaysia is completed.
Shopee ABX Tracking
Shopee ABX service paves the way to the next-level shopping experience for Shopee customers across Southeast Asia. The service is specially designed to reduce your waiting time, no matter where you are. With several delivery solutions, the ABX Shopee service is customized to ensure all purchases reach the customers in time.
The ABX courier tracking service keeps customers updated on their purchases. The ABX tracking starts immediately after the Shopee merchants ship with ABX Express; an ABX tracking number is issued and then shared with the customer to keep them updated on their parcels' routes and whereabouts.
How to Track ABX?
Tracking your ABX package is no longer a challenge. Stay informed on the whereabouts of your ABX parcels with this step-by-step guide. Here, we'll focus on 2 different ways to track ABX Express deliveries: the official ABX parcel tracking tool and the professional package tracking website - ParcedPanel.
Using ABX Track and Trace
To track with the ABX platform;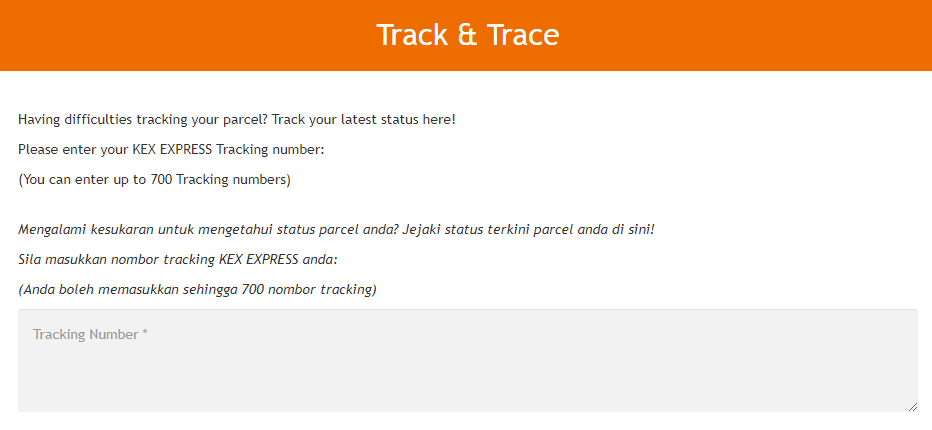 Here is a sample result by using the ABX Express Track & Trace tool. You can find the current shipment status, delivery date, detailed transit history, and ABX Express customer service hotline and email.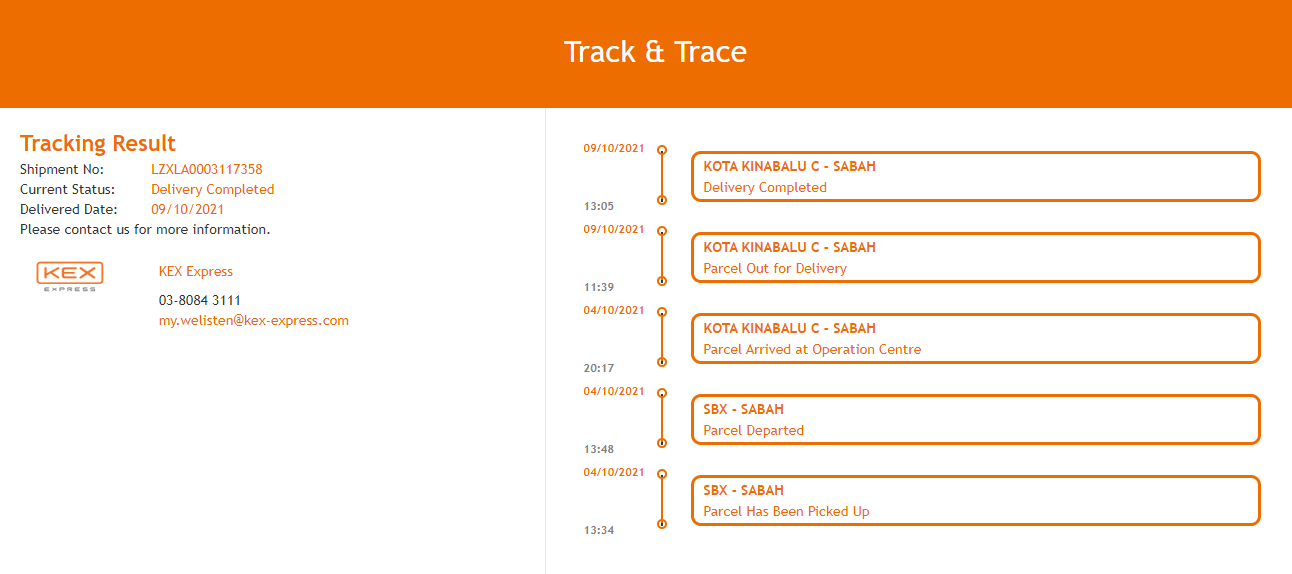 By Using ParcelPanel
ParcelPanel is a premium third-party package tracking platform seamlessly integrated with over 1,100 carriers worldwide. ParcelPanel helps you deliver on-brand order tracking experience 24/7. The key features save you time while helping you make more sales by targeting the interests of returning customers.
The tracking tool also offers smart analytics that help make strategic decisions and elevate businesses through enhanced customer experience.
You can use the ParcelPanel website or the Order Tracking App for tracking ABX Express deliveries. Here's how:
ParcelPanel Website
Scroll towards the bottom of the carriers page, and enter "ABX Express" in the search field.
After proceeding with the search result, you'll be redirected to the dedicated ABX Express tracking page.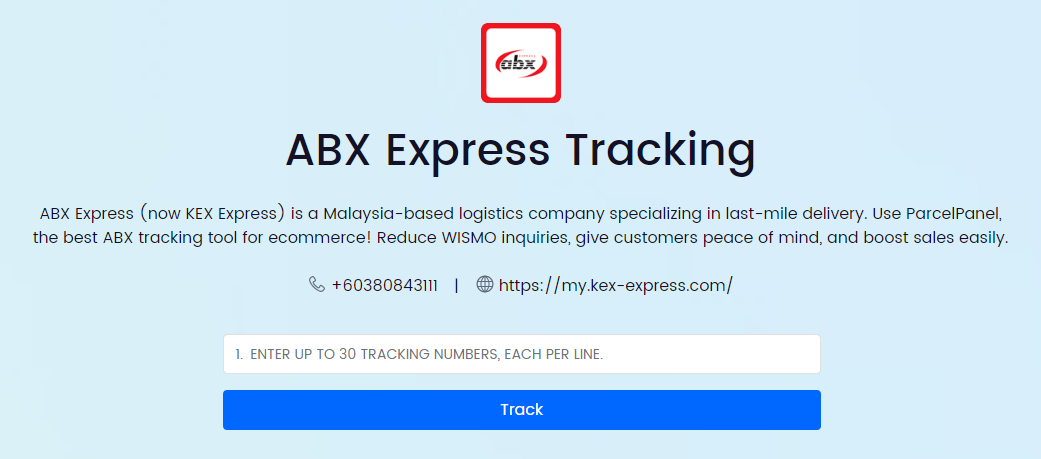 The ParcelPanel Order tracking app is a hassle-free and user-friendly tracking tool that automates tracking for all your orders. With 5-star ratings reviewed by over 1,700 customers, the ParcelPanel app is your perfect tool for engaging and delighting customers at every touchpoint after the buy button.

The app designed for online merchants automatically creates a branded tracking page that offers 24/7 self-service order tracking. You can further customize the order tracking page by enabling AI-powered product recommendations to drive more sales and display the estimated arrival time to ease customers' delivery anxiety. For those unaware of the order tracking service, with the ParcelPanel app, you can proactively update them on the latest shipment status via automated email notifications. These enhance the merchant-customer engagement, providing a satisfying post-purchase experience.
Install the ParcelPanel order tracking app from the Shopify App Store to get more satisfied customers and more sales!
ABX Tracking Number
An ABX shipment number is a unique alphanumeric code assigned to each ABX Express shipment. The tracking number helps to identify every parcel shipped through ABX Express and monitor its whereabouts during the shipment.
To find your tracking number ABX Express has issued, you need to:
Look for it in your shipping confirmation email if you made online purchases shipped with KEX Express. You can also visit the seller's website and check your account's order history. Look for keywords like "tracking number" in the email and website.

Contact the sender to provide you with the necessary tracking information for the ABX shipment.

Check for the ABX Express tracking number on the shipping label. The number may be printed under a barcode for easy scanning.
Once you have the respective ABX tracking No., enter it in the designated search field to check your package's latest status.
ABX Tracking Number Format
The ABX tracking number contains about 10 to 15 alphanumeric characters. The exact ABX tracking number may also depend on the specific KEX Express service chosen for the shipment.
ABX Tracking Number Example
LZXLA0003117358
SHX000362933
SHP31184281DMY
DUSJ1254329436
Ecommerce services: SHX xxx xxx
ABX Customer Care
Here are some possible ways customers can contact ABX Express about KEX Express package tracking.
ABX Contact Number
+60380843111
(Monday ~ Friday: 8:00 am ~ 5:30 pm, Saturday: 8:00 am ~ 12 pm)
Email

[email protected]

Instagram
@kexexpressmy
Facebook
@kexexpressmy
You can also fill out the General Enquiry forms or click the live chat icon at the bottom right corner of the KEX Express website.